Week one of six
Week one of my six week reboot has officially been completed! The good news is that I'm still functioning and appear to be unscathed. My challenge for the last week was to get to grips with the Bullet Journal and to start using it on a regular basis. The idea was to try and bring some kind of order and calm to my busy life.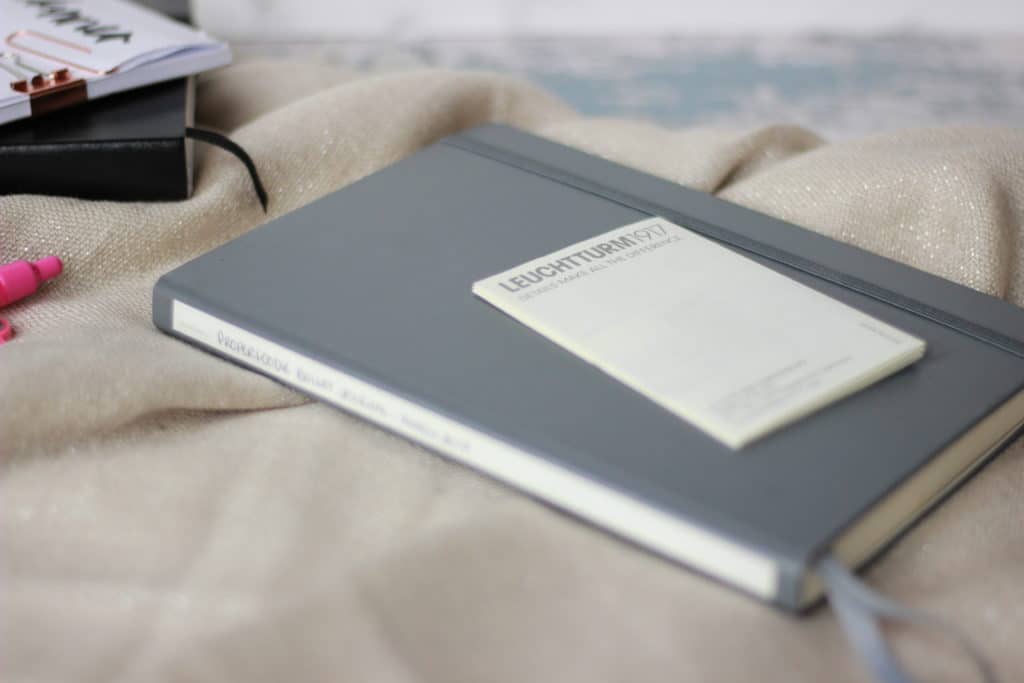 What is the Bullet Journal?
A bullet journal is more of a concept rather than the actual journal. Whilst you can buy a specific book, which is recommended for bullet journal-ling, you can just apply the techniques of the bullet journal to any notepad. From what I've gathered so far, using a nice new, good quality notebook is meant to instil pride, neatness, and better organisation skills, as you plan your life and daily routines.
As silly as it sounds, I am completely on board with this idea. It takes me back to my school days, when the teacher handed over a brand new exercise book for the start of term. It was so clean and neat that I didn't want to ruin it by writing in it. But when I did write in it I made sure I was super neat and organised.  The exact same thing happened to me this last week. I sat down with my brand new Leuchtturm 1917 book
  (the notebook recommended by most bullet journal experts), opened its lovely, smooth, grey front cover, and just starred at the blank empty pages; worrying about ruining my nice, new, shiny book.

This was probably my one and only issue with the bullet journal: as with most things; making a start is the hardest part. What shall I begin with? Should I write on the first page? What info do I want at the start? Do I want to use the future log as suggested by the bullet journal website? and so on – I wasted a lot of time thinking about this.
My point being that I found it incredibly difficult to make a start, and ironically I found myself making a plan for how I would set out the book that would help to plan my day to day tasks. But once I did start, I made sure that I laid it out exactly as a wanted it, that I gave it a good structure and that it was logical and flowed.
Planning for my Bullet Journal
Even though it seems pointless, I did make a plan. Firstly, I listed all the information that I wanted to be at the front of the book and so easily accessible. Things like: my aims for 2017, information I use when blogging,  things I use to promote a post, recipe ideas, post ideas etc.
Next I made key, which roughly follows the same key as shown on the bullet journal website: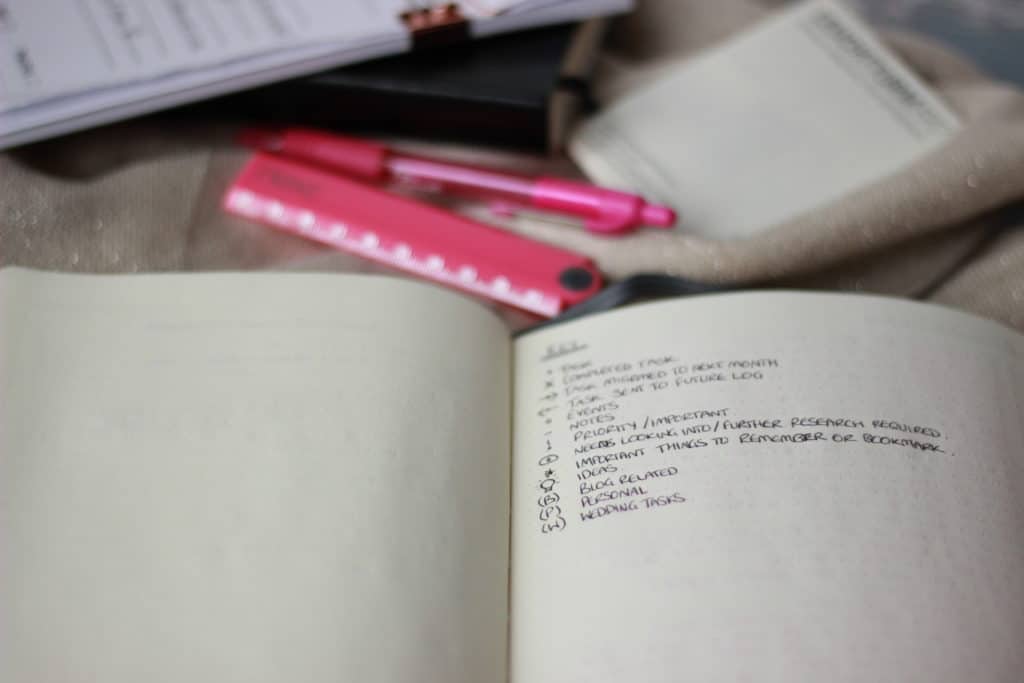 Once my key was in the book and I had officially started to write, I decided to keep going. I labelled the next few pages with the headers I'd listed earlier. For things like 'recipe ideas',  I left a few double pages blank, as its more than likely that this kind of list will get quite long.
Content for my Bullet Journal
Once I had the structure for my bullet journal set out, it was so easy to go back and start filling in the detail. My first page was dedicated to my aims for 2017. I think its really important to have this written down and to read through it regularly. It really helps to motivate me and remind me what I'm working towards. And its especially good when you can tick things off this list.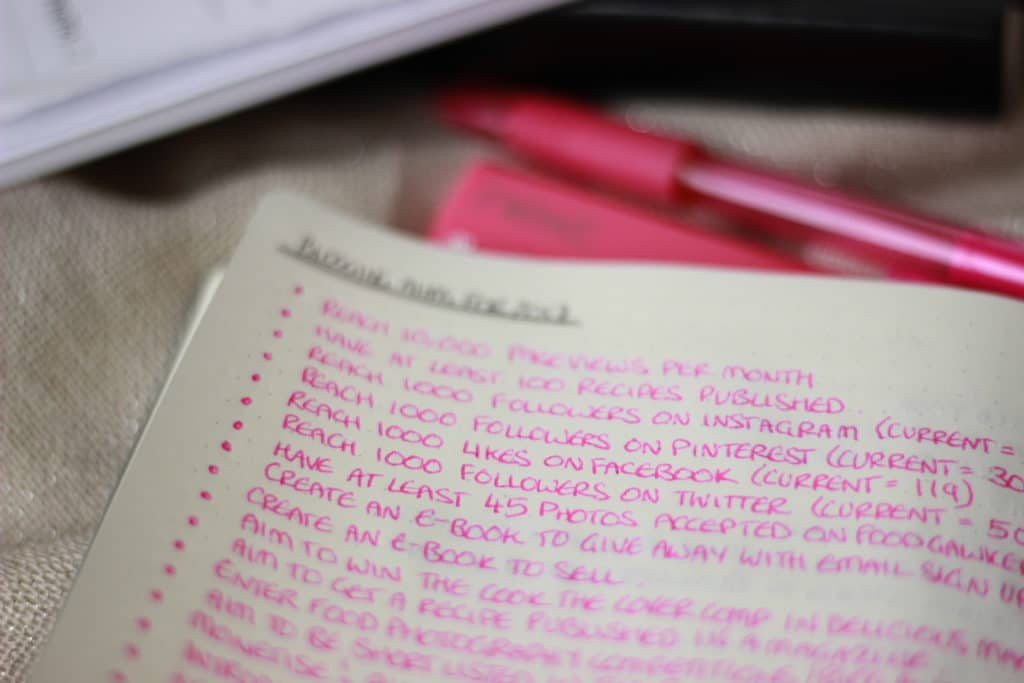 When I wrote this list I included a couple of things around photography. One being to win a competition called 'cook the cover', which runs every month in the Delicious magazine; and the second to have a photo shortlisted in the Pink lady food photography awards. I saw both of things as real goals and something that I would one day be able to achieve. But…..but. but, but ……unbelievably (honestly unbelievably, as I still can't believe it) I received two emails on Friday. The first from Delicious magazine saying I had won the February cook the cover, with my pancake photo! The second from Pink lady photography awards saying one of my photos had been shortlisted for 2017!
I know that its just a coincidence, but how odd that I should write these things down and then be able to tick them off so quickly. And ticking them off was a great feeling! 🙂 So I am currently loving the bullet journal.
Bullet journal logs
In general, the majority of space in a bullet journal will be taken up with logs: future log, monthly log, daily log. All of these help you to plan, be it for next year, next month or for tomorrow. The way this is set out, means that if you get behind with a task (which more often than not, I do get very behind), you can migrate the task to next month or even send further down the line by adding to the future log.
I completely love this concept, as it means that you won't lose track of things and prioritising becomes so much easier.
Firstly, I created my future log by dividing a double page into 6 and writing in the days of the month. I then added any important tasks or events that I already knew about, into these future months.
Next I created my monthly log for march, which allows for more detail. All the days of the month are listed on one page and a task list created on the second page.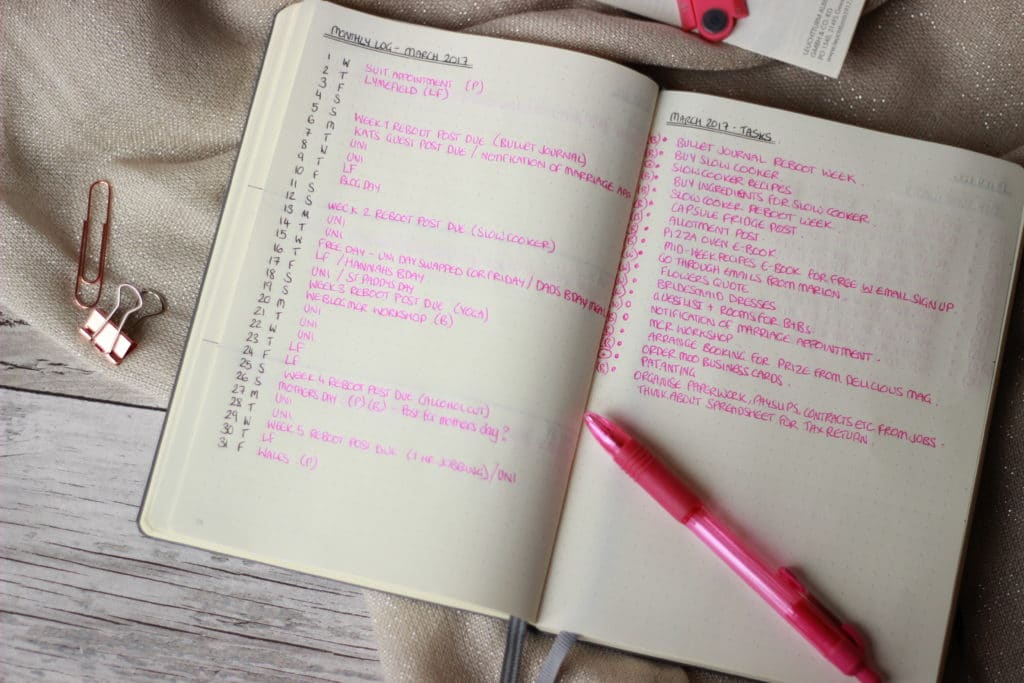 Finally, I created my daily log. By the time I got around to this, the week was almost over. So my first daily log was written last night, for today: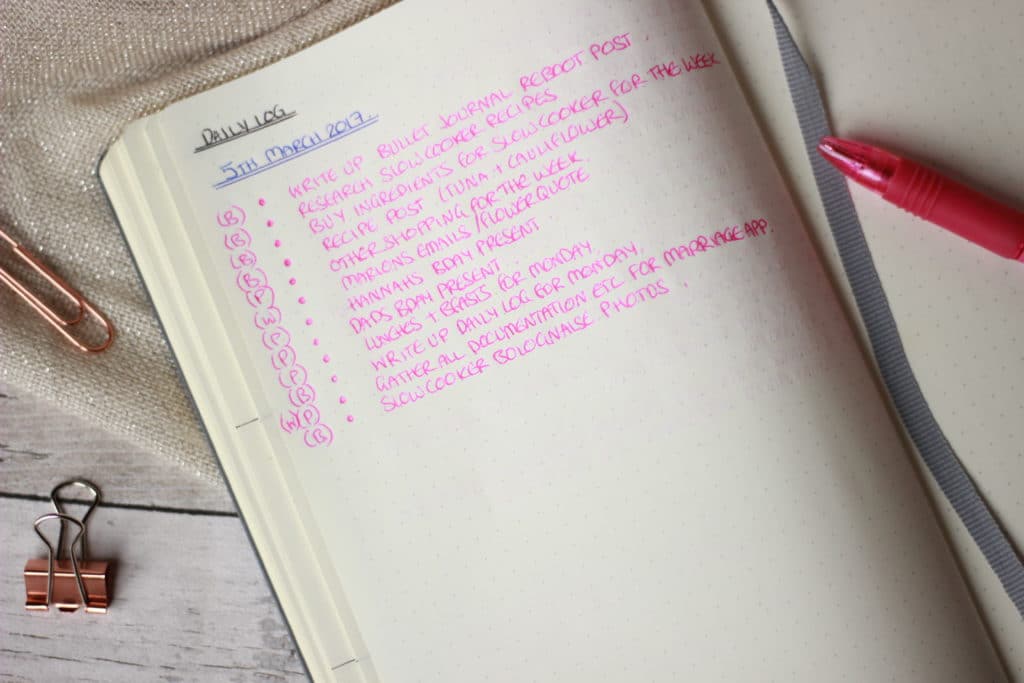 Quite a few of these tasks will need to be sent to tomorrow, as I haven't actually completed most of them – so you can see that I'm still over stretching myself. Hopefully this journal will help me to manage that better.
What next?
Even though the bullet journal was just meant to be something I would try for one week, I can see the benefit of it and will try to continue to use it. So I will see how it goes and will try to get to grips with my daily logging.
Week two of my 6 week reboot is slow-cooker week!! And you will be pleased to know that I have already purchased my slow cooker and planned our meals for at least the next 4 days. I even had a little go with the slow cooker yesterday and made a spag bol. So I'm all prepared for week two. Hopefully i'll be able to to get the cooker set up in the mornings, which should give me more time in the evenings. I also can't wait to come home to tea all cooked ready to eat.
Katya's first week of the reboot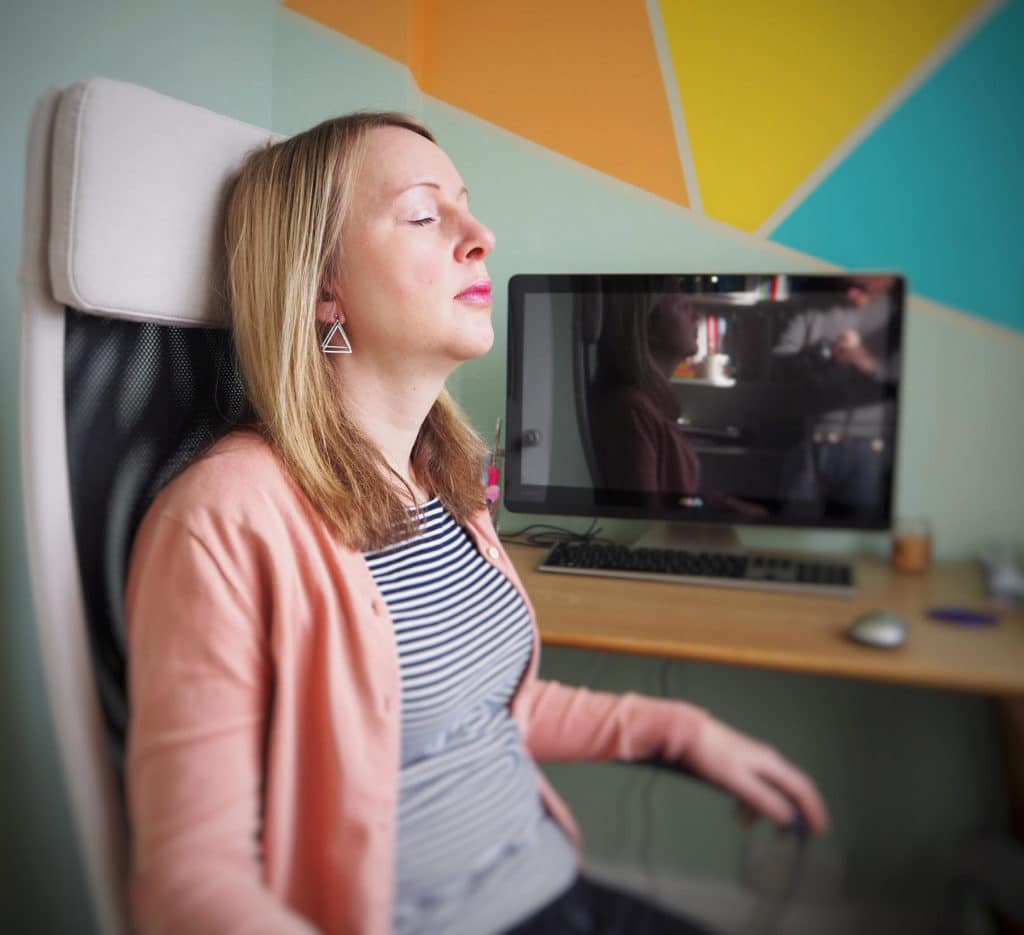 Katya, who is also doing the 6 week reboot with me, has spent the week trying out a bit of meditation. Read about how she got on here, and read about her plans for the full 6 weeks here.
See you next week for an update on slow cooking!
I am linking the post to Brilliant blog posts hosted by Honest mum.

This post contains an affiliate link, which means if you click the link and then go on to purchase the product I will receive a percentage of the cost. I will never recommend I product that I haven't bought, used myself and believe to be a good and useful product. See my privacy policy and disclosure statement for further details.