Its official; I LOVE my slow cooker and slow cooker meals!
Slow cooker week
Its week 2 of my 6 week reboot, and this week my challenge was to 1) buy a slow cooker, and 2) use it for a whole week. The idea being that I would be super prepared and that tea would be ready and waiting each night.
Amazingly, this all went extremely well and I am now a huge, die-hard, slow cooker fan. And I really mean it – I cannot believe I have gone for so long without this amazing piece of kitchen equipment in my life. (I thought my mixer was my favourite . . . how wrong I was).
Whats more, the meals that we've produced this week have been spectacular and I'm going to warn you now, I have taken a lot of food photos. A very lot, so this post is going to be choker with glorious images of everything our slow cooker has thrown out this week. If you're hungry, I suggest you grab a snack before you continue 🙂
sneaky peek:
Buying my slow cooker
So Lets go back to last weekend when I took the plunge and headed to Argos for the purchase of said slow cooker. I'd done a tiny bit of research beforehand and read some online reviews, so I had a reasonable idea of what I was after. Although there are some quite expensive slow cookers out there, from what I could tell, the cheaper ones didn't seem to do any less of a job. With this in mind, I decided to set a budget of £30 or under.
With such a large selection on offer for under £30, I needed to narrow down my options. In the end I decided that being able to sear of meats and veggies beforehand, in the slow cooker dish, was pretty useful; as the whole point of this exercise was to save time and reduce washing up.
Size was also an issue to consider. Most slow cookers come in varying sizes ranging from 1.5 litres to 6.5 litres. Now – did a want a big one so that I could use it for when friends come round and for cooking up batch meals, or a smaller one that would be more practical for two people? After reading up a little on the basics of slow cookers, I knew that they needed to be at least half full in order to work correctly. Therefore, if I was going to use the cooker on a regular basis, choosing a larger sized one would mean preparing a larger amount of food every time. I decided to go for a 3.5 litre as this seemed like a reasonable size, but wasn't so big that I would spend hours chopping veg in order to half fill it.
So after weighing up all the options there was only one slow cooker available that fitted the bill:
the Morphy Richards – Accents Sear and Stew Slow Cooker – in a lovely shade of Black
  🙂
(Please note that the above link is an affiliate link, which means if you do click this link and then go onto purchase this cooker, I will receive a small commission. If you do click and buy – Thank you!! I will only ever link to and promote products that I have tried and tested myself.)
My new best friend 🙂
Getting to grips with slow cooking
In order to fully prepare for week 2, I decided to get cooking immediately and try out a batch of Ragu for our Sunday night tea. The first thing to understand with slow cooking (especially if your life is busy and hectic) is that preparation is key.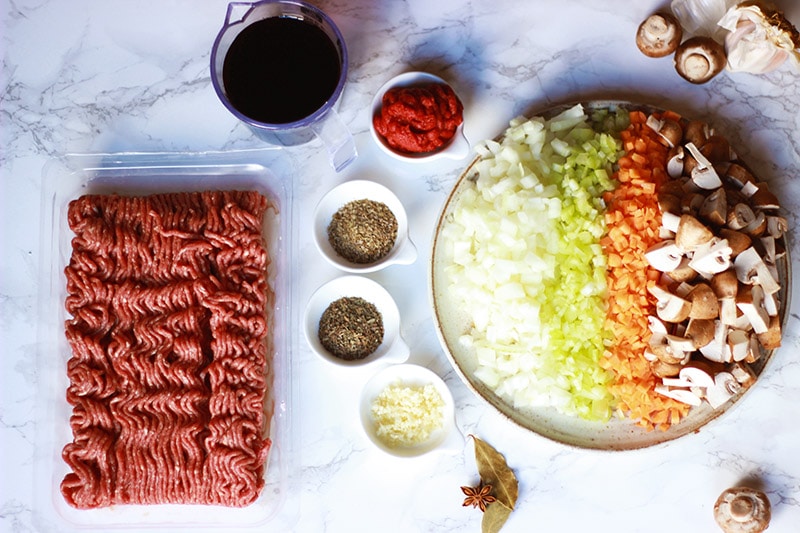 Know well in advance what ingredients you need and how to prepare them, and if anything needs cooking off first. Then get everything in the pot, set the desired level of heat and let the slow cooker get to work.
And it really has been that simple. Once my Ragu was in, I left it to slowly simmer away until we were ready to eat later on, which was a good few hours later on. Not only is this an amazingly relaxed way of cooking, but its also a method that produces amazing results:
Meat and veggies went in, and a lusciously rich, tomatoey, moreish Italian style Ragu came out. I highly recommend this recipe for any day of the week and any occasion. If you fancy giving this a go you can find my slow cooker Ragu recipe here.
Slow cooker meals for a whole working week
So after I'd taken my new slow cooker for a test drive it was time to think about the week ahead. I sat down with my notepad, a few recipe books and a couple of old family recipes. From these I came up with 5 slow cooker meals to see us through the week.
I'm not going to lie the list of ingredients was very long. I'd also decided that for each meal we would fill the pot and make more than we needed, in order to get some leftovers for the freezer. This effectively meant that I was buying double and in some cases triple the amount of what we actually needed for two people. The final bill at the supermarket was . . . considerable. However, I kept in mind that this was actually more like a 3 week shop, in which case the total was actually very reasonable.
Monday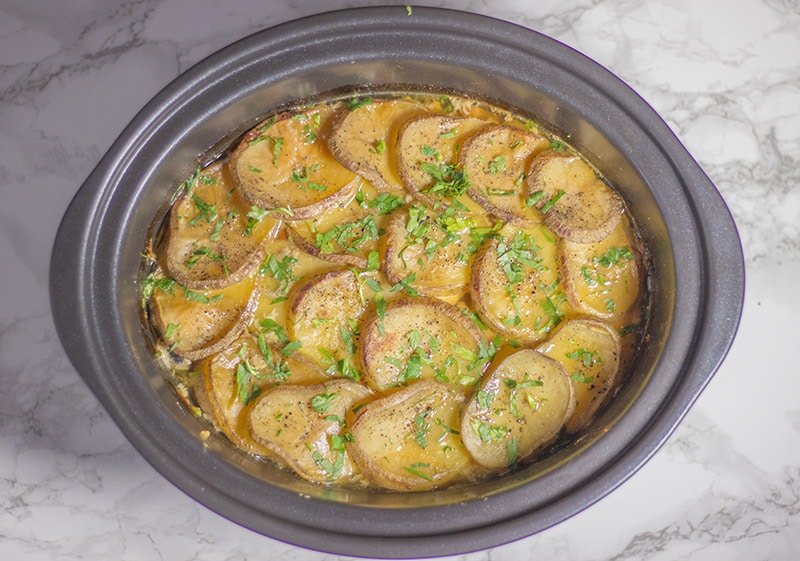 Monday's meal was a homely chicken hotpot, filled with big chunks of chicken; baby onions and mushrooms; cubes of carrot and swede; and finished of with a layer of sliced potatoes. We got home on Monday evening to the wonderful smells of a fabulous chicken dinner and could not wait to see what our slow cooker had been up to whilst we were busy at work. We were not disappointed:
We were off to a great start. After polishing off the chicken hot pot and then freezing the leftovers I got to work preparing the meat and veggies for Tuesday.
Tuesday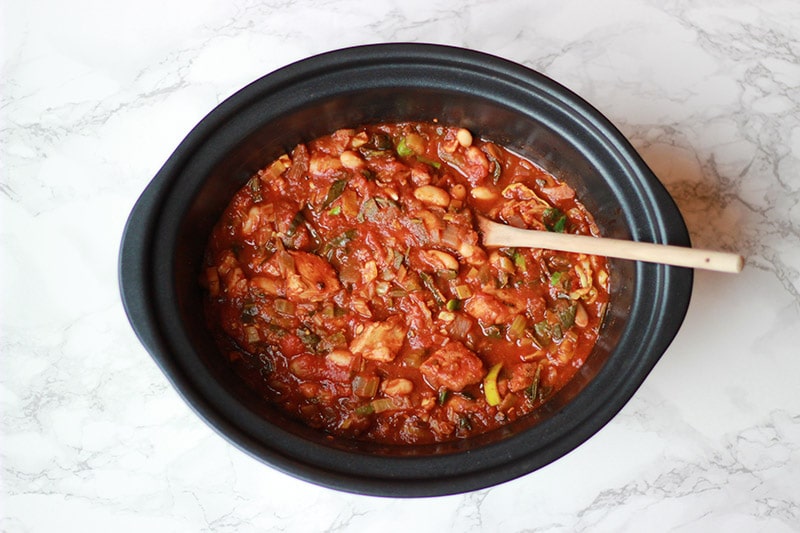 A lovely rich Tuscan Pork and White Bean Stew. This recipe was incredible. I've tried to make Tuscan stews in the past but they have never turned out quite like this. The slow cooking process really intensified the sauce and gently poached the meat, resulting in a dish that encapsulated all the flavours of a Tuscan-style, fall apart-pork dish.
We enjoyed every mouthful and even had Ben's brother round for tea – there was plenty to go around.
Wednesday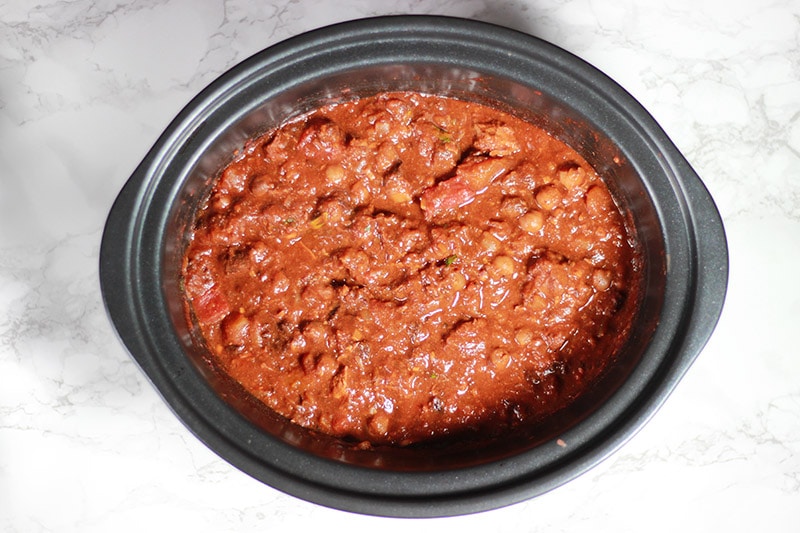 Slow cooker Turkey, prune and chickpea tagine; this was a definite winner. Served up with a little rice and sliced pitta breads; this dish is certainly one we'll be trying again. Find the recipe for this here.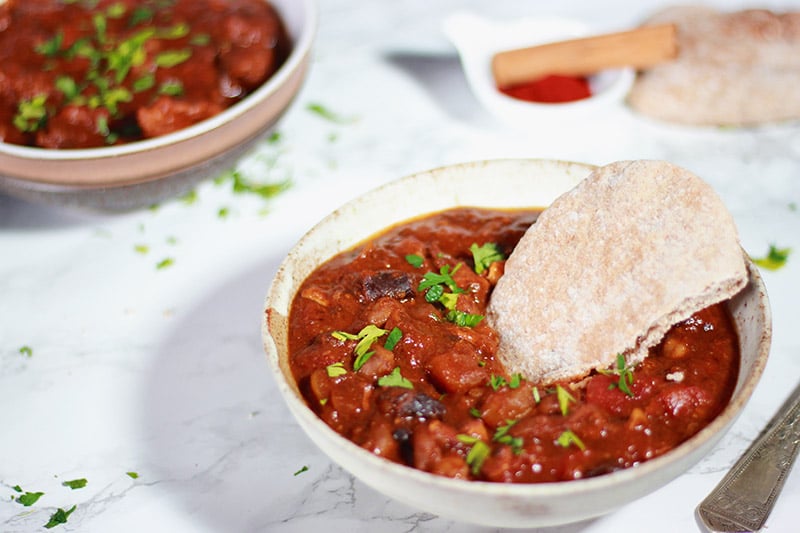 I went for turkey as we were trying to stick with leaner, white meats for mid week, but this recipe would also be great with lamb of beef.
Thursday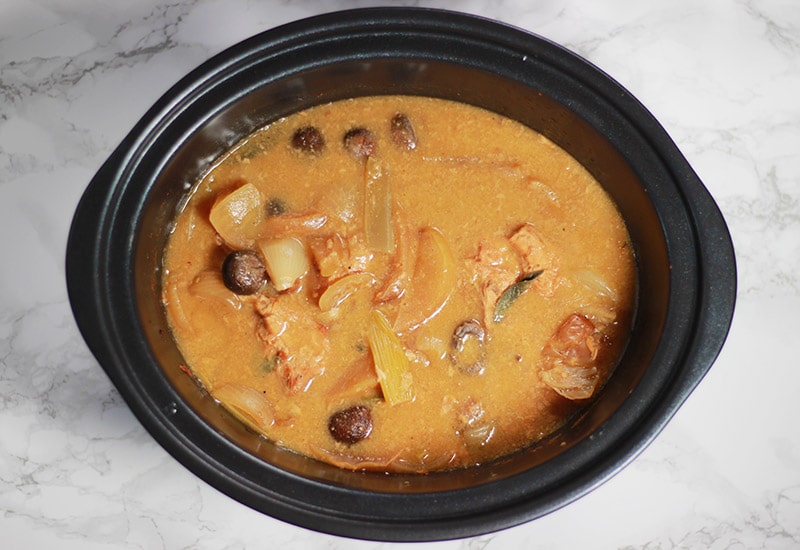 Chicken, apple and sage in cider! This was one of the favourites of the week and I cant tell you how great it is knowing that there's couple of tubs of this, neatly packed away in the freezer.
This dish was basically my mums pork in cider recipe, adapted for the slow cooker. Also I used Chicken instead of pork and got rid of the butter from the original ingredients, which worked just as well. Thank you mother for such a fantastic recipe!!  I'll be sharing this recipe soon!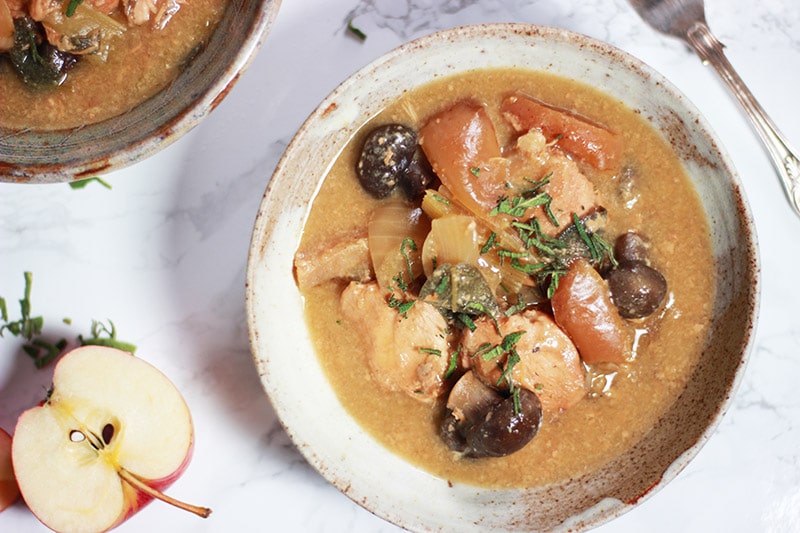 Friday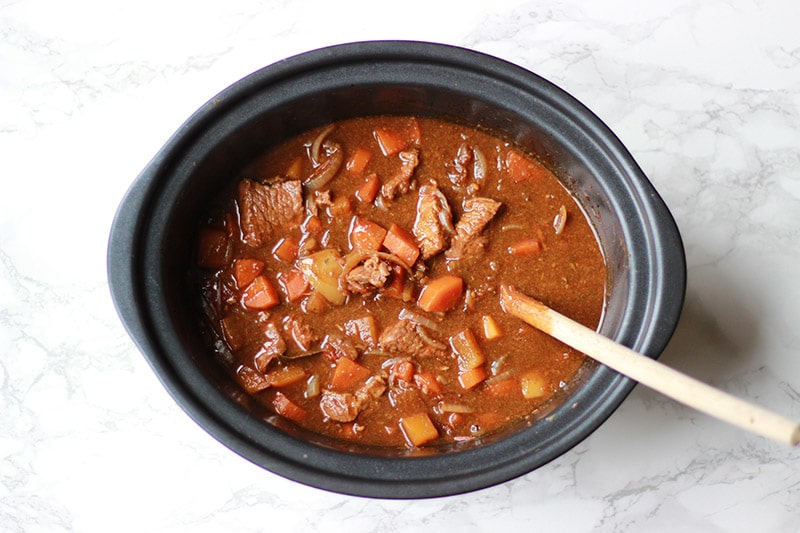 Finally the end of the week and we finished with a classic beef stew, which I served up with cubed rosemary potatoes and a sprinkle of dried parsley. Fantastic!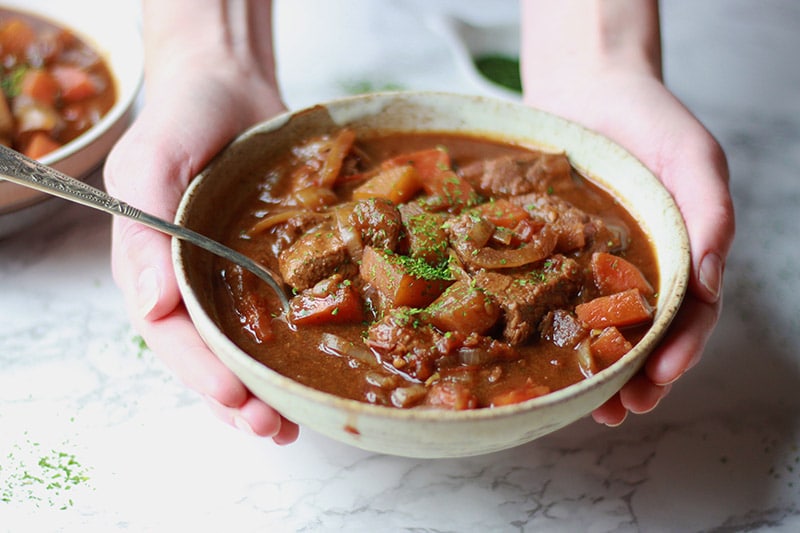 The beef just fell apart and the mix of swede, carrot and turnip gave a great flavour to the rich gravy. And again there was plenty left over for the freezer, which is now full to the brim! Good times!! 🙂
In Conclusion
So there we have it – a week of slow cooker meals! I can honestly say that its been a real revelation, although doing back-to-back slow cooker meals was actually, in the end, quite time consuming. I think a couple of slow cooker meals throughout the week are perfect for those evenings when you don't really have time to prepare a proper meal, but still want to eat something amazing when you get in from work.
I can definitely recommend the Morphy Richards sear and stew 3.5 litre slow cooker. Its been brilliant all week and so far I have no issues and can only say good things about it. Regarding the size: I'm more than happy with the 3.5 litre, its large enough to be able to make enough for 4-6 people but its not so big that I need an army of chefs to help me prepare the ingredients. I also like that there's room to make extra – nothing better than being able to freeze the leftovers of a great meal, ready for another time.
If your interested in the slow cooker I've used this last week the link is here: the Morphy Richards Sear and Stew 3.5
Please note that this is an affiliate link, which means if you do click this link and then go onto purchase this cooker, I will receive a small commission. If you do click and buy – Thank you!! I will only ever link to and promote products that I have tried and tested myself.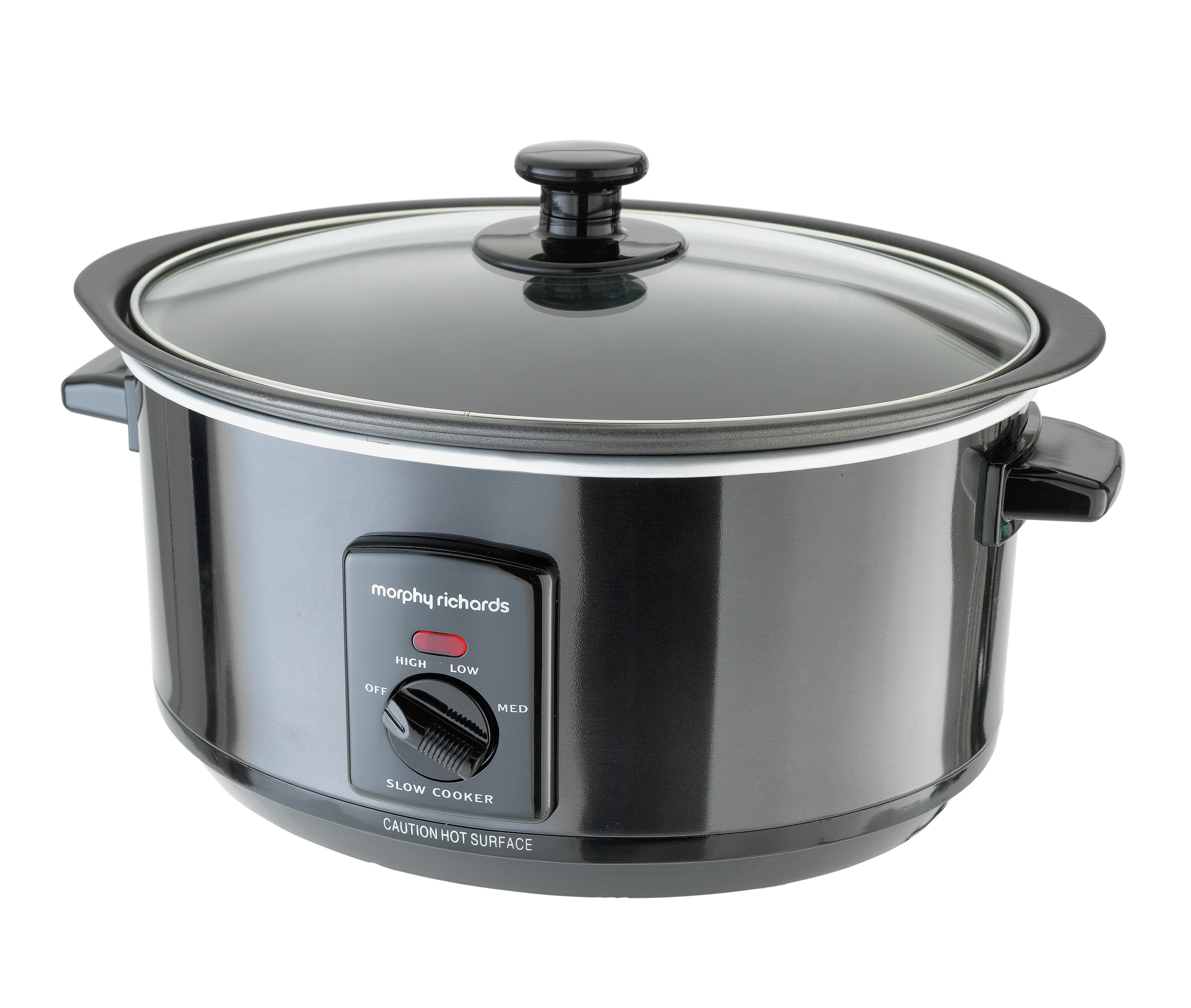 I will be sharing all the above recipes very soon, so make sure you stop by again if there's a particular dish you like the look of.
The 6 week reboot
My friend Katya is also doing her own 6 week reboot along side mine, this last week her challenge was to have only: water, herbal teas or hot water and lemon,
 for all her drinks.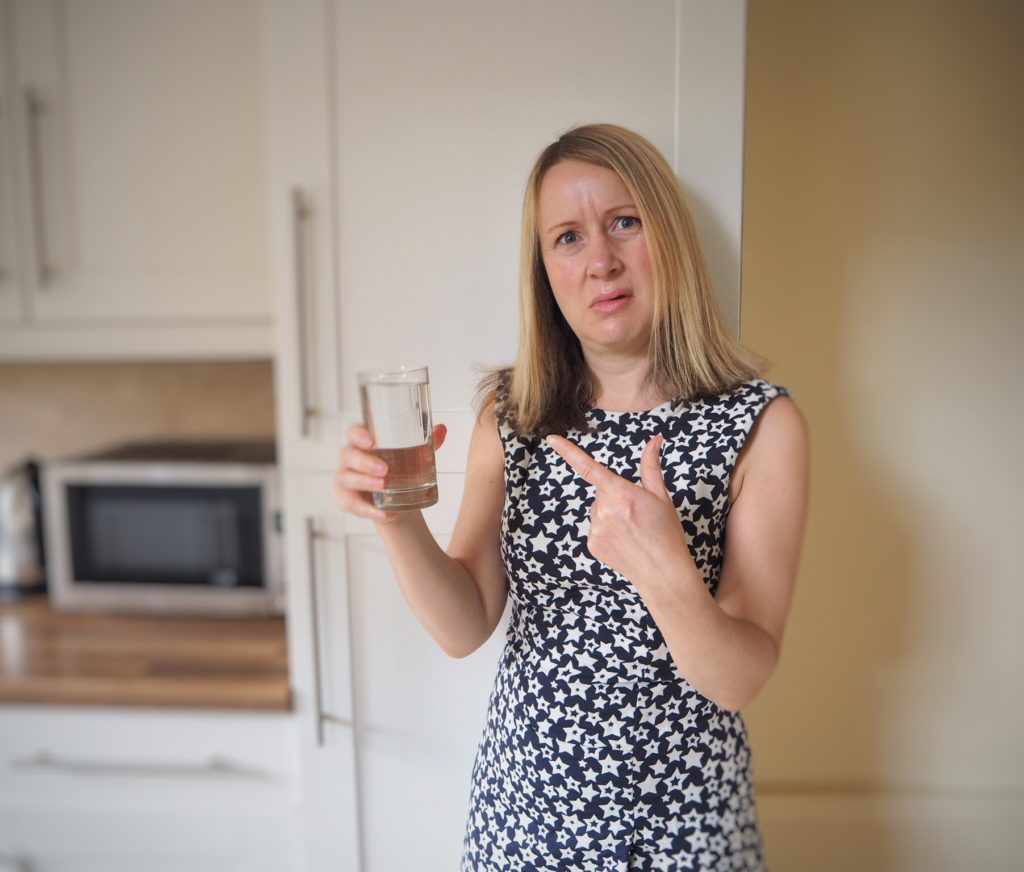 She was allowing herself a couple of glasses of alcohol at the weekend. Read about how she got on here.
And so on to week 3, I can't believe its week 3 already. Anyway my challenge for the coming week is to fit in at least 10 minutes of yoga each day. In truth I'm hoping that I'll do more than 10 minutes. Once I get started I'm hoping that I'll be able to relax into it and do 30 minutes – maybe even an hour. I have my yoga playlist and incense sticks at the ready!! Quite looking forward to it. Come back next Sunday to find out how I've got on.
If your interested in finding out about how I got on in week 1 of the reboot, the link is here.
Im linking this post to brilliant blog posts hosted by honest mum.