This is a very special treat and one that I can't wait to share, both on the blog and with my nearest and dearest.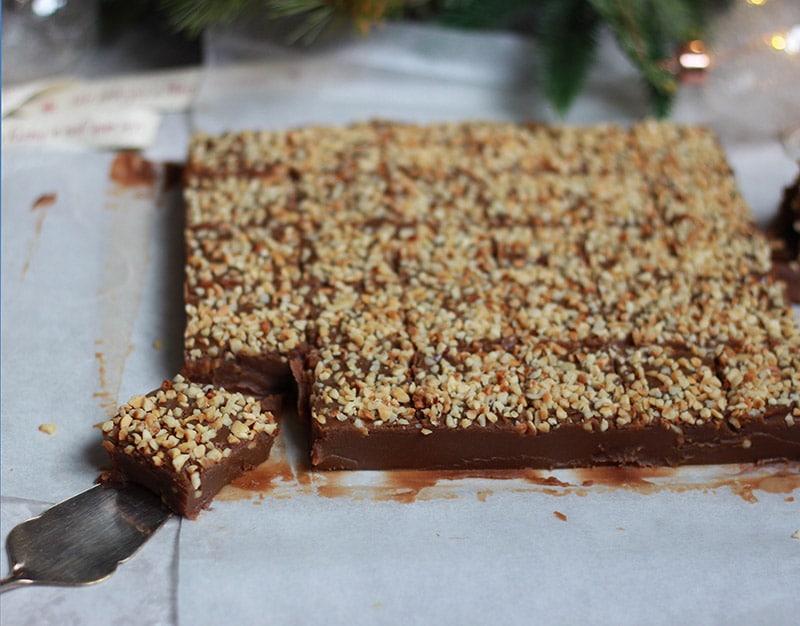 This is my last post before Christmas and I thought I'd use a recipe that might come in handy over the festive period. This fudge is perfect for sharing and will certainly impress all your guests.
The recipe
The origins of this recipe come from Lily Vanilli, a baker in London, who has recently been baking up a storm in the kitchen using the fabulous Baileys liqueur. The wonderful people at Baileys got in touch with me last week and asked if I'd be interested in recreating one of Lily's Baileys recipes. Of course I said yes, I couldn't say no to Baileys at Christmas.
And so I set out to recreate Lilys Baileys fudge, with a few of my own additions along the way. I've never made fudge before and Lily's recipe seemed so simple and straight forward that it was impossible for me to resist.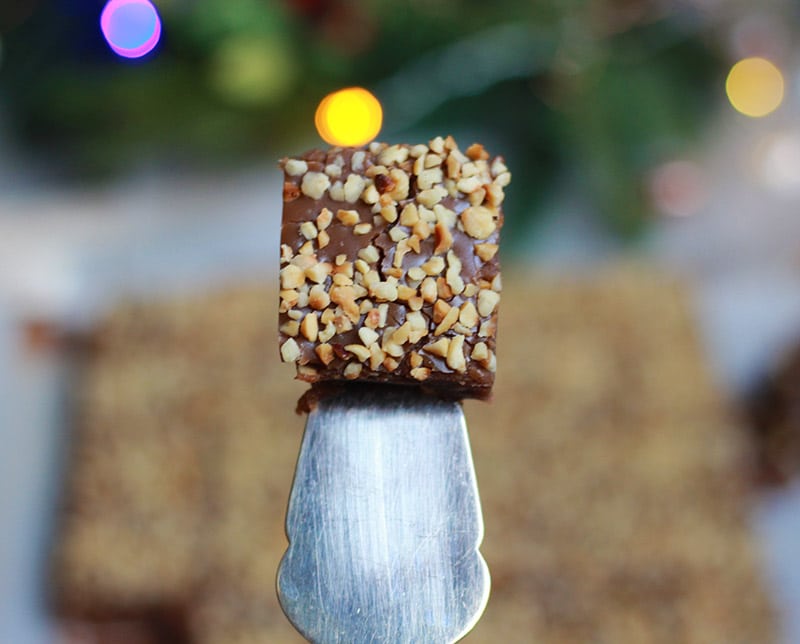 For the last week or so I have been super busy in the kitchen preparing jars of chutney, cranberry sauce, gingerbread and various other bits and pieces for my festive hamper gifts, whilst also enjoying one or two festive mugs of baileys coffee or gin hot toddy. I decided that it would be a lovely idea if my hampers could also include the Baileys fudge.
Recreating the fudge recipe.
To give the fudge a little more structure and and a finish that was a little more hardy, I decided to add to Lily's recipe with: 200g of melted chocolate and 100g of chopped hazelnuts. The idea was that the chocolate would help the fudge to set more firmly and the hazelnuts would decorate and protect the top.
The resulting product was a deliciously creamy fudge with the velvety taste of chocolate, the after-kick of decadent Baileys and the soft crunch of hazelnuts. I'll warn you now this fudge is dangerous - I've eaten so much today.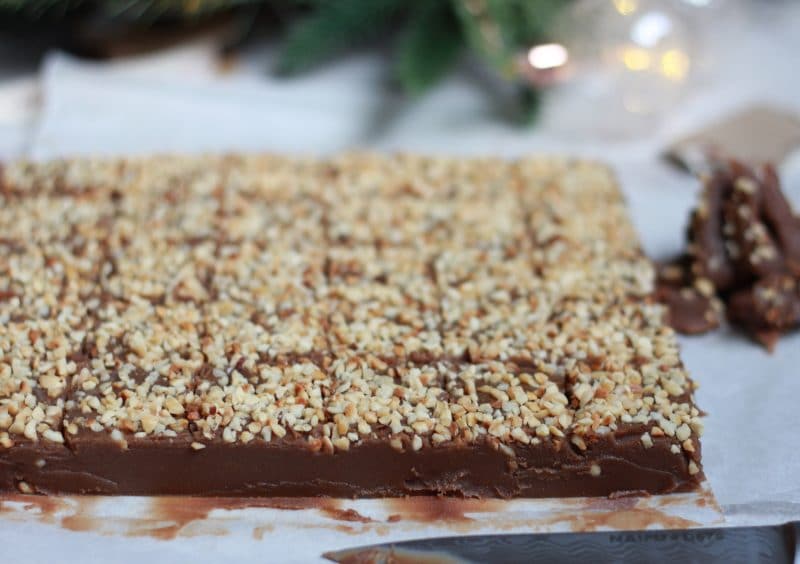 And as if all of that wasn't enough I decided to go one step further and add yet another element to this wondrous treat....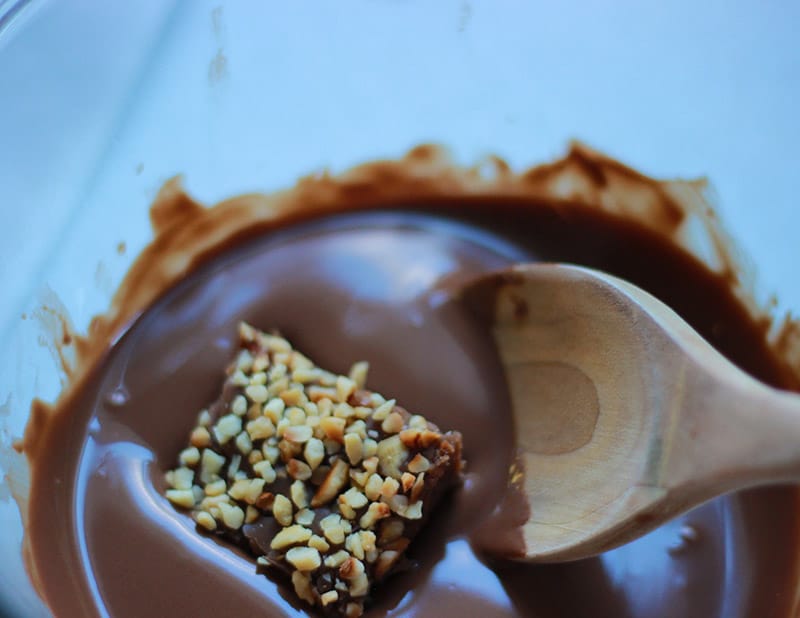 Yep, thats right, I dunked each square in melted chocolate and then let the whole thing set again in the fridge, before cutting into 2 or 3 pieces to reveal the layers of fudge, nuts and chocolate.- Incredibly good.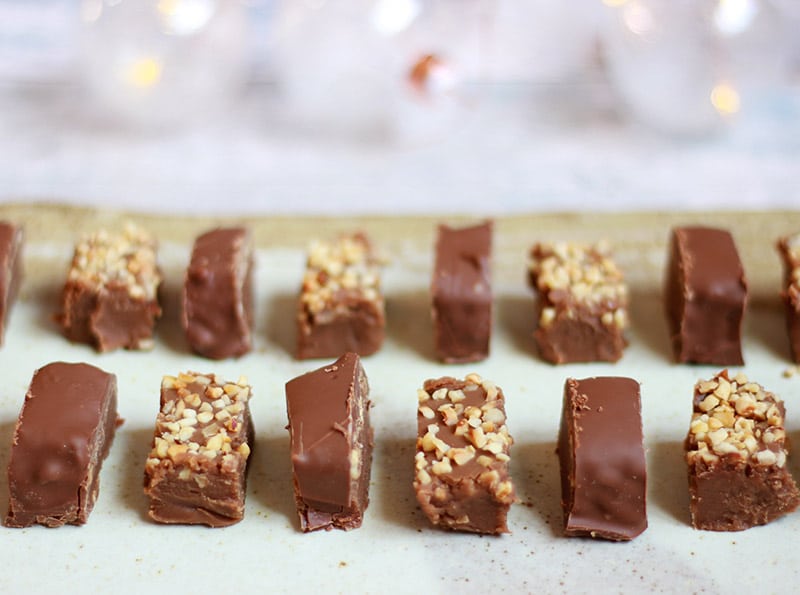 The addition of the extra layer mainly came about because I wasn't convinced that the mixture on its own would carry well in my hampers. So I wanted to add an extra layer of stability (and indulgence). However, if you are serving straight out of the fridge to your guests, then the fudge is fabulous just as it is. It might be nice to do a mixture of chocolate-coated and non-chocolate-coated (as pictured above), if you did have time to dunk and set a few pieces.
So if you're still stuck for a last minute gift or a dessert for over Christmas, then give this Baileys fudge a go. It can be made a day or two in advanced and keeps really well in the fridge.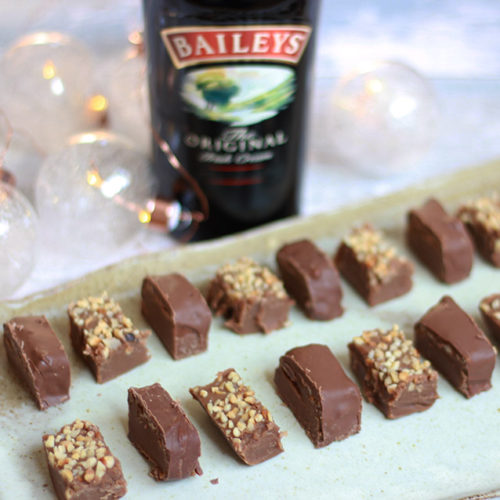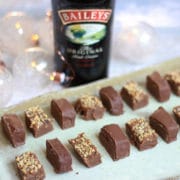 Baileys, Chocolate and Hazelnut Fudge
Baileys, chocolate and hazelnut fudge with an outer coating of chocolate. Great for serving at partys or to wrap up as homemade Christmas gifts.
Ingredients
400

ml

Sweetened condensed milk

250

g

light brown muscovado sugar

120

g

unsalted butter cubed

200

g

milk chocolate broken into pieces

200

ml

Baileys liqueur

100

g

chopped hazelnuts

1

square 9 inch baking tin lined with grease proof paper

An extra 200-400g of melted chocolate for dunking

if required
Instructions
Make sure your tin is well line, with extra paper hanging over the sides. This will help with removing the fudge from the tin later on.

In a large non stick pan (I used a wok) add the condensed milk, sugar and butter. Set on a low to medium heat and stir for 10 minutes or until the butter has melted and the sugar has dissolved.

Turn up the temperature and bring to the boil whilst stirring continuously. Do not let the sugar stick to the bottom. Bring to a simmer and continue to stir for a further 10 minutes.

The mixture is ready when there is a slight colour change. The mix will take on a caramel colour with a slight shine. At this point remove from the heat, add the Baileys and broken up chocolate. Stir well until all the chocolate has melted and the mixture thickens slightly.

Pour the fudge into the lined tin and leave to cool for at least 1 hr. Transfer the tin to the fridge and chill for 2-3 hours (ideally, leave in the fridge over night).

Once the fudge is chilled and fully set use the paper lining to remove the fudge from the tin. Cut up into square pieces and return to the fridge until you are ready to serve.

To add the extra outer layer of chocolate. Melt the chocolate in the microwave (30 second bursts and stirring in between), then drop one piece of fudge at a time, into the chocolate and coat. Use a fork to remove the fudge and place on a tray lined with grease proof paper. Return chocolate dipped fudge to the fridge in order to set again, this should take an hour or so.

Once the chocolate layer is set, remove from the fridge and carefully cut off the chocolate edges from two opposing sides to reveal the layers of nut, fudge and chocolate inside.

Serve or gift wrap for presents.
**Estimated nutritional information per serving of fudge and per 100g of fudge. If you want to find out more about how the information is calculated and the sources used, please refer to my Nutrition Information Guide.
With great thanks to Baileys for the opportunity to use their products. This is not a paid post and all thoughts and opinions expressed are my own.