Dairy free coconut and sultana breakfast loaf with a crunchy seed and Rice Krispie topping. The perfect start to your weekend mornings.
Breakfast Loaf
Over the weekend I made this gorgeous breakfast loaf. The inspiration firstly came from a breakfast recipe challenge set by Vita Coco and secondly from my own favourite breakfasts as a child: toast and cereal.
Toast and cereal.....quite boring I hear you say, but lets bring the two together; lets make bread with milk and top it with honey coated, crunchy cereal and seeds.
Craziness??
I think not . . .
Dairy free Breakfast Loaf
The milk used in this recipe is actually Vita Cocos new coconut milk alternative. And may I say that it is the best milk alternative I have ever tried. Its creamy, sweet and made with 70% coconut. Best of all this coconut milk alternative is dairy free, gluten free, soy free, has no added sugar and to quote Vita Coco it #tasteslikenoudder. In fact I think it would go really well with my free from cardamom and treacle panna cotta recipe!! I also may have tried it in my cup of tea and was pleasantly surprised. So its thumbs up all round for Vita cocos new milk alternative.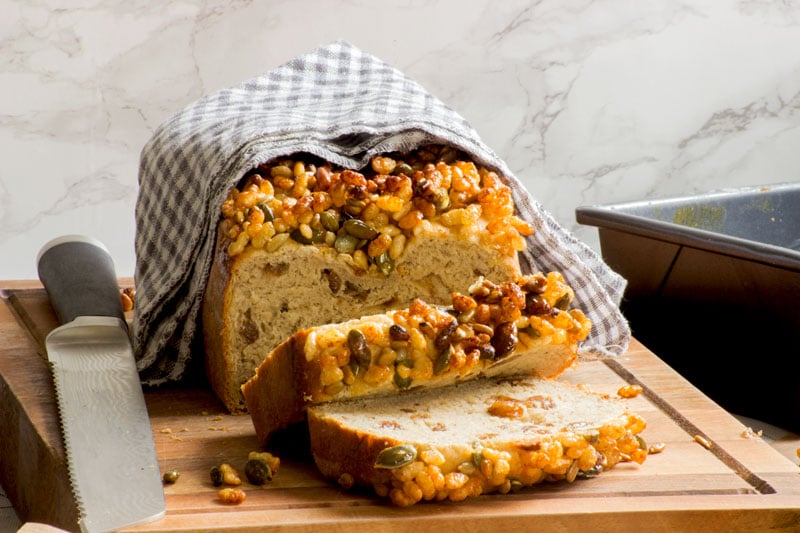 Fruity and spiced breakfast bread on a weekend
Sometimes all I want on a Sunday morning is some sweet fruit toast, smothered in proper butter, washed down with a lovely cup of tea. So when I set out to make my first ever breakfast loaf I knew it had to include plump and sweet sultanas and a helping of mixed spice. The addition of the coconut milk and crunchy cereal topping really turned it into something extra special.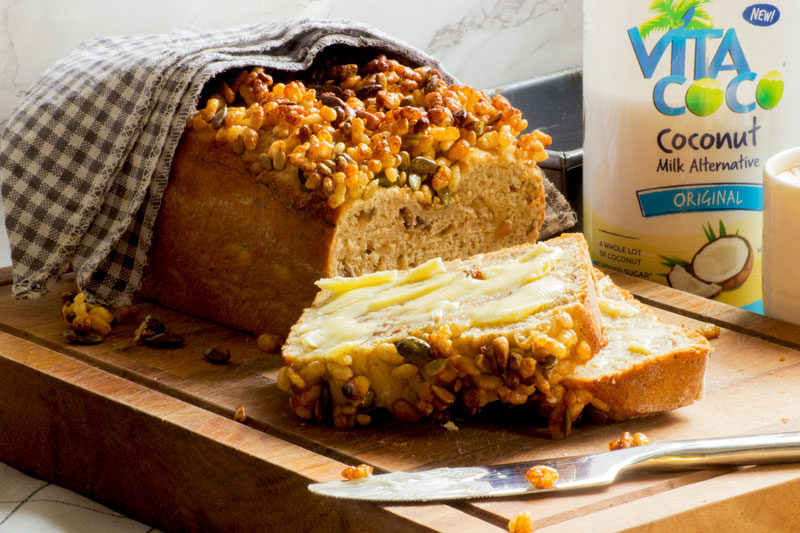 Making the breakfast loaf
So basically this is just a tarted up piece of bread. I know a lot of people will shy away from making their own bread - but trust me this is totally worth it. Its also not that hard to make and to demonstrate how easily you can recreate this stunning bread, I've made a little storyboard of step-by step instructions below. Along with the more detailed methods in the recipe this should help anyone to get this bread made and eaten 🙂
To print or to enlarge: download a pdf version of the below storyboard here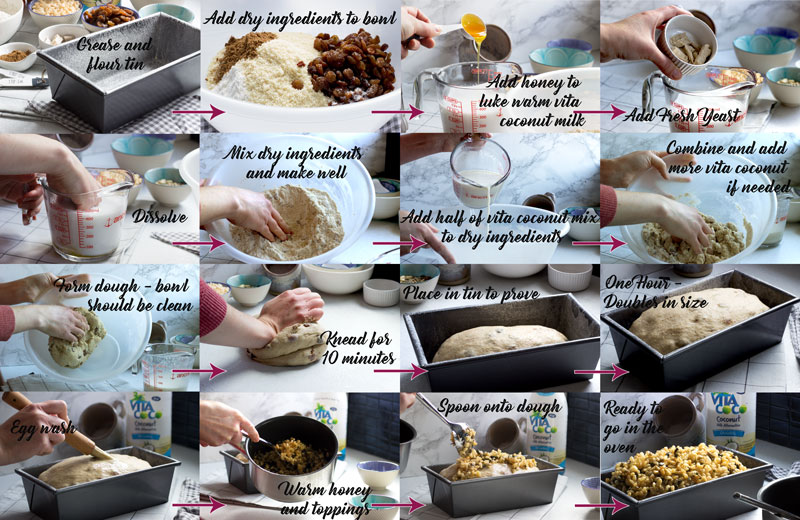 The most important part of making bread is to make sure your yeast is activated in the right environment and that the dough is kneaded for long enough and given chance to rise. If you would like to know a little more about these processes I've previously written about the method of bread making in my mini bread rolls recipe.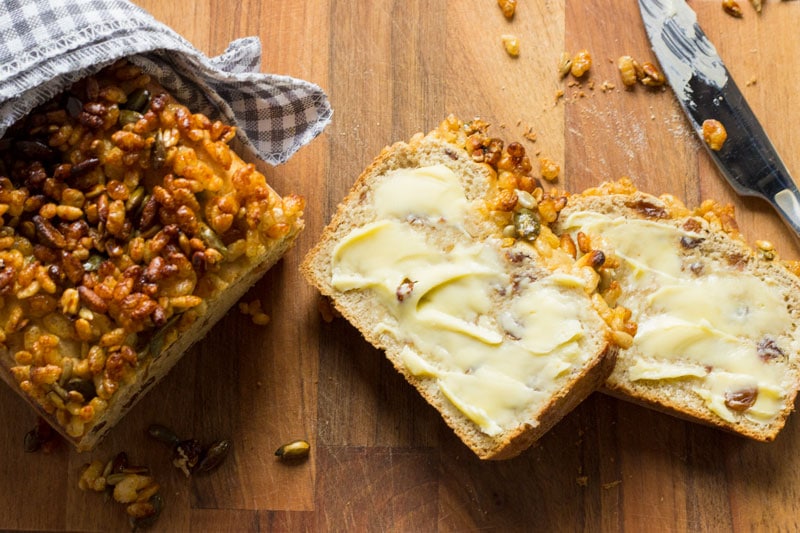 The topping
Once I'd made my dough and left it somewhere warm to rise, I turned to a box of cereal to make my crunchy topping. And as this was originally inspired by my childhood breakfasts, the cereal of choice was of course Rice Krispies.
After gently heating a couple of tablespoons of honey I mixed in the Rice Krispies and seeds and then carefully spooned the mixture over the dough. The whole thing then went in the oven to bake through and crisp up.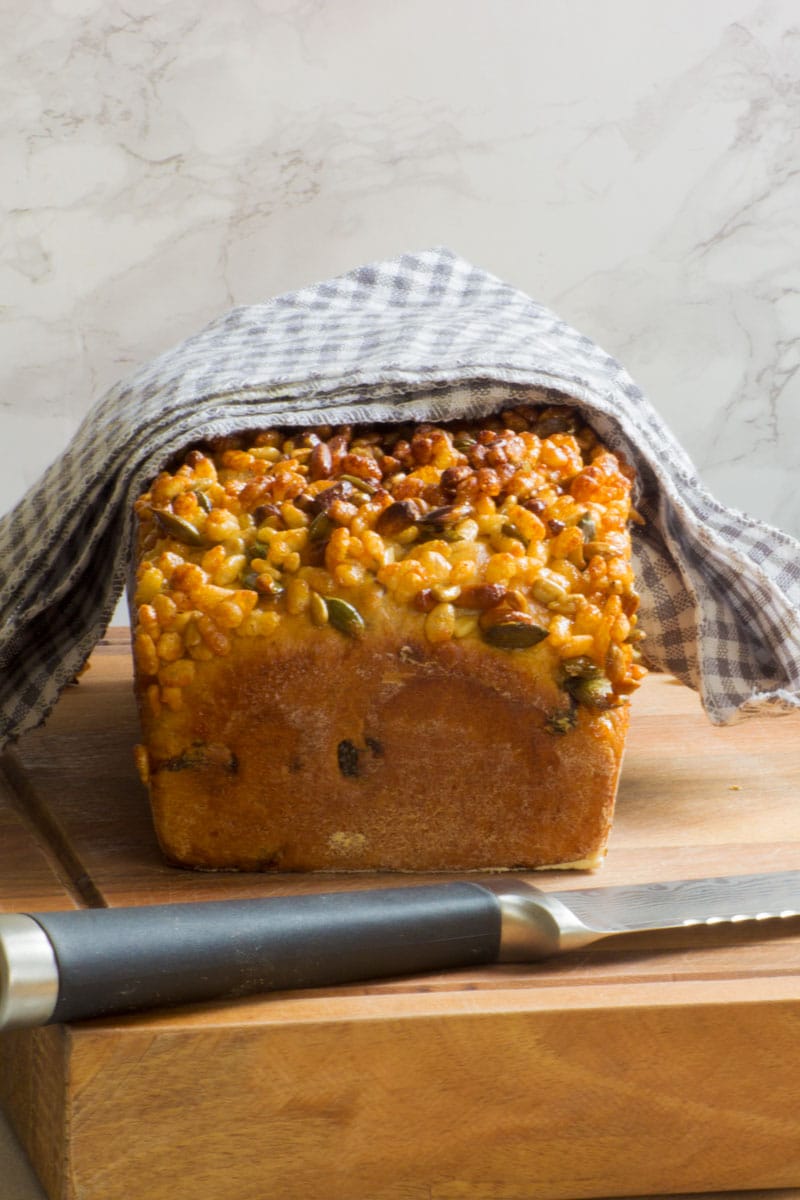 A slice of this breakfast loaf with a good spread of butter is fabulous - for sure. But a slice that is lightly toasted, with a helping of butter melted on top, is by far my most favourite way to savour and enjoy this loaf. The heat from the toaster brings out the flavours of the mixed spice and slightly warms and softens the sultanas. Add on the flavours of creamy coconut and melted, salty butter and there is just no arguing with this glorious, homemade breakfast loaf.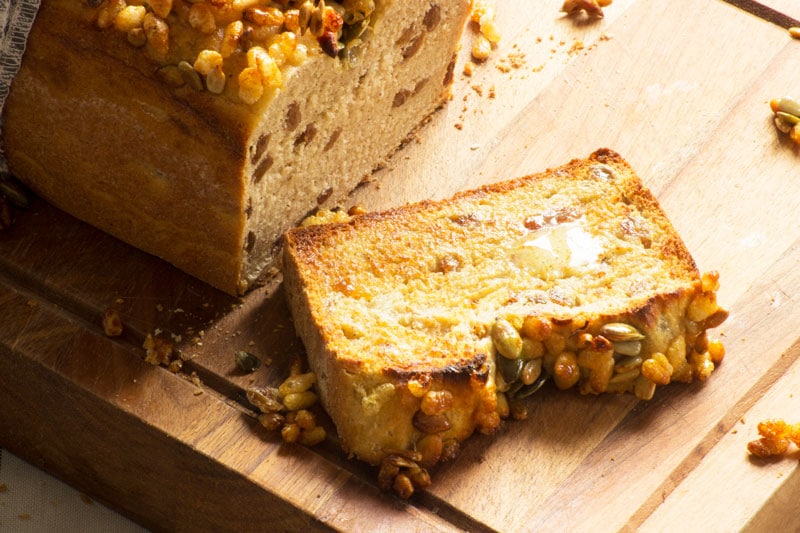 Brown Paper and String
But of course, unless you have a few mouths to feed, this loaf will probably be a little too much to consume in one sitting. I wrapped my loaf up in brown paper and string - just because I could, and as well as keeping the bread pretty fresh it also looks pretty awesome.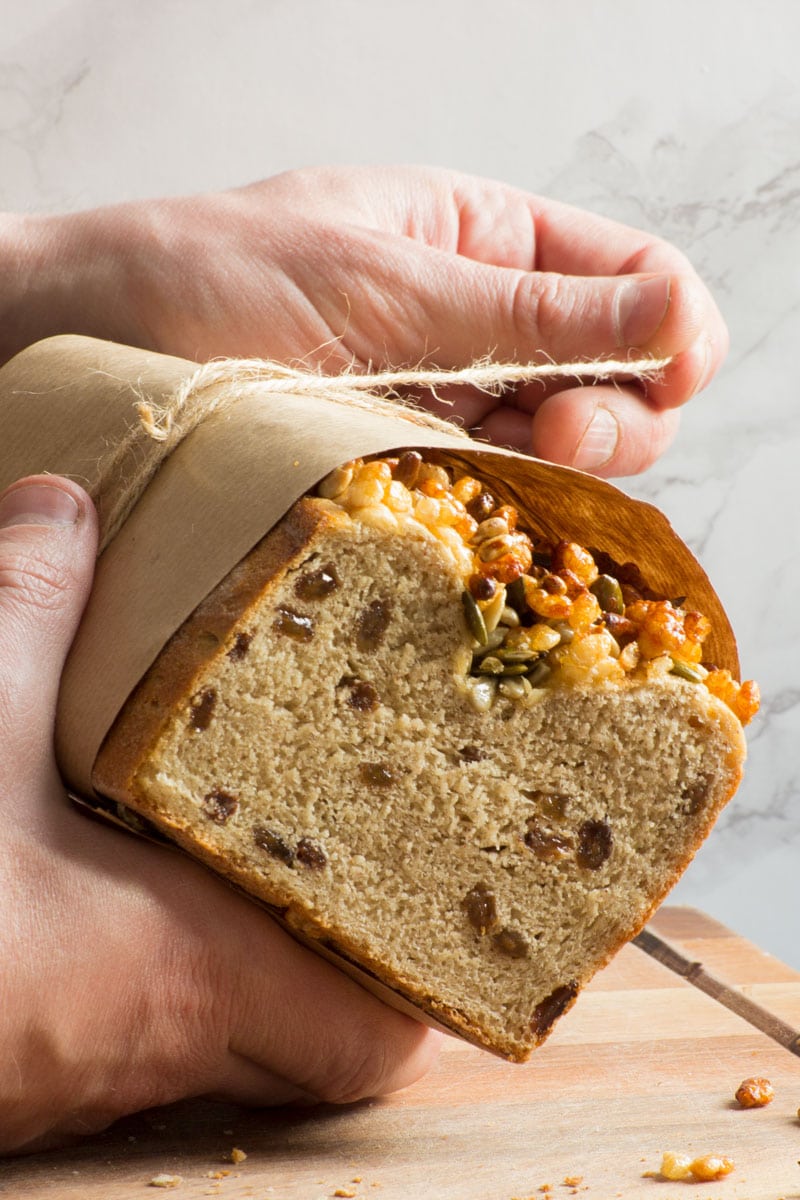 Ready to be stored in the bread bin, or taken on a picnic - a breakfast loaf that will definitely go down a treat whatever the time or occasion.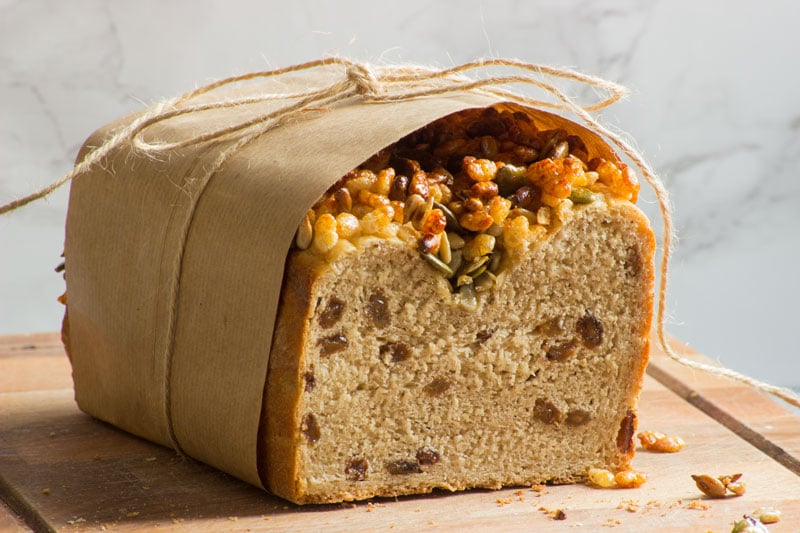 You can find out more about Vita coco and their products here.
This recipe is an entry into the Dairy Free Style Your Breakfast challenge with Vita Coco and Foodies100. See more great breakfast ideas at http://www.vitacoco.com/uk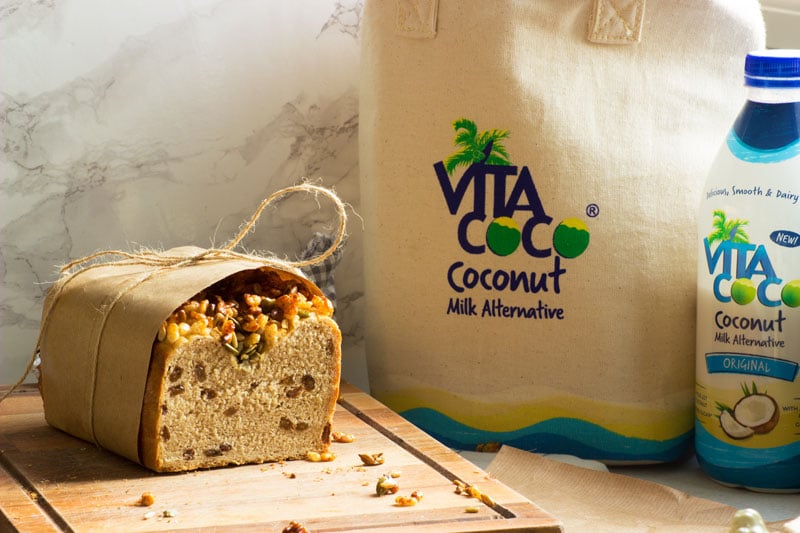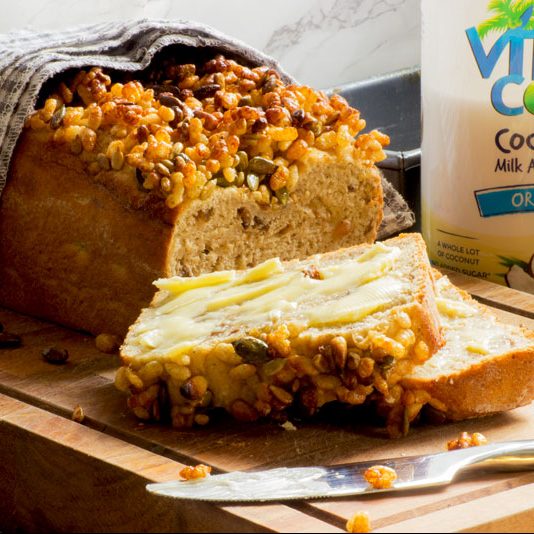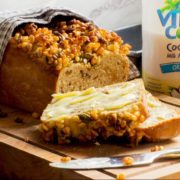 Vita Coconut and Sultana Breakfast Loaf
Dairy free coconut and sultana breakfast loaf with a crunchy seed and Rice Krispie topping.
Ingredients
300

g

Strong white flour

100

g

Ground almonds

100

g

Sultanas

1 ½

tsp

mixed spice

Pinch

of crushed sea salt

200-250

ml

of Vita Coco Coconut milk alternative

12

g

fresh yeast or 7g dried yeast

1

tbsp

honey
For the topping:
40

g

mixed seeds

15

g

Rice Krispies

2

tbsp

honey
Egg wash:
1

egg

50

ml

Vita Coco coconut milk alternative
Equipment:
Loaf tin - greased with butter/dairy free butter and floured.
Instructions
Prep:
Pre heat the oven to 180 degrees C (Fan)

Prepare your loaf tin by greasing with butter (or dairy free butter) and dusting with flour using a sieve.
Making the dough:
See the storyboard pictures above for further guidance.

Firstly, mix the flour, ground almonds, sultanas, mixed spice and salt (dry ingredients) in a large bowl. Place to one side.

Measure out the Vita Coconut milk and heat for 30 seconds in the microwave (luke warm). This slight warmth of the milk alternative will help to activate the yeast. However, any warmer than body temperature and you run the risk of killing the yeast - so ensure the milk alternative is not overly warm to the touch.

Add the honey and then yeast to the milk alternative and use your fingers to help fully dissolve the yeast. I much prefer to use fresh yeast, which is easily obtainable from bakeries or the bakers at well known supermarkets - just ask. However, dried yeast will work fine if you can't get hold of the fresh stuff.

Note that you don't need as much yeast if using dried.

Return to your bowl of mixed dry ingredients and make a well in the centre. Add about half of the milk alternative and yeast mixture to the well, then use your finger tips to start mixing the dry and wet ingredients together. Gradually add more of milk alternative mixture as required, until a dough starts to form. Note that you want to keep the mixture as dry as possible without it flaking apart. So you may not need to use all of the milk mixture, but just enough to hold the dough together. Make sure you combine in all the flour and leave the bowl clean.

Turn the dough out onto a clean work surface and begin to knead. You can add olive oil or more milk if you feel the dough is a little too dry or sprinkle on more flour if its too wet and sticking to your hand and the work surface.
Knead and prove the dough:
Knead for 10 minutes in order to fully activate the yeast. As you knead, the dough will become less sticky and smoother. After 10 minutes shape the dough into a smooth even loaf/sausage shape and carefully transfer to your greased loaf tin. Cover the tin with cling film and leave on top of your warming oven. The warm environment will help the dough to rise. Leave for around 1 hour, in which time the dough should double in size.

After 1 hour has passed, remove the cling film. Be gently with your loaf as any rough movements may knock out the built up air.
Egg wash and toppings:
Prepare the egg wash by whisking together equal amounts of egg and Vita coconut milk alternative. Gently brush the egg wash over the surface. At this point, if you prefer to not have a topping, you can pop your loaf straight in the oven.

If you want to add the topping to your bread, gently heat the 2 tablespoons of honey in a pan. When the honey begins to loosen, remove from the heat and mix in the seeds and and cereal. Gently spoon the seed and cereal mixture over your unbaked loaf and spread evenly over the surface.
Baking!:
Bake your loaf in the centre of a pre heated oven for 30 minutes. If you have added a topping check after 20 minutes and cover with foil for the last 10 minutes if the seeds and cereal are looking overly dark.

After 30 minutes you can check if your loaf is cooked through by carefully turning out of the tin (use oven gloves) and gently tap the bottom. If its baked through then the loaf will sound hollow. If not return to the tin and pop back in the oven for a further 5 minutes or until the hollow sound is achieved.

Remove your loaf from the tin and leave to cool completely,on a wire rack, before slicing.

Serve with butter and cups of tea (made with Vita Cocos coconut milk of course!) And don't forget to try it toasted as well 🙂
Nutrition
Serving:
80
g
|
Calories:
220
kcal
|
Carbohydrates:
33.5
g
|
Protein:
6.3
g
|
Fat:
7.6
g
|
Saturated Fat:
0.7
g
|
Polyunsaturated Fat:
2.1
g
|
Monounsaturated Fat:
3.9
g
|
Fiber:
1.3
g