Pesto,
one of those amazing extra ingredients that can turn a "eat me because your hungry and there's nothing else" dish, to a "savour every bite and hide any left overs from everyone, everywhere" dish. Your standard Italian pesto (basil, pine nuts and Parmesan) is packed full of bright, aromatic flavours that can heighten even the dullest of grains.  The sweet aniseed flavours of the basil, balanced with the bitter and pungent taste of pine nuts is abruptly finished off with the sharp parmesan cheese, which brings it all together into one lovely, dip-able, spreadable, mixable sauce. This celery autumnal pesto, although different, is just as delicious and a perfect addition to my autumn recipe collection.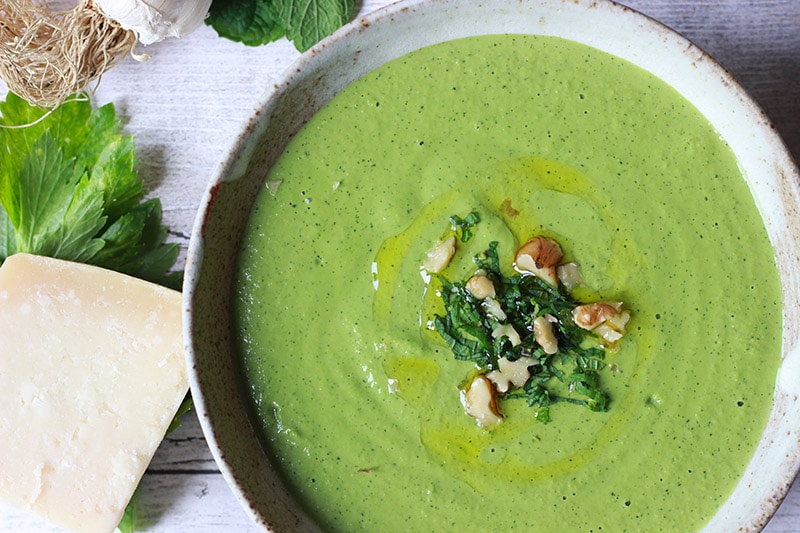 Autumn has been pretty fantastic for us this year -
We had a little trip to my favourite place in the whole world: Italy. If there was ever a place that was to be given an award for the most amazing food and for the most inspirational food ideas, in the most perfect setting then it would definitely be Italy. We were there to continue and finalise plans for our Italian wedding next year - eeeeeek!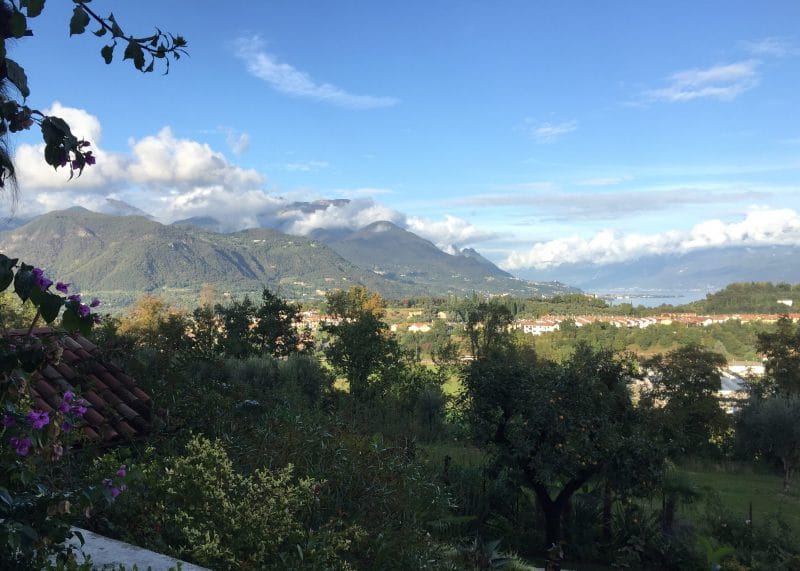 So did we eat a lot during our trip?
Yes we ate a tonne. Did we care that we were meant to be there to plan our wedding and not eat all of Italy's pasta in one sitting? No, not one bit...no one tried to stop us. But yes......our wedding!! Thats right - this massive thing that seems to be gobbling up my time at the moment, but something that I've failed to talk about on here. So, here it is; next year, Ben and I will be married in the beautiful surrounding of the Italian countryside and of course this day is to include lots of pasta, risotto, wine and a good bunch of laughter and happy times. Excited doesn't even begin to describe where I am at with this right now. There's still lots of planning to be done, and I'm sure a great deal of stress to cope with but I can't wait to get back to Italy next year and become Mrs Jones :-O
UPDATE: we did it! we had an amazing Italian wedding in August 2017 and it was such a wonderful day. Read all about here.
and if you're interested you can also read about our Italian engagement and our Italian honeymoon in Tuscany.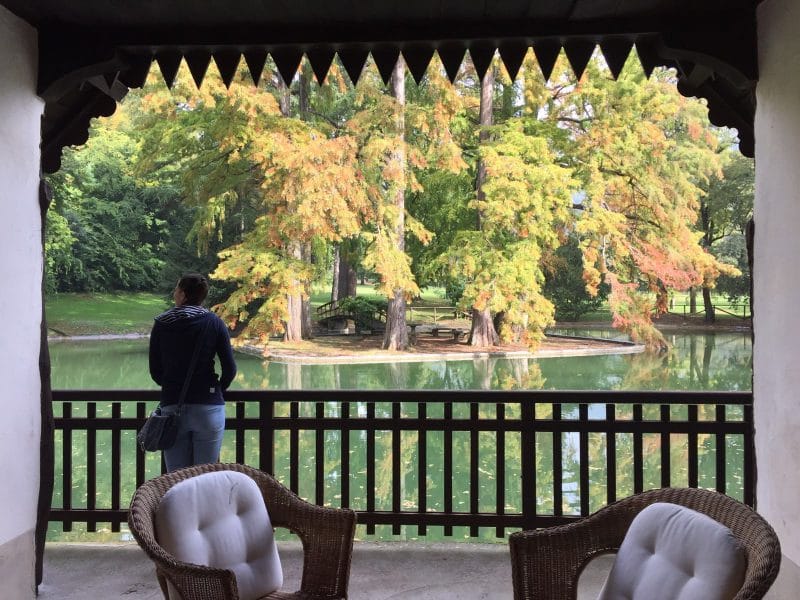 But back to the Italian trip we've just had:
A holiday abroad in autumn is just simply magical. All the trees are changing and brandishing fiery reds or warming oranges, the mornings have a slight chill which brings a mysterious mist and subtle sunrises. Also in Italy the grapevines have been harvested for their annual fruits, but some vineyards with vines that flowered a little later than other are still flush with huge bunches of juicy grapes. Such an amazing sight and I really hope that next year we can get wedding photos amongst grapevines with cascading bunches of grapes 🙂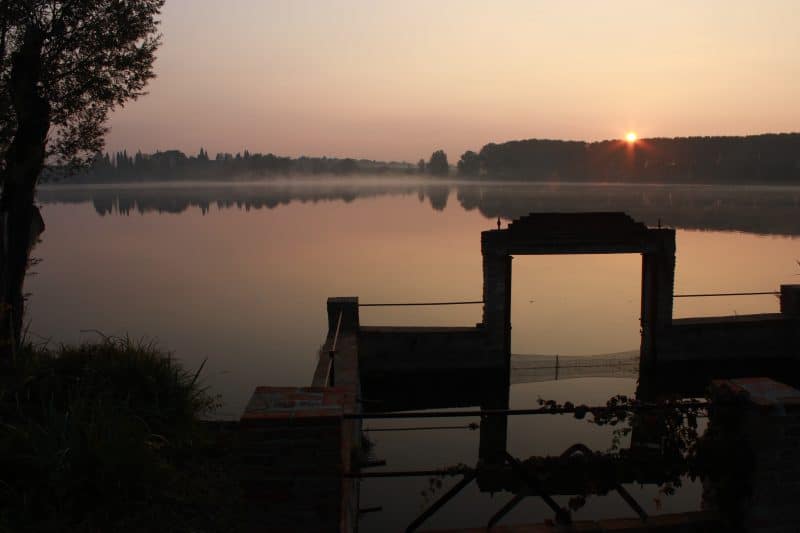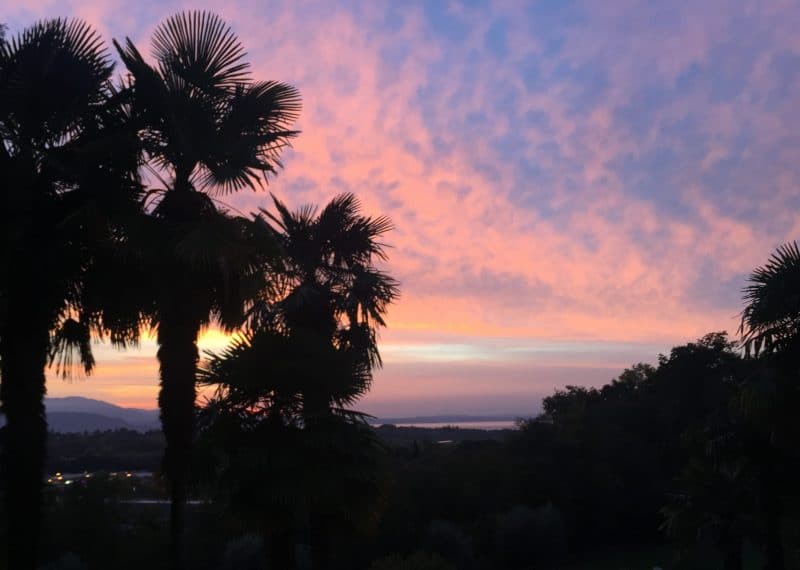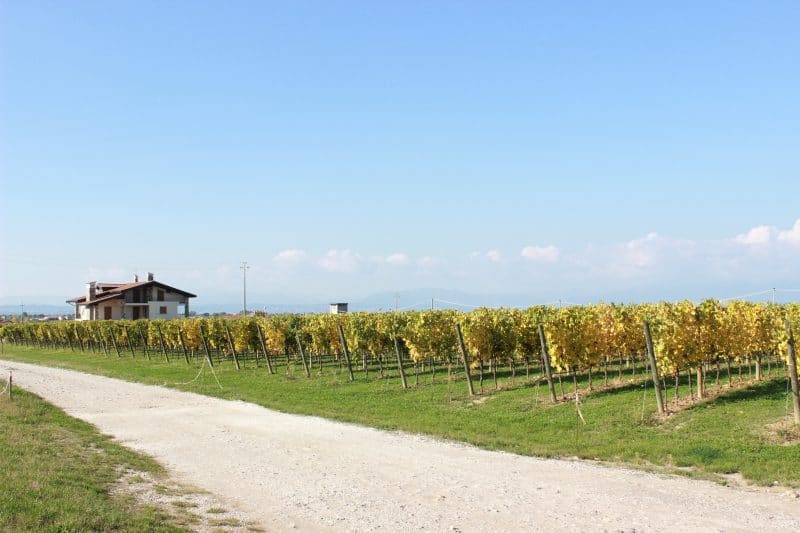 The autumnal produce of Italy;
from peaches and beetroot to truffles and cabbage, meant that we had the privilege of being served some absolutely stunning plates of food. Of course there was the usual mountain of cheese and cold cuts, but for me there was also plenty of inspirational dishes like: sea bream baked with paprika and radicchio; suckling pig with apples, raisins and cabbage; shredded beetroot chutney; fresh pappardelle pasta with a creamy mushroom sauce and fresh truffle; the glorious and ubiquitous apricot breakfast tart; and sea bream with lime tortelloni topped with burrata cheese.  It was another incredible food adventure, and now I have all these delicious ideas stored in my head. I do, of course, intend to have a go a recreating most if not all of them. Wow I really am incredibly hungry now - my dinner tonight had better be a glorious plate of food eh 🙂
This time of year is definitely a time when all the goodness of summer sun shines through, be that in the leaves on the trees or in the harvested fruit and veg; so get out there and enjoy it. Oh and don't forget to make some delicious autumnal pesto while your at it 🙂
Basil pesto is definitely at the top of my list in the summer months and generally I love to mix it in with my pasta dishes or salads. Its also gives pizzas that extra wow factor, with its bright green colours and exuberant taste, which can perfectly complement a rich, deep red tomato sauce or a creamy, pale yellow buffalo mozzarella. Oh my goodness I can smell and taste that pizza like its right here in front of me. Sadly its not.... I make myself so hungry when I'm writing. Anyway - that's definitely a pizza to try out in our new outdoor cob oven at some point.
Deliciously, walnut pesto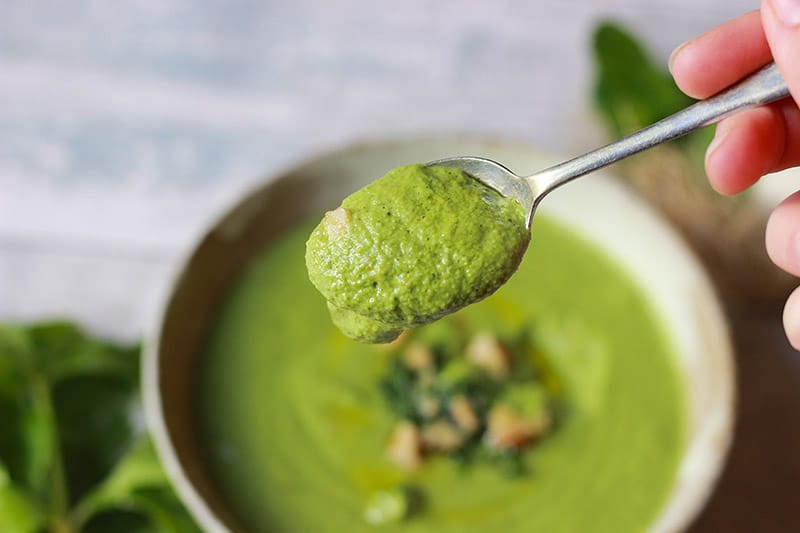 Yes it is now autumn and with the changing of the leaves from their soft greens to vibrant reds and oranges; the need for more comforting and warming dishes comes into play. So its out with the basil and in with the celery leaf, out with the pine nuts and in with the walnut, and out with the parmesan.....well no actually, that has to stay; there needs to be something left in there that still resembles the original pesto. So this new walnut pesto with a less aromatic taste and a more earthy flavour; is perfectly balanced to go with autumnal dishes such as roasted root veggies, baked sweet potatoes, warming and creamy lasagnas and even plump, little ravioli parcels.....there's plenty of ideas to go at, so this recipe is just the very beginning of what I feel will be a beautiful friendship.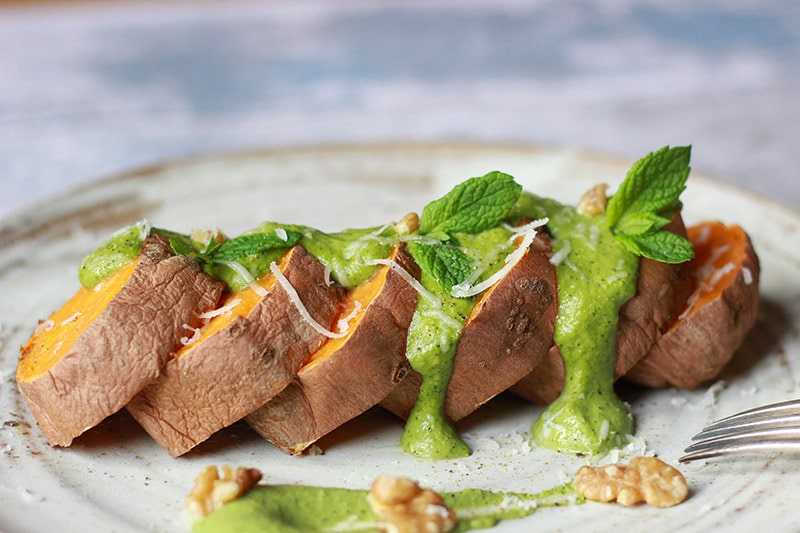 If you read my last post you will know that this is my second recipe in a row that involves the humble celery leaf. Apologies for that, but if you were aware of this then you will also know that the reason for the celery recipe was due to the huge amount of celery we had in our little veg patch. It really has been astounding, but it has also been a great reason for me to get in the kitchen and get my thinking cap on. I have actually been quite surprised at how versatile the celery leaf is and how easy its been to create some pretty amazing recipes. Check out the celery, apple and blue cheese garden soup post if you're interested in further celery info.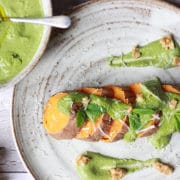 Celery, Apple and Walnut autumnal Pesto
Walnut, apple and walnut pesto with earthy autumnal flavours for that perfect addition to your pizza, lasagna, pasta, or sweet potato.
Ingredients
100

g

celery leaves

150

ml

walnut oil

100

ml

water

2

garlic cloves roughly chopped

50

g

walnuts

85

g

green sweet apples

10

g

mint leaves

50

g

edamame beans

75

g

parmesan

pinch

of salt

couple of splashes of cider vinegar
Instructions
Place all the ingredients into a blender or food processor. Blend on high for 4-5 minutes. Taste and add more salt, mint, apple or oil depending on the taste and consistency you are after.

Serve with sweet potato, pasta dishes, grains or root vegetables. for an additional boost add extra pieces of walnut, mint leaves and shavings of parmesan over the top,
Nutrition
Serving:
12
g
|
Calories:
177.3
kcal
|
Fat:
17.3
g
**Estimated nutritional information per serving and per 100g of celery, apple and walnut pesto. If you want find out more about how the information is calculated and the sources used, please refer to my Nutrition Information Guide.