Charred chicken and summer greens with herb roasted sweet potato cubes drizzled with a sweet mustard and tarragon dressing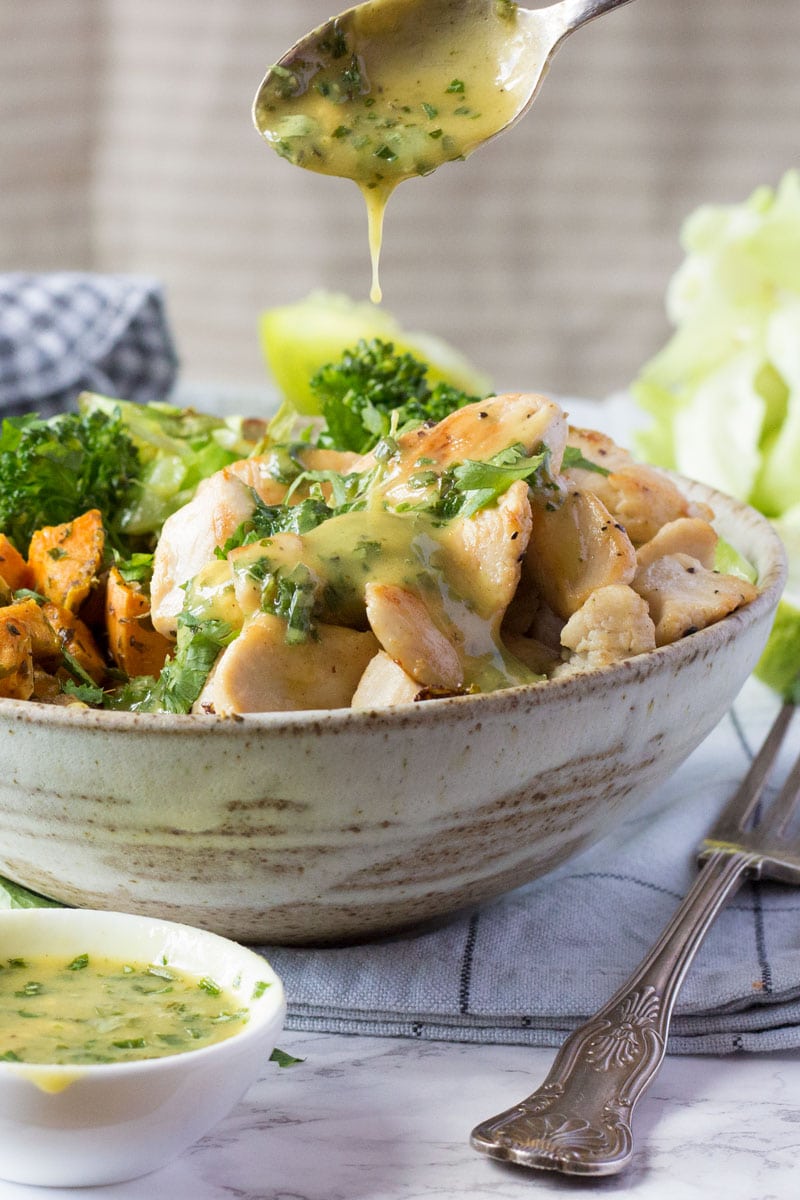 Hands up who wants a big bowl of comfort food that won't make you feel guilty!?
Erm - me!! All time, yes please, thank you very much!
And this chicken bliss bowl is all about flavour, taste, comfort and a good amount of nutritious ingredients.
The job of a bliss bowl (in my humble opinion)
To revive and rejuvenate without it being a chore or something that I'm forced into doing (or eating). The bliss bowl is a bowl that you can snuggle up with on the sofa and then savour every bite. Its not one to rush. And as it is actually really heathy and really good for you, its a meal that you can feel totally great about afterwards.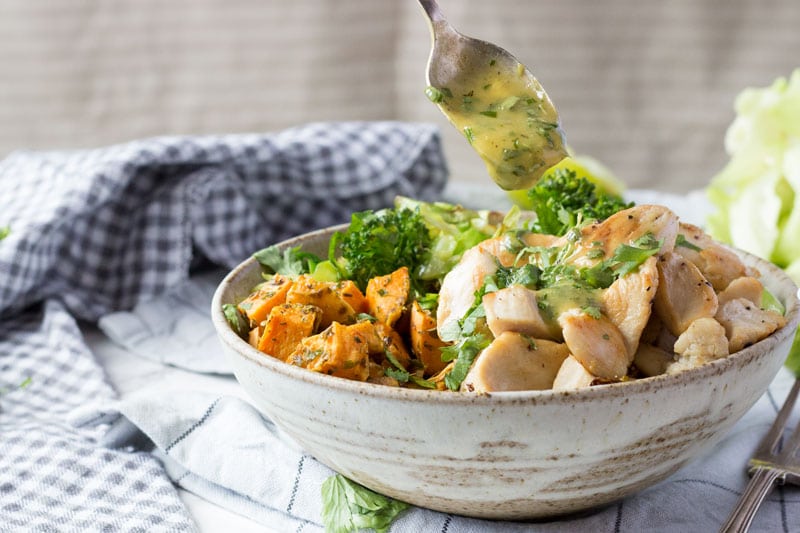 The recipe for this lovable bowl of goodness is just for one person, and thats because this is one of those dishes that I like to make when its just me for dinner. Its easy, its quick and its very informal - and I do love a good sofa meal.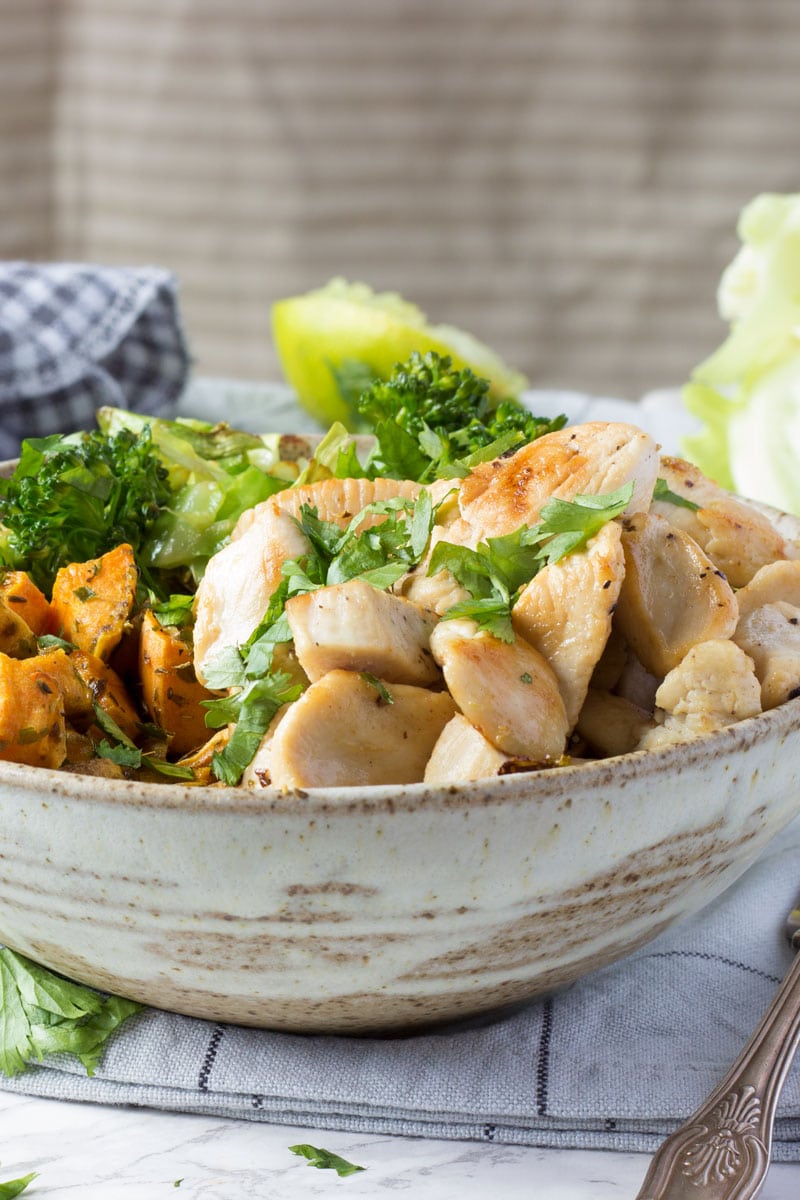 Chicken bliss bowl ingredients
Other than the chicken there are just 3 other main ingredients: sweet potato, cabbage and broccoli. The makings of a very healthy, well balanced meal. The tarragon, oregano, honey, mustard and lime juice is what takes this dish from standard to crazy good. Get yourself a good bowl and a great movie and your night is pretty much perfect.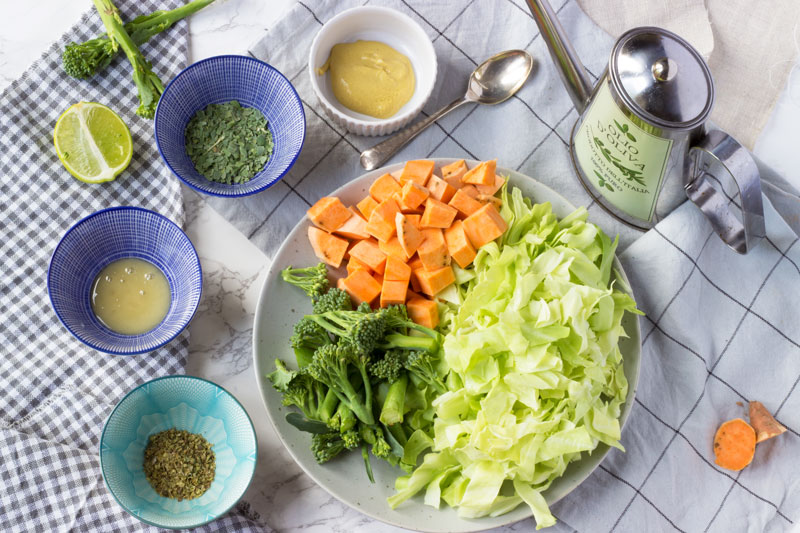 Griddle pan
This is another recipe where I prefer to griddle my ingredients, mainly because my griddle pan is nice and big so I can fit in more of the ingredients in one go, and also because its so much quicker to cook this way. I also love the charred flavour you get from using a griddle pan (see my super quick chicken & almond curry for another recipe that uses this method of cooking).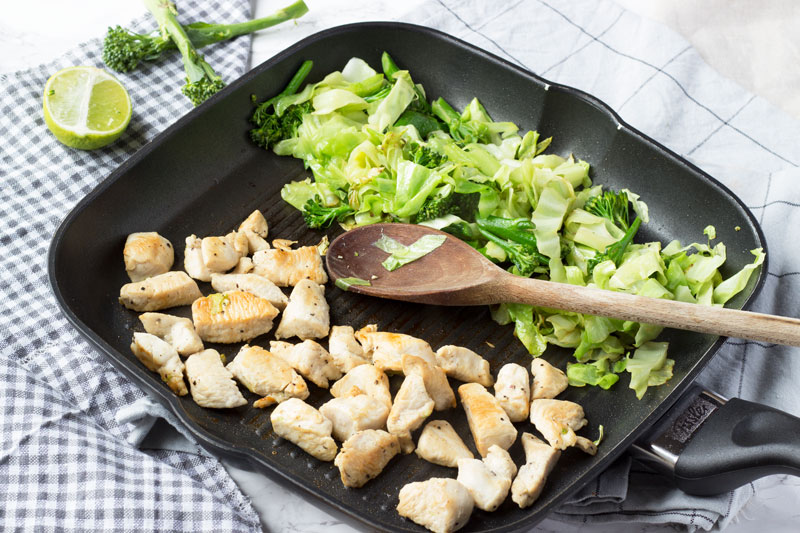 My last recipe for a few weeks
I'm publishing this recipe now as I think a nice healthy dish is a good post to end on before I jet off to Italy to become Mrs Jones!!! After this I will have my Italy hat on and will be 100% pasta, cheese and truffle obsessed. So 'love and cherish' this healthy recipe, and then join me in a few weeks to celebrate Italy and Italian food 🙂 there will be no limits on calories, carbs or fats - I promise!!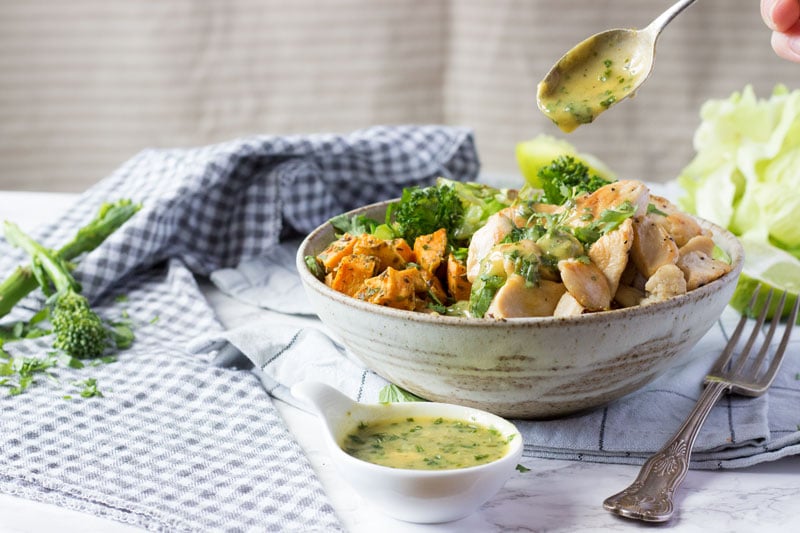 So, anyway . . . One week tomorrow until Ben and I get married!! Theres still lots to do before we board the plane on Tuesday, so my time from tomorrow onwards is going to be totally wedding focussed. There are lists to be made, cases to be packed, favours to be organised and a million other things to think about. And who knows if this is all going to fit into our cases. Probably not. . . . Wish us luck!!! Over and out for now!
**Estimated nutritional information per chicken bliss bowl and per 100g. If you want to find out more about how the information is calculated and the sources used, please refer to my Nutrition Information Guide.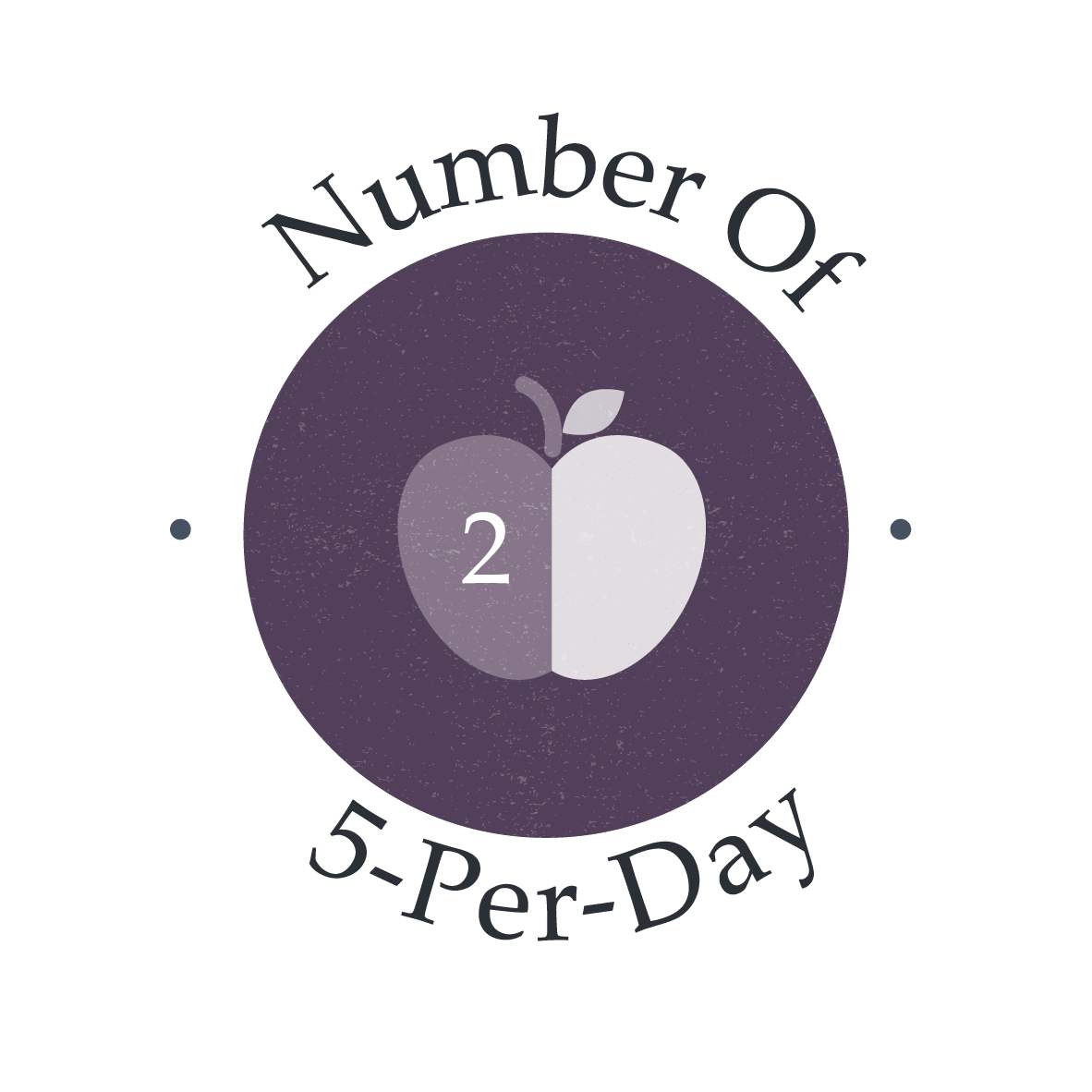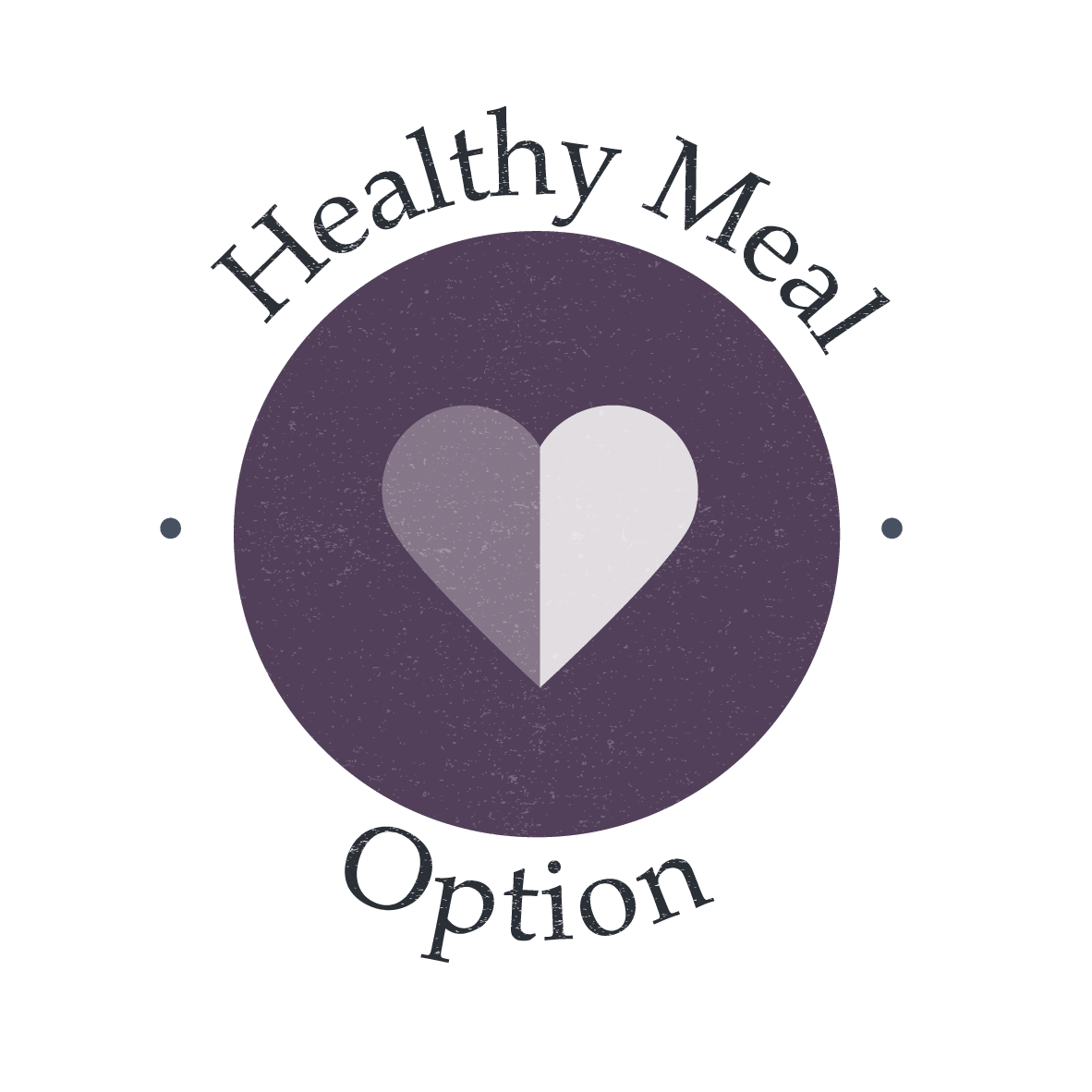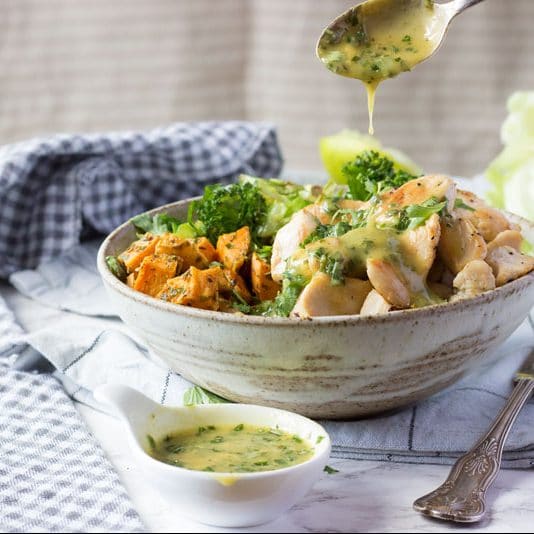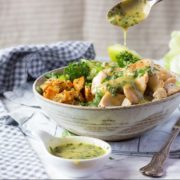 Mustard and Tarragon Chicken Bliss Bowls
Charred chicken and summer greens with herb roasted sweet potato cubes drizzled with a sweet mustard and tarragon dressing
Ingredients
For the chicken and sweet potato
160

g

sweet potato peeled and cubed

5

ml

of olive oil

1

tsp

dried tarragon

1

tsp

dried oregano

200

g

chicken breast cubed and seasoned

150

g

shredded Cabbage

50

g

tenderstem broccoli
For the dressing
5

ml

of olive oil

1

tsp

dried tarragon

½

tbsp

honey

½

tsp

Dijon mustard

½

Juice of a lime

Seasoning
Instructions
Pre heat the oven to 180 degrees C.

In a large bowl add the cubed sweet potato, a drizzle of oil (2.5ml), 1 tsp dried tarragon and 1 tsp dried oregano. Toss together and mix well before transferring to a baking tray. Spread out well and place in the oven for 20 minutes.

Whilst the potatoes are baking make the dressing: Place all dressing ingredients into a small jug and whisk together well. Transfer to a small serving bowl and set to one side.

Next put a drizzle (2.5ml) of oil in the griddle pan, place on a high heat and then add the cubed chicken. The chicken will cook very quickly in the griddle pan so keep an eye on it and stir regularly. As the chicken starts to brown, move it to one side of the pan and add the cabbage and broccoli to the other side. Again the veggies will cook very quickly and should become slightly charred. Continue stirring until everything is cooked and charred.

After 20 minutes in the oven, remove the sweet potato and pile into a serving bowl. Next to this place the charred cabbage and broccoli and finish by topping with the chicken. Pour over the dressing and enjoy.
Nutrition
Serving:
552
g
|
Calories:
571
kcal
|
Carbohydrates:
37.1
g
|
Protein:
72.2
g
|
Fat:
16.4
g
|
Saturated Fat:
2.9
g
|
Polyunsaturated Fat:
2.2
g
|
Monounsaturated Fat:
9.7
g
|
Fiber:
9.4
g
I am linking this recipe to #cookblogshare hosted by hijackedbytwins, recipesmadeeasy, everydayhealthyrecipes and Easypeasyfoodie. I am also linking to #whatsfordinner? hosted by TheLazyGastronome, #brilliantblogposts by honestmum, #CookOnceEatTwice hosted by seachingforspice, and #recipeoftheweek hosted by aMummyToo.