Chicken and shiitake noodle soup with ginger, lemongrass and asparagus flavoured broth, topped with fresh herbs, runny boiled eggs, cashew nuts, and finely chopped fresh chilli.
A dish inspired by our trip to Vietnam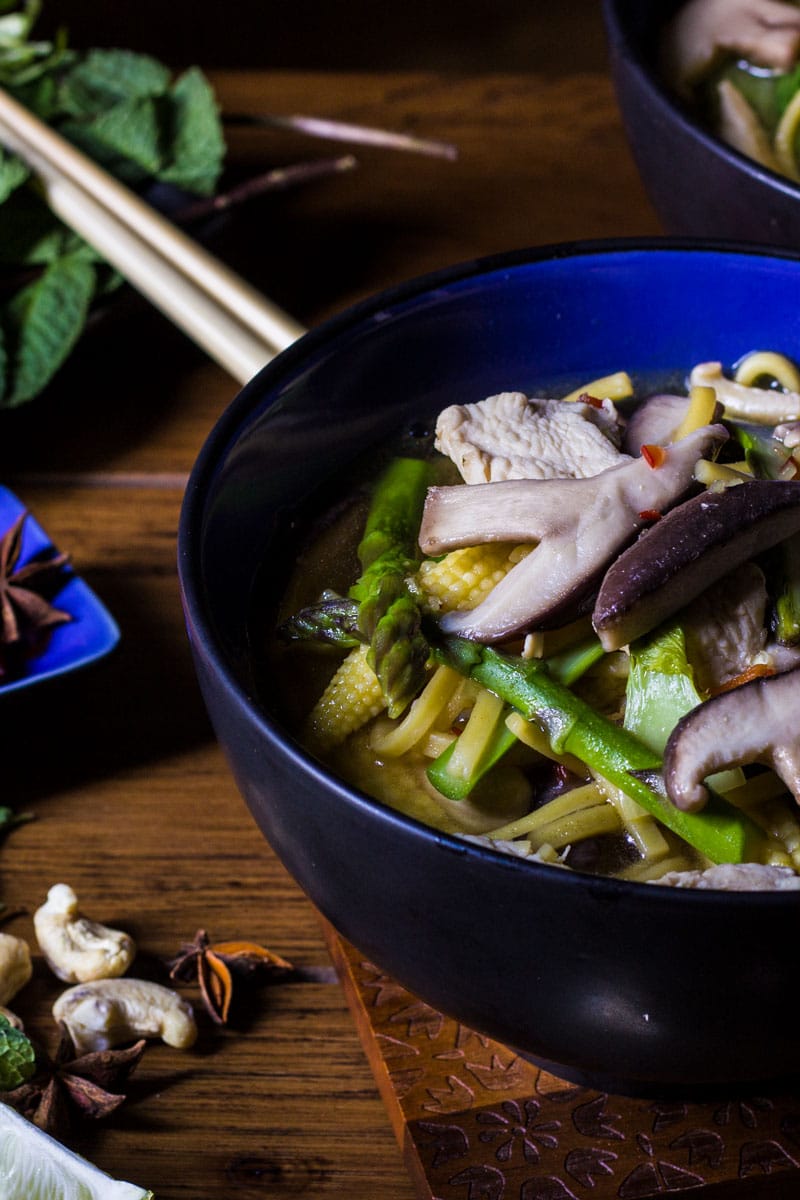 Vietnamese Pho
A big bowl of warm Vietnamese broth filled with the flavours of aromatic spices and warming chilli - this is the real food of Vietnam. Piled high with thinly sliced raw meat, which cooks in the heat of the broth; a load of fresh herbs, bean sprouts and tiny boiled quail eggs. Its just so good and yet its the most basic and cheapest food you can find on the streets of Vietnam.
Literally the streets.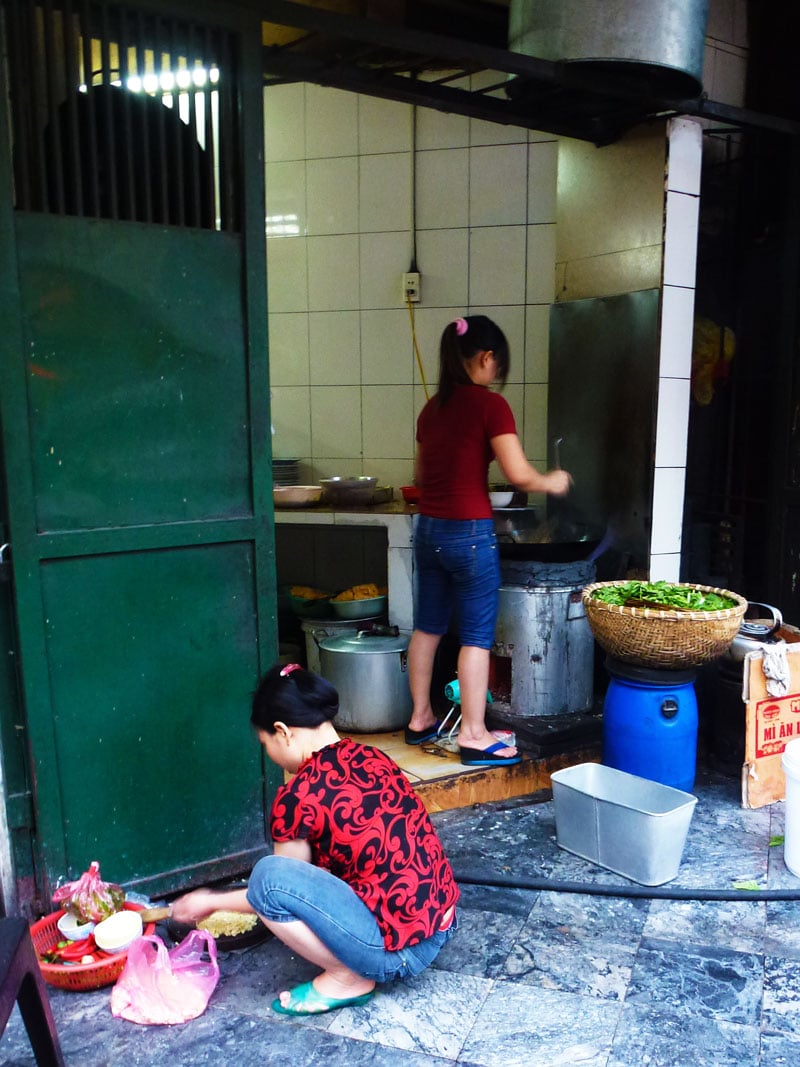 Travelling
Back in 2012 - Ben and I travelled the world. We talk about 2012 so much, like it was yesterday, and like if we close our eyes and try really hard we can be 26 again, back roaming freely, being all tanned and discovering life. And dying our hair and cutting in a fringe if we decide we want to (that was me not Ben 🙂 ). It was a great year.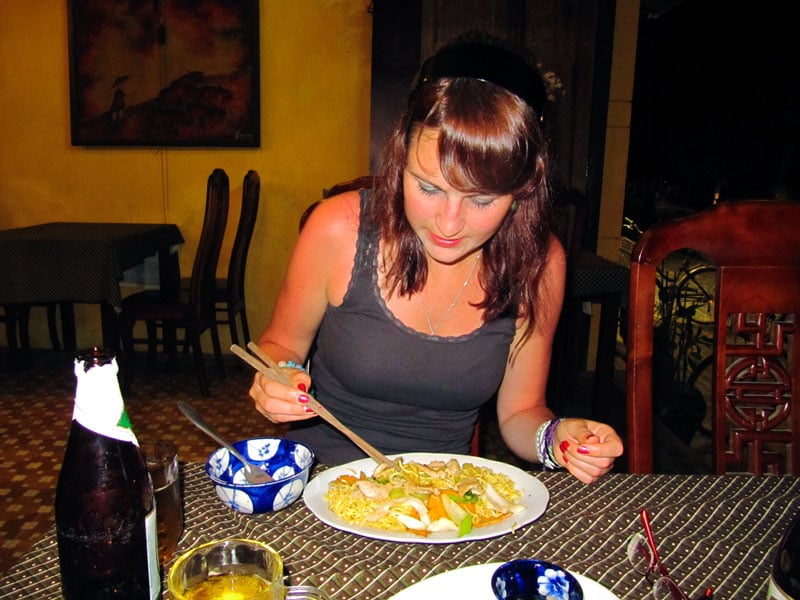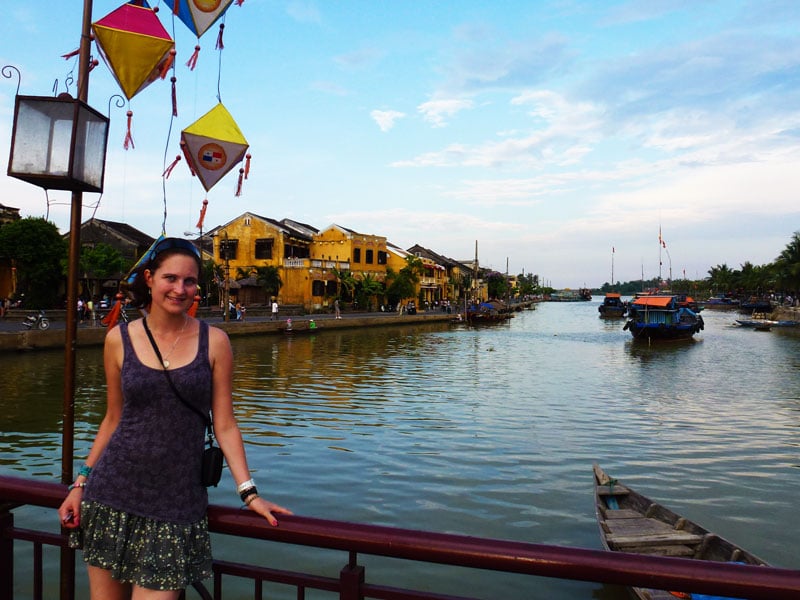 Vietnam was the third stop on our long trip, after Japan and China. It stands out in our minds because of all the great food we had, usually for no more than 50p each, and usually sitting in the street on a small plastic chair. Honestly - good times 🙂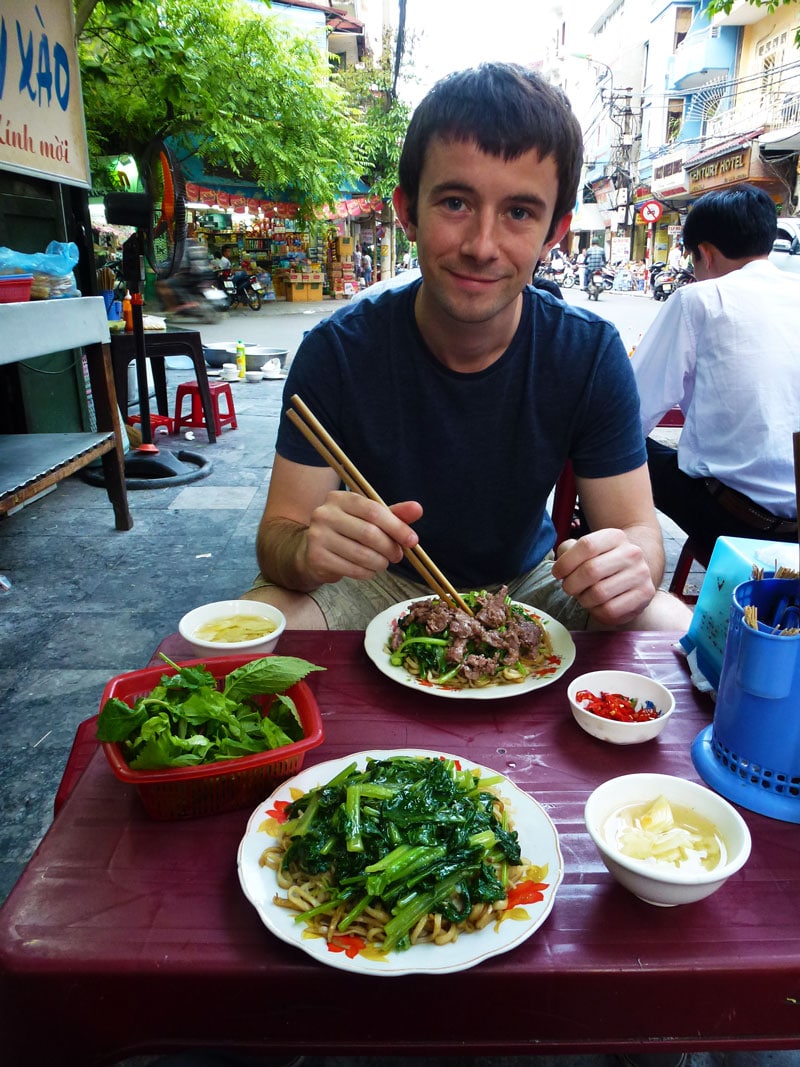 We definitely had a lot of good food in other places but no where was quite like Vietnam and so I feel it is essential that I share my recipe that is 100% inspired by all the food we ate from the tiny Vietnamese street kitchens.
We entered Vietnam in the north and travelled its full length by bus, stopping for a few nights at each large city. It was quite a journey and the sleeper buses are definitely not for the faint hearted. We remember it fondly though 🙂
So now - 6 years on - 6 years!! !! In my own little kitchen, a million miles away from the experiences and tastes of Hanoi and Hoi An and Nha Trang, Ive finally come up with my own version of these delicious bowlfuls of Vietnamese Pho, noodles and meat.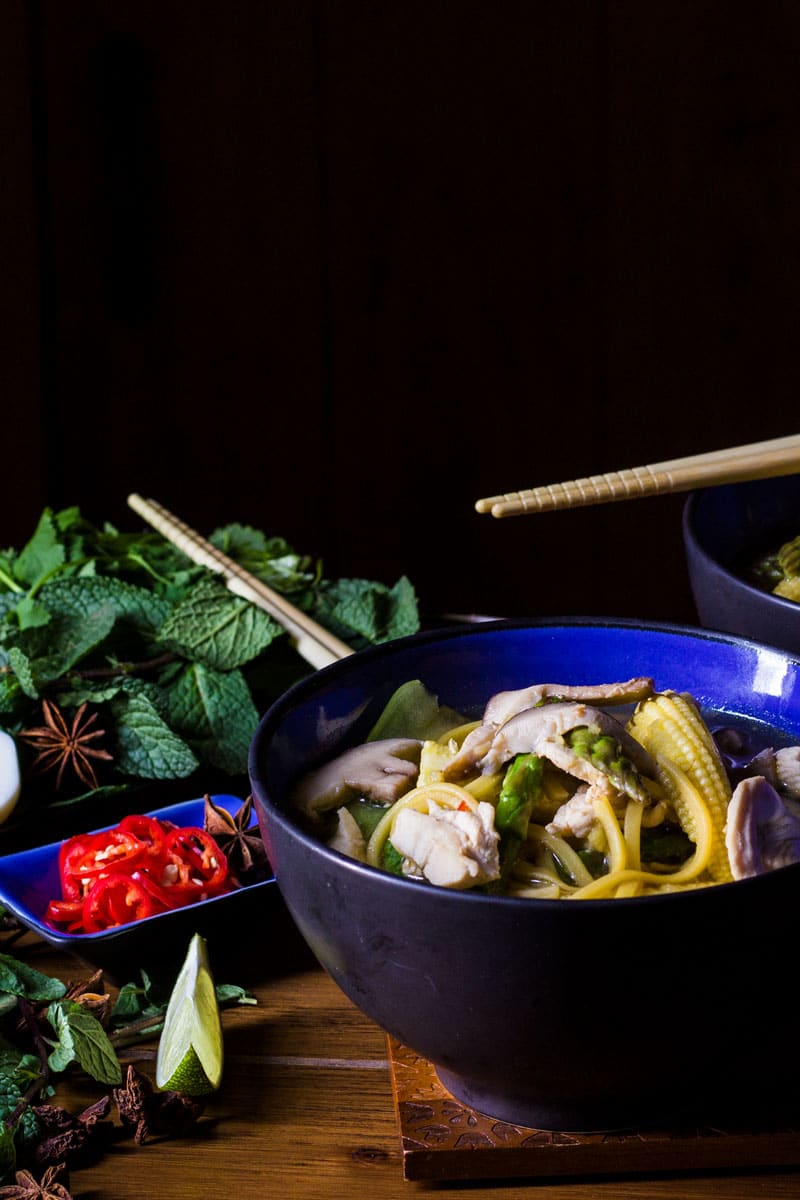 So simple and yet so different.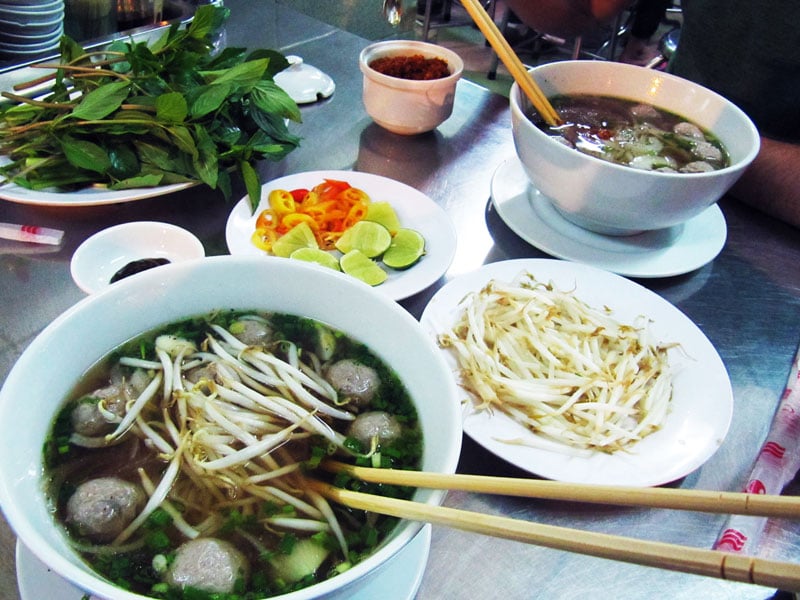 Fresh herbs and egg with your Vietnamese pho
Piling the fresh herbs on the top at the table is all part of the experience. There wasn't a single time that we were served a bowl of broth without a side plate full of all kinds of bright green herbs, and occasionally we also got a plate of boiled quail eggs.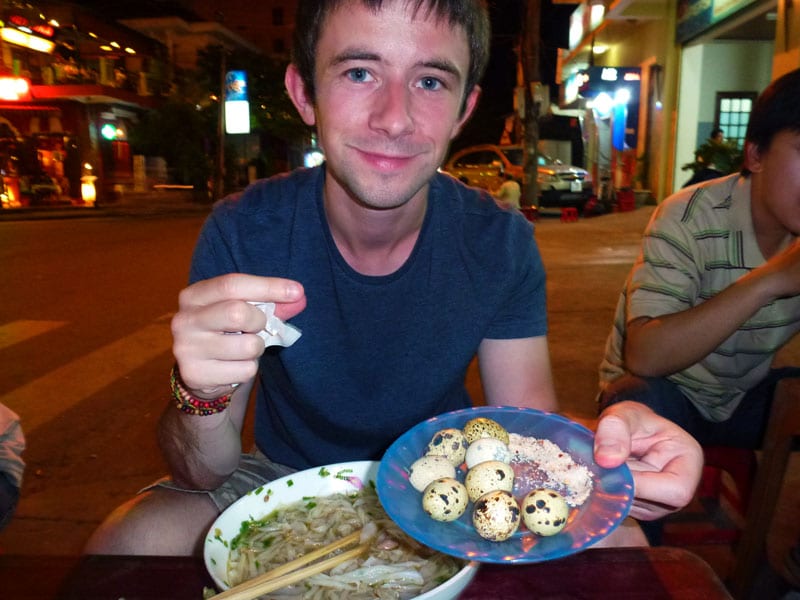 Making Vietnamese Pho
So where to begin when recreating this dish. The broth (Pho) is the main bit of the recipe - it needs to have enough flavour to make you want to pick up the bowl and drink it down. And this is the only way to completely eat the entire contents of this dish - yes - you have to slurp it down.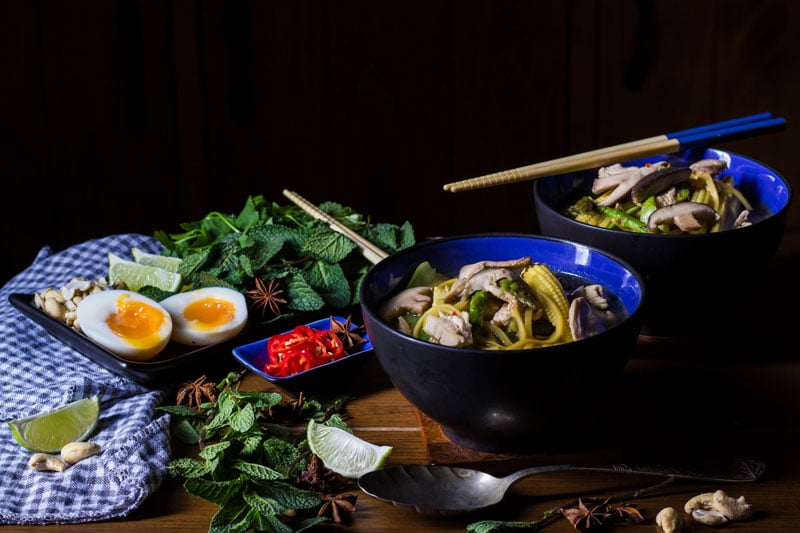 To make life easier I used a stock cube/gel to help get my Vietnamese pho started. - I may like to cook but I really don't have the time or the inclination to boil down leftover bones and veg. So the basis of my broth is -
A stock cube or gel, water, ginger, chilli, soy sauce, fish sauce, shrimp paste, kaffir lime leaves, bay leaf, lemongrass, star anise, asparagus stems and a good simmer for at least 20 mins. It seems like a lot - but its so worth it if you want to get that depth of flavour.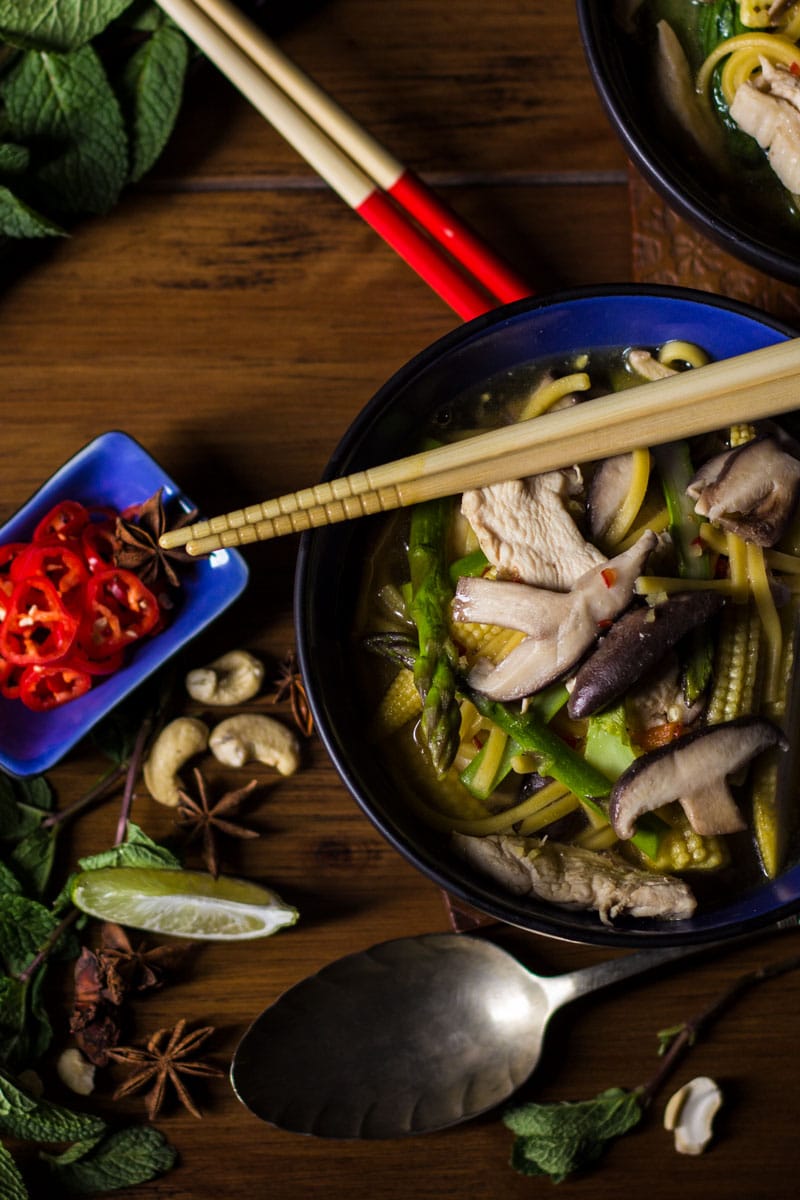 Once the broth is sorted the rest of the dish is very simple and easy to put together.
The herbs and runny boiled egg on top is a definite must - it really finishes off the dish and makes it so much more authentic.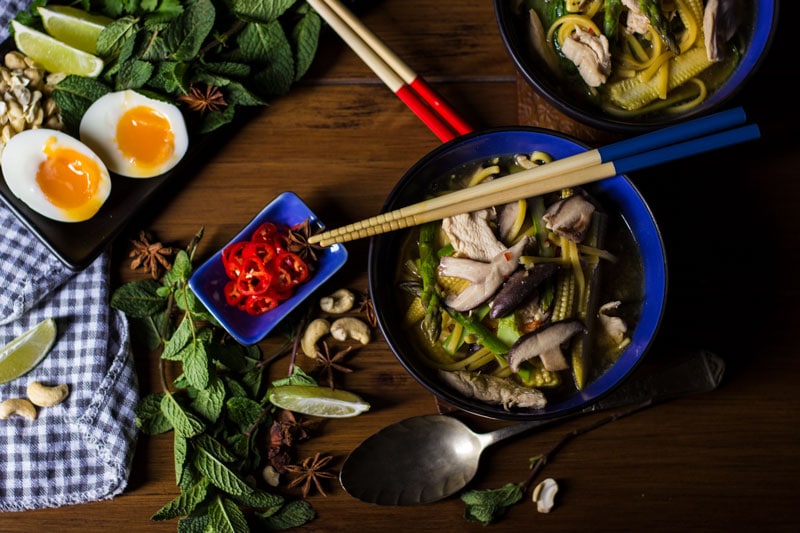 Vietnam foodie photos
Cooking in Vietnam is certainly very special and I will always treasure the memories and experiences we had there. . .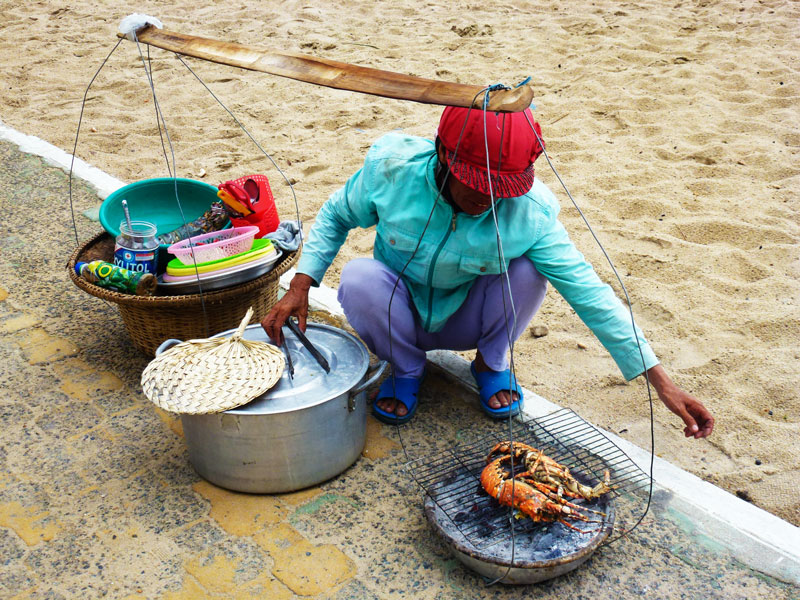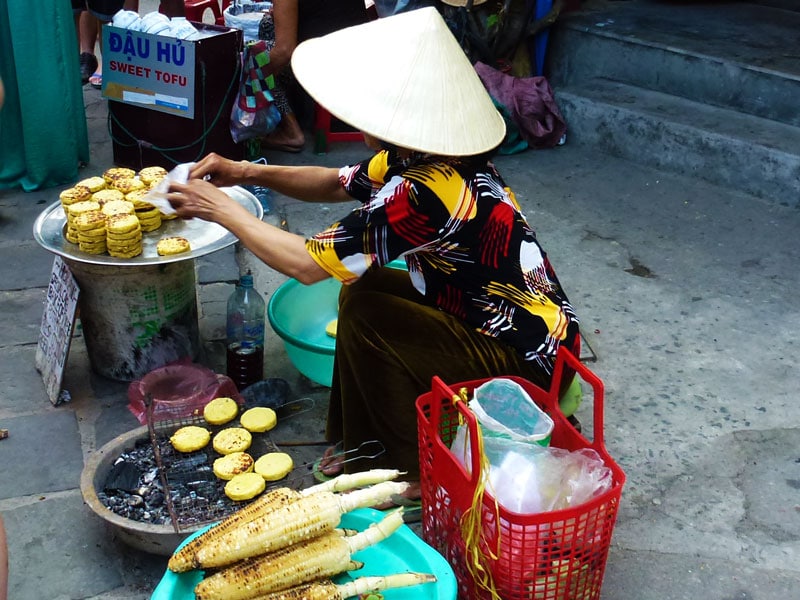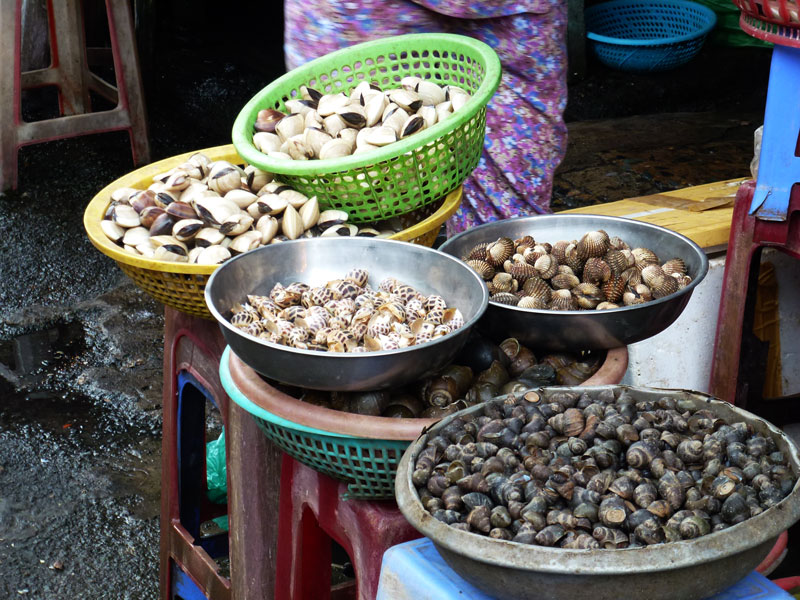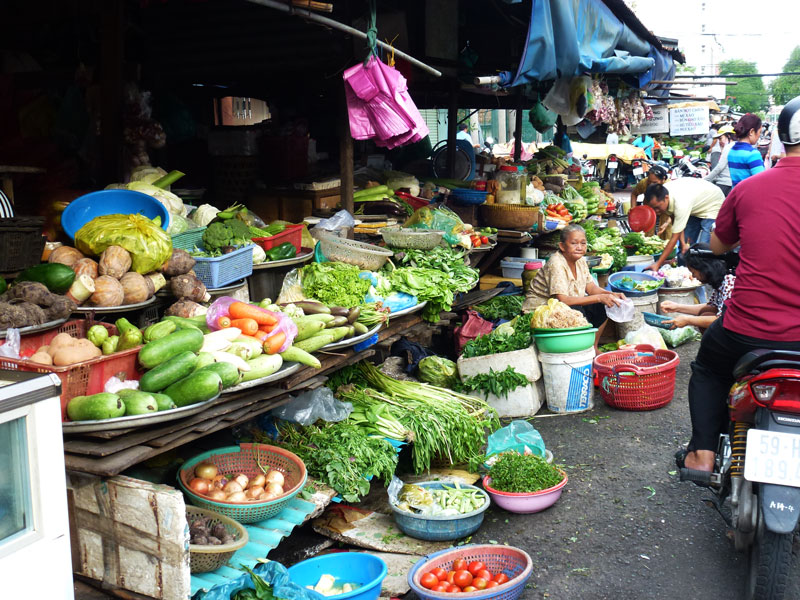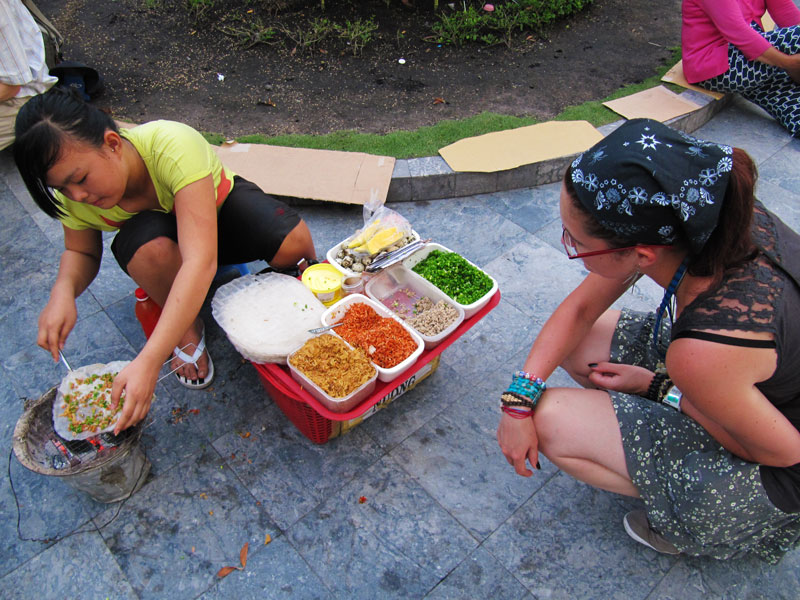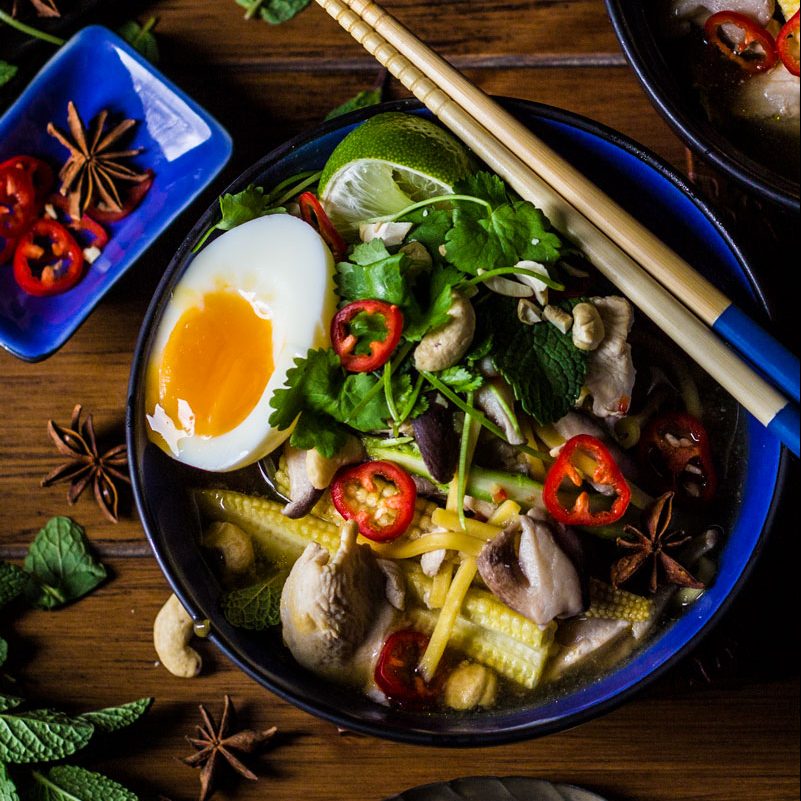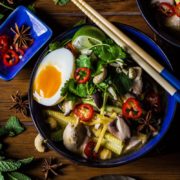 Chicken Noodle Vietnamese Pho
Chicken and shiitake noodle soup with ginger, lemongrass and asparagus flavoured broth, topped with fresh herbs, runny boiled eggs, cashew nuts, and finely chopped fresh chilli.
Ingredients
0.5

tbsp

olive oil

2

Chicken breasts

500g

75

g

Shiitake mushrooms thinly sliced

1

vegetable stock pot or stock cube

1

litre of boiled water

1

lemongrass stalk

1

star anise

2

kaffir lime leaves

1

bay leaf

1

red chilli

2

cm

piece ginger peeled and finely chopped

6

asparagus halved length ways and halved again across the middle

1

tbsp

light soy sauce

1

tsp

fish sauce

1

tsp

shrimp paste

0.5

Juice of lime

6

baby corn

65g halved length ways

1

bunch of pak choi leaves

100g

150

g

egg noodles

straight to wok
To serve
Handful chopped cashew nuts

Bunch of fresh mint leaves

Bunch of fresh coriander leaves

Wedges of lime

Fresh chilli sliced into circle

Runny yolk boiled eggs

shelled and halved
Instructions
Heat the oil in a large pan or wok. Slice the chicken and mushrooms, add to the pan and stir fry for 5 minutes or until browned and cooked through. Transfer the chicken and mushrooms to a small bowl and place to one side.

Place the pan or wok back on the heat and add the stock and warm water. Next bash the lemongrass stalk with a rolling pin to release the flavours and add to the stock and water. Next add the star anise, kaffir lime leaves, bay leaf, chopped ginger, half of the chilli finely chopped, and just the stems of the asparagus (save the asparagus tips for later). Bring to the boil and then simmer for 20 minutes.

Whilst the pan is simmering boil an egg in its shell for 7 minutes (I usually warm the egg under the tap first to prevent the shell from cracking in the pan). Add the egg straight to boiling water and boil constantly for 7 minutes. After 7 minutes plunge the egg into cold water to stop the cooking process. Set to one side ready for serving later.

After 20 minutes, use a slotted spoon to remove most of the larger ingredients. Keep the broth on the heat and add 1 tbsp. light soy sauce, 1 tsp fish sauce, 1 tsp shrimp paste and the juice of ½ a lime. Stir well then add the baby corn, pak choi, noodles, asparagus tips and the cooked chicken and mushrooms. Stir and bring to the boil, then simmer for a further 5 minutes to wilt the veg and to ensure the chicken is fully warmed through.

Dish up into bowls – include a good few ladles of the broth.

Peel and halve the egg

Serve the bowls with fresh herbs, the remaining chilli sliced into circles, chopped cashew nuts, wedges of lime and the boiled egg.
Video
Nutrition
Calories:
578
kcal
|
Carbohydrates:
40
g
|
Protein:
75
g
|
Fat:
14.2
g
|
Saturated Fat:
2.9
g
|
Sodium:
840
mg
|
Fiber:
3.7
g
|
Sugar:
4.1
g

I am linking this recipe to #cookblogshare hosted by hijackedbytwins, recipesmadeeasy, everydayhealthyrecipes and Easypeasyfoodie. I am also linking to #brilliantblogposts by honestmum, #recipeoftheweek hosted by amummytoo, and #CookOnceEatTwice hosted by seachingforspice,