Tender strips of chicken breast wrapped in prosciutto and baked with rosemary and olive oil. Served up with avocado, blackberries, pistachios and a smoked garlic and lemongrass dressing.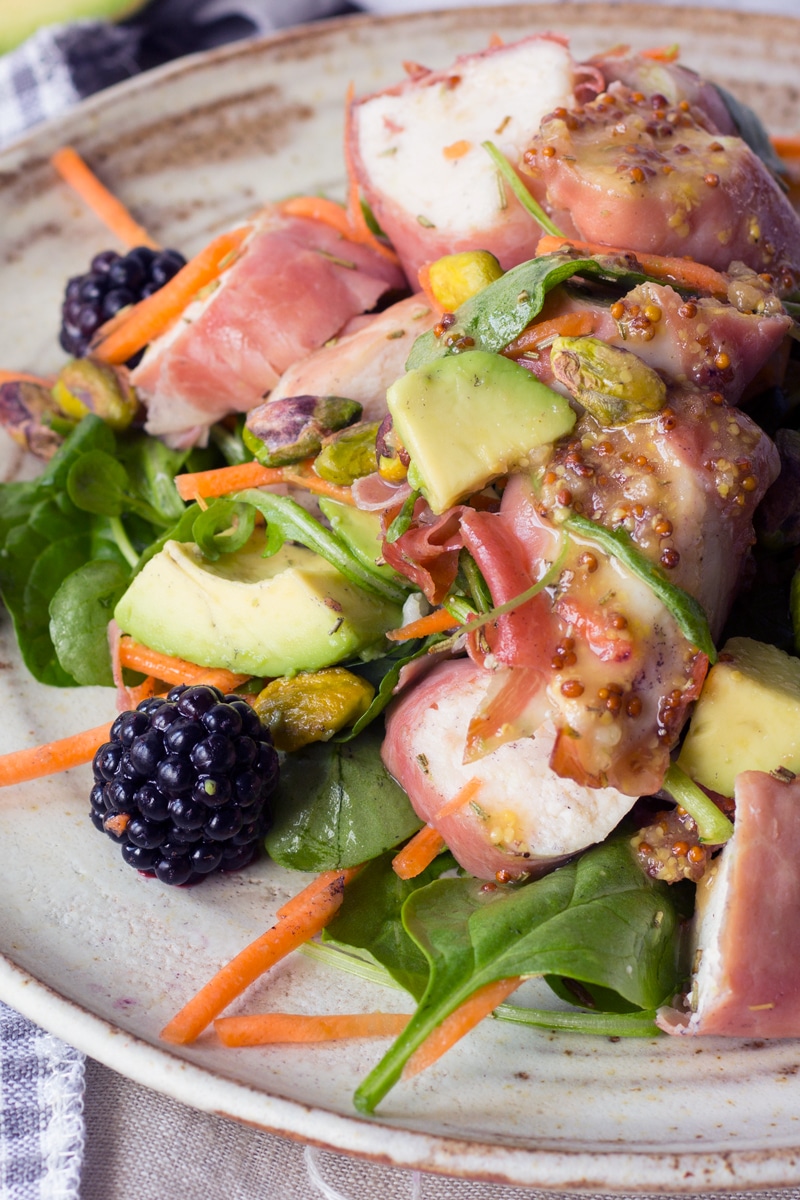 Salad and salad and salad and blah, blah, blah
Arghhh - its that dreaded time of year again when I have to munch my way through bowl after bowl of salad leaves and avoid the kitchen like the plague incase I end up eating directly out of the fridge like some kind of ravenous animal.
Hard life isn't it.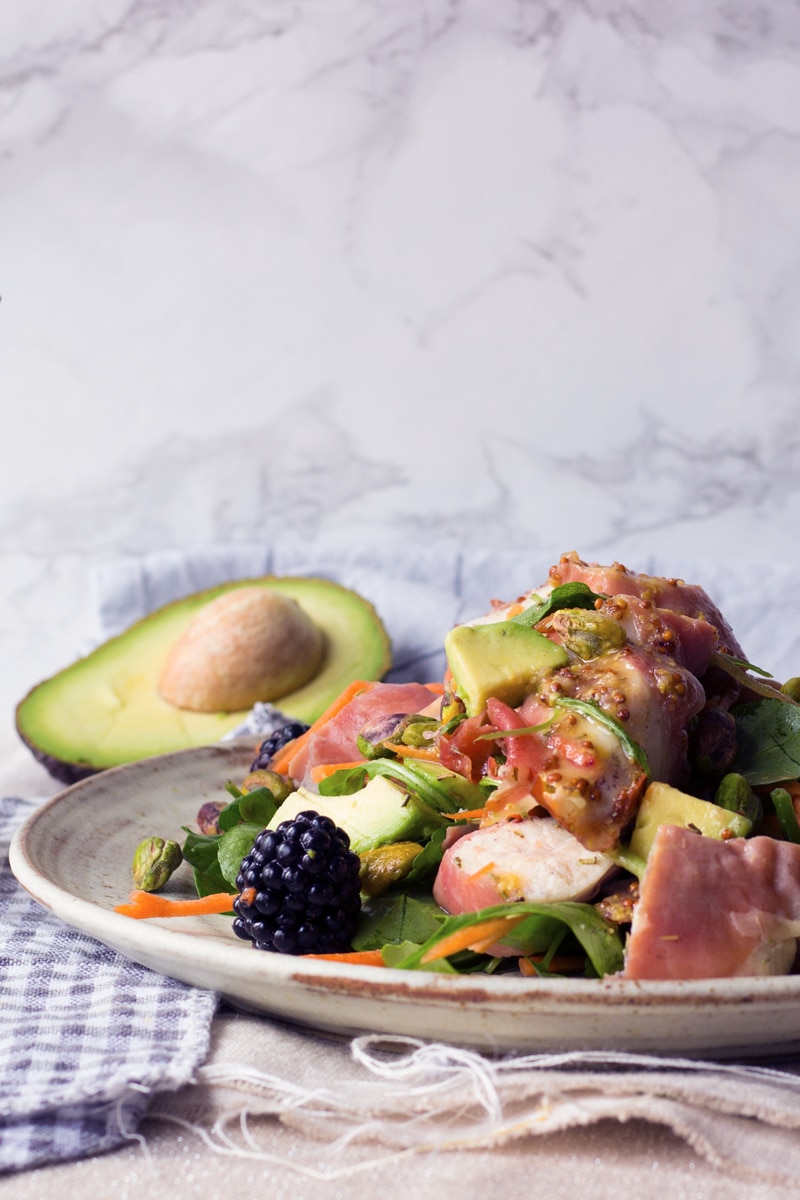 Get me a real salad!
To navigate around my eventual self destruction by fridge guzzling I have decided that this year I will only be interacting with salads that are substantially nutritious and filling - properly proper salads. And this means tasty protein, plenty of heathy polyunsaturated fats and a deliciously, satisfying dressing to pour all over everything.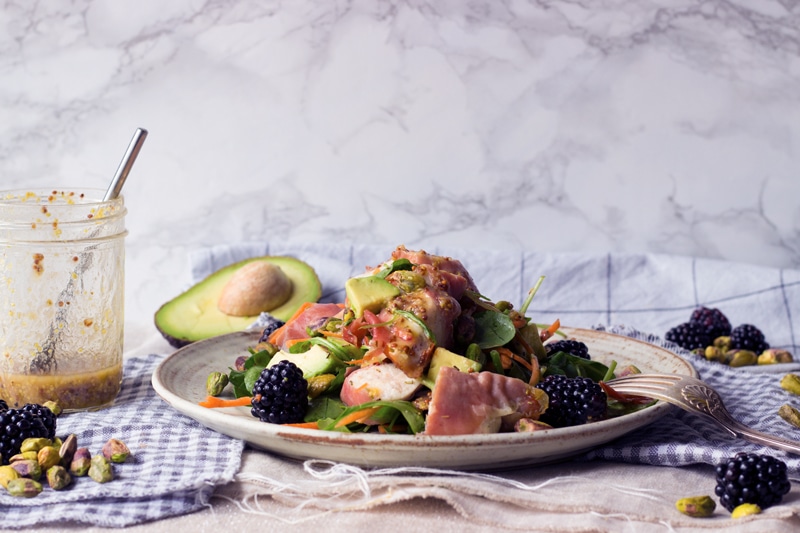 This salad is brimming with all kinds of healthy and vibrant ingredients and yet it can be put together in just 15 minutes. And this includes cooking the chicken! 15 minutes guys!!
I do enjoy a good chicken salad and the addition of the salty prosciutto alongside the aromatic rosemary creates and gorgeous mix of warming and comforting flavours. Its a salad and not a salad all in one go - basically you can almost forget that its a healthy dish, but you can still tell that its good for the soul.
A few good chunks of creamy avocado also goes really well with the sweet blackberries and and smokey meat. Avocado is definitely a favourite of mine and I have several delicious avocado recipes.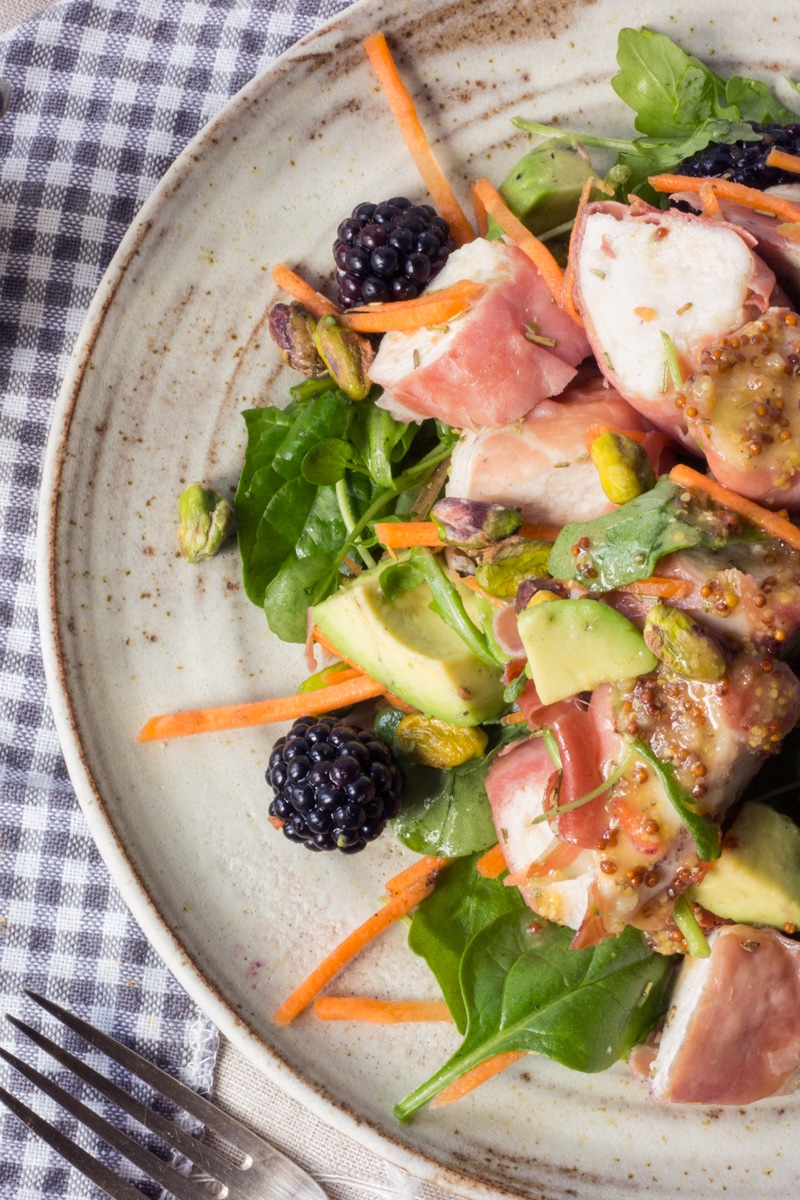 Very Lazy smoked garlic and lemongrass dressing
A good dressing is essential with any salad thats worth my eating. I do love a simple oil and balsamic, but sometimes a dressing with an extra twist can really bring a dish to life. The dressing for this recipe is really one of kind with a good helping of lemongrass paste, a dash of smoked garlic and a little wholegrain mustard - its a zesty, tongue tingler, which cuts right through the meat and herb flavours. And its a really easy dressing to make with the use of ingredients from the Very Lazy range, which is great for time saving.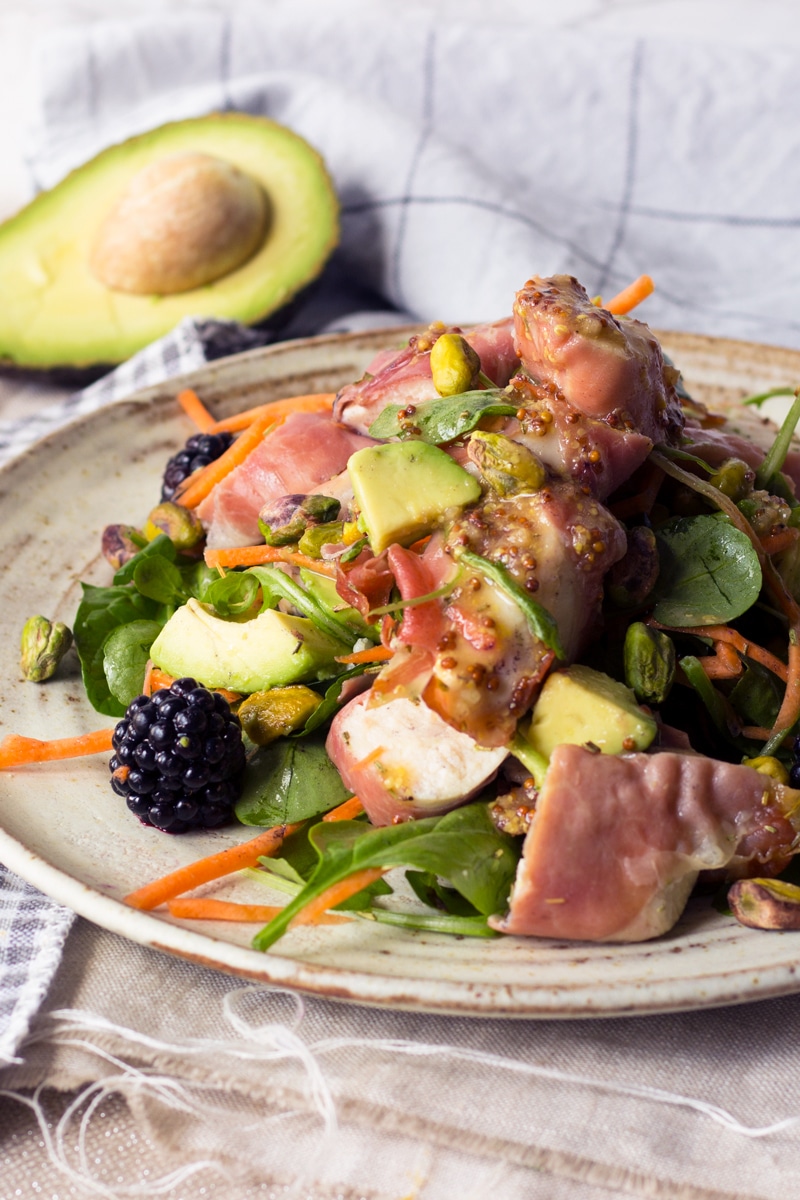 Remember - salads are for life, not just for after Christmas 🙂 ha - sorry 🙂
But seriously, its great to have a substantial salad to fall back on when willpower is running low. Enjoy 🙂
For other tasty chicken salad ideas have a look at my satay chicken and quinoa salad, chicken skewers with rocket, lime and baby corn salad, and my chicken bliss bowl.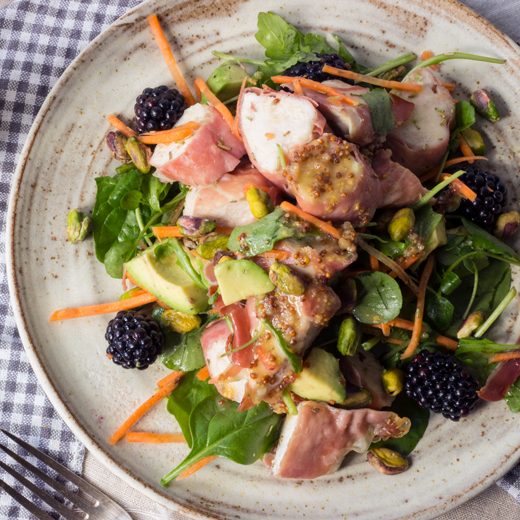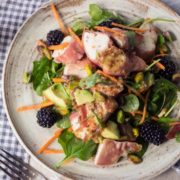 Chicken, Prosciutto and Blackberry Salad
Tender strips of chicken breast wrapped in prosciutto and baked with rosemary and olive oil. Served up with avocado, blackberries, pistachios and a smoked garlic and lemongrass dressing.
Ingredients
For the salad
200

g

chicken

1 breast

45

g

prosciutto

3 slices

0.5

tbsp

olive oil

1

tsp

dried rosemary

30

g

mixed salad leaves

I used watercress, spinach, rocket

40

g

grated Carrot

0.5

60g avocado peeled and chopped into chunks

80

g

blackberries

20

g

Pistachios
For the dressing
0.5

tsp

Olive oil

1

tsp

Lemongrass paste

I used paste from the Very Lazy range

0.5

tsp

Smoked chopped garlic

again from the Very Lazy range

1

tsp

Honey

1

tsp

Wholegrain mustard

Juice of half a Lemon
Instructions
Pre heat oven to 180 degrees.
prepare the chicken:
Slice your chicken breast into 3 even strips. Wrap a piece of prosciutto around each strip of chicken and place onto a baking tray. Drizzle chicken and prosciutto strips with olive oil and sprinkle with rosemary. Bake in the oven for 10 minutes.
Meanwhile make the dressing:
Use an old empty jam jar or similar. Add the olive oil, lemongrass paste, smoked garlic, honey, mustard and lemon juice to the jar, secure the lid and shake well until fully combined. Set to one side.
Check the chicken is cooked
Remove the chicken from the oven and slice on the diagonal into bitesize chunks. Use the first slice to check the chicken is cooked through - if not, return to the oven for 5 minutes.
Build your salad
Take a large mixing bowl and fill the base with salad leaves. Next add the grated carrot, blackberries, avocado and pistachios. Add the cooked chicken and then use your hands to toss together before carefully transferring to a serving dish or plate. Finish by pouring over the dressing.
Nutrition
Serving:
1
g
|
Calories:
638
kcal
|
Fat:
34
g

I am linking this recipe to #cookblogshare hosted by hijackedbytwins, recipesmadeeasy, everydayhealthyrecipes and Easypeasyfoodie. I am also linking to #brilliantblogposts by honestmum, #recipeoftheweek hosted by amummytoo, and #CookOnceEatTwice hosted by seachingforspice,