Chicken skewers baked in a creamy peanut satay sauce and served with a crunchy sweet chilli noodle salad


I may be a little premature with these very summery, chicken satay skewers. But…….it's a good one to practise and enjoy during the spring months. Once you've made it a couple of times it's quite a simple dish to knock up – should a BBQ day happen to unexpectedly creep up (fingers crossed eh). So I admit there's a lot of ingredients in this dish, but it all goes so amazingly well together and tastes so fantastic that I can't bring myself to take anything out. And I would urge you to try this before you reduce the ingredients list.
So it's been while since I lasted posted a recipe as I have been so ridiculously busy. Firstly with the 4 week cooking course I recently completely at Ashburton Cookery School and secondly with all the work I've had to catch up with in my day job. Thankfully I managed to get a couple of mini breaks in between all the madness.
The first break was part of Ben's birthday present and we spent the weekend learning how to build a pizza oven with the fabulous cob oven company. A PIZZA OVEN!! Arghh – so exciting. So the idea is that we are now armed with the skills to build our own oven in our own back garden!! That's right – Wood-fired Pizzas fresh from Debbie and Bens back garden! (hopefully – best not shout about it too loud eh 🙂 )
Anyway, I'm feeling very excited for this summer. So this is what got me thinking about alfresco dining and my summer recipes. The chicken satay skewers and noodle salad is a recipe I've had for a while and simply love on the BBQ……don't get me wrong I love a big burger with loads of melted cheese and a good salsa, but sometimes it's nice to have something different on the BBQ (or in the pizza oven!!).
The second mini break was over the Easter weekend where we spent a few days in Wales. Very relaxing, but it also turned out to be a little productive with the the creation of this amazing meatball baguette:
And yes it tasted quite fantastic – recipe will follow, once I've had chance to redo and remember what actually went into this amazing sandwich 🙂 Ben did write down the ingredients but apparently whilst dictating the methods to him I told him the back of the oven "quicks cooker". So definitely one to be tested again…with a little less wine I think.
Chicken Satay
The dish that officially brings my blog into summer; whether its time or not. The satay itself is another easy sauce – I seem to have quite a few. But honestly it all just goes in the processor with a bit of water to help create a nice smooth consistency and that's it.
It's also suitable for freezing so it really could liven up an unexpected BBQ in the blink of an eye – or in the time it takes to defrost it at least.
Both the noodles and the skewers could be dishes in their own right – but are 100% better together!!
Here's hoping the BBQ weather appears soon! Enjoy!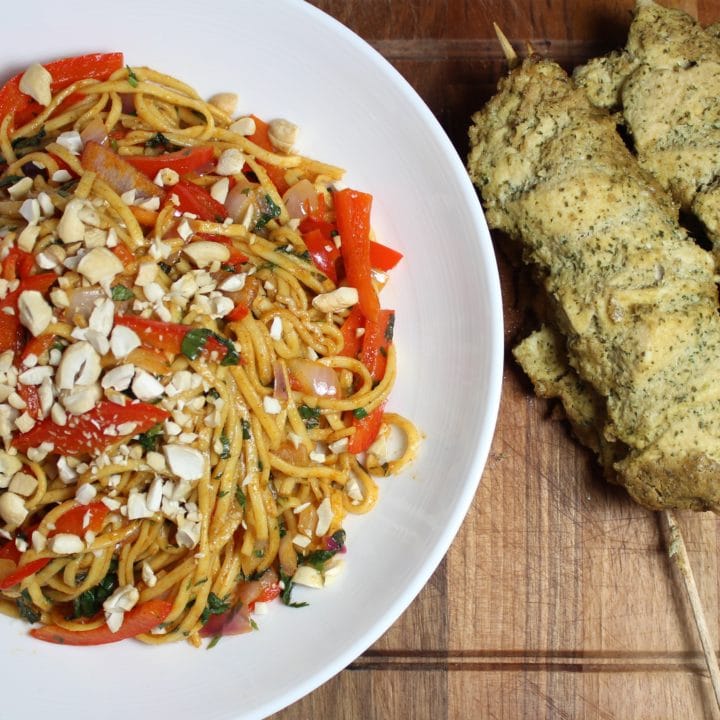 Chicken Satay Skewers with Crunchy Noodle Salad
Chicken skewers baked in a creamy peanut satay sauce and served with a crunchy sweet chilli noodle salad
Ingredients
Satay paste:
2

tbsp

crunchy peanut butter

2

tbsp

brown tahini sauce

1

green chilli deseeded and roughly chopped

1

garlic clove peeled and roughly chopped

2

cm

piece of fresh ginger peeled and roughly chopped

15

g

fresh coriander roughly chopped

10

g

of fresh mint leaves roughly chopped

1

tsp

light soy sauce

Juice of 1 lime

2

tbsp

cold water
Chicken satay skewers:
4

wooden skewers soaked in water

2

chicken breasts

4

tbsp

of satay sauce
Noodle salad:
300

g

Noodles

1

star anise

2

tbsp

rapeseed/olive oil

½

red onion diced

1

red chilli deseeded and finely sliced

½

red bell pepper sliced into 2 cm long match stick pieces

1

tsp

cider vinegar

½

tsp

ground coriander

½

tsp

hot chilli powder

½

tsp

ground cumin

½

tsp

cayenne pepper

Juice of ½ lime

10

g

fresh mint leaves finely chopped

10

g

fresh coriander finely chopped

50

g

cashew nuts roughly chopped

Drizzle of honey
Instructions
To make the satay sauce:
Place all the satay sauce ingredients into a food processor and blitz together. Gradually add small amounts of cold water until a smooth consistency is reached.
Preparing the skewers:
Ensure the wooden skewers have been thoroughly soaked in water, this is to prevent them from igniting during the cooking process.

If baking the chicken skewers then pre heat the oven to 170-180 degrees C. If your oven is a little on the hot side then stick closer to 170. Skewers can also be cooked under the grill or on the BBQ (weather dependent).

Slice up the chicken into even square 2-3cm pieces. Carefully skewer the chicken onto the wooden sticks. Try to spread the pieces evenly along the stick, leaving enough room to hold the stick at the bottom. 2 chicken breasts should be enough for 4 full skewers.

Lay the chicken skewers flat on a large plate or in a large container. Spoon over the satay sauce ensure all sides are fully coated. Cover the chicken and place in the refrigerator whilst the noodle salad is prepared (see below). If you have the time the chicken can be refrigerated for a few hours to allow the lovely satay flavours to infuse into the flesh, however, this is not essential.
To make the noodle salad:
Cook the noodles according to the instructions with 1 star anise thrown in. Once cooked; rinse under cold water to stop the cooking process and to cool the noodles. Then remove the star anise, place in a large bowl and set to one side.

In a frying pan heat the tbsp of oil and gently fry the red onion until just cooked (I like to partly cook the onions in order to remove the really strong taste but at the same time trying to retain some of the bite and colour). Then add the chopped red chilli and red pepper and continue to cook for a further minute. Transfer the onions, chilli and pepper to small bowl and set to one side to cool.

In an additional small bowl (lots of bowls in this recipe!) make the dressing by gently whisking together the remaining oil, cider vinegar, lime juice and the spices. Ensure the spices are fully incorporated into the liquid.

Now to make the salad: add the onion mix, dressing and fresh herbs to the noodles and toss together well. This can get a bit messy so you may wish to transfer the noodle salad to a clean serving bowl before topping with the chopped cashew nuts and a drizzle of honey. Place the salad in the fridge to chill whilst the chicken skewers are cooked.
To cook the skewers:
If baking place the chicken skewers on a baking tray and cook in the oven for 25-30 minutes, turning the skewers every 10 minutes to ensure all sides are evenly cooked. The sauce should dry out evenly and turn slightly golden as the chicken bakes. If grilling or cooking on the BBQ then place the skewers directly on the grill tray and turn regularly. Cooking time should be similar at around 30 minutes.

Once cooked serve immediately alongside the crunchy noodle salad.