Chicken skewers with a fiery rocket, lime, and baby corn salad. Its another show stopping platter!! I just love serving up mine and Ben's tea like this. Everything piled on to one board ready for us to devour.

We're trying super hard to keep our evening meals reasonably healthy at the moment.
That said we're not the type of folk to go for 'my body is a temple' kind of approach, but we certainly want to have some kind of healthy equilibrium going on, what with our wedding fast approaching and a new allotment to keep on top of.
Our choice of healthy protein intake is fish or chicken, or chicken or chicken. Basically, we want something that we like, which isn't too high in animal fats, and so chicken or fish seems to our pattern of meals at the moment. And that's fine, although this can get a bit boring after literally 2 days. The trick is to try and keep things interesting.....no easy task (especially with us all having such busy lives).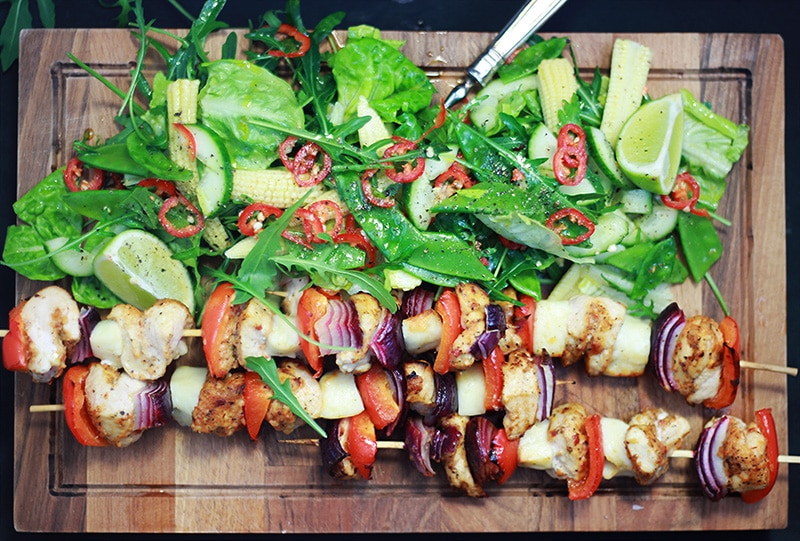 So heres my 3 simple tips for keeping healthy teas interesting:
Use different methods to prepare and cook the chicken or fish. My favourite methods include:

Butterflied chicken breast or a whole fish fillet, seasoned with herbs or spices and pan fried.
A whole chicken breast or fish fillet topped with harissa paste, parcelled up in a foil tent and then baked.
Chicken or fish sliced into chunks and stir fryed - this is so quick and easy. For a simple quick sauce I add 1 tbsp olive oil, 1 tbsp light soy sauce, 1 tbsp japanese mirin and 2 tbsp honey.
Chicken or fish kebabs as I've done with this recipe here or see my satay skewers here.
Chucks of chicken or fish in stews or soups and slow cooked.
Pre-cooked and chilled meat, mixed with rice, grains or noodles (left cold or thoroughly reheated)

Keep a supply of interesting sauces or dressing to go with your meals.

The easiest by far is a simple salad dressing of olive oil, balsamic vinegar, lemon juice, your choice of fresh or dried herbs and a dash of black pepper. I also have a little stock of jarred products in my cupboard that are great for preparing tea in a hurry:

Pesto - I love pesto and I also love to make my own, but when time is short its fine to reach for that jar. I love to use this as a topping on my meat or fish, mix in with cooked grains or pastas, or added to oil and vinegar dressing then poured over salad.
Harissa - as above, it goes fantastic with everything and is even great mixed into casseroles and soups to give that extra kick.
Dried mint, tarragon and rosemary. I love the fresh versions of these as well but don't always have them to hand. But its so easy to have these dried herbs in your cupboard. I absolutely adore minted or rosemary new potatoes, either boiled and then tossed in mint and olive oil or sliced in half mixed in a bowl with oil and rosemary and then baked until golden. Just delicious. Tarragon and lemon work fantastically well together, and I love to coat my chicken in tarragon and squeeze over some lemon juice before stir frying or baking.
Paprika, coriander, curry powder, cayenne pepper. These are my favourite spices and all go so well together. I like to sprinkle my chicken and fish with all of these before cooking to give a lovely warming, fiery flavour. Sweet potato either baked or mashed is made so much better with a sprinkle of paprika and cayenne. I also use these spices in curry, chilli con carne, cottage pie (curry powder in cottage pies - just A-MAZ-ING) and any tomato based sauces I want to spice up.

Have a good stock of things to go with each meal.

For me this usually includes onions, rice, potatoes, salad, a selection of vegetables, fresh ginger, garlic, red chillies, lemons and limes. I always try to separate veggies to go with certain meals, otherwise I find we tend to have broccoli every night. Veggie groups I use:

Broccoli and green beans
Pak choi, fennel, bean sprouts, butternut squash
Samphire and mangetout
red pepper, red onions, aubergine, courgette
stir fry veggies (which can include left overs from the above)
Salads (can include raw or cooked and chilled veg like in this recipe where I've used cooked and chilled baby corn and sliced, raw mangetout)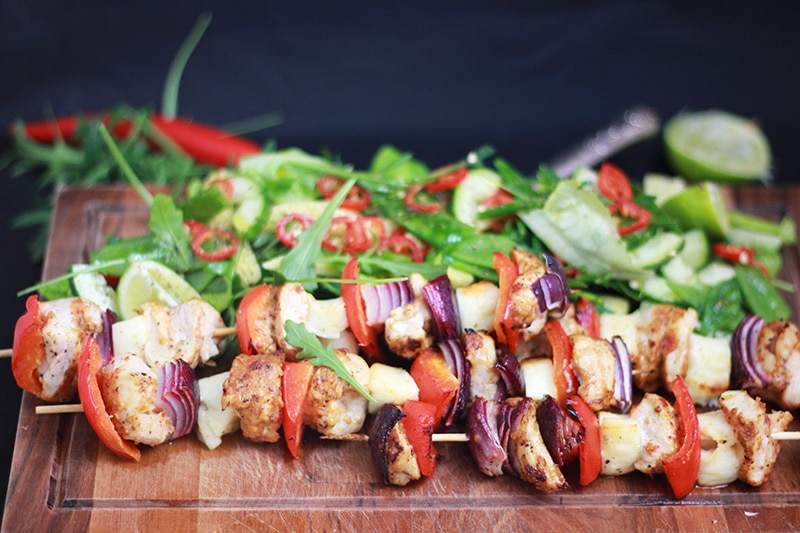 The chicken skewers
Really easy to make and will fit in perfectly with any busy schedule. If you know you're going to be really limited on time, then you can even make up the skewers in advance, and cling and chill in the fridge until you're ready to cook them. I prefer the chicken to have a little flavour and so I usually add spices or herbs (as mentioned above) or a new trick: I buy vac packed chicken from my local butcher and ask for them to be seasoned with different flavours before packing.  Our butcher does all types of seasoning from Piri Piri to Italian. This makes the job even easier and I highly recommend you check out what your butcher can offer, if you haven't already.
I used red pepper, red onion and halloumi for these skewers, as I love this combination. But you can change this to suit your tastes.If you want it to be super healthy then leave out the halloumi,which substantially reduce the fat and saturated fat content of this recipe. For the salad I added a few extra bits to help jazz it up a bit, which included baby corn, raw mangetout, baby gem lettuce, sliced fresh chilli and a squeeze of lime juice. This is not a bland salad by any stretch of the imagination.
To serve up I slapped it all on a board - Jamie Oliver style - and drizzled over olive oil and more lime juice. Perfection.
Hope you have chance to give this try - come back soon for more easy and tasty mid week meals, and of course that fantastic capsule fridge post!! 😉
Click here to see the nutritional info for this recipe
**Estimated nutritional information per serving and 100g of Chicken skewers and fiery salad. If you want to find out more about how the information is calculated and the sources used, please refer to my Nutrition Information Guide.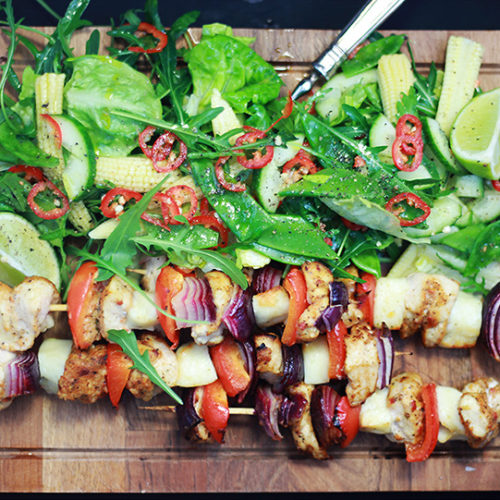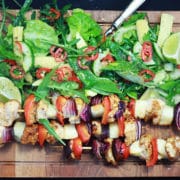 Chicken skewers with a fiery rocket, lime and baby corn salad
Chicken Skewers with a fiery rocket, lime and baby corn salad. A really simple, tasty and healthy mid-week dinner, especially good for when you're short on time.
Ingredients
For the skewers
2

chicken breasts

200g, sliced in to chunks

1

red bell pepper

sliced into 2cm pieces

1

red onion

roughly chopped into 2cm pieces

Half a block

100g of halloumi cheese, cut onto 2cm pieces

Half a tbsp Olive oil

1

Lime

sea salt and pepper

4

wooden skewers
For the salad
35

g

Rocket leaves

1

baby gem lettuce

90g

75

g

cucumber

75

g

baby corn

75

g

mangetout

sliced in half on the diagonal

1

red chilli thinly sliced into circles

1

lime

Halfa tbsp Olive oil

Sea salt and black pepper
Instructions
For the Chicken Skewers
Pre heat the oven to 180 degrees C.

Rinse the skewers under the tap before you begin. This will help to stop the skewers burning during cooking.

Prepare the chicken by slicing into chunks and seasoning with your preferred spices or herbs (see above for ideas), Prepare the veg and halloumi and lay out a baking tray where you can place the skewers as your making them. Thread the chicken, cheese and veg on to each skewer in your preferred order. I tend to add two or three pieces to each skewer in turn, so to keep each skewer the same and to ensure there is good spread of each ingredient across all of them.At this point, if you are pre-preparing, your skewers can be wrapped in cling film and chilled in the fridge until you are ready to cook them.

Once your skewers are made, put a large pan on a high heat, and drizzle the skewers with half a tbsp of olive oil and the juice of one lime.

Place the skewers into the hot pan and cook on each side for 30 seconds or so. Once the ingredients on each skewers have been seared off on all sides, transfer to a baking tray and continue to cook in the oven for 20 minutes.
For the salad
Whilst the skewers are in the oven you can prepare the salad.

Slice the baby corn in half length ways and cook in a small pan of boiling water for 3 minutes. Then drain and chill in cold water.

Prepare the salad by roughly chopping the baby gem leaves and slicing the cucumber. To make the salad look extra fancy I usually cut the seeds out of the cucumber (v-shape) before slicing.

Then in a large bowl add the rocket, baby gem, cooled baby corn, raw mangetout (sliced in half), cucumber and sliced chilli. Drizzle over half a tbsp of olive oil, juice from half a lime and season with salt and pepper. Then mix well with your hands.

Serve up your salad onto plates or onto one board and lay the cooked skewers at the side, add the remaining wedges of lime to finish off.
Nutrition
Serving:
461
g
|
Calories:
426.2
kcal
|
Fat:
20.8
g