SOME PRODUCTS BELOW WERE GIFTED AND  SO ARE FEATURED BELOW AS AN ADVERTISEMENT
All of the gifts in this guide have been chosen by me. I received some of the items free of charge for inclusion in my gift guide. All opinions are my own. This post also contains a few affiliate links – which means that if you click on them and then purchase a product I'll get a small commission (at no extra cost to you of course). If you do click through then thanks!
To help you on your way with your Christmas shopping this year, I've put together a little Christmas gift guide. So if you're looking for Christmas gifts for foodies then you're in the right place...
HAPPY CHRISTMAS
From Debbie
Holidays are comin' guys and believe it or not its time to get our Christmas shopping skates on! The Coca Cola advert has made an appearance; Christmas lights are starting to go up on the high streets; and one of my friends, I won't name names, already has all her presents bought, wrapped and ready for Santa!
No need to panic though! This year I've been busy getting in touch with all my favourite brands in order to bring you an amazing selection of Christmas Gifts for foodies. From quality chocolates and festive drinks to quirky kitchenware and unique foodie experiences, theres definitely something for all foodie fans everywhere. Theres even some fab competitions with prizes that should get your Christmas off to a great start!!
So with out further ado - lets make some magic and get our Christmas shopping faces on. Ready?? Lets go ...
Christmas Stocking Stuffers especially for foodies
Cosy Socks
 - for keeping those feet warm in the kitchen (These are the cosiest socks I own!)
Holmfirth vineyard tour - have a tour and tasting at the West Yorkshire vineyard
The Courthouse, Knutsford vouchers - fine dining and festive afternoon teas in Cheshire
Bloom and Wild - letterbox Christmas tree, perfect for the kitchen!
Swinton Estate vouchers - amazing afternoon teas and relaxing spa deals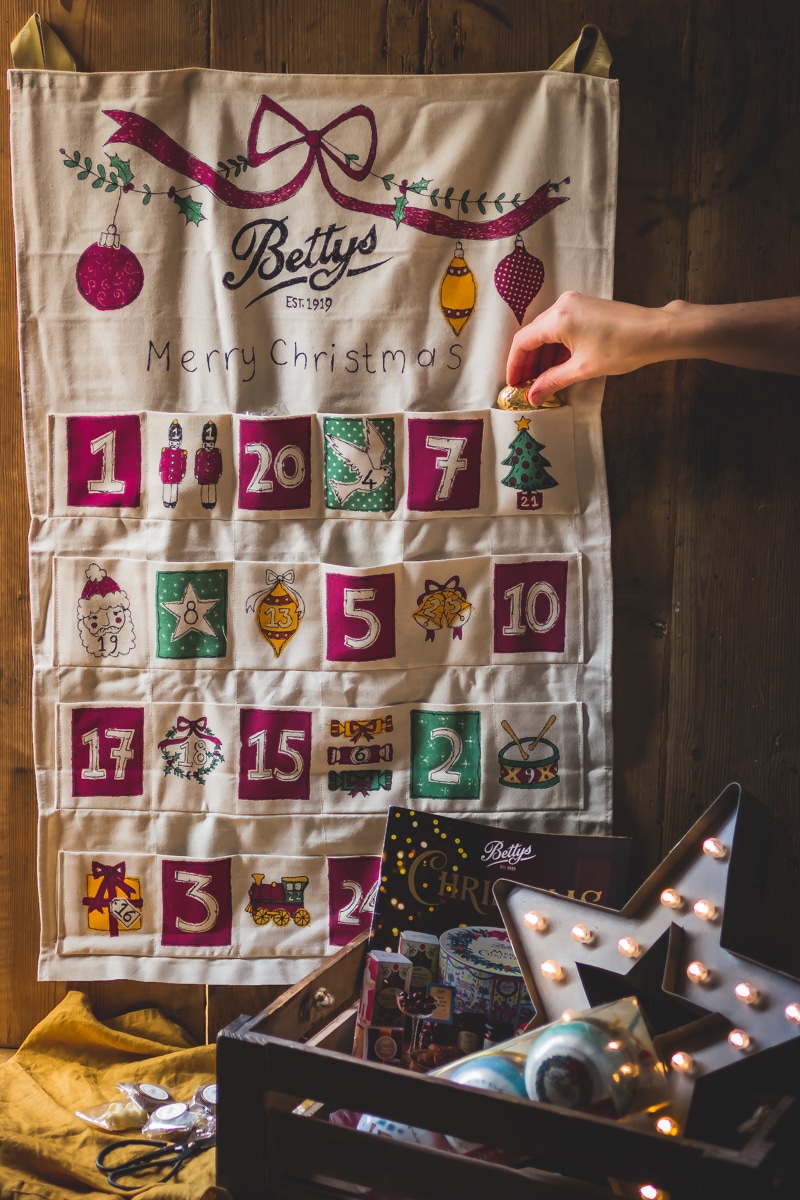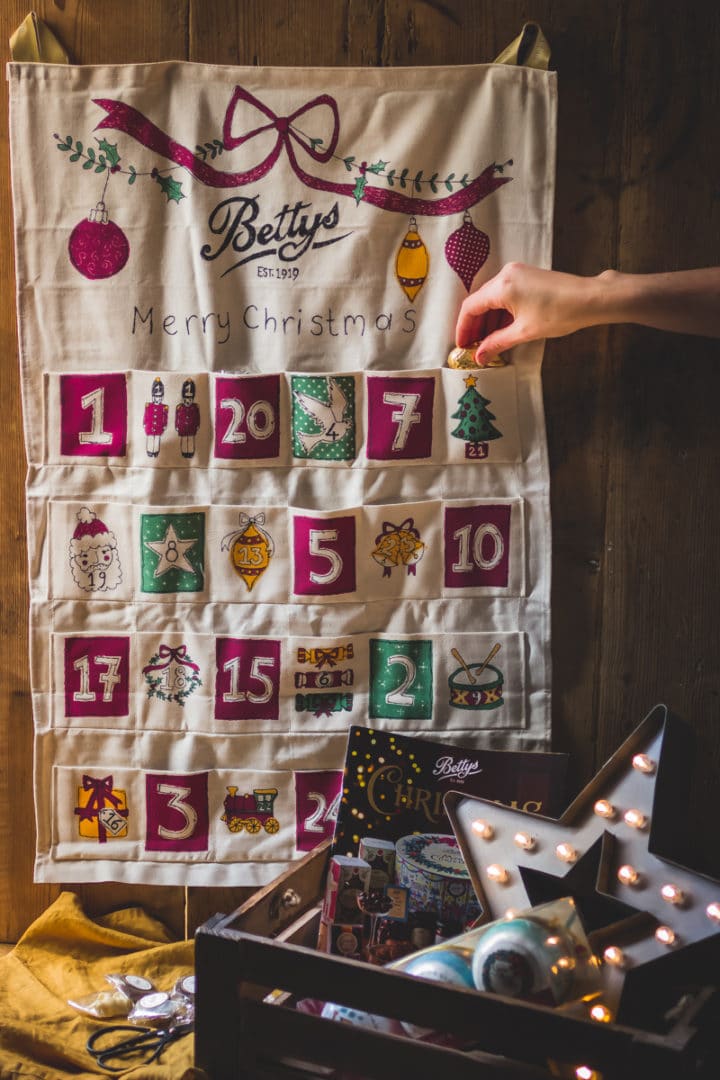 A fabulously festive, cotton advent calendar that can be put up year after year and become a real family tradition. This lovely calendar comes complete with individually wrapped chocolates for each of its 24 pockets. Can't wait to get this on my wall in December! £49.95
A bag of refill chocolates can be bought separately for following years. £19.95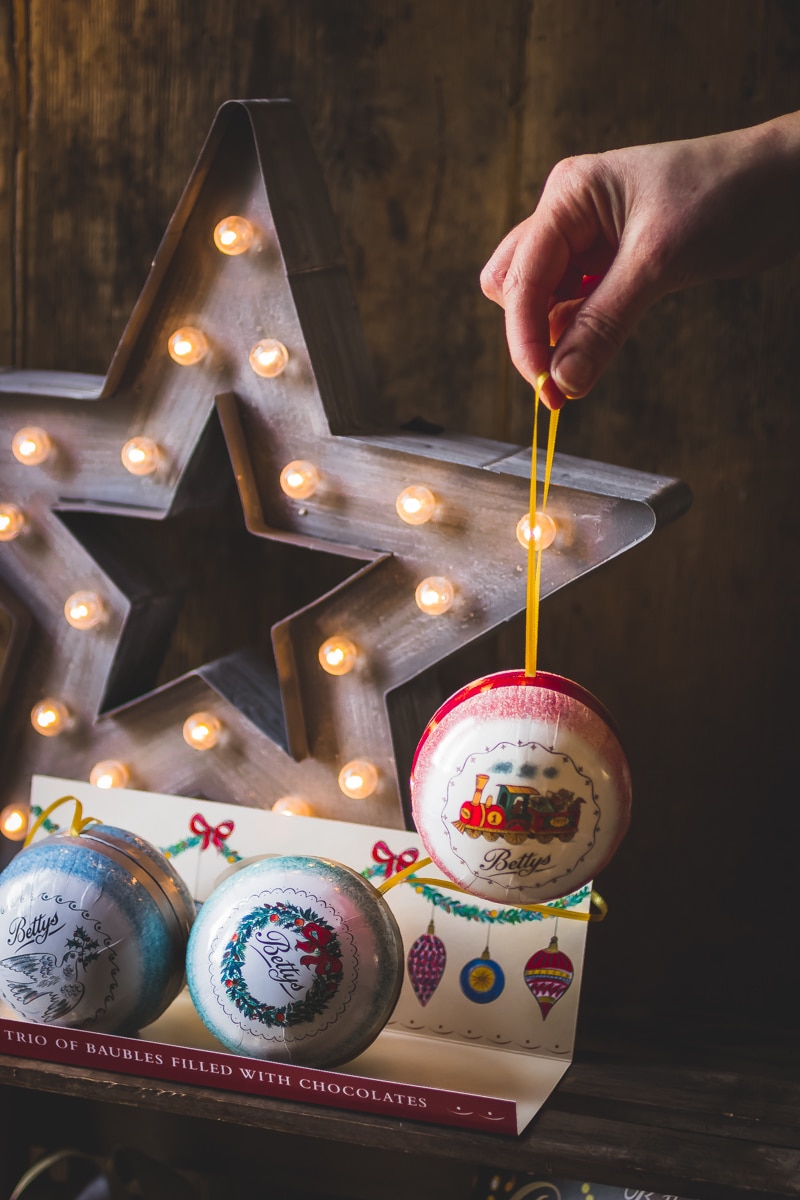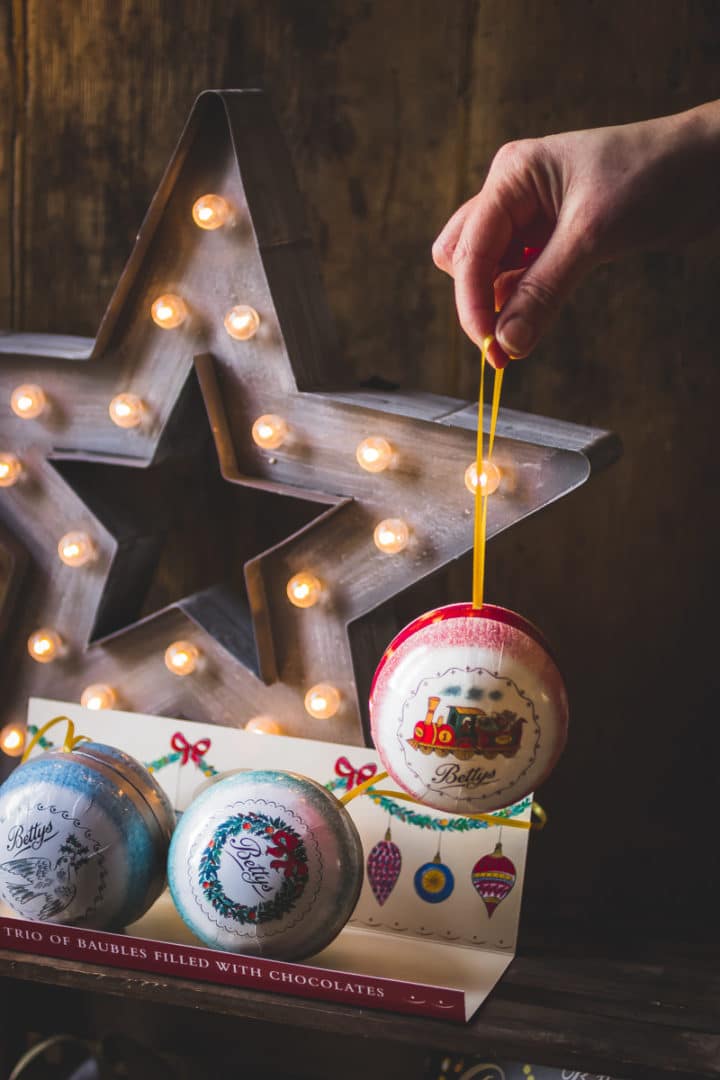 A trio of bauble decorations, illustrated by Yorkshire artist Emily Sutton. I do love having chocolates on the tree and these baubles come filled with either almonds, fudge or orange jellies all coated in Swiss milk or dark chocolate. £14.95
Hiver was born out of an admiration for London's urban beekeepers and a passion for craft beer. I first came across Hiver last year when Ben and I became interested in Bee Hives and wanted to learn more about keeping bees. Hiver uses British ingredients, suppliers and raw honey to make their amazing honey beers.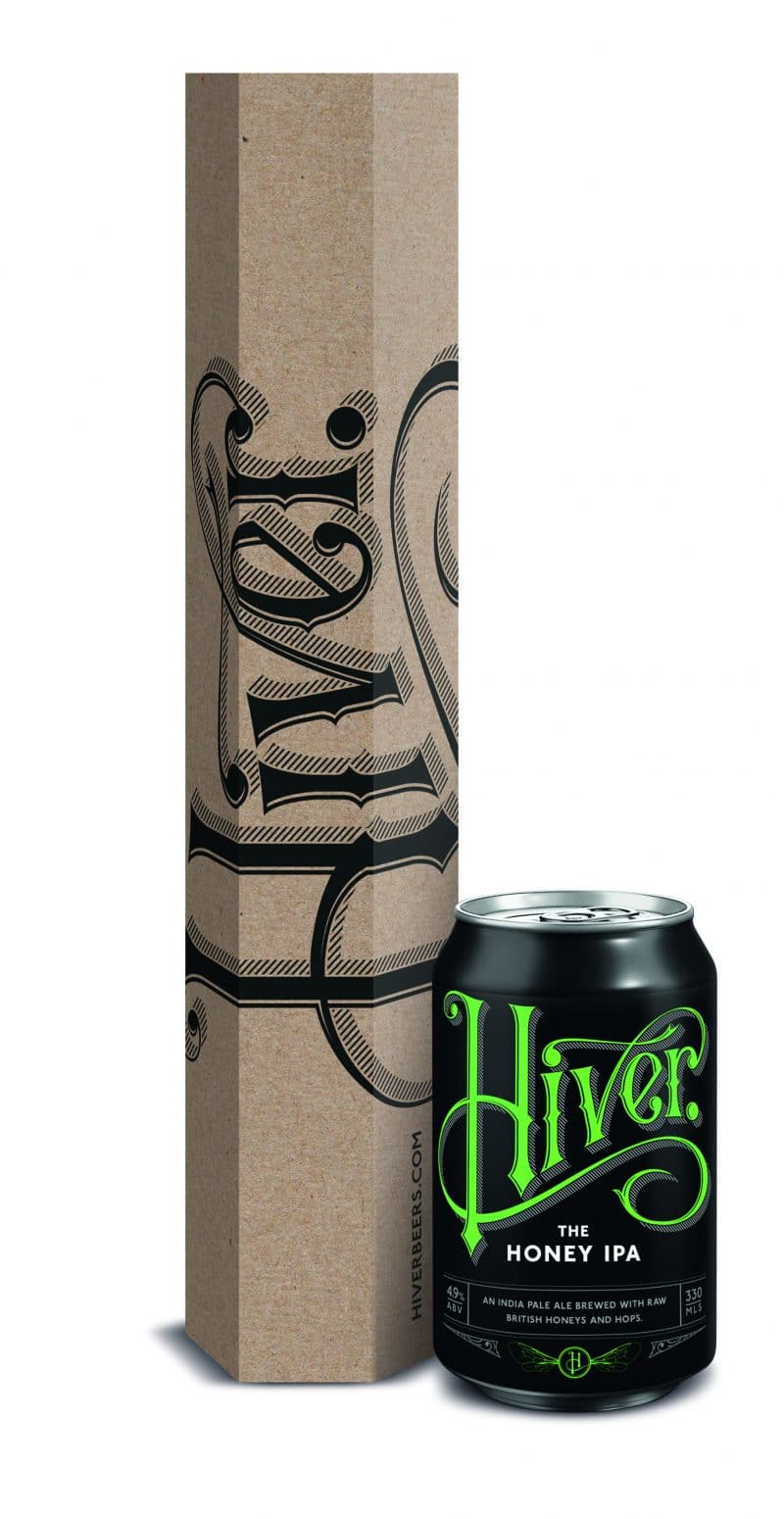 A can tube gift pack, containing 3 x Hiver Blonde 330ml cans.The original Hiver beer. A crisp and refreshing blonde beer, brewed with three honeys: apple blossom honey from Kent, urban London and Yorkshire heather. £10.00
A mixed gift pack which contains 2 Honey Ale and 1 Honey Beer. This gift pack contains both of Hiver's beers so you are sure to enjoy both forms of the Honey beer. £10.00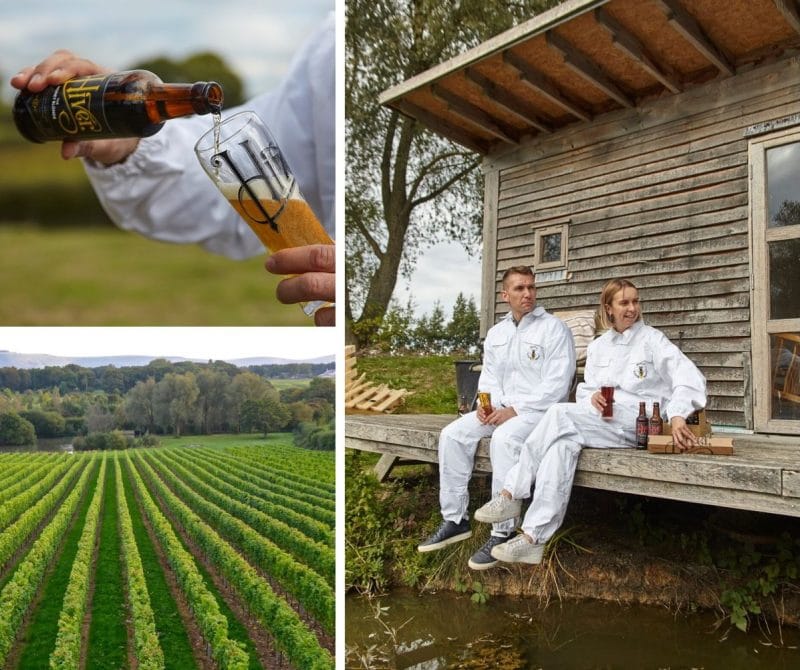 Hiver also offer beekeeping and beer tasting experiences. Having been along to their Urban bee keeping and beer tasting experience in London, I can highly recommend this as a great gift for anyone who loves beer, honey and beekeeping!! And even if you don't love beer - - Honey beer is something extra special and its well worth the experience anyway!! Starting from £18/person
Silver Mushroom offer a wide variety of quality kitchenware. I've recently been enjoying using their stove top Le Creuset kettle - with a proper whistle!!
Le Creuset whistling kettle; Part of Le Creuset's Nature's Kitchen collection in 3 complimentary colours, nothing beats the aroma of freshly brewed tea or coffee, and such an important daily ritual calls for a stylish stovetop kettle. I definitely feel this is the perfect addition to any kitchen on Christmas day morning!! £90.00
RECIPE IDEA:
Click here to get the recipe I made with this kettle and the glasses below: Blackberry and sloe gin hot toddy cocktail.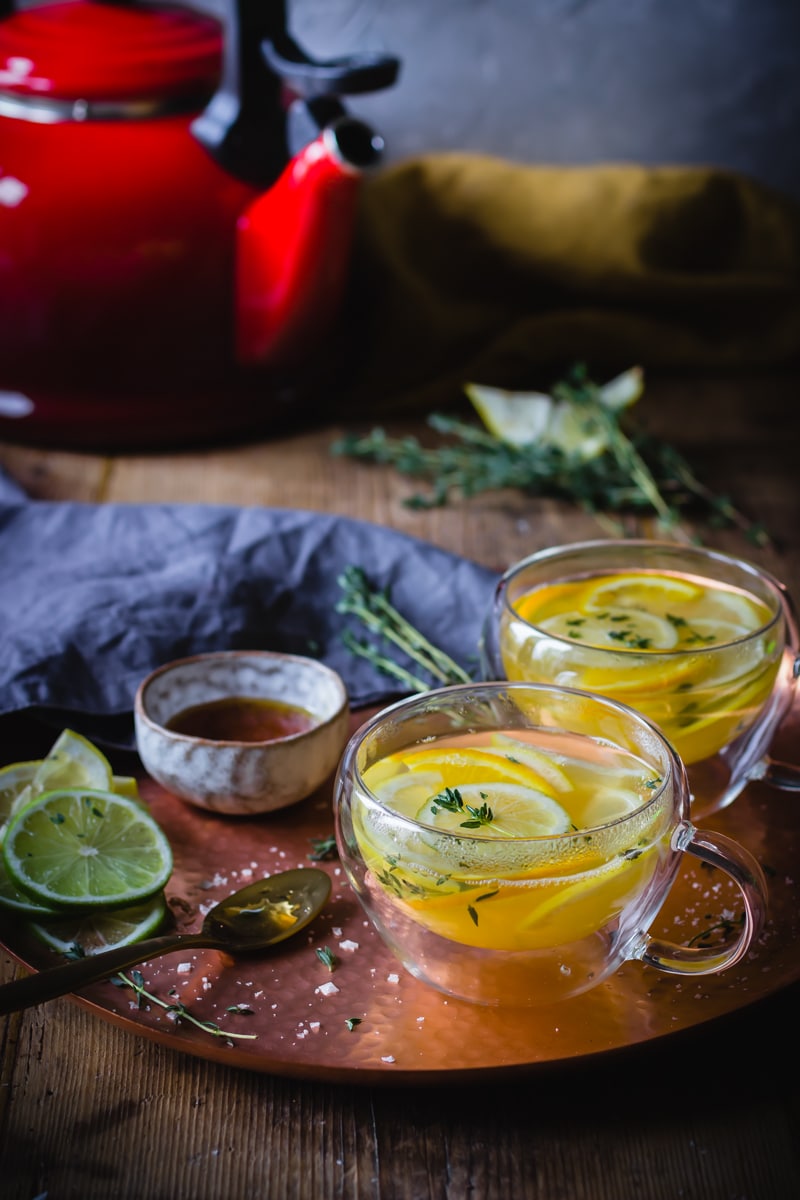 Sleek and stylish, this set of two double walled tea cups are made from clear glass so you can really appreciate the colours of your tea or coffee. Perfect for an elegant tea or coffee service with a difference, these cups feature a double wall for insulation, keeping your hot drinks hot and keeping the outside of the glass cool. £14.95 (2 teacups)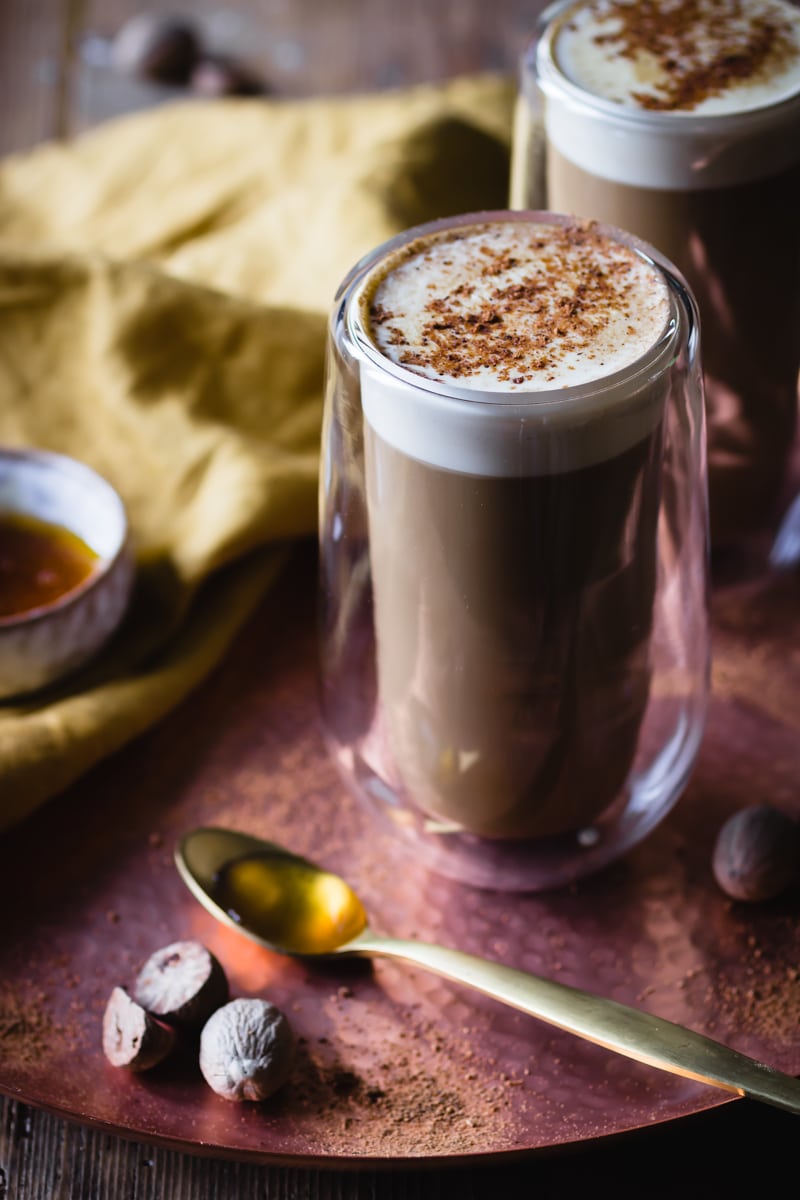 Tall and elegant, these double walled highball glasses are perfect for serving everything from iced tea, to cocktails. They can even be used for milkshakes and hot chocolate. £14.95 (2 glasses)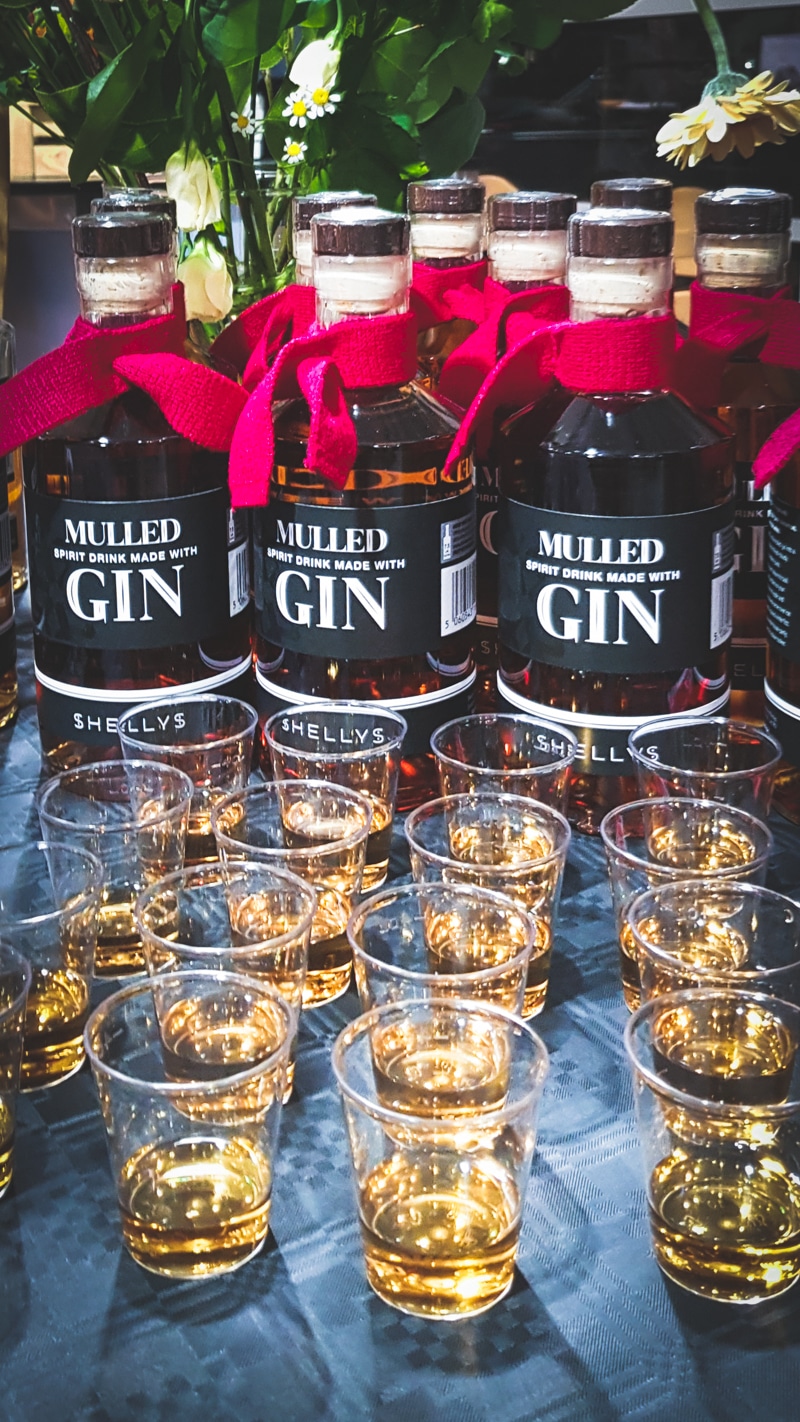 I went along to the Booths Christmas launch back in October and was lucky enough to sample some of their Christmas goodies. The Mulled gin was a complete show stopper and the perfect tipple for Christmas. The Shellys Winter rum wasn't bad either!! Shellys Mulled gin and Winter rum are available for Christmas across all 28 Booths stores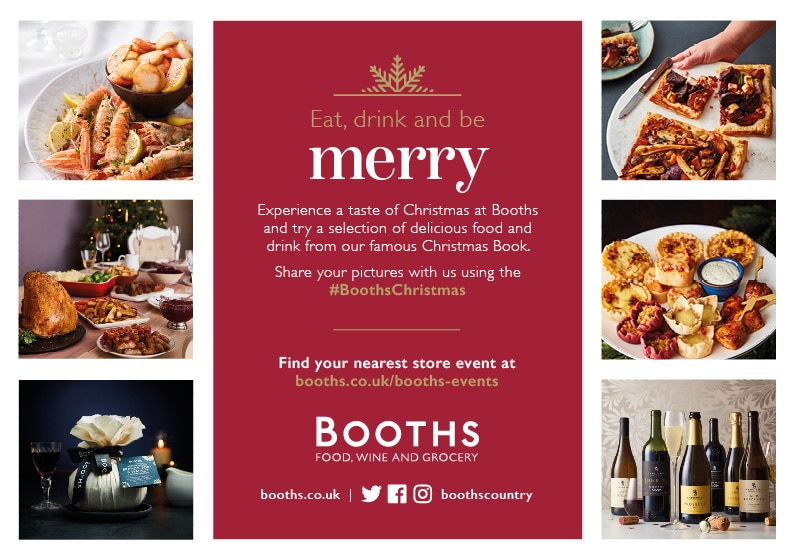 Booths have an amazing array of Christmas foods, gifts, hampers and meals - perfect to get you well and truly organised this Christmas. From delicious party food canapes and impressive dinner bundles to wicker basket hampers and festive gin baubles. Browse the online shop and download the Booths Christmas book here
For some extra festive inspiration download Booths Exclusive 12 days of Christmas recipes here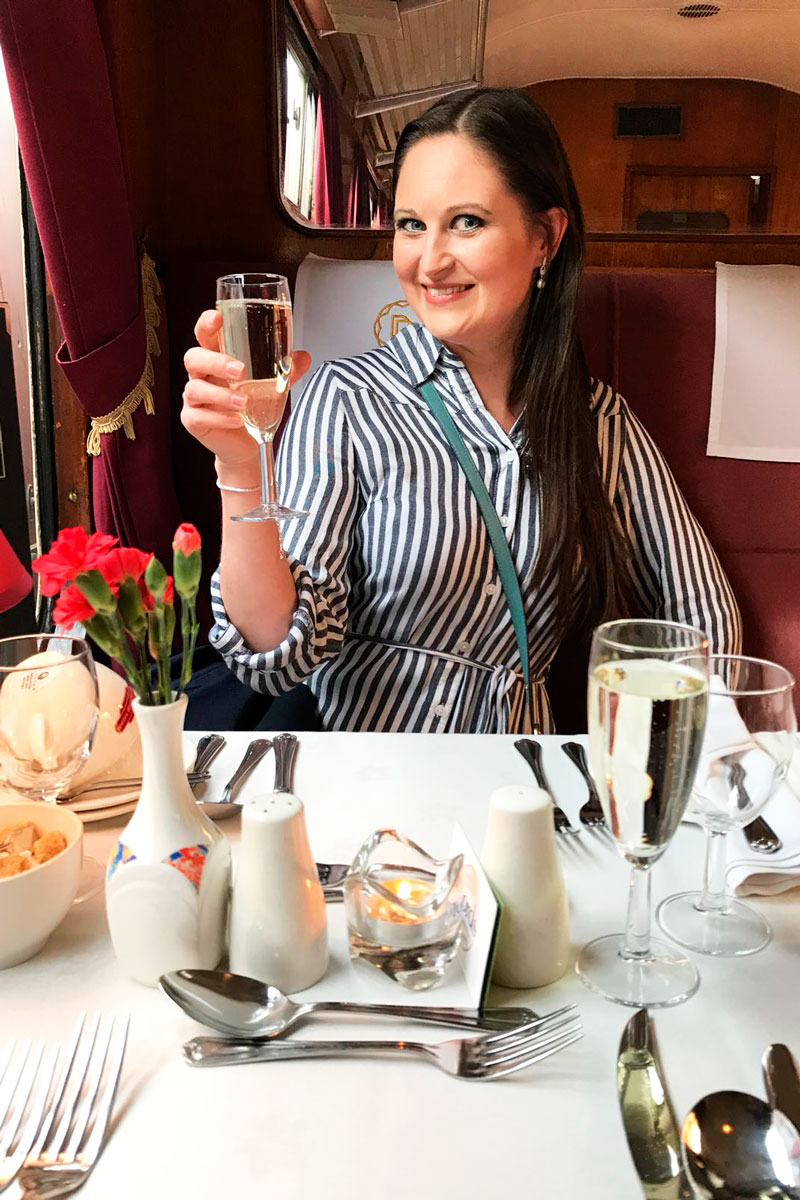 What can I say about the incredible foodie experiences on offer at East Lancashire railway?? Firstly - its amazing and I cant recommend their dining experiences highly enough. Step on board the traditional Pullman style carriages and be transported back in time to an age where to dine by train was the height of sophistication. Enjoy first class service and fine dining behind one of East Lancs historic steam engines, whilst journeying through the charming Lancashire countryside soaking up the picturesque panoramas as you go. With a range of options from a silver service four course gastronomic delight to a quintessentially British Afternoon Tea, there is something for every appetite and occasion.
PROPERFOODIE REVIEW: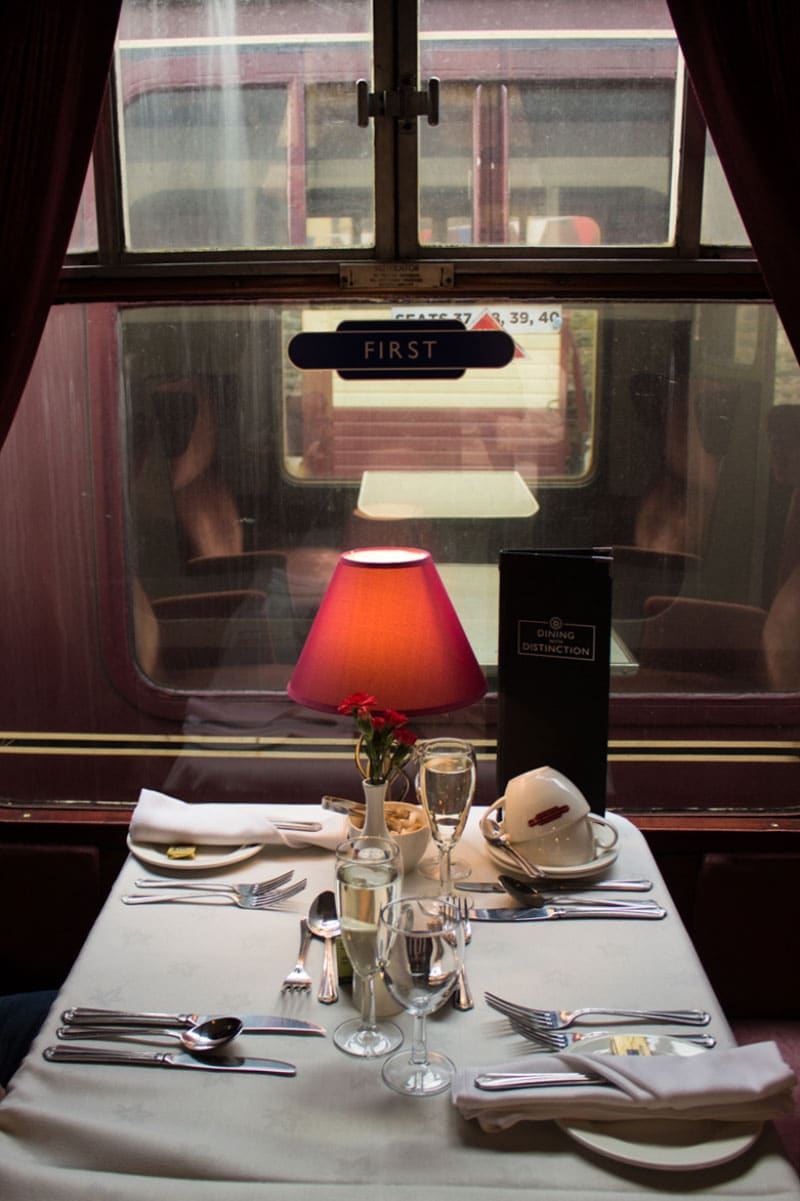 Click here to find out more about my own trip back in time on the Red Rose diner Dining with Distinction food packages
The Red Rose Diner package is the ultimate on board fine dining experience with a red carpet welcome and complimentary glass of fizz. This is the package Ben and I went on and it was an amazing evening!! £56/person
Purchase gift vouchers for any amount towards a dining package. £ any amount of your choosing
Henley Chocolates is a small, family run business started on a kitchen table in 2012 by head chocolate-maker; Sally. Henley Chocolates hand craft artisan chocolate using real ingredients, which are sourced locally and sustainably. And they are also super tasty - the Amaretto truffles are my favourite!!
Assorted chocolate Christmas shapes made from fabulously rich, smooth Belgian chocolate perfect for a stocking filler or as advent calendar refills. The bag comes with a random mixture of shapes chosen from Santa, a candy cane, a snowman, a Christmas tree, a Christmas light, a Christmas bauble tree decoration, a star and a Christmas stocking. £2.75 per bag
Hand rolled Amaretto truffles with a soft milk chocolate Amaretto ganache centre individually hand rolled in either milk or dark chocolate and tiny pieces of caramelised hazelnut. From £4.00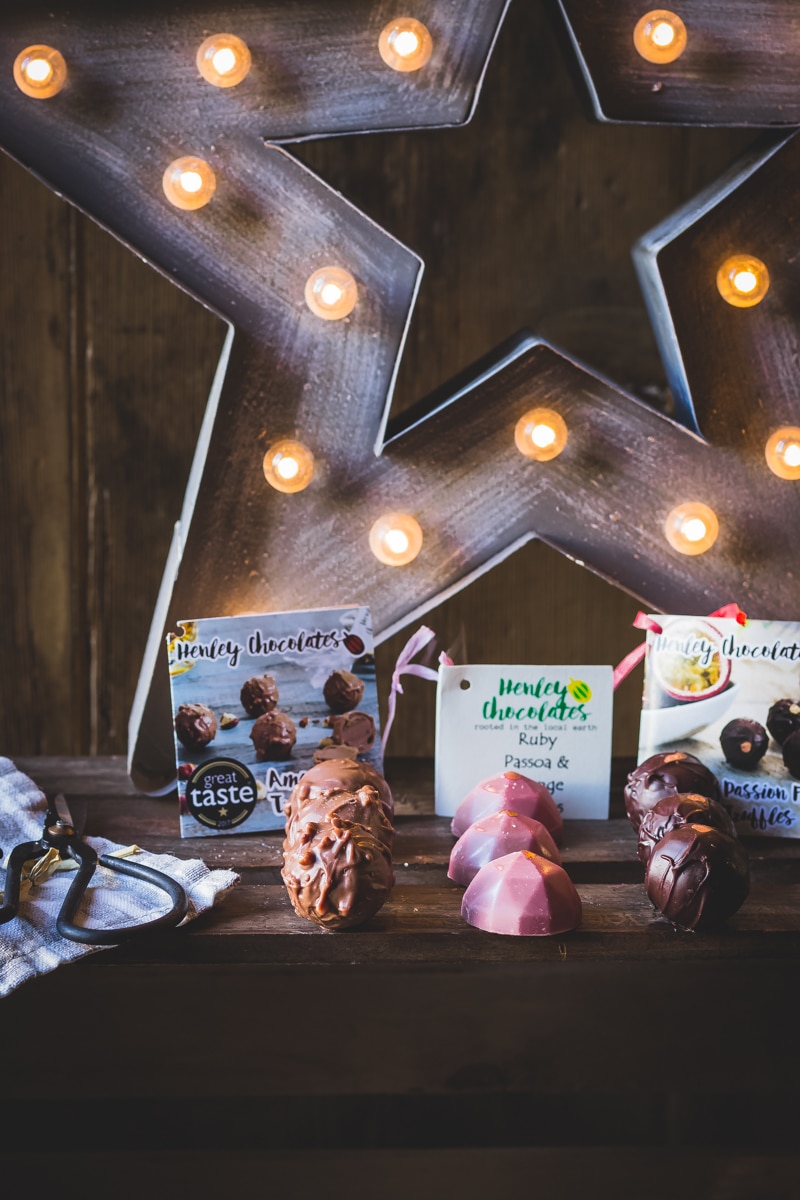 Handmade Passion fruit truffles; a taste explosion of passion fruit goodness, mellowed out with a bitter sweet dark chocolate shell. From £4.00
Gin Truffles hand made with Stratford gin from the Shakespeare Distillery. From £4.00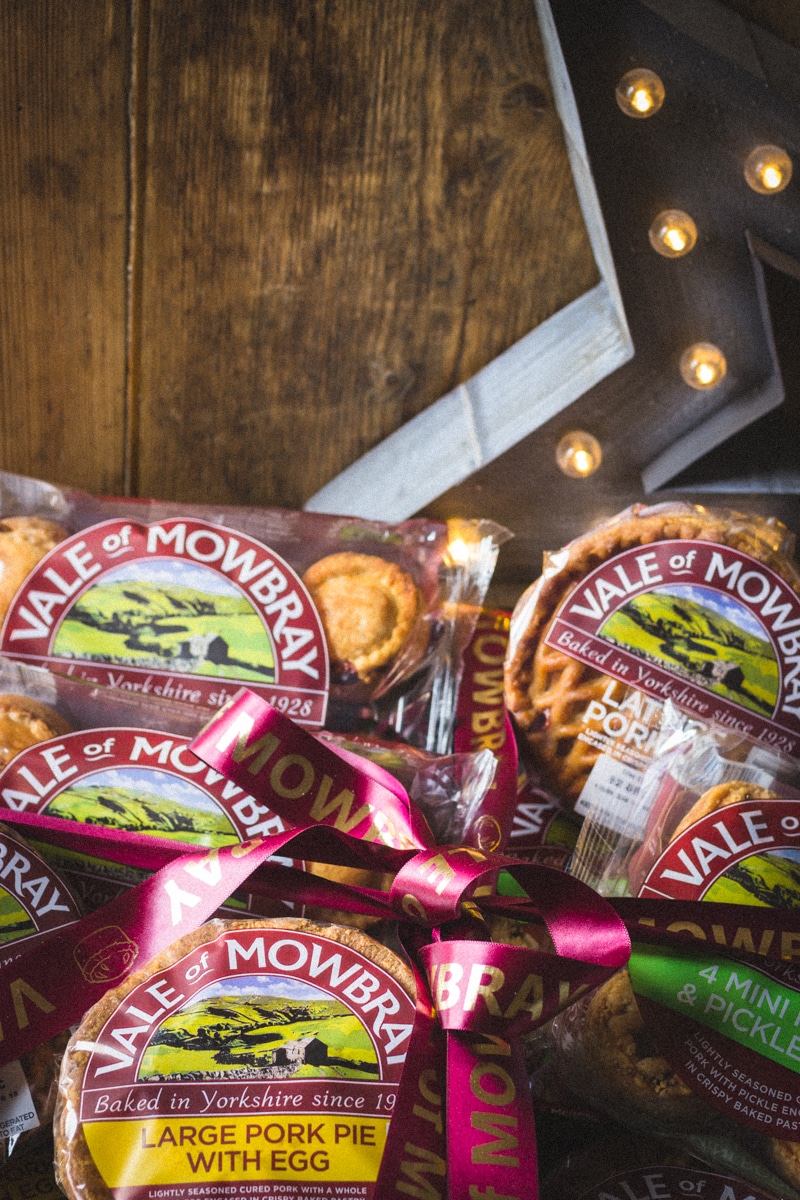 Vale of Mowbray pork pies, for the pie lover in your life! Vale have been baking pies for 90 years and use their own traditional recipes and only the freshest ingredients. From a mini snack pie to a large Grosvenor pie and every kind of pork pie in between - you'll be spoilt for choice.
RECIPE: Click here to see what I made to go with some Vale pies, earlier on this year
Click here to find your nearest pie supplier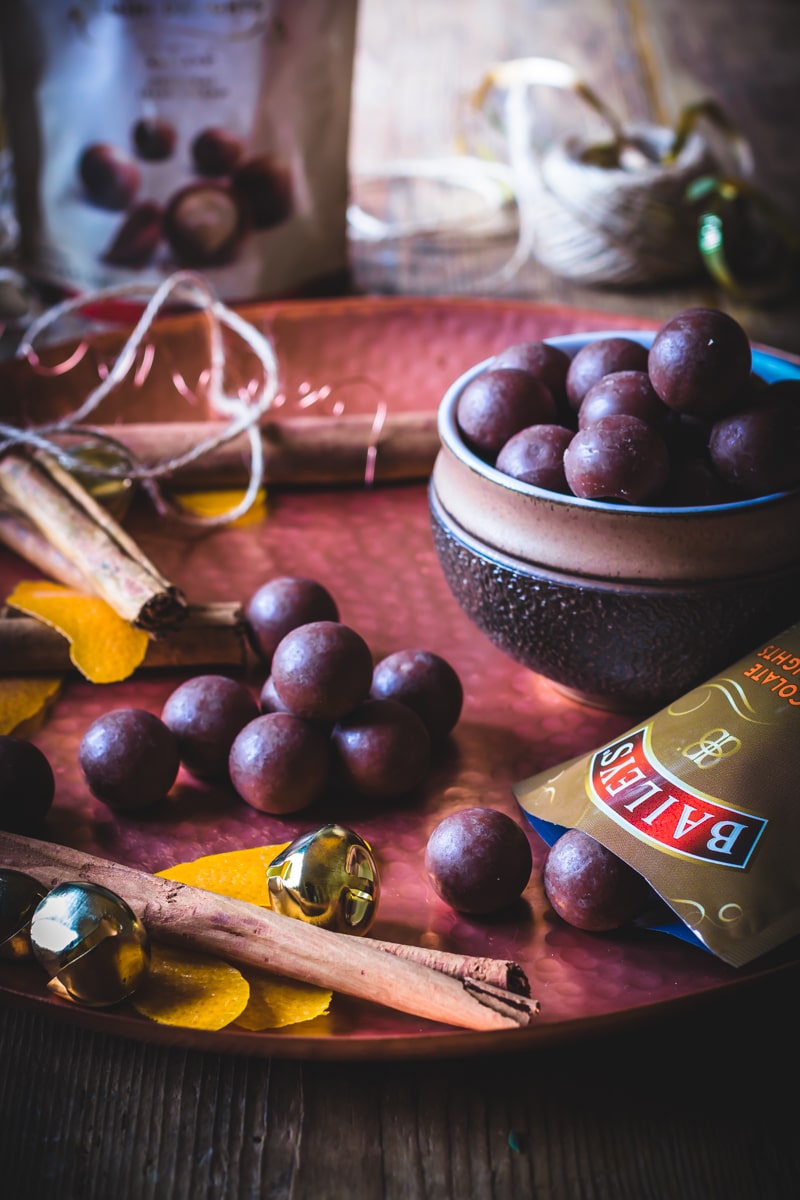 Lir is a luxury chocolate company created in Dublin in 1987 by Connie Doody and Mary White and began on Connie's kitchen table with a food mixer and a bowl.Lir Chocolate's Discovery Collection (180g / RRP £10) is available from selected Morrisons, Tesco and Co-op stores in the UK. And you can pick up Baileys Chocolates from selected ASDA, Morrisons and Co-op stores in the UK
Baileys mini delights I love baileys so I can't imagine a better chocolate than these baileys mini delights. Also available in salted caramel flavour. £2 (Morrisons)
The Discovery Collection includes exciting new flavours such as Dark Chocolate Torte and Chewy Pecan Caramel, alongside classic much loved favourites like Praline, Salted Caramel and Coffee. Available in boxes of 16 or 32. £10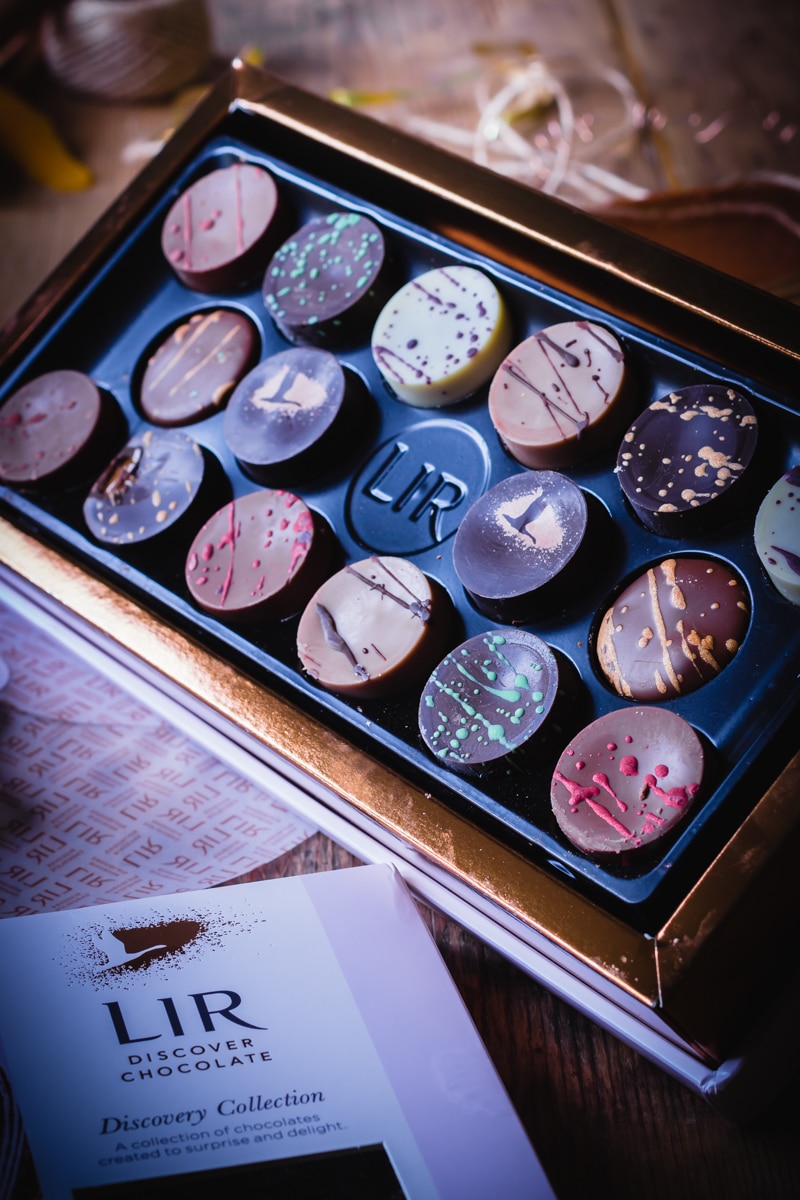 Thomas Fudges bakery produces all kinds of wonderful biscuits - all perfect for Christmas: Florentines, ginger biscuits, flapjacks, crackers.... The bakery was set up in 1916 by Thomas Fudge in Dorset, where it sill remains today sourcing local ingredients and using artisan craftsmanship.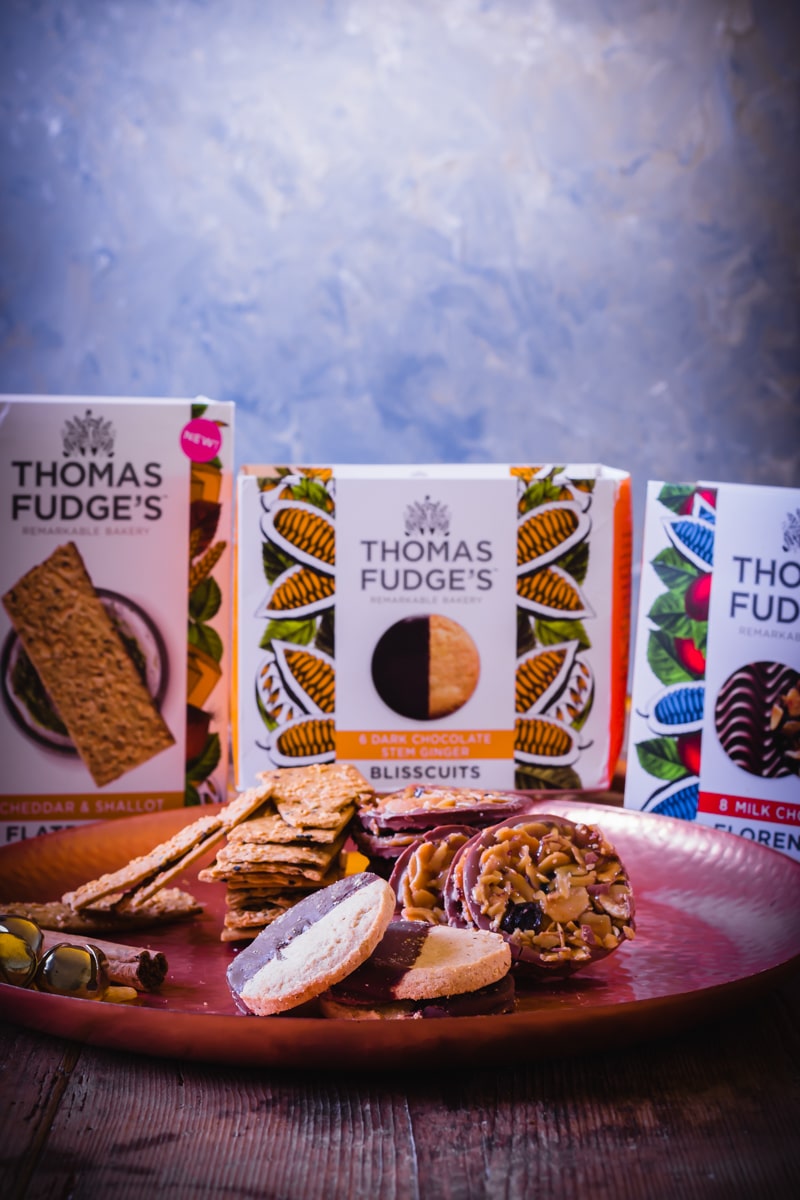 Florentines available in dark chocolate, milk chocolate and salted caramel. From £2.70 per box
Chocolate coated biscuits (blisscuits). Including lemon and white chocolate, ginger and dark chocolate and triple chocolate. £2.70 per box
Crackers: Biscuits for cheese with different types of cracker in each box. £3.49 per box
Belazu Gargano Lemon and Peranza Olive Oil: I Adore this oil and have been putting it on everything. its even ended up in my stir fries!! £12.50
Zhoug Paste: This amazing paste is packed with coriander, parsley and garlic and also has a bit of a spicy punch. Amazing on chicken, mixed in a yogurt dip or even in a stir fry - love it. £3.99
Semi Dried Balsamic Tomatoes: What a combination - fantastic as a pizza topping!! £4.65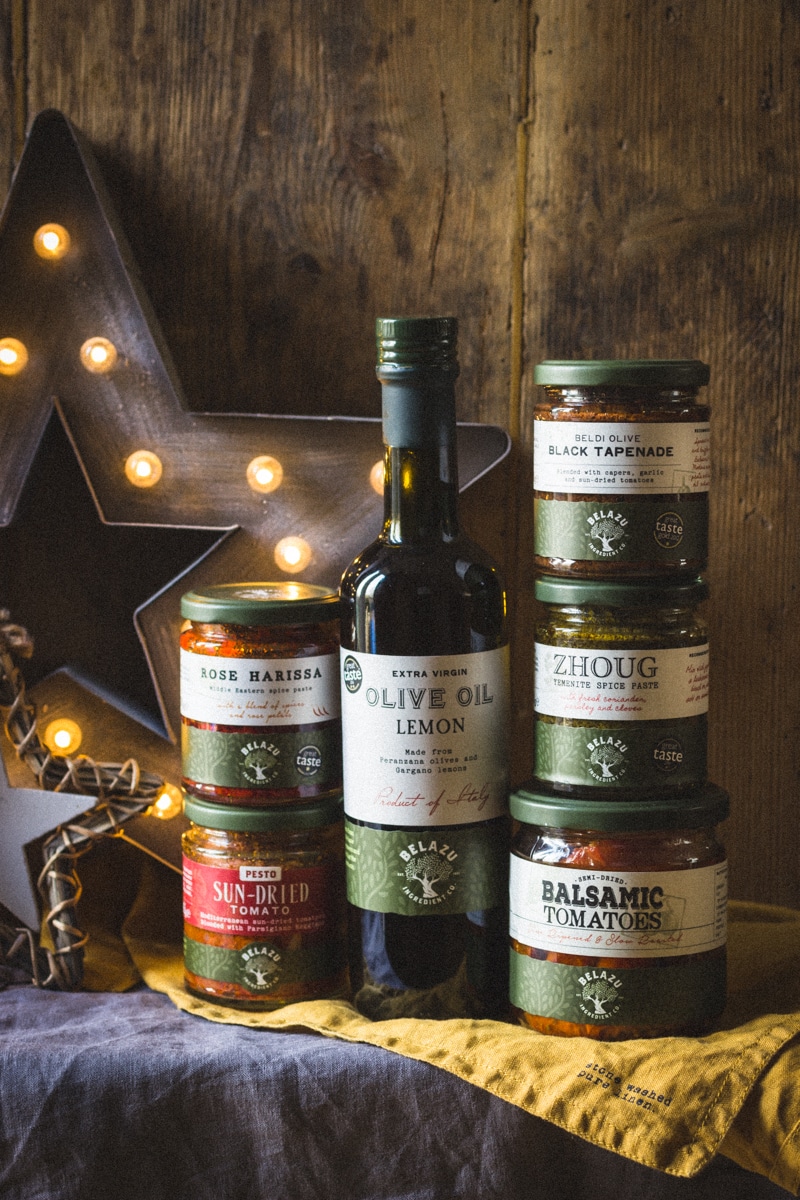 Balsamic Vinegar of Modena: This is the only balsamic vinegar that I will have in my cupboard. Its thick, sticky and sweet and has the most fabulous flavour. None of that watery stuff going on - I would drink it out of the bottle if I wasn't worried about wasting it. £13.75
Gifts: Hampers, bundles and kits of all shapes and sizes - From a luxury Belazu hamper £72 to Tagine kits £18 - theres something for all the foodies in your life. From £8.00
Cookery books I love
(Cookery book prices may change - prices last checked 22nd Nov 2018)
How to eat a peach: Menus, stories and places
 by Diane Henry £7.99
Spoonfuls of Honey - A complete guide to honey's flavours & culinary uses with over 80 recipes by Hattie Ellis £20.00
A year of Family Recipes by Lesley Wild £25.00
Kitchen: Recipes from the Heart of the Home
 by Nigella Lawson £17.73
Cookery books I want
Jamie Cooks Italy
 by Jamie Oliver £9.99
Vegetables
 by Antonio Carluccio £9.44
Gather
 by Gill Meller £14.29
Lagom: The Swedish art of eating harmoniously
 by Steffi Knowles-Dellner £17.00
Wishing you a wonderful Christmas and happy New Year!!
GIVE LOVE THIS CHRISTMAS
Christmas Gifts for foodies
C R E A T E D  B Y  D E B B I E  J O N E S