The best way to showcase your sprouts this Christmas has got to be with this epic shallot, white wine and Gorgonzola cheese sauce - I'm drooling just at the words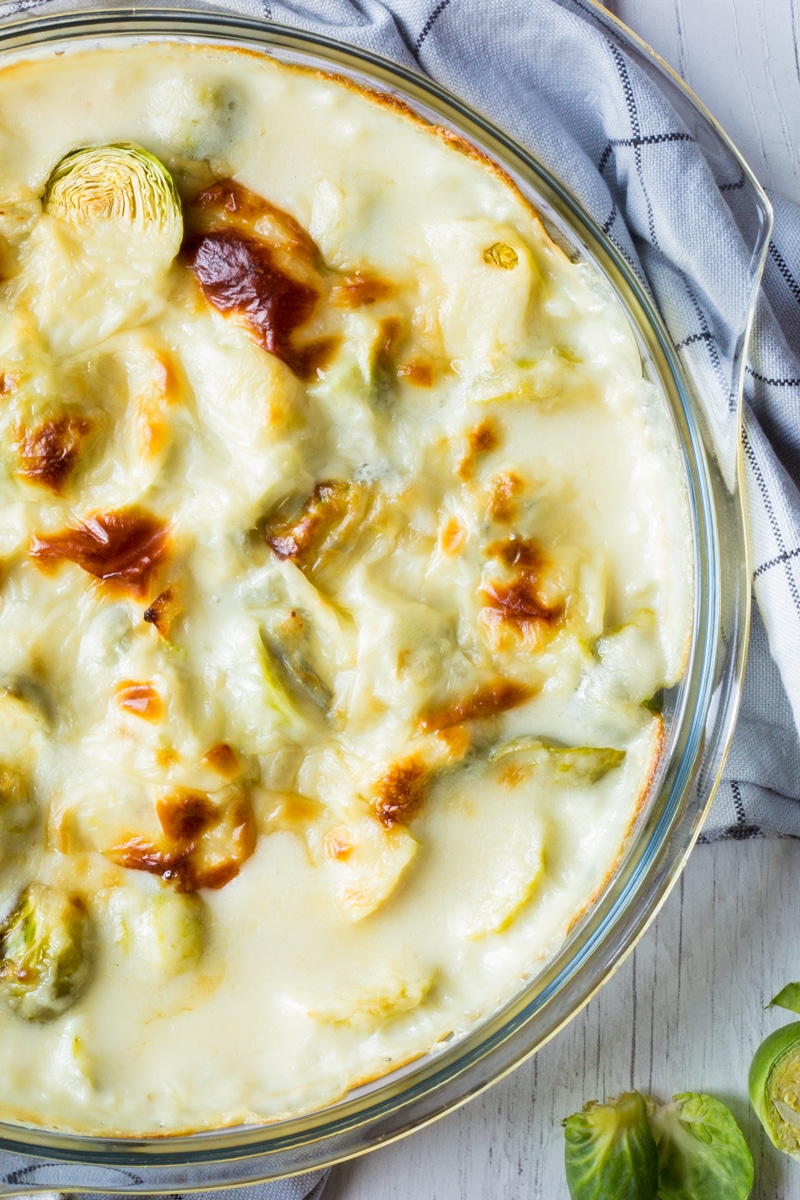 Christmas Dinner
Christmas dinner is probably one of the most thought about meals in the history of all meals. This is the food that has to be the best it can be and woe betide if anything is forgotten. Cranberry sauce, pigs in blankets, good old roast potatoes - its all got to be in there. And of course our lovely little green friend - the sprout.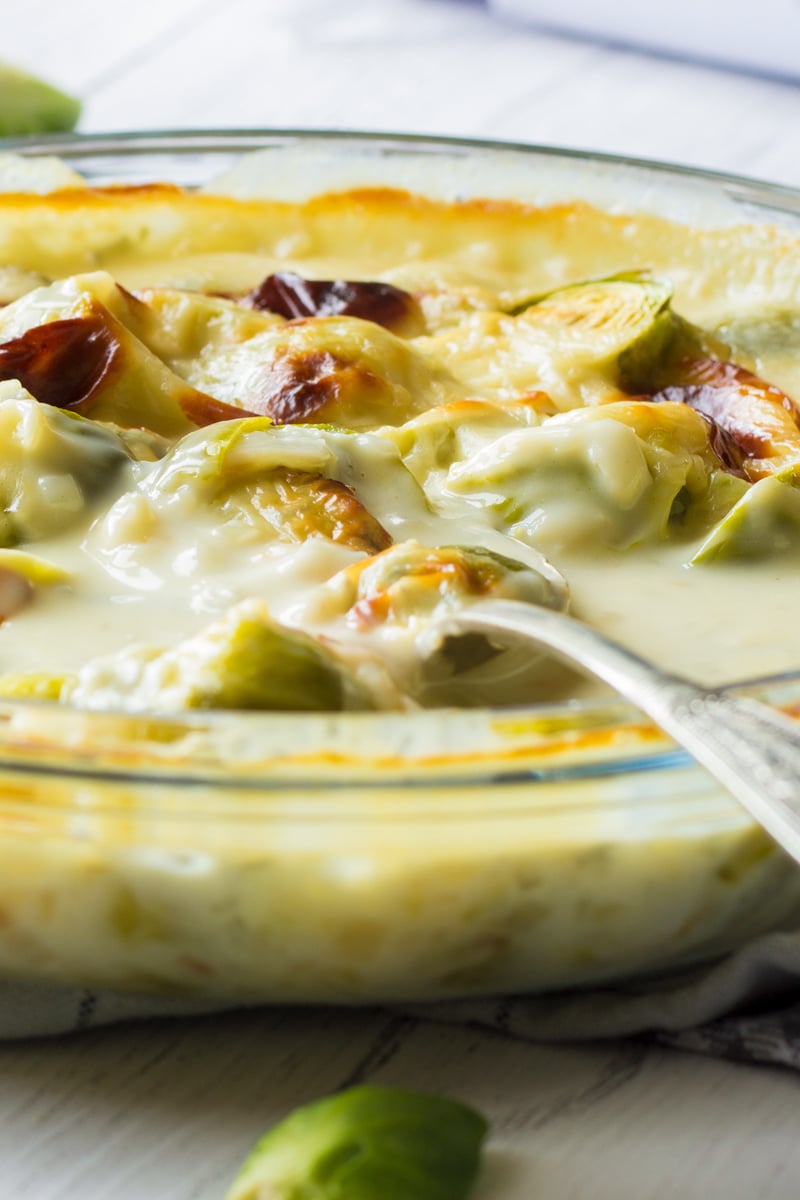 Sprouts
The poor old sprout hardly gets any kind of say in many households - dismissed, disregarded and left out in the cold. Known as a bitter kind of veg that will more than likely ruin your palate or be entirely wasted. Not that I agree with that at all - I am a huge sprout fan! Lover of sprouts until the end of my days - truly.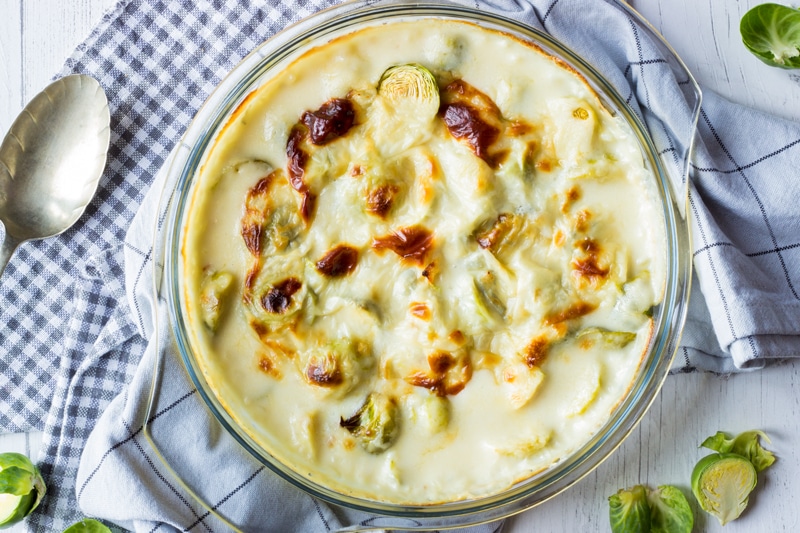 Christmas Sprouts in Cheese Sauce
However, its not to everyone's taste and so this recipe is all about taking those lovely little Christmas sprouts and pouring over a sauce that is so decadent, so deliciously creamy, and so packed full of lovely Gorgonzola that no one will want to say no - ever. This year guys, if you decide to give this recipe a go, the show stopper will be the sprouts!
So forget about leeks in cheese sauce and lets get Christmas sprouts all dressed up and ready strut their stuff.  (Unless you really would prefer leeks in cheese sauce or cauliflower cheese, in which case check out my recipes below: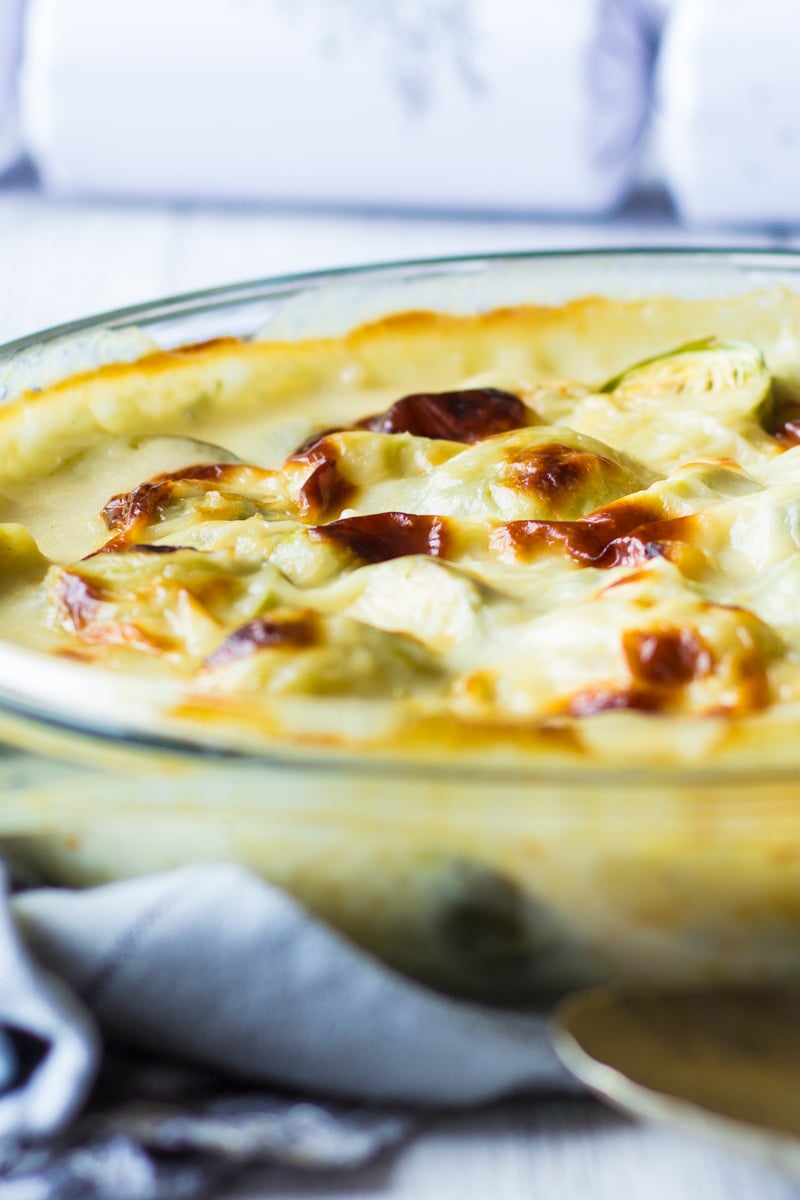 Making Christmas Sprouts in Cheese Sauce
So how easy is it to make? How long will it take? Can this be done on Christmas day?! Well - never fear - its a prep in advance and store in the fridge kind of recipe. So you can lovingly make the silky, creamy gorgonzola sauce a couple of days before - with no need to rush, no panic and no stress. You can make it perfect and then pour into a container and keep in the fridge until Christmas day arrives! Likewise for the sprouts - get them peeled and prepped and leave in the fridge ready to cook on the big day.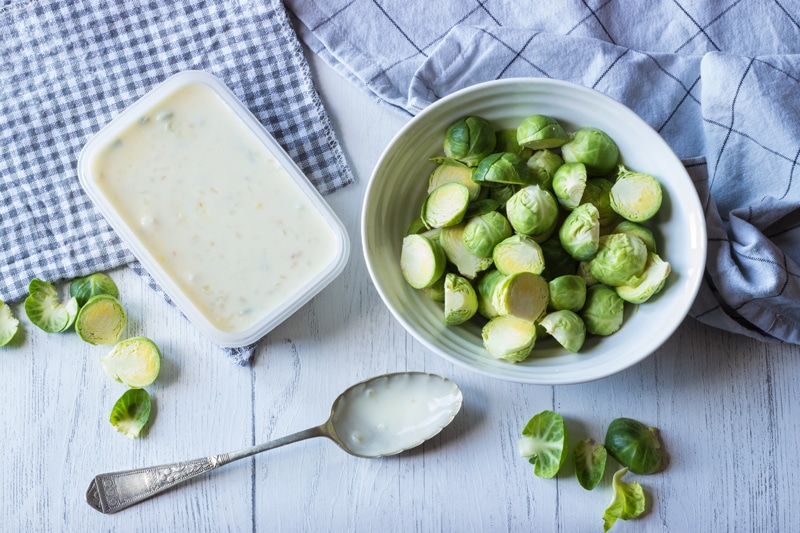 When you're ready to cook just spread out the prepared sprouts in a shallow baking dish, pour over the sauce and then pop in the oven and leave to simmer and bubble for at least 30 minutes. The result: just perfection.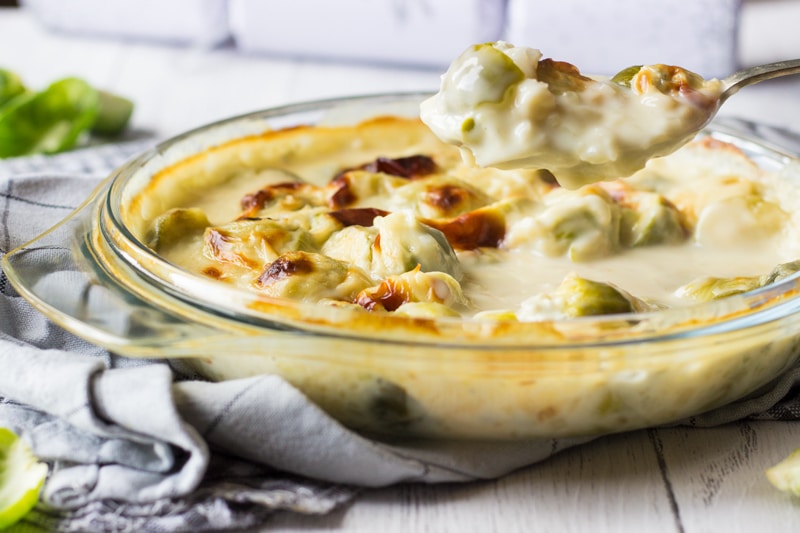 For another easy side dish you can prep in advance check out my honey glazed carrots and parsnips. Or for a make ahead Christmas day starter have a look at my honey glazed griddled prawns. 🙂 For more cheese sauce ideas have a look at my indulgent fish pie or cauliflower cheese.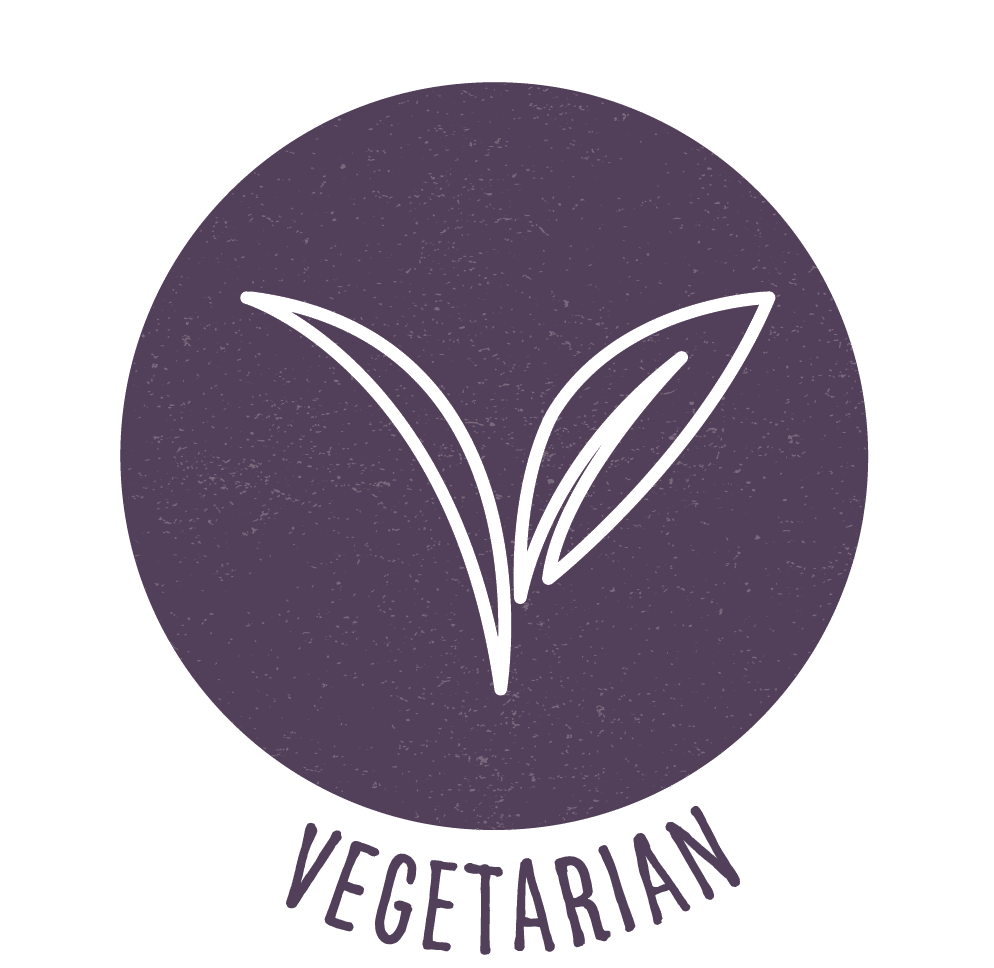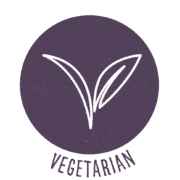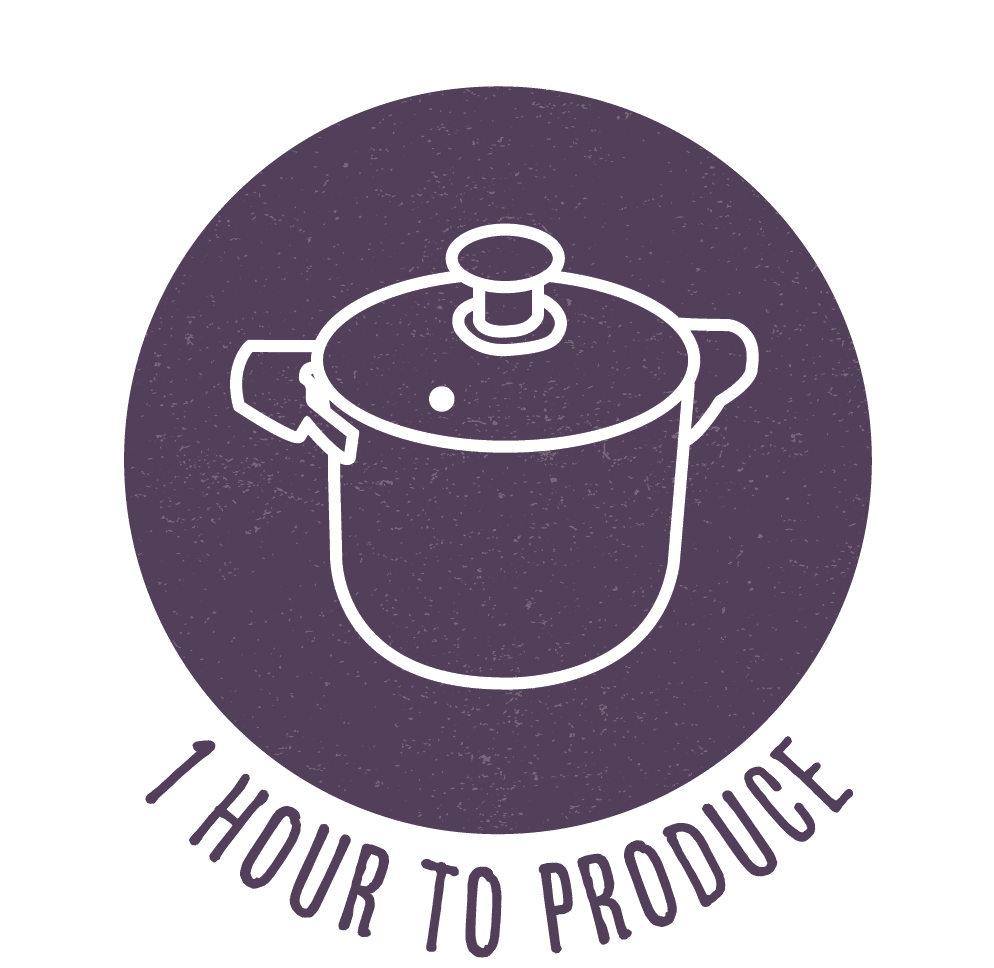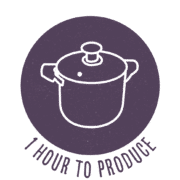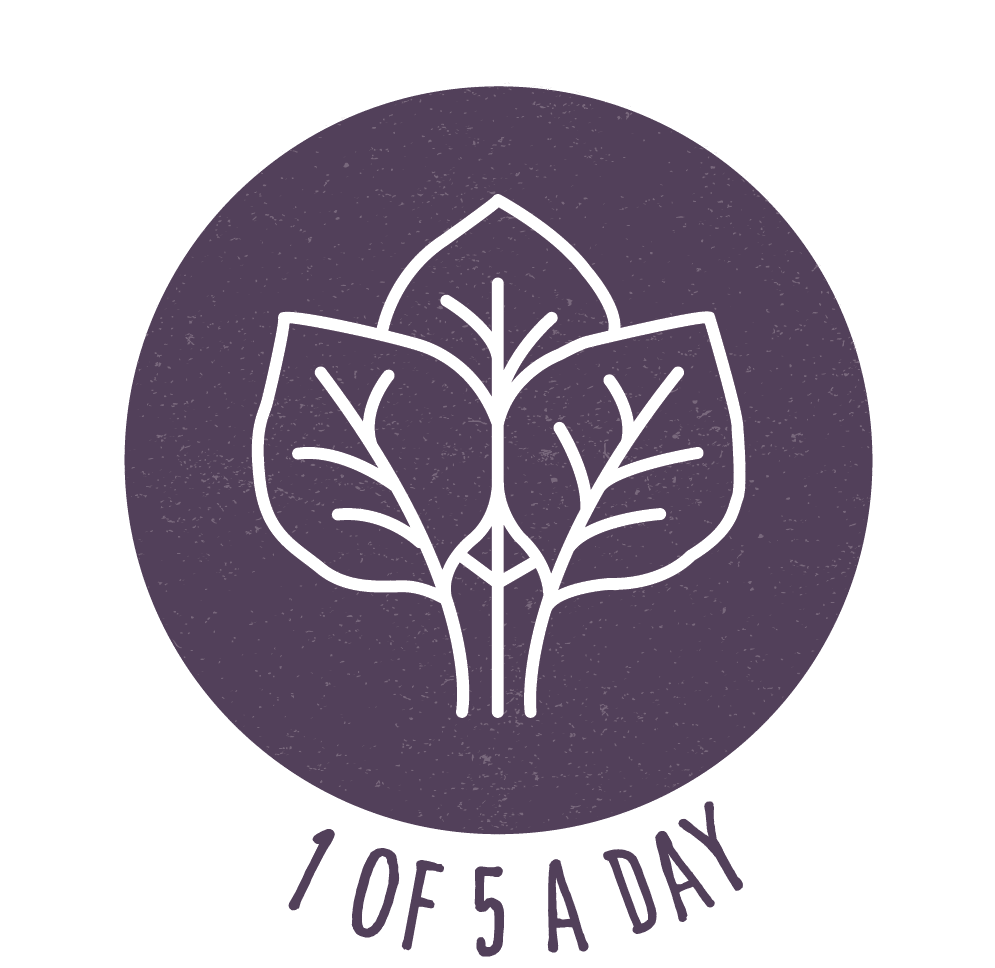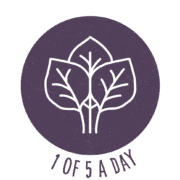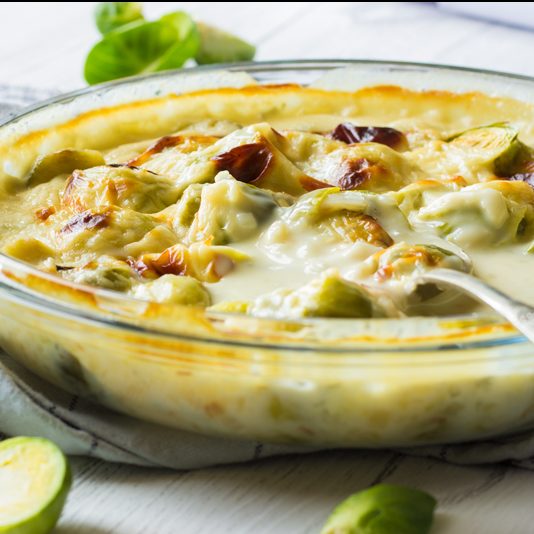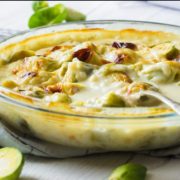 Christmas Sprouts in Gorgonzola cheese sauce
The best way to showcase your sprouts this Christmas has got to be with this epic shallot, white wine and Gorgonzola cheese sauce
Ingredients
320

g

sprouts

100

g

shallots

4 or 5 finely chopped

10

g

butter

20

g

plain flour

100

ml

white wine

250

ml

semi skimmed milk

80

g

Gorgonzola cheese
Instructions
Prepare the sprouts
Remove the loose outer leaves, trim away any excess stem and then slice in half. Any larger sprouts slice into quarters.

Place in a dish/container and put to one side.
Prepare the Gorgonzola cheese sauce
Place the butter and chopped shallots into a small milk pan and gently heat. Cook for 3-4 minutes or until the shallots are soft. Keep the pan on a low-medium heat and add the flour. Stir well with a wooden spoon - the mixture will become like breadcrumbs. Next begin to add the milk a bit at a time. Stir well in-between each addition and keep on a medium heat. Once all the milk has been added continue to stir until the mixture starts to simmer. Remove from the heat and add the gorgonzola. Stir well until the cheese has fully melted.

At this point the sauce can be transferred to a sealable container and placed in the fridge along with your prepared sprouts. These will keep for at least 2 days if you want to get ahead of the game.
Baking the sprouts in cheese sauce
Pre heat the oven to 180 degrees

Place the prepared sprouts in a shallow baking dish - make sure the dish is large enough so they can be spread evenly in just one layer. Pour the sauce over the sprouts and then bake in the oven for 25-30 minutes or until the sauce begins to brown on the top.

Remove from the oven and present your show stopper sprouts in the middle of your festive table 🙂
PIN FOR LATER