Curried Christmas coleslaw perfect for your festive table, finished off with a sprinkle of dill and a scattering of pomegranate seeds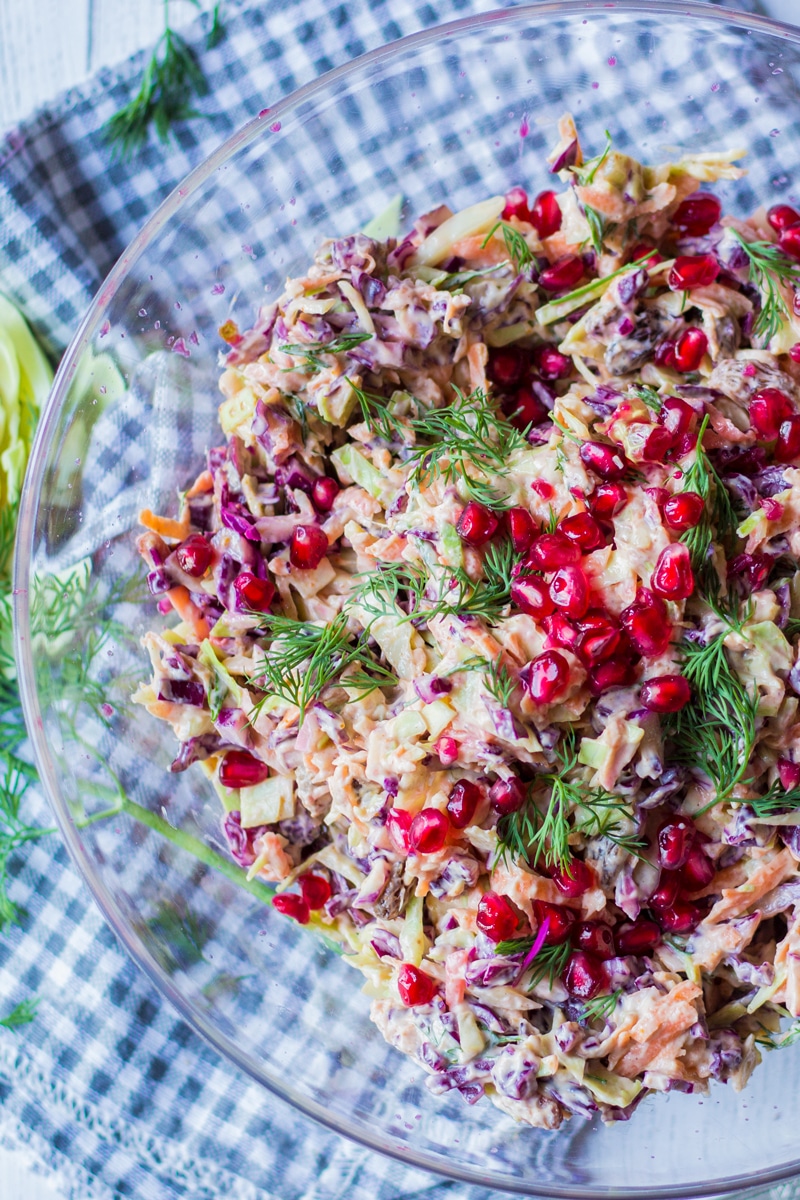 Christmas
How was everyones Christmas dinner?
Good?
I definitely made way too much!! theres still Christmas sprouts in cheese sauce, horseradish mash and glazed carrots neatly packaged up in our fridge. Not that I'm complaining - makes for good snacking and for adding to a massive turkey and stuffing sandwich. Mash potato on a sandwich is just one of the greatest things in life isn't it?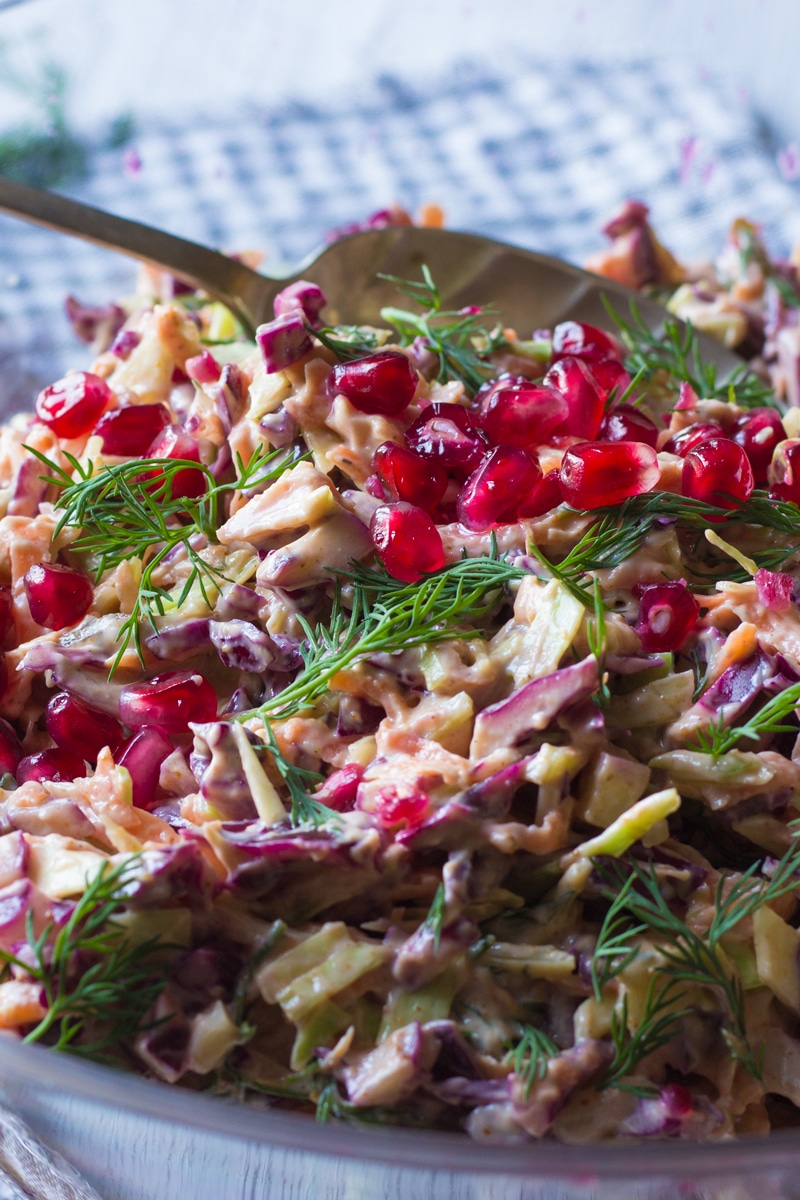 Curried Christmas Coleslaw
The few days in between Christmas and New year are the days where I continue to stuff myself with delicious mince pies, cheese and chutney, gingerbread biscuits and over indulgent drinks like baileys coffee or gin hot toddy. I just hope that come January I won't be too full to walk :-).
Undoubtably there will be more friend and family gatherings as well - and all these extra folk expect to eat lots more too. A good selection of easy to make and easy to eat snacks are always welcome. Top of my list this year is a tasty, christmassy, curried coleslaw. Its crunchy and warming and with some vibrant green dill and a scattering of bright red pomegranate it really looks the part on any festive table.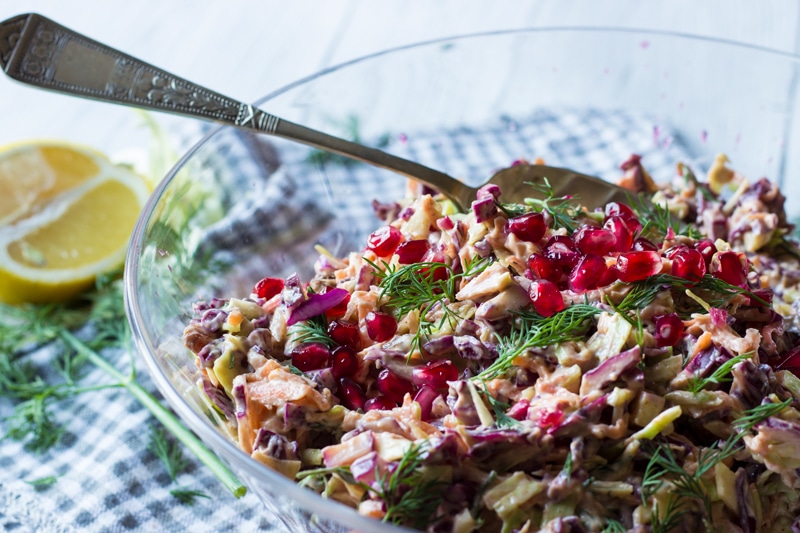 Can you make coleslaw in advance?
This curried Christmas coleslaw is a great prep in advance dish. It actually gets better if you give it a day to "rest" in the fridge. Of course this recipe is not set in stone so you can mix it up, add in or take out ingredients or strip it right back to just carrots, cabbage and mayo - whatever suits your taste. Personally I love the warmth of curry powder, the sweetness of the sultanas and the extra kick from the dijon mustard.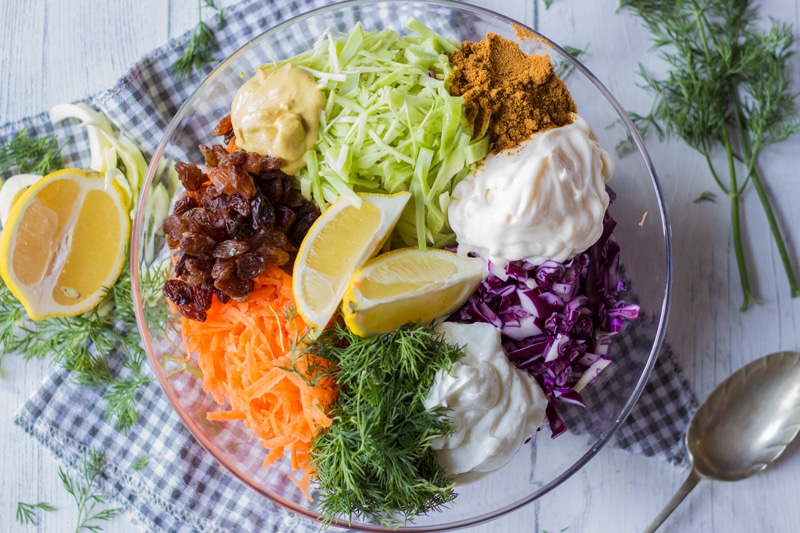 So lets get our fridges cleared out and some delicious coleslaw made up. scrummy 🙂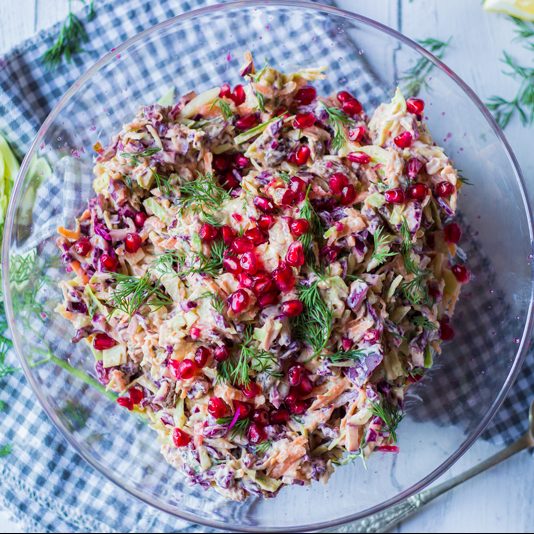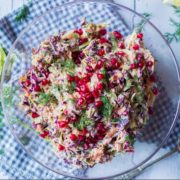 Curried Christmas Coleslaw
Creamy curried Christmas coleslaw perfect for your festive table, finished off with a sprinkle of dill and a scattering off pomegranate seeds
Ingredients
250

g

red cabbage roughly chopped

250

g

white cabbage roughly chopped

1

large carrot

165g grated

50

g

sultanas

100

g

fat free yogurt

175

g

mayo

2

tsp

dijon mustard

1

tbsp

medium curry powder

Juice of half a lemon
Instructions
Easiest recipe ever:

Place all ingredients in a bowl - mix well - and you're done.