ADVERTISEMENT FEATURE FOR EAST LANCASHIRE RAILWAY
This is indeed dining with distinction.The Red Rose Diner is one of many steam trains that East Lancashire Railway has at its disposal. This particular steam engine carries with it several dining carts and provides an unforgettable Orient Express-style dining experience, all with a fabulous air of undoubtable, Northern sophistication.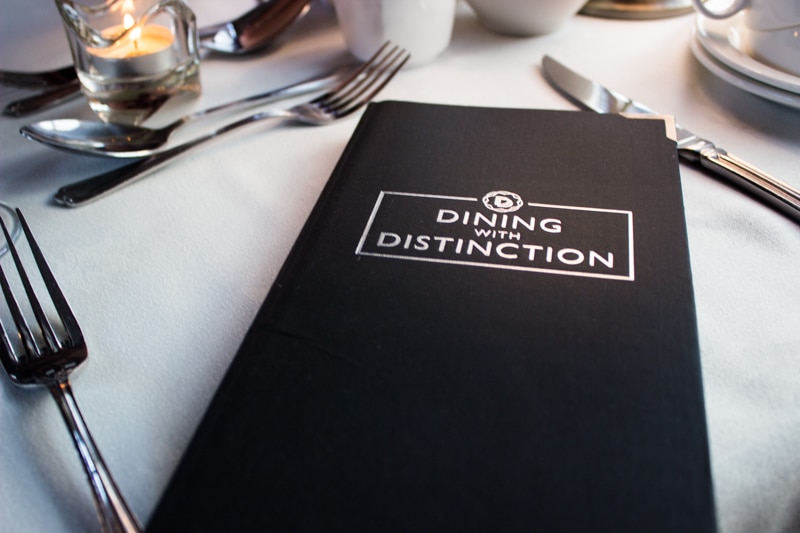 Dining on a steam train
I feel ever so lucky to have been able to enjoy the wonderful experience of dining on a proper steam train. East Lancashire Railway invited Ben and I along to their red rose diner experience, where we indulged in a fabulous meal, with silver service, whilst on board a luxury steam train. Who'd have thought eating on a train could be so wonderful and so sophisticated?
We arrived at East Lancashire Railways Bury Bolton Street Station promptly at 7pm. We had been told to expect departure at 7.30pm, with a glass of complementary fizz and meal service to follow shortly afterwards.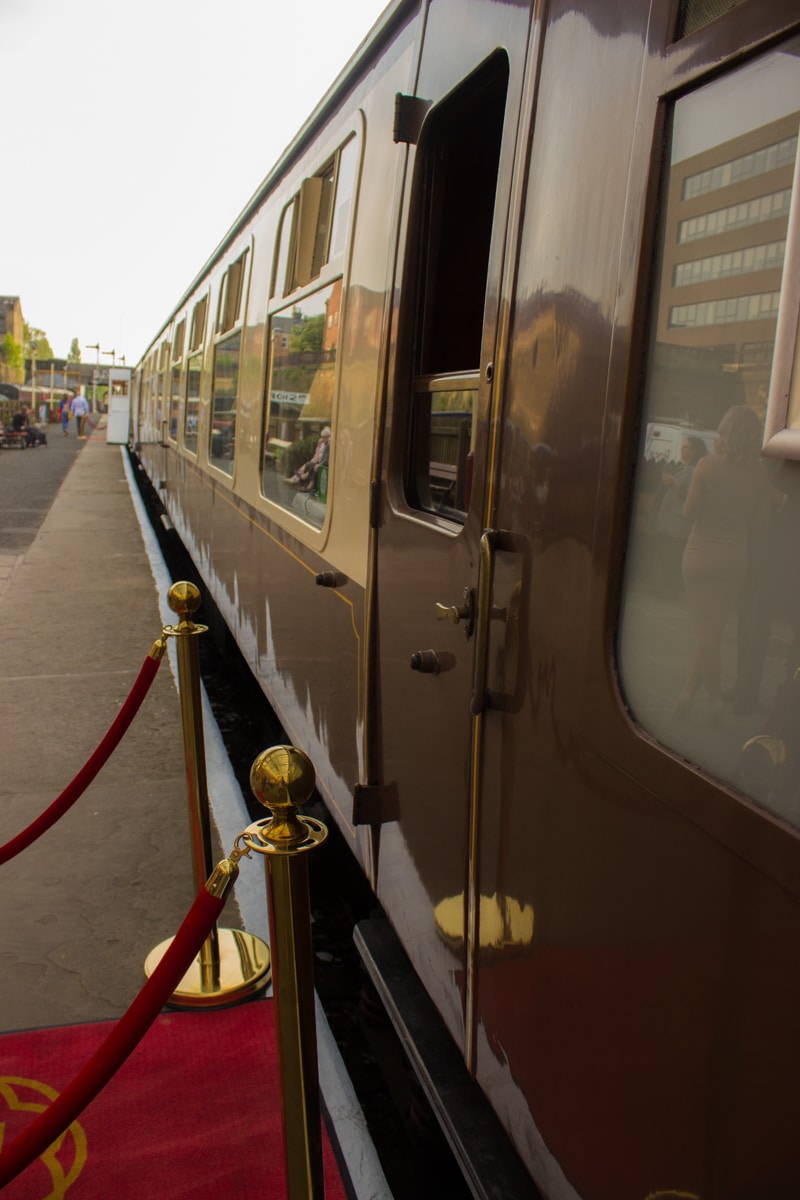 East Lancashire Railway
Bury Bolton Street Station is set in the heart of Lancashire, an area with strong industrial roots, fabulous scenery and great produce. The railway itself is a 12 mile long track that winds through the scenic Irwell Valley, passing through green fields, crossing rivers, whizzing by picturesque farms and taking brief respite every now and then in pretty heritage train stations. East Lancashire Railway was opened in the heydays of the industrial revolution over 150 years ago and is still a huge focal point of the area, with events and experiences that represent the glamour and sophistication of the glory days of rail travel.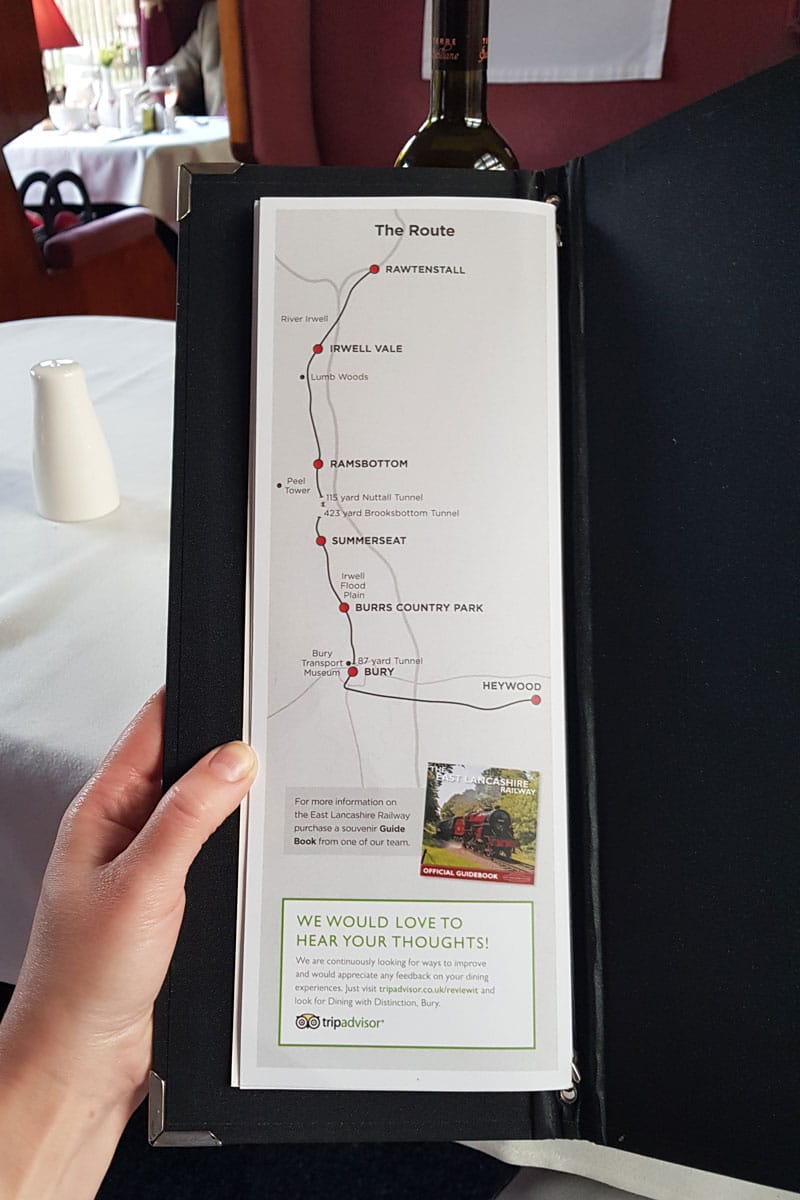 A trip back in time
We had driven to the station, as it was a fair distance from home, and found no problems in parking in the car park outside the station entrance. After checking that there was no fee for leaving the car after 6pm, Ben and I found ourselves standing on the platform of the station.
What would have originally been a ticket office and waiting room is now a bar, aptly named 'The Trackside', and people spilled out of the doors, clutching at their drinks and enjoying the evening sun.  Every now and then large puffs of steam billowed up above us as the engine gave an approving hiss. It was all so charming and full of the sense of times gone by. We just needed Tom Hanks to show up and to start hollering 'All aboard', or even to have Hagrid come wallowing over and it would have been full-on enchanting.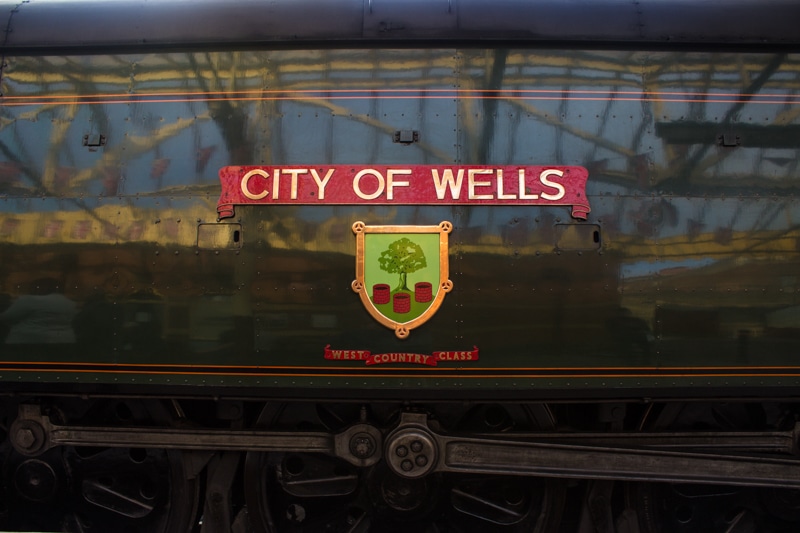 A unique dining experience
Impressed? Yes I was. Peering in through the windows of the carriages I could make out the clean, white, linen cloths neatly placed over each table and large, comfy looking, pink velvet seats positioned either side. Silver crockery, cute little cups and saucers and champagne glasses filled with a gently, fizzing sparkling wine were already laid out. Just fabulous.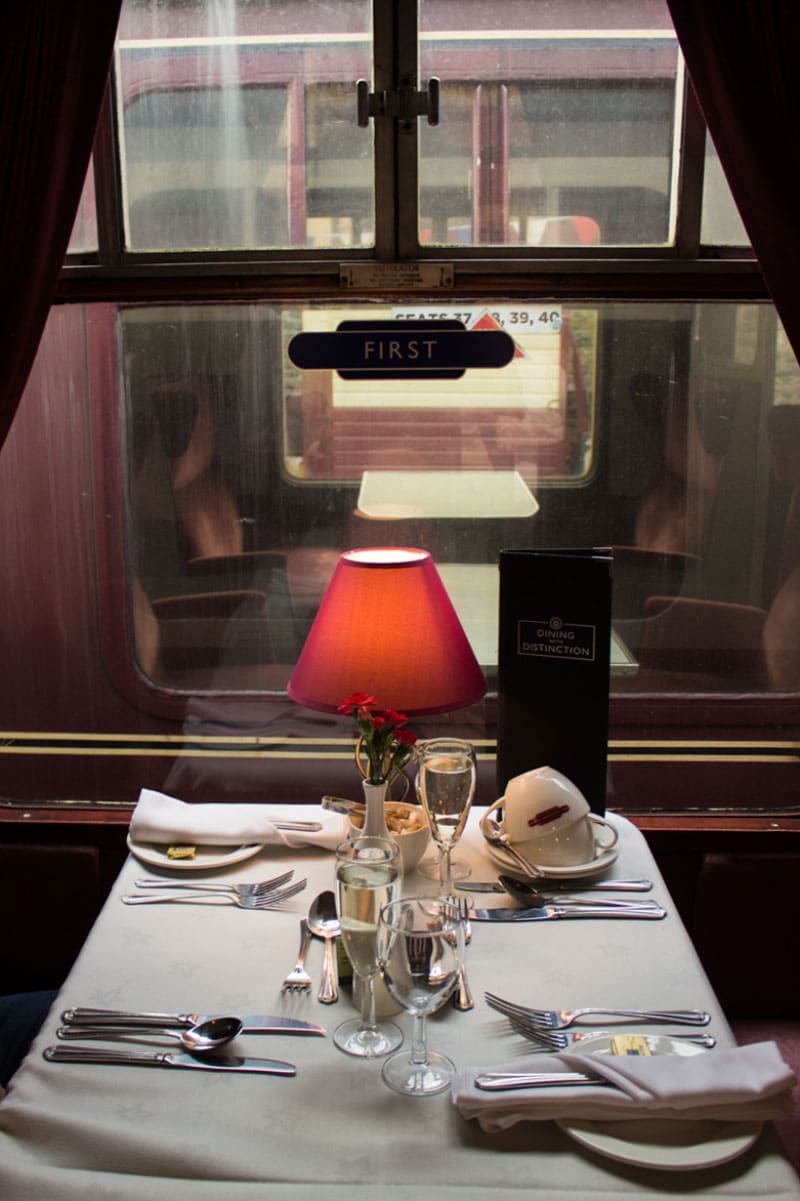 The steam engine
Whilst we waited for the final departure preparations to be made, I found myself a far better distraction than peering in through windows. . . The steam engine and its driver!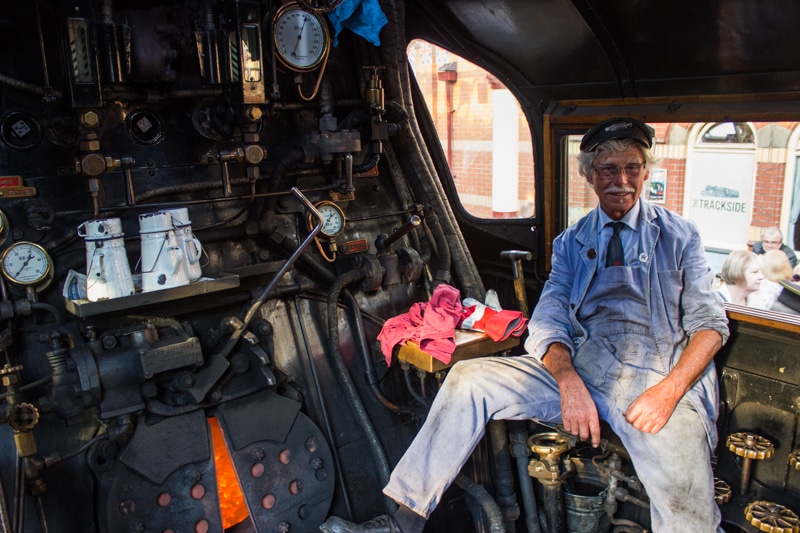 Happily shovelling mounds of coal into the throat of the engine's fiery furnace and suitably dressed in coal stained, blue overalls, the driver seemed even more delighted than me to be there and was all too happy to pose for a photo 🙂 His vintage flasks were neatly stacked on a small wooden shelf above the fire box and he shuffled around the engine making his final checks. What a guy 🙂 And – what a job.
The weather was being extremely kind and so the early evening temperature was very pleasant. However, next to the coal fire, which was properly belting out everything it had, I started to feel very warm. Commenting on the heat, I decided it was time to gracefully step back down onto the platform. The driver chuckled, saying how he liked it nice and hot, as a second chap aided my descent back out into the fresh air.
Boarding time
Soon it was time to take our seats. No electric doors here – this is the real deal.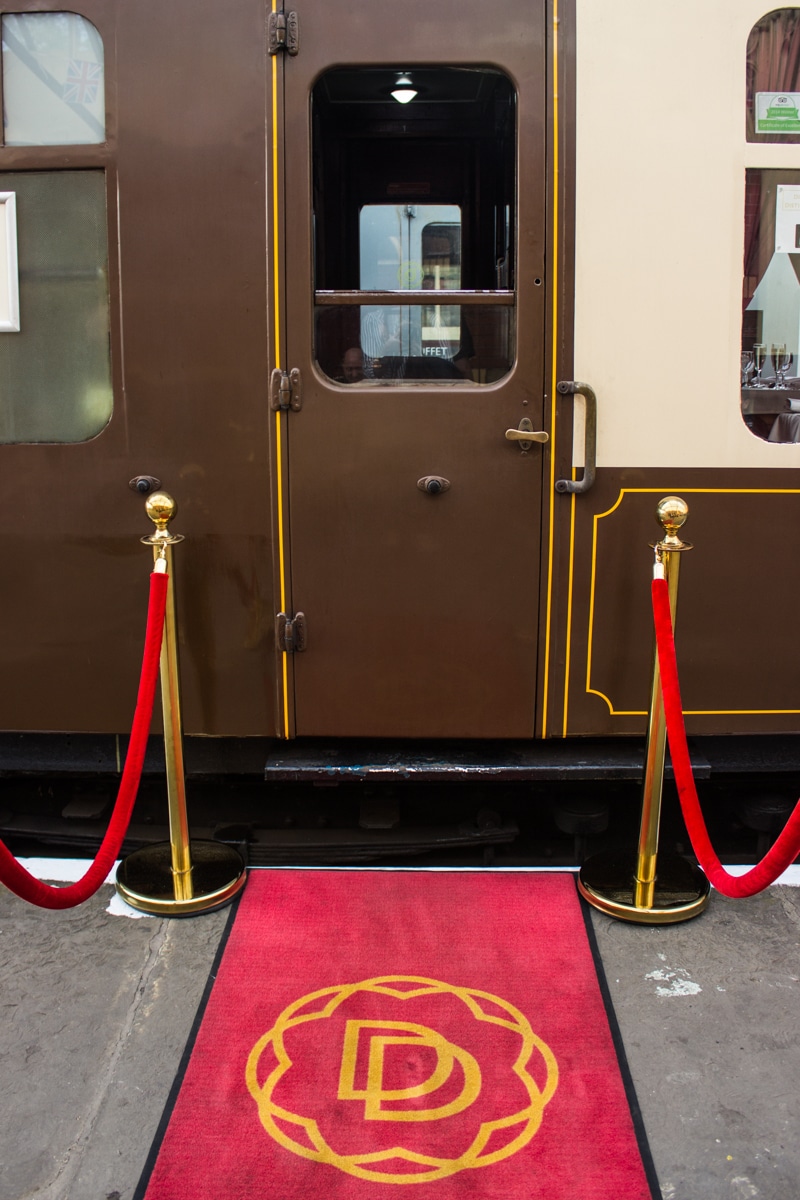 We were shown to our table near the top end of the train. The seating arrangements were extremely spacious and we wasted no time in getting ourselves comfortable and having a sip of the complementary fizz – and wow what a glass of fizz it was. Just the right amount of sweetness with a subtle hint of floral aromas – divine. And so we were already off to a pretty good start.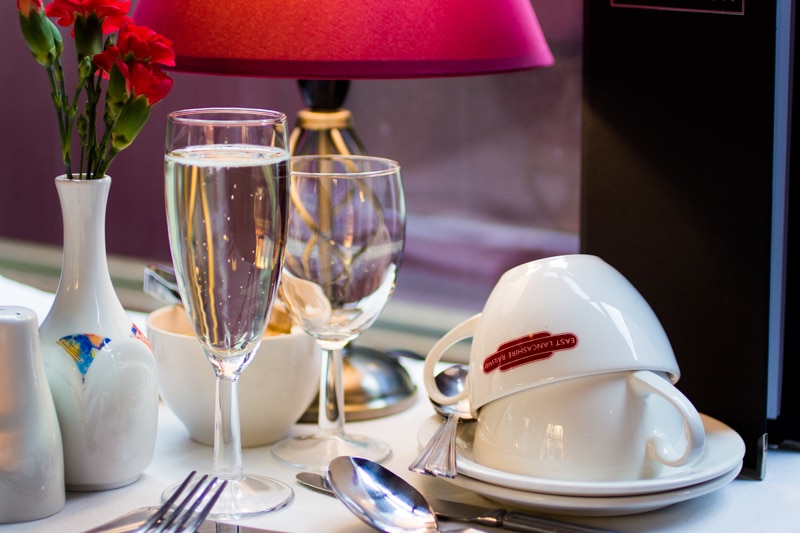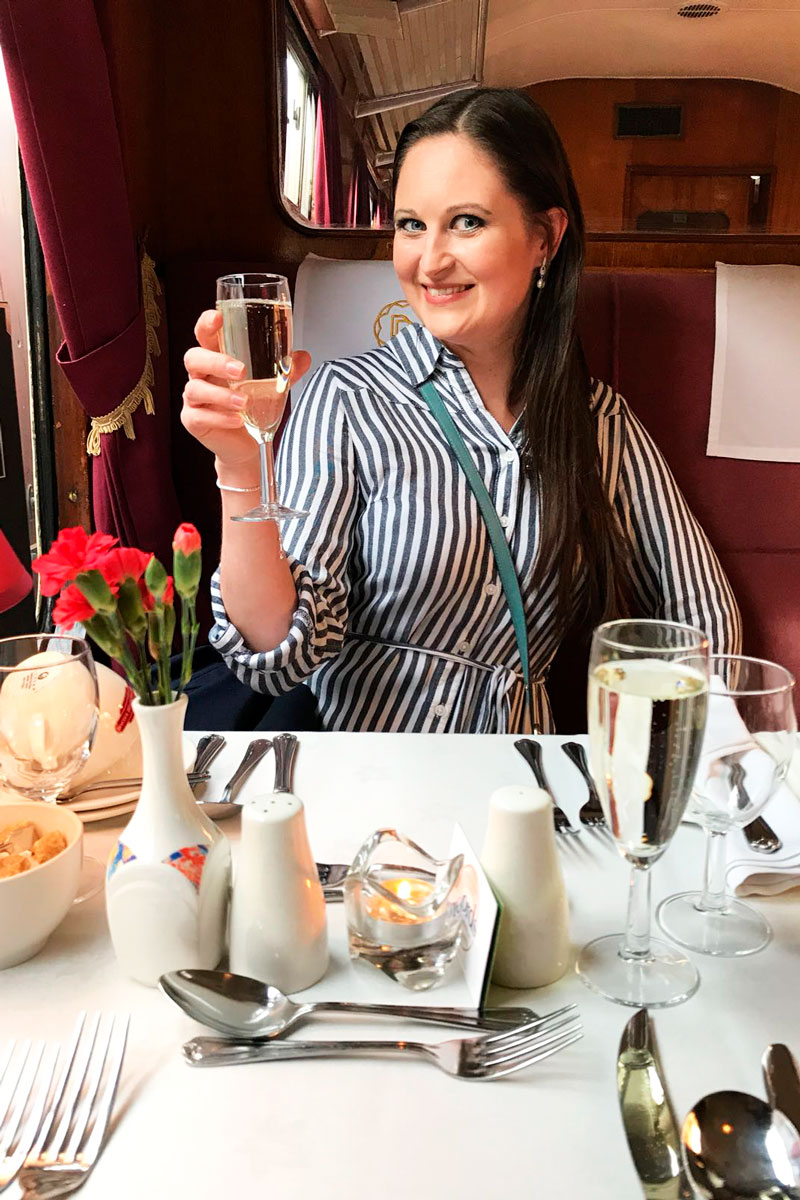 A meal on a train
I would hesitate to call this 'fine dining', although 'dining with distinction', a more traditional turn of phrase, still rings true. Serving food on a train is definitely not like eating in a high class restaurant. A train dining cart is so much more cosy and traditional than your typical multi-course, tasting menu at a top notch dining establishment. This food is homely and charming and just so pleasant that it immediately puts you at ease. Theres nothing too over complicated – its just simple, well prepared food, which mirrors its vintage surroundings.
First course: Prosciutto and Goats Cheese Crostini with Radicchio and orange zest salad.
A lovely light starter, which was served as the train slowly pulled away from station. The bread was perfectly toasted and the toppings were neatly presented alongside a fresh, crisp salad. My mouth is watering just thinking of the tang of the goats cheese and the creamy, smokey flavour of the thinly, sliced meat. The orange zest on the salad really added something extra special. Certainly an idea that I'm saving for the next time I'm desperately trying to give my lettuce leaves a little extra boost.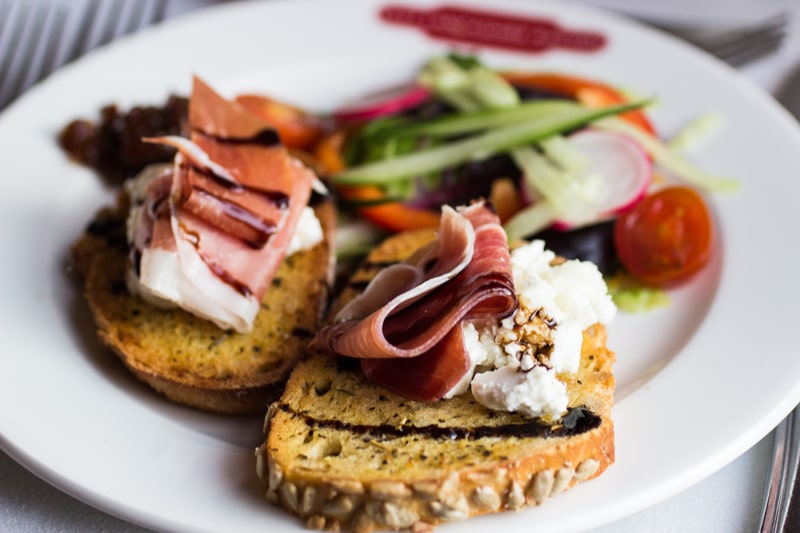 Second Course: White Onion and Roasted Chicory Soup with Red Pesto Drizzle
The train came to a stop as the waiting staff scurried along the aisle serving up bread rolls and large dishes of creamy soup. The slight hint of caramelised onions wafted through the air as the attentive staff placed down our bowls and recalled the name of the dish. This soup did not last long, we happily slurped it down whilst the sun streamed in. We looked out over a large field filled with camper-vans with a colourful circus tent in the very back corner. As we ate, a few campers popped their heads out from their vans and some even ventured out to take photos. As if being on board didn't already feel special enough – we now felt very lucky to be able to enjoy such an experience. We drained the last of our soup, and waited patiently for our next course.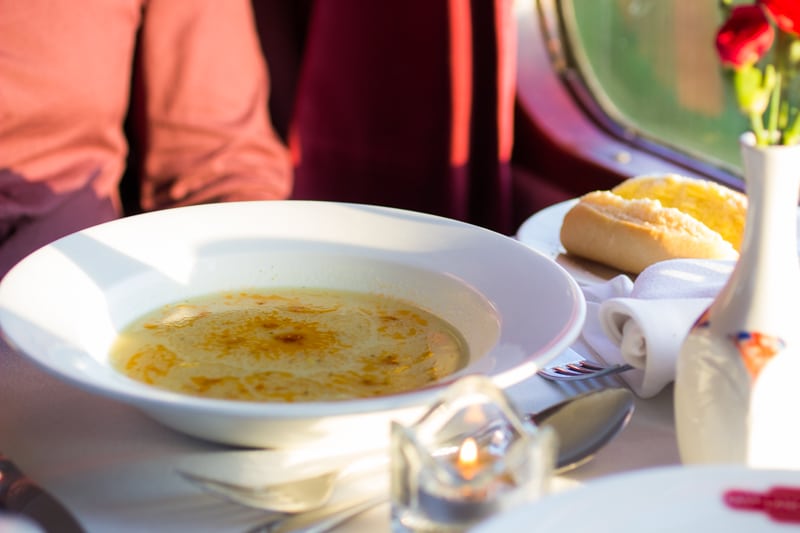 The train started up and we sat back and enjoyed the view. It was such a lovely evening and every field, tree and stream was lit up with the yellow haze of the sun. Simply beautiful.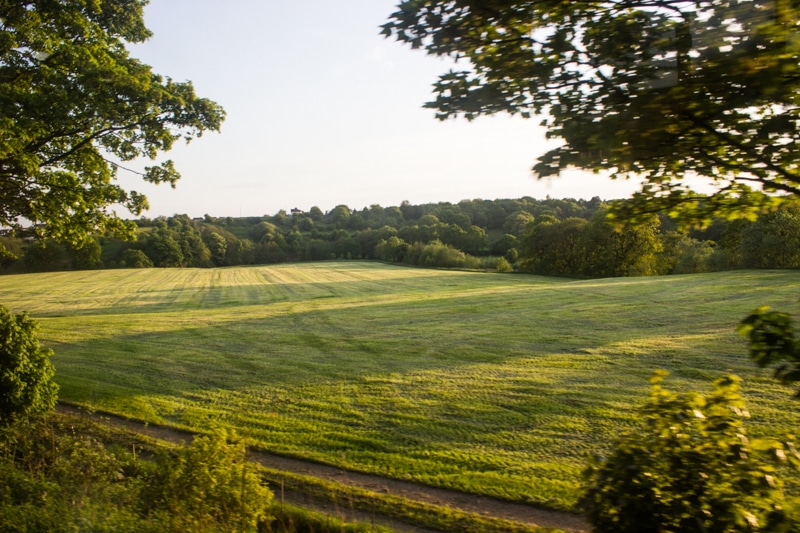 Main course: Roast Gressingham Breast of Duck with Grand Marnier Jus
When I saw duck on the menu, I was a little apprehensive. Its not my most favourite of meats and if I'd had a choice I would never have picked duck. However, the joy of a set menu is that you are forced into trying something that you wouldn't normally. In this instance that was most certainly a good thing. Our plates arrived with a single plump breast of duck resting gently at the side, with a slice of orange and some delicately arranged watercress. The duck had been slow cooked and looked like it would fall apart with just a passing glance. A flurry of waiting staff quickly followed with large, silver trays pilled high with veg and roast and boiled potatoes. The sides were skilfully dished out with on-point silver service, followed by a generous drizzle of Jus.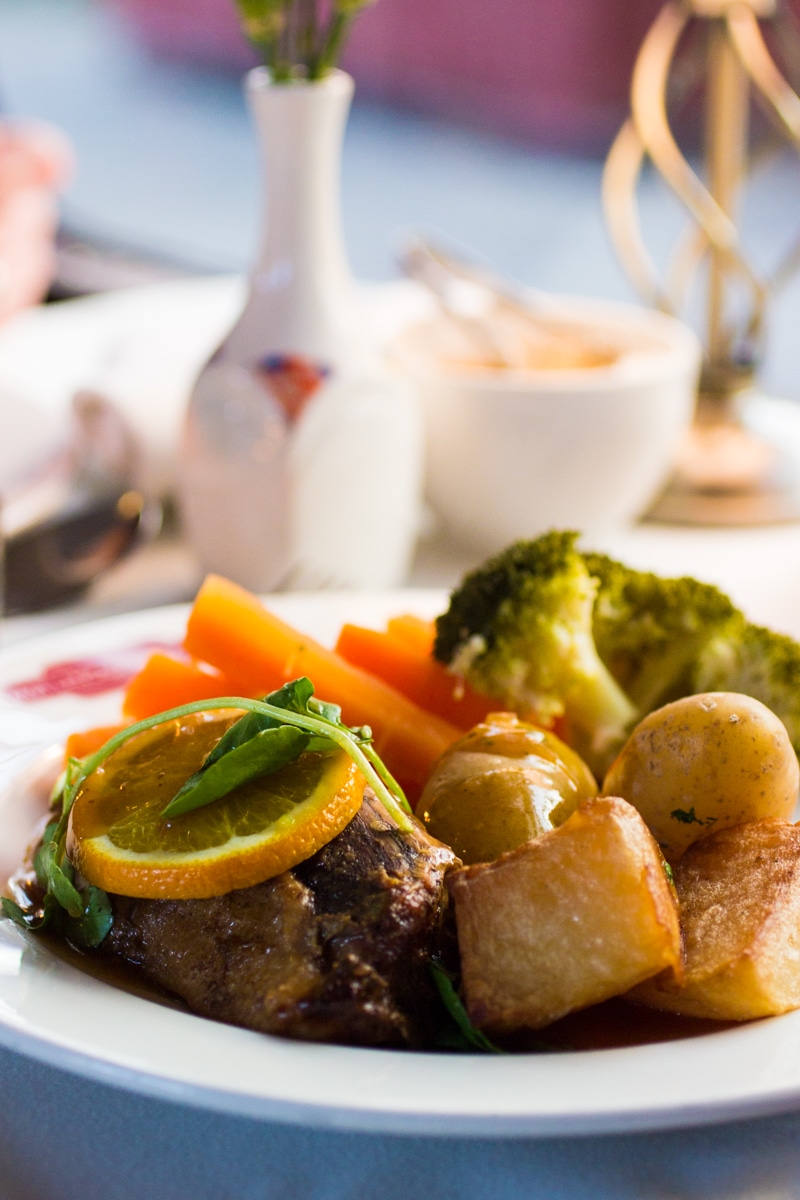 The duck did as was expected and effortlessly melted away in my mouth. The ever so slightly gamey flavour was well complemented with the citrusy Grand Marnier Jus. This was definitely more of a gravy – plenty of it and perfect for soaking up with those potatoes. The veg and potatoes – well they were veg and potatoes 🙂 Overall – a fabulous main course that was perfectly executed whilst on a moving train – I cannot fault it.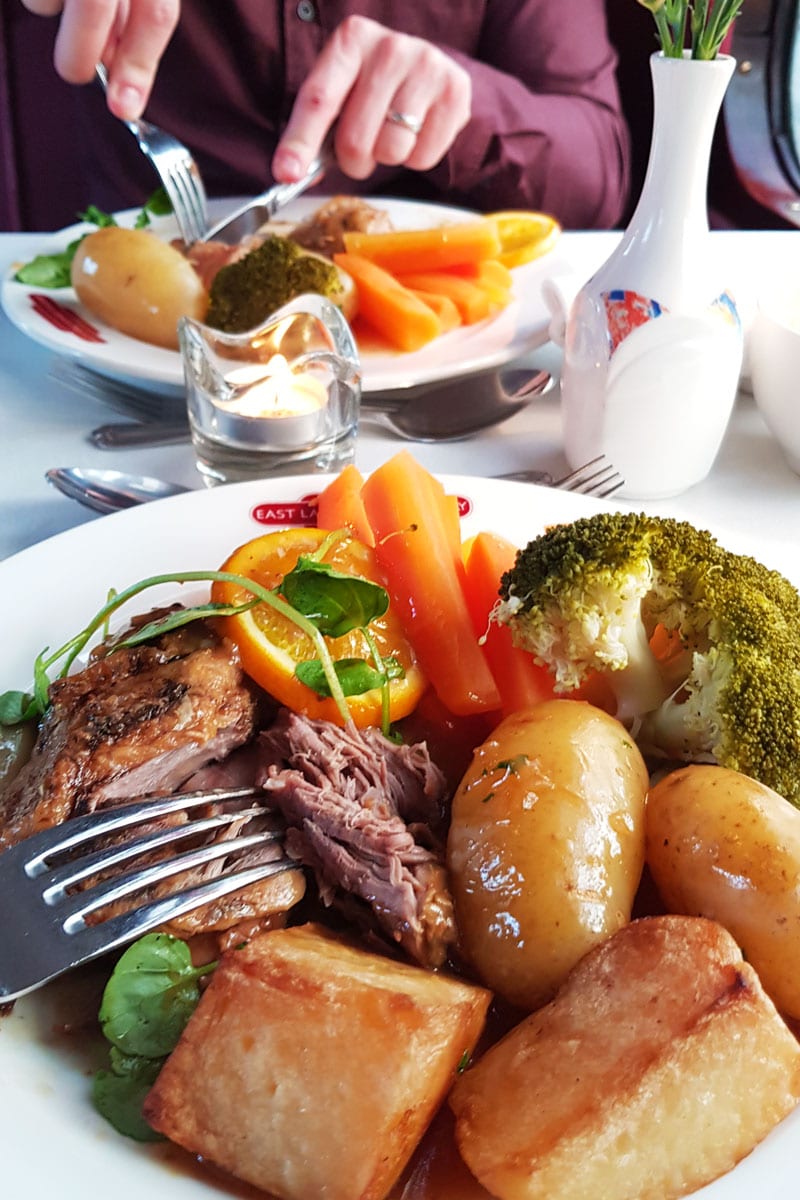 Dessert: Woodland Forest Fruit Cheesecake with Fresh Cream
And finally dessert. A wonderfully creamy cheesecake flavoured with berries, served on a biscuit base with forest fruits and fresh cream. A truly exquisite finish to a wonderful meal. Despite usually preferring a rather plain cheesecake, the additional berries here provided an extra, subtle, summery flavour. Rather than the usual strong tasting coulis, this cheesecake featured a thin layer of fruity jelly on the top. This complemented the dessert, rather than overpowering it – perfect.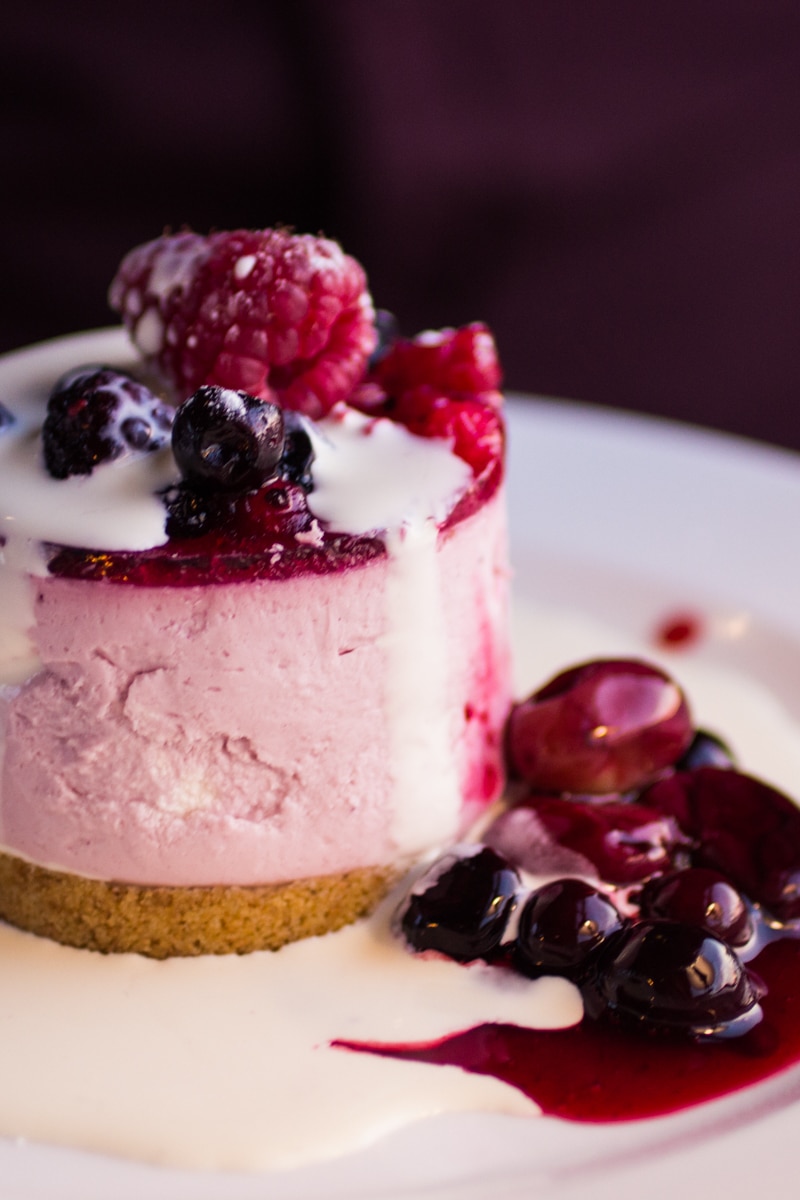 Before we knew it we had reached the end of the line. The Steam engine was uncoupled and we waited like kids on Christmas morning for it to pass by on the adjacent track. It was then re-coupled at the opposite end ready for the return journey.
The journey back was a lot quicker as there were no station stops or food service stops along the way. We were served tea and coffee with little chocolate mints. We sat back, enjoying the remainder of our journey as the final light of the day disappeared into the horizon. A truly wonderful experience that I most definitely will be repeating again.
East Lancashire Railway offers several experiences from afternoon teas and ale trails, to festive specials and murder mystery nights. You can even learn to drive one of the locomotives or have your wedding day aboard a steam train! – When I say theres something for everyone at any time of year – I really mean it.
The Red Rose Diner is certainly a must try foodie experience, its perfect for romantic meals or friendly get-togethers. If you're looking for a night with a difference or want to give a unique gift to a friend or family member – then this is definitely worth a look. Find out more, book an experience or purchase gift vouchers on the East Lancashire Railway site here. Information on the Red Rose Diner experience can be found here.
With thanks to East Lancashire Railway for the opportunity to review their Red Rose Diner experience. All thoughts and opinions are my own.
Other reviews