Spiced-up, dairy free panna cotta, with a hint of cardamom and treacle for that autumnal feel.
With plenty of crisp, autumnal days still to come and winter warmers still a little way off, this is the perfect dessert to impress friends and family with as we enter into November.
In keeping with the autumnal /Halloween theme, I've been trying to come up with a grown-up dessert that has a slight Novembery feel to it. To me this time of year is all about the treacle; its bitter-sweet flavour holds the memories of every single bonfire night I spent wrapped up with a million scarfs and chewing my way through a full bag of treacle toffee.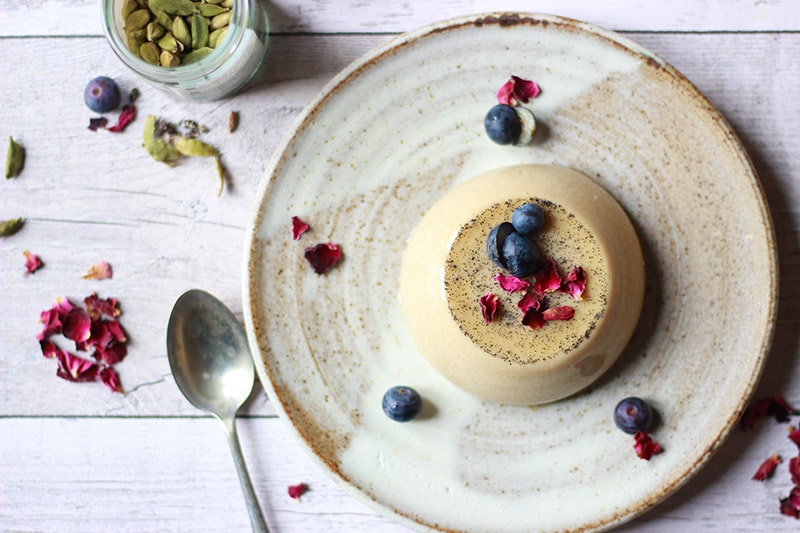 Every year without fail my Gramdma would always make a delicious batch of parkin.
Somehow she made enough for the whole family – im pretty sure she can't have had much left over for herself. The crumbly, oaty, treacly qualities of a good parkin will always take me back to standing on a small chair in my grandmas kitchen, peering over the worktop to watch her mix the ingredients before pouring into a big tin and sliding into the oven. The house would be full of a warm spicy-treacle smell and later on in the day I would stuff my face full of that treacly goodness and enjoy every last crumb. It also reminds me of the countless firework displays in my Grandmas back garden, with my Dad and Uncle running back and forth to a tiny bucket full of sand, trying to light fireworks out of a 20 quid selection pack. Far better than any organised display; apart from that one time when my Grandmas apple tree got set on fire :-S Dad and Uncle to the rescue though and the tree made it out relatively unscathed.
So treacle has got to be at the top of my list for any kind of October/November dessert.
In general treacle mixes perfectly with anything that's sweet and creamy (check out my cardamom and treacle no churn ice cream recipe). In this case a lusciously, smooth panna cotta. And heres the thing... this amazingly creamy, oh so delectable and grown up treacle dessert is dairy and gluten free! Another ingredient, which I have become particularly fond of recently is the cardamom pod. Its warming flavour, which has an aromatic spicy character, goes so well with the bitter-sweet taste of black treacle. The perfect partners for my spiced-up panna cotta, grown up dessert. This smooth and aromatic dessert is made using coconut and soya milk and the creamy flavour of both provides a silky smooth finish and creates an excellent base for carrying hints of treacle and cardamom.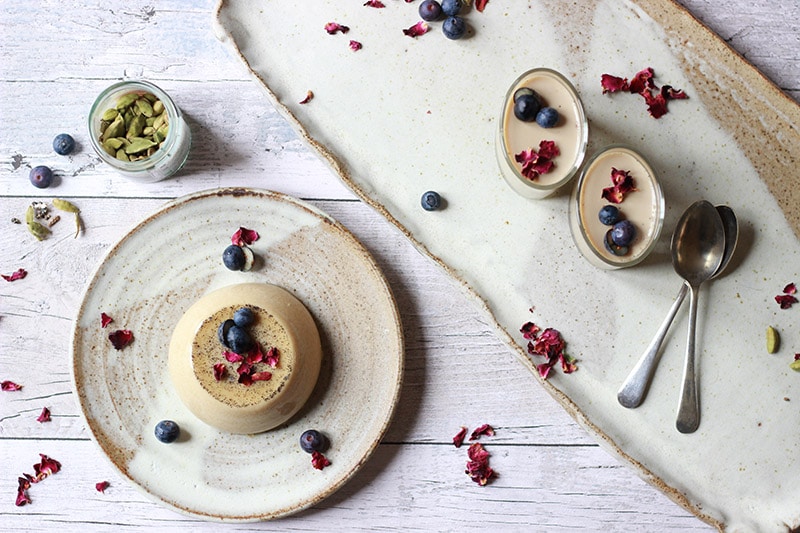 I've tried and tested this dessert a few times and I will admit that the first 3 attempts were complete disasters. The flavours were wrong, the texture was awful, and the wobble (which is an absolute must with panna cotta) was non-existent. However, this means that I can now say that the recipe below is pretty much spot on. I've used gelatine in my recipe as I found that this gives the best finish. However, if you are vegetarian or prefer not to use gelatine then you can replace this with half a teaspoon of agar agar powder (make sure the agar fully dissolves before pouring into your moulds).
This dessert is a great idea for dinner partys as it can be made in advance and requires minimum effort and fuss to serve after dinner.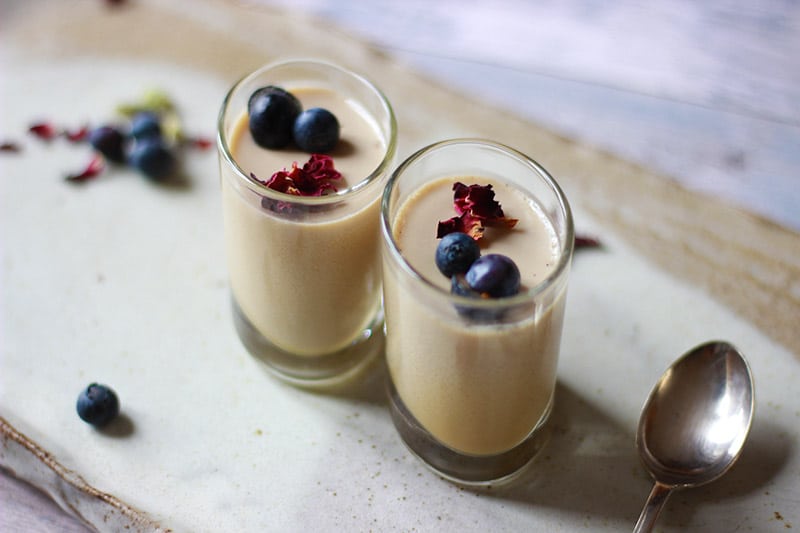 I'm feeling particularly autumnal at the moment, hence the treacle dessert;
so last weekend we decided to get out and enjoy this lovely season while its still here. We met up with the some friends and spent the afternoon wandering through Tatton Park. If you don't know; Tatton is an historical estate with 1000 acres of parkland and is home to the neo-classical Tatton mansion and around 400 red and fallow deer, which roam freely through the grounds.
A walk this time of year is just what we needed, with all the bright reds and yellows from the changing leaves and the crisp cool air that means you need to wrap up a bit, but its not so cold that your toes and fingers want to fall off. We explored a little way into the park, stomping through large piles of dried crunchy leaves and stopping every now and again to admire the spectacular deer and their impressive antlers. It kind of felt a bit Christmassy – although let's not rush too quickly ahead eh 🙂
But... speaking of Christmas, I really do need to start thinking about making my Christmas cake. I have made a cake at Christmas for the past 4 years or so and mostly this has worked out quite well. The icing has varied but I think this is something that improves with practise. After my first few attempts I now have a recipe that I'm quite happy with and I think I may even feel confident enough to do a Christmas cake blog post.....coming soon!!
Anyway back to our autumn walk.
The best thing about a long walk in the brisk, October air is getting back to a warm cosy house or, in our case, a warm cosy pub. Tatton boarders the very quaint traditional town of knutsford and it didn't take us long to decide that it was time for a quick warm up and a little beverage or two.
Most pubs and restaurants were fully prepared for the onslaught of Halloween on Monday night, with pumpkins carefully placed in doorways, or in windows or even lined up along garden walls. I was most impressed by the displays in the place we stopped at in knutsford, which had used pumpkins as vases and created beautiful autumnal displays with dark red flowers, orange leaves and pine cones. It looked so pretty. An idea for next year I think.
Our final stop of the day was at a gorgeous, traditional pub/restaurant in the picturesque town of Mobberley; the Plough & Flail. Again we were greeted with pumpkins of all shapes and sizes, most with pretty intricate carvings going on. Peoples pumpkin carving skills have been very impressive this year.  After choosing our meals carefully off the menu (it was an amazing menu, so the decision was not easy) we were all presented with gorgeous plates of food. I'd gone for venison with horseradish mash, which was cooked to perfection and served with a rich, thick gravy. Gorgeous.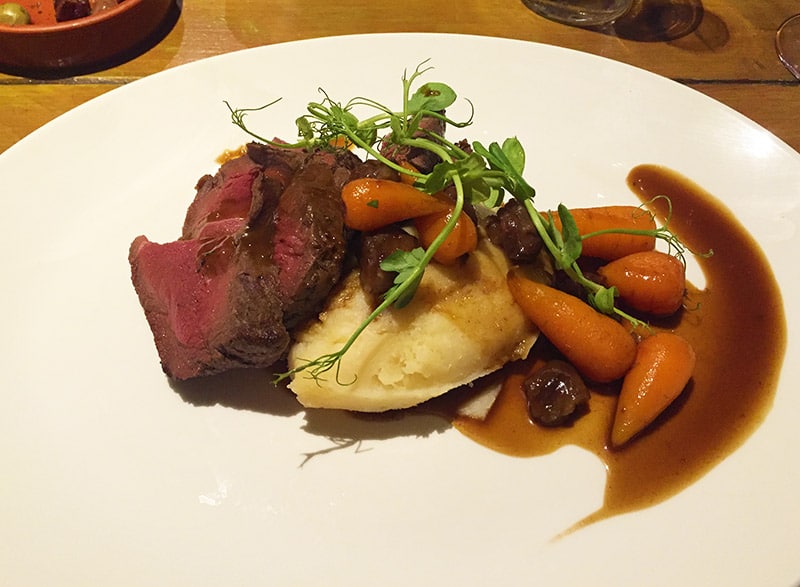 Bens roast beef dinner was also pretty fabulous, and was piled high on his plate, with Yorkshire and all.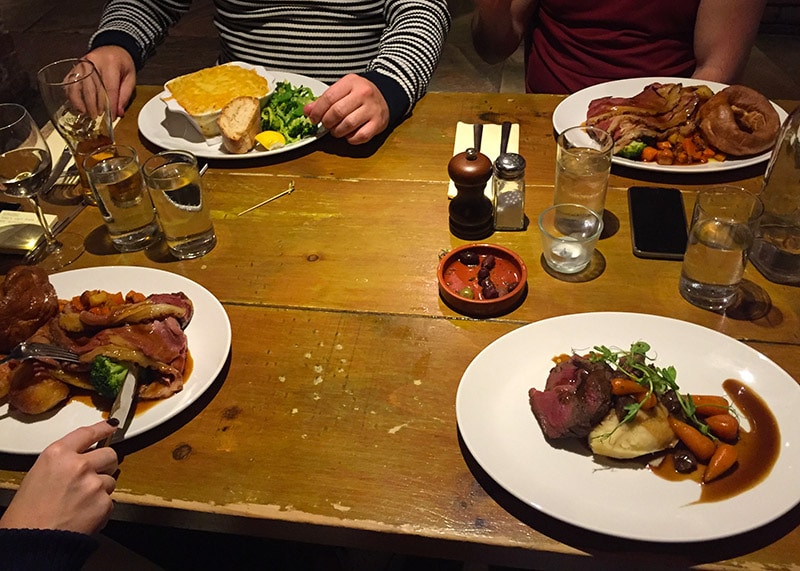 We finished off with a very tasty slab of parkin, smothered with custard. The perfect end to our autumnal day.
Hope you get chance to enjoy autumn this year and maybe give this delicious, treacly panna cotta a go.
For more gluten free recipes,
see my gluten free section under the recipes tab. For further info on 'free from' diets visit http://www.allergyshow.co.uk/ the next "free from show north"  takes place in Liverpool next weekend (5th and 6th Nov 2016)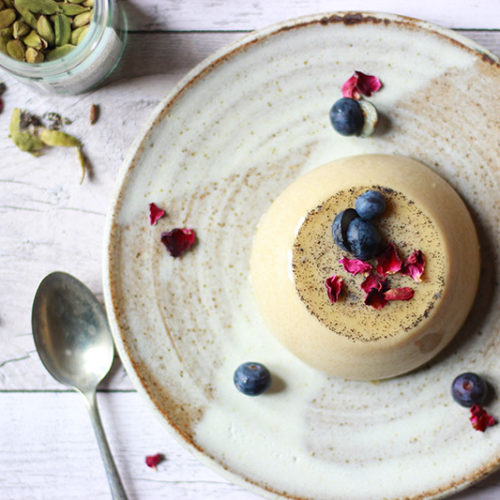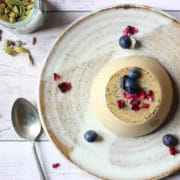 Cardomom, treacle and coconut 'free from' panna cotta
Spiced-up, dairy and gluten free panna cotta, with a hint of cardamom and treacle for that autumnal feel.
Ingredients
200

ml

soya milk

240

ml

coconut milk

5

g

gelatine leaf

2 ½ sheets

10

g

black treacle

50

g

honey

1

cardamom pod – crushed

seeds removed & ground in pestle & mortar

Seeds from half a vanilla pod
Instructions
1. Place the gelatine in a small container, fill with cold water and leave for 5-10minutes to soften.

2. In a small pan whisk together the soya milk, coconut milk, ground cardamom seeds, vanilla seeds, honey and treacle. Place on a medium heat and gently warm. Do not boil.

3. Check the gelatine has softened and remove from the water, squeezing out any excess water.

4. Just before the soya mixture begins to boil; remove from the heat and add the gelatine. Stir well until all gelatine has fully dissolved

5. Pour panna cotta into moulds and transfer to the fridge. The mixture usually takes around 4 hours to set.
Nutrition
Serving:
85
g
|
Calories:
113
kcal
|
Fat:
7.6
g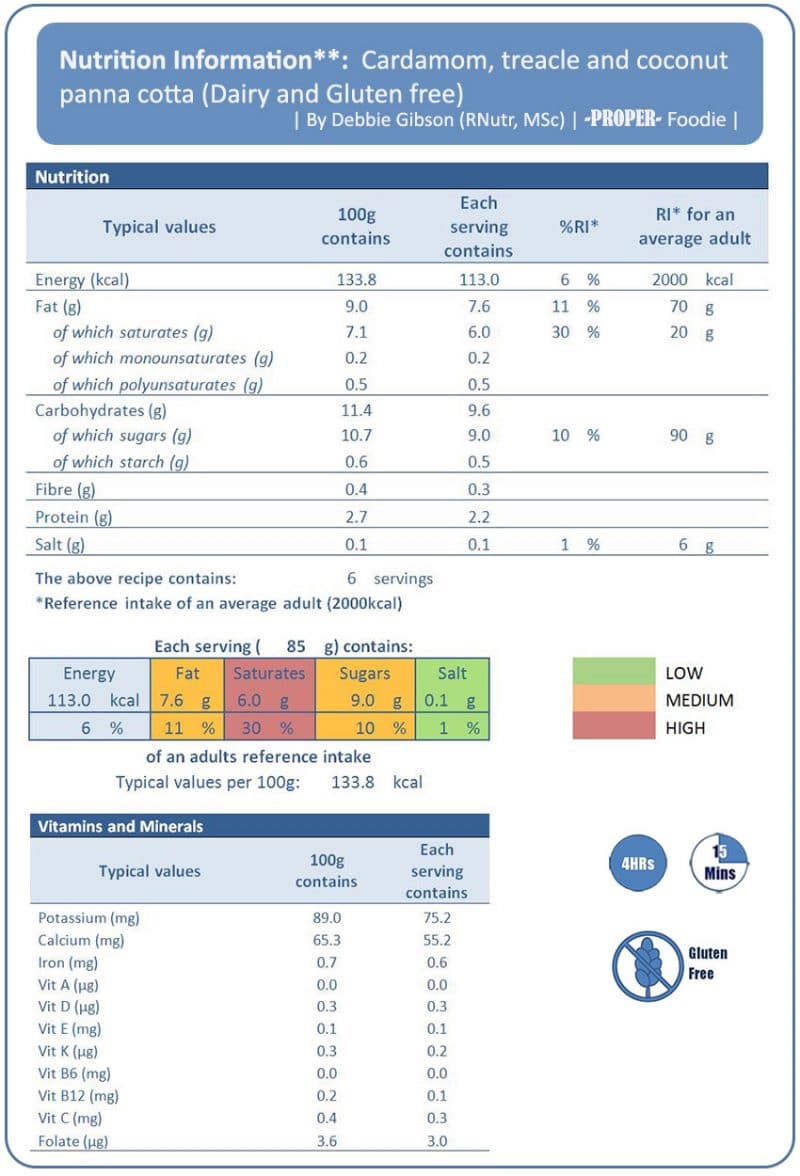 **Estimated nutritional information per serving and per 100g of cardamom, treacle and coconut panna cotta. If you want find out more about how the information is calculated and the sources used, please refer to my Nutrition Information Guide.