A silky smooth and warming Chermoula veggie soup with parsnips for sweetness, lentils for bulking, and soft pearl barley to bring it all together into a luscious creamy stewy soup.
Chermoula
The magic of this dish is in its final ingredient: Chermoula. A North African sauce full of fragrant and rich flavours, which provide a wonderful green and aromatic kick to this pearl barley stew. The basis of chermoula is fresh coriander, salty preserved lemons, earthy cumin and leafy parsley. This mix provides a wonderful backdrop for what would otherwise be quite a plain meal.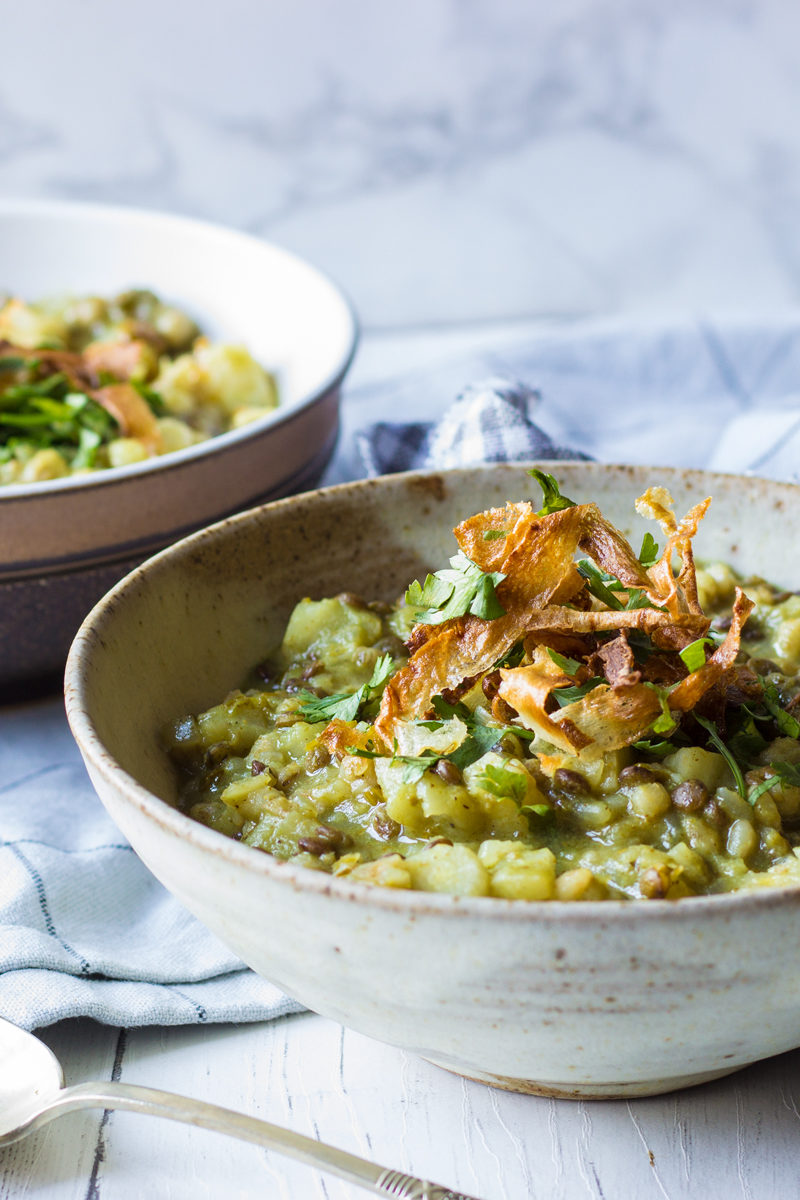 Sauces and pastes
In general I love to make my own sauces and pastes. I really feel like I've cooked something special if the whole thing is from scratch. My Tikka masala paste never fails to impress. However, sometimes it takes something out of jar to introduce me to something new and to make a dish with a completely different taste and twist.
The Belazu range
Chermoula sauce – its a new one for me – and not something I was about to come up with by myself. The Belazu range offers a unique array of interesting sauces and pastes and Chermoula sauce is just one of many interesting jar products that caught my eye. The chermoula sauce can also be used as a marinade or topping for meat and fish. So if you fancy a bit of meat with this dish then I recommend baking a nice piece of white fish or a chunky bit of chicken with some chermoula and then serving on top of this stew – delightful!
Week night teas are always in need of a boost, but when time is precious its not always about making things more complex, its definitely about making it simpler. A dollop of this zesty, coriander North African paste in this pearl barley and lentil stew, turns a rather bland bowl of food into a green Goddess.
Parsnips or potatoes
A bit of fresh parsley and some homemade parsnip chips and this dish really does look fab. The addition of parsnips adds a nutty and sweet flavour which I really love against the backdrop of the zesty Chermoula. However, if an overly sweet savoury dish isn't really your thing then swap the parsnips for cubed potatoes or sweet potatoes. – and if you do, then give potato crisps ago instead of the parsnip crisp topping 🙂
A veggie delight for those cold cold nights
Its still pretty cold out and I know that I'm still in need of some warming stews – and this is just the ticket for a healthy, veg-out in the middle of a freezing January.
And for an extra kick stir in a teaspoon of hot chilli powder and a teaspoon of paprika.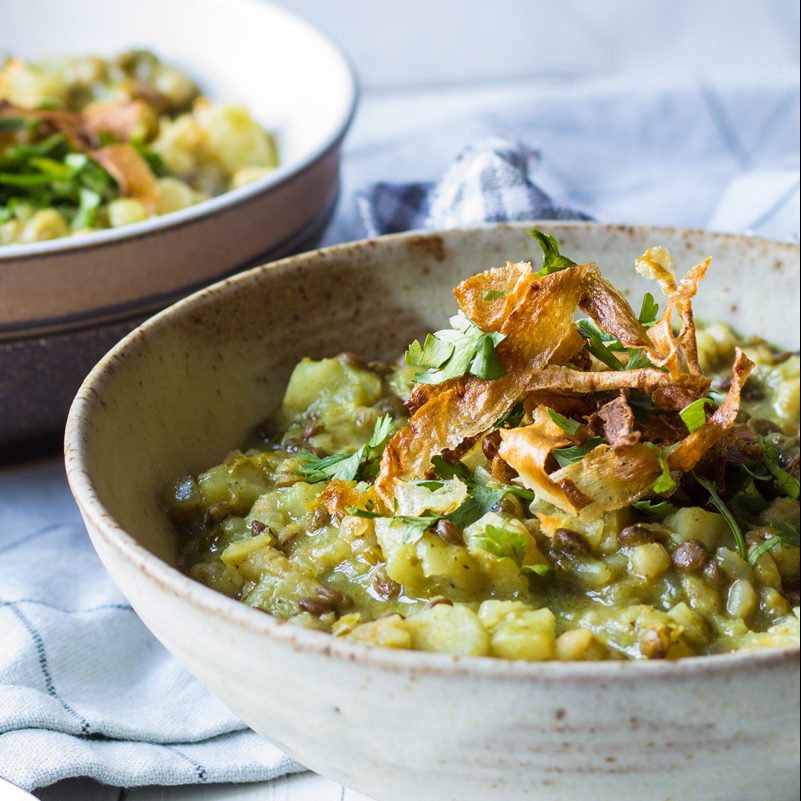 Green Chermoula Stew
A silky smooth and warming veggie stew with parsnips for sweetness, lentils for bulking, and soft pearl barley to bring it all together into a luscious creamy stew.
Print
Pin
Ingredients
1/2

tsp

olive oil

1

Onion

100g finely chopped

60

g

dried green lentils

50

g

dried pearl barley

2

parsnips

150g peeled and cubed (or 150g of potato)

250

ml

coconut milk

250

ml

tap water

2

tablespoons

of Chermoula paste

from the Belazu range
To Serve:
A few strips of parsnip using the peeler

Drizzle of olive oil

Handful of freshly chopped parsley
Equipment
Medium - large pan with lid for the hob.
Instructions
Heat the oil in a large pan and gently cook the onion until soft. Stir in the lentils and pearl barley and coat well with the oil. Add the parsnip, coconut milk, water and stir. (if you prefer add potatoes instead of parsnip). Bring to the boil then pop on a lid and simmer for 45 minutes or until the lentils are cooked through and barley is slightly creamy. Finally stir in the Chermoula paste. For an extra kick stir in 1 tsp Chilli powder and 1 tsp paprika powder.

Whilst the stew is cooking use a peeler to shave off a few strips of parsnip (or strips of potato if using potato in the recipe) drizzle with oil, place on a baking tray and bake in the oven for 10 minutes at 180 degrees. Check every 3 minutes or so and toss or move around to ensure even cooking.

Dish up the Chermoula stew and top with the crisps and a sprinkle of freshly chopped parsley.
Video
PIN FOR LATER


I am linking this recipe to #cookblogshare hosted by hijackedbytwins, recipesmadeeasy, everydayhealthyrecipes and Easypeasyfoodie. I am also linking to #brilliantblogposts by honestmum, #recipeoftheweek hosted by amummytoo, and #CookOnceEatTwice hosted by seachingforspice,