SPONSORED BY CIAO GUSTO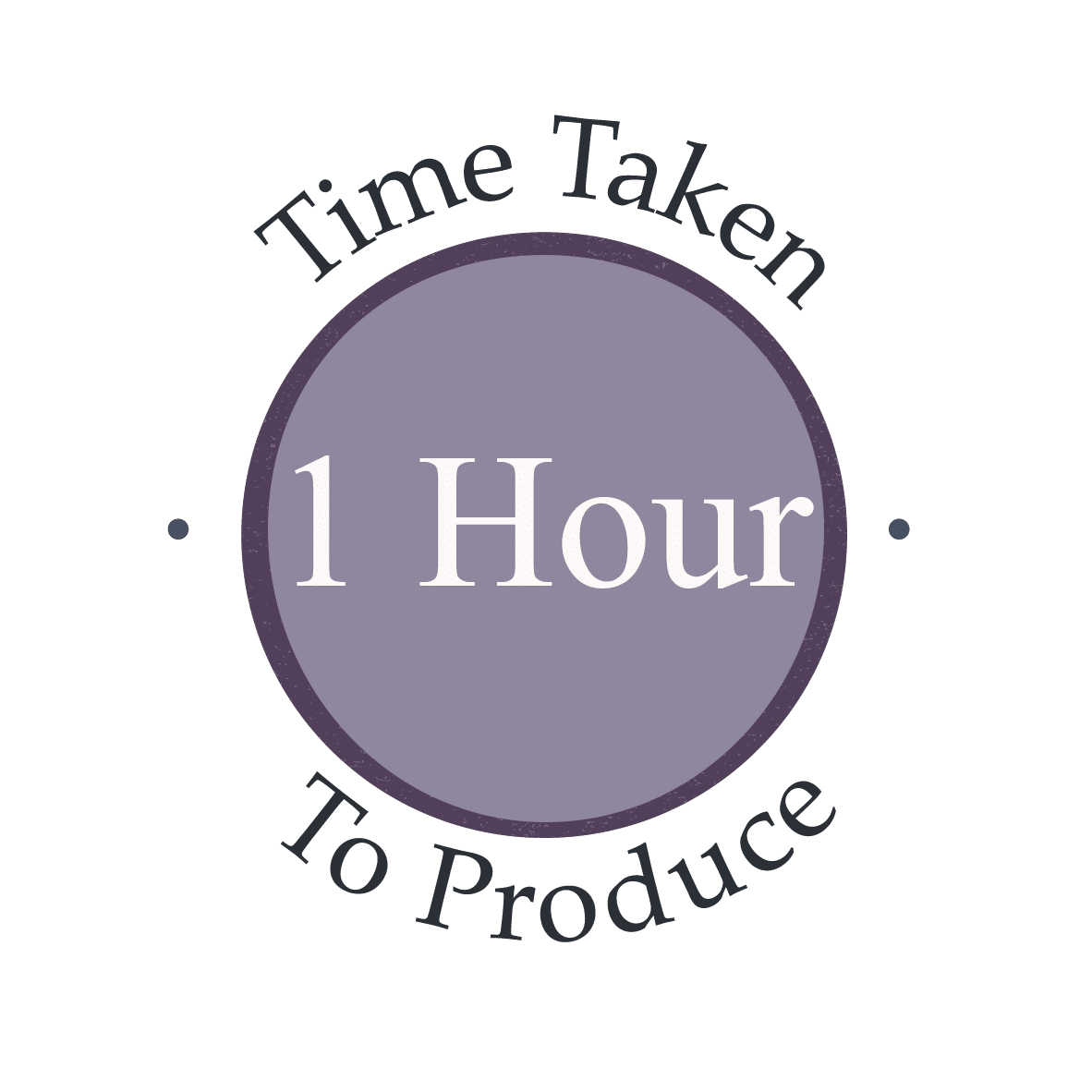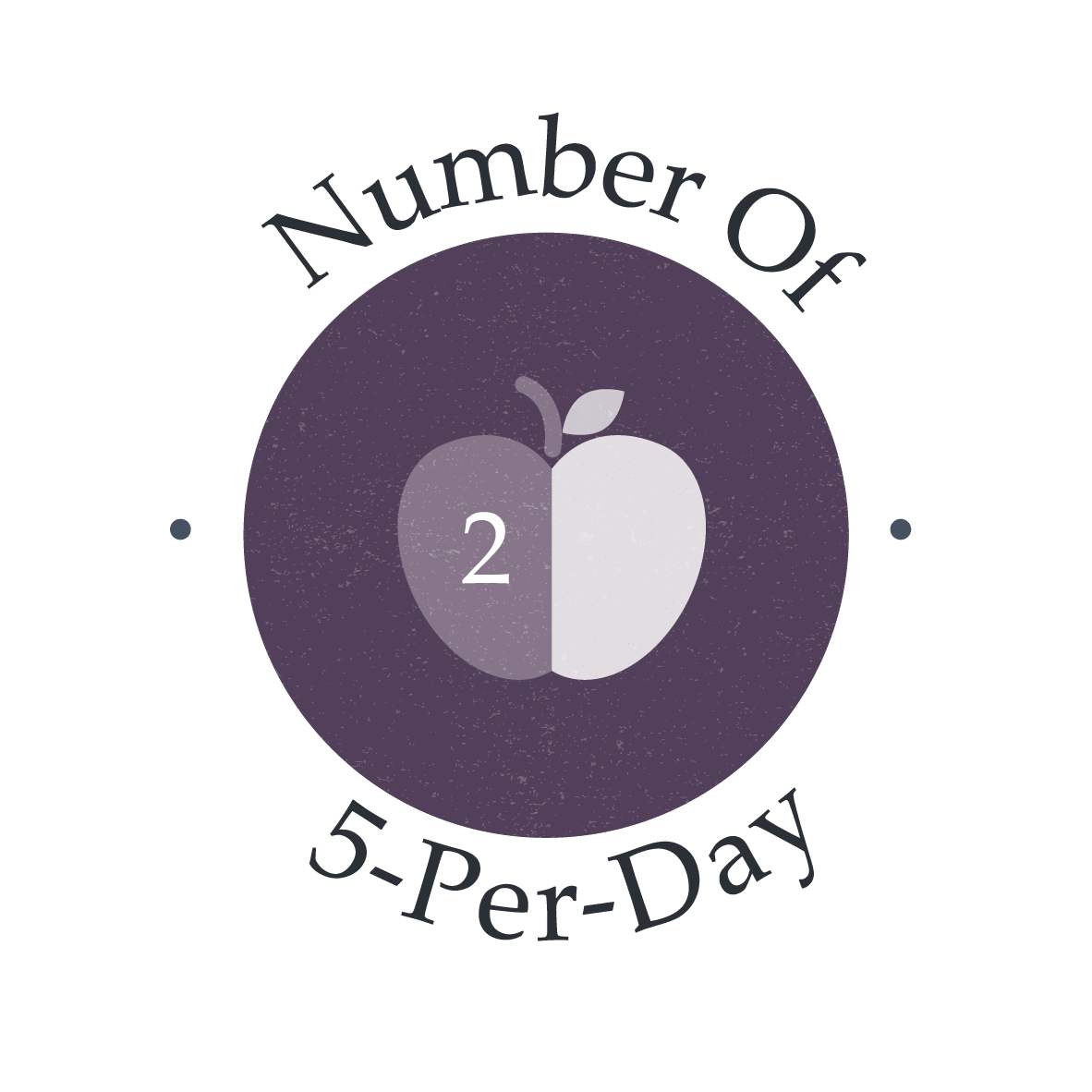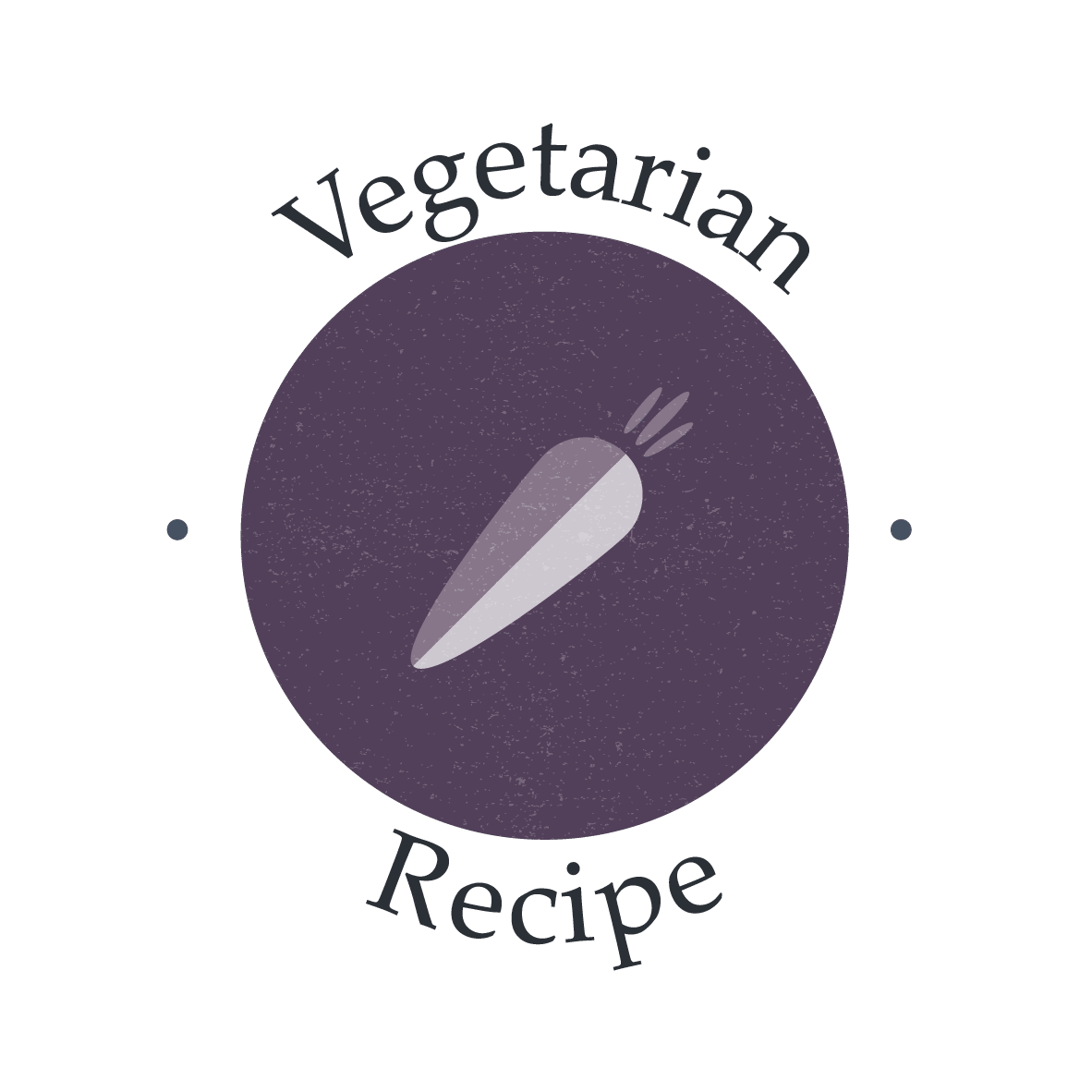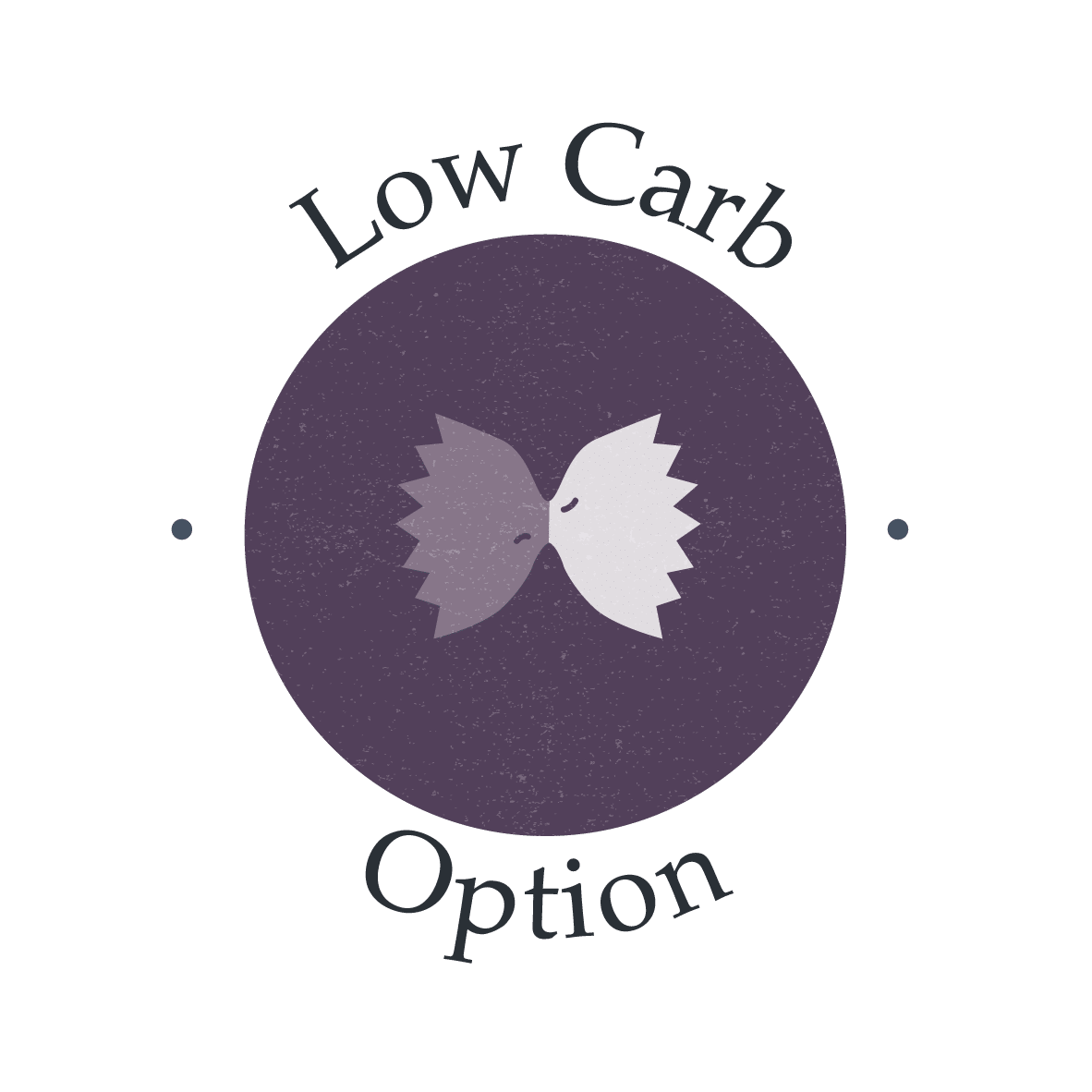 Halloween crisps and dips! Pumpkin guacamole, Autumnal salsa and cheesy pumpkin, served up in homemade pumpkin bowls with Black pepper, olive oil and vegetable Amica crisps.

Crisps and dips
At the heart of every good food spread there is always crisps and dips. They are easy to serve up and really easy to eat.
And you know that most people will be happy to chomp their way through a good bowl of crisps.
I love a good dip and I love to make my own. Homemade dips means no nasty additives or preservatives and it also means you can make them extra special and even tailor them to your event. For example: Autumnal, Halloween crisps and dips!!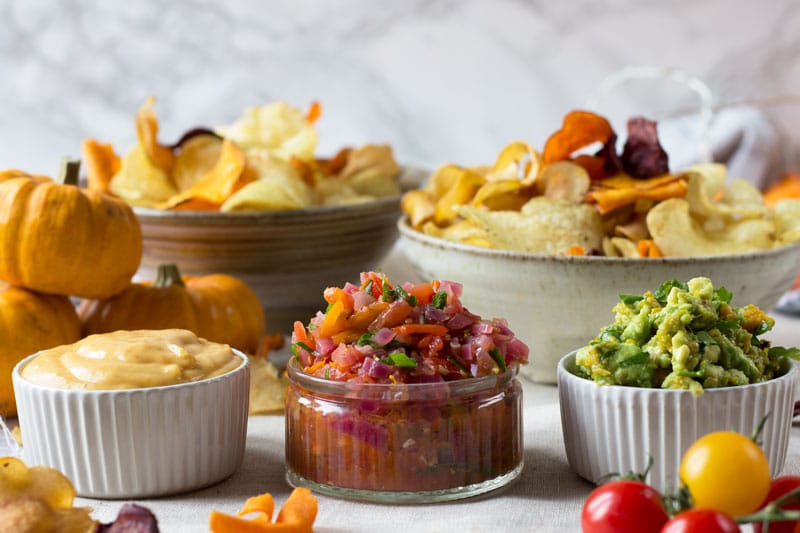 Crisps from Ciao Gusto
Ciao Gusto is a new Italian range from Ocado, they offer everything from charcuterie and cheese to oils and pasta sauces. When they got in touch last week and asked if I'd like to try out their range of Italian Amica crisps, I immediately thought of my Halloween dips and how perfectly they would go together.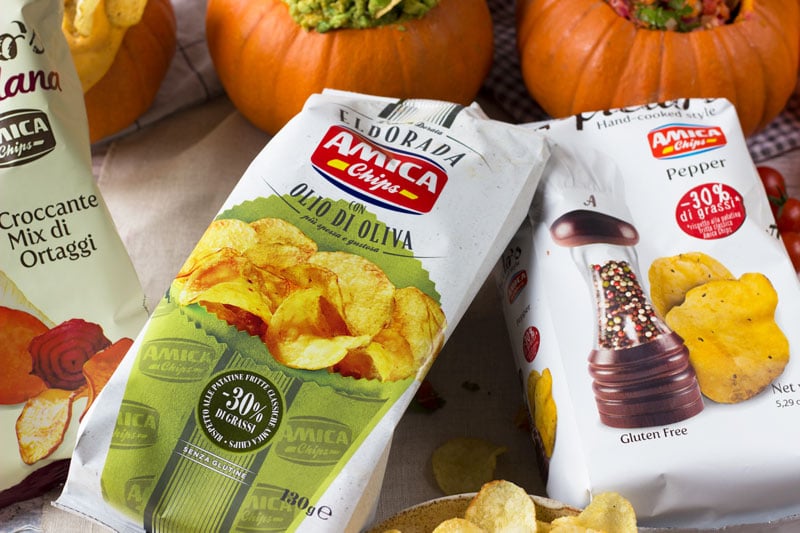 From Truffle and Black pepper to Vegetable and Olive oil, the flavours and styles are original yet classy. In particular the vegetable crisps are just what is needed here. Not only do they taste great, but they provide an array of rich autumnal colours, which goes so well with my pumpkin dip theme.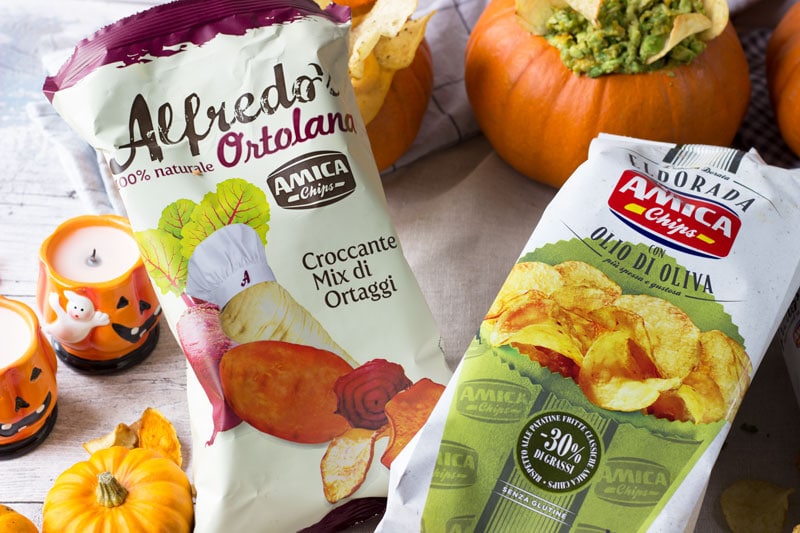 Pumpkins
So obviously pumpkins have my full attention at the moment. I'm enjoying finding different ways to use them as well as different ways to include the flesh and seeds in recipes. I do love to carve them up and pop a candle inside, but - they also work amazing well as dip bowls!!
I used slightly smaller pumpkins than your average sized carving pumpkin. I cut out a lid and scooped out the middle, so creating my halloween pumpkin dip bowls. For further details on prepping pumpkins and for a dessert recipe that uses the scooped-out inside flesh and seeds, have a look at my previous post: Pumpkin and date muffins.
Onto the dips. I created 3 autumnal dips to go with 3 flavours of the Amica crisps, aka Halloween crisps. The first:
Pumpkin Guacamole with Olive oil crisps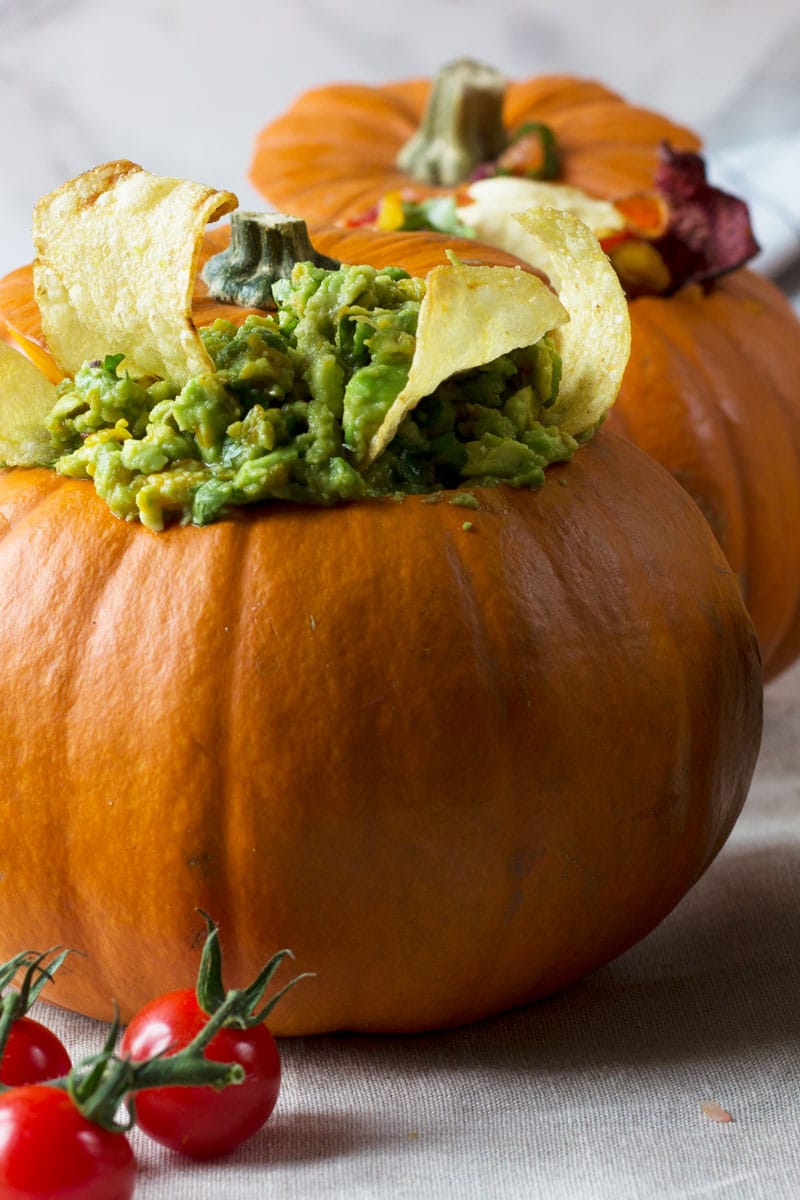 This dip is basically a standard homemade guacamole with baked pumpkin flesh mixed in. The addition of the sweet caramelised pumpkin flesh goes so well with the creamy avocado and sharp lime juice. Plus its green and orange - perfect for halloween 🙂
Read my how to cut avocado post for tips on how to get your avocado chopped with no fuss or mess.
Second up on the halloween dip menu:
Two cheese pumpkin dip with Black pepper crisps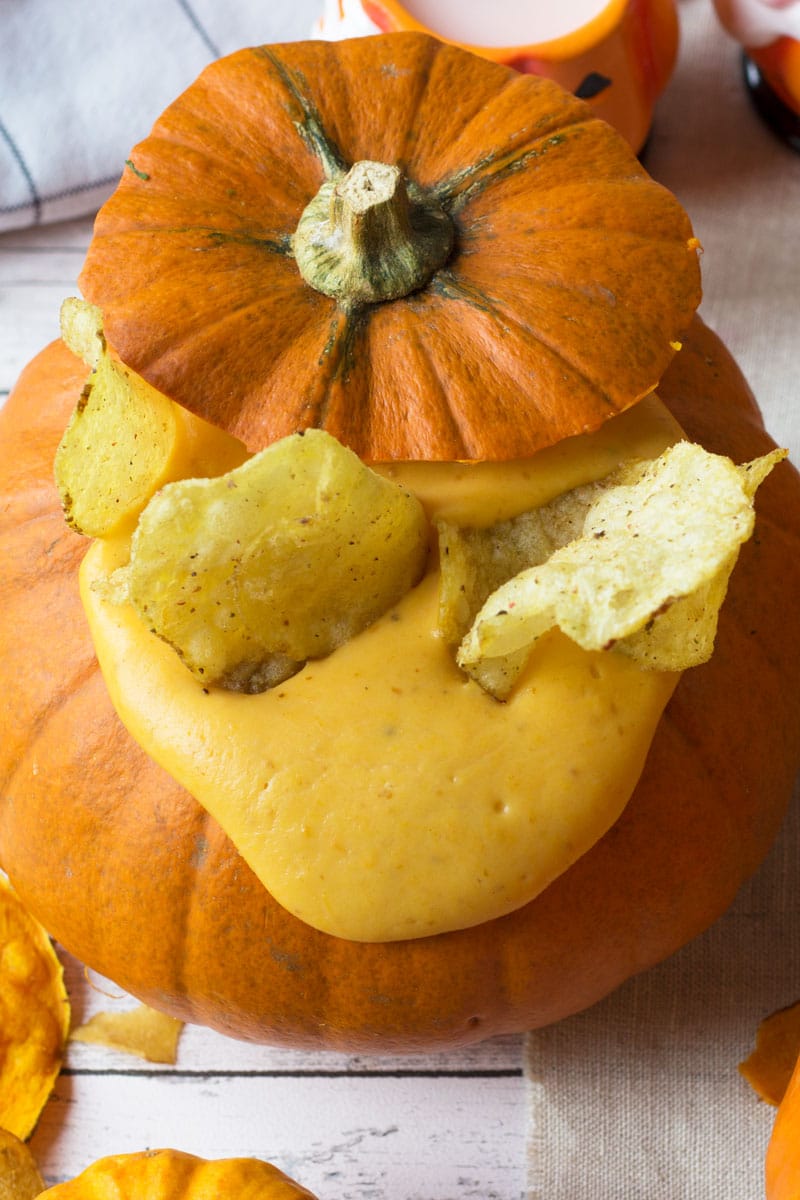 A lovely, creamy cheese sauce with pumpkin puree stirred in. Its cheesy and sweet and very, very dip-able. I also love that pastel orange colour. Ocado also sell tins of pumpkin puree - something I had struggled to get hold of up until now!!
And finally:
Rustic Tomato Salsa with Vegetable crisps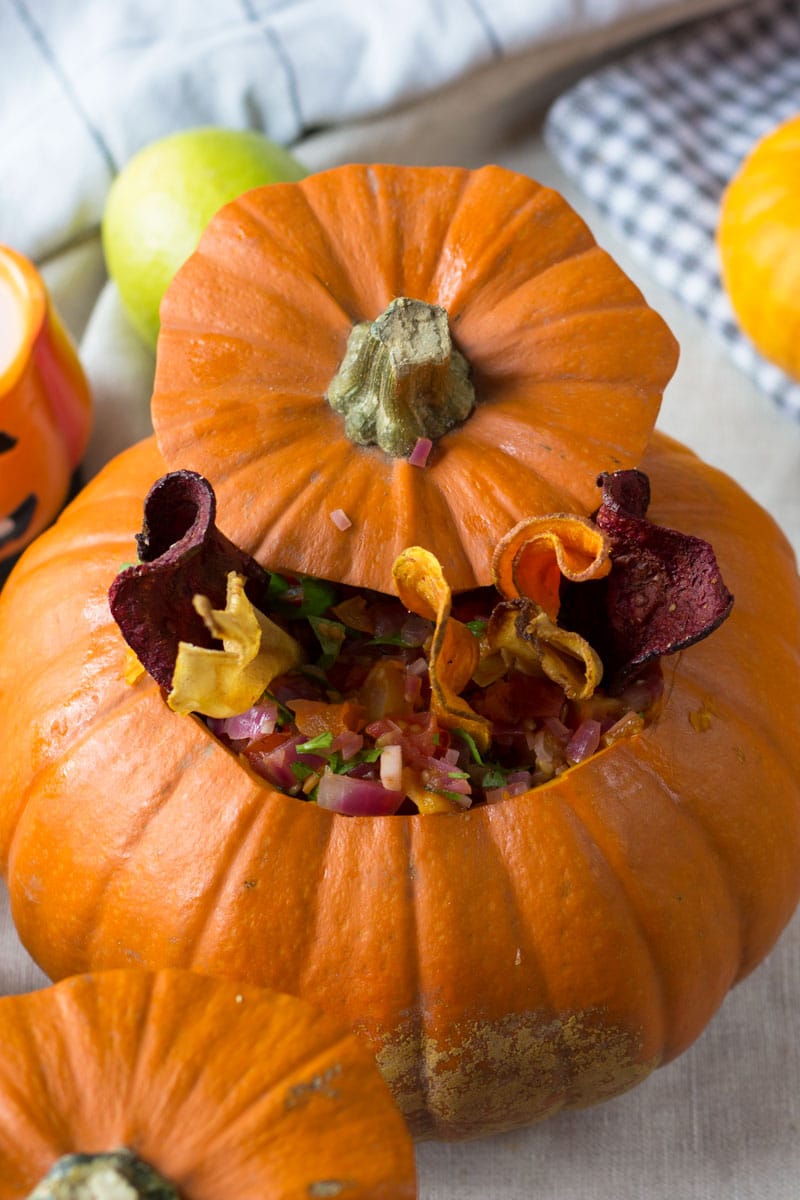 Homemade salsa is always the best salsa in my opinion. I find that bought salsa can be slightly tart and always, always way too . . . oniony for me. Raw red onions are not my friend.
My homemade salsa uses an array of different coloured tomatoes (so pretty and autumnal) and has a base of well cooked red onions. Cooked onions provide a lovely sweet and caramelised background flavour, without overpowering the whole dip and making you feel like you've just swallowed an acre of chives.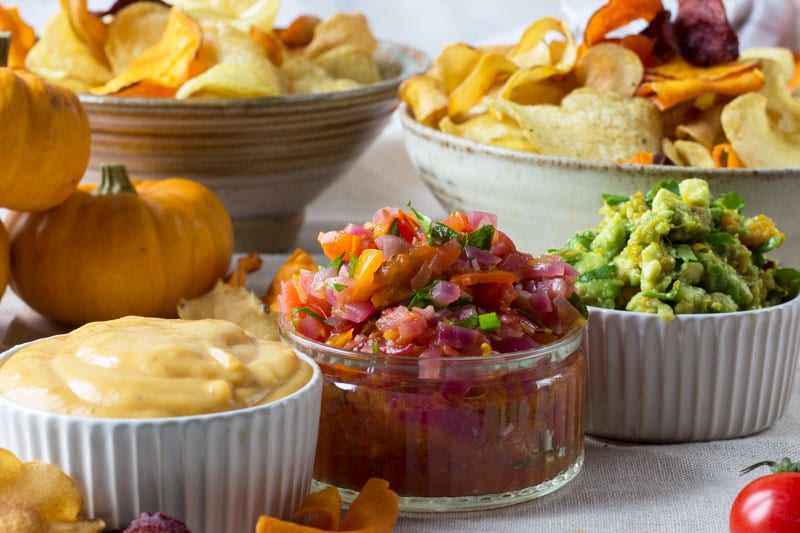 Three autumnal dips, three lots of Halloween crisps, and three proud as punch pumpkins - whats not to love about all of this. So, if you have a Halloween party coming up and you want to make sure that the Halloween theme is in your face and looking fantastic - then why not let your pumpkins do the hard work 🙂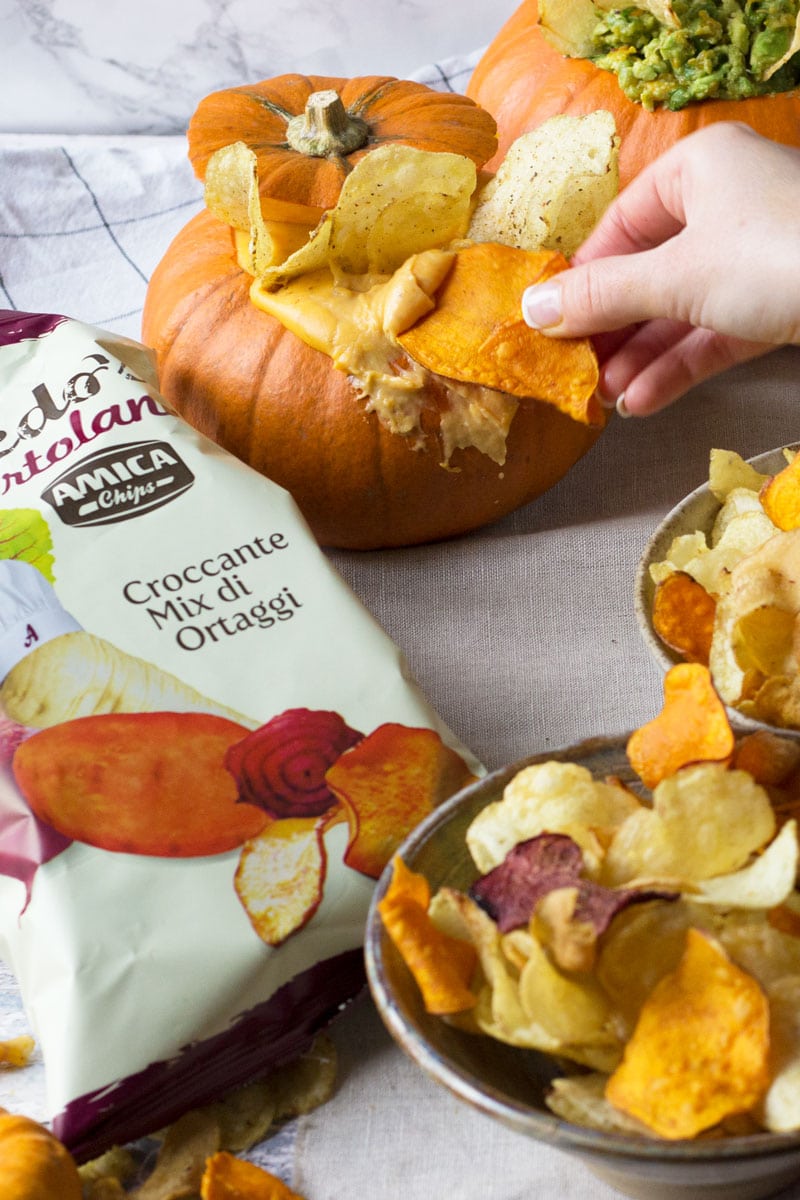 The Ciao Gusto range can be found under the Ciao Gusto tab on the Ocado website. The range brings together over 30 Italian brands which include authentic Italian foods and drinks.
Brands include names such as Valsoia, Ponti, Barilla, Cirio, Lavazza, Amica, Santa Rosa and Riso Gallo as well as lots of exciting products new to the UK.
(All opinions in this post are my own).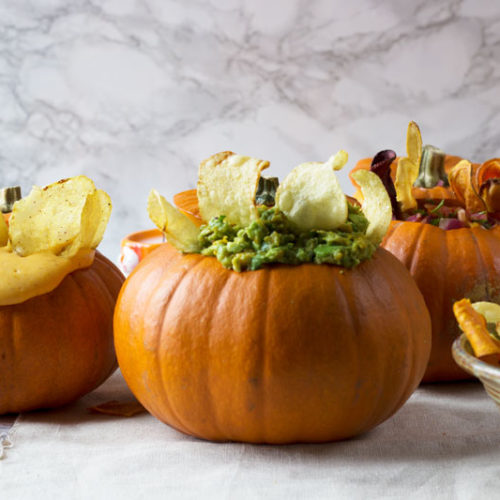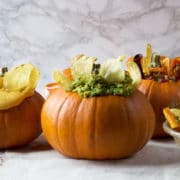 Halloween Crisps and Dips in Pumpkins
Ingredients
3

small pumpkins

approx 1kg each
For the Autumnal Salsa and vegetable crisps
Drizzle olive oil

1

large red onion

200g finely chopped

1

clove

garlic

2g finely chopped

400

g

cherry tomatoes

mixed colours diced small

Juice of half a lime

Black pepper

Handful of chopped fresh parsley

1

bag of Amica vegetable crisps
For the Two Cheese Pumpkin dip and black pepper crisps
400

ml

semi skimmed milk

½

tsp

nutmeg

50

g

butter

50

g

plain flour

40

g

mozzarella

40

g

strong cheddar

½

tin pumpkin puree

210g

Black pepper

1

bag of Amica black pepper crisps
For the Pumpkin and Guacamole dip and olive oil crisps
175

g

pumpkin flesh

Flesh from 2 large or 3 small avocados

300g

Juice of a full lime

Black pepper

Handful chopped fresh coriander

1

bag of Amica Olive oil crisps
Instructions
For the pumpkin bowls
Cut a lid out of the top of each pumpkin. Use a spoon or your hands to scoop out the seeds and pulp. Scrape out the inner layer of flesh to thin the walls slightly. Place the flesh to one side for adding to the guacamole later. Rinse off the pumpkin bowls and line up ready for the dips.
For the Autumnal Salsa and vegetable crisps
Heat the oil in a small pan and add the chopped red onion and garlic. Fry gently for 2-3 minutes. Next add the diced tomatoes, lime juice and black pepper to the pan. Mix well and cook for a further minute. Remove from the heat and transfer to a bowl to cool. Once cool stir in the chopped parsley and spoon into one of the pumpkin bowls. Decorate with the Amica vegetable crisps and serve.
For the Two Cheese Pumpkin dip and black pepper crisps
Measure out the milk and whisk in the nutmeg with a fork.

Melt the butter in a small sauce pan. Turn the heat to low then add the flour and mix well to form a paste (roux). Keeping the pan on a low heat and gradually add the milk whilst continually stirring. The flour mix should absorb the first few additions of the milk and remain quite thick. The last few additions of milk will thin out the sauce. Once all the milk has been added turn the heat up slightly and stir continually until the sauce starts to boil and thickens again. At this point remove from the heat. Add both cheeses and stir in until melted. Finally add the pumpkin puree and black pepper. Mix well and spoon into a second pumpkin bowl. Decorate with the Amica Black pepper crisps and serve.
For the Pumpkin Guacamole.
Pre heat the oven to 180 degrees C

Weigh out 175g of the pumpkin flesh that was removed from the inside of the pumpkins earlier on. Place in an ovenproof dish and bake for 20-25minutes until soft. Allow to cool then turnout of the dish and onto a chopping board. Chop roughly and set to one side.

Half the avocados by placing a knife into to the fruit and up to the stone. Then slice around the stone. Twist each half in opposite directions to break apart. Remove the stone by carefully chopping a knife into it and then twist (the stone will come away with the knife. Tap the blade on the work surface to knock off the stone.

Use a fork to mash up the avocado flesh whilst still in the skins. Then scoop out into a bowl using a spoon. Immediately add the lime juice a mix well - this prevents the avocado flesh from oxidising and turning brown. Next add the chopped roasted pumpkin flesh, black pepper and chopped coriander. Mix together well and spoon into the final pumpkin bowl. Decorate with the Amica Olive oil crisps and serve.

Place any remaining crisps in bowls at the side of the pumpkins.

Enjoy!


I am linking this recipe to #cookblogshare hosted by hijackedbytwins, recipesmadeeasy, everydayhealthyrecipes and Easypeasyfoodie. I am also linking to #brilliantblogposts by honestmum.
I am also linking to #whatsfordinner? hosted by TheLazyGastronome, #CookOnceEatTwice hosted by seachingforspice, and #recipeoftheweek hosted by aMummyToo.