The perfect excuse to make more hot cross buns or to put your leftover stale hot cross buns to good use: Hot Cross Bun Ice Cream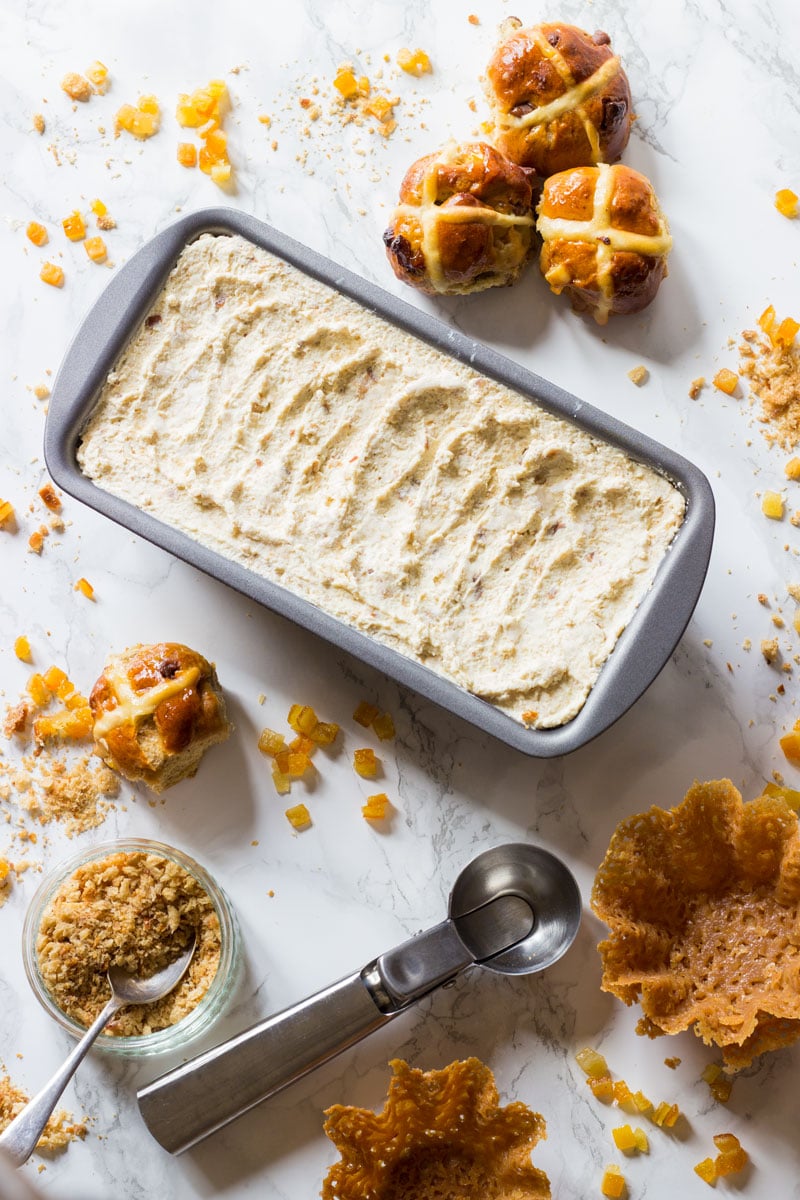 Ice Cream
Is it too early for ice cream? Still a bit cold? Hmmm maybe. How about if we add in some leftover hot cross buns?? Any better? I just have a feeling that plenty of us are all year round ice cream lovers anyway 🙂 Out on a hot sunny day or cuddled up under a blanket for film night, its always good to have a bit of ice cream as well.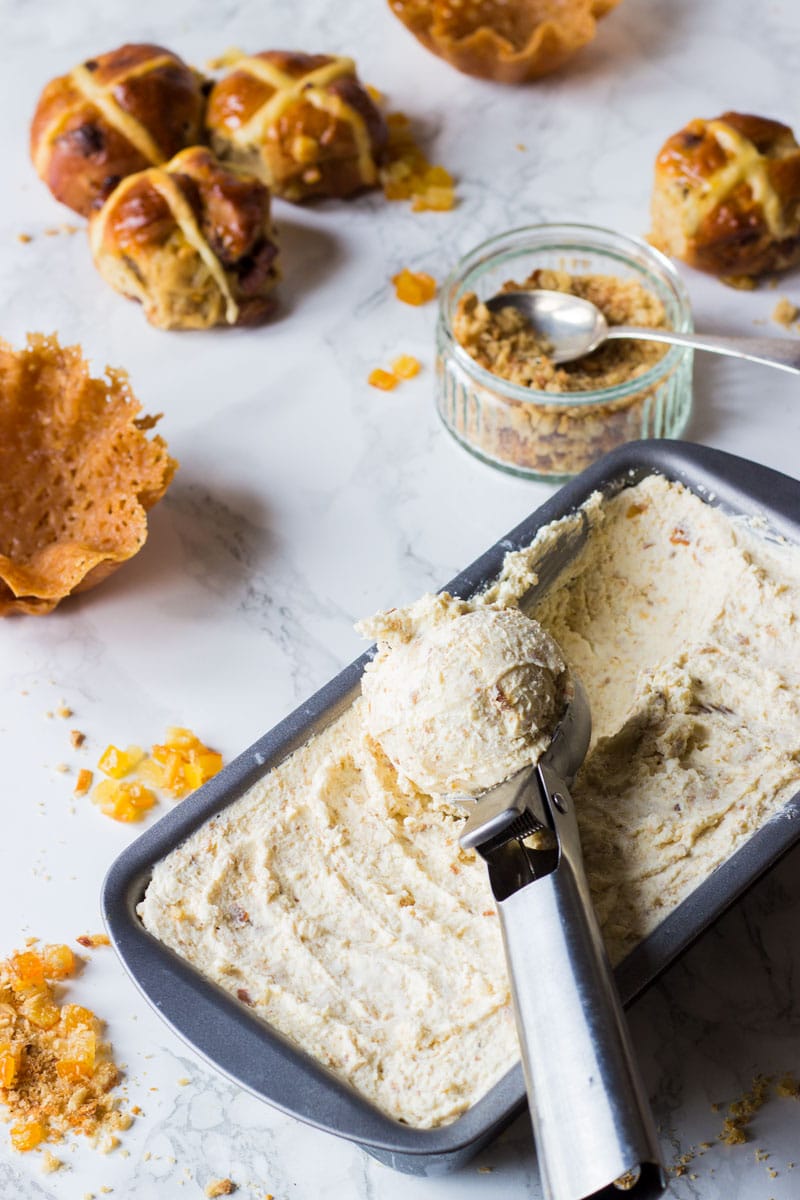 Easter
Its is a funny old time of year. Spring is kind of here but kind of not, the weather is kind of ok one minute and then definitely not ok the next, and the jump from stews to salads might have to wait just a tad longer. However, it is Easter!! Tomorrow!! How did that happen. And Easter definitely means spring.
Bread ice cream
Spring or not - I am loving this recipe, which is basically just bread ice cream. Lots of lovely hot cross bun breadcrumbs all mushed up with some creamy and delicious homemade ice cream. The bread really adds a great texture to this dessert and the spices and dried fruits turn a rather plain dessert in to a citrusy, spicy bowlful of loveliness.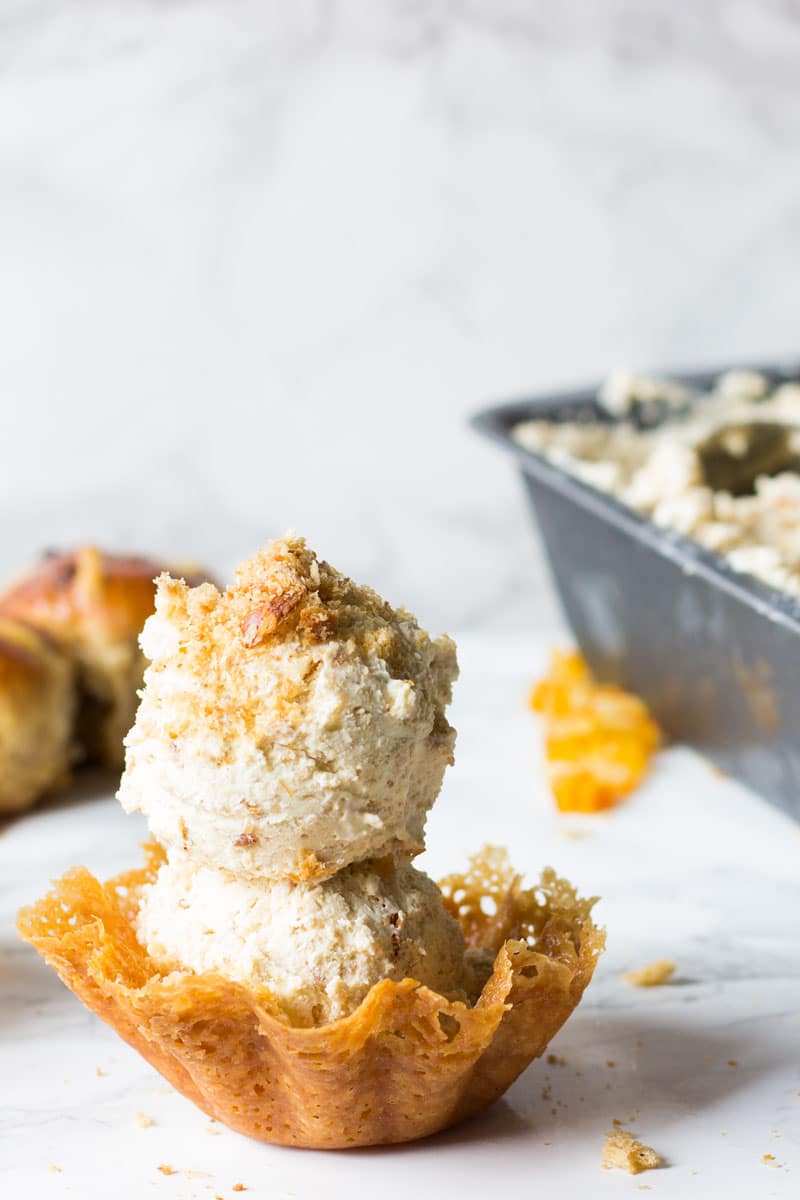 Hot cross buns
The hot cross buns in this recipe were the ones I made for my hot cross bun tear and share last week - recipe here!! This particular hot cross bun recipe produces enough sticky buns to feed an army - and so it comes in handy if you have a leftovers recipe ready to go. - Just in case you cant quite finish them all. Chop up the leftover buns, pop them in food processor and whiz into breadcrumbs - simple! I used around 100g of hot cross bun breadcrumbs for the actual recipe and then saved a little to use as a topping.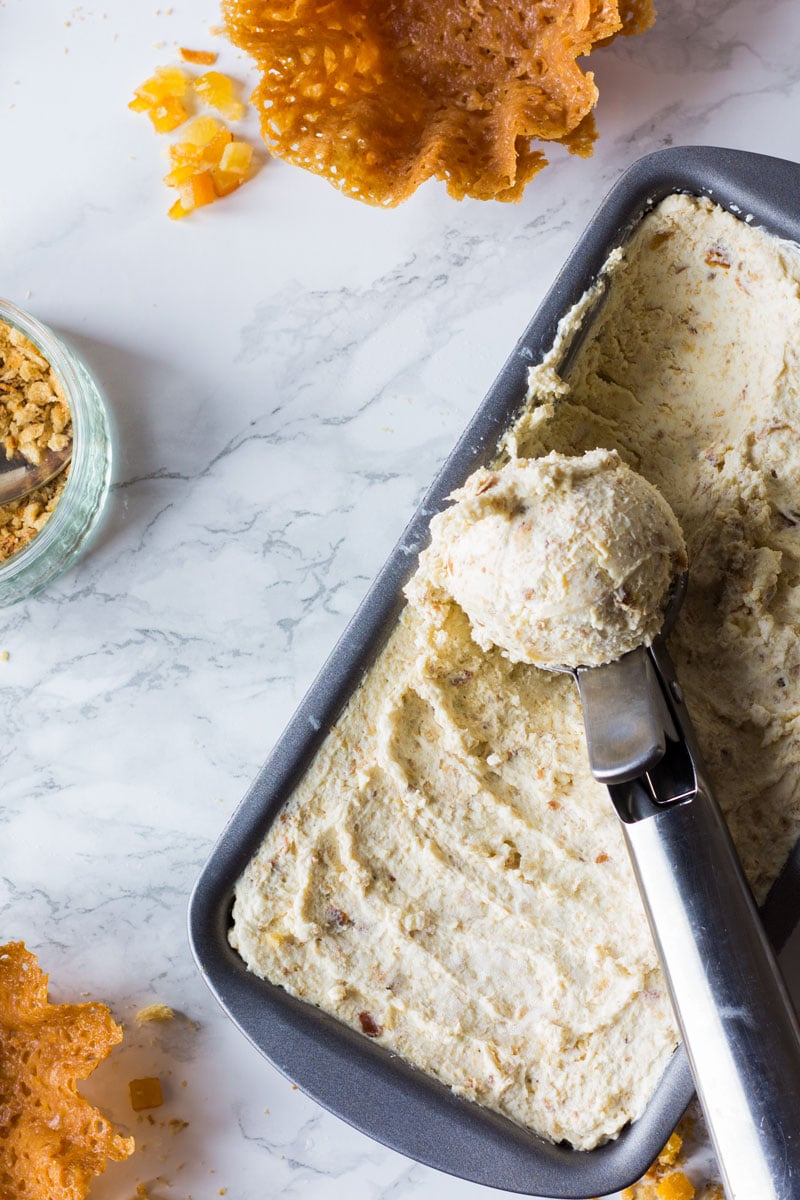 This recipe really is very easy. Its no churn and takes just 15 minutes to mix it all together. Then just leave it in the freezer for a few hours or overnight if you can. Job done.
For more homemade ice cream ideas have a look at my other no churn recipes here
Happy Easter, have a lovely long weekend!!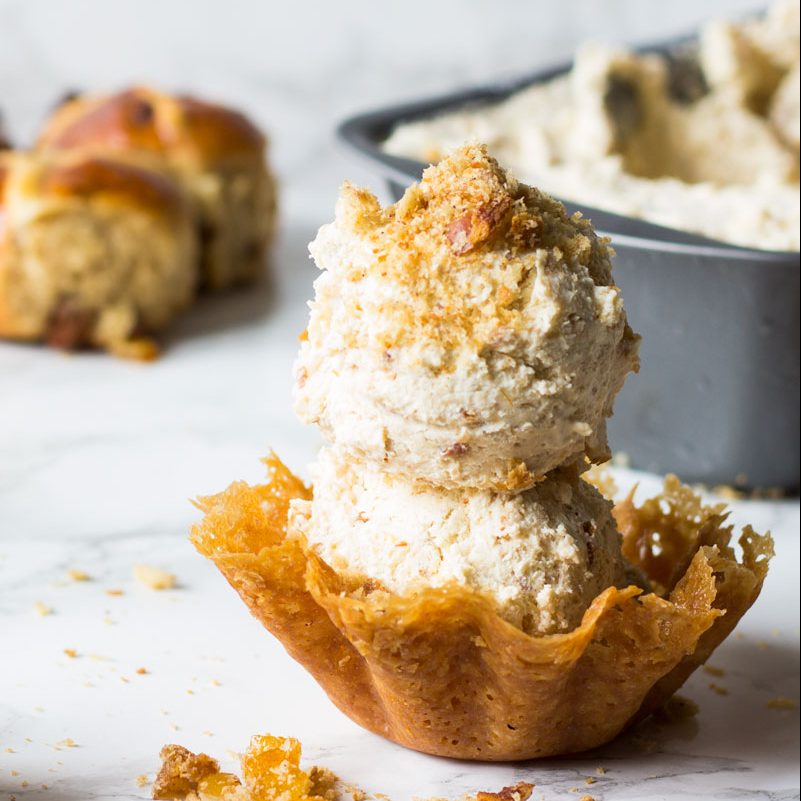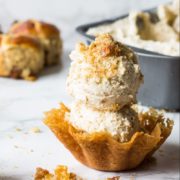 Ice cream with leftover hot cross buns
The perfect excuse to make more hot cross buns or to put your leftover stale hot cross buns to good use: Hot Cross Bun Ice Cream
Ingredients
150

g

hot cross buns

150

ml

double cream

2

tsp

vanilla extract

150

ml

sweetened condensed milk
Instructions
For the ice cream base:
Place the cream and vanilla extract into the bowl of a mixing machine and use the whisk tool to thicken. Whisk on high for around 3-5 minutes (longer if whisking by hand). Keep a close eye on the whisking process and do not over whip. As soon as the cream starts to thicken, reduce the speed and stop as soon as soft peaks begin to form.

Next add the condensed milk and use a spatula to fold in gently (at this point the mixture should be thick but just about pour-able).
Hot cross bun ice cream
At this point you can add flavour to the ice cream - see the link above for more flavour ideas. For the hot cross bun ice cream, chop up some leftover hot cross bun and blitz into breadcrumbs in a food processor. Add the breadcrumbs to your cream mixture and fold in gently with a spatula.
Freezing:
Once the ice cream is made transfer into a freezable container (I used metal a loaf baking tin) and seal with a lid or double wrap with cling film. Freeze for at least 4 hours (overnight if you can)before scooping.
Nutrition
Serving:
75
g
|
Calories:
280
kcal
|
Carbohydrates:
29
g
|
Protein:
4.1
g
|
Fat:
17
g
|
Saturated Fat:
10.1
g
|
Sugar:
20.2
g