Chicken pieces smothered in a rich and spicy Jamaican Jerk sauce, topped with ripe pieces of mango, juicy pomegranate seeds and all wrapped up in a soft flour taco.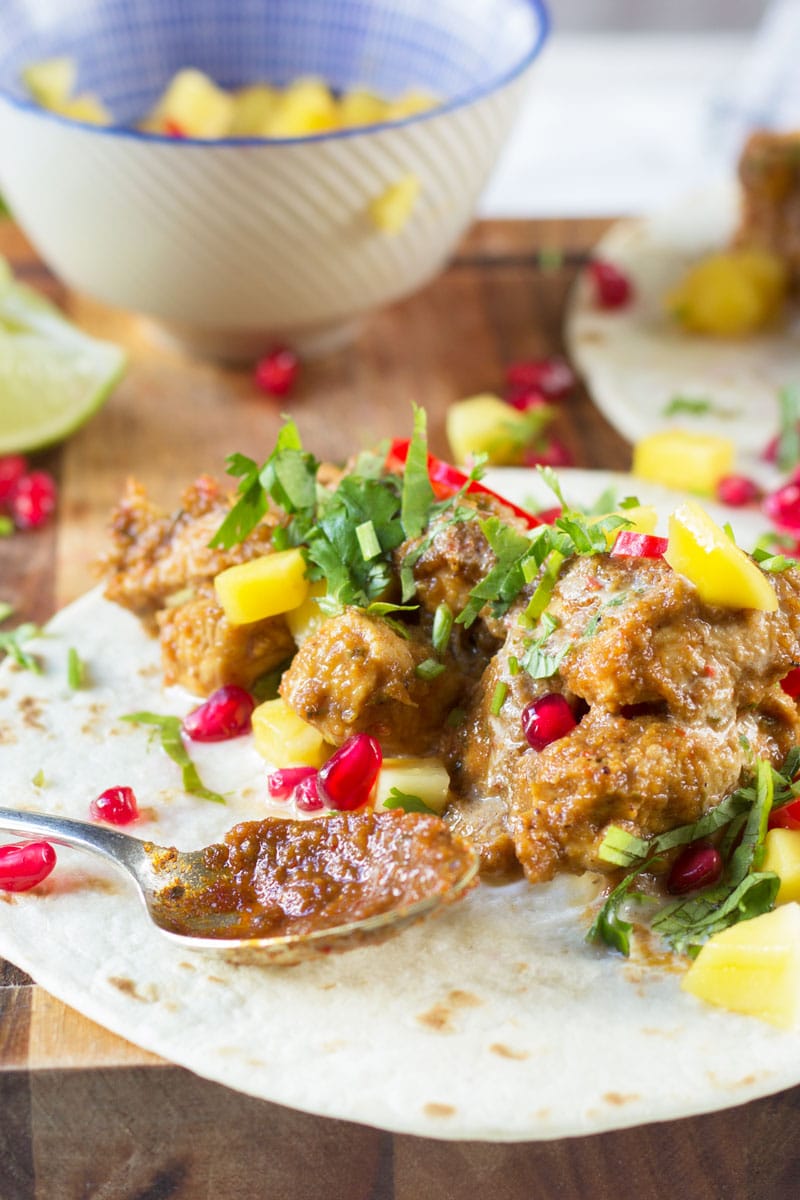 Autumn is here
Its finally time to say good bye to summer and get on with all things autumnal. I have already turned my thoughts to pumpkin recipes, bonfire night treats, roasted chestnuts and all things spooky just in time for Halloween. My latest recipe is one that looks quite summery but is actually the perfect opening to my range of autumnal food flare.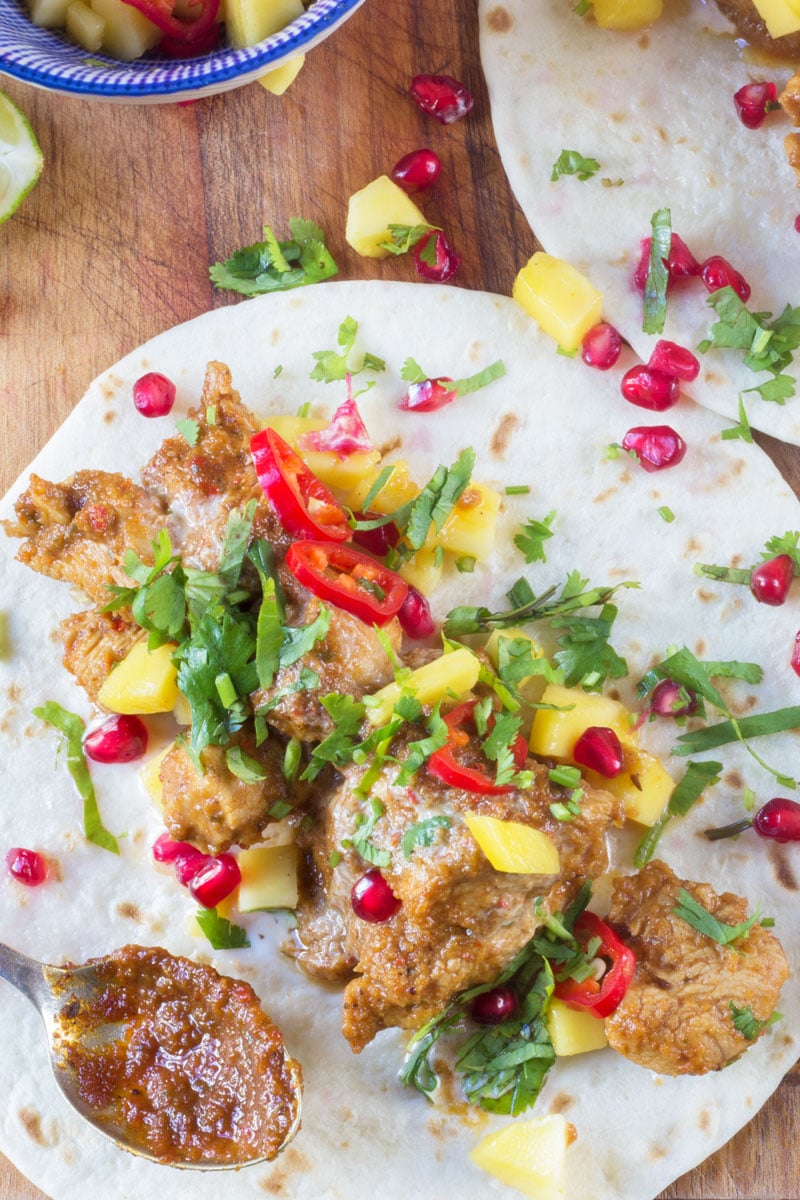 First and most importantly this recipe calls for a homemade jerk - a rich, spicy and sweet Jamaican sauce that has a deliciously dark reddy-brown autumnal colour and every helping warms you right through.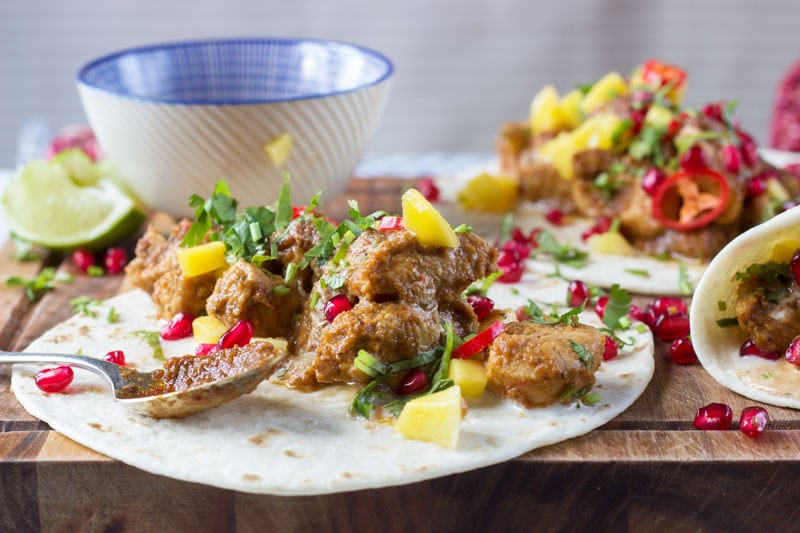 Pomegranate
Then we have the pomegranate! And I do find this fruit rather autumnal with its bright red, jewel like pods of sweet-sharp juice, which complement the spicy jerk sauce perfectly. Traditionally, the pomegranate is seen as a Christmas time treat - and pomegranates still appear on festive decoration. However, I much prefer my pomegranates mixed in with my pumpkins and squashes.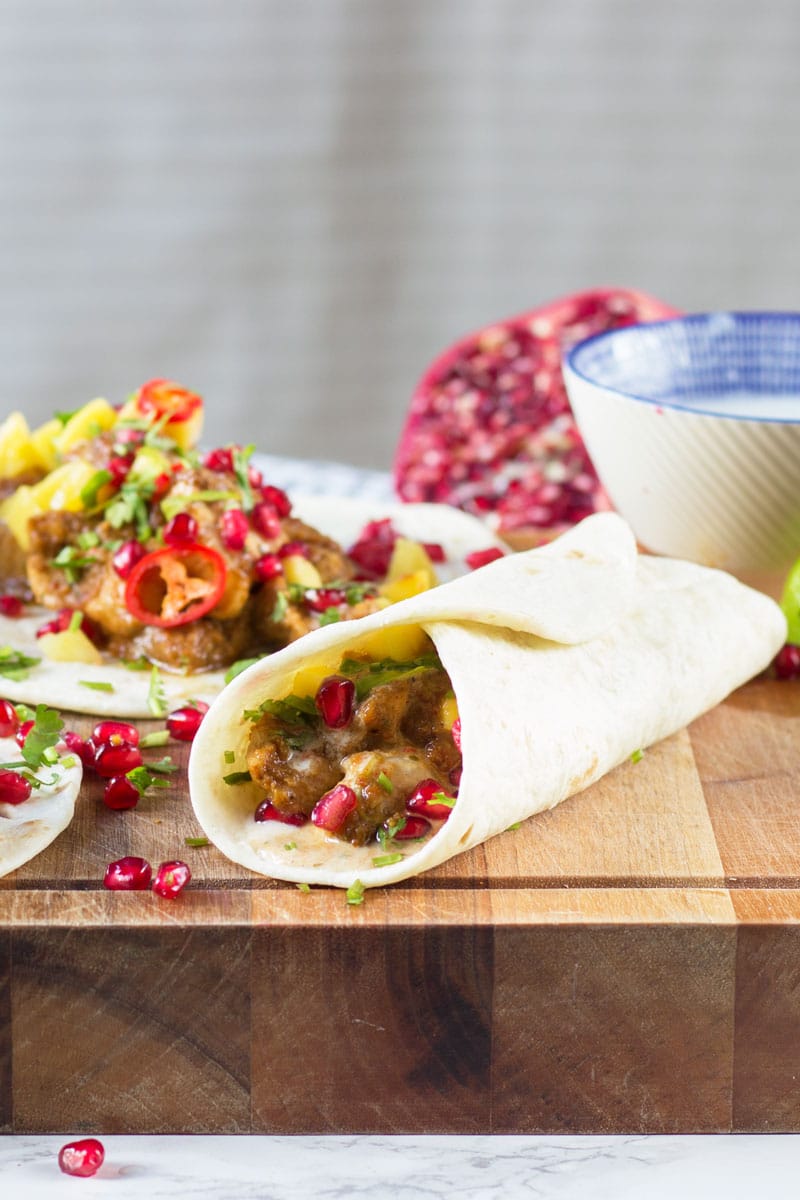 Putting the tacos together
Jerk recipe
I've been a fan of jerk chicken for many years and over this time I've made many different versions - some more complex than others. I finally settled on this version as my most favourite and most easiest. The basis for my perfect sauce is: shallots, garlic, soy sauce, brown sugar, spices, lime juice and dried thyme. I find that using a hand blender is the best way to blitz all the ingredients into a smooth paste. Its so much easier and tidier than a food processor or blender.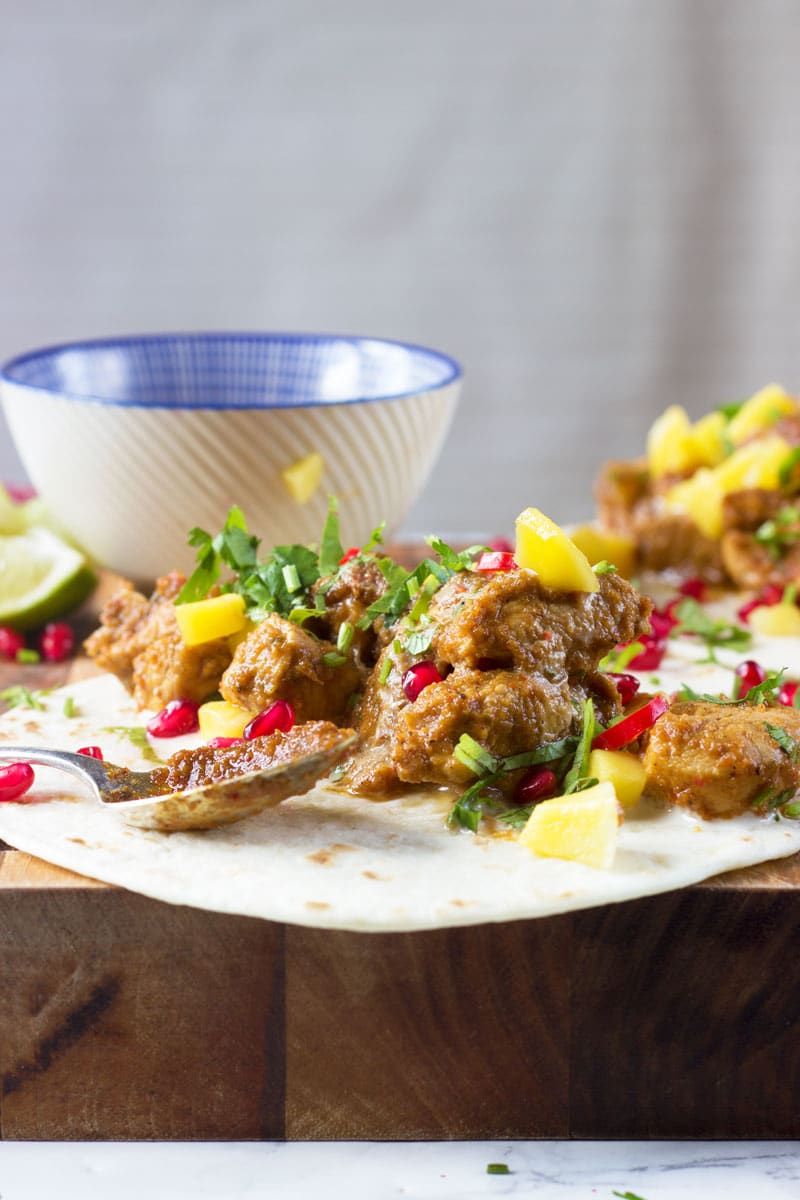 Finished off with sweet chunks of mango, a refreshing sprinkle of coriander leaves and a drizzle of coconut dressing . . . this recipe really does take chicken night to a whole new level.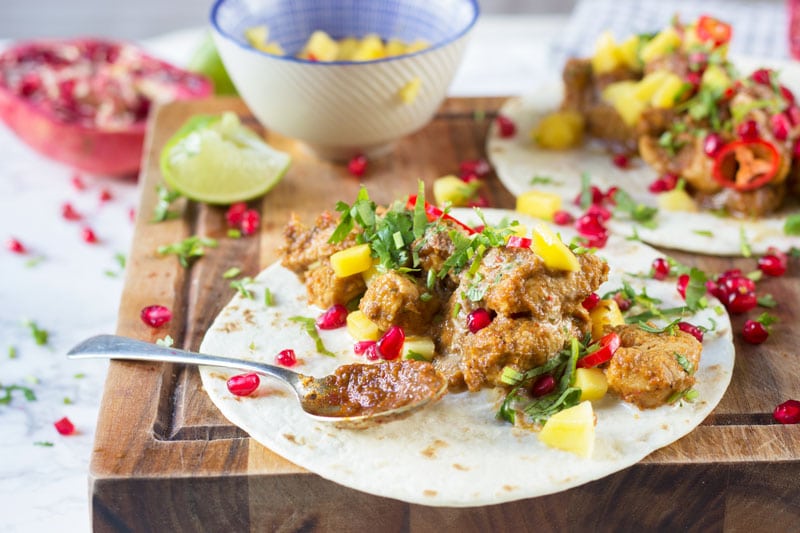 Tacos
So why the tacos? ok so usually jerk chicken is served with coconut rice and beans - which is very nice and I've often used rice and beans as a side to this dish. However, theres so many great things going on here - the chicken, the jerk, the coconut dressing, the mango, the pomegranate, the fresh coriander - it seems like such a waste to not scoop all this up in one go and carefully wrap into a soft flour taco.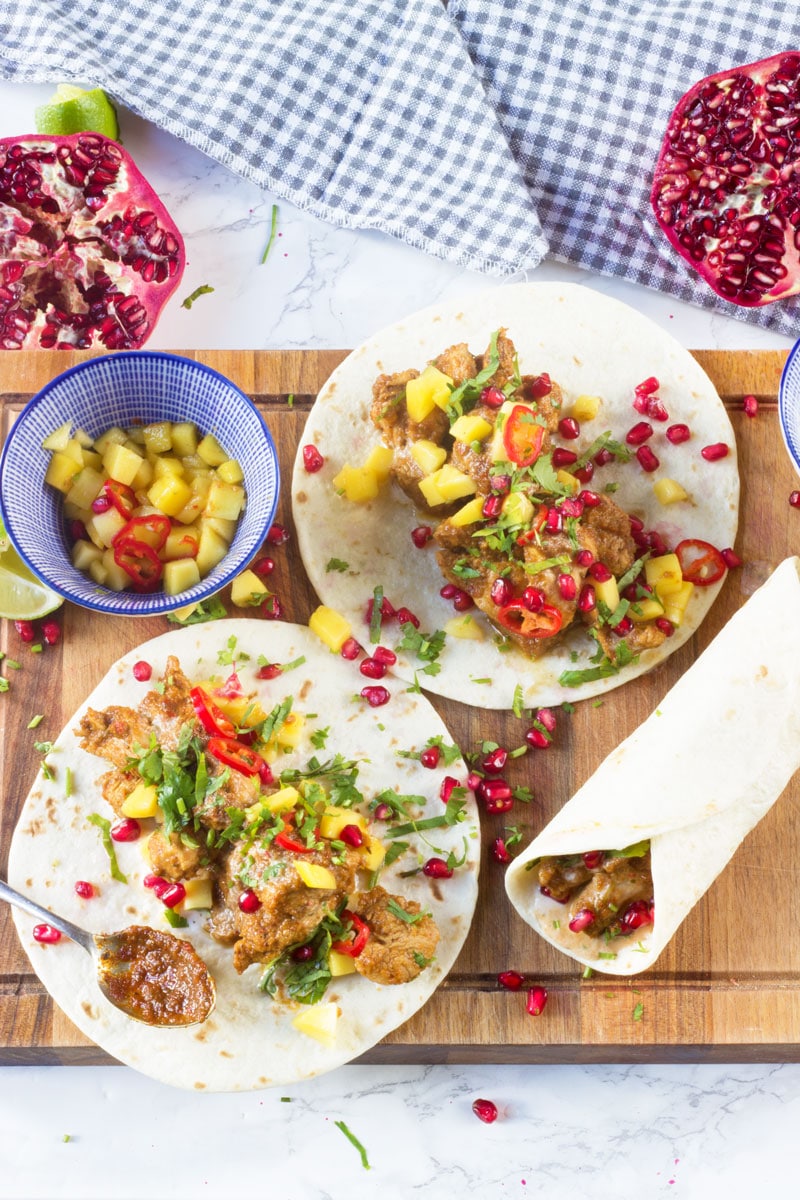 But of course, if you still fancy the coconut rice - then why not go for the burrito option!??  🙂
For more burrito/wrap inspiration check out my chipotle chicken tinga burritos, my beef brisket burritos and my paprika chicken wraps.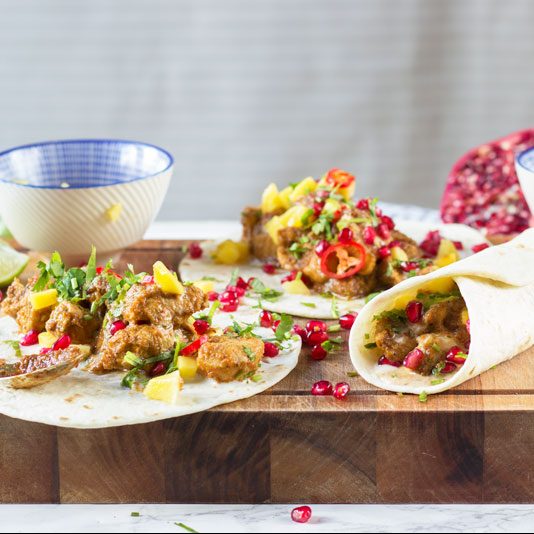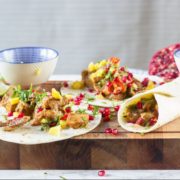 Jerk Chicken Tacos
Chicken pieces smothered in a rich and spicy Jamaican jerk sauce, topped with ripe pieces of mango, juicy pomegranate seeds and all wrapped up in a soft flour taco.
Ingredients
For the coconut dressing
50

ml

light coconut milk

2

tbsp

fat free greek style yogurt

Juice of ¼ lemon

¼

tsp

dijon mustard

salt and pepper
For the Jerk sauce
2

tbsp

olive oil

2

tbsp

light soy sauce

80

g

shallots roughly chopped

2

garlic cloves finely chopped

2

red chillies deseeded and roughly chopped

2

tbsp

dark muscovado sugar

1

tsp

coriander

½

tsp

cayenne pepper

1

tsp

ground ginger

1

tsp

ground nutmeg

1

tsp

dried thyme

Juice of 1 lime

50

ml

water
For the Tacos
300

g

chicken breast

4

miniature white flour tortillas

or corn tortillas or hard tacos if preferred

Half a mango diced into small cubes

Half a pomegranate

Handful of fresh coriander

Juice of half a lime
Instructions
For the coconut dressing
In a small jug whisk together all the dressing ingredients then set to one side.
For the Jerk sauce
If using a hand blender place the ingredients into a tall container (alternatively use a processor or blender). Place all Jerk sauce ingredients into the container and blend together until smooth. Taste and add more seasoning, spice, lime juice or salt if desired.

Put half the jerk sauce to one side for later. Pour the remaining half over the diced chicken and mix to ensure the meat is well coated. Marinade the chicken in the fridge for at least 30 minutes.

Transfer the marinaded chicken to a large pan and set on a medium heat. Simmer gently of 10 minutes or until the chicken is cooked through.

Transfer the cooked jerk chicken to a bowl ready to assemble the tacos. Pour the remaining half of the jerk sauce into the pan and heat gently whilst finishing off the rest of the dish.
For the tacos (see video in post above for putting together tacos)
Lay out the tortillas. Spoon a line of the Jerk chicken down the centre of each tortilla. Spoon over the remaining heated jerk sauce - any extra place in a small dish for serving. Return to your coconut dressing from earlier - give it a quick stir then drizzle a teaspoon full over the chicken on each of the tortillas. Next, scatter the cubed mango and circles of red chilli. Use something heavy such as a rolling pin to bash the back of the half pomegranate to knock out the seeds and scatter over the tortillas. Finally add fresh coriander and a squeeze of lime.

If you prefer - place all the topping on the table and allow everyone to build their own.

Wrap and enjoy!
Video
Nutrition
Serving:
348
g
|
Calories:
478
kcal
|
Carbohydrates:
52.4
g
|
Protein:
43.6
g
|
Fat:
12.5
g
|
Saturated Fat:
3.4
g
|
Polyunsaturated Fat:
1.5
g
|
Monounsaturated Fat:
6.5
g
|
Fiber:
3.4
g

I am linking this recipe to #cookblogshare hosted by hijackedbytwins, recipesmadeeasy, everydayhealthyrecipes and Easypeasyfoodie. I am also linking to #whatsfordinner? hosted by TheLazyGastronome, #CookOnceEatTwice hosted by seachingforspice, and #recipeoftheweek hosted by aMummyToo.