Guest blog post from Katya's Cake Hole on her favourite Manchester restaurants
Hi there.
My name is Katya and I'm author of Katya's Cake Hole.
The blog title is a bit of a give away but if you haven't guessed yet, I'm a food blogger. Debbie has kindly invited me to guest blog on ProperFoodie about my favourite five restaurants. My boyfriend Jamie and I have done an awful lot of eating in and around Manchester in the last year, so I'm in a good position to give you the low down.
So here we go:
Where The Light Gets In, Stockport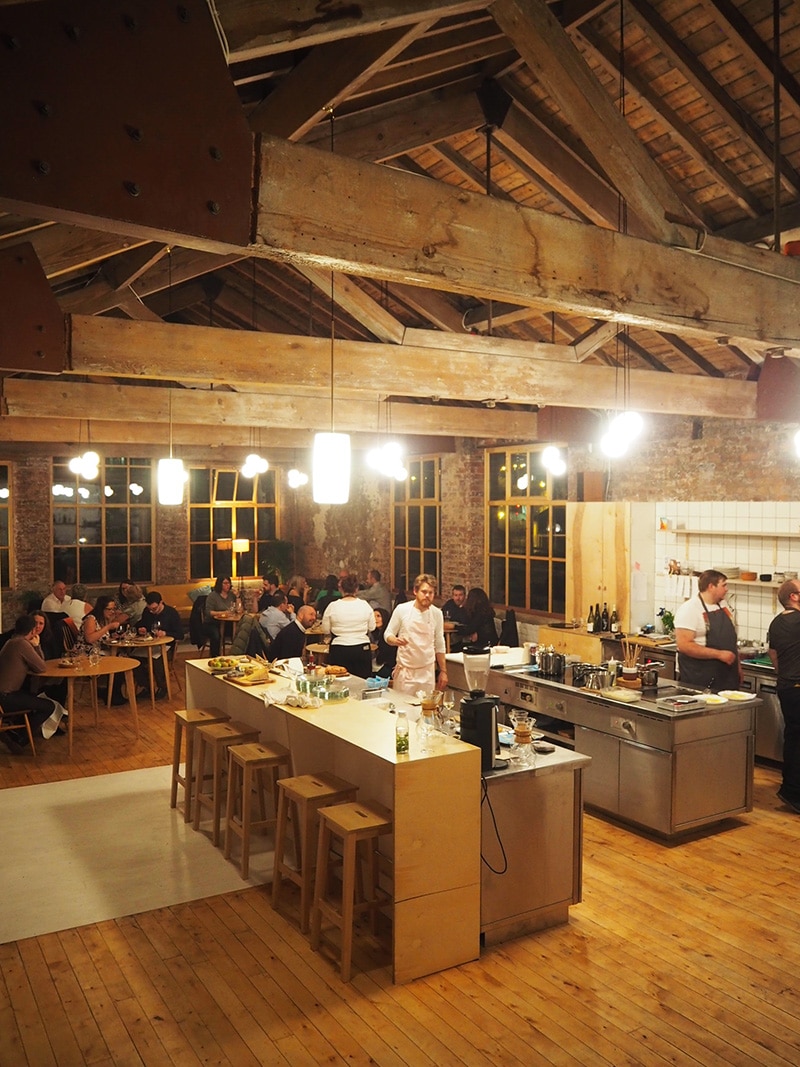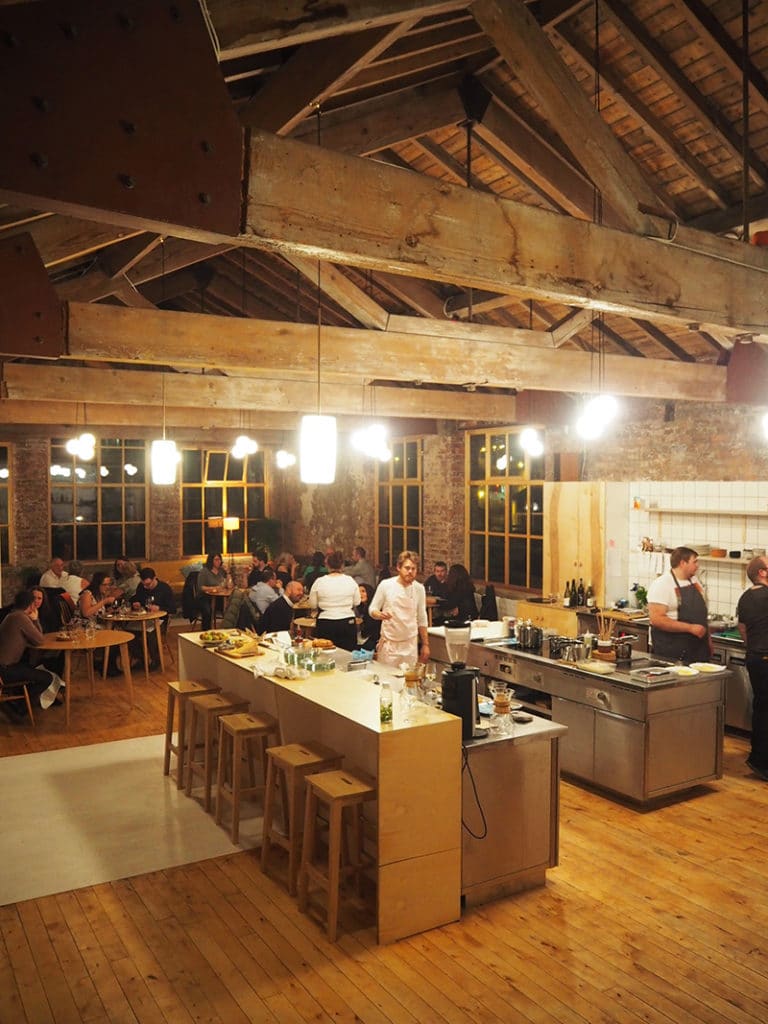 Chef Sam Buckley had a vision to create a truly immersive restaurant with all the ingredients sourced locally. He wanted to provide a beautiful experience that was about far more than the food. And he's well and truly done it. WTLGI feels like a restaurant you would find in Copenhagen – the building itself is a 1930s dancehall/former coffee warehouse – there's exposed brick and exposed rafters, high ceilings and Ercol chairs. It's artfully put together. And the most unusual feature is that the kitchen is slap bang in the middle of the restaurant.
The food is a six course taster menu and each course is served by staff who both cook and serve, and as they present the food, they describe the dish and where the ingredients come from. I loved finding out that I was eating Lyme Park apples, Chorlton Water Park quinces and sprats from a beach in North Wales. How brilliant to hear the story behind every course.
Find out more by visiting Where the light gets in website and read Katya's full review on this restaurant here.
The Allotment Vegan Restaurant, Stockport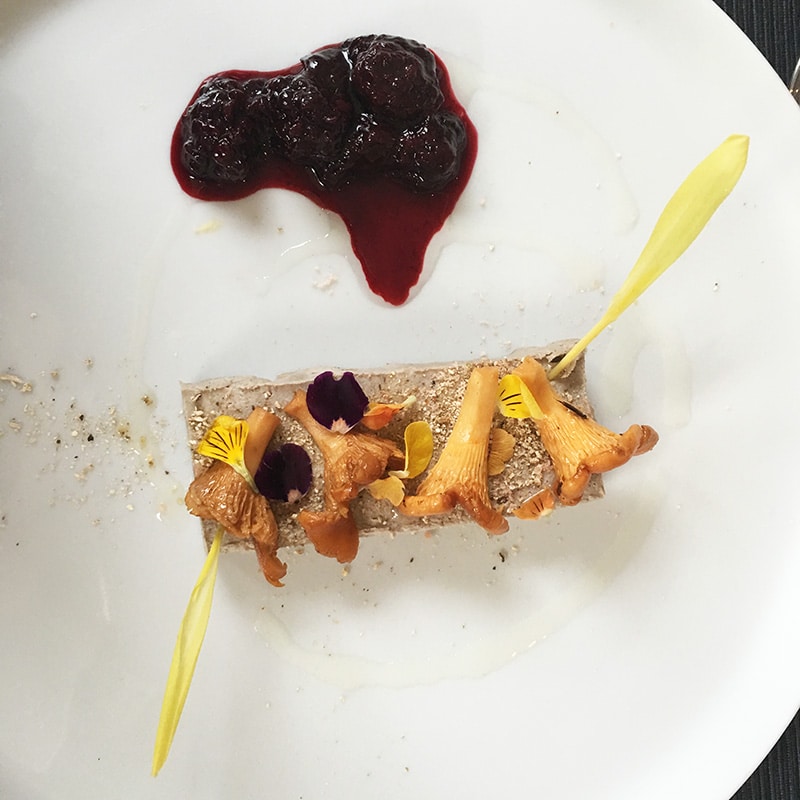 Jamie and I were bowled over by the food. Neither of us realised vegan food could be this exciting. My starter was a big highlight, a shitake parfait and seasonal berries, the sharpness and sweetness of the berries against the creamy, earthiness mushrooms just worked. The main 'mixed grill' of hot fried cauliflower and confit, peppered, aubergine steak was succulent and tasty, but it was the pudding that really stole my heart. An exquisite mudpie with sweet potato custard. I thought it might be vegetably and worthy, but oh no. . . A rich moist brownie-style mudpie with the sweetest, creamiest most un-potatoey custard you can imagine.
Whether you are a vegan, vegetarian or hardcore carnivore you will love the Allotment. And whether you live in Leeds, Liverpool or Stockport, it's worth the trip, this is exceptional, imaginative food served in a lovely, welcoming and thoughtful atmosphere.
Find out more by visiting The Allotment website and read Katyas full review of this restaurant here.
Rudy's Pizzas, Ancoats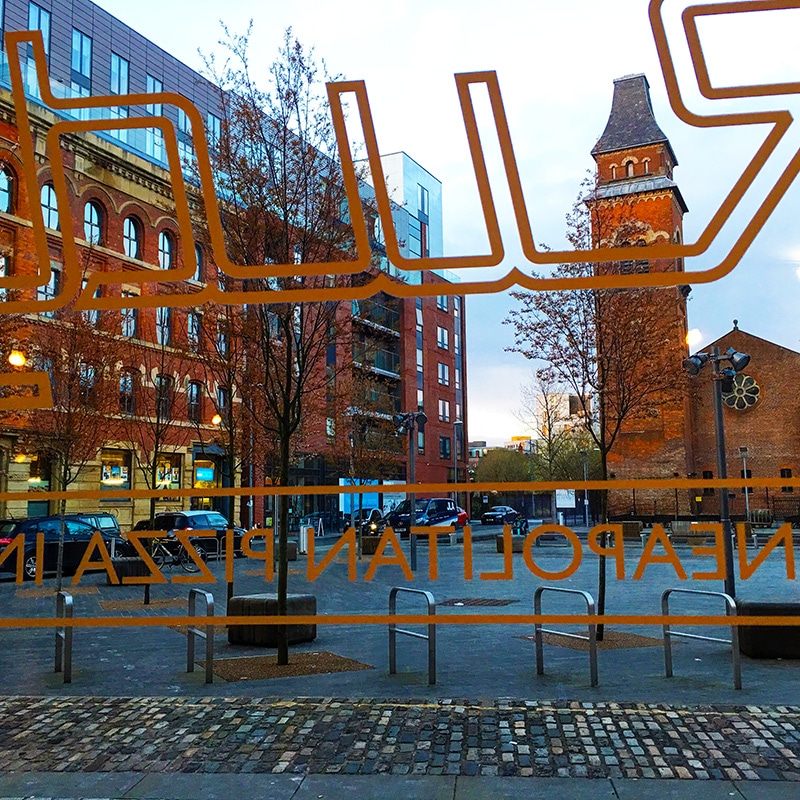 Rudy's do incredible stonebaked pizzas. The white pizza below called Ancozzese, with wild broccoli and tuscan sausage, is sensational.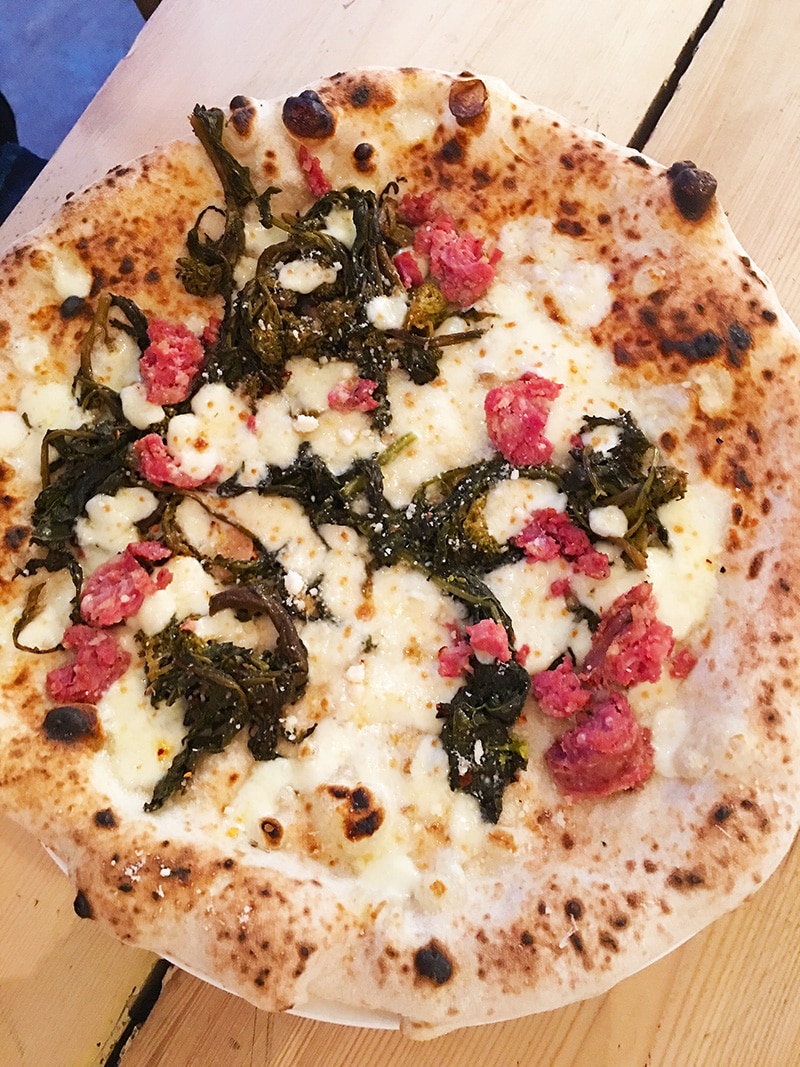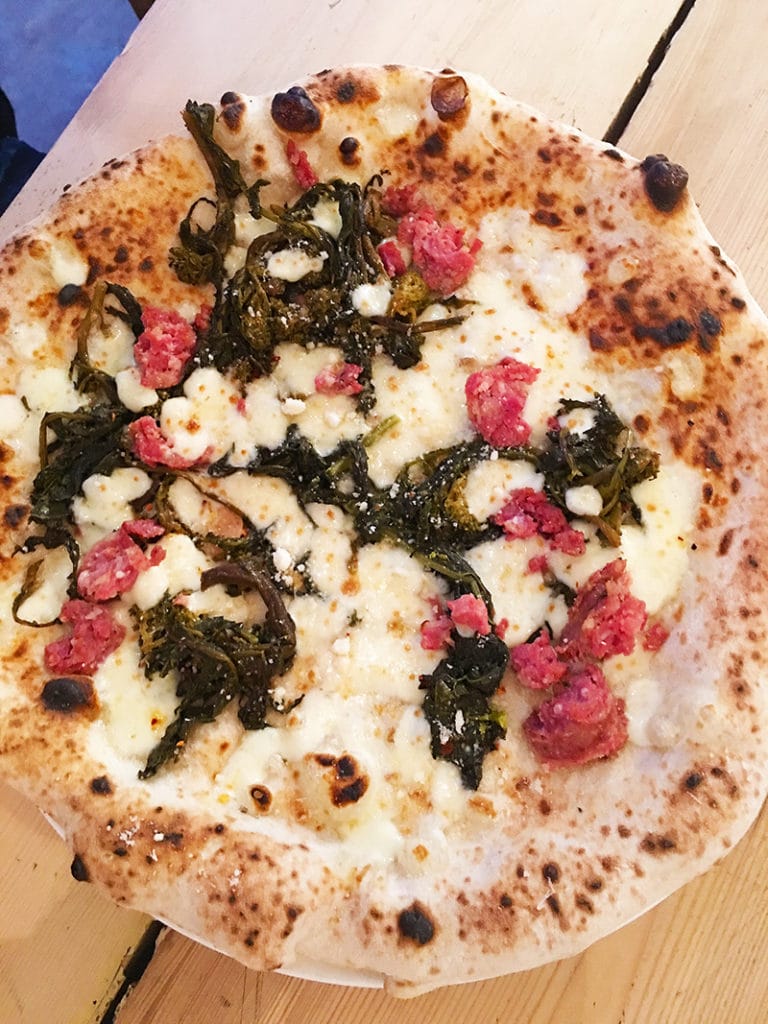 Rudy's is a gorgeous and effortlessly trendy, glass-fronted venue in a pretty square in Ancoats. The staff are lovely and the venue is buzzing.
Rudy's is quite different to any pizzeria I've ever been in, it's big and airy and feels a little industrial with lots of wooden benches to sit on. The huge pizza oven is in full view at the front of the restaurant with lots of cool looking dudes in baseball caps making the pizzas. The dough is made on site following the cultural tradition and artistry of Naples pizza.
Find out more by visiting Rudys pizza website and read Katya's full review of this restaurant here.
Yuzu, Chinatown
This is a tiny, homely and simple restaurant that sells beautiful honest Japanese food. We had stunning sashimi, tempura and Gyoza (Chinese dumplings), and the atmosphere is delightfully low key and pleasant.
Having eaten in a lot of trendy Manchester restaurants in 2016 that tend to follow a bit of an obvious formula, it was refreshing to stumble across this offbeat, authentic Japanese joint. Very good value too.
Find out more by visiting the Yuzu website.
El Gato Negro, King Street
This award winning restaurant opened at the beginning of 2016. The interior is elegant and stylish and their tapas is equally excellent. There is something classy and uncomplicated about the whole package, helped by the staff being attentive and friendly (and a lot of them seem to be Spanish). Along with some other wonderful dishes, I ate the best tortilla of my life – moist, rich and herby.
And make sure to have a good sneak around the whole venue as there's a lovely looking bar on the ground floor (pictured above) where you can order simple tapas with your drinks. And even better, tucked away on the top floor is The Black Cat cocktail bar with delightful views of the city and a retractable roof.
Find out more by visiting the El Gato Negro Tapas website and read Katya's full review of the restaurant here.
To learn more about Katya and her blog visit her website here. Also, hop over to Katyas blog to read my guest post on:
5 recipes to keep you sweet this Valentines.
Pin for later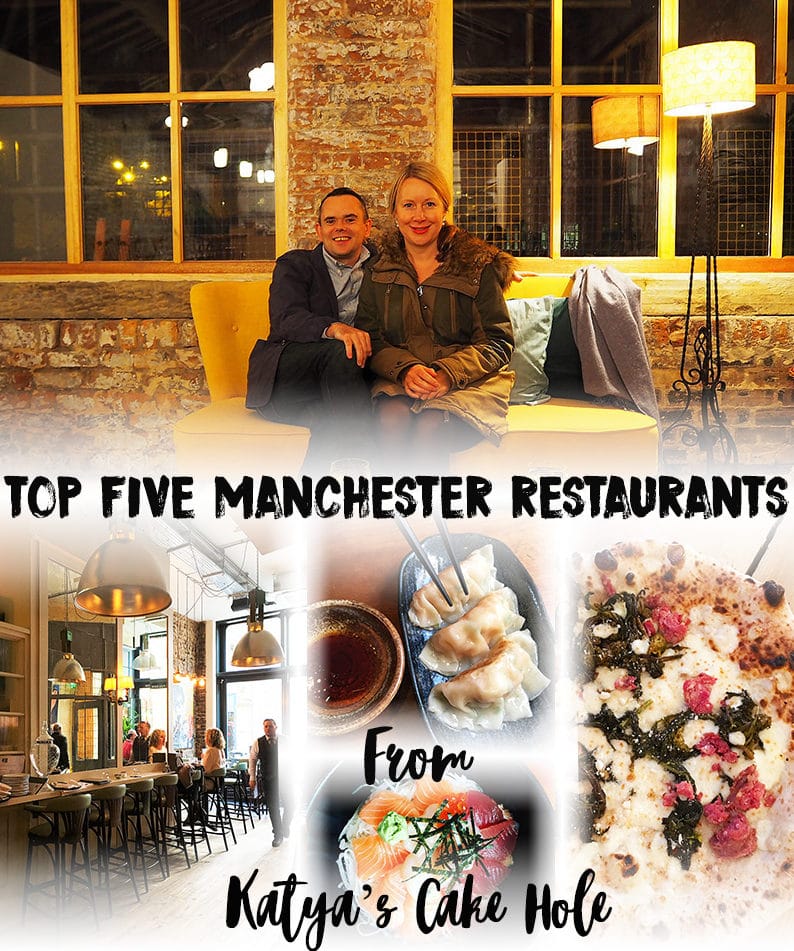 I'm linking this post to #brilliantblogposts hosted by honestmum