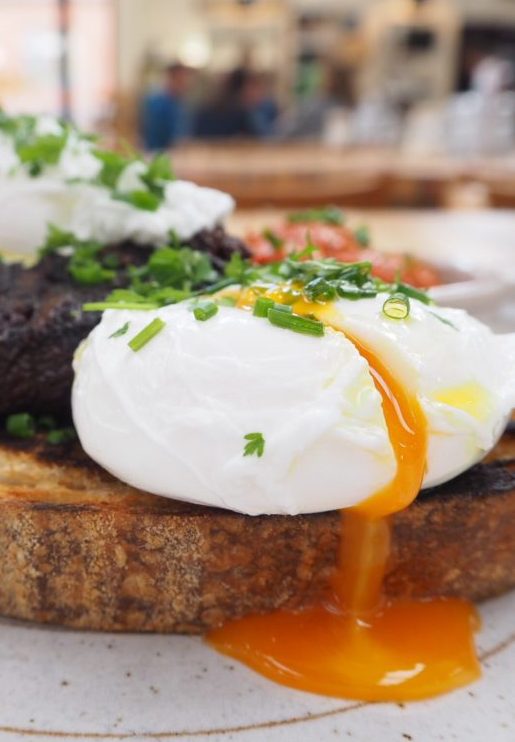 Hi everyone, it's Katya and I'm back on Debbie's blog to give you a rundown of my favourite brunch venues in Manchester.
Brunch
I'm not really a bruncher, but I fancied a change from reviewing dinners at restaurants.   So I decided to branch out and dabble with brunch.
As it turns out, it's been a fabulous excuse to flounce around Manchester, experience lovely venues and brilliant food, and meet up with fellow freelancers to have a gossip.
After eating in 9 recommended venues, I narrowed my shortlist of favourites down to five.   The remaining unfavoured four venues will stay unnamed.
Here goes:
1. Wolfhouse Kitchen, Altrincham Market: sticky maple bun
I gobbled up every crumb of this delightful bun. Lovely fresh dough, delicious caramel sauce, crunchy sweet maple nuts. I felt very smug about my excellent choice of baked good.  And the buzzy bright atmosphere of Altrincham market is a joy to experience. I adore looking at all the artisan food vendors going about their business, and just soaking up the vibe and people watching.
Click here to find out more about Wolfhouse Kitchen
2. Little Window, Altrincham Market: poached eggs and morcilla black pudding and romesco sauce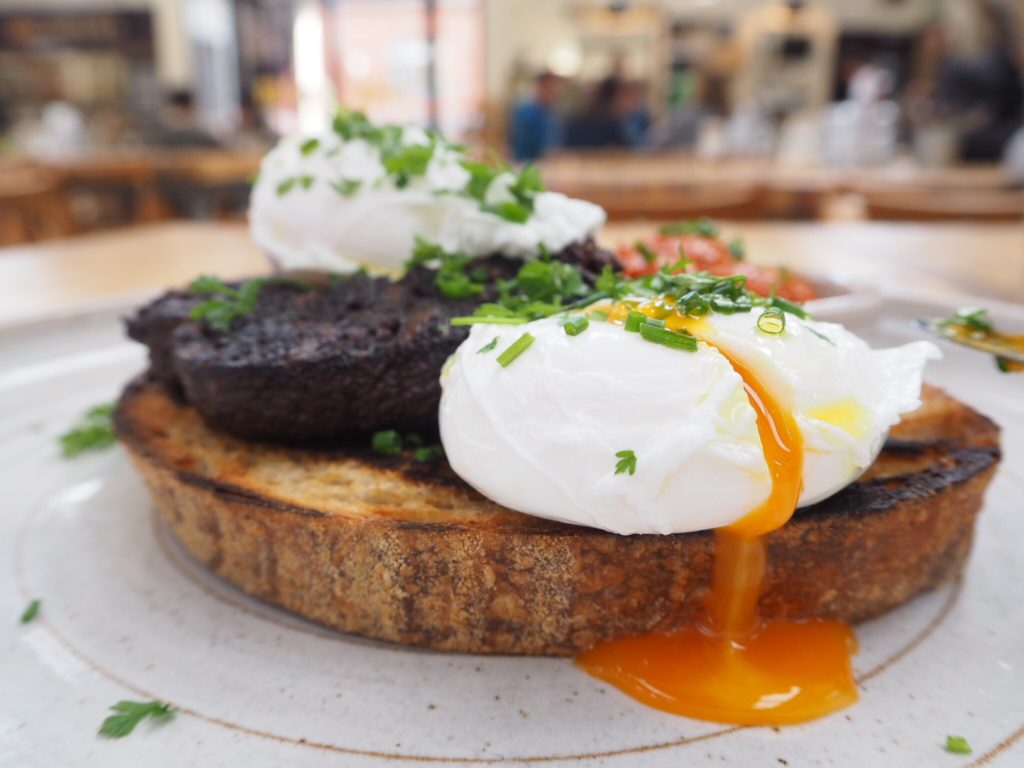 As you can see, I've become a big fan of Altrincham Market.  Just to clarify I ate the poached eggs and the sticky bun on two separate visits.  I'm greedy, but even I have limits. This was a cracking dish – I've no doubt my arteries were clogging at a rapid rate as I ate this, but it was worth every mouthful.  The romesco sauce is spanish and is made from sherry, tomatoes and almonds – it was a bit like a spicy pesto. And the sauce was wonderful with the black pudding, eggs and sourdough.
Click here for more info on Little Window
3. Federal Cafe, Northern Quarter: brioche french toast, fruits, mascarpone and caramel sauce
This made my day! Love this cosy little Antipodean style cafe, with cool old school tables and chairs.  The french toast was just beautifully cooked and the presentation was so much fun.  It was completely indulgent – a sugary creamy fruit treat.
Click here to visit Federal Cafes website
4. Trove Cafe, Levenshulme: smoked mackerel, salsify, pickled radish and rhubarb vinegar on sourdough toast
I've always been a fan of Trove, I adore their minimalist style and tasteful quirky menu.  We went down on a Saturday and had no problem getting a seat in their newly extended cafe.  The smoked mackerel was a really tasty choice.  Filling and full of interesting flavours.
Click here to visit Trove cafes website
5. Ezra and Gil, Northern Quarter: squashed avocados on sourdough toast
It's very easy to not quite get this dish right.  I'm fussy about my avocados on toast.  And Ezra and Gil hit the spot.  Chilli and feta thrown into the mix made it extra interesting.  Ezra is just such a pretty urban and spacious venue. I'll be back for hot-desking and more food, I really enjoyed the atmosphere.
Click here to visit Erza and Gils website
In summary
I think I may now have a new brunch addiction. Brunch, I've discovered, is an excellent and fun excuse to socialise and experiment with new foods and venues without spending a fortune.  I intend to continue brunching my way around Manchester discovering new dishes and cafes. Anyone care to join me?

If you'd like to check out more of my blogposts go to katyascakehole.com