Katya is back to tell us about another 5 fabulous Manchester restaurants. This time its restaurants geared up to serve vegetarian food, and by the looks of it they are doing an amazing job…over to Katya…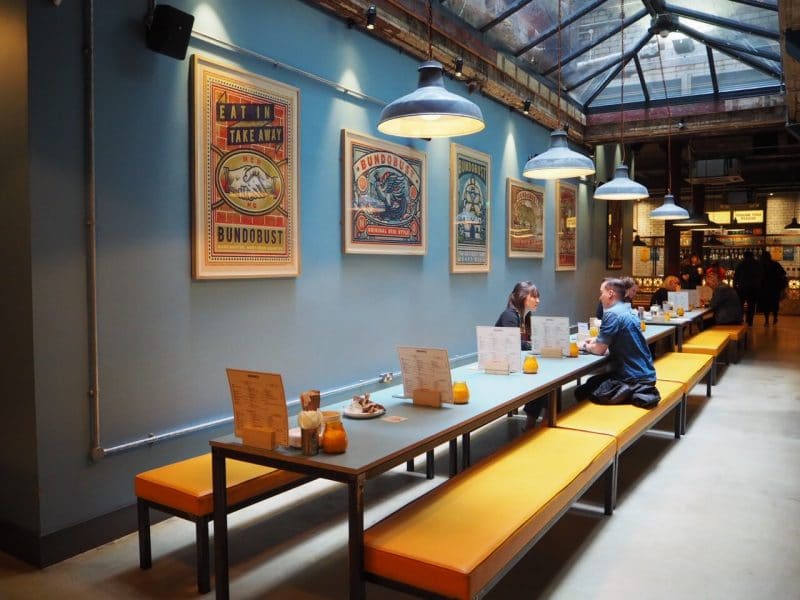 In the past few years I've found myself enjoying vegetarian and vegan food more and more.  I'm still very happy to have meat in my diet, but the more I've experimented with my Green Kitchen, Thug and Ottolenghi cookbooks, I've realised that veggie food is often more interesting and tasty. And as it's good for my health and the planet, I'm very happy to embrace vegetarian eating when I can.
Veggie restaurants in Manchester
I've picked five excellent vegetarian venues in and around Manchester that I've really enjoyed recently.  The wonderful Allotment Vegan Restaurant in Stockport is not mentioned in the list, only because I've already reviewed it.
So here we go:
This is brilliant Indian street food – tasty, good value and excellent craft beers on offer too.  We had four dishes for lunch (okra fries, massala dosa, egg bhurji and bhell puri) between us for just £14.  All were incredible, but the okra fries in particular were a crunchy revelation.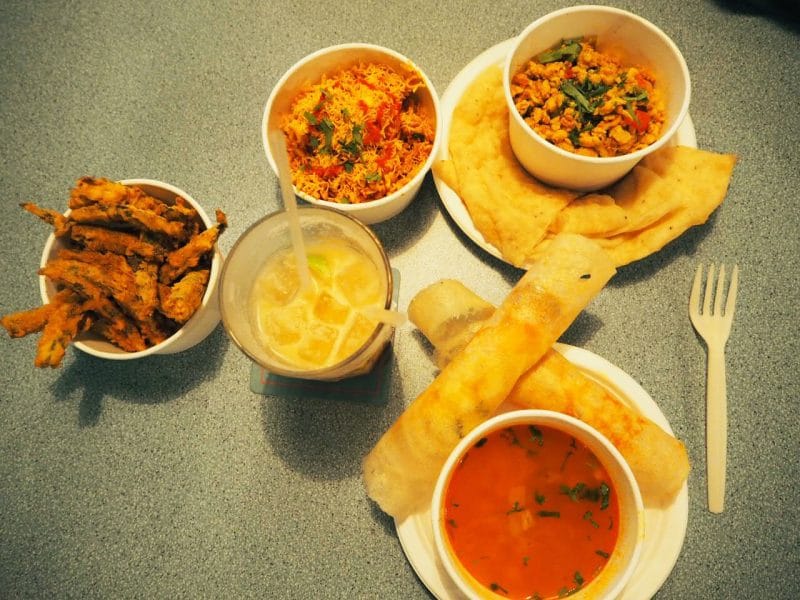 And I love the venue too – it's in a basement near Piccadilly Gardens with bold blue walls and long yellow benches along communnal tables all lit up by a huge skylight accross the ceiling (see the photo at the top of the blog).  It's relaxed, stylish and spacious and the staff were really jolly and helpful too, which always makes everything so much more enjoyable.
Greens is a vegetarian restaurant that celebrity chef Simon Rimmer opened 27 years ago and it's just pure class!  Tucked away on Lapwing Lane in Didsbury, it's a beautiful and welcoming place – there's lovely artwork on the walls, and it's all thoughtfully decorated and laid out.  I went for the full greedy three courses with some amazing beetroot pakoras for starters,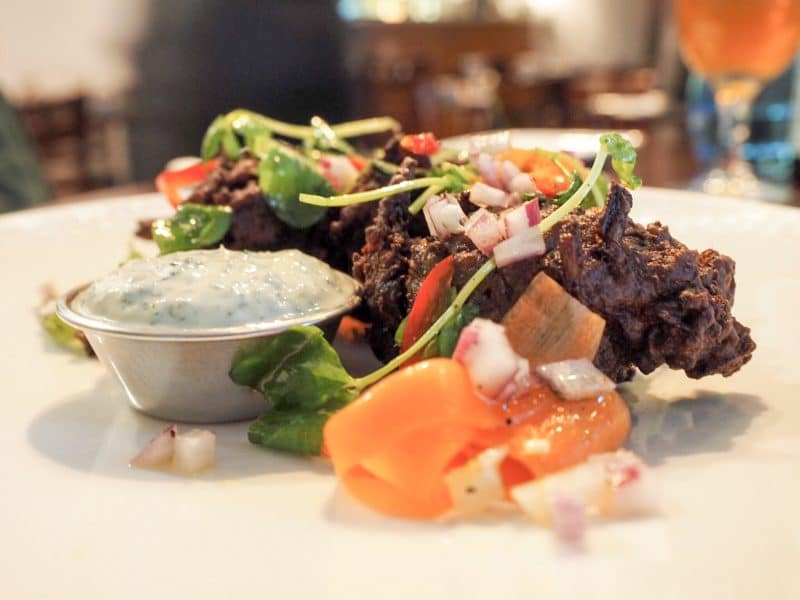 roasted cauliflower and lentil curry for main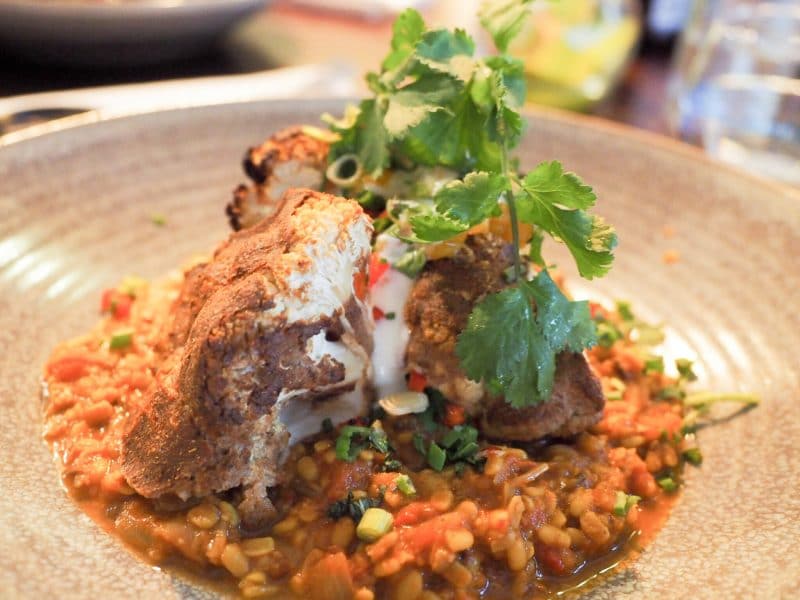 and peanut butter and jam cheesecake for dessert.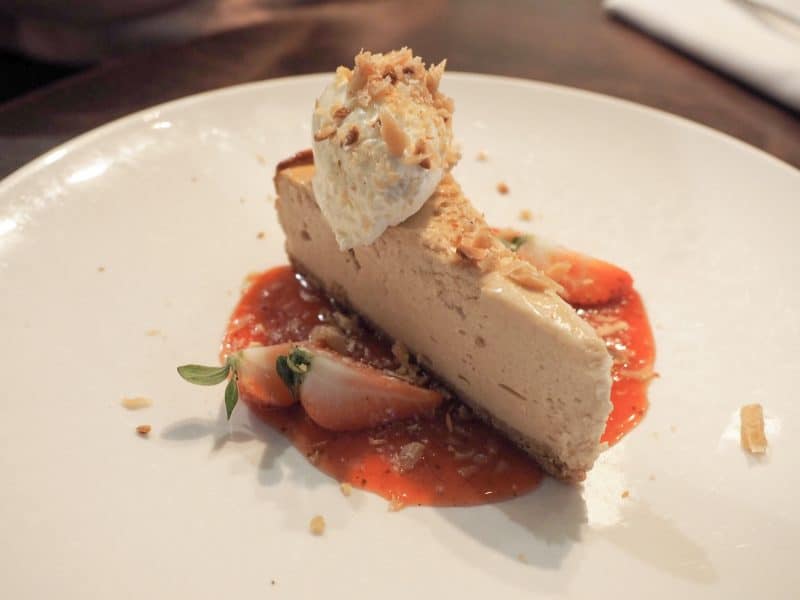 Apart from being an excellent and mouthwatering meal, I found the atmosphere so delightful, the staff were really attentive. And everything about the evening was just, I'll use the word again because it's so right – classy.
If you haven't been, you really should, it's a true hidden gem.  It's a simple venue with a very unexciting shopfront, so we went in not expecting much, but wow, Sanskruti really delivers.  There was so much to choose from on the menu that I didn't know where to start.  We ordered a kela nu shaak (aka banana curry) which believe it not, was incredible.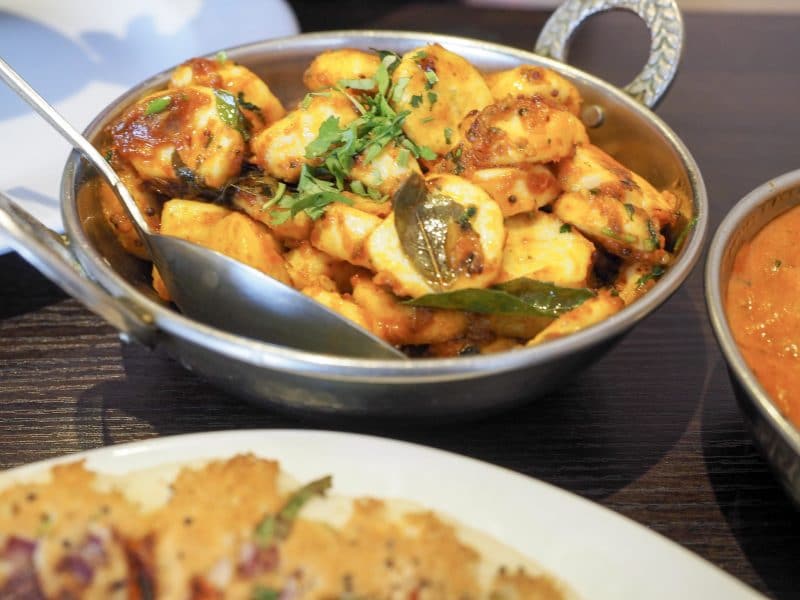 Also vada pav – a kind of spicy potato burger in a bun and a north Indian jackfruit curry (no idea what jackfruit is but it tasted good), and all mopped up with 'uttapam' – a thick rice and lentil pizza like pancake served with coconut chutney.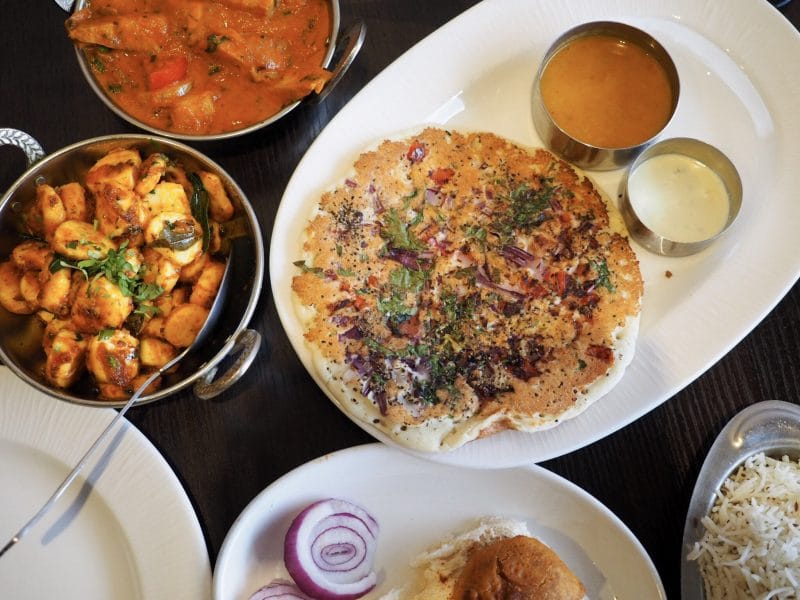 And the bill for two including drinks came to just over £30 – bargain.
Operates as a kind of pick and mix buffet bar – you point at what you want and assemble whatever crazy random concoction of items you want to throw together.  And for just £7 my plate was piled high with dal, sweet potato pie, plantain fritter and beetroot salad.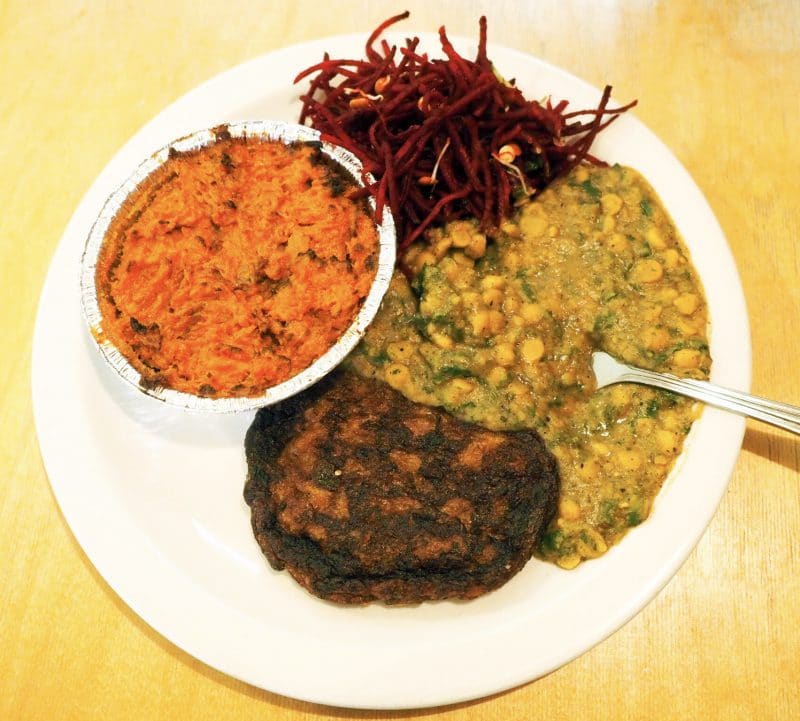 Fine dining it is not, but for a lovely delicious plate of stodgy veggie food, Earth Cafe hits the spot.  And I love the chilled out vibe of the place, which I guess you'd expect from a Buddhist Centre.
This is a brand new Cambodian restaurant and on Sundays they do a vegan only menu.  It's a modest little place, but the food is amazing. I ordered a noodle and tofu dish which was tasty, but not as incredible as Jamie's 'Cambodian kari' – a curry made with lemongrass, sweet potatoes, peppers, peanuts, coconut milk, seitan and served with chilli fried rice.
I was so envious that Jamie agreed to swap dinners with me. He is the best boyfriend.  We are keen to go back and try more (admittedly we may go back and try the meat menu!).
To sum up
I enjoyed having to sniff out the best veggie places in Manchester.  I know I didn't tick off everywhere, but I feel chuffed with the vegetarian adventure I did have.  I think vegetarian restaurants have to work that little bit harder to make their dishes flavourful and that can really pay off.  Two places I still want to go to are Gud vegan street stall at Alty Market and Lotus veggie restaurant in Withington.  I have heard very good things about both places.
Happy eating everyone!