I absolutely love this matcha granola breakfast. It's so simple, really tasty and provides a healthy start to the day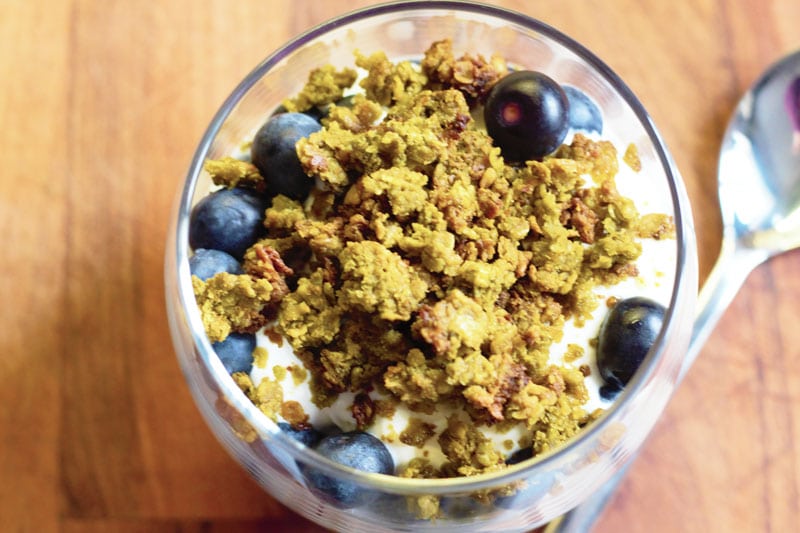 It's even something you can have on-the-go, if the granola has been made up previously. And let me tell you this granola is well worth making - with only 5 ingredients and a super easy method it would be madness to not have a batch of this in the cupboard at all times.
So with matcha being the new thing in my cupboard I'm trying to come up with a few recipes it can be used in. It's such a great flavour, has a wonderful bright green colour, and it also has the benefits of lots of antioxidants and a lower caffeine content than standard tea or coffee (although it still has a bit for a little kick start). The best thing, however, is that it makes great granola that goes amazing well with a bit of yogurt and  some blueberries - delicious!
The granola is best prepared in a bowl to ensure all the ingredients are well combined before turning out onto a baking tray. Depending on how much granola you're making, try and keep it all together on one section of the tray and at least 1 cm deep. Also, remember to keep checking the granola whilst its cooking - breaking it up and turning it over will help it cook and colour more evenly.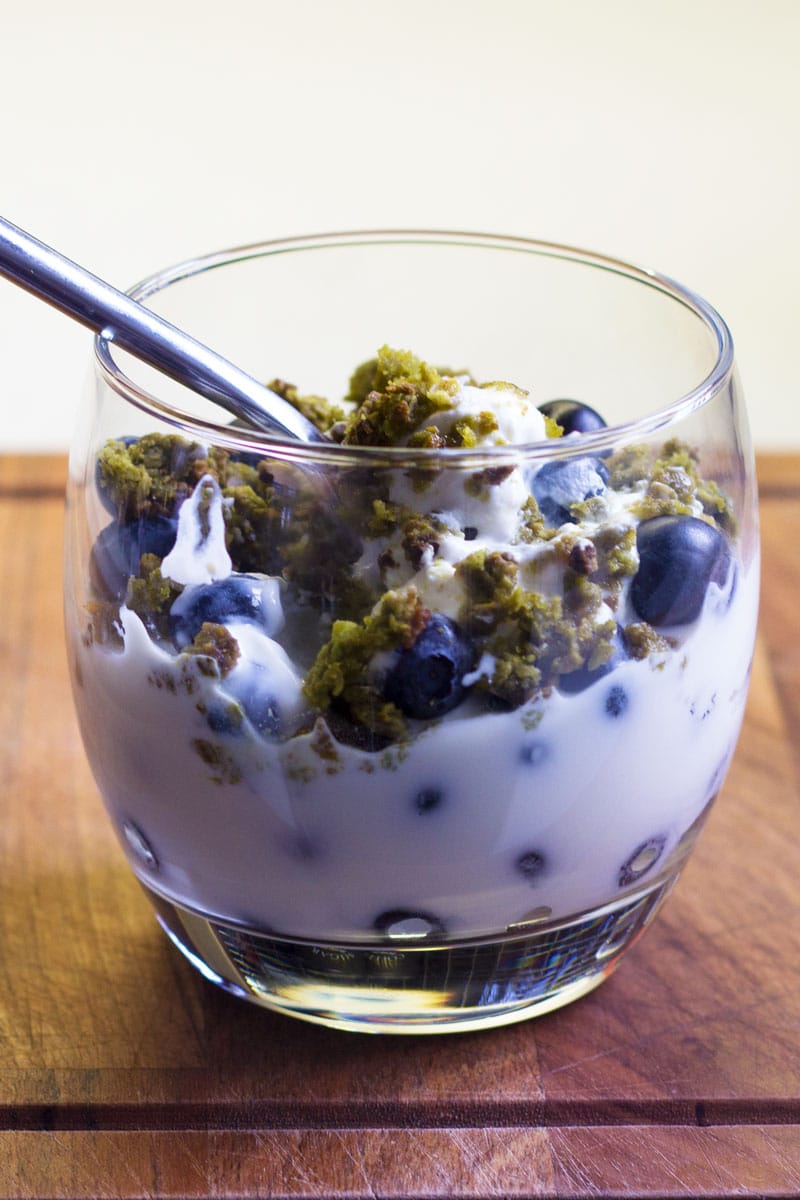 A quick note on what I'm up to at the moment: Last week I started a 4 week professional cookery course (click here to find out more and follow what I'm doing at Ashburton Cookery School). This means that a lot of my time is currently being taken up by cooking, which is just how I would like life to be all the time. However, I will be going back to my research job mid-March but I should be returning as a qualified chef!! So exciting!! While I'm spending time trying to improve my cooking it will mean recipes for the blog may not be as frequent. Luckily I still have a couple that I prepared earlier - of course!! 🙂 And hopefully I'll find the time to write these up and get them posted. Enjoy the matcha granola!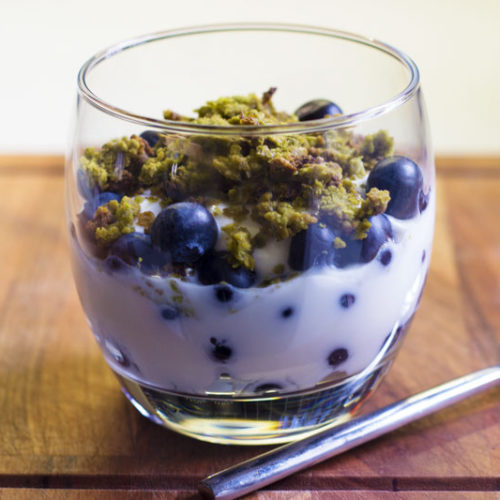 Matcha granola and blueberry yogurt breakfast pot
I absolutely love this matcha granola breakfast. It's so simple, really tasty and provides a healthy start to the day
Ingredients
200

g

Greek yogurt

100

g

blueberries

200

g

rolled oats

½

tsp

matcha powder

1

tbsp

olive oil

2

tsp

clear honey or syrup

1

tsp

desiccated coconut
Instructions
To make the Matcha granola:
Pre heat the oven to 180 degrees C.?In a mixing bowl combine the oats, oil, Matcha,

honey and coconut.

Mix well then spoon the mixture into the centre of

a baking tray, keeping the mixture together and

at least 1cm thick.

Bake for 25-30 minutes. Check occasionally by

breaking up, turning the oats and bringing back

together. This should help the granola to cook evenly. Once the granola has started to turn golden brown, remove from the oven and allow to cool.
To make the granola yogurt pot:
Whilst the granola is cooling layer the blueberries and yogurt in a bowl or short glass. Loosely break up the granola then crumble over the top of the yogurt and blueberries.

Grab a spoon and dig in - add extra granola if it's great and you want more 🙂

Double or triple the quantities of granola if you want to store some away for the next few days.
1 tsp desiccated coconut