Deliciously chocolatey and bursting with mint and honey aromas, these healthy, flourless courgette muffins are low in calories and high in protein. Little cups of tasty goodness, which are the perfect answer to a guilt-free afternoon treat or a post-workout snack.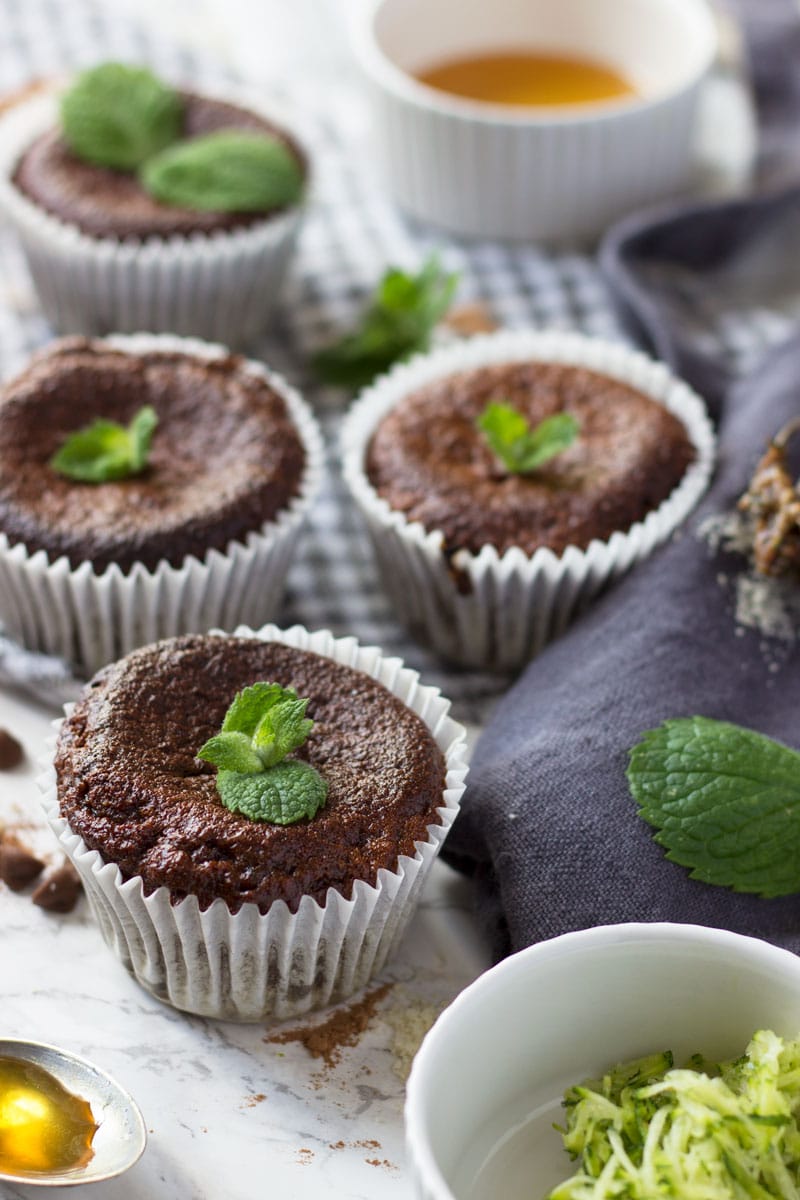 Healthy flourless chocolate courgette muffins
Sometimes life gets a little hectic, sometimes it gets a lot hectic and sometimes I find I am juggling so many things that all I want to do is sit in front of the telly and eat a massive piece of chocolate cake or make a delicious chocolate brownie recipe. Although, when the cause of said hectic-ness is due to impending wedding; telly + chocolate cake = bad idea!! What to do!!? . . . there is only one answer: make the chocolate cake healthy!! And make it into muffins to hopefully minimise over eating 🙂
And so my Mint chocolate courgette muffins were born.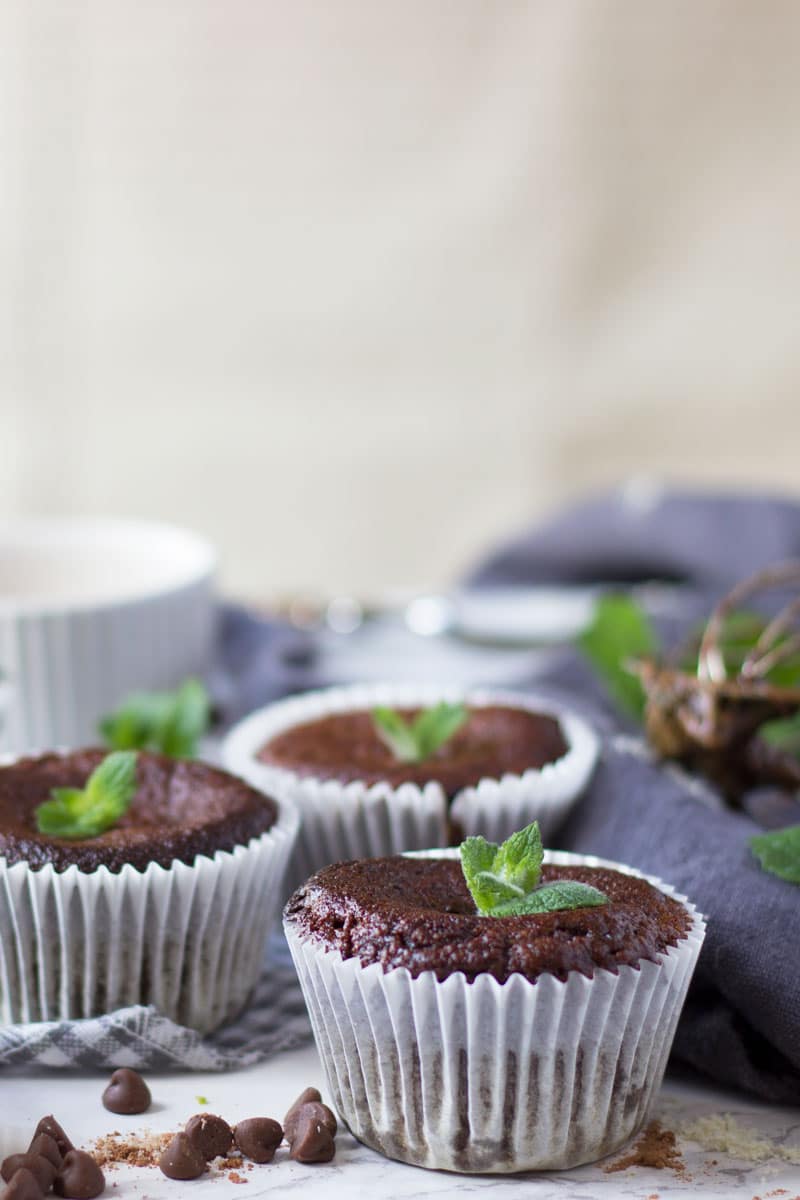 With a rich sponge-like chocolate centre, dotted with chocolate chips and flavoured with mint, almond and honey, these cakes really are the best of the best with out being super bad for you.
Wedding prep and Healthy snacking
I can't believe that its the 15th August and in just 11 days I will officially be Mrs Jones!! Wedding preparations have been going on for quite some time and I think (fingers crossed) we are almost there. However, diet and exercise prep has not exactly been ideal – mainly because Ben and I both love food. . . and the less said about exercise the better. But I don't think we've done too badly and the last 11 days will surely be what counts the most eh 🙂
So having a tasty snack to hand, which is low in fat, high in protein, gluten free and also amazing at sorting out a chocolate craving, might just come in handy over the next week or so. Plus as this week is afternoon tea week, theres definitely a need for some cake in my life right now.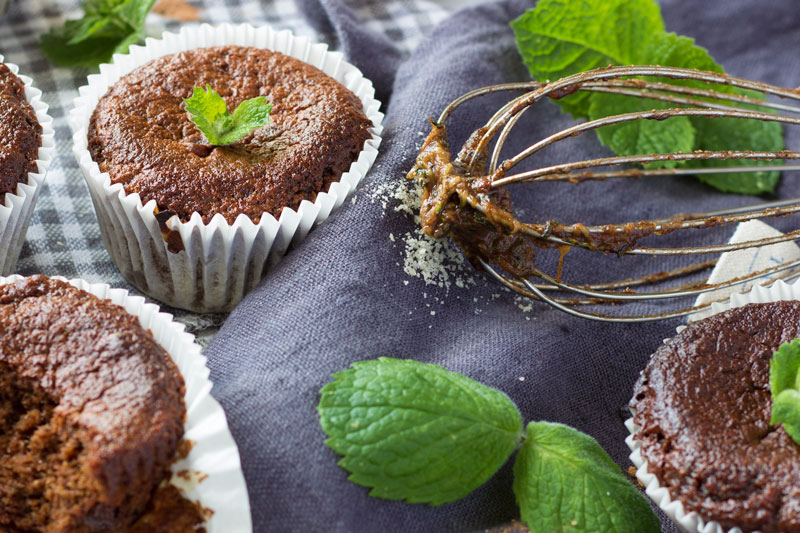 Making a muffin that is the perfect balance of good taste, good texture and good nutrition can be pretty tricky. I took 3 attempts at making these healthy, chocolatey treats and all I can say is that I'm glad I persevered. So with a tried and tested recipe to hand, theres no excuse for raiding the biscuit tin at 3pm on a Monday, and eating at least 10 million hobnobs. Who does that?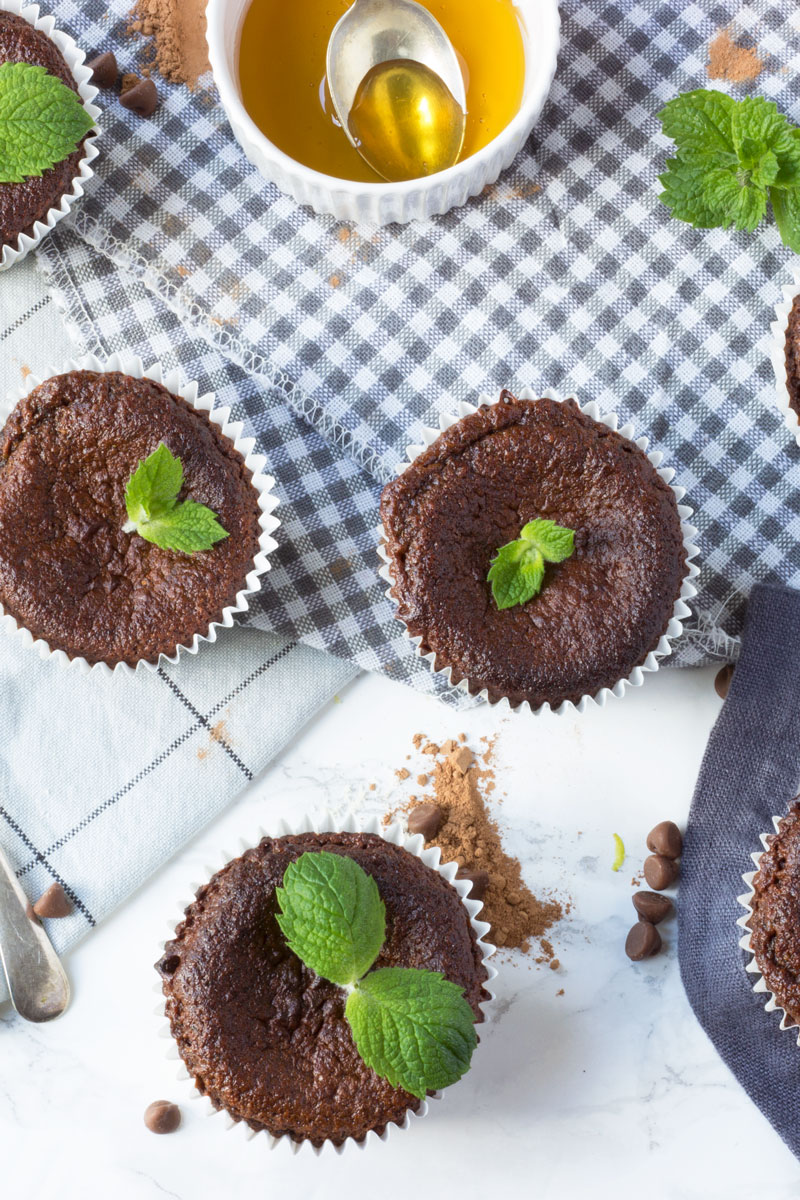 Chocolate the healthy way
These beautiful mint chocolate courgette muffins are made with 3 tbsp of cacao powder and 30g of MyProtein chocolate whey powder. I found this balance gave the best chocolate flavour and also the richest, dreamiest chocolate colour. However, the ratio of these amounts can be altered to suit your tastes and requirements.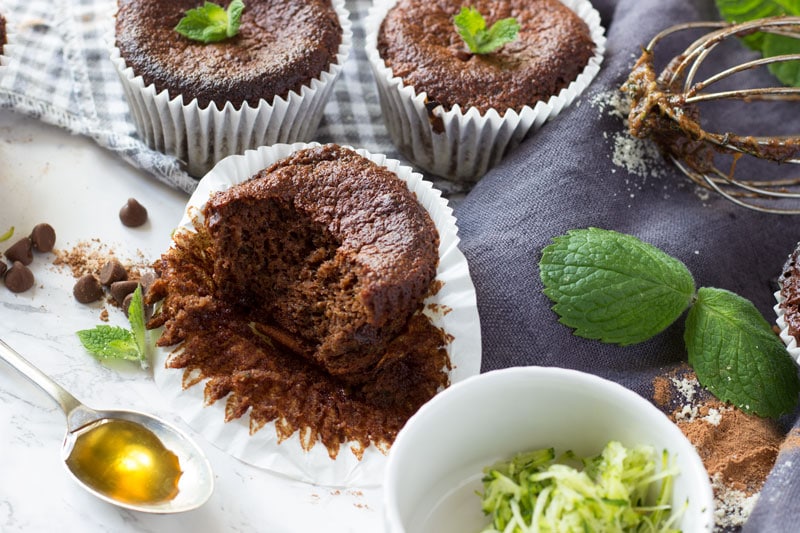 Making healthy courgette muffins
Prep and cooking time take only 30 minutes and all the ingredients can be mixed with just a plain old whisk – no need to bother with the hassle of getting out your food mixer.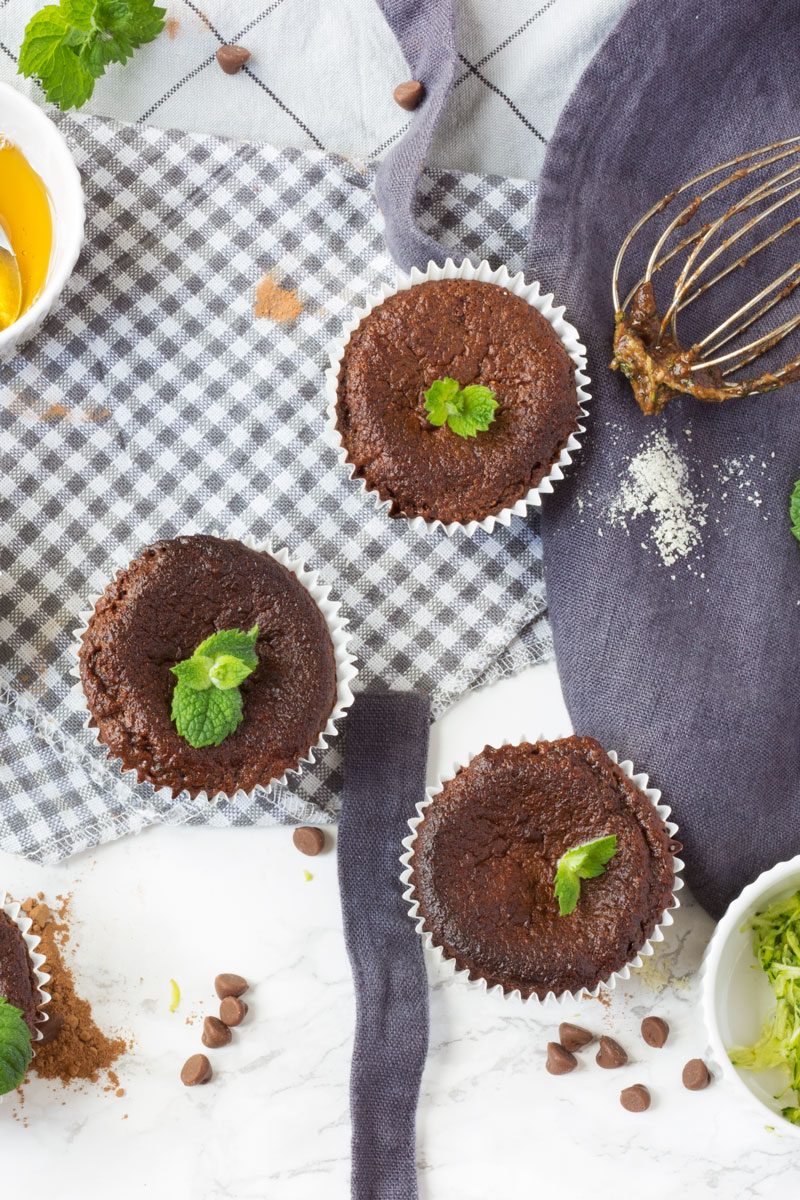 No Flour, no butter and packed full of courgette and protein, the only other question I keep asking myself is: why have I not made these sooner!! So if your after an easy to make healthy treat, then look no further , particularly if you have a massive chocolate addiction like me 🙂
Looking for more muffin ideas? have a look at my other muffin recipes:
**Estimated nutritional information per mint chocolate courgette muffin and per 100g. If you want to find out more about how the information is calculated and the sources used, please refer to my Nutrition Information Guide.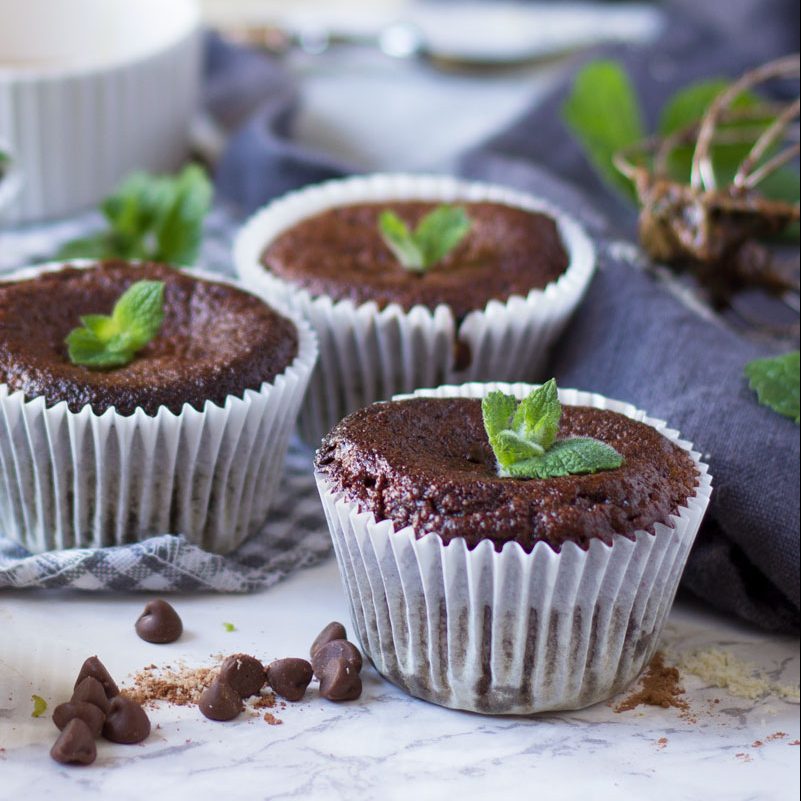 Mint Chocolate courgette muffins
Deliciously chocolatey and bursting with mint and honey aromas, these healthy, flourless courgette muffins are low in calories and high in protein. Little cups of tasty goodness, which are the perfect answer to a guilt-free afternoon treat or a post-workout snack.
Print
Pin
Ingredients
75

g

Ground almonds

30

g

whey chocolate protein powder

3

tbsp

cacao powder

30

g

icing sugar

¼

tsp

bicarbonate soda

150

g

finely grated courgette

125g after draining

2

medium eggs whisked

½

tsp

mint essence

2

tbsp

honey

40

g

chocolate chips
Optional
Fresh mint leaves to serve
Equipment
Mixing bowl

Whisk

Muffin baking tray

Muffin cases
Instructions
Pre heat the oven to 180 degrees C.

In large bowl mix together the ground almonds, protein powder, cacao powder, icing sugar and bicarb. Place to one side.

Finely grate the courgette onto a sheet of kitchen paper. Gather up the corners of the kitchen paper around the courgette and squeeze out any excess water.

In another bowl add the drained courgette, whisked eggs, mint essence and honey. Use a wooden spoon to mix together well.

Add the bowl of dry ingredients to the bowl of courgette and eggs and combine well.

Divide the mixture evenly between 7 muffin cases. Each case should be just over half full.

Scatter the chocolate chips over the top of the mixture in each muffin case before placing the tray in the centre of a pre heated oven. Bake at 180 degrees C for 20 minutes.

Remove from the oven and cool on rack. Top with fresh mint leaves and enjoy!
Nutrition
Serving:
72
g
|
Calories:
188
kcal
|
Carbohydrates:
13.8
g
|
Protein:
10.1
g
|
Fat:
10.6
g
|
Saturated Fat:
2.4
g
|
Polyunsaturated Fat:
1.5
g
|
Monounsaturated Fat:
5.4
g
|
Fiber:
0.4
g

I am linking this recipe to #cookblogshare hosted by hijackedbytwins, recipesmadeeasy, everydayhealthyrecipes and Easypeasyfoodie. I am also linking to #whatsfordinner? hosted by TheLazyGastronome, #brilliantblogposts by honestmum, #CookOnceEatTwice hosted by seachingforspice, #bakeoftheweek hosted by mummymishaps and casacostello, #weshouldcocoa hosted by tinandthyme, #treatpetite hosted by thebakingexplorer and cakeyboi, #bakingcrumbs hosted by onlycrumbsremain and #recipeoftheweek hosted by aMummyToo.