A spring dish
This tasty little dish was a recipe that I created earlier on in the year for my lovely friend Kat. Its a dish that is fit for a perfect sunny spring evening and one that fills your senses with the homely aromas of sizzling pancetta and fried potatoes. As an added bonus this dish can also be made in advance, which is a thing of great beauty after a long day at work.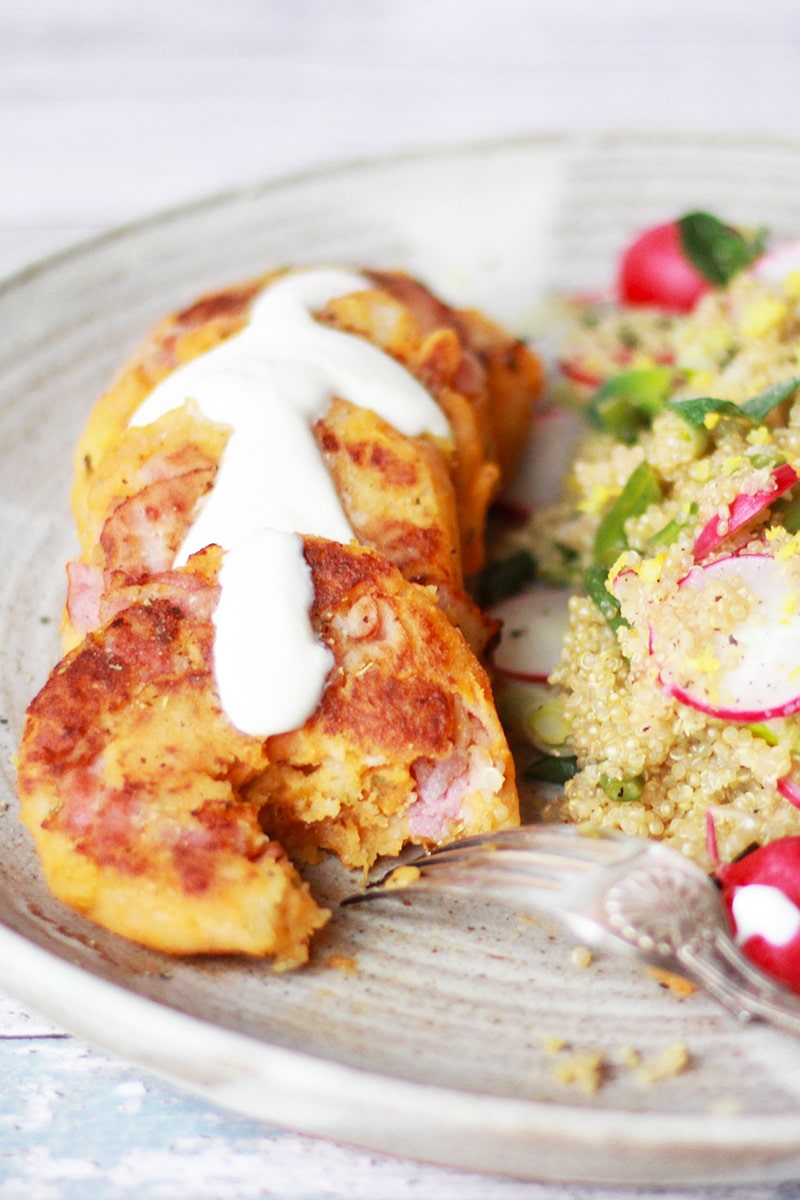 I'm so appreciative of a meal that is half ready when I get in, that I feel the development of these types of meals needs to be something I try hard to perfect this year. A plethora of recipes that can be prepped in advanced and still turn out so amazingly delicious, that you wonder why you would ever try to cook from scratch, after sitting in traffic for 2 hours, ever again.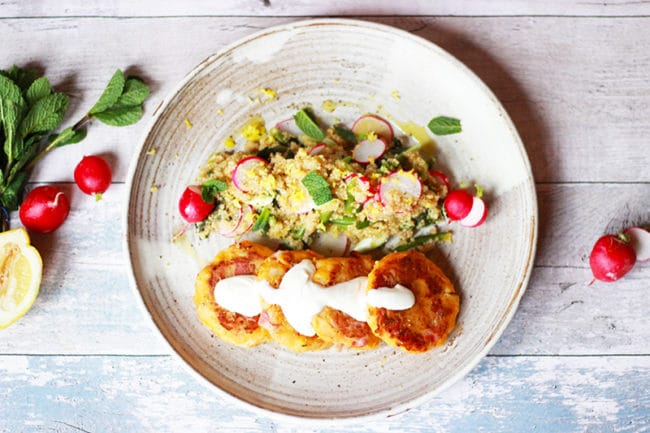 With little or no sense of direction I set out to make these humble sweet potato cakes, just because I had a craving for a potato dish and I knew it had to be a spring kind of potato dish.
With the addition of fresh rosemary, crisp pancetta and a couple of spoonfuls of crunchy quinoa salad, these potato cakes are immediately transformed into alfresco-style food, which will more than likely go down very nicely with some kind of cold, fruity beverage.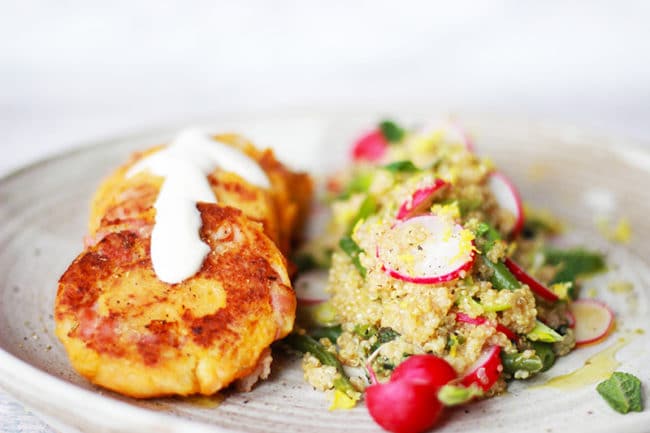 How to knock out this meal when you're short of time
First of all, the ingredients listed for this recipe are by no means unusual or scarce. In general, I find that I normally have most of these ingredients already in my cupboard or fridge. So this dish is extremely useful for using up any leftovers and making sure that there's a little less waste at the end of the week.
So, if you're looking for a quick fix meal and just so happen to have in all the ingredients, then this dish can usually be thrown together and be on the table within 30 to 45 minutes. Winner! However, if you've had chance to be a little more organised and want tea to be ready a little quicker after a long day at work, then the majority of the prep for this dish can be done in advanced:
The Quinoa salad:
Make up the quinoa salad the night or morning before, pop it in the fridge covered with cling film and it will keep fresh for a good 24 hours. TIP: add the radish and mint leaves once the quinoa has completely cooled, as this will help to keep them crispy and colourful.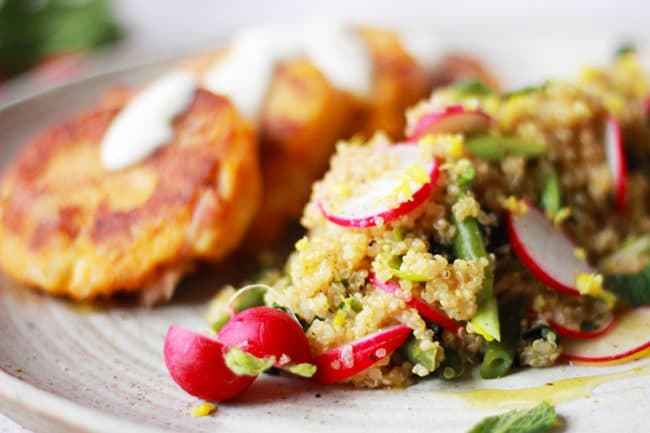 The sweet potato cakes:
Follow the recipe to the point of shaping the mash mixture into flat circles (do not flour or cook off). Place on a plate, cover in cling film and store in the fridge (max 24 hours) until you're ready to flour and cook off.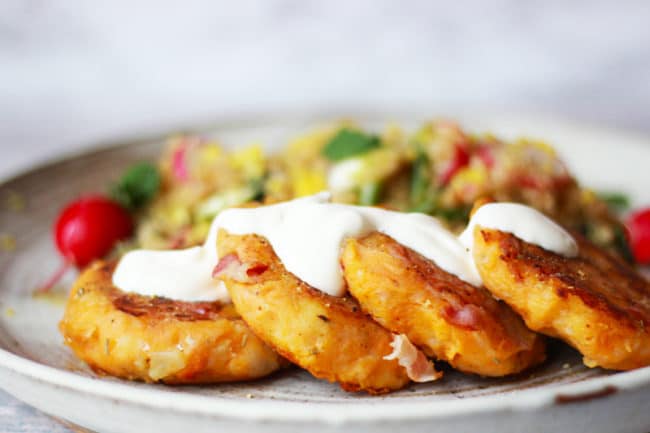 Why these sweet potato cakes are on my mid-week menu
These sweet potato cakes are my new go-to mid-week meal. They are quick, tasty, really easy to make and best of all; they can be prepared in advanced! This recipe is also healthy and well balanced:  two of these delicious potato cakes with half fat crème fraiche, and a helping of quinoa salad is under 500 kcal, with 60g carbs, 15g protein, 8g fibre and low amounts of saturated fat, salt and sugar. Absolutely no reason to not give these a try and get potato cake savvy in time for warmer, summer evenings and alfresco-style dining.
**Estimated nutritional information per serving and per 100g of potato cake and quinoa salad. If you want to find out more about how the information is calculated and the sources used, please refer to my Nutrition Information Guide.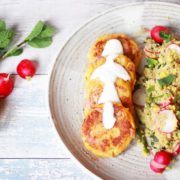 Rosemary, Pancetta, and sweet potato cakes
Deliciously crispy rosemary, pancetta, and sweet potato cakes, with radish and mint quinoa salad.
Ingredients
For the potato cakes:
250

g

potato

peeled and chopped into cubes

250

g

sweet potato

peeled and chopped

50

g

pancetta

chopped into thin squares

10

g

fresh rosemary leaves

finely chopped

Salt and pepper to season

Plain flour for dusting

½

tbsp

olive oil

2

tbsp

half fat Crème fraiche to serve
For the quinoa salad:
80

g

quinoa

250

ml

water

100

g

green beans

Handful fresh mint leaves

3

radishes thinly sliced into circles

Juice from 1 lemon

Zest from half a lemon

½

tbsp

olive oil

Salt and pepper to season
Instructions
Start by preparing the quinoa:

Place the dried quinoa in a small pan and cover with the water. Pop on the lid, gently simmer over a medium heat for 15 minutes or until most of the water has evaporated. After 10 minutes add the green beans and allow these to cook in the steam for the remaining 5 minutes. Once the water has evaporated, move off the heat and set to one side, leaving the lid on – do not stir.

Place the diced potato and sweet potato in a large pan, cover with water and boil for 20 minutes or until soft.

Whilst the potatoes are boiling; place the sliced pancetta into a dry frying pan and gently fry in its own fat. Continue to cook the pancetta until it is golden brown and crispy, then remove from the pan and leave to drain on kitchen towel.

When the potatoes are cooked, drain off the water. Add the chopped rosemary and seasoning, then mash together well. Divide the rosemary and pancetta mash into 4 and roll each one into a ball, then flatten into circles.

Place a large frying pan on the heat and add the tbsp of oil. Whilst this is heating up, sprinkle the flour onto a plate and press both sides of each potato cake into the flour. Transfer the floured potato cakes to the hot pan and cook on each side for 2 minutes, or until crisp and golden brown on the outer edges. Remove from the pan and drain on kitchen towel.

Returned to the quinoa; take the lid off and fluff up with a fork. Add the sliced radish, lemon juice, lemon zest, olive oil, fresh mint leaves and seasoning. Mix well and then serve on a plate alongside the potato cakes. Finish off with a couple of dollops of crème fraiche and an extra grating of lemon zest.
Nutrition
Serving:
2
g
|
Calories:
420
kcal
|
Fat:
14.7
g
Pin For Later

I'm linking this recipe to #cookblogshare hosted by hijackedbytwins and Easypeasyfoodie. I'm also linking to #cookonceeattwice hosted by searchingforspice, #Brilliantblogposts hosted by HonestMum,