Pumpkin pasta; perfect for Autumn evening dinners or spooky Halloween suppers. This easy pumpkin pasta dish is made with a deliciously creamy pasta sauce containing only pureed pumpkin, butterbeans, and onions (and no cream!!)

The Halloween pumpkin
Last week we went to pick our pumpkin for Halloween. Normally this involves a quick trip to Tesco, choose a pumpkin with a good shape, discuss said shape with other half for longer than necessary, agree that the odd mark down one side will add character, pay, go home.
Now, as thrilling as all that is, this year we decided we should try and make a day out of it and join in with the more adventurous type. - And by more adventurous I mean those going into fields for their pumpkins rather than Tesco. Sooooo . . . we googled farms where you could pick your own pumpkin from a real-life pumpkin patch.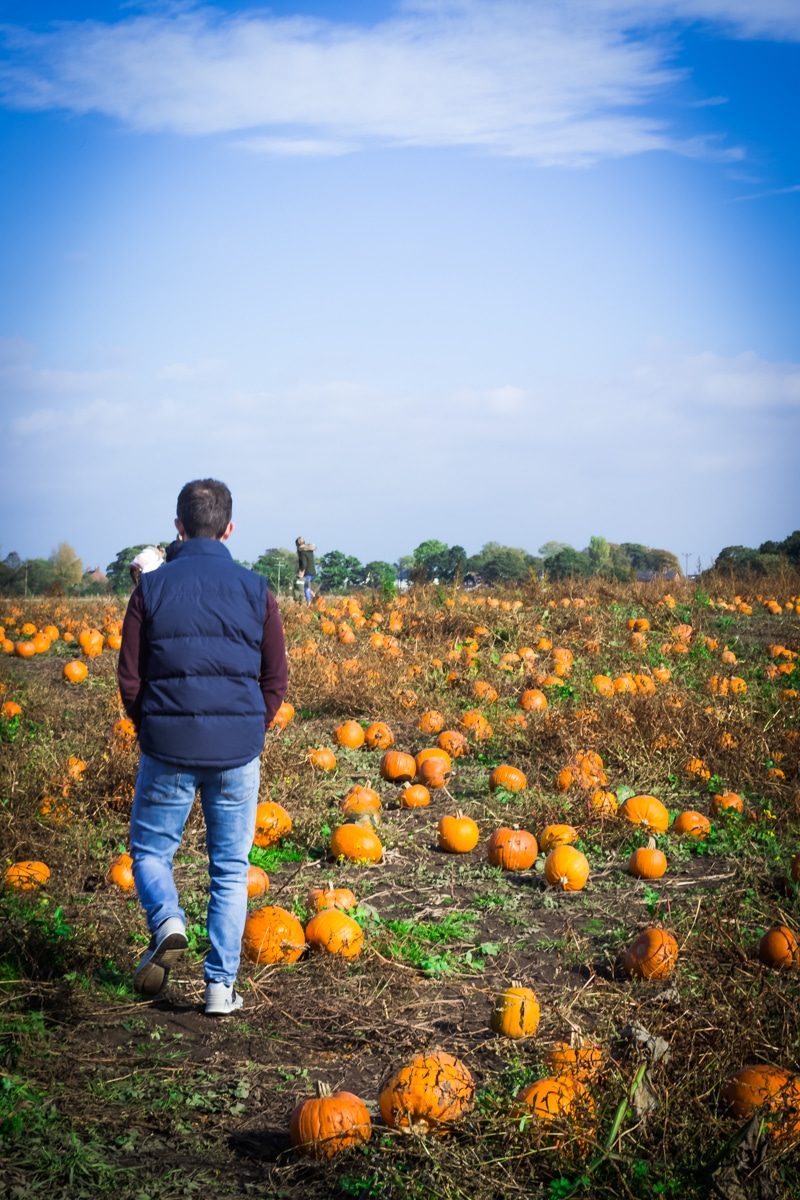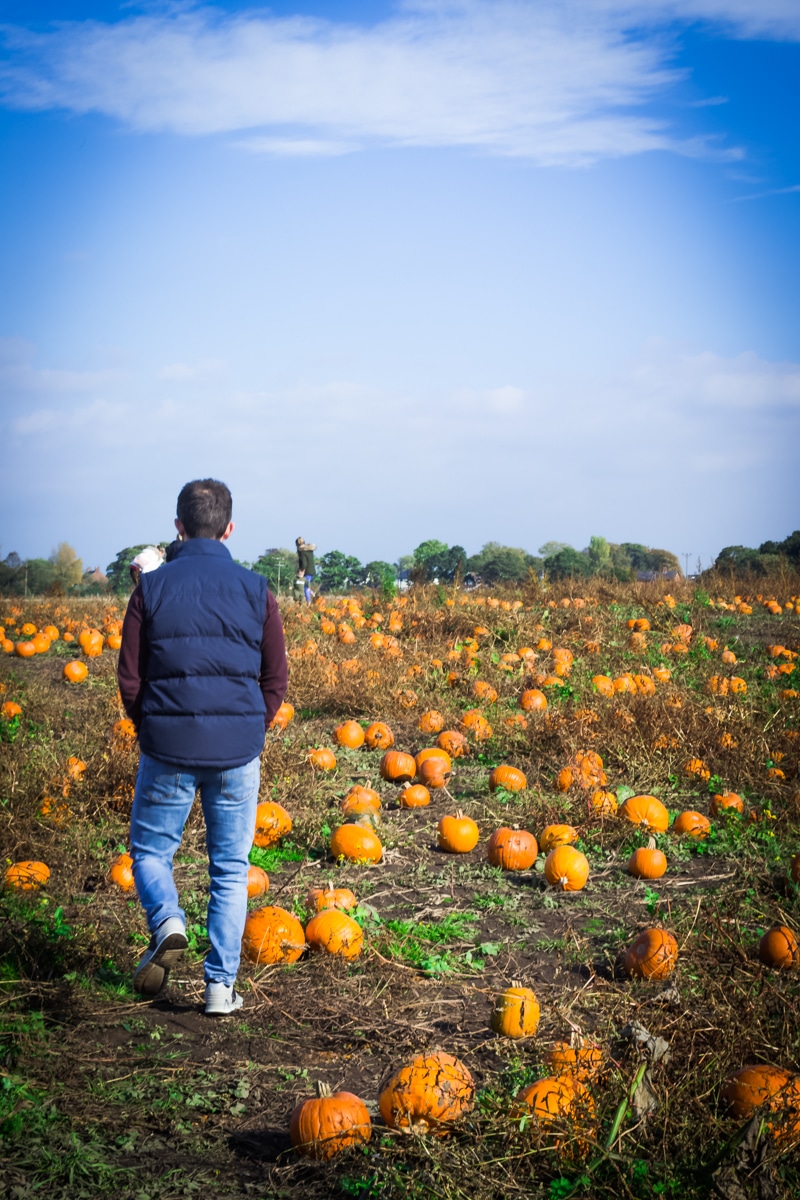 Kenyon Hall Farm
And thats how we came to be at Kenyon Hall Farm last Friday afternoon, meandering through pumpkin fields, and generally loving life. - The sunny weather definitely helped 🙂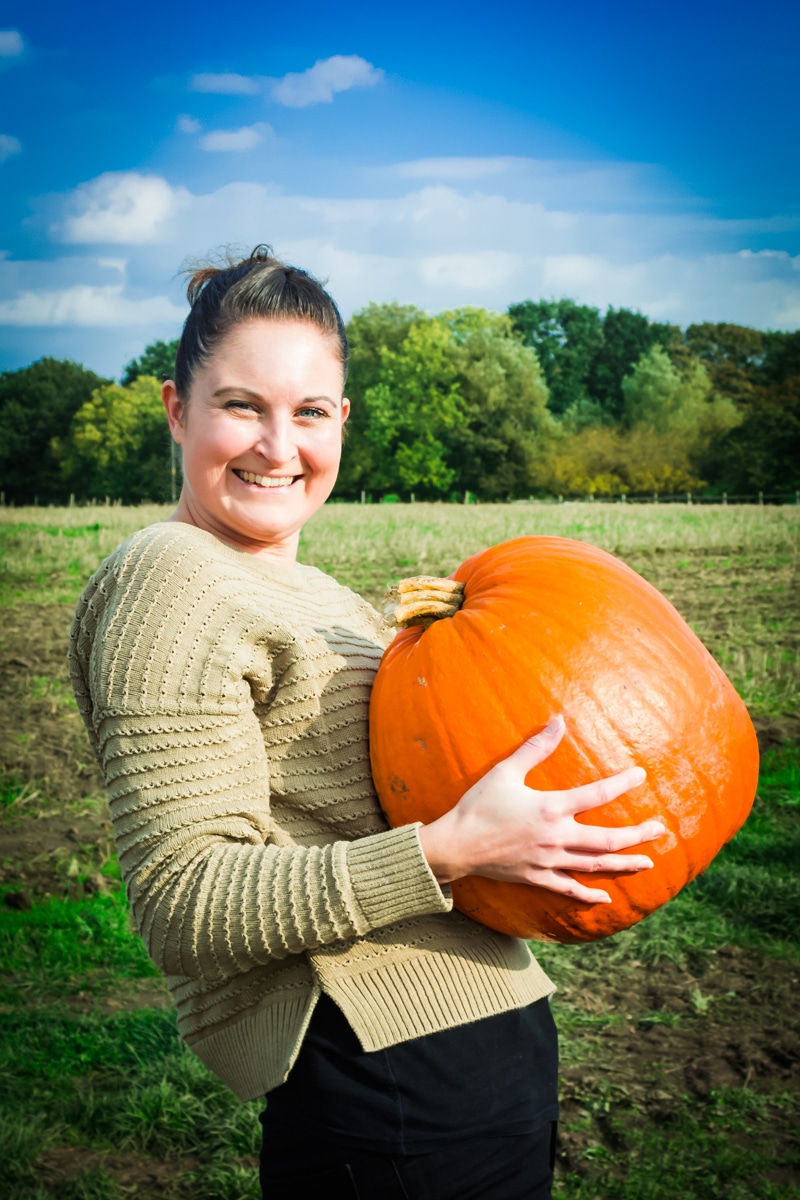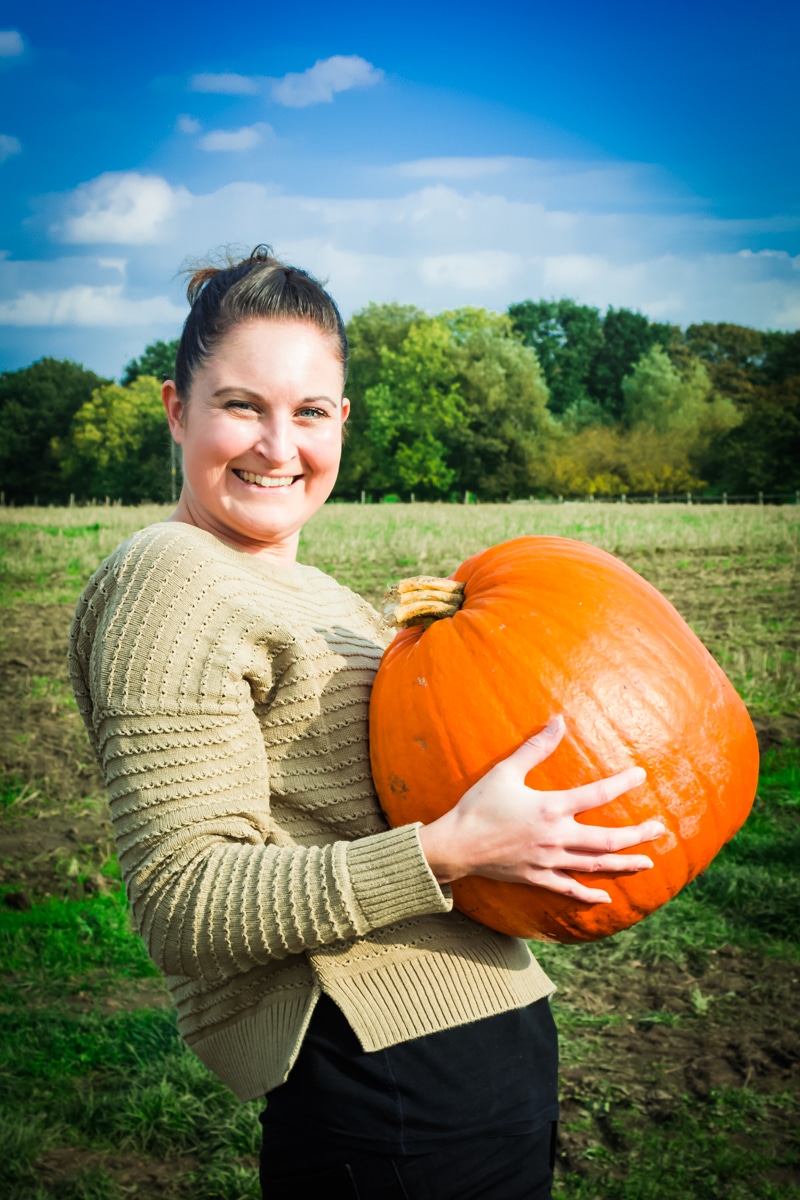 See - loving life  😎  ↑↑↑
It turns out that on our side of Manchester (Peak District side) there aren't too many farms with pumpkin patches! So we did have to drive to the other side of Manchester (Warrington) in order to enjoy this lovely day trip - fully worth it though. And I imagine even more so if you have kids.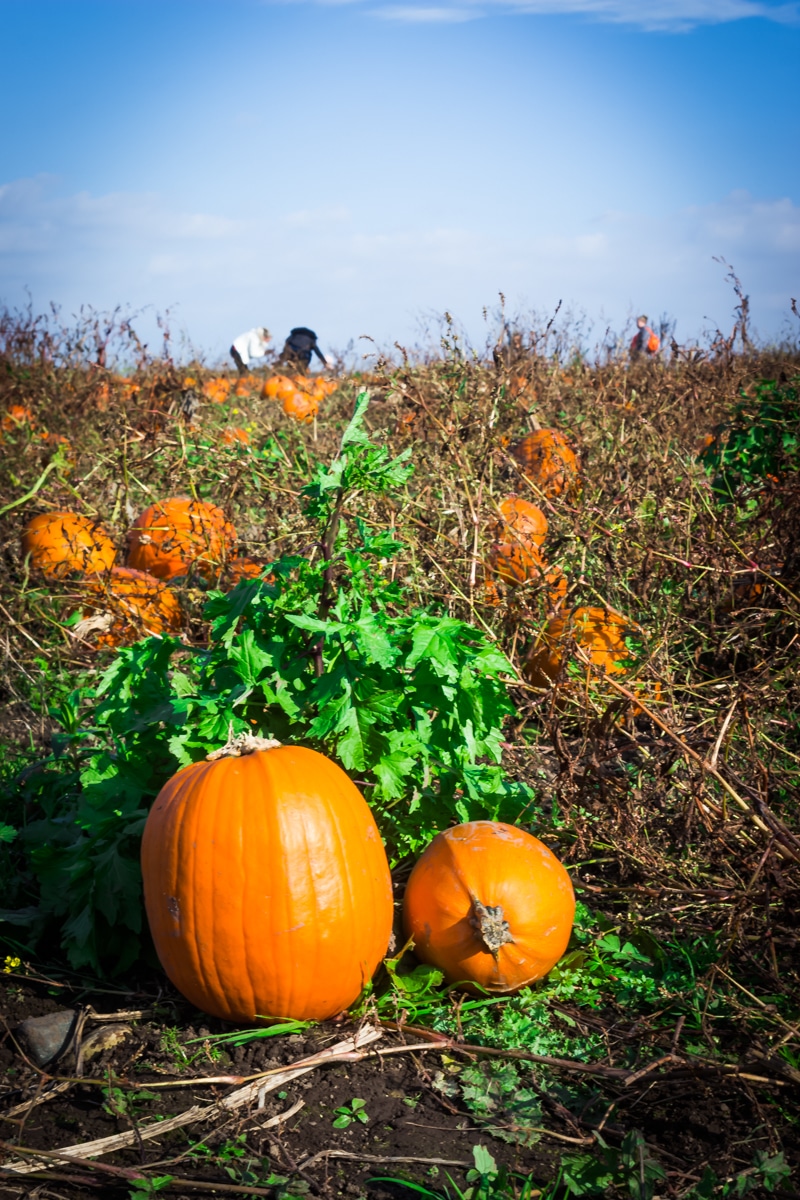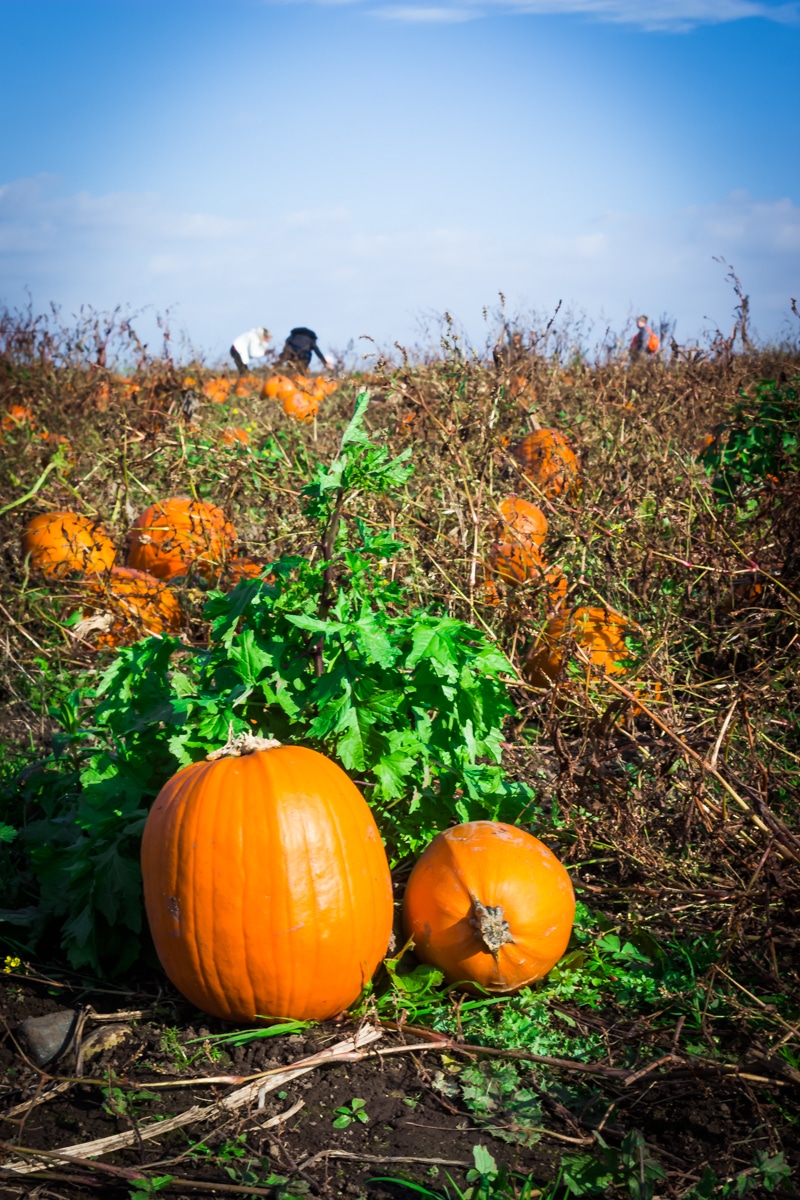 Kenyon Hall Farm certainly knows how to grow pumpkins and they have plenty in all sizes, shapes and colours. They also have a pick your own fruit and veg scheme, which starts in June with strawberries and runs through till October finishing with all the wonderful pumpkins. In between they have 18 other fruits and veggies ready for picking. With this in mind, I'll definitely be going back next summer to get some freshly picked produce. -  They have garden peas which will be perfect for my pea pasta recipe!!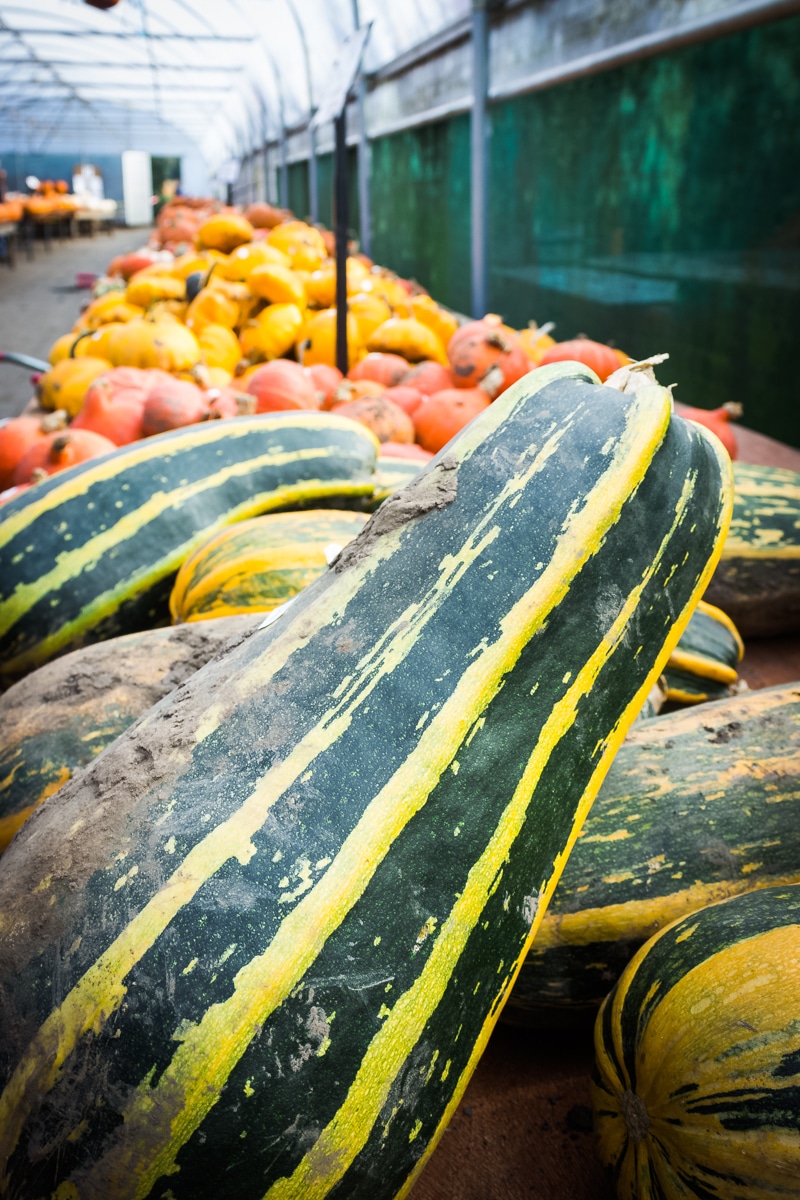 What can ou do with pumpkin guts?
Over the next week they'll be a fair few of us scraping out the insides of our pumpkins and coming up with a no doubt brilliant carving designs to go on the outside (check out the link ← if you are struggling with how to carve your pumpkin). Buuut . . . what to do with the fleshy pumpkin guts??  - other than throw in the compost that is.
In previous years I've made:
warming pumpkin and chestnut soup and
This year I've gone with Pumpkin Pasta! Made with Dischi Volanti pasta, which is one of those pastas that has a perfectly distinctive, flying saucer type-shape; great for capturing all that lovely creamy, pumpkin sauce. However, when it comes to types of pasta, pretty much any shape will work in this dish. You can, of course, always make your own fresh pasta.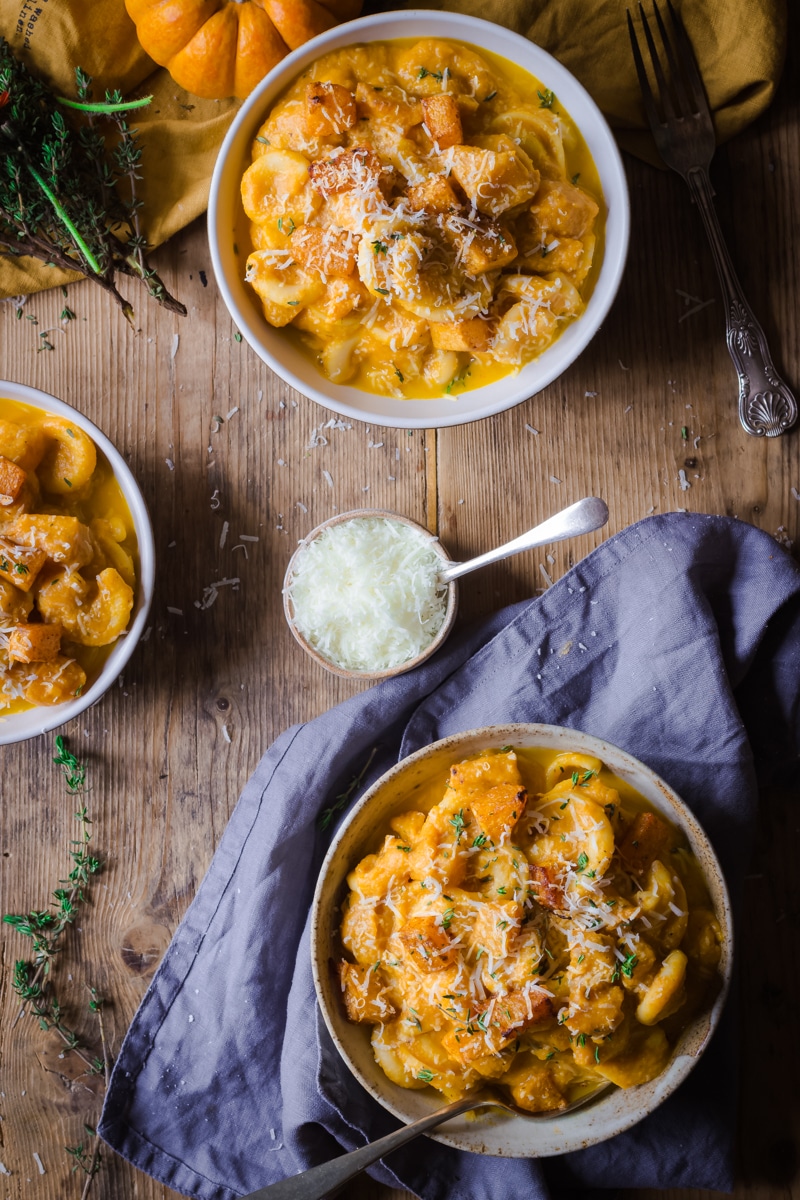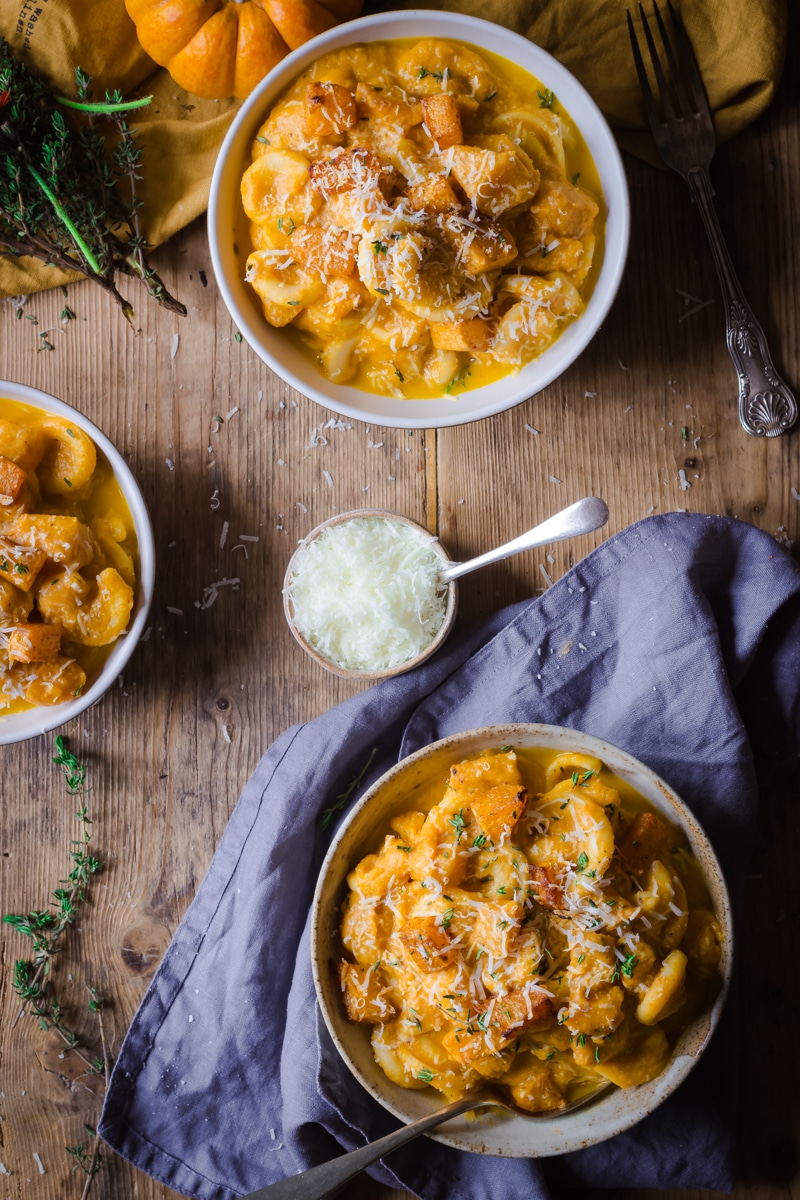 Fresh or canned pumpkin puree?
If you're not carving a pumpkin this year and so won't have any leftover fleshy pumpkin insides, theres always the canned pumpkin option. Although, canned pumpkin isn't always that easy to get hold of in the UK, but you just know that you can always rely on Amazon for such things. Theres plenty of choice, which you will see in related products, but this is the one I usually get, which also has an easy to follow pumpkin pie recipe on the back of the can (click the link below to view in Amazon):
Authentic American Pumpkin Puree 425g
As I made this pumpkin pasta dish before getting our pumpkin (let alone carving it), I used canned pumpkin puree in this recipe. But canned or fresh will both great work for this dish. If you do decide to use the fresh pumpkin flesh, have a little look at my pumpkin muffins post, which describes how I usually remove and prepare pumpkin flesh for cooking.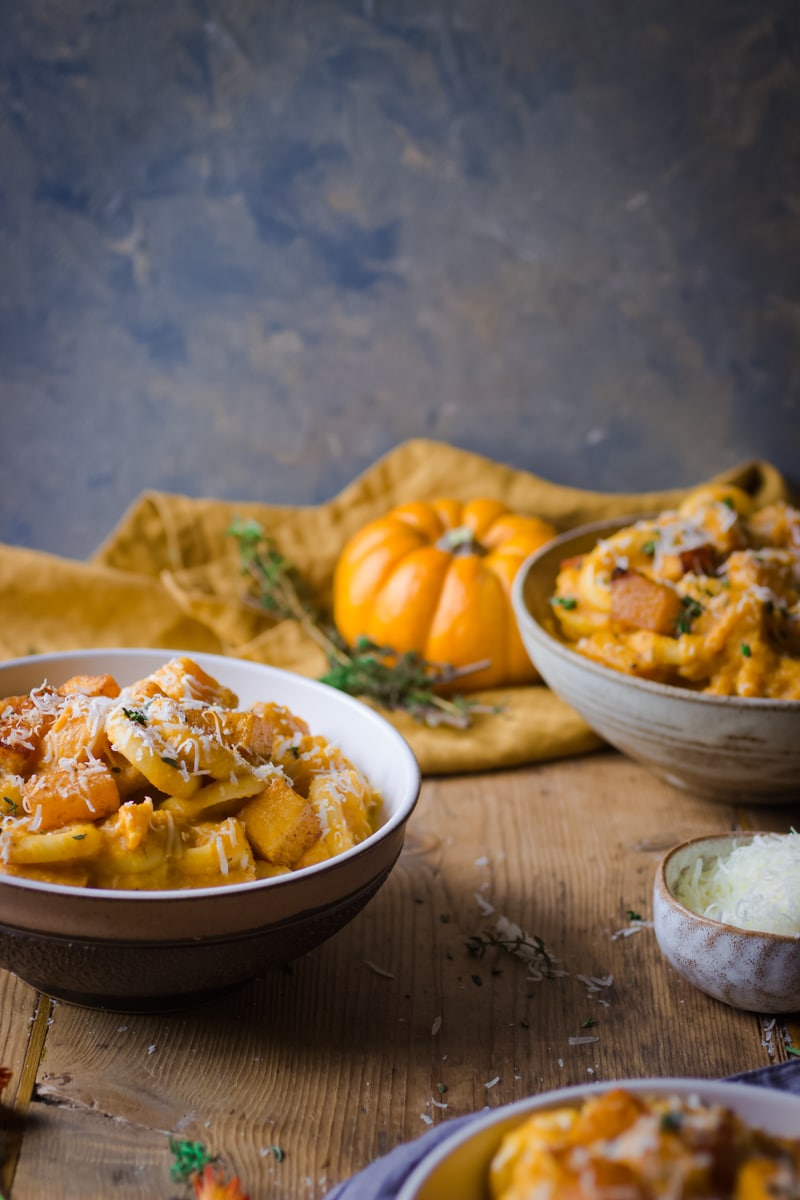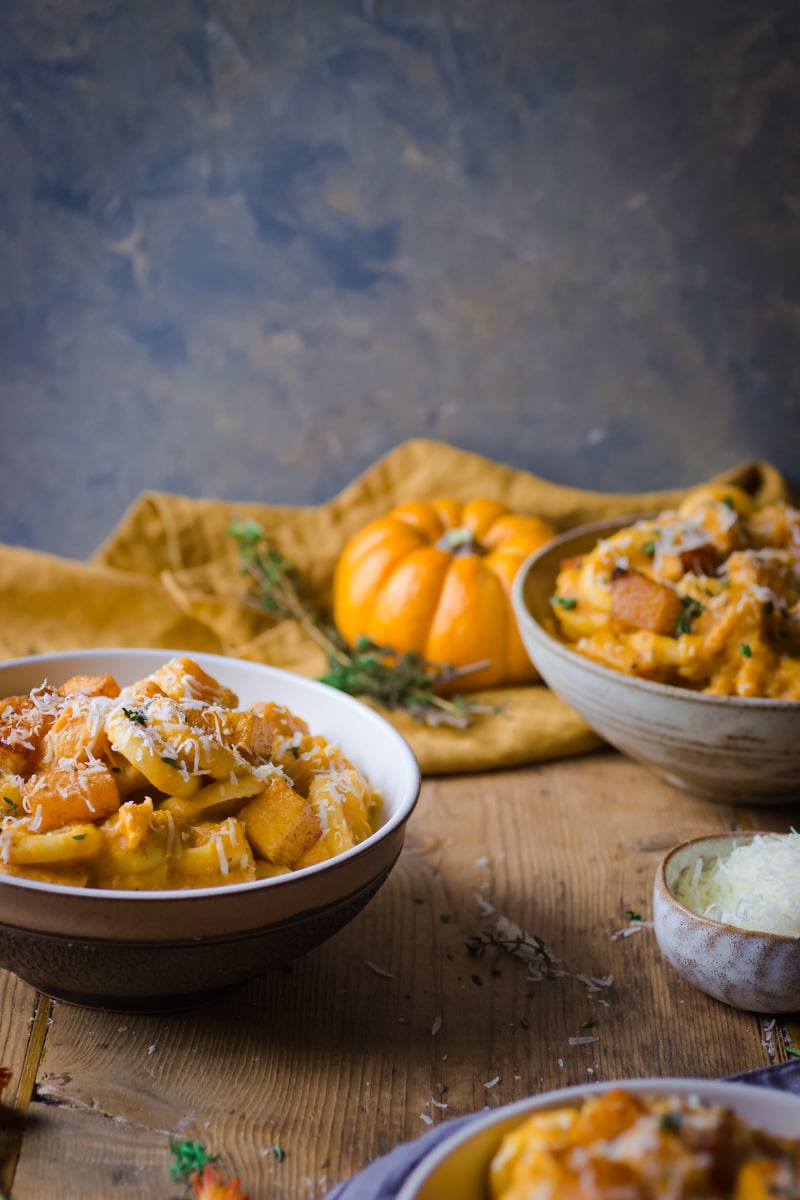 Pumpkin sauce for pumpkin pasta
To keep things super tasty but not too stodgy I add butterbeans and onions to the pumpkin sauce - blitz in with the hand blender. The beans and the onion really enhance the pumpkin to give that full favoured creamy consistency.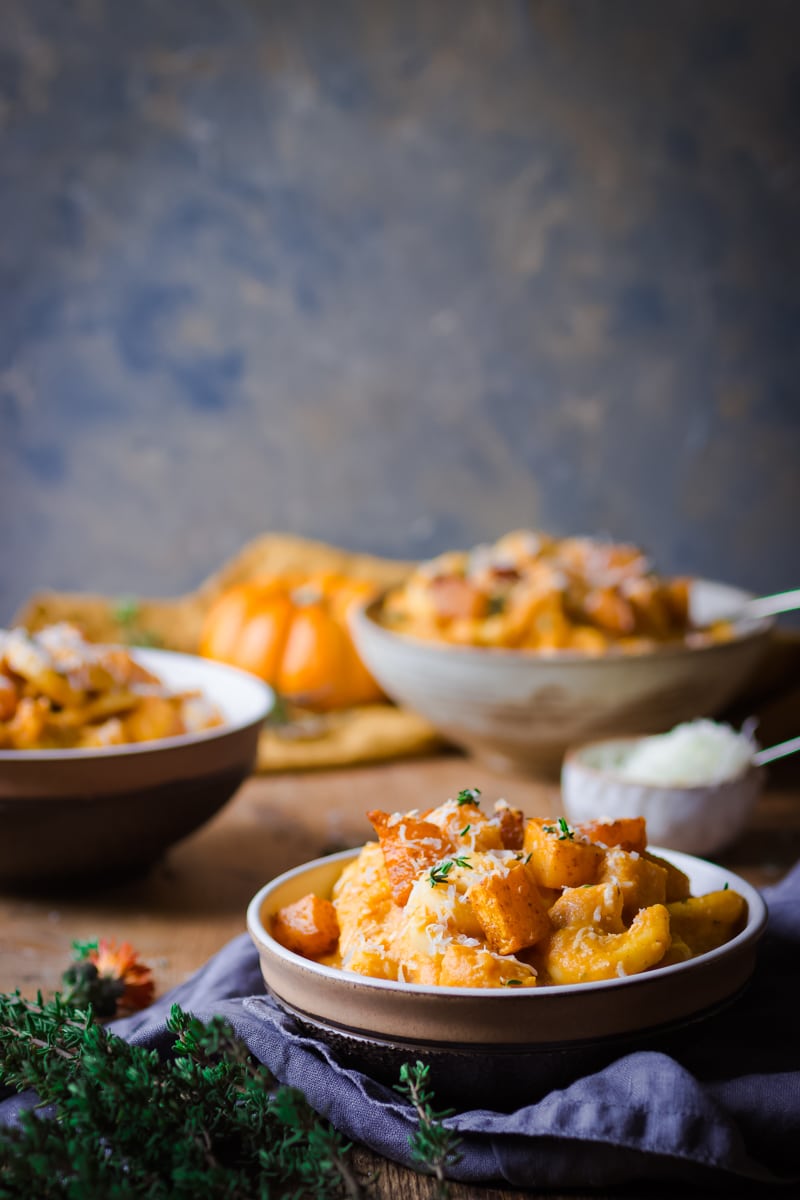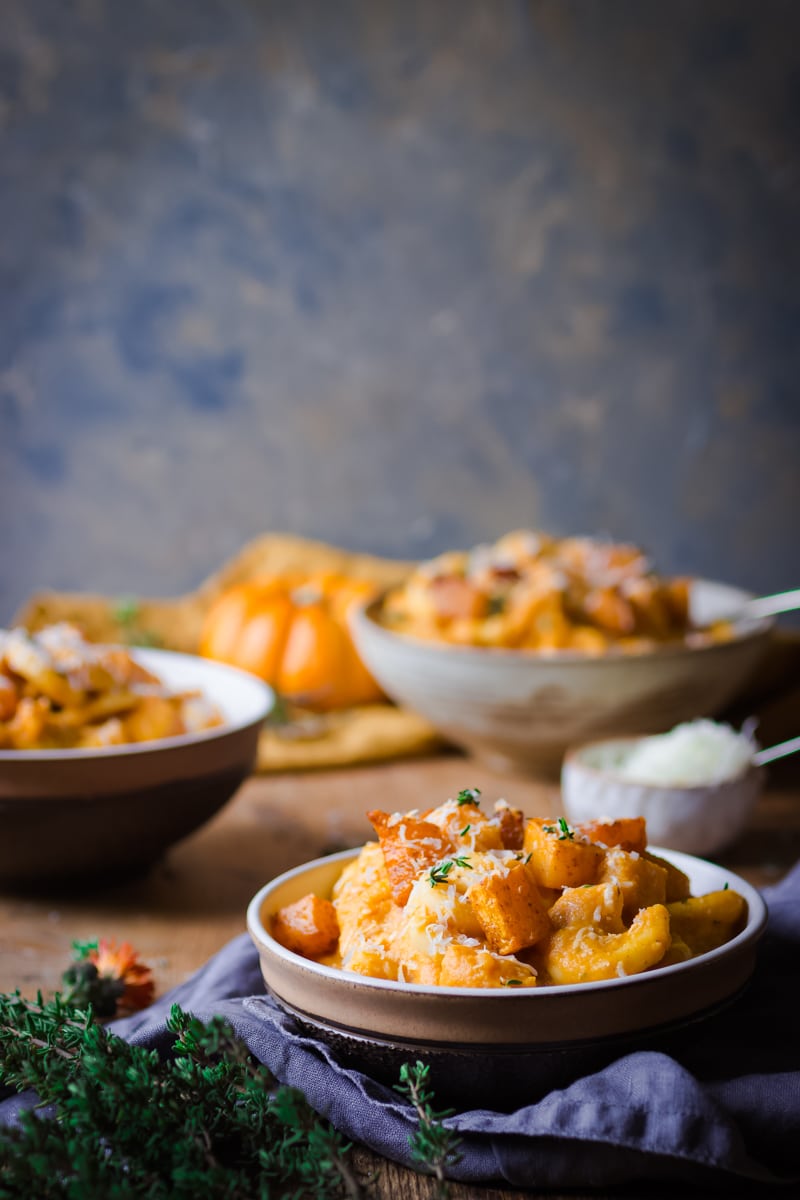 Butternut squash, thyme and parmesan
For an extra bite I also mixed in cubed, roasted butternut squash. I do love a good roasted veggie, with plenty of caramelised flavours going on - and that works particularly well in this dish. And of course, in my kitchen, no dish escapes a good scattering of herbs and a generous sprinkle of parmesan (or veggie cheese to keep it vegetarian).
Enjoy - and heres to a spooky Halloween with lots of good grub 🙂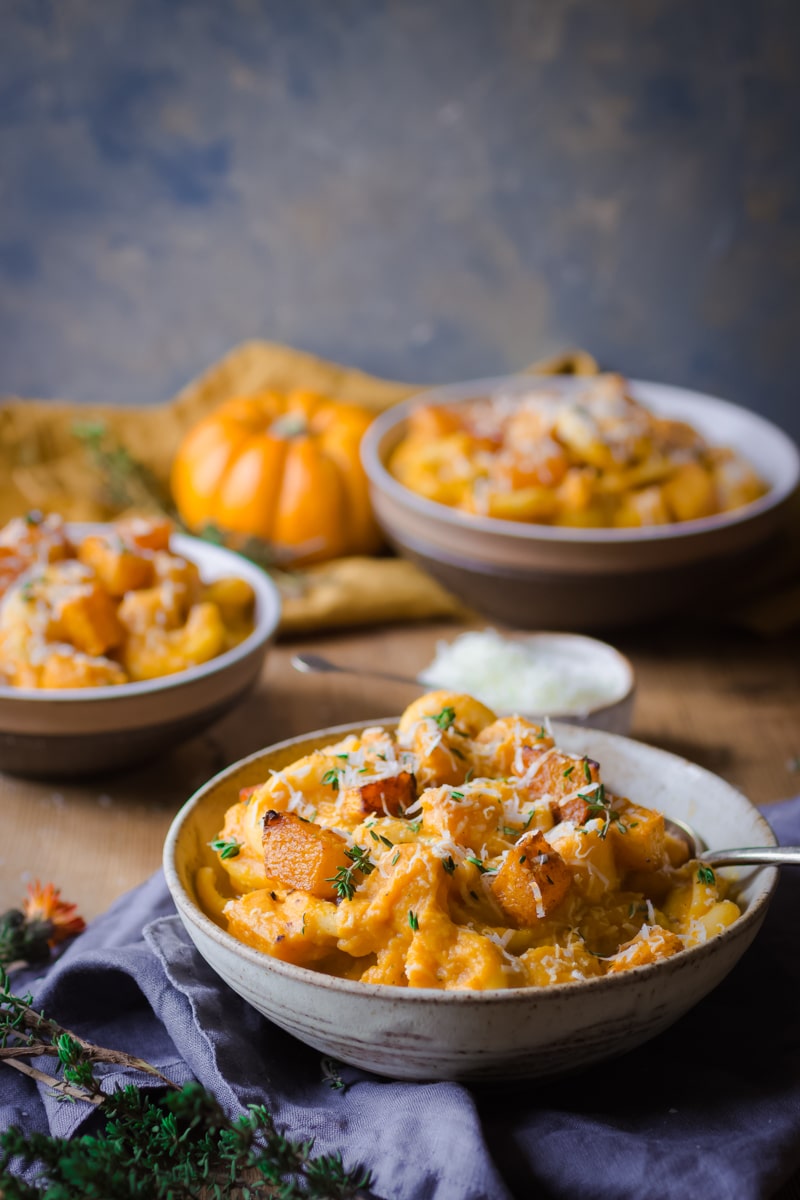 For more pasta inspiration: My best pasta recipes
Please note that the above amazon link is an affiliate link, which means if you do click this link and then go on to purchase the product, I will receive a small percentage – this will not affect the amount you pay. If you do click and buy – Thank you for helping in the continuation of this blog, it really means a lot!! I will only ever link to and promote products that I have tried and tested myself.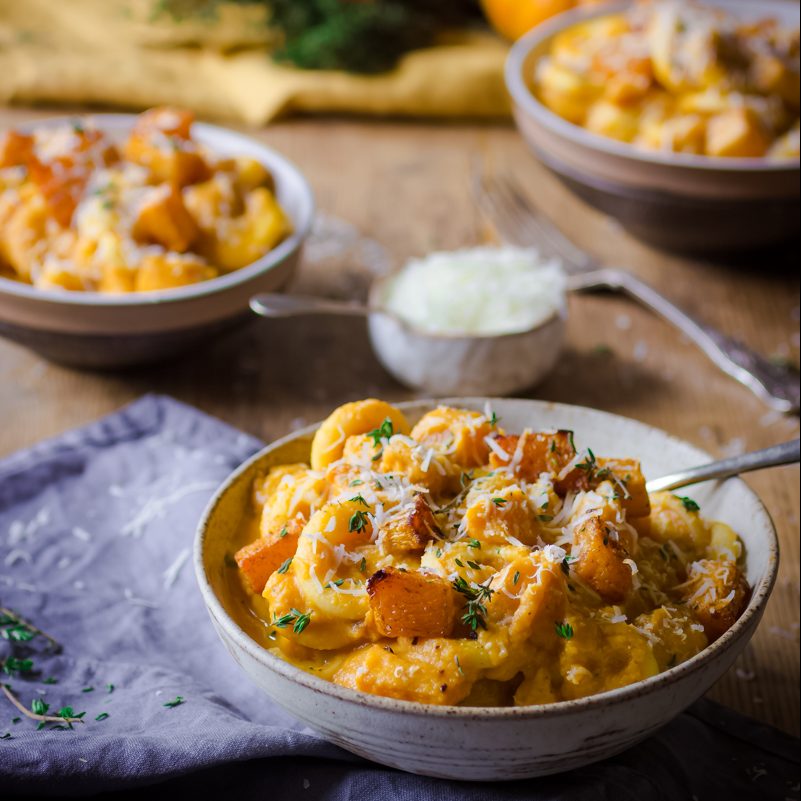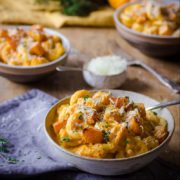 Pumpkin Pasta
Pumpkin pasta; perfect for Autumn evening dinners or spooky Halloween suppers. This easy pasta dish is made with a deliciously creamy pasta sauce containing only pureed pumpkin, butterbeans, and onions (and no cream!!)
Ingredients
For the butternut squash and pasta:
550

g

Peeled

cubed and deseeded butternut squash

½

tbsp

Olive oil

Sea salt and pepper

300

g

dried pasta

Well salted pan of boiling water
For the Pumpkin sauce:
½

tbsp

olive oil

200

g

onion

finely chopped

400

g

tin of butter beans

(235g drained)

425

g

pumpkin puree

canned or fresh

200

ml

of the pasta water

1

sprig

of fresh thyme leaves

Salt and pepper to season
To serve:
Extra thyme leaves

Freshly grated parmesan or vegetarian cheese.
Optional:
Grated cheese

or veggie cheese to melt into the sauce for extra flavour and creaminess
Equipment:
Large pan

Large wok or frying pan

Blender or hand blander
Instructions
To make the squash and pasta:
Pre heat the oven to 180 degrees C Fan.

Place the cubed squash on a baking tray, drizzle over the oil and season with salt and pepper. Place in the centre of the oven and bake for 30 minutes or until golden and crisp around the edges. Remove from the oven and set to one side.

Whilst the squash is in the oven cook the pasta in the salted water according to the instructions on the packet. Once cooked save 200ml of the pasta water to go into the sauce. Drain off the rest of the water and run the pasta under cold water to stop the cooking process. - set to one side.
To make the Pumpkin sauce:
In a large wok or frying pan heat the oil and gently fry the chopped onion until soft. Keep the pan on a medium heat and add in the drained butter beans, pumpkin puree, thyme leaves and pasta water. Mix well and simmer for 2 minutes. Season.

Next remove from the heat and blitz into a smooth sauce with a hand blender or by transferring into a stand blender. Return the sauce to the pan and reheat. Add the cooked pasta and roasted squash. Mix well and cook for a further minute. Taste and season. If desired melt grated cheese (or vegetarian cheese) into the sauce for extra flavour and creaminess.

Serve with extra thyme leaves and freshly grated parmesan/veggie cheese.

Once the pasta and squash has been mixed into the sauce the whole dish can be transferred into a container, cooled and kept in the fridge for up to 3 days.

Alternatively turn into a pasta bake by transferring to an ovenproof dish and baking in a pre heated oven at 180 degrees C for 20 minutes.
Nutrition
Serving:
450
g
|
Calories:
440
kcal
|
Carbohydrates:
81.8
g
|
Protein:
17.3
g
|
Fat:
7.2
g
|
Saturated Fat:
2.2
g
|
Sodium:
240
mg
|
Sugar:
13.5
g
PIN FOR LATER