Purple sprouting broccoli
Purple sprouting broccoli is in season! Yes its in season right now!  Blossoming, bright purple florets are here and it would be a crime for these beauties to pass me by unused in a recipe. What better way to use purple broccoli and all its goodness, than in a deliciously healthy soup, combined with juicy pears and a dash of mascarpone. Thats spring soup right there.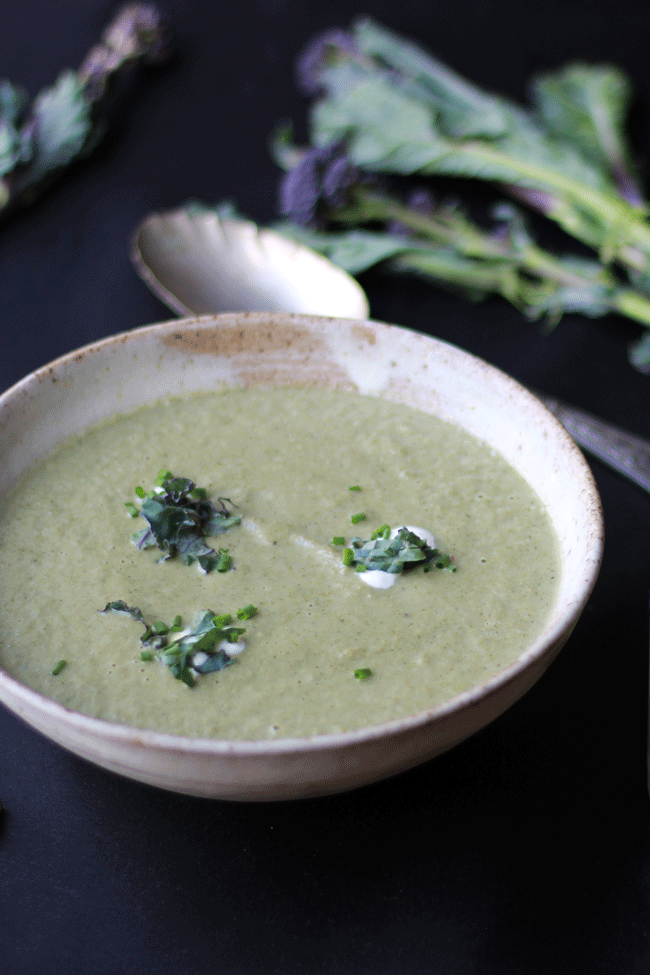 Spring soup
Theres a whole load of Purple broccoli & pear soup piled up in my freezer. After a weekend of chopping, cooking and blitzing all manner of spring vegetables, I now feel totally prepared for spring healthiness.
I really can't wait to share these soups with you. This post will be the first in a little series of spring soup recipes that I will be jabbering on about over the next few weeks. A warming spiced cauliflower, chickpea and ginger soup is to follow soon!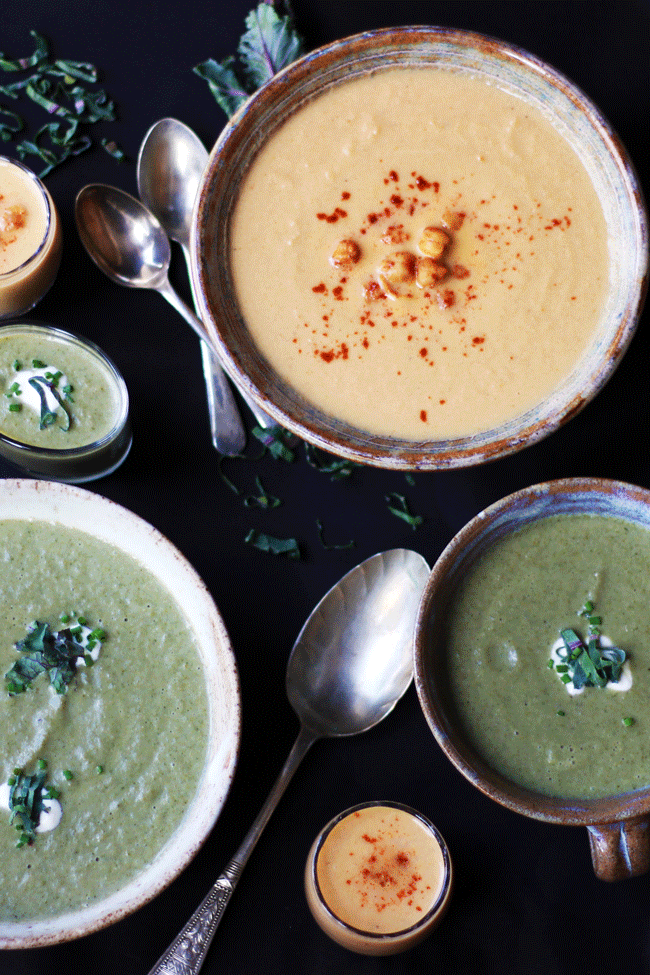 I definitely feel that I need a massive stockpile of soup in my life at the moment. With my usual hectic weekdays still taking full control, there is little time to fully plan for healthy meals, or more importantly plan for my 'getting married slim down'! Soup is just so bloody easy that it takes away the hassle of worrying about healthy eating. Made with the right ingredients and with just the right amount of blitzing they can be satisfying, comforting and guilt free all at the same time. So I'm definitely on board the spring soup train at the moment and it seems that there is no stopping me.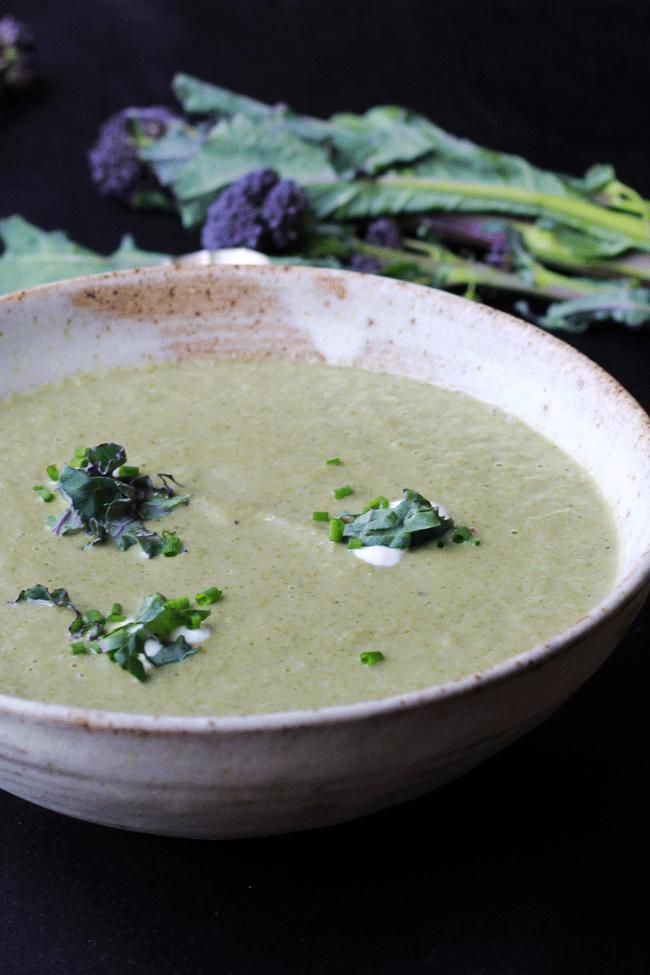 Seasonal veg
Purple sprouting broccoli, cauliflower, asparagus and jersey potatoes are all just about coming into season right now. In our local shops up and down the country these lovely veggies are at their best and also at their cheapest. So I'm all up for grabbing as much as I can and preserving all that lovely, nutritious, and colourful veggie goodness into as many soups as I can cram into my freezer.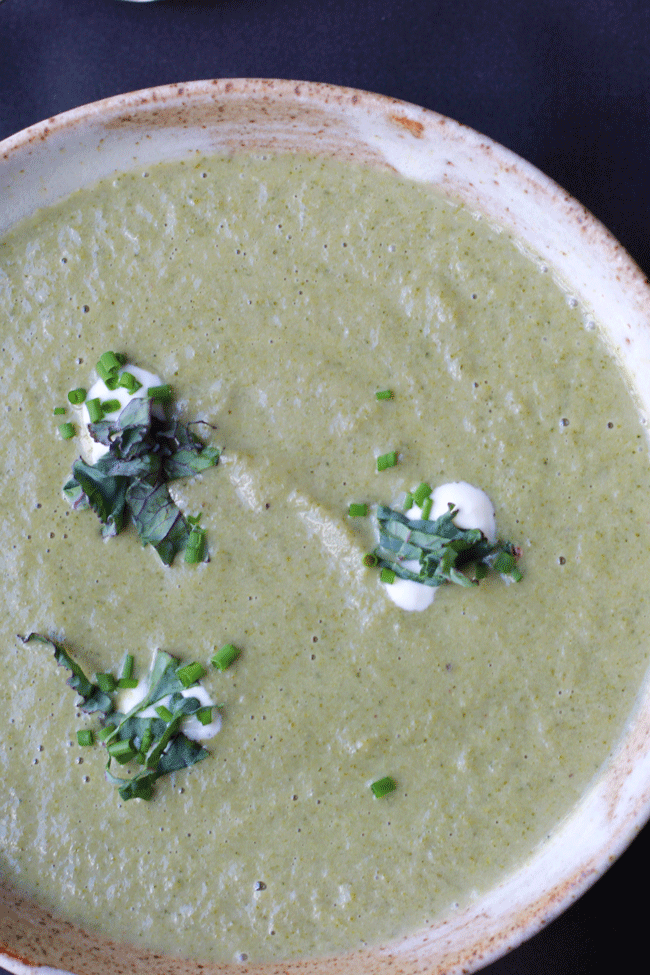 Lovely broccoli soup
Not only does this broccoli soup have a lovely, striking colour but it also has a deliciously, moreish taste, with the flavour of the earthy broccoli florets perfectly complementing the sweet pears and fresh mascarpone. Chilled or heated its a dish that will fill you up, give you a huge boost of vitamins and minerals, and make your taste buds do a little happy dance. If  all that wasn't enough its also suitable for vegetarians and gluten free.
This is soup, at its seasonal best.
So I hope you can find the time to go and hunt out some colourful, purple sprouting broccoli and create some lovely, spring vegetable soups. Happy blitzing!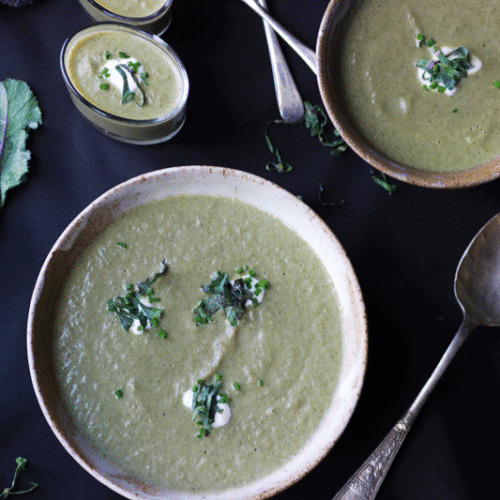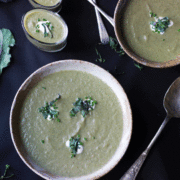 Spring Soups: Purple Broccoli, Pear and Mascarpone soup
A sweet, earthy purple sprouting broccoli soup, with juicy pears and creamy mascarpone cheese
Ingredients
Half tbsp olive oil

1

large onion

250g roughly chopped

300

g

purple sprouting broccoli roughly chopped

including stems

Florets of 1 standard broccoli

200g

350

g

sweet williams pears cubed

2

tsp

parsley

700

ml

boiling water

50

g

mascarpone cheese

Sea salt and black pepper

Extra purple broccoli leaves and mascarpone for toppings
Instructions
In a large pan heat the oil and add the onion. Gently sweat down the onion until transparent.

Next add the pears and stir.

Then add both the purple and standard broccoli and mix together well. Continue to cook for a further 5 minutes, stirring regularly.

Add the boiling water to the pan and bring to the boil. Place on a lid and simmer for 5 minutes.

After 5 minutes the broccoli should have started to wilt slightly but still have retained its colour.

Remove from the heat and either transfer to a blender or use a hand blender. Blitz the soup until smooth. Add more boiling water if the consistency is too thick.

Next add the mascarpone and blitz again.

Taste the soup and season.

At this point the soup can be returned to the heat before serving, topped with extra mascarpone and chopped purple broccoli leaves. Alternatively, transfer to containers, cool and then freeze.

Soup will keep well in the freezer for up to 3 months.
Notes
deliciously healthy, vegetarian, gluten free and full of nutritious veggies
PIN FOR LATER
I am linking this recipe to #cookblogshare hosted by recipesmadeeasy, hijackedbytwins and Easypeasyfoodie. I am also linking to #brilliantblogposts by honestmum, #CookOnceEatTwice hosted by seachingforspice, #meatfreemondays hosted by tinnedtomatoes, #Nocroutonsrequired hosted by tinnedtomatoes and foodandspice, and #simpleandinseason hosted by feedingboys.