Cook Yourself Happy is a new Danish cookbook by Caroline Fleming. A book which reflects the danish concept of hygge (cosiness) through Carolines nurturing and age-old family recipes.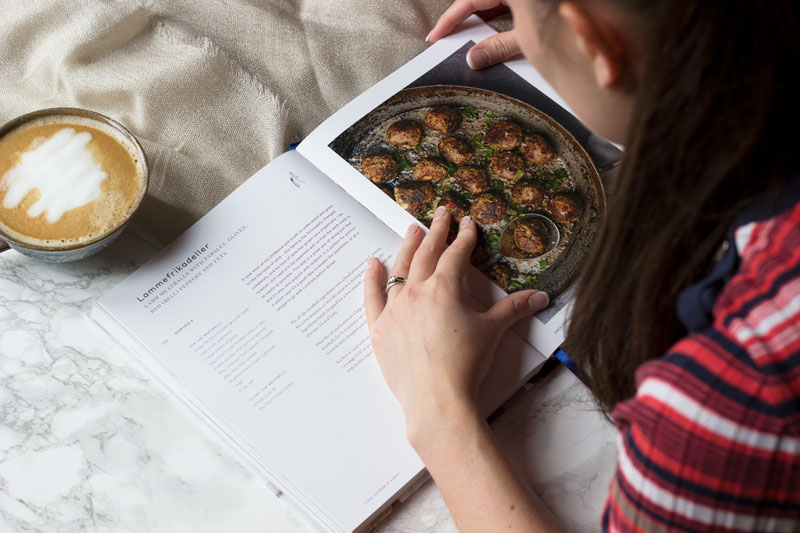 I will freely admit that from turning the first page in this warming and welcoming book I was instantly hooked. Pouring over the pages I delighted at every single recipe and instantly longed for a big cosy jumper with a mug of homemade soup.
This is certainly a book that I expect to be well worn by the end of Winter. The recipes are wholesome, hearty, nutritious, traditional and very, very authentic, all at the same time.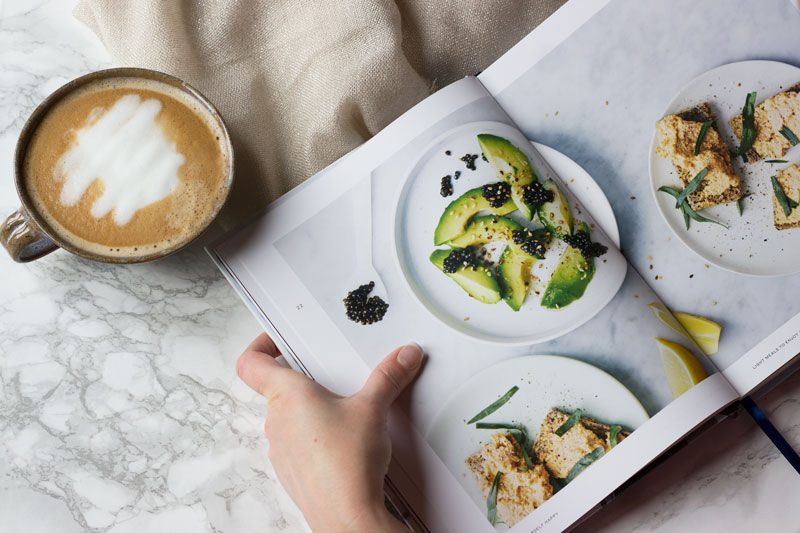 If this is Danish cooking - then get me to Denmark right now!
With so many inspirational recipes it was difficult to decide what to cook first. Theres a few which will certainly be good for a lazy Saturday when I can take my time, cook in my Pjs and sip on a glass of wine. - Definitely in November that is happening. I'm currently doing sober October, so the whole wine thing will have to wait at least one more weekend.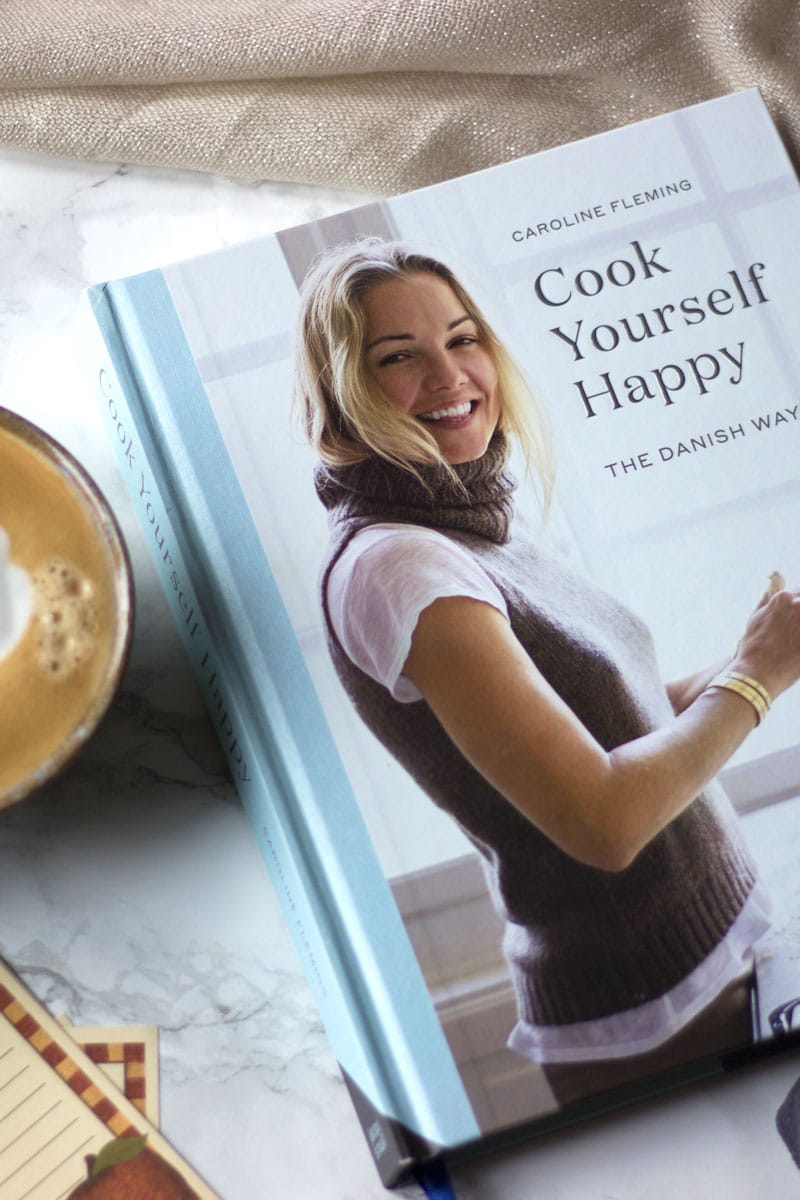 In the meantime, and seen as how I never have any time (who does?), I went for a couple of recipes that I could whip up relatively quickly.
First off I decided the Bean and Potato Casserole was a definite must. So simple and yet so delightfully enticing. Especially on a cold, dark night - theres no way anyone could possibly say no to this. (The picture of the pot over a fire at the beach really helps as well 🙂 Why don't I live near the sea??)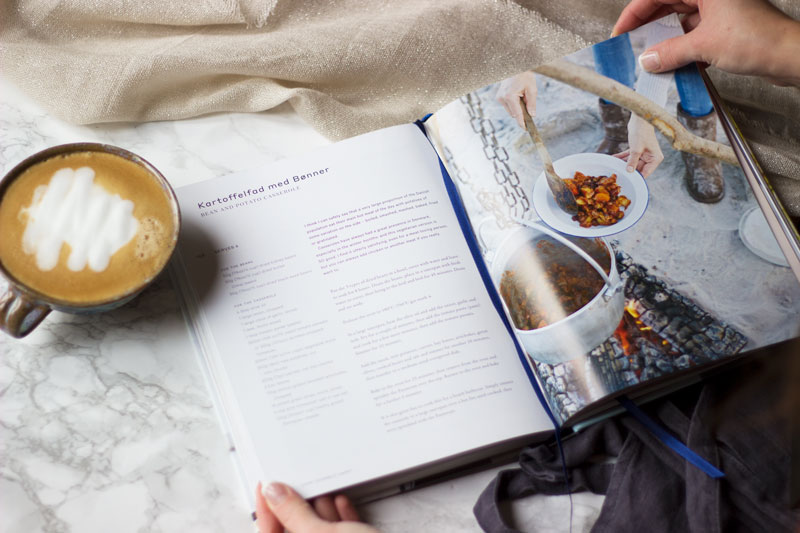 And my attempt: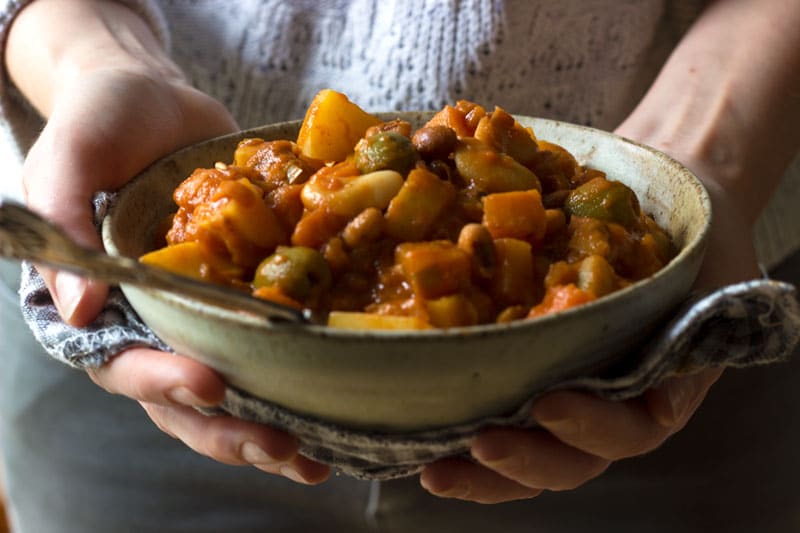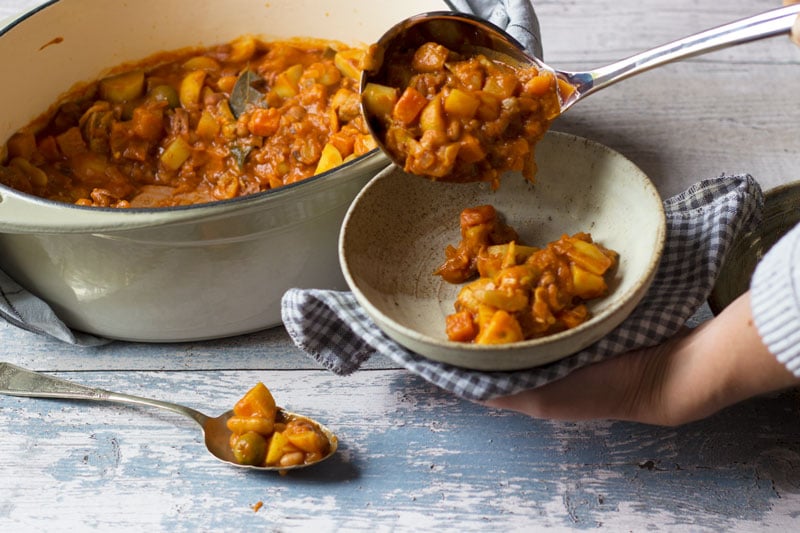 Clearly not the same without the log fire and the beach, but still, this was seriously good stuff. The highlight of the dish is the addition of grilled artichokes. I have never thought to put artichokes in a casserole before, but just like olives, the artichoke adds an extra warming layer of flavour. So good!
Having really enjoyed a savoury dish from Cook Yourself Happy, I decided to try one of the desserts next. And there is a lot a very good looking desserts in this book: cherry rye bread crumble, baked apples with marzipan and raisins, rhubarb soup with vanilla ice cream, STICKY CHOCOLATE PUDDING . . .whaaaat!! yes the sticky chocolate pudding has got to happen at some point. But out of all these it was the rice pudding that caught my eye.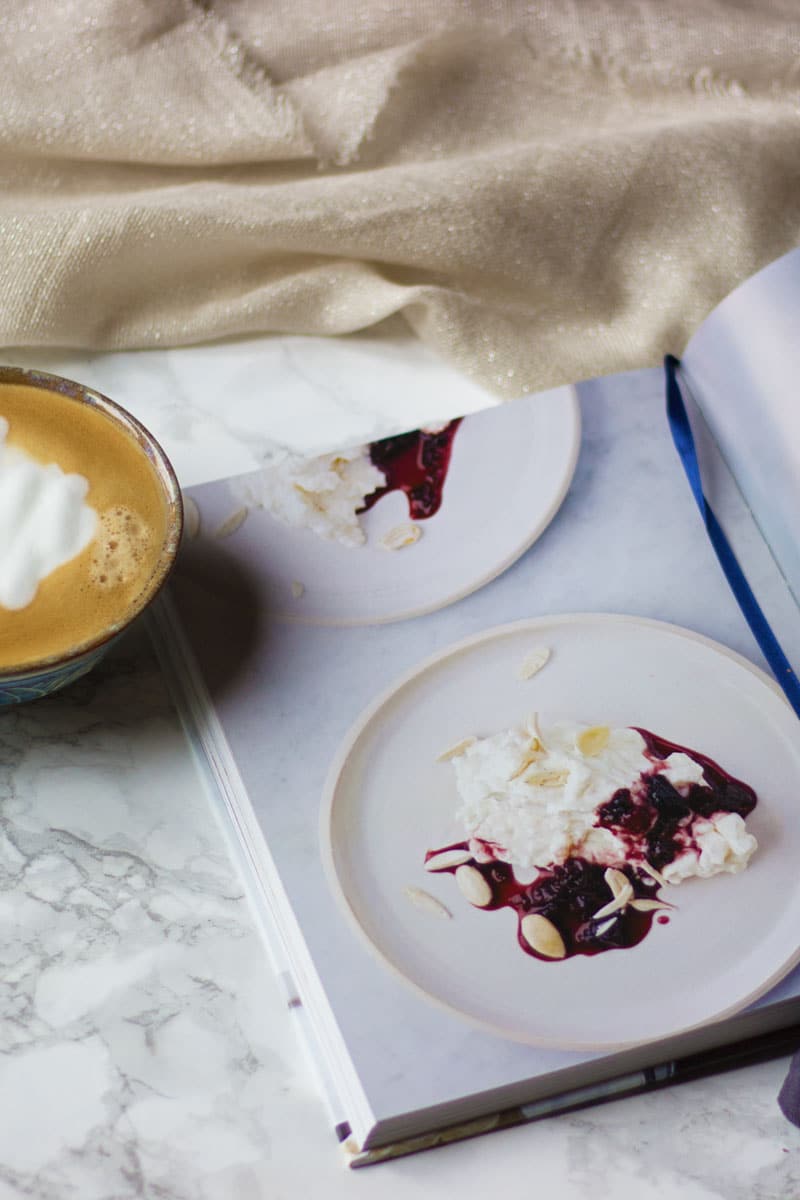 Don't ask me why, maybe it was the cherry sauce or the addition of almonds, or just the fabulous ways that Caroline suggests to serve this well known classic. Or maybe it was just because I haven't had rice pudding in such a long time. At any rate - rice pudding it was - and it was so so good.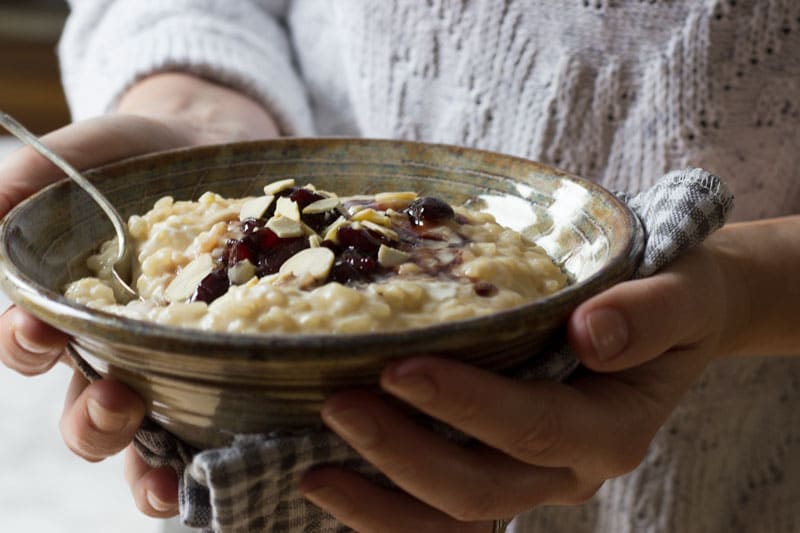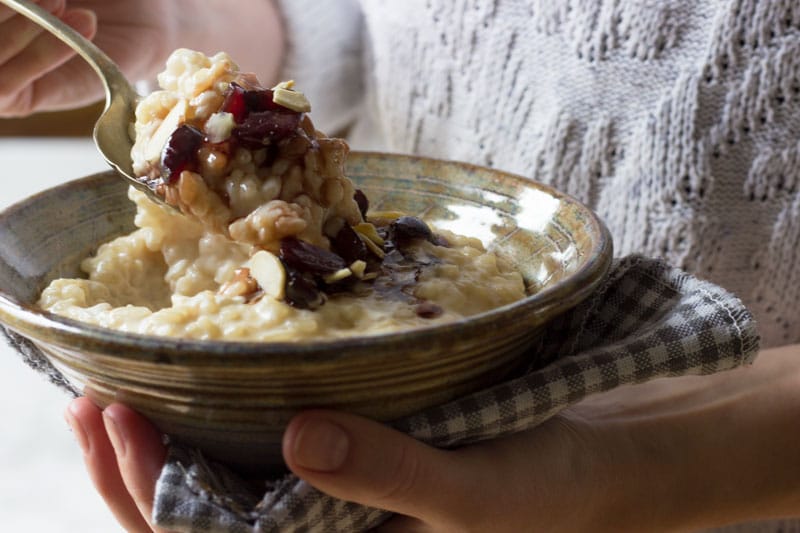 Just what I needed. Full-fat everything went into this and I loved every drop of it. So filling and nutritious. Caroline provides a basic recipe for the rice pudding along with additions to create a 'ris a l'amande' and a cherry sauce topping. The ris a l'amande is basically cold rice pudding combined with almonds, vanilla, rum and extra cream - how good does that sound? I adapted this slightly and served my pudding warm with just a sprinkling of flaked almonds and the hot cherry sauce.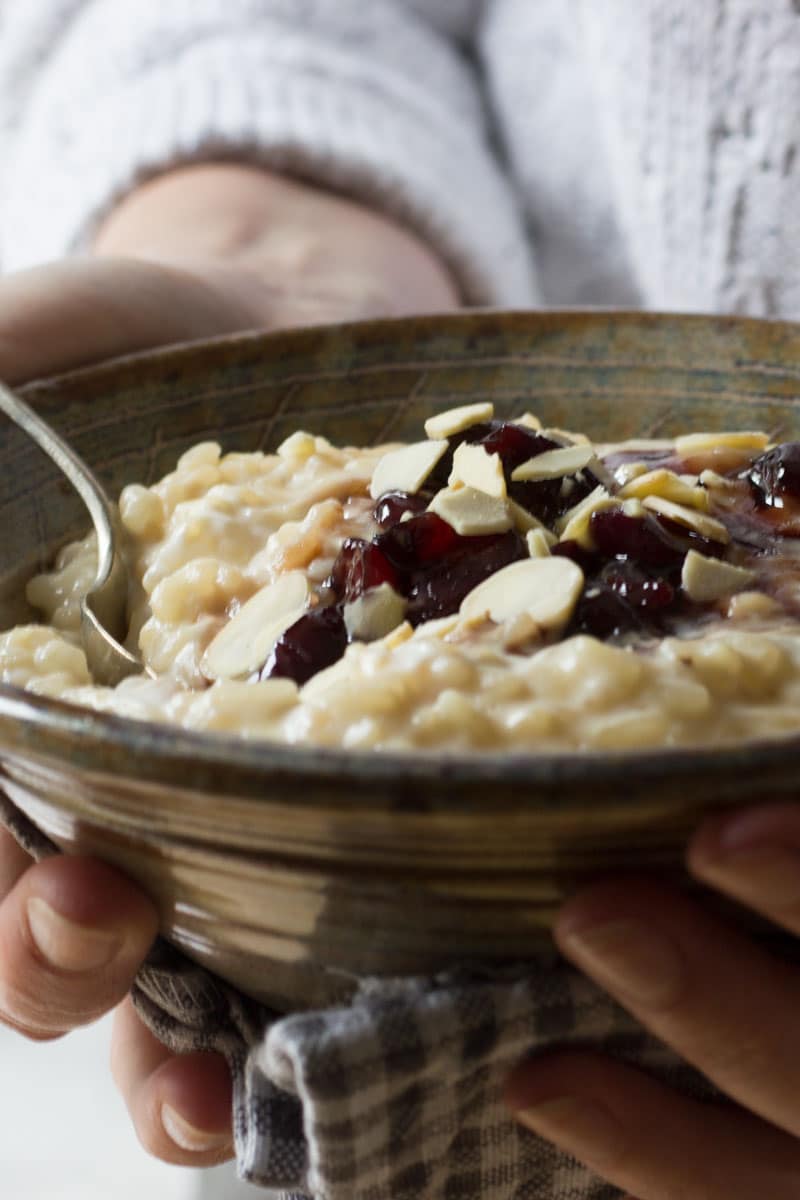 Ive shared my version of this traditional pudding below. But make sure you check out Carolines book to get the recipe for the rum, almond and vanilla version. - Caroline explained that in Denmark this version is traditionally eaten on Christmas Eve. - Sounds like a pretty good tradition to me.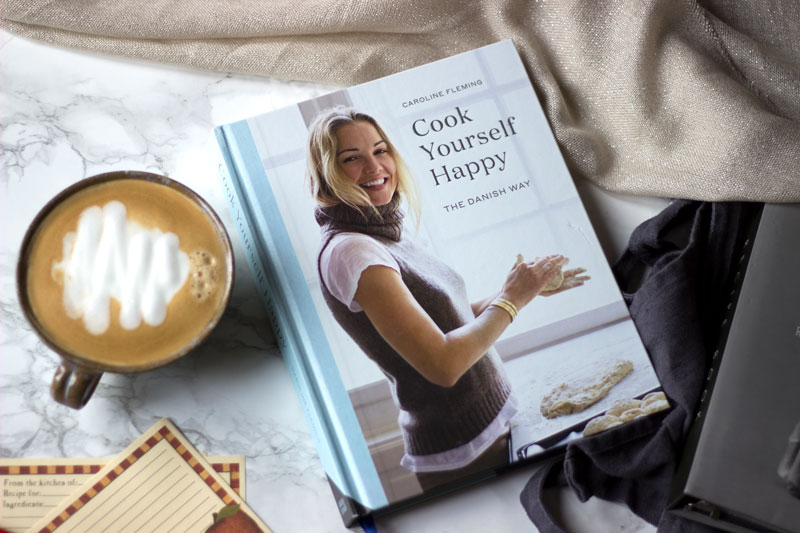 Cook Yourself Happy is available now in bookshops and you can also order through Amazon:
Click the book below to check current price and availability.
Please note that this is an affiliate link, which means if you do click this link and then go on to purchase this book, I will receive a small percentage - this will not affect the amount you pay. I will only ever link to and promote products that I have tried and tested myself.
All thoughts and opinions in this post are my own.
Other reviews
Thatchers sparkling apple wine

East Lancashire Railway Red Rose Diner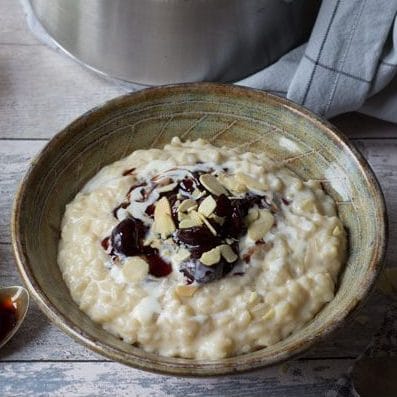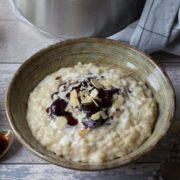 Rice Pudding & Cherry Sauce from Cook yourself Happy
Traditional rice pudding served with a warm sticky cherry sauce, flaked almonds and cream
Ingredients
For the Rice Pudding
250

g

White Rice Pudding Rice

250

ml

tap Water

550

ml

Whole Milk

Pinch

Salt
For the Cherry Sauce
200

g

Cherries

100

ml

Water

60

g

Coconut Sugar

0.5

tsp

Vanilla extract

30

g

Flaked Almonds

Drizzle of cream to serve
Instructions
Rinse the rice, in a sieve, under the cold tap. Transfer the rice to a small sauce pan and add the water, whole milk and pinch of salt. Stir well then place the pan on a medium heat and bring to the boil. Turn down the heat slightly and simmer for 45 minutes, stirring occasionally.

Whilst the rice is cooking make the cherry sauce. First remove the stones from the cherries. In a separate pan add the cherries, water, sugar, and vanilla. Stir and place on a medium heat. Allow the cherry mix to boil and then simmer for 10 minutes. The liquid should reduce and become sticky. Place to one side until ready to serve.

Once the rice pudding is cooked through, serve up in bowls. Quickly reheat the cherry sauce before spooning on top of the pudding along with a sprinkle of flaked almonds and a drizzle of cream if desired.
Nutrition
Serving:
1
g
|
Calories:
435
kcal
|
Carbohydrates:
80
g
|
Protein:
10
g
|
Fat:
9.9
g
|
Saturated Fat:
3.6
g
|
Polyunsaturated Fat:
1.1
g
|
Monounsaturated Fat:
4.3
g
|
Fiber:
0.7
g
PIN FOR LATER