Giant grains of wild rice mixed with garden peas, roasted courgettes and smothered in a lemon, garlic and parsley dressing. Served with flaked salmon, pomegranate seeds and runny poached eggs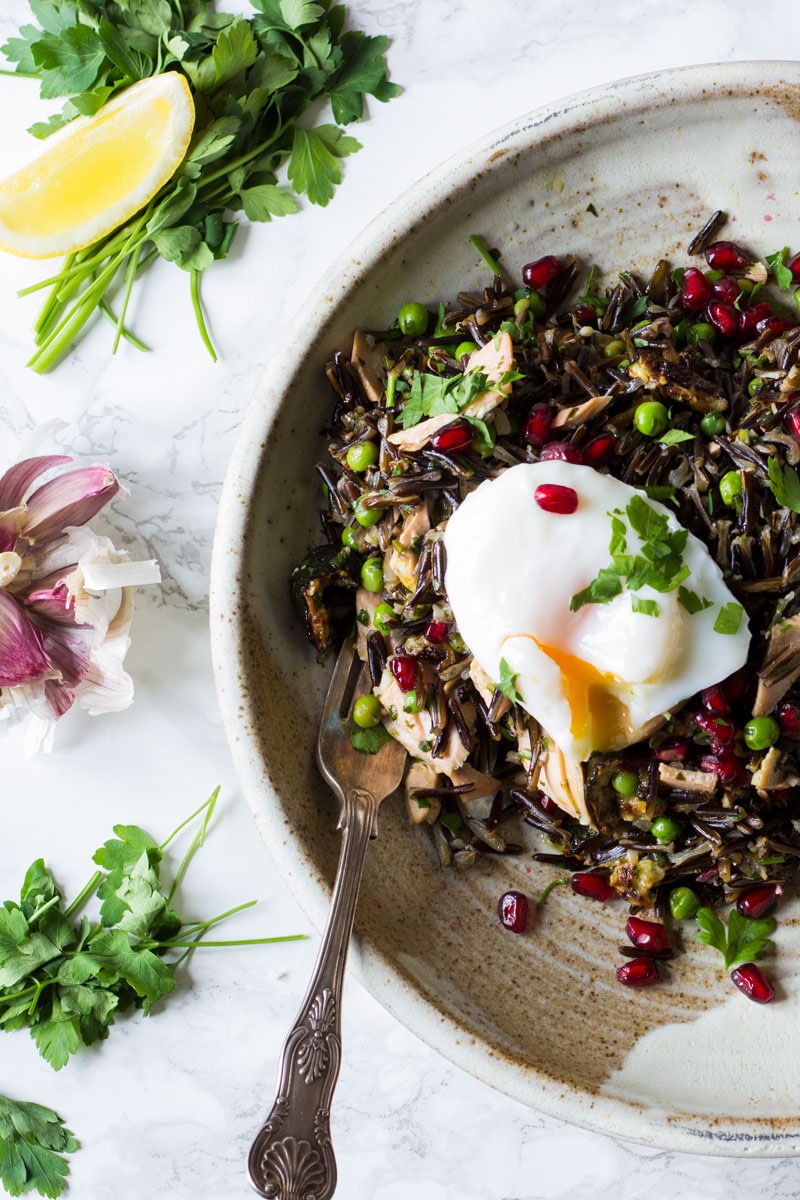 Salads
If I'm going to have a salad I want it to be bursting with flavour and crammed full of goodness. I've had my fair share of lettuce and cucumber and theres only so many ways to tart up a bowlful of greenage. But salad season is definitely creeping back in, spring is here and summer is pretty much in sight. So heres to being salad-prepared and having a few interesting options ready to go.
Grains
I do love a good grain in a salad, theres so many different ones about that I often have a cupboard full of packets of this and bags of that, with initial good intentions of course. However, when it comes to interesting grains I find theres a couple that I rely on and use again and again. My first love when it comes to grain-obsession is quinoa, I'm a massive fan of quinoa!! So simple and easy to cook and its definitely always a good fall back for a quick tea. Have a look at my chicken satay and quinoa salad recipe here.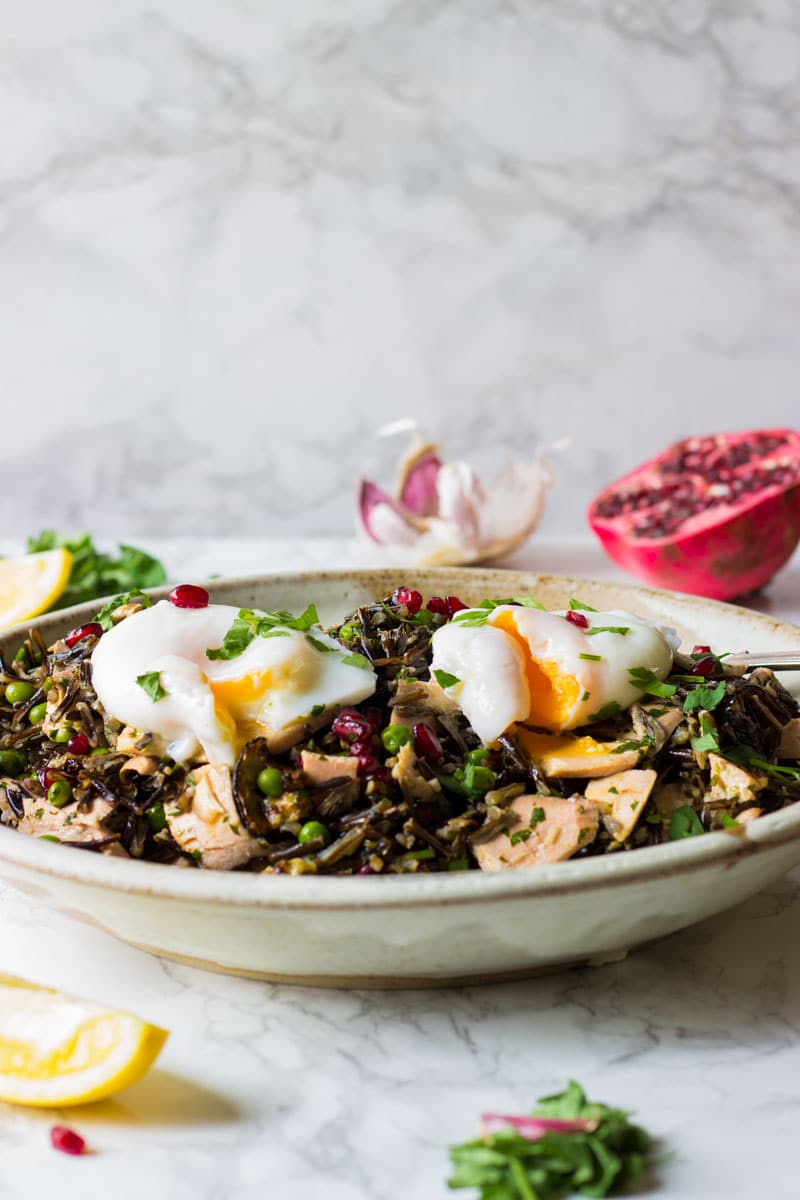 My second favourite and most cooked-with-grain is wild rice!
Wild rice
Its wholegrain, gluten free, and higher in fibre and protein than your standard rice - this is a great option if your looking for a dish packed full of nutrients. I love the colour as well - it really makes for an interesting dish. Even if the rice isn't the star of the show, its still looks pretty awesome in a side dish, like in my Italian chicken stew with parsley and sea salt wild rice.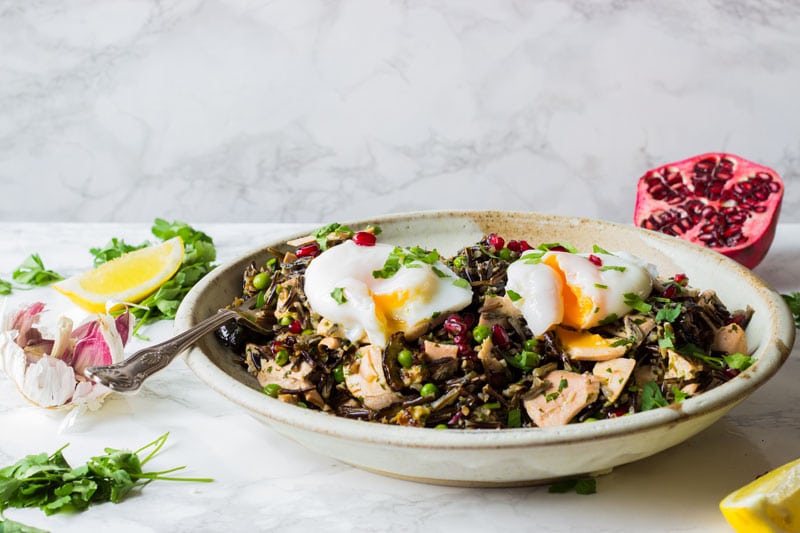 Wild rice salad
For this dish I used giant wild rice! I was quite pleased with myself when I spotted giant wild rice in the supermarket and I just had to try it in a salad. The giant wild rice that I found was from the Tilda range. It really makes a great contrast in both texture and colour to the pastel pink of the chunky salmon and the vibrant green of the sweet peas. Basically - I'm enjoying everything about this wild rice salad.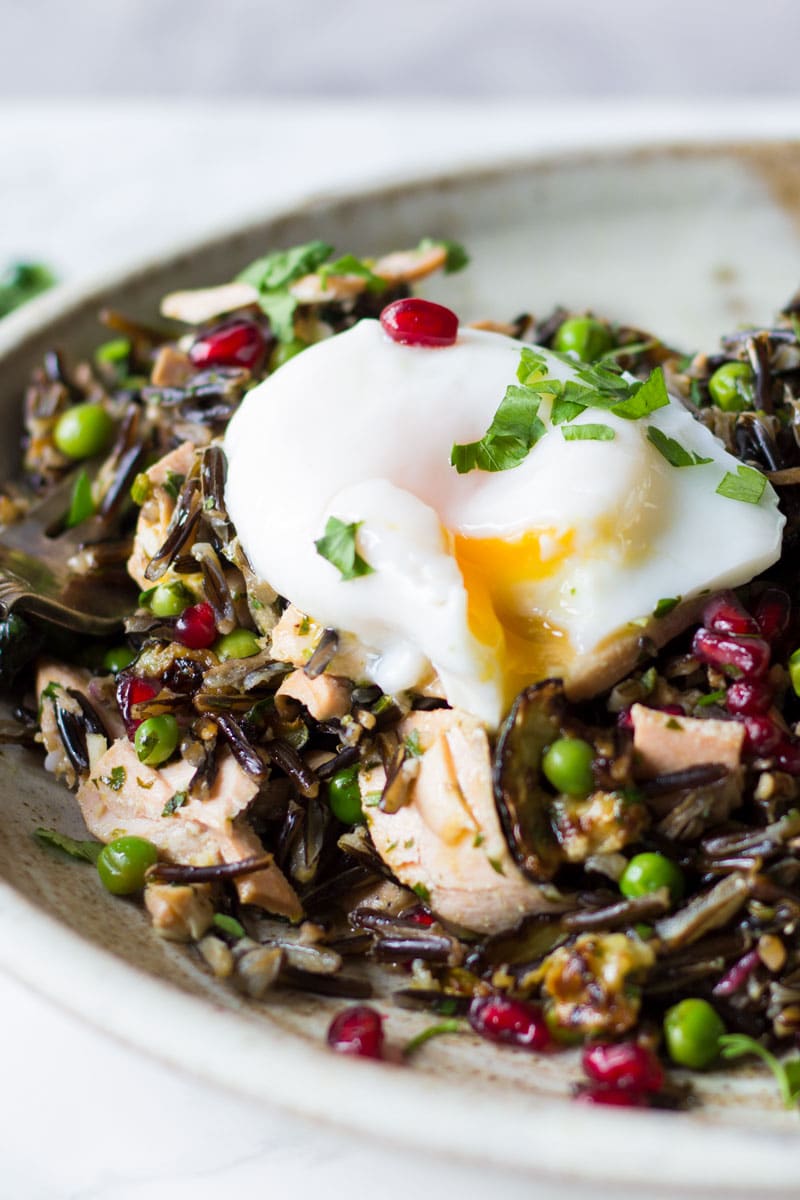 Salad dressing
Any good salad most definitely starts and ends with an incredible dressing. For this recipe I went for a simple 4 ingredient dressing. But be warned - it really packs a punch. Mainly the strong flavour is from the freshly chopped raw garlic and parsley, another nutritious addition to this recipe. However, if you're easily overpowered by strong garlicky flavours then I recommend gently frying the chopped garlic in oil for a minute or so and then draining and cooling before adding to this dressing. If you're a fan of garlic and fancy warning off a few vampires then get plenty of garlic minced in with the fresh parsley. The smell of the combined freshly chopped parsley and garlic together is simply amazing!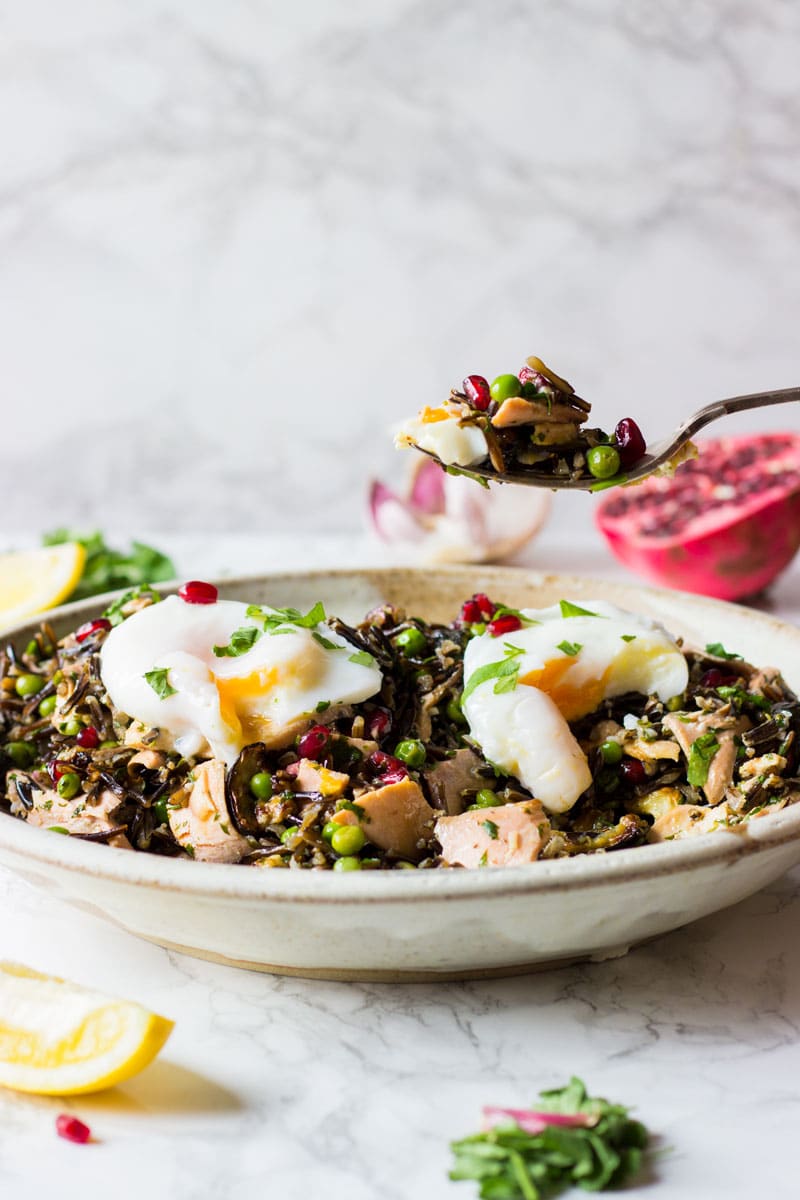 Poached eggs
As this dish is very nutrient dense I thought I'd really go all out and add in a few more essential amino acids with some lovely runny eggs. Runny egg yolk and rice goes so well together - especially with all that garlic as well. I can't tell you how many times we have poached eggs and rice for tea in our house. Its usually a kedgeree breakfast tea, I so love this kedgeree recipe!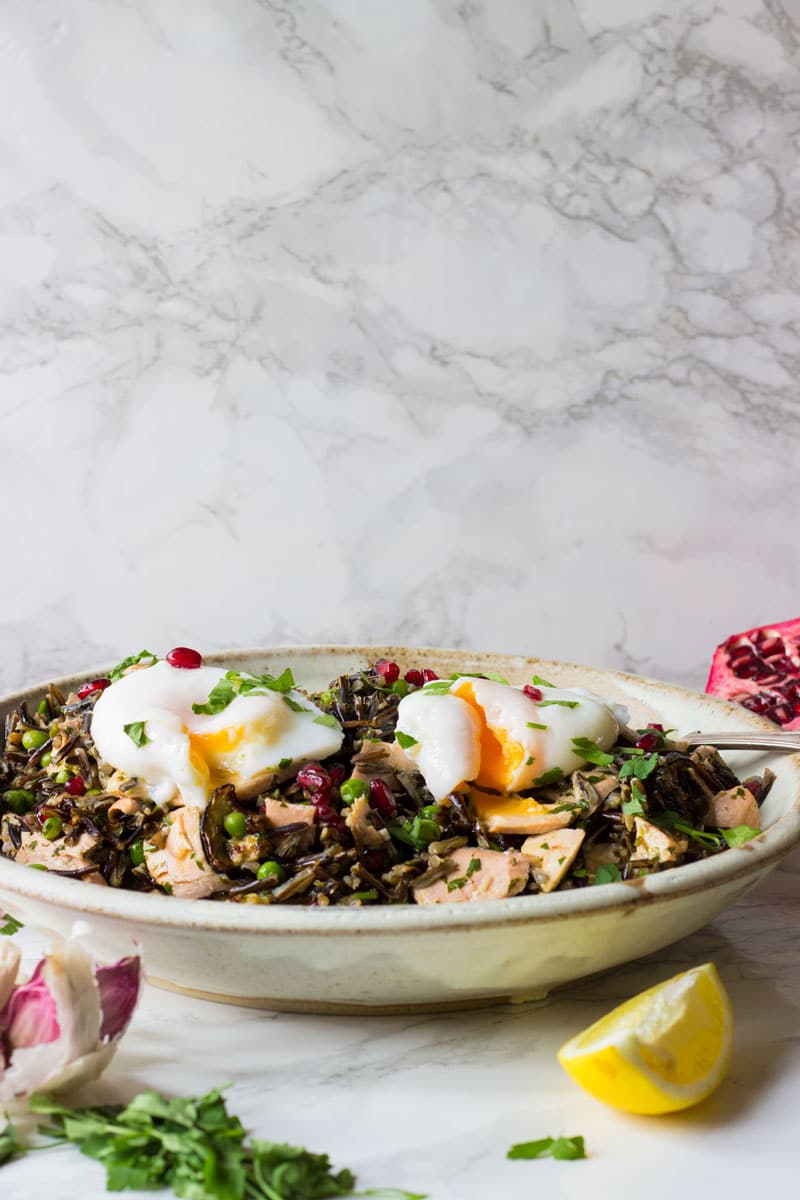 Nutritious wild rice salad
So, if you're after a rice salad recipe to add to your summer collection, which is tasty, filling and super good for you, then this is the recipe for you! Enjoy!!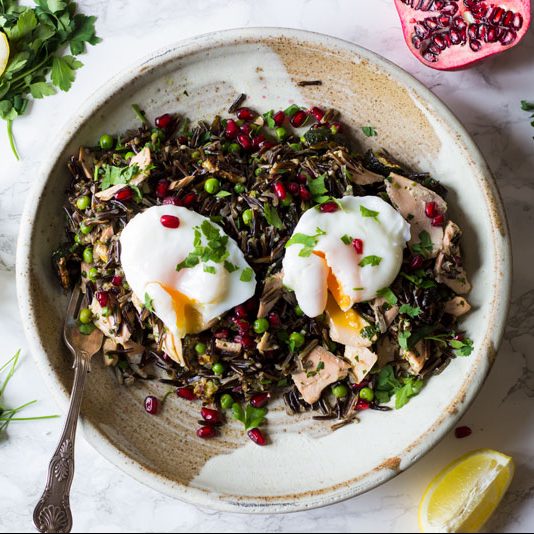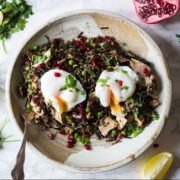 Giant wild rice salad with salmon and egg
Wild Rice Salad: giant grains of wild rice mixed with garden peas, roasted courgettes and smothered in a lemon, garlic and parsley dressing. Served with flaked salmon, pomegranate seeds and runny poached eggs
Ingredients
125

g

uncooked giant wild rice

I used Tilda giant wild rice

450

ml

boiling water

80

g

frozen garden peas

1

garlic clove finely chopped

15

g

fresh parsley chopped

0.5

Juice of a lemon

1

tbsp

rapeseed oil

200

g

salmon

2 fillets

1

tbsp.

olive oil

200

g

courgette cut into triangles

Seasoning

2

eggs poached

0.5

pomegranate

Extra fresh parsley for serving
Instructions
Prepare the rice
Place the giant wild rice in a pan and add the water. Place a lid on the pan and simmer for 45 minutes or until the grains are cooked. Check occasionally and add more water if needed.

Whilst the rice is cooking prepare the dressing, salmon and courgettes.
Preparing the dressing
Finely chop the clove of garlic and roughly chop the fresh parsley. Bring the garlic and parsley together on the chopping board and chop together with the knife until mixed and minced together. Place the garlic and parsley in a small bowl then add the lemon juice and tbsp of rapeseed oil and mix together. Set to one side. (Add more oil for a more parable consistency if desired)

(Tip: if you don't like too much of a strong garlic flavour, fry the chopped garlic in oil for a minute or so, then drain and cool before adding to the dressing)
Preparing the salmon and courgettes
Pre heat the oven to 180 degrees

Drizzle salmon fillets with half a tbsp of olive oil, season well and loosely wrap in foil. Chop the courgette into small triangles, place on one half of a baking tray and drizzle with half a tbsp of olive oil and season. Place the wrapped salmon on the other side of the tray. Bake the salmon and courgette in the oven for 20 minutes.
Putting together the rice salad
Once the rice is cooked add the frozen peas and simmer for a further 3 minutes. Next drain the water off the rice and peas and then mix in the dressing.

Once the salmon and courgettes are cooked remove from the oven. Add the courgettes to the rice and mix. Flake the salmon and also add this to the rice and gently mix in.

Serve up the rice and salmon salad and set to one side whilst the eggs are prepared.
Poaching the eggs
Fill a large pan with water and bring to a rolling boil (the water must have reached boiling point for the eggs to poach properly). Crack each egg into a ramekin or small bowl. Turn the heat right down on the pan of water until its fairly still and not bubbling any more. Carefully add each egg to the water, getting the ramekin as close to the surface as possible (dropping from a height will break apart the egg white). Leave to cook for around 3 minutes. You can check if the yolks are cooked and still runny, by carefully removing with a slotted spoon and pressing gently with your finger tips on the top of the yolk. It should be firm but not hard. If its still a bit jelly-like leave in the water for a further minute or so.

(Tip: Poach the eggs in advanced then plunge into ice cold water to stop the cooking process. The eggs can be kept like this until you are ready serve. To reheat place back into a pan of boiling water for 30 seconds)
Serve
Serve the eggs on top of your salad along with a scattering of pomegranate seeds and freshly chopped parsley.
Video
Nutrition
Serving:
475
g
|
Calories:
650
kcal
|
Carbohydrates:
59
g
|
Protein:
42.1
g
|
Fat:
29
g
|
Saturated Fat:
5.2
g
|
Sodium:
160
mg
|
Sugar:
9
g