Salami and Pork Ragu to go with your homemade Tagliatelle - Full Recipe and Video
A moreish pork ragu made in the traditional Italian way with the addition of fragrant fresh rosemary, and liquorice flavoured, fennel salami.
This is the perfect accompaniment to your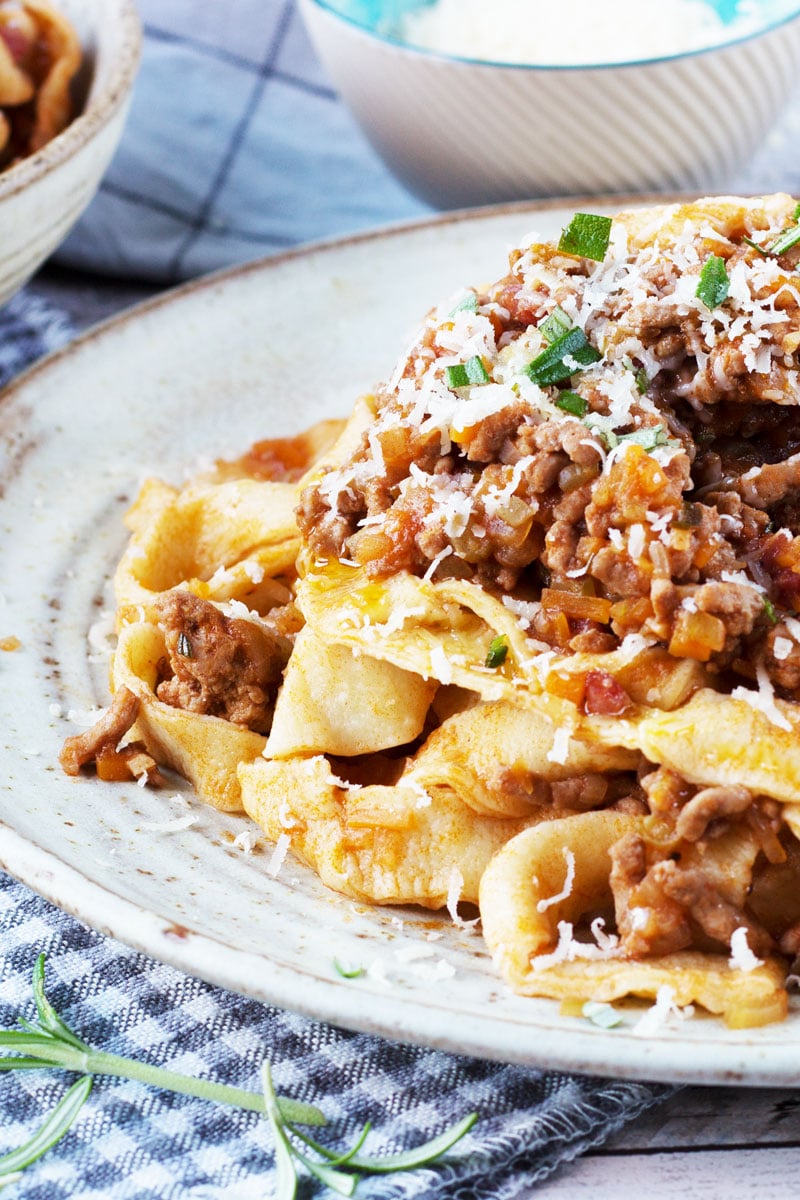 Pasta guide part 2
Part 2 of my pasta guide is all about a lovely, meaty, Italian, Ragu to mix through some amazingly fresh, cooked to perfection, homemade tagliatelle. If you missed my first pasta guide on how to make your own fresh pasta from scratch you can find it here: Homemade fresh pasta
Pork Ragu
Once the art of pasta making has been mastered, (and although it is an art its a nice and easy process) the sauce to go with the freshest of the fresh pasta has to be spot on. And of course the go-to sauce for any pasta dish is always good old bolognese. Or if your in Italy: Ragu. To make a truly traditional ragu the meat needs to include minced pork. This can be a mixture of beef and pork or just full on pork. However, if you fancy just sticking to beef then nip over to my Slow Cooker Beef Ragu recipe.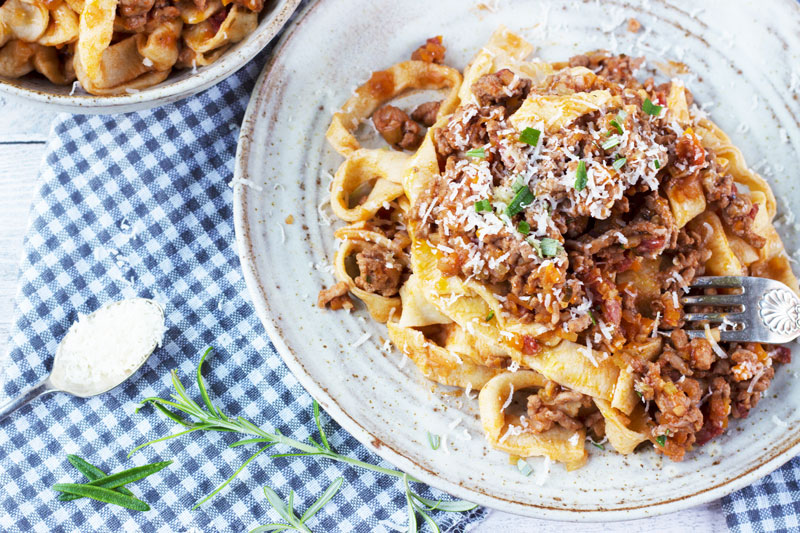 Ragu in Italy
I can't tell you how many times we've had Ragu in Italy - its a lot, but each time its always slightly different. Each chef has their own twist or secret ingredient to make it their own and to make it that little bit extra special. During our Honeymoon in Italy in 2017 we visited the little Tuscan town of San Gimignano, we found a tiny little restaurant, which was serving up Salami Ragu. And it was gooood.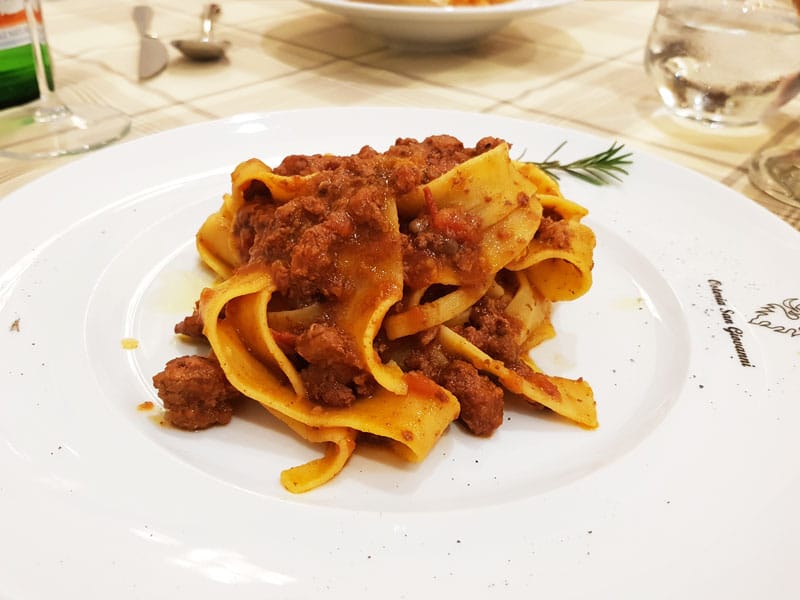 Salami
San Gimi is bursting at the seams with all kinds of salami and charcuterie, so it only seems natural that this fine produce should end up in their Ragu.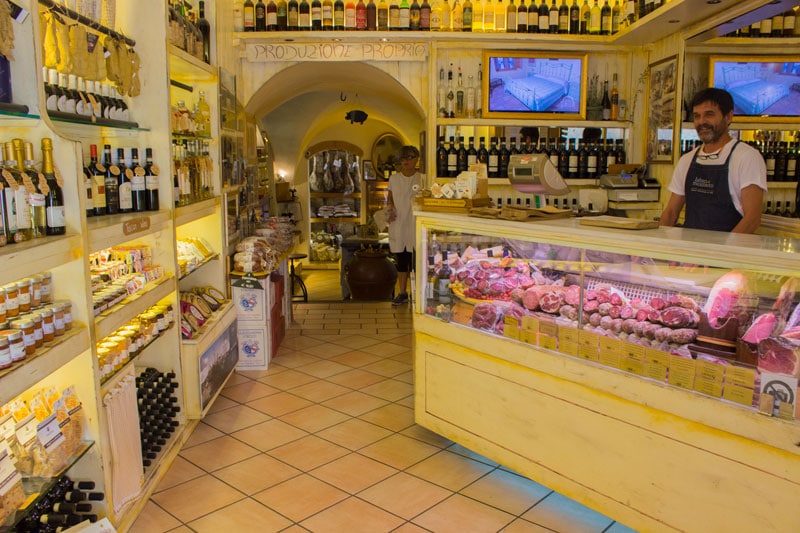 And it seems inevitable that we would buy some of their wonderful salami and whisk it back home to make our own special Ragu.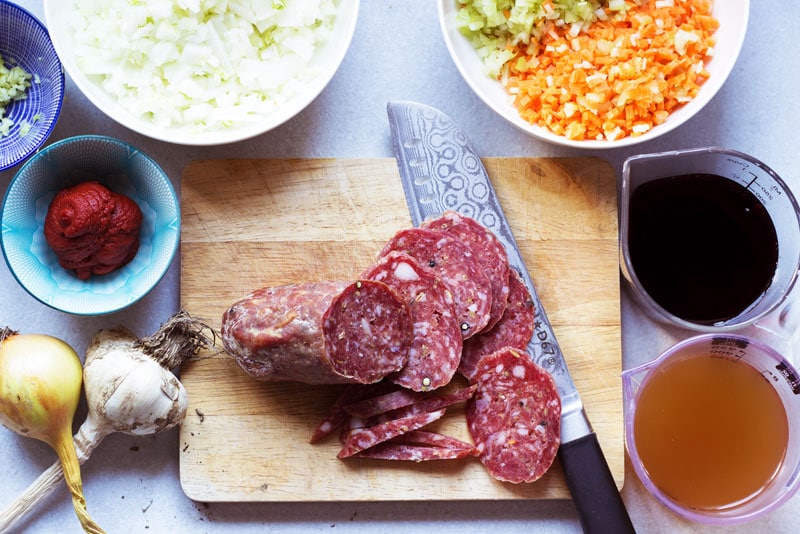 As this is a traditional Ragu the amount of tomato in this recipe is limited to just tomato puree and the rest of the sauce is made up of red wine and stock.
WATCH HOW TO MAKE SALAMI AND PORK RAGU
[embedyt] https://www.youtube.com/watch?v=p2Fc_AeWp_I[/embedyt]
So hearty and delicious and perfect in any season - Ragu or bolognese of any kind will always be my absolute favourite.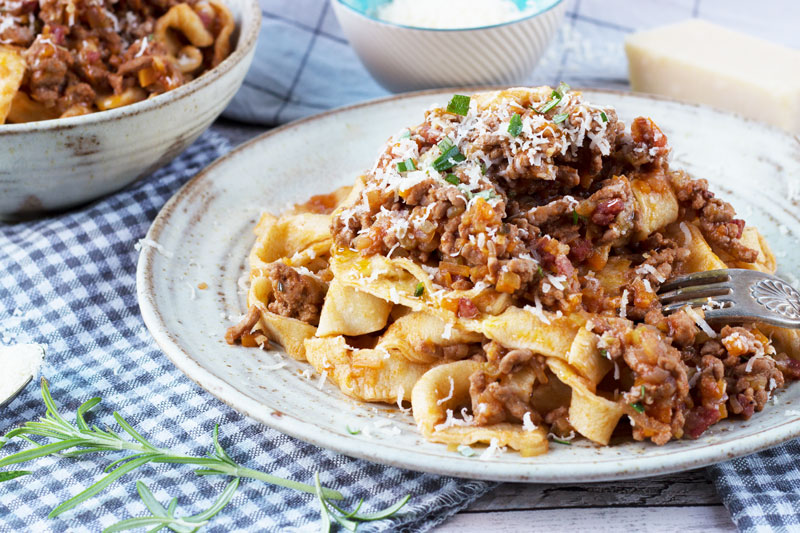 Whats next for my pasta guide?
Tortelloni and ravioli are down on my plan for the next few weeks! I'm so excited to make these myself from scratch. But before I delve into pasta thats slightly more complicated, I have 3 more recipes to share with you, which go with the different pasta shapes made in my first pasta guide. Watch out for these over the next couple of weeks 🙂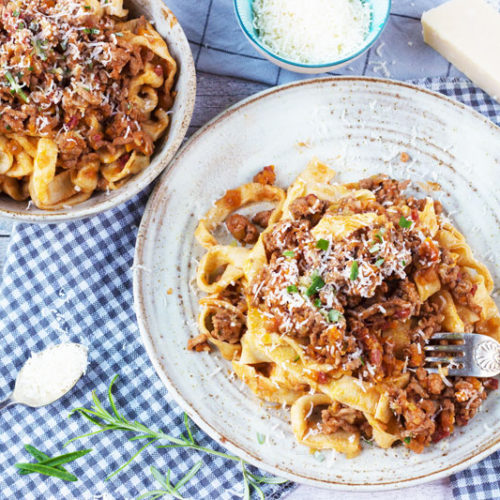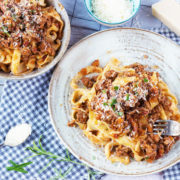 How to make the best Salami and Pork Ragu: Pasta Guide #2
A moreish pork ragu made in the traditional Italian way with the addition of fragrant fresh rosemary, and liquorice flavoured, fennel salami. This is the perfect accompaniment to your fresh homemade tagliatelle
Ingredients
½

tbsp

olive oil

100

g

carrot finely diced

100

g

celery finely diced

225

g

onion finely diced

2

cloves

garlic finely chopped

60

g

salami roughly chopped

I used fennel salami - ask for Finocchiona salami at the deli counter

500

g

lean minced pork

200

ml

red wine

200

ml

beef or vegetable stock

2

tbsp

tomato puree

10

g

freshly chopped rosemary leaves
To serve
Pasta

out of packet or homemade - see link above to make your own

Freshly grated parmesan

Extra fresh rosemary leaves
Instructions
Heat the oil in the large pan and add the onions. Cook the onions until soft and then add the diced carrot, celery and garlic.

NB: it is usual to dice the onion, carrot and celery into tiny even cubes - this allows for fast, even cooking and helps the veg to blend well into the Ragu.

Continue to cook for 2-3 minutes until the carrot and celery begins to soften. Next add the chopped salami and cook for 2-3 minutes. Follow with the minced pork and continue to cook until all the meat has browned - don't worry if things start to stick to the bottom of the pan - see next step.

Next add the wine and deglaze the pan (use the wine to unstick any browned bits on the bottom of the pan). Simmer the wine and reduce by half before adding the stock, tomato puree and fresh rosemary. Mix well, bring to the boil, then simmer and pop on the lid. Leave to simmer 20 minutes, check and stir occasionally.

Near the end of the cooking time place your pasta in salted boiling water and cook per instructions (either out of a packet or make your own fresh pasta - see my first pasta guide in the link above).

Toss the pasta through the Ragu and serve with parmesan and extra rosemary leaves.
PIN FOR LATER


I am linking this recipe to #cookblogshare hosted by hijackedbytwins, recipesmadeeasy, everydayhealthyrecipes and Easypeasyfoodie. I am also linking to #brilliantblogposts by honestmum, #recipeoftheweek hosted by amummytoo, and #CookOnceEatTwice hosted by seachingforspice,