Crumbly and sweet shortbread star biscuits with a sticky, blackcurrant jam filling. A lovely 3pm treat or great to have on hand for when guests come calling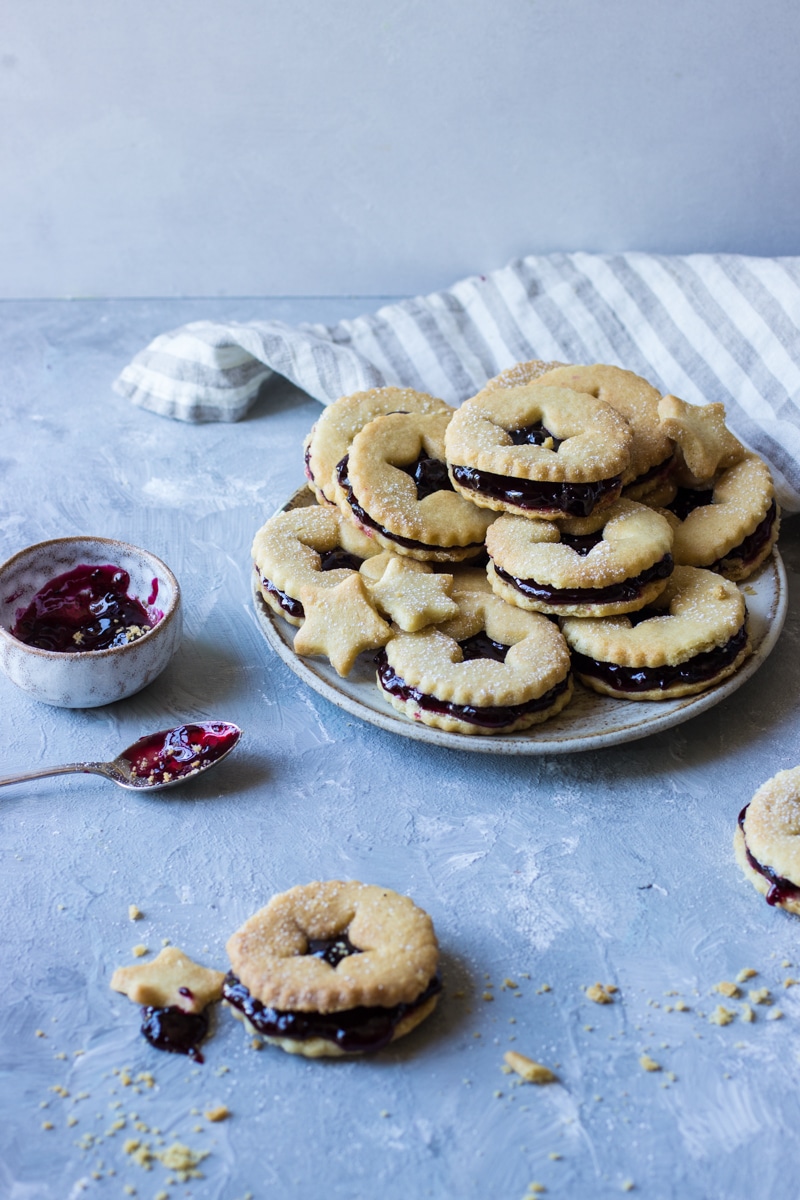 Tea and biscuits
The only way to really enjoy a proper pot of tea is of course with a couple of biscuits. Hobnob or bourbon, custard cream or jammy dodger, to dunk or not to dunk... It doesn't really matter which you go for, so long as there is biscuits then there is complete satisfaction and happiness.
And maybe a singing mouse in a teapot.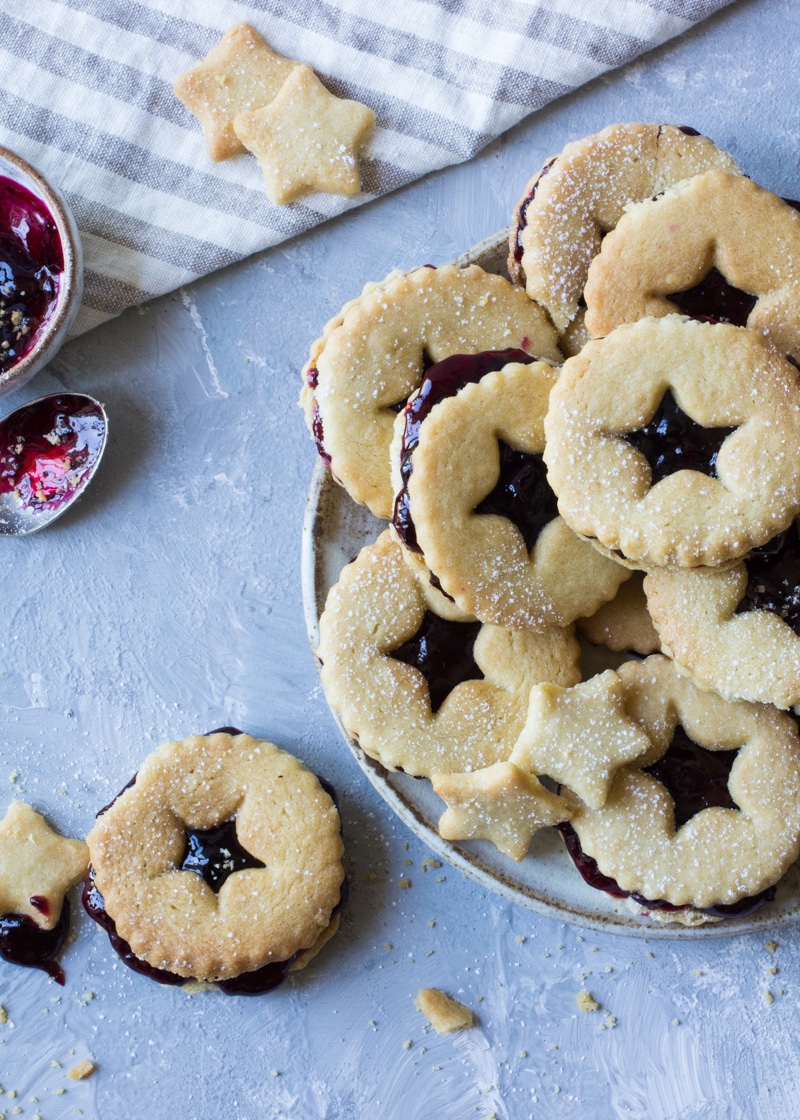 Now I know I am being way over the top and super British here but  - the pure joy of a biscuit with a cup of tea - it just cannot be beaten. Unless you want to start talking scones and clotted cream, buts that for a different day and a different recipe 🙂
Biscuit inspiration
So these lovely biscuits were inspired by the latest food photography course I attended in London at the fabulous Rye Studio (see details of this at the end of my: salted caramel popcorn cake post).

The course was run by Bea of BeasCookbook and Rachel of TwoLovesStudio. Apart from having the most fantastic day I also got to photograph some of Beas homemade biscuits - which you may have seen over on my Instagram account.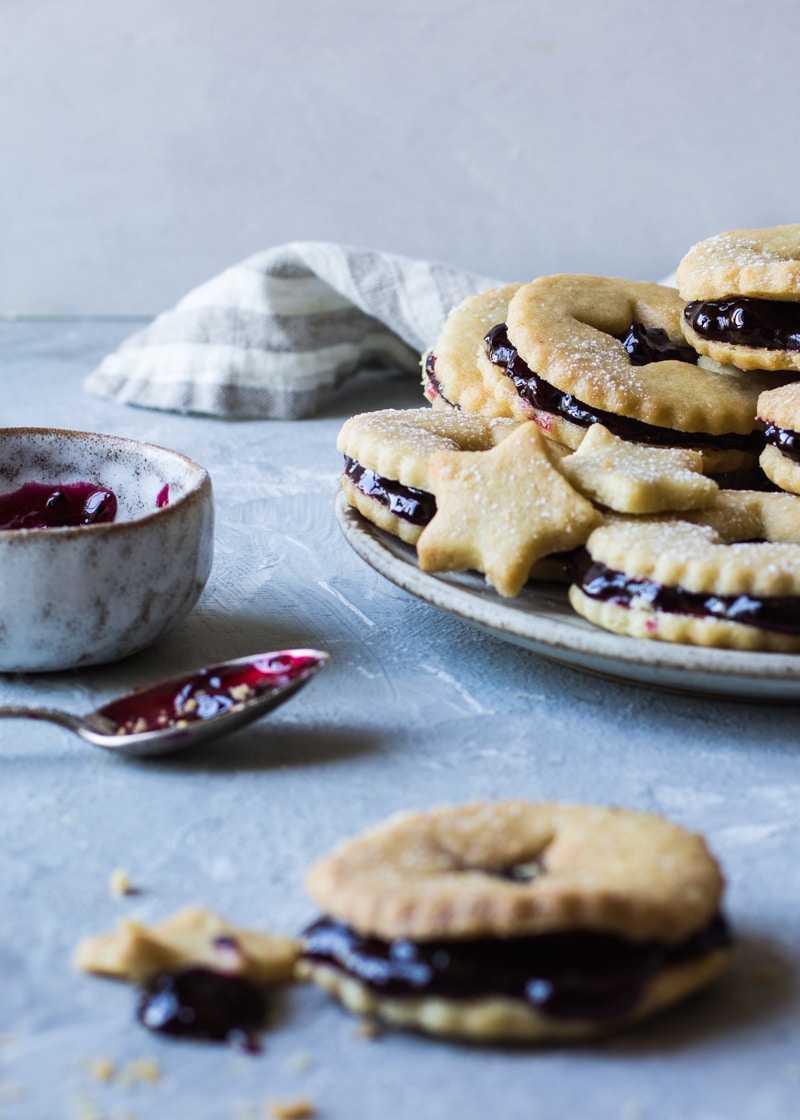 My own biscuit creation
Feeling super charged after the workshop I decided to come up with my version. I went for a shortbread biscuit instead of a plain biscuit and used my personal favourite when it comes to jams: Blackcurrant. We actually have early signs of blackcurrants growing on our allotment, which is super exciting. So hopefully I'll be able to do my own homemade blackcurrant jam later on in the year.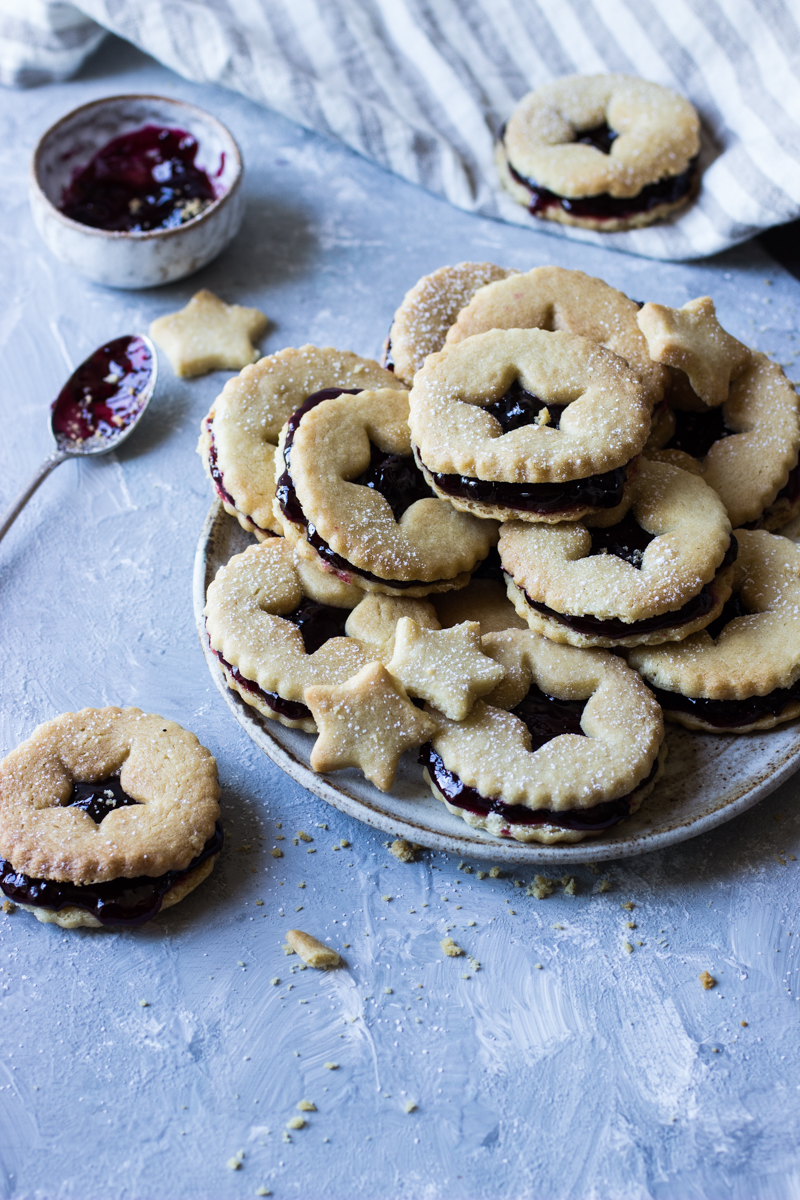 How to make shortbread
Shortbread is a fairly simple process: Soft butter and icing sugar are creamed together, a dash of vanilla extract goes in, then the flour is sieved and added to the mix along with a pinch of salt. This is mixed and brought together into a soft pastry. Then the pastry is wrapped in cling film and chilled for 20 minutes before being rolled out and cut into biscuit shapes. The biscuits are lined up on a tray then popped in the oven for around 12 minutes or until golden brown. Done - easy 🙂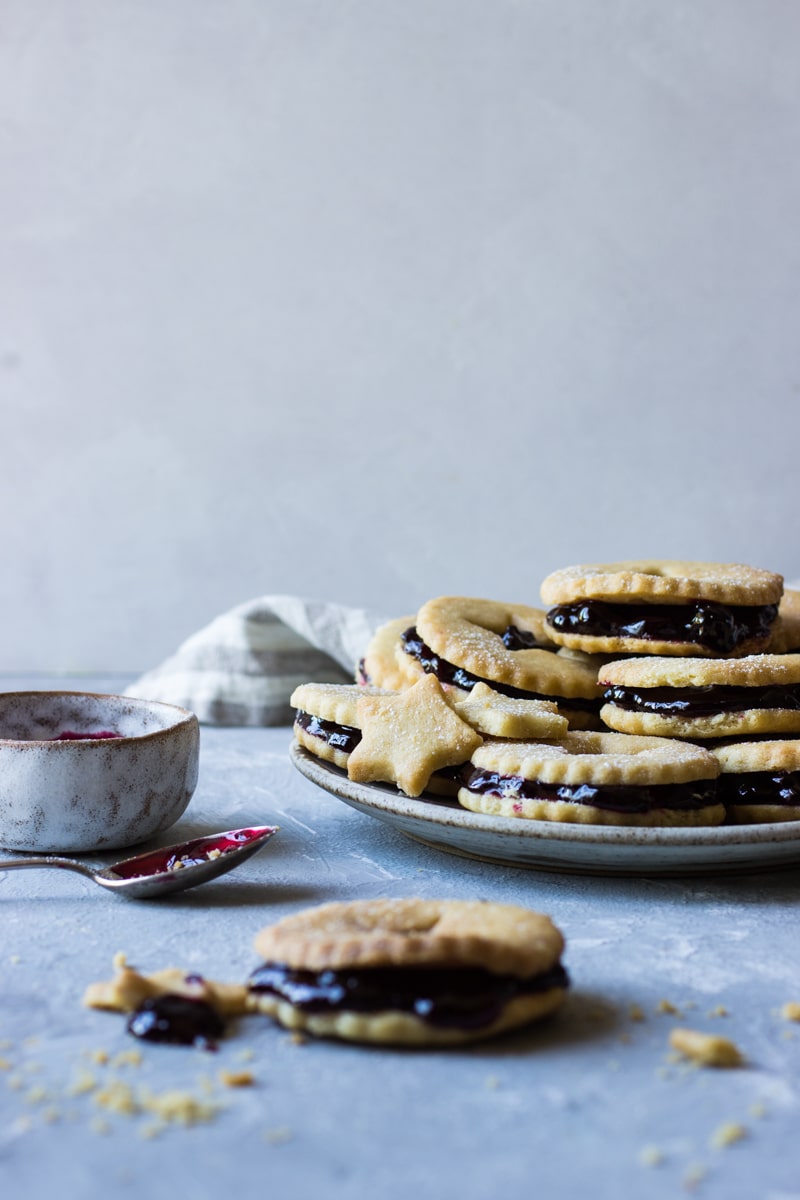 Blackcurrant jam
You may decide to leave it there . A simple, crumbly, golden brown shortbread biscuit - maybe with a dash of icing sugar on the top, not too shabby! However, adding that dollop of jam and squishing it between two delicate pieces of shortbread is just too irresistible. Its definitely like a big mix of jam sandwiches, jammy dodgers and jam filled scones all in one go.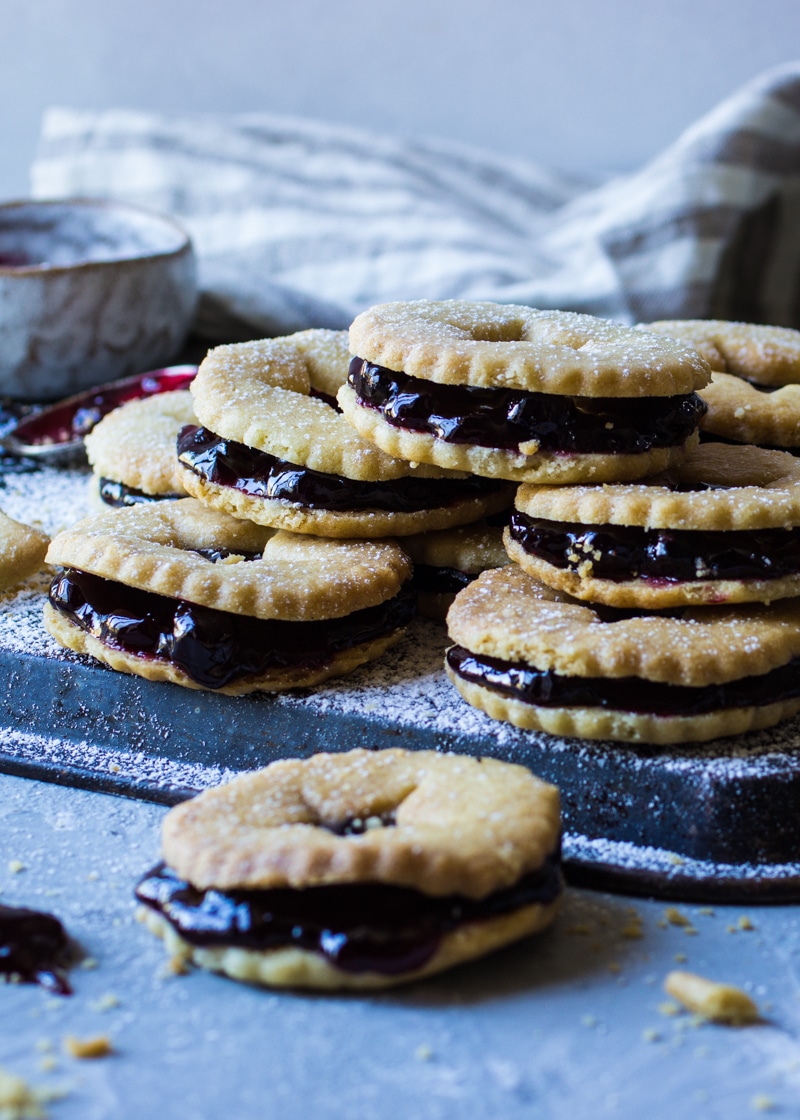 Eating said biscuits
Despite my first suggestion of how one might consume these biscuits - with a prim and proper pot of tea; there is, unfortunately, no way of eating these biscuits with any kind of grace or etiquette. Basically you just have to stuff 'em in, all in one go and enjoy 🙂
Other biscuit recipes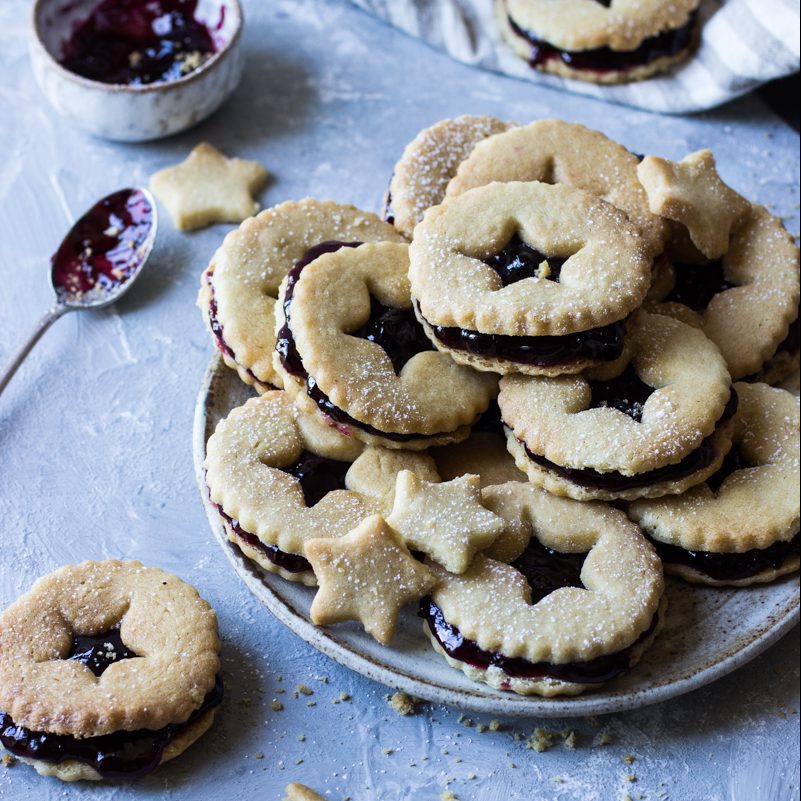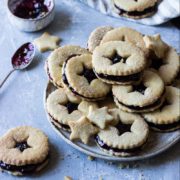 Shortbread and blackcurrant biscuits
Crumbly and sweet shortbread star biscuits with a sticky, blackcurrant jam filling
Ingredients
For the shortbread
225

g

unsalted butter

softened

75

g

icing sugar

1

teaspoon

of vanilla extract

225

g

plain flour

Pinch

of sea salt

Extra flour for rolling
For them filling
1

jar of blackcurrant jam

or your preferred flavour
Equipment
Stand mixer or large bowl and wooden spoon

2

inch

circular pastry cutter

Small star pastry cutter which fits well inside the edges of the circular cutter

Baking tray lined with greaseproof paper

Rolling pin
Instructions
To make the shortbread
In the stand mixer or bowl, cream together the butter and icing sugar - use the beater attachment on the stand mixer, or if creaming by hand mash with a fork and then mix together with a wooden spoon until creamy and light.

Next add the vanilla extract and mix again.

In a large bowl sieve the plain flour and stir in the salt. Add the flour to the butter mixture and continue to beat or stir together until a soft pastry is formed.

(NB: Alternatively use a food processor to mix the ingredients but whiz together the eggs and sugar first, then add the soft butter and then the dry ingredients.)

Bring the pastry into a ball then wrap in cling film and chill in the fridge for 20 minutes.

After 20 minutes remove the pastry from the fridge and pre heat the oven to 180 degrees C (Fan).

Dust flour over your work surface and rolling pin. Unwrap the pastry and roll in the flour.

Using the rolling pin, roll the pastry out to around 3mm thick. Use the round pastry cutter to cut out 24 circles (gather and re roll the pastry if necessary). Use the star pastry cutter to cut out a star shape in 12 (half) of the circles. (save the cut out stars for extra decoration). This will give you 12 base biscuits and 12 topper biscuits with stars cut out.

Transfer the circle and circles with stars onto the lined baking tray. Add the stars if theres space. (you may need to bake in two batches if your tray isn't big enough).

Place in the centre of the oven and bake for around 12 minutes or until pale golden brown.

Remove from the oven and cool on a wire rack.
Putting together the jam and shortbread
When completely cool take the 12 biscuits without stars cut out. Place them upside down on your work surface and then add a heaped teaspoon of jam to each one. Carefully place a starred circle biscuit on top of each of these. Pile onto a serving plate and finish with a dusting of icing sugar.
Good to know: wrap in cling film and leave overnight to achieve a slightly softer biscuit (more like the texture of a scone - bis-scone!!) 🙂
PIN FOR LATER

I am linking this recipe to #cookblogshare hosted by hijackedbytwins, recipesmadeeasy, everydayhealthyrecipes and Easypeasyfoodie. I am also linking to #brilliantblogposts by honestmum, #cookonceeattwice by searchingforspice, #bakingcrumbs by onlycrumbsremain and joskitchenlarder, and #recipeoftheweek hosted by amummytoo.