All Aboard!!
My spring soup train is back and the second stop is this delicious spiced cauliflower and chickpea soup. Its quick, its healthy, its creamy without having any cream, and its got a warming kick from the ginger, curry powder, and sprinkle of paprika. Whats not to love?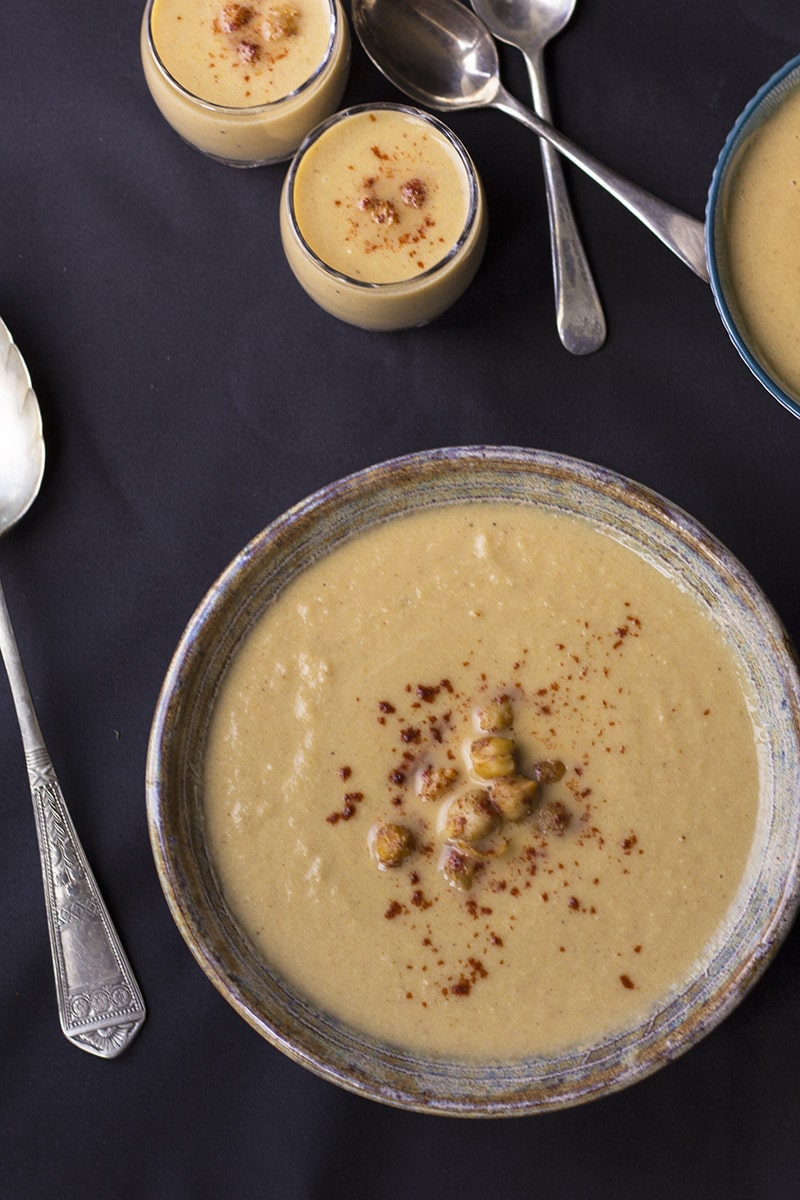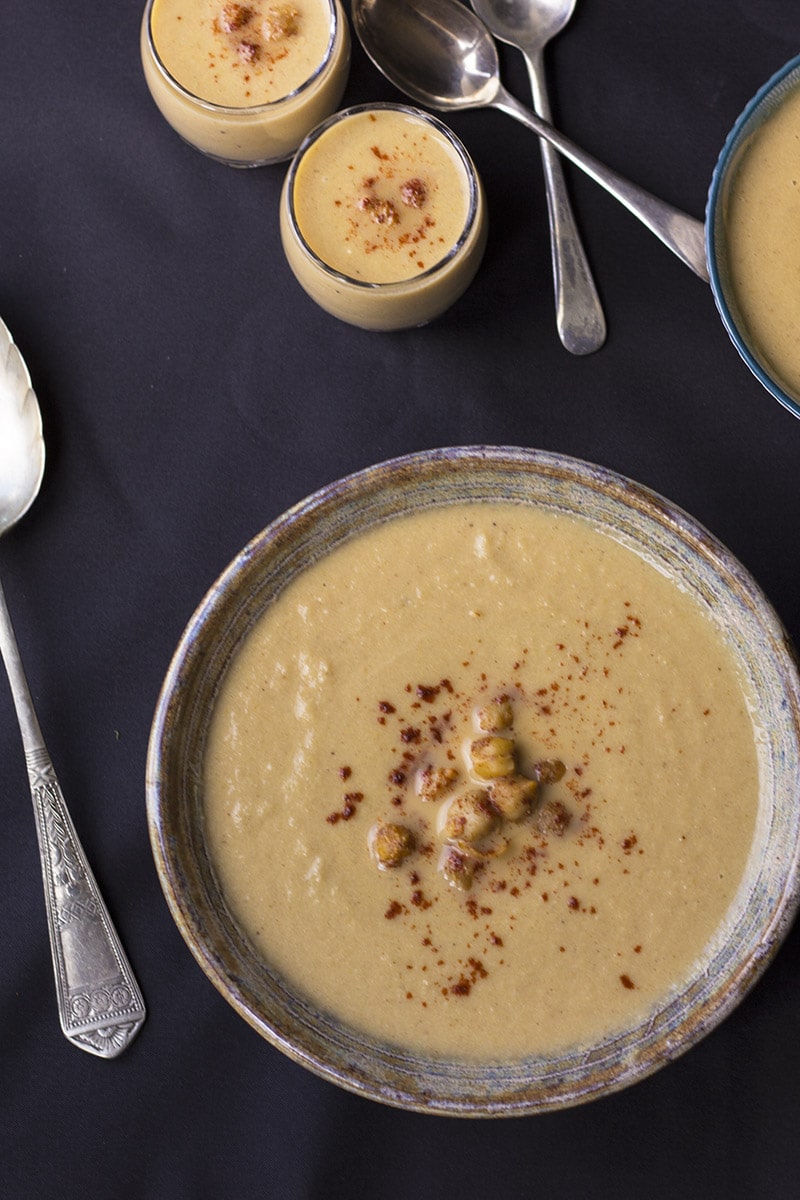 Soup in spring
I can't lie to you - my freezer is actually full to the top with all my spring soups, there is literally no room for anything else.
And why? Why am I soup obsessed at the start of summer? - Surely I'm all mixed up here? I know that soup is usually an Autumn/Winter thing for most people, but I tend to love a bit of soup whatever the weather or time of year. I'm one of those forever-cold people, wrapped up in layers and hundreds of cardigans - proper old. So I love to hug a mug of soup or slurp down a bowlful in a bid to feel warmer or just a little more happy inside. I suppose soup for me is just a great pick-me-up.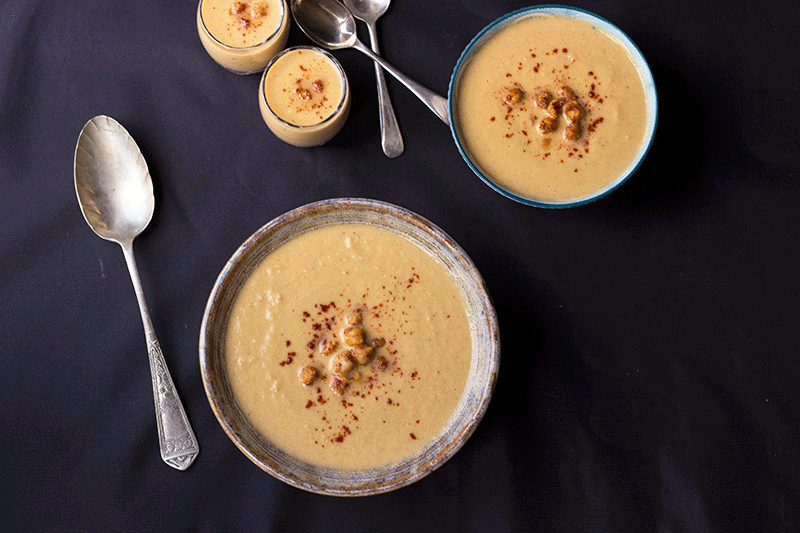 Plus, any soup that is choker full of lovely spring veg, is the perfect way to get into the swing of healthy eating in preparation for the summer months.
If you missed my first spring soup, you can have a quick nosy here >> Purple sprouting broccoli, pear and mascarpone soup - before coming back here to check out this amazing spiced cauliflower and chickpea soup thing we have going on:-)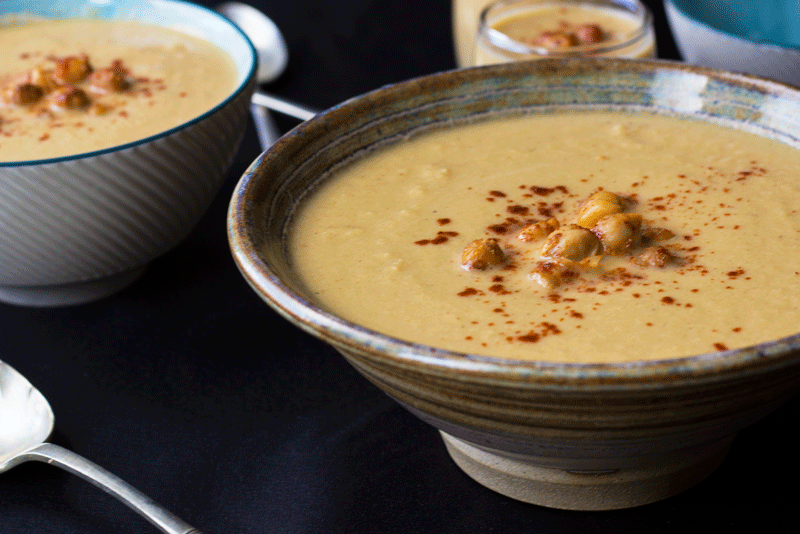 Spiced Cauliflower and chickpea soup
This soup actually began life as one of those cauliflower rice recipes. You know. . . the new way to eat rice without eating rice kind-of-things. Not that I dislike cauliflower rice, quite the opposite. - Roughly chopped cauliflower florets with chickpeas, tossed in oil, paprika and turmeric, then roasted until crisp is definitely high up on my list of healthy mid week teas. Its so easy and goes great with fish. I adore tuna steak fried off with cumin seeds and served with roasted cauliflower rice. But thats a recipe for another time.
So yes, this soup was born from me making cauliflower rice countless times and loving it to the point where I was getting sick of it. So I decided it might be time to change it up a little. A few little additions and a quick zuzz in the blender and there you have it - spiced cauliflower and chickpea soup.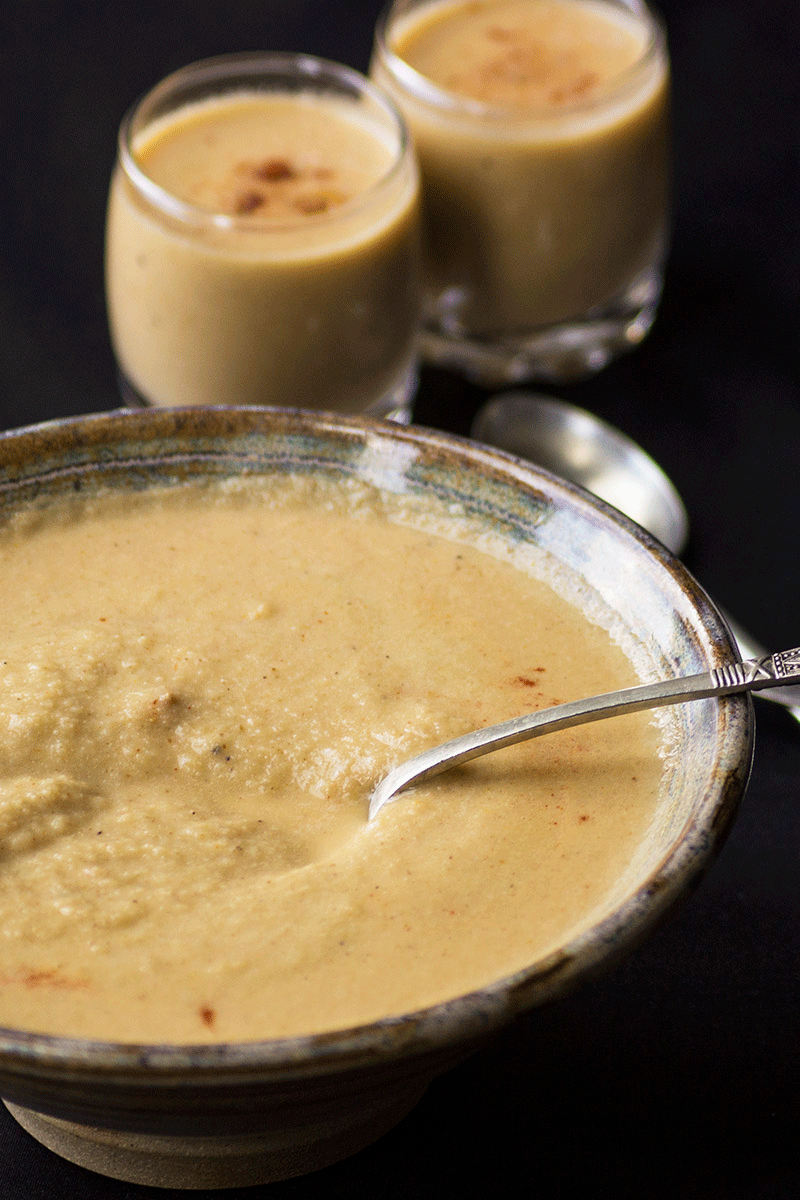 Seasonal Soup
Just in case you were wondering, cauliflower is in season at the moment. Its flourishing and wonderful, its British and its cheap, cheap, cheap. Just like all that purple broccoli which is popping up everywhere; British cauliflower is in abundance now, so go make the most of it. Although maybe don't go as far as me and let it completely take over your entire freezer 🙂
**Estimated nutritional information per serving and per 100g of potato cake and quinoa salad. If you want to find out more about how the information is calculated and the sources used, please refer to my Nutrition Information Guide.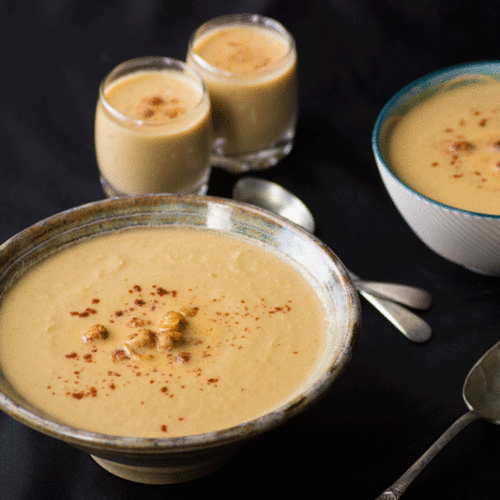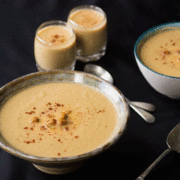 Spring Soups: Spiced Cauliflower, Chickpea and Ginger Soup
A warming cauliflower, chickpea and ginger soup spiced with paprika and curry powder and finished with a dash of sweet honey.
Ingredients
850

g

Cauliflower florets roughly chopped

20

g

finely chopped or grated fresh ginger

400

g

tinned chickpeas

240g drained

2 ½

tsp

medium curry powder

½

tsp

mustard powder

1

tsp

paprika

1 ½

tbsp

olive oil

1

large onion

250g roughly chopped

1000-1200

ml

boiling water

tbsp

clear honey

Sea salt and black pepper to season
Instructions
Pre-heat the over the 180 degrees C (Fan).

In a large bowl mix together the cauliflower, ginger, drained chickpeas, curry powder, mustard powder and paprika. Add 1 tablespoon of the oil (save half a tablespoon for later) and toss together well (I used my hands to ensure all the spices and oil fully coated the cauliflower and chickpeas).

Transfer the contents of the bowl to a large roasting tin, place in the middle of the pre-heated oven and roast for 25 minutes. Check and stir half way through.

Whilst the cauliflower is in the oven gently heat the remaining half tablespoon of oil in a large pan and add the chopped onion. Gently sweat off the onion until transparent then take off the heat until the cauliflower is ready.

When the cauliflower is done remove from the oven. Pick out a handful of the crispiest chickpeas and put to one side for a topping later on.

Add the roasted cauliflower and chickpeas to the cooked onion and return the pan to a gentle heat and cook for 5 minutes.

Next add 800ml of the boiling water. The rest can be add gradually later until a desired consistency is reached. Mix well and bring to a gentle simmer for a further 5 minutes.

Remove from the heat and either transfer to a blender or use a hand blender. Blitz the soup until smooth. Add more boiling water if the consistency is too thick. Add gradually until you are happy.

Next add the honey and blitz again.

Taste the soup and season.

At this point the soup can be returned to the heat before serving, topped with chickpeas put to one side from earlier on and a sprinkle of extra paprika. Alternatively, transfer to containers, cool and then freeze.

Soup will keep well in the freezer for up to 3 months.
Nutrition
Serving:
400
g
|
Calories:
132
kcal
|
Fat:
3.8
g
PIN FOR LATER

I am linking this recipe to #cookblogshare hosted by hijackedbytwins and Easypeasyfoodie. I am also linking to #brilliantblogposts by honestmum, #CookOnceEatTwice hosted by seachingforspice, #meatfreemondays hosted by tinnedtomatoes, #Nocroutonsrequired hosted by tinnedtomatoes and foodandspice, and #simpleandinseason hosted by feedingboys.