Hi and welcome!
I'm Debbie and this is my internet home. Its not much so far as I'm brand new to food blogging and only just getting started. The good news is that I have lots of ideas that I can't wait to get posted up – so watch this little bit of t'interweb and hopefully it will grow 🙂
By day I work full time as a Nutrition Researcher……all academicy and stuff…. hmmm
….and so I must cook and blog by night. So far this is working out okay with 6 or so posts already finished and published – take the time to have a look if you can.
My great love (other than my wonderful fiancé Ben of course) is most definitely food. I love simple home cooked things like spag bol, risotto or my Mums cottage pie piled high with mash and smothered in gravy 🙂 I've already managed to get a risotto recipe on here and with the help of Ben (master of fresh pasta making) I'm working on a version of a spag bol, which will actually be ragu tagliatelle – its making my mouth water just thinking about it. I don't really have many food dislikes and I love trying anything new. – Especially if it inspires me to cook something new.
In 2012 Ben and I were lucky enough to be able to go on a 10 month round the world trip. It was one of the most amazing experiences of our lives and something that we will never forget.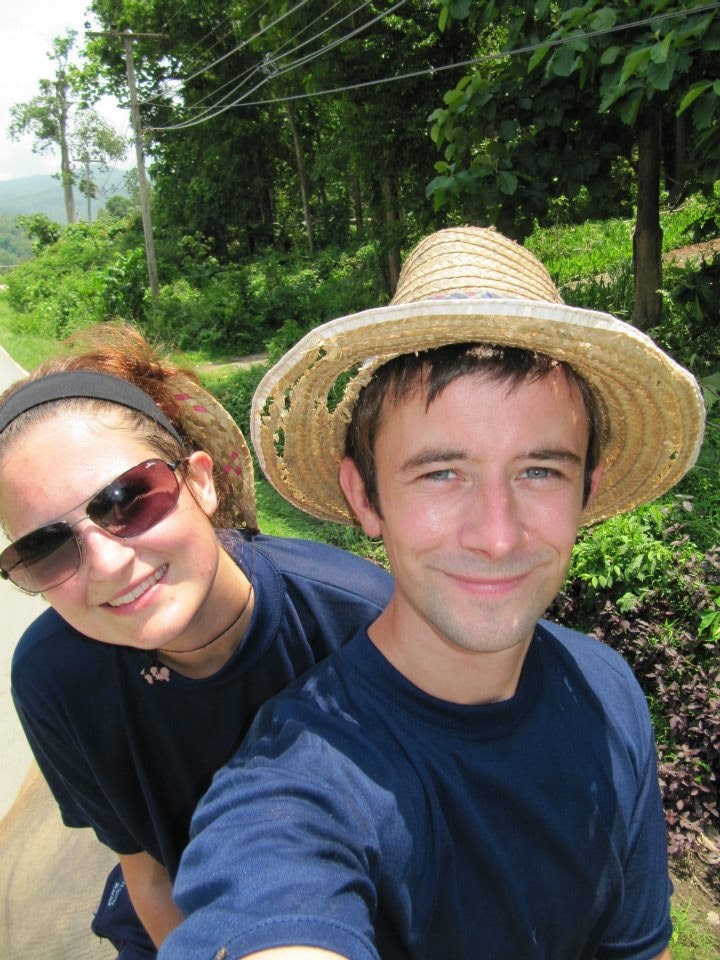 Of course the food was one of the best bits and a major highlight for us……
…….. mostly 😉
We tried everything from octopus in Japan and amazing pho noodles in Vietnam to chicken parmi in Australia and meatloaf in Vegas. Along the way I kept a diary and notes of food that really stood out, with plans of cooking great things when we got home. However, when we did get home the diary soon got forgotten and time slipped away without me really ever trying to recreate anything from our travels – disastrous!! Honestly – absolutely unforgivable! If this blog had only one purpose it would be to kick me up the bum and encourage me to finally get around to cooking all that wonderful, worldly food from my diary – which is slowing falling to pieces – so I best be quick about it. I hope it works as theres so many great dishes that I want to make….and eat! I would love some of the more unusual recipes to become a regular part of our home menu – and as an added bonus I will hopefully get to share these tasty, beautiful dishes with the world as well.
On a different note, my other ambition (still food related of course) is to one day have my very own little cafe/restaurant – big ambition I know, but a girls gotta dream……. Anyway, I'd like to think of this blog as my first step on this pathway – a very tiny step obviously, but better than no step at all. I hope to make step 2 very shortly by completing a 4 week professional cookery course at Ashburton Chefs Academy. I'm hoping this will give me a great load of inspiration as well as improving my skills and confidence. Of course I intend to blog about this experience, so come back soon to see if I actually manage to stick to my plans and how it all goes.
So……watch this space hopefully in a few years time you can call me Chef Debs 🙂
Thanks for visiting!!