An energising bowl of porridge livened up with sweet honey, refreshing mint, crunchy apple and seeds, and a dusting of  cacao powder. Who says porridge is a winter breakfast??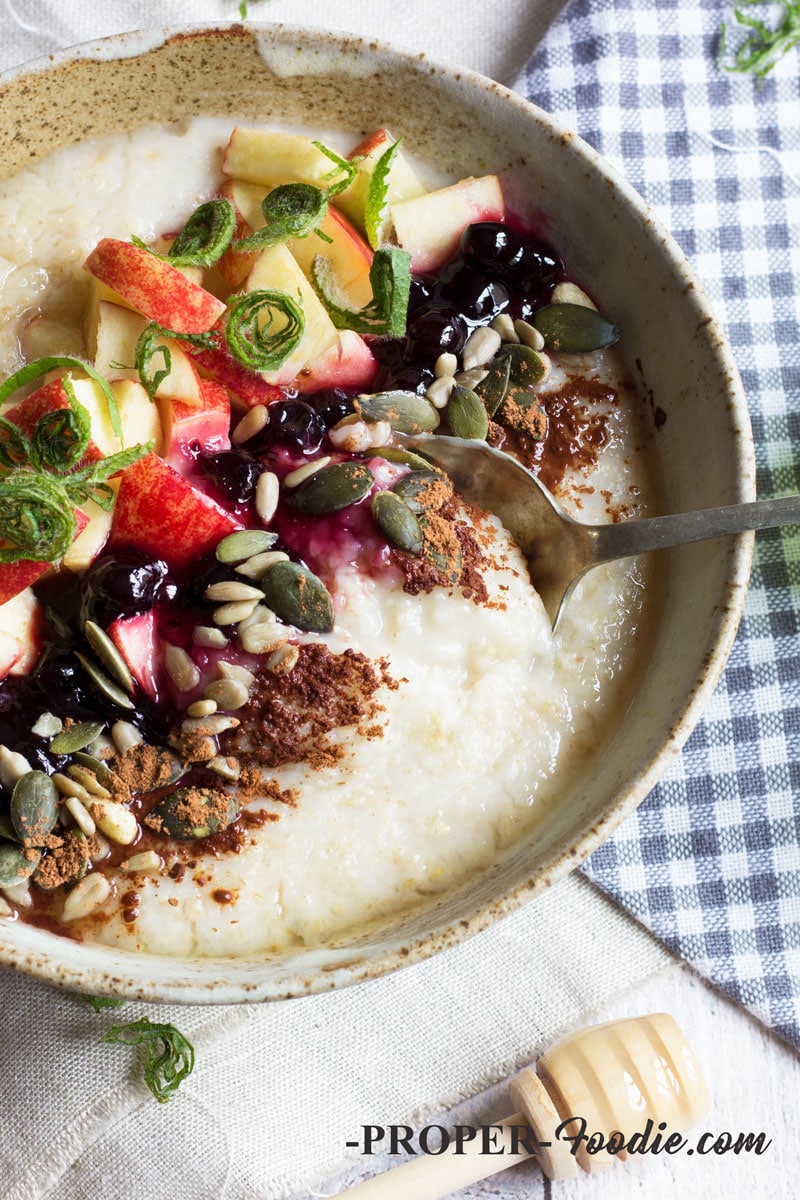 Porridge for breakfast
With the British summer having many ups and downs there is only so many days a year when all I want for breakfast is an ice lolly. The current climate, despite it being the end of June, has got me running back to my porridge bowl without a second thought for fruit salads and greek yogurts. But some how porridge in June seems all wrong - It just doesn't seem right if the temperature is above 10 degrees. And so, just as I did with my Chilli recipe, I have summerfied this winter warmer. With a bit of fruit and refreshing vibrancy I hope I've now made the good old porridge bowl fit for June and July consumption.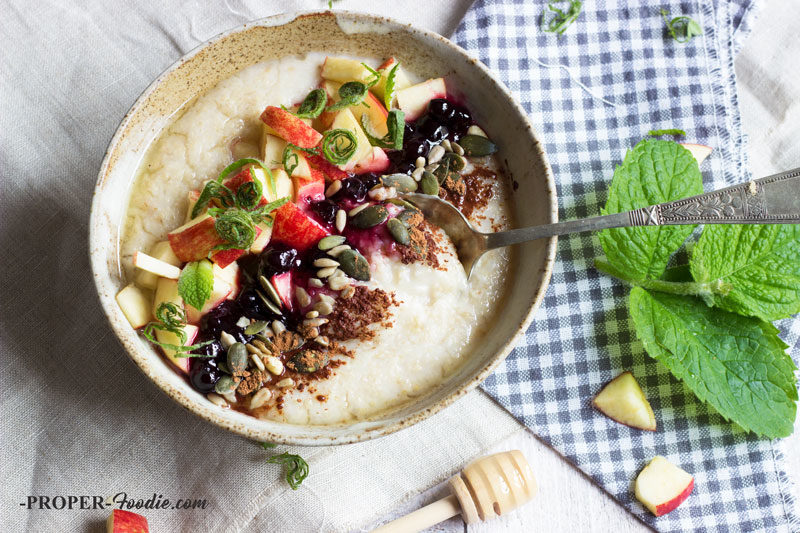 So first off lets talk temperature......does porridge have to be hot?? My option - definitely not. By the time I'd made this tasty, summerfied bowl of heated porridge oats and taken a few photos, the whole thing was 100 percent stone cold. Ruined I thought. But......actually.......it was far from it. As long as the porridge is made with enough water so that it doesn't set hard as it cools, a bowl of cold porridge on a June morning is now the perfect start to my summers day.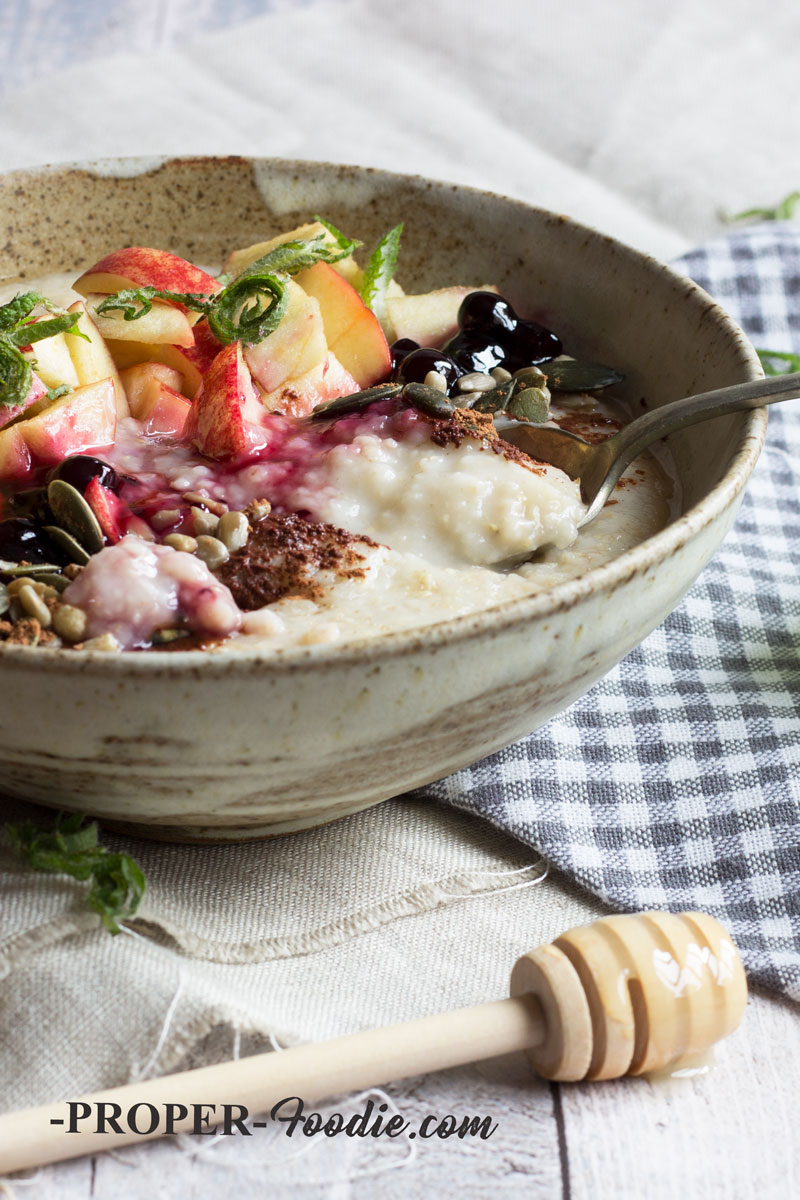 After all Breakfast is still king no matter what the time of year and oats will always be an amazing source of slow release energy, perfect for those long, hectic week day mornings. I do, of course, realise that on most weekdays I won't have time to make my breakfast look this pretty. This amount of presentation effort is definitely only reserved for weekends or those evenings when I feel like breakfast for tea 🙂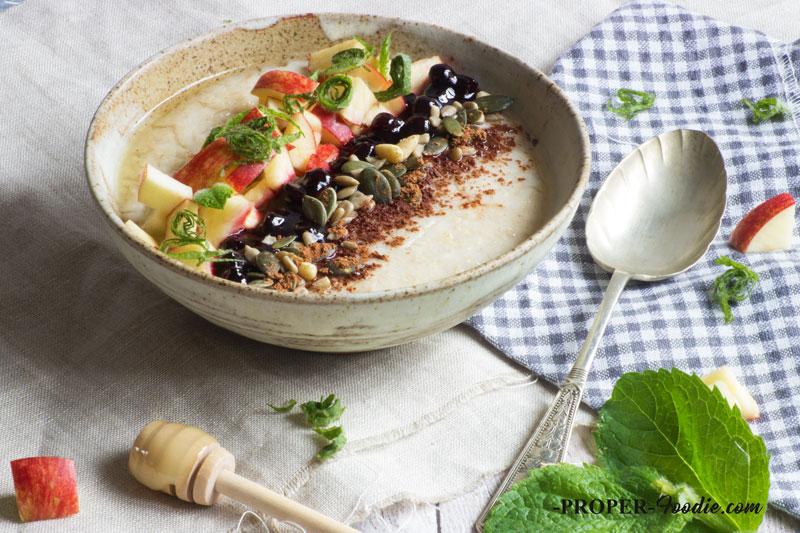 But... before rushing out of the door in a mad frenzy, I might just find the time to throw these colourful toppings on to some chilled porridge (of course prepared the night before) and enjoy a refreshing, energy filled summer breakfast.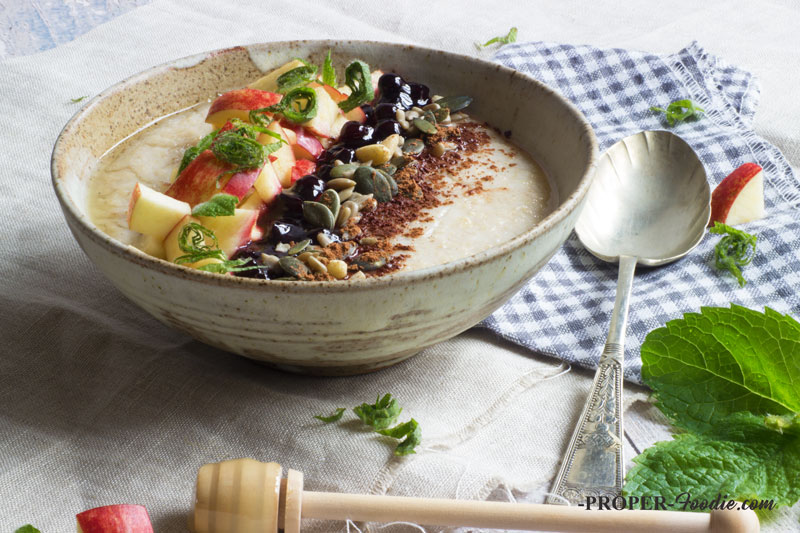 A note on sugar
This recipe uses both Jam and honey! Jam has always been a favourite of mine for breakfast and I love a good thick, crystallised honey. I'm not one for shying away from a bit of sugar, especially if its naturally occurring as it is in honey. No doubt that jam is full of added sugar and so this recipe uses more of the natural stuff (honey!!) and just a touch of the jam - just because I like it. The beauty of this recipe is that its not set - the toppings can be as varied, as colourful and as sugar loaded (or not) as you like.
Honey
I recently rediscovered for my love for honey on a visit to The National Bee Keeping Centre Wales, no surprise that its situated within the Welsh food centre with farm shop and deli, which is why I was there in the first place 🙂 The story of honey from flower to jar is so fascinating and Ben and I were so interested that at one point we did consider getting a hive and becoming bee keepers!! 🙂 Not that we have the time, but it was a nice thought. Anyway, rediscovering a love for honey has been great. After all the talk of cutting sugar and "sugar is bad", it was very refreshing to look at the benefits and reasons for embracing natures golden sugar. For more info on honey and its fantastic health benefits check out the health pages on the Honey Association website. 
I also purchased a honey recipe book whilst I was there: Spoonfuls of Honey - A complete guide to honey's flavours & culinary uses with over 80 recipes. It has has some beautiful recipes and photos in it and I can't wait to try some of them out and experiment with my own honey dishes.
Honey is back in my cupboard and its not going anywhere!!
**Estimated nutritional information per bowl of porridge with toppings and per 100g. If you want to find out more about how the information is calculated and the sources used, please refer to my Nutrition Information Guide.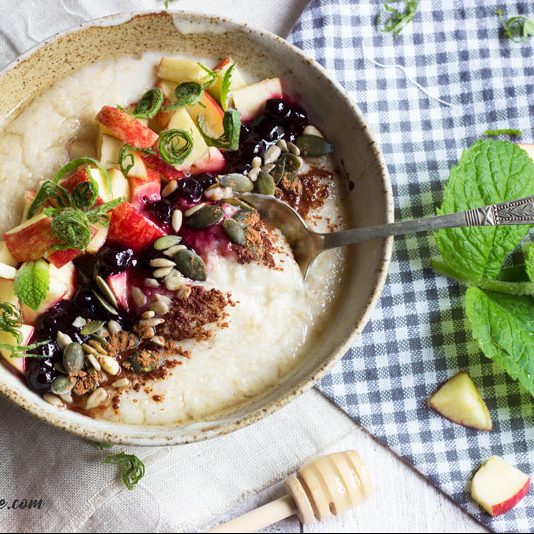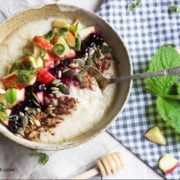 Summer Porridge Bowl and Honey
Ingredients
30

g

porridge oats

250

ml

tap water

Splash of semi skimmed milk

½

Apple

handful of fresh mint leaves

1

tsp

of blackcurrant jam

1

tsp

of mixed seeds

1

tsp

cacao powder

1

tbsp

of honey

I used borage crystallized honey

Extra honey for serving if desired.
Instructions
The idea behind this breakfast is that it can be eaten during the week. So for quick preparation I always use the microwave. However, if you have the time and prefer, the porridge can be prepared on the hob in a pan.

Place the oats into a bowl and add 200ml of the water. Place in the microwave and heat on high for 1 minute 30 seconds. Remove and stir. Add the splash of milk, stir, and return to the microwave for a further minute.

Once the porridge has cooked through and thickened remove from the microwave and stir. Add the remaining 50 ml of water in order to cool the porridge slightly and allow it to loosen.

Next add the honey and mix in well. Set the porridge to one side.

(If you are preparing the porridge the night before, allow to cool completely before storing in the fridge.)

Prepare your toppings by chopping the apple and slicing the mint. Arrange the apple, mint, jam, seeds and cacao powder in rows on the top of the porridge.

Finally drizzle more honey over the top if desired and enjoy.
Nutrition
Serving:
380
g
|
Calories:
257
kcal
|
Carbohydrates:
40.2
g
|
Protein:
6.7
g
|
Fat:
8.6
g
|
Saturated Fat:
1.3
g
|
Polyunsaturated Fat:
2.7
g
|
Monounsaturated Fat:
1.6
g
|
Fiber:
3.2
g
PIN FOR LATER

I am linking this recipe to #cookblogshare hosted by hijackedbytwins, recipesmadeeasy, everydayhealthyrecipes and Easypeasyfoodie. I am also linking to #whatsfordinner? hosted by TheLazyGastronome, #brilliantblogposts by honestmum, and #recipeoftheweek hosted by amummytoo.