A refreshing a nutritious bright green smoothie - a great way to start the day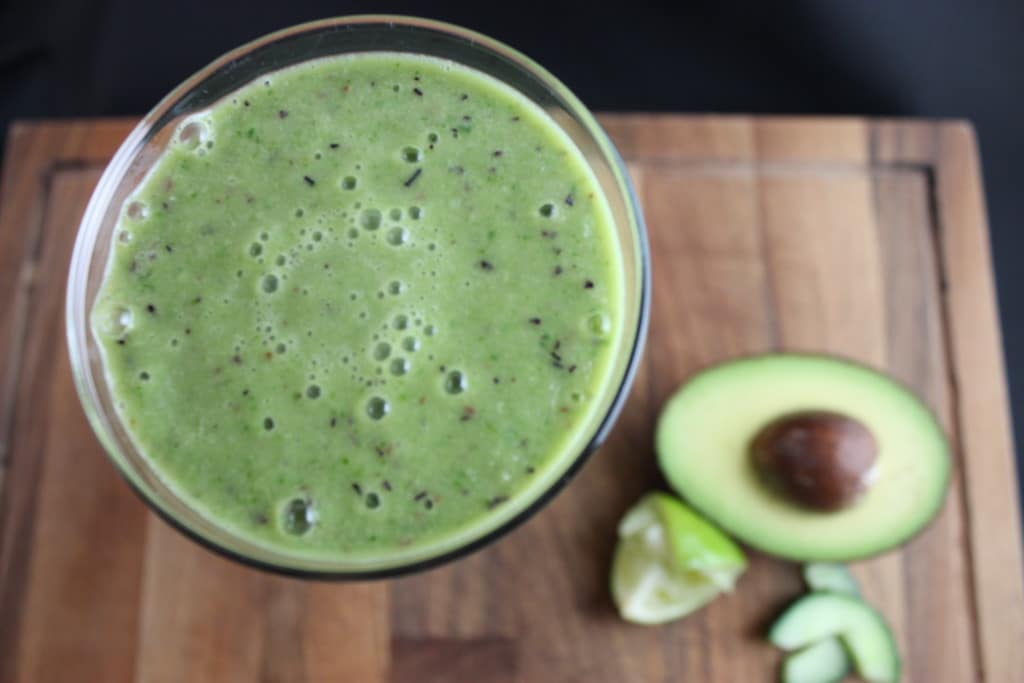 Smoothie time!
Smoothies aren't something that have featured much in my kitchen in the past. I think I've always thought they would be difficult to make or wouldn't taste great once I'd gone to the effort of getting my blender all mushed up. However, turns out I was completely wrong and actually this Super Green smoothie is really easy to make and is a great refreshing start to the day.
Why a smoothie?
So the main benefits of this drink are that you can squish as much healthy food as you want into one drink. One of these smoothies for breakfast definitely makes me feel better if I've been over indulgent the night before.
This recipe has plenty going for it in the nutrition department with: loads of dark leafy greens providing iron and fibre; avocado providing healthy fats; and plenty of fruit for a boost of vitamins and minerals.  Not only that but it tastes amazing too ... trust me...its not everyday I drink out of my blender 🙂
This said, ..... it doesn't override the leftover Christmas chocolate I scoffed when I got in from work or the 5 massive pancakes I've had tonight 🙂 But its good to know I have a smoothie waiting in my fridge for my breakfast tomorrow. I've actually had this smoothie everyday for breakfast for the last 2 weeks - I love it.
So its super nutritious, super colourful and super easy to make - there's really not a lot gone into the recipe below and once all the ingredients are roughly chopped it just takes a couple of minutes to produce this wonderful drink.
For another smoothie idea have a look at my orange summer smoothie
Enjoy!
Super Green Smoothie
A refreshing a nutritious bright green smoothie - a great way to start the day
Ingredients
50

g

blueberries

100

g

chopped apple

75

g

sliced cucumber

½

medium avocado chopped

25

g

handful kale

25

g

handful spinach

200

ml

coconut water

100

ml

water

½

lime juice

chia seed and cucumber for a pretty topping
Instructions
This really is super easy to make:
Place the all the ingredients, apart from the toppings, into your smoothie maker in the order listed above.

Turn on to a low setting and gradually increase until all ingredients are combined. Leave on high for at least 1 minute to ensure no large lumps are left.

Check the smoothie for taste and consistency. Add more lime or water if required and process for a further minute.

Pour into a glass (or flask if taking out about with you). If you like it cold; chill in the fridge for half an hour or replace the water with ice cubes before processing in the smoothie maker.

Top with Chia seeds and cucumber.

Drink up and enjoy!
Nutrition