Detox broth: to reset and rejuvenate.

So it's still January, and I'm still desperately clinging on to that New Year's resolution, whilst fighting off the need to eat stodgy food until I burst. Like me, if  you need a little extra help and maybe feel like a quick reset is in order, then this detox broth might be just up your street.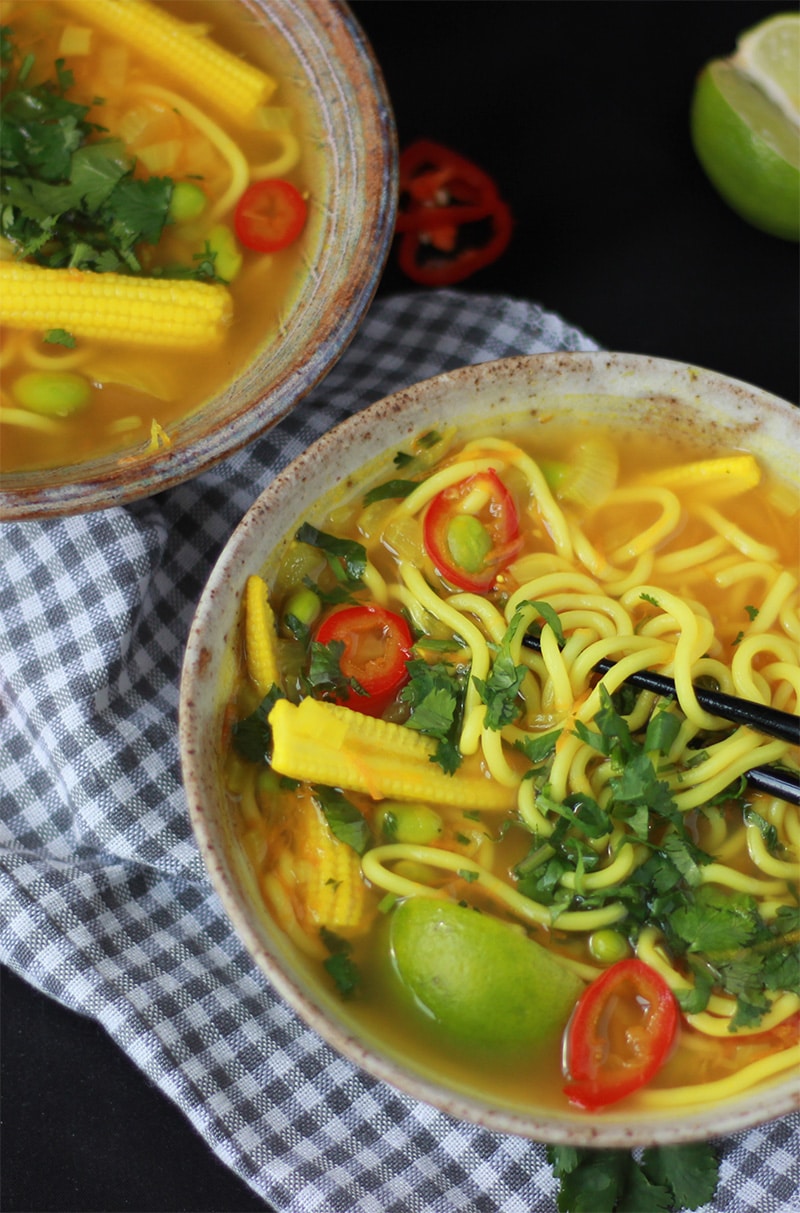 A full on detox day, with menu items including things like: hot lemon water, clear detox broths and four or five almonds, can be tough. So if you're going down this root then let's make sure that your detox broth is nutritious and full of flavour.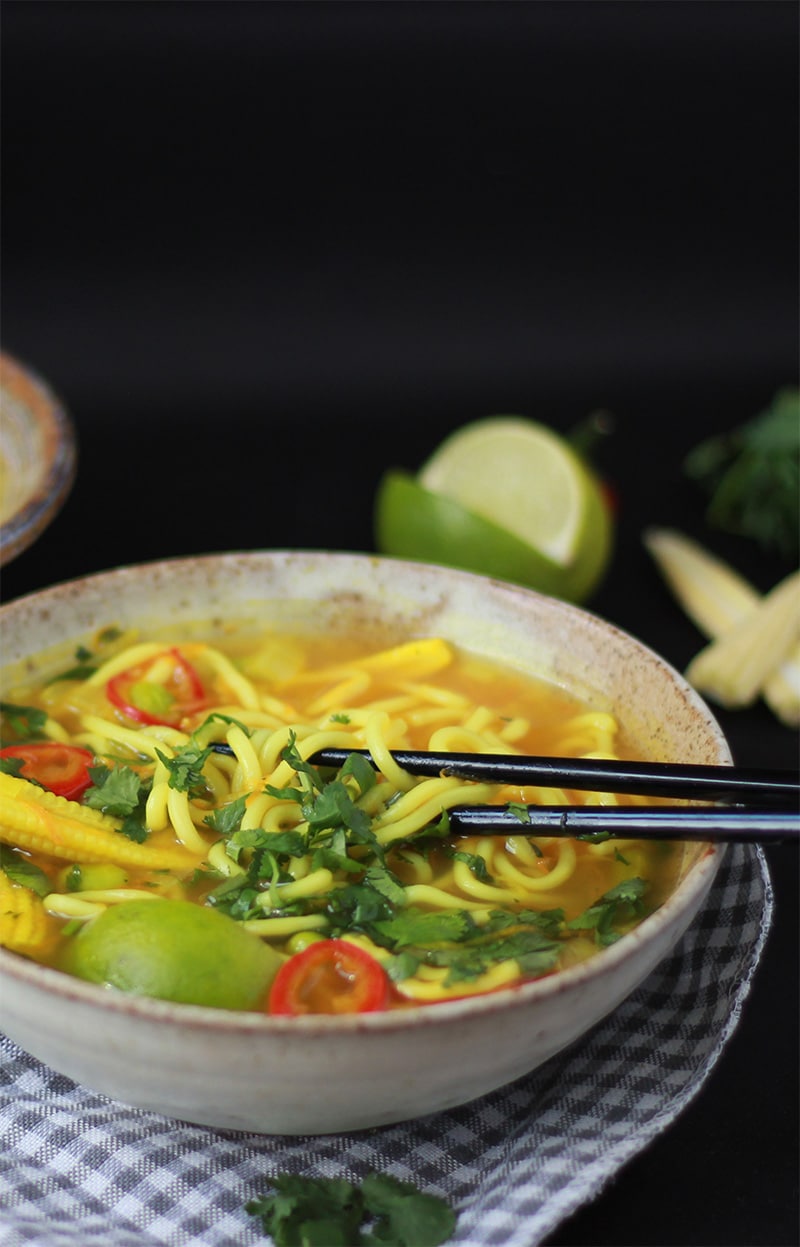 This broth is not one to be under estimated, far from being bland and making you feel like sleeping until May, it will reawaken and revitalise with a spicy, pungent and citrusy kick that will leave you refreshed and satisfied. So are you ready for your detox evening?
Then lets get going.
This detox broth is super easy, it's a one pot meal, with a bit of chopping and a bit of simmering. It uses strong flavours such as lemongrass and turmeric and will fill your kitchen with wonderful Asian-style aromas.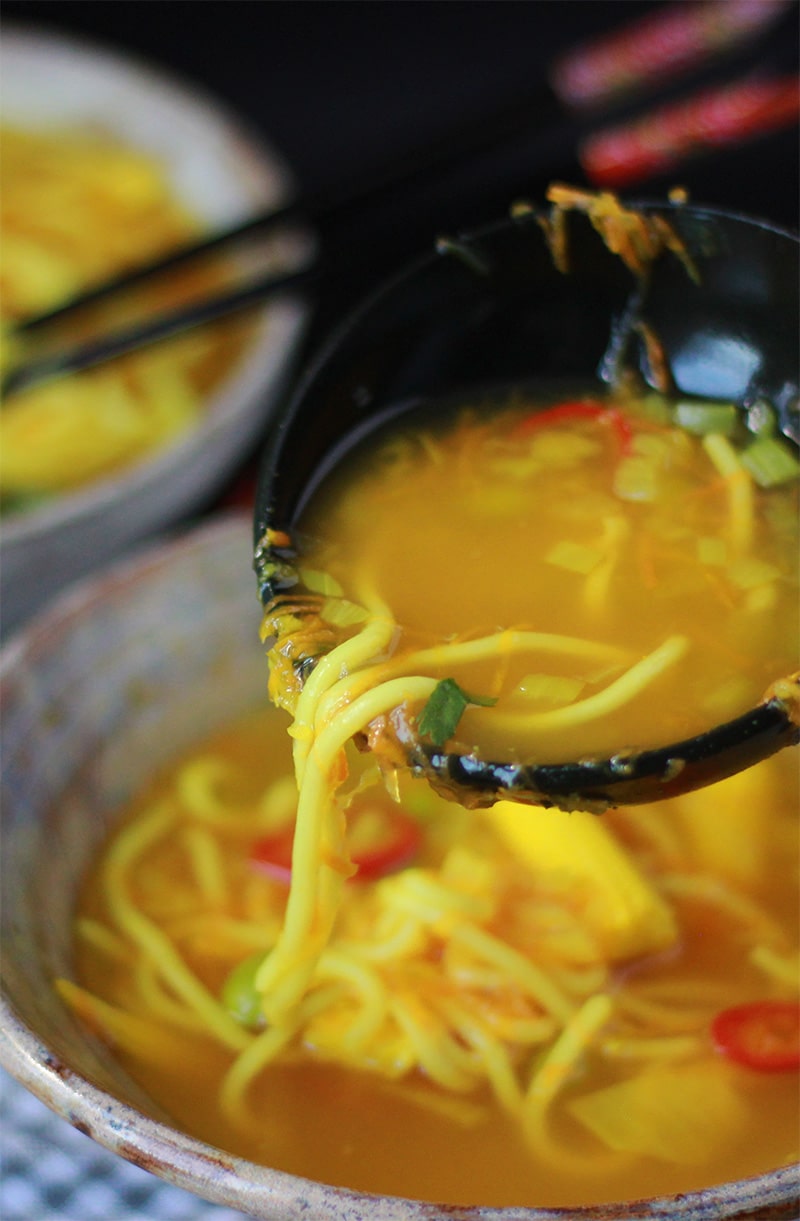 So the obvious healthy points to this dish are its low fat content (there's hardly any), its high vitamin and mineral content from the veggies, and its very low calorie content. There's even a bit of protein and fibre from the edamame beans and noodles. This dish is filling without being overpowering, and so gives your digestive system a little rest. All good news. The other healthy addition to this dish is the spice: turmeric. This bright yellow ingredient, previously described as a vegetable with the properties of saffron (Marco Polo, 1280), has had a lot of attention lately and its use has increased with the hopes of gaining a long list of health benefits.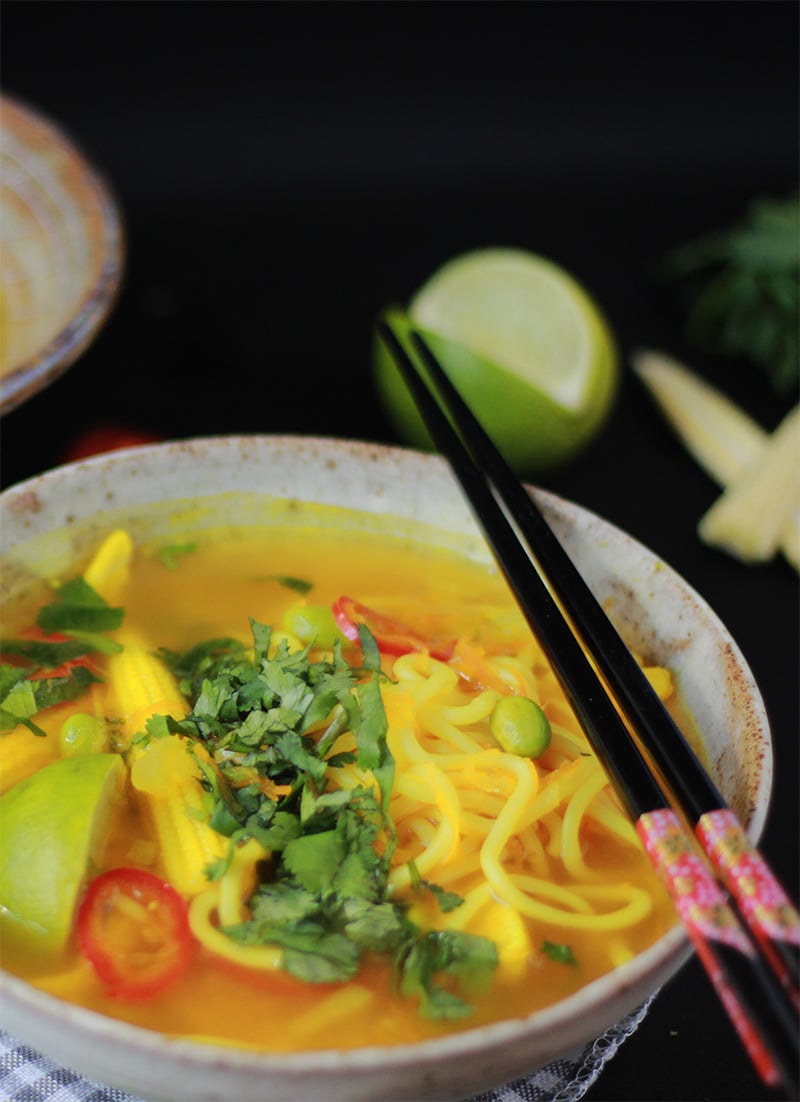 Naturally, as a nutritionist, food lover, scientist and home cook; I'm pretty interested in this spice. And so I decided to do a little bit of digging to find out what all the fuss is about. Now my approach to researching turmeric is by no means thorough or methodical. However, I have tried to use reliable sources of information, which are based on scientific evidence.  Below is a little summary of what I have found. If you're interested then have a quick read, if you're not too fussed and just want the recipe then the basic gist is that turmeric is a pretty amazing spice with anti-inflammatory and anti-oxidant properties, but we may not reap all the benefits due to turmeric not being absorbed, or being metabolised too quickly, by our bodies.
So whats the deal with Turmeric?
Turmeric is an ancient, Asian spice, used for thousands of years, predominantly in countries like India, Malaysia, and Indonesia1. As well as being used to flavour curries and stews, turmeric is also used medicinally. Traditionally this golden spice has been used for the treatment of a variety of ailments, including coughs, colds, sore throats, asthma, stomach conditions, and skin disorders1.  One of my favourite excerpts that I have found during my little mini literature search was: "Susruta's Ayurvedic Compendium, dating back to 250 bc, recommends an ointment containing turmeric to relieve the effects of poisoned food". Susruta's ayurvedic compendium is an ancient text on medicine and surgery and as such it is thought that Susruta was one of the first surgeons. So its obvious that turmeric has been held in high regard by impressionable people for a fair amount of time.
Turmeric and its properties have been studied extensively in recent years. Curcumin, a compound found in turmeric has been shown to be an effective anti-inflammatory, antioxidant, antimutagenic, anti-atherosclerotic, antimicrobial, antirheumatic, chemopreventive, and hepatoprotective chemical2. So basically, it's pretty bloody amazing.
But what does that mean for people who may add a couple of teaspoons of turmeric to their meals every now and again? Well curcumin, although the most active component of turmeric, only makes up 2-5% of the total spice3. This suggests that it might be difficult to include enough of this magic spice in our meals to have any real impact.
However, some studies have demonstrated that sufficient amounts of turmeric will be consumed from foods like curries and stews, to produce a reasonable level of antioxidant protection4. The most promising effects of turmeric consumption have been against inflammatory conditions, cancers, diabetes, IBS, acne, and fibrosis3. In addition studies have proven time and time again that turmeric consumption is safe, with no toxic effects and that it has the ability to produce desired results (efficacy) in relation to health benefits.
So it all sounds like good news. But….and you know there's always a but: despite all this we may still struggle to achieve the optimal benefits from turmeric due to its poor bioavailability once inside the human body3. This means that although turmeric can produce protective effects against disease, our bodies may not always be able to access these benefits because of poor absorption or fast metabolism of the spice. Further work in this area in the future may give rise to suitable solutions that will enable us to use turmeric to its full potential. However, until then, we may as well enjoy this interesting and ancient ingredient, which gives a pungent kick to our recipes and may just give us a little magic boost from time to time.
References
Kamala Krishnaswamy. Traditional Indian spices and their health significance. Asia Pac J Clin Nutr, 2008;17(S1):265-268
Amanda Hutchins-Wolfbrandt, Anahita M Mistry. Dietary Turmeric Potentially Reduces the Risk of Cancer. Asian Pacific J Cancer Prev, 2011; 12, 3169-3173.
Subash C. Gupta, Bokyung Sung, Ji Hye Kim, Sahdeo Prasad, Shiyou Li and Bharat B. Aggarwal Multitargeting by turmeric, the golden spice: From kitchen to clinic. Nutr. Food Res, 2013; 57, 1510–152
Benzie IFF, Wachtel-Galor S, Herbal Medicine: Biomolecular and Clinical Aspects. 2nd edition.Boca Raton (FL): CRC Press/Taylor & Francis; 2011.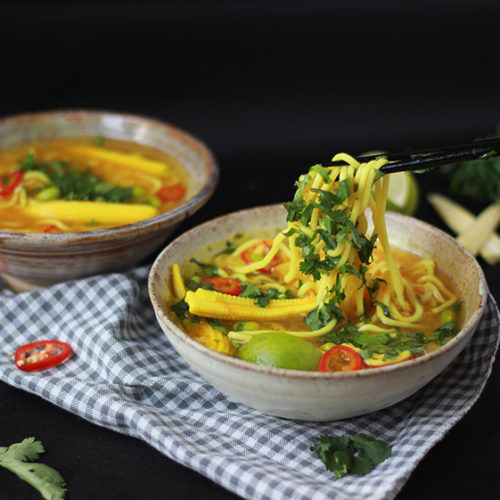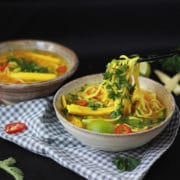 Turmeric, Lemongrass and Noodle Detox Broth
An Asian style spicy broth with turmeric, lemongrass and noodles. A filling soup, great for detoxing and revitalising.
Ingredients
800

ml

cold tap water

1

small carrot finely grated

1

small onion finely chopped

1

sprig fresh rosemary

2

kaffir lime leaves

1

bay leaf

1

lemongrass stem

bashed with a rolling pin to release flavours

1

star anise

2

cm

fresh ginger

fine grated

Zest of half a lime

Juice of a full lime

100

g

Baby corn halved length ways

1

tbsp

mirin

sweet Japanese rice wine

1

red chilli seeds left in and sliced into circles

½

tsp

turmeric

150

g

straight to wok medium noodles

75

g

Edamame beans

1

tsp

light soy sauce

Black pepper and sea salt to season

20

g

fresh coriander roughly chopped
Instructions
Pour the tap water into a large pan or wok and place on a medium heat. Add the carrot, onion, rosemary and bring to the boil. Next add the kaffir lime leaves,bay leaf, lemongrass, and star anise, then simmer gently for 10 minutes or so.

As the mixture begins to reduce add the ginger including any juices that leak out during grating. Then add the lime zest, lime juice, and baby corn. Simmer for a further 10 minutes before finally adding the mirin, ¾ of the red chilli, turmeric, noodles, edamame beans and soy sauce. Mix well and continue to simmer allowing the noodles to break apart and cook through (3-5 minutes).

Taste and season with salt and pepper.

At this point the broth can be transferred to seal-able containers and either chilled in the fridge for up to 5 days or frozen for up to 3 months. Defrost and reheat thoroughly.

If serving immediately, transfer to bowls and sprinkle over the fresh coriander and the remaining red chilli.
Nutrition
Serving:
530
g
|
Calories:
190.5
kcal
|
Fat:
2.2
g
**Estimated nutritional information per serving and 100g of turmeric detox broth. If you want to find out more about how the information is calculated and the sources used, please refer to my Nutrition Information Guide.