ADVERTISEMENT FEATURE FOR LIFEWAY
A few weeks ago I was contacted by Lifeway; an American company producing Kefir cultured milk smoothies, who have just launched in Booths supermarkets in the UK. Lifeway was good enough to offer to send me a selection of their drinks to try. And being rather curious, I of course accepted.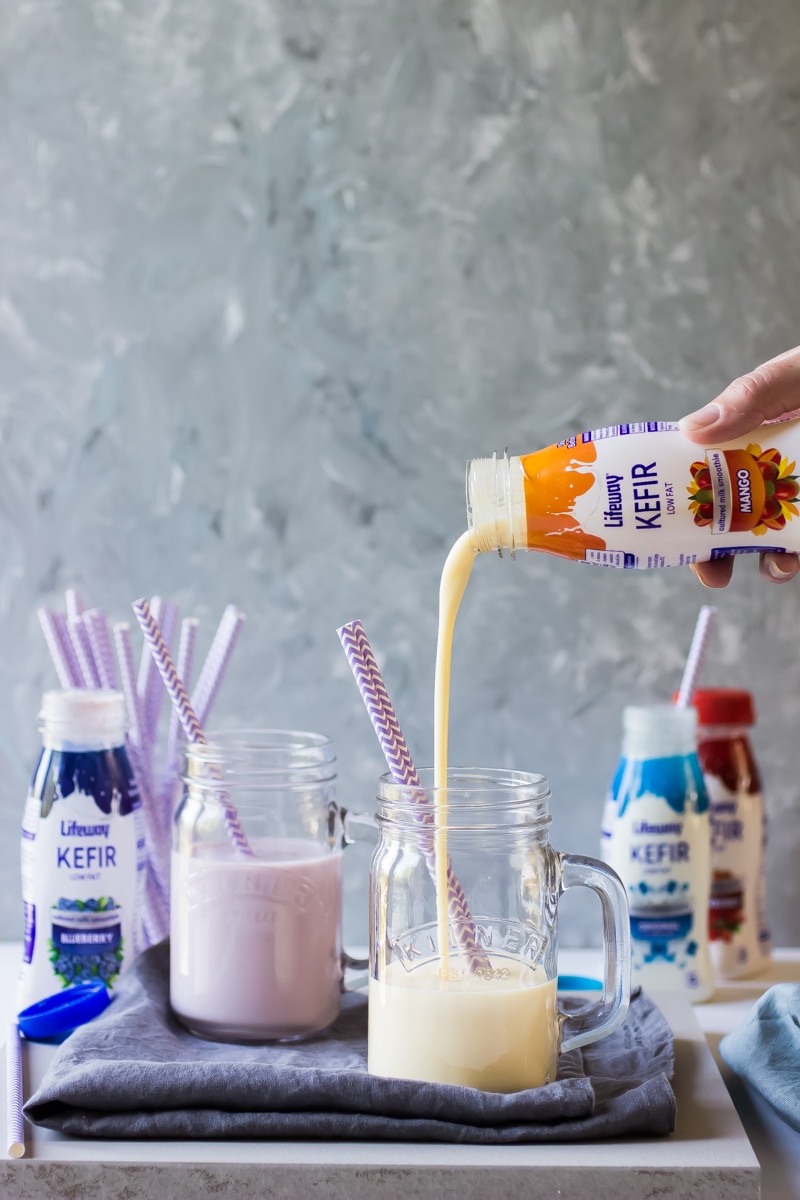 Kefir drinks from Lifeway
The drinks arrived and as instructed I popped them straight into the fridge, as they are best enjoyed chilled. Before having my first taste test – my first question, obviously, was what the hell are these drinks? Quickly followed by – What is Kefir? Are the Lifeway drinks different to yogurt or Yakult? Do they have health benefits? Are these benefits proven? And this went on and on until I decided to sit down and do a bit of research. I also discussed this at great length with my good friend and colleague Jana of advancedeating.co.uk, who is an excellent nutritionist and more knowledgable than I in the area of micro-organisms and probiotics.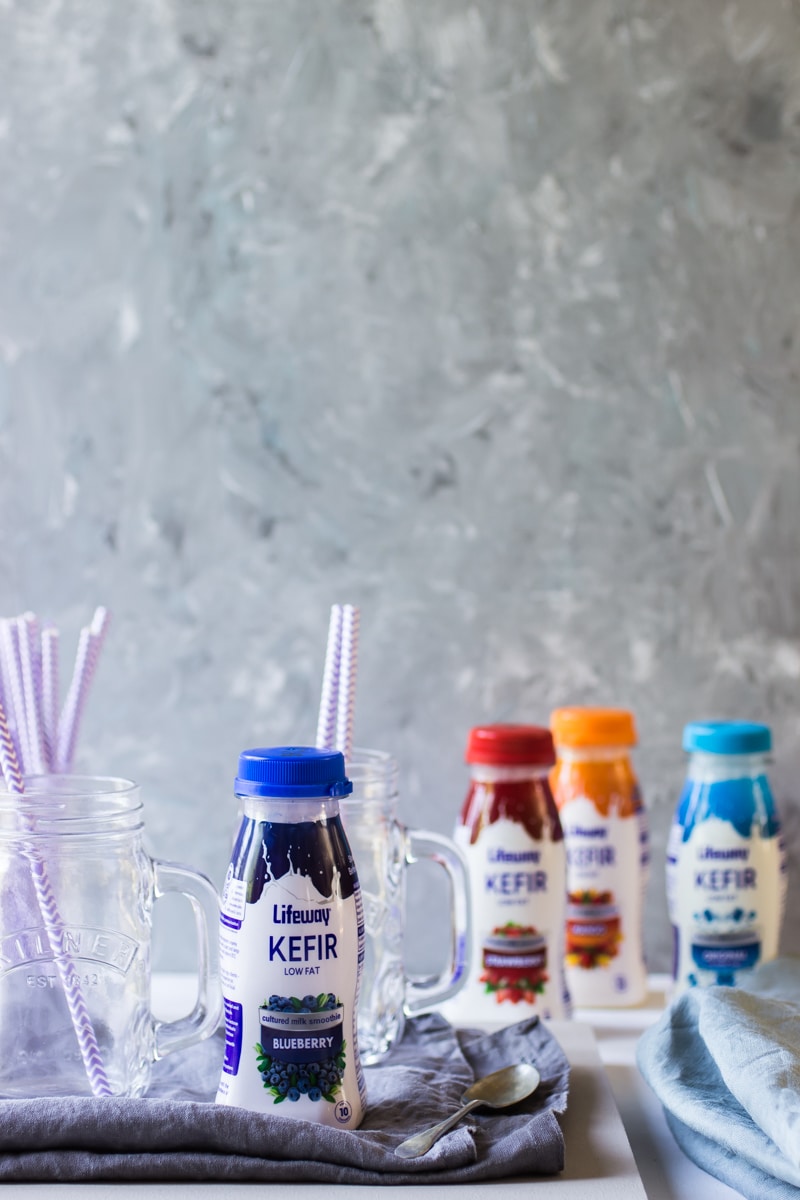 Healthy gut
But let me start at the beginning…..Lifeway and their Kefir milk fermented drinks. So Lifeway produce these drinks that contain micro-organisms – which is a mix of bacteria and yeast that are thought to be beneficial to gut health. Specifically they contain 10 types of bacteria cultures, including Lactobacillus casei (used in Yakult) and Bifidobacterium (found in milk and yogurt). We know that our gut health is maintained by the healthy bacteria living in there and so adding to this or feeding it will help keep things in order. The question is – do the micro-organisms in Lifeways drinks exert this effect? I'll get to this later…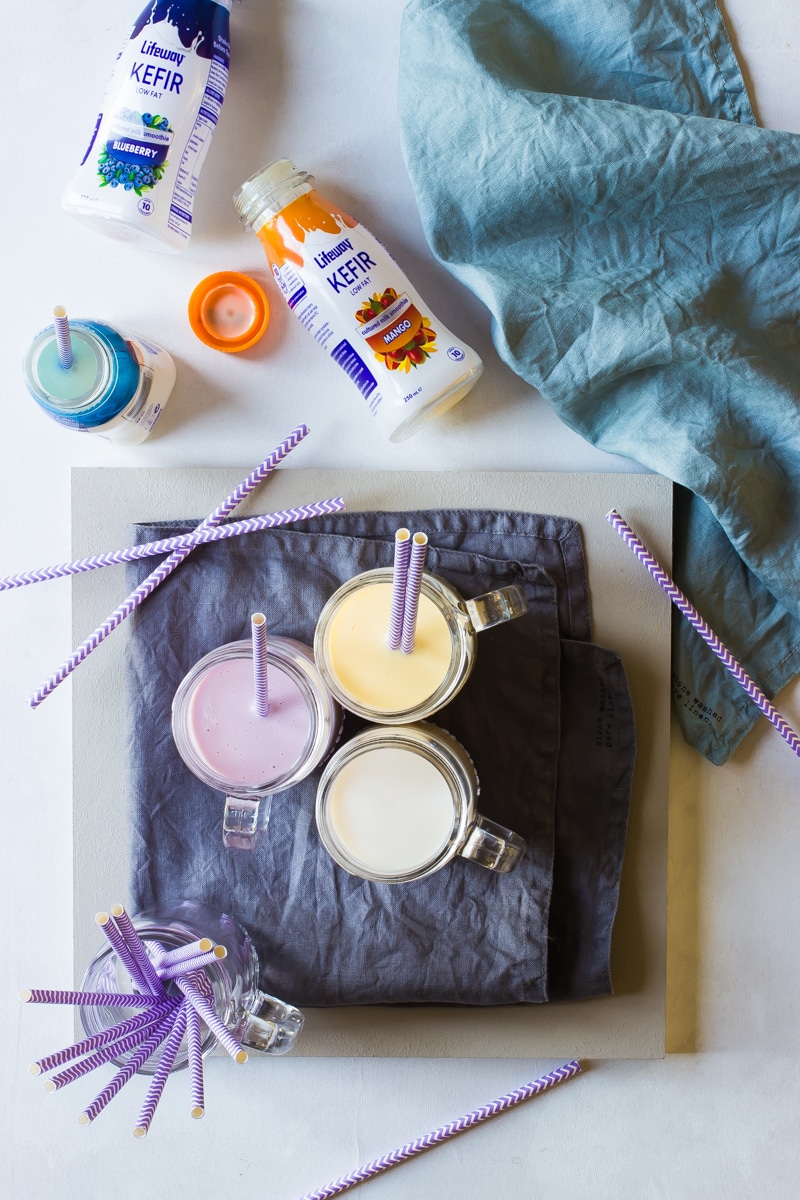 Healthy fermented drinks
Aside from this, the drinks are actually a very healthy dairy product with natural ingredients, no preservatives, no artificial additives and 100ml of the drink containing: 41kcal, 3.5g of protein, 15% of recommended daily intake of calcium, and 36% of recommended vitamin B12 (1 bottle = 250ml) – not bad. So generally, without even thinking about the healthy bacteria thing – these drinks seem pretty good. In addition to this Lifeway claim that these drinks are 99% lactose free, making these a great alternative to yogurt and milk for those that are lactose intolerant.
Kefir smoothies
I received 4 of Lifeways Kefir smoothies: original, mango, strawberry, and blueberry. I'm going to be up front now and say that these drinks are rather tangy and sour. But as these are fermented  milk drinks – this is to be expected. The taste of the original flavour is very similar to plain greek yogurt – its good to be aware of this before gulping it down and expecting something sweeter. The blueberry and strawberry flavours had a little more of a fruity thing going on, but my favourite was the mango – honestly – I opened the bottle, took a sip and before I knew it, the whole thing had disappeared. Meanwhile, poor old original sat half drank – it wasn't for me.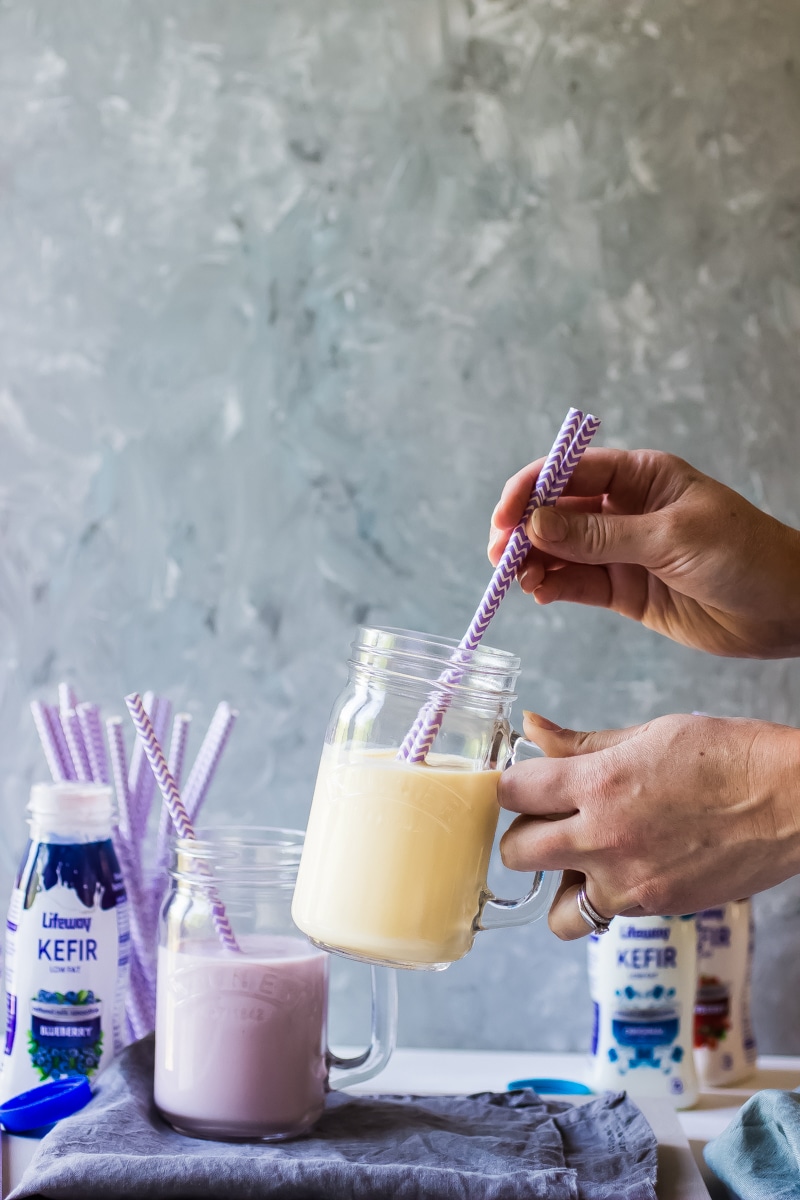 But lets get back to those original questions:
What is Kefir?
Kefir, like yogurt, is a fermented milk beverage (1-3), produced when kefir grains (a group of bacteria and yeast) are mixed with milk(1). Kefir grains occur naturally in nature and contain a specific and complex mix of bacteria and yeast(1). The bacteria and yeast are symbiotic, meaning they live together and are of benefit to one another. It is important to note that commercial production of kefir rarely uses the full kefir grain but rather a starter culture of microbes that have been isolated from the grains – this allows for provision of more consistent products(2). Most of the research conducted refers to artisanal production of kefir, using the whole grain.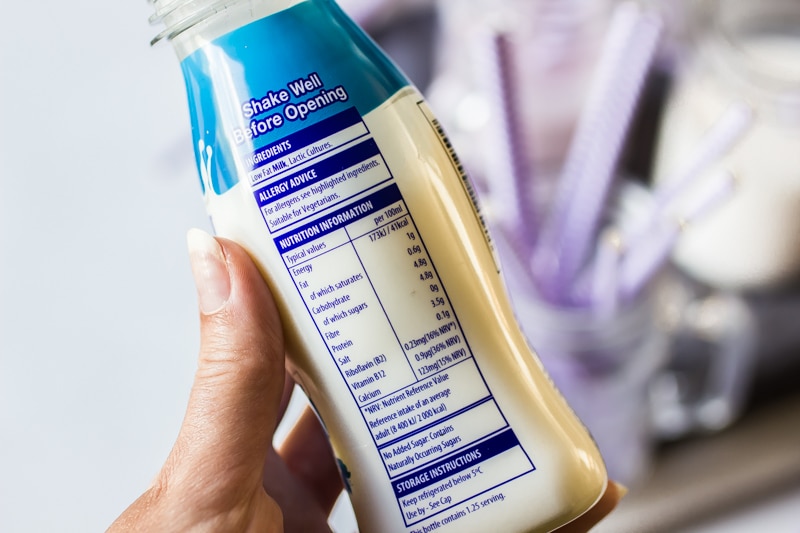 Kefir origins
Kefir predates written record and although not as popular as other fermented products such as yogurt, it has been consumed for 100s of years, originally by communities in the Caucasus, Tibetan and Mongolian Mountains in Asia(1,2). The grains were considered a source of wealth and passed down the generations(1).
The name Kefir
The name is thought to originate from the Slavic word 'Keif'(1) and Turkish word 'keyif'(3) both of which mean 'living well' or 'good feeling'
Why are fermented products thought to be beneficial to health?
Good bacteria and yeast have potential probiotic benefits, which means that the live micro-organisms could improve gut health. Bacteria species found in Kefir show high resistance to low pH and bile salts found in the gastrointestinal tract, meaning that are more likely to survive and still be alive when they reach the intestines. Dead bacteria, although still useful to our gut bacteria, are not as beneficial as bacteria that manage to stay alive. Some Kefir bacteria can also interfere with the binding of harmful bacteria to the inner layer of the  intestines (mucosa), so preventing infection and illness.
Other potential benefits of kefir
Some studies have indicated the potential benefits of Kefir, however, further research is required around the mechanisms by which kefir exerts its effects and also which micro-organisms are responsible for each benefit, particularly when considering commercially produced kefir products. Suggested benefits include increased lactose tolerance, decreased colon cancer risk, tumour suppression, control of irritable bowel syndrome, antimicrobial activity, reduced insulin resistance, increased speed of wound healing, alleviation of allergies and asthma, decreased blood pressure and decreased cholesterol (1,2).
So – all considered, Kefir appears to be quite remarkable with great potential.
Appearance and taste of kefir
For now we can at least enjoy Kefir as a healthy beverage and alternative to yogurt. The appearance of kefir is that of a runny yogurt, with an effervescent quality. It has quite a tart and acidic in flavour, a little like plain greek yogurt – so don't gulp it down expecting it to be sweet. – like I did 🙂
Its also worth baring in mind that our gut health is mainly kept in good shape by a healthy balanced diet with plenty of fruit, veg and fibre and of course a healthy lifestyle in general in terms of exercising, moderation of alcohol consumption, and limited exposure to smoking. Therefore, Lifeway Kefir and its helpful properties is one beneficial piece of a very big jigsaw. I'll definitely be getting more of the Mango one though – good stuff 🙂
If you fancy trying them all flavours are available in Booths supermarkets in 500ml bottles.
For further information on micro-organism, probiotics and prebiotics – have a read of this very informative article from Jana of advancedeating.co.uk
References
Damiana D. Rosa, Manoela M. S. Dias, Łukasz M. Grzes ́kowiak et al. 2017. Milk kefir: nutritional, microbiological and health benefits. Nutrition Research reviews, 30, 82-96.

Benjamin C. T. Bourrie, Benjamin P. Willing

,

Paul D. Cotter, 2016. The microbiota and health promoting characteristics of the fermented beverage Kefir. Frontiers in Microbiology,7, 647

.
With great thanks to Lifeway for the opportunity to review their drinks. All thoughts and opinions expressed are my own – accept when referenced with an article.
Other product and restaurant reviews