A Week of Yoga
Week 3 of the 6 week reboot was Yoga week!! Although I didn't enjoy this as much as week 2 and cooking up all those delicious slow cooker meals, I did find this very relaxing and stress relieving.
My Experience of Yoga
I first took up yoga around 2 years ago, and even though I don't go as often as I should, I certainly feel like I've learnt a lot in that time. I'm definitely more aware of my posture and the use of certain muscles, and I know that my upper leg muscles are particularly lazy.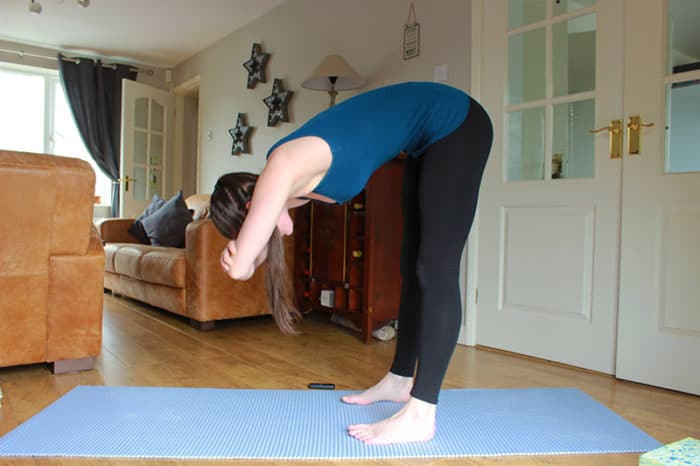 The best thing I've found about yoga is the detachment from the rest of the day. I love that I can switch off and just concentrate on the task at hand and help my body to stretch and ultimately relax. However, I know that attending my local class once a week, probably isn't enough if I want to make real progress. Ever since taking up yoga I've always intended to practice more on my own, but until this last week I have never done any home-based yoga.
Practising Yoga at Home
I've had the equipment; the mat, the blocks, the book . . . and never bothered to get it out. So with the help of the 6 week reboot my hand has finally been forced and a week of Yoga on my own time has actually taken place.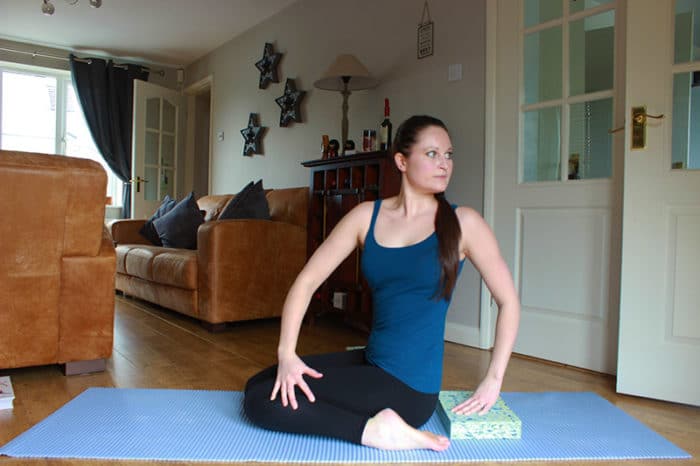 Yoga at home definitely has its benefits. Although I don't think this is something I could have done when I first started with yoga. Mainly because I didn't know any of the positions but also because I wasn't aware of the correct techniques for getting into and holding the positions. Its really important that the right muscles are activated, so to prevent any injury. Done correctly, Yoga does actually help get rid of any niggly aches and pains.
Now that I'm a little more confident with what I'm doing, thanks to the wonderful teachings of Julie at my local class, I think regular practise at home could be really beneficial for me. Not only can I do this at a time that best suits me but I can also practise for as much or as little as I want and also concentrate more on the positions that I want to work on or that I feel benefit me the most.

My Week of Yoga at home
So the original challenge was at least 10 minutes of yoga each day. With the aim of relaxing and distressing after a long day at work. I actually surprised myself and most days managed 30 minutes or more. As with most things. making the effort to start is always the hardest part.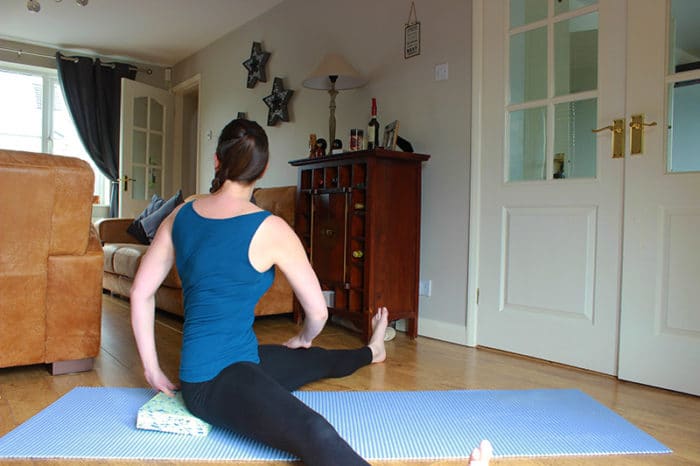 As I was at home and I could approach this exactly as I wanted, I started by setting up my area, lighting some incense and downloading a yoga playlist on spotify. With the calming music on and the sweet smell of incense being released I felt immediately relaxed and ready to face my yoga challenge head on.
During my first session I initially got to grips with some of usual yoga poses that I practice at my local class. I found that I was happy to stay in poses for longer where I had issues with flexibility. I was also able to work on the areas that I felt needed that extra bit of attention. When I checked the time I had done 45 minutes! So a real success for session one.
 On Tuesday I could definitely feel the yoga from the day before, particularly in the hamstrings. So getting started was a little harder. However, once I'd got going I soon loosened up and actually found I was a little more flexible than Monday. I ended up doing a full hour, a shoulder stand and even a headstand; albeit against our wardrobe – our very expensive wardrobe …don't tell Ben :-/ (I actually lost track of the time and couldn't believe i'd done an hour!). Also I found my favourite yoga song on the album I'd downloaded (yoga nights): singing for your soul. Pretty name and pretty tune. It felt like a really short track at the time but when I checked back afterwards it was over 3 minutes long. Time flies and all that eh.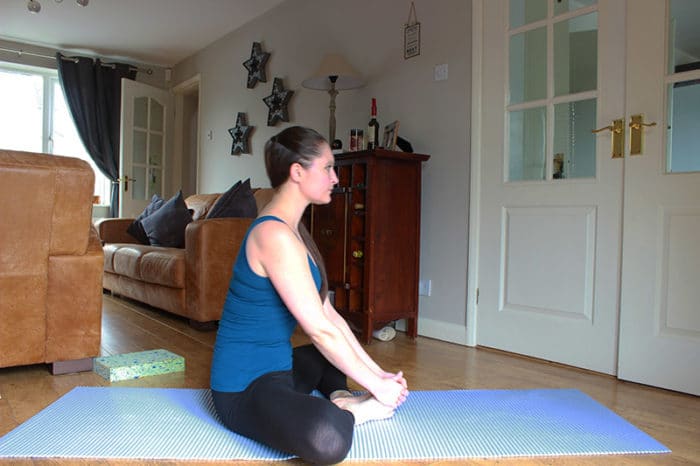 Wednesday: this was literally a 10 minute sess. It was my Dad's birthday so we were heading straight out after work. So I ran through my main stretching positions and tried to make the most of the little time that I had.
To be honest I was quite grateful as I was still feeling achy from the previous 2 days.
Thursday: I managed half an hour on Thursday.  Although the aches from the start of the week had started to subside, I was quite tired, so I felt 30 minutes was still pretty good going. My dog down position felt a lot stronger so I was quite pleased with my progress.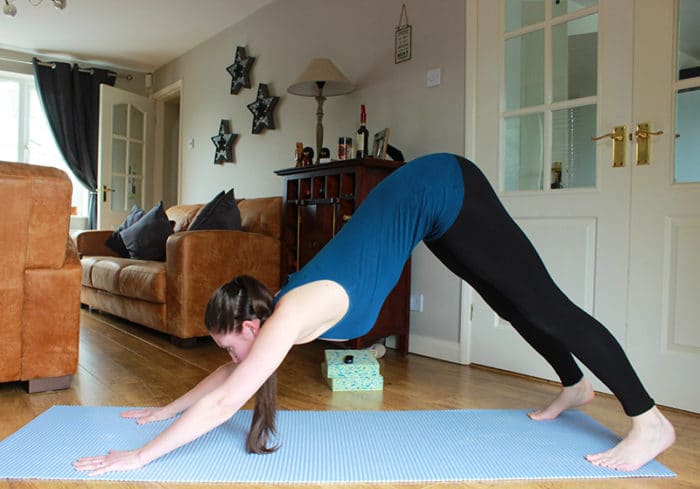 Friday was another 30 minute session, although there was lots of stopping and starting as I was trying to take photos at the same time. But I was feeling particularly good on Friday and really pleased with the weeks progress.
I've definitely seen and felt the benefits of regular yoga practise this week. Back to back days doing the same positions might be a little much as your body definitely needs time to recover. Especially if you've really pushed yourself. So If I'm going to keep this up I definitely need to develop a system whereby certain positions and stretches are only practised on certain days.
I really do hope that now I've made a start with home-based yoga, I'll be able to keep it up. I know it will greatly improve my technique and flexibility. Its also so easy to fit this in at a time that best suits me, so I really don't have an excuse for not incorporating this into my daily routine.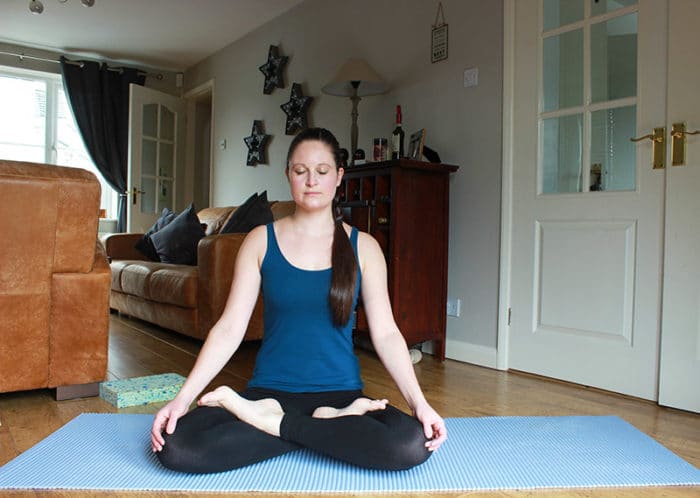 The 6 week reboot
As usual my friend Katya has also been doing her own reboot. This week she was also giving yoga a go as well, unlike me she followed a Youtube video; you can find out how she got on here.
In terms of previous weeks I have actually managed to keep up with the bullet journal. I'm finding it really useful. I have changed it slightly by stopping with the daily log and just making a weekly log, as I found I was just writing out the same things day after day.
We'll both be continuing with our reboots next week. For me week 4 is no alcohol week! Which is probably a very good thing, as I have overindulged in that area recently. Come back next weekend to find out how I've got on.
I'm linking this post to #brilliantblogposts hosted by honestmum.