Jump to:
Way back in February of this year I decided to enter my first ever magazine competition.
The magazine: Delicious.
The prize: a 3 night stay at The South sands Hotel in Salcombe in Devon.
The challenge: to recreate the recipe on the front cover of Februarys issue and take a photograph.
So first things first - what a bloody fantastic front cover! That stack of pancakes, layered with yogurt and bananas and drizzled with chocolate sauce was 'a love at first sight' kind of thing for me. I was going to make this gorgeous plateful of food and I was going to eat it and really enjoy it - and maybe just maybe, I would take a photograph or two.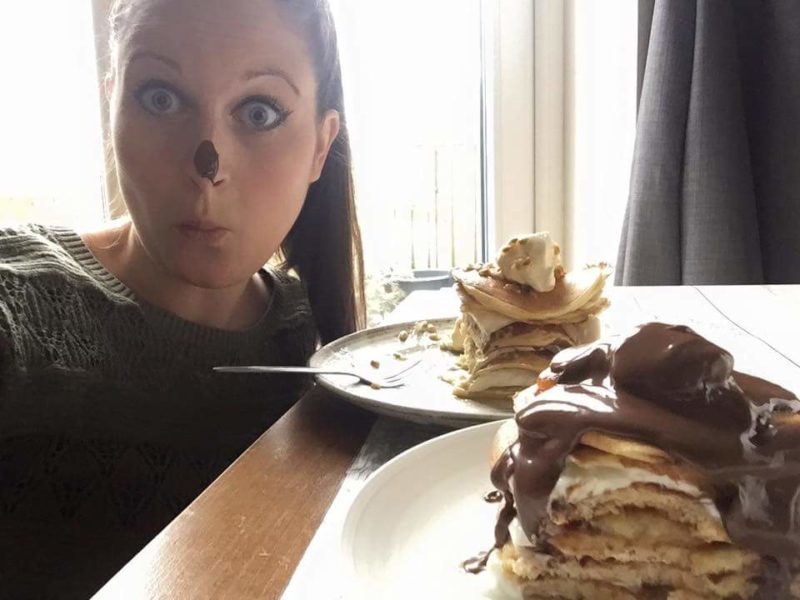 And then all of sudden, out of nowhere (I swear), there were two plates of pancakes - and both needed to be taste-tested! Immediately! I can confirm that the entire lot was truly and utterly 100% delicious.
So, before I turned from master pancake-maker into absolute food-face I did actually manage to take a few photos and jot down my own ideas for fillings.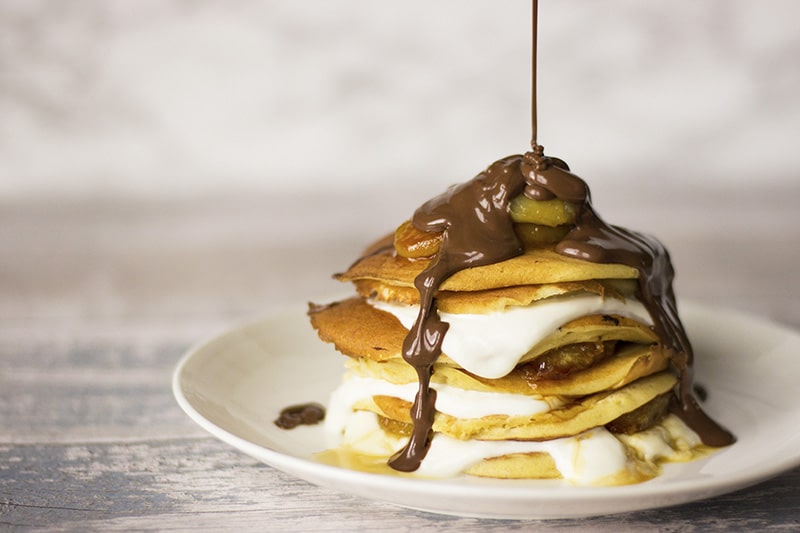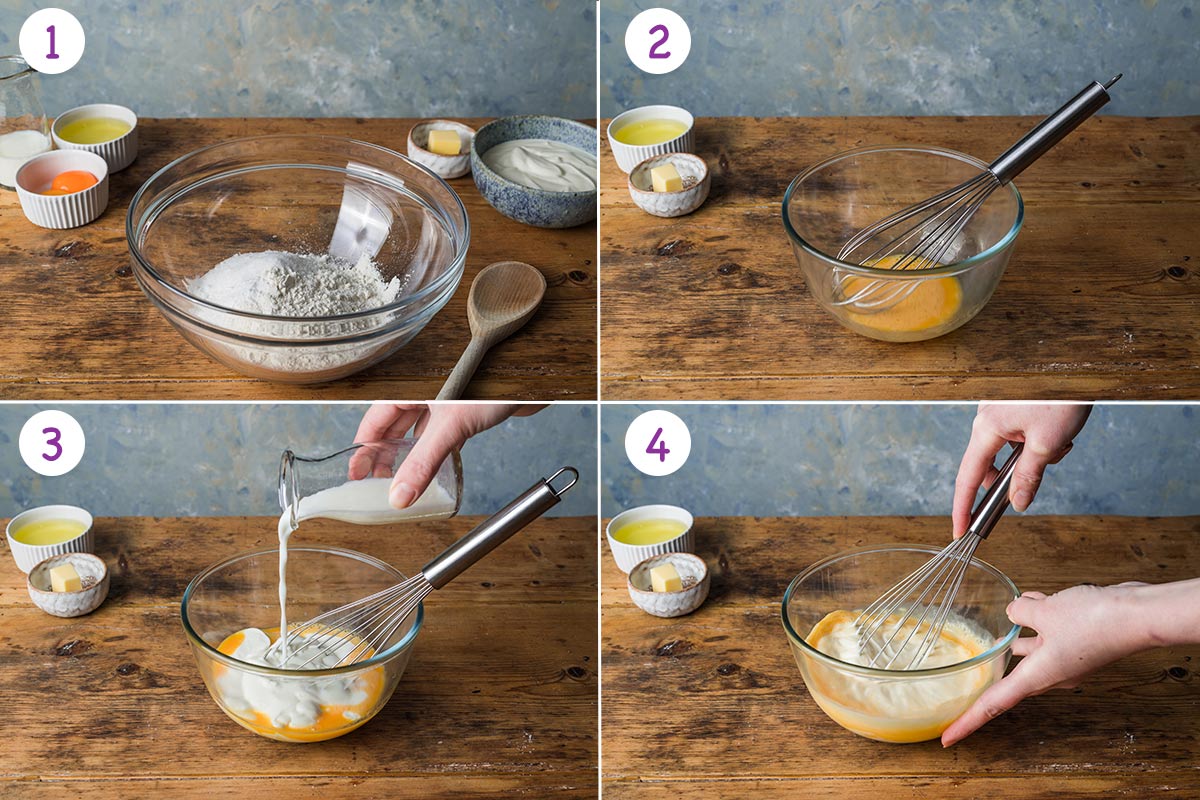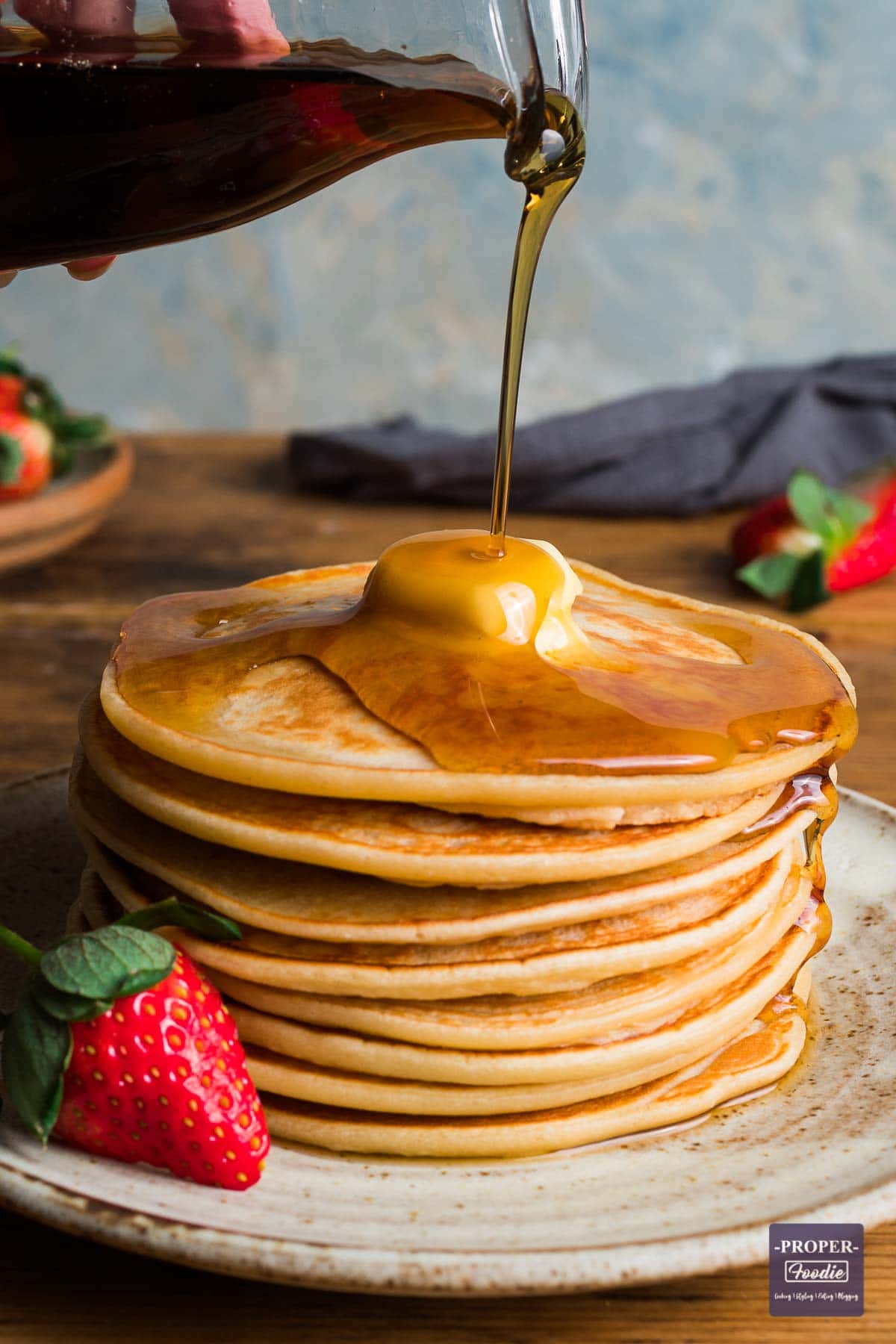 Scrummy!! You can find my recipes for these incredible pancakes here.
So that first piccy of pancake goodness was the picture I ended up submitting to Delicious magazine for Februarys cook the cover. The hashtag for the cook the cover comp is always #imadedelicious, and in this case I really had - Theres just no beating this kind of indulgent food.
But heres the best thing about all of this - I actually won!! For the first time in my entire life: I - won - a - competition, and the prize was well worth winning.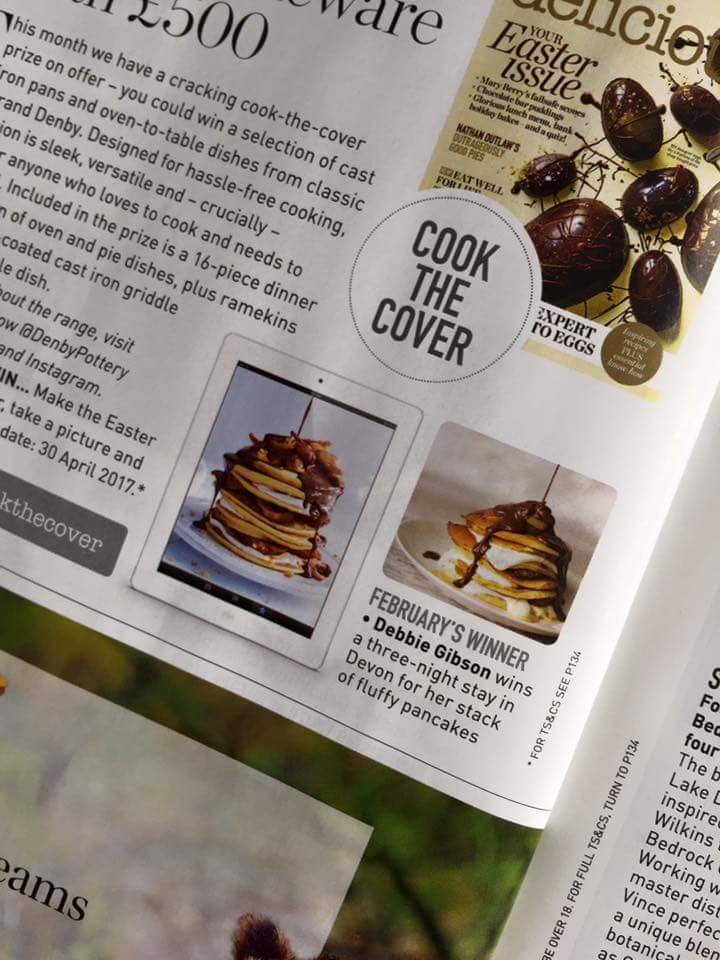 So this pretty much sets the scene for how we came to be in Sunny Salcombe at the beginning of June. And whilst we were there we decided that we would make the most of the opportunity and turn it into a 3 or 4 day trip of foodie fun, which basically meant that we were going to go and stuff our faces. Wedding diet is so not happening right now 🙂
So now we're back I've decided to share the love (and the food) just in case you decide to take a trip in that direction yourself and want some foodie inspo/advice for your visit or if your just wondering where to eat in Salcombe. Although, if you live anywhere near me (Glossop, PeakDistrict) you will probably already know that the journey is long: 292 miles from door to door to be exact, which is around 5 and quarter hours of car time. In preparation for our mini-break and long journey we celebrated with a pre trip BBQ - because - why not.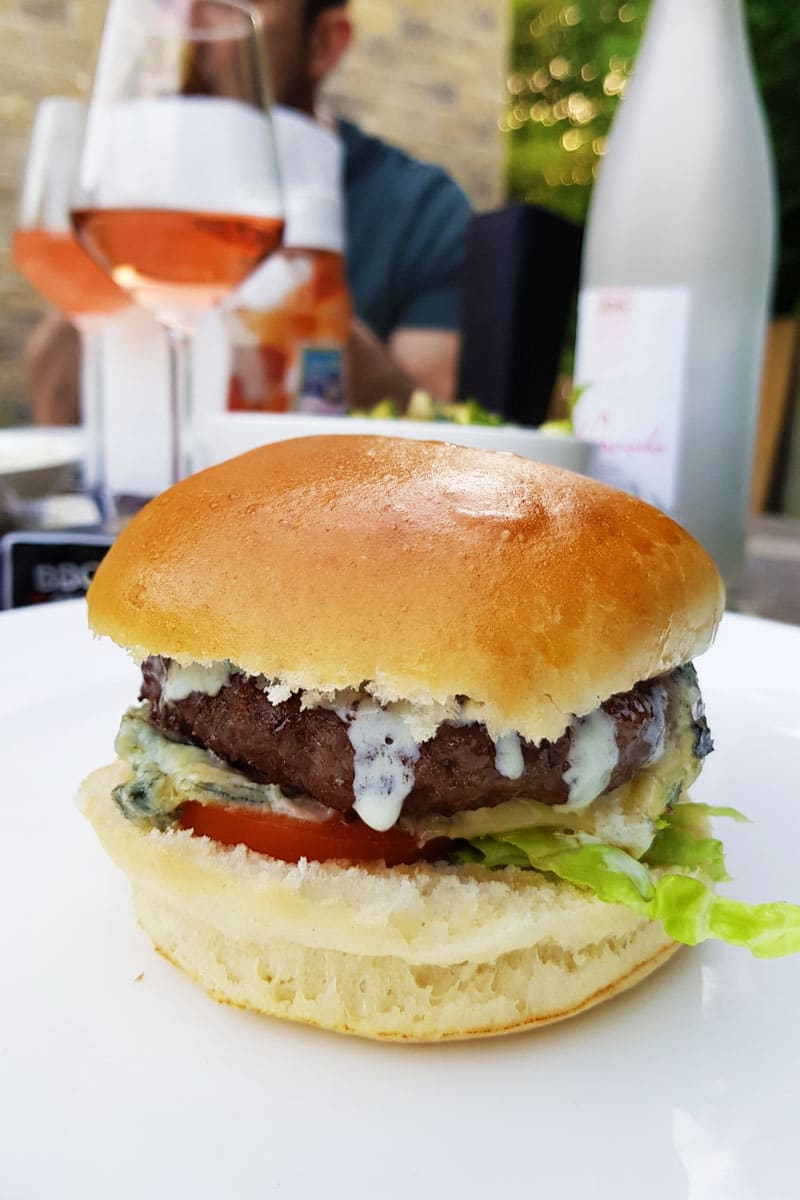 We were heading for Devon, a land of glorious foodness - so decided that we may as well start as we mean to go on. And I will say at this point that homemade tzatziki happened for this BBQ and it was good!! Will be sharing soon! And yes that is a bit of blue cheese you can see popping out from under that burger: A Blue cheese, tzatziki burger!!
So on with our trip to Devon and where to eat in Salcombe (You can find all of the links to the places I recommend at the bottom of this post)
Gloucester Services
First stop was Gloucester services and I feel this is definitely worth a mention. Mainly because this is one of the best service stations I have ever been to - it sounds daft but its true. It was incredible and almost a day out in itself. It also happens to be exactly half way between our house and Salcombe. So it made for the perfect mid-trip break. We had left super early and so got to the services in time for breakfast. Although I was nearly tempted by all the amazing freshly baked cakes and desserts instead.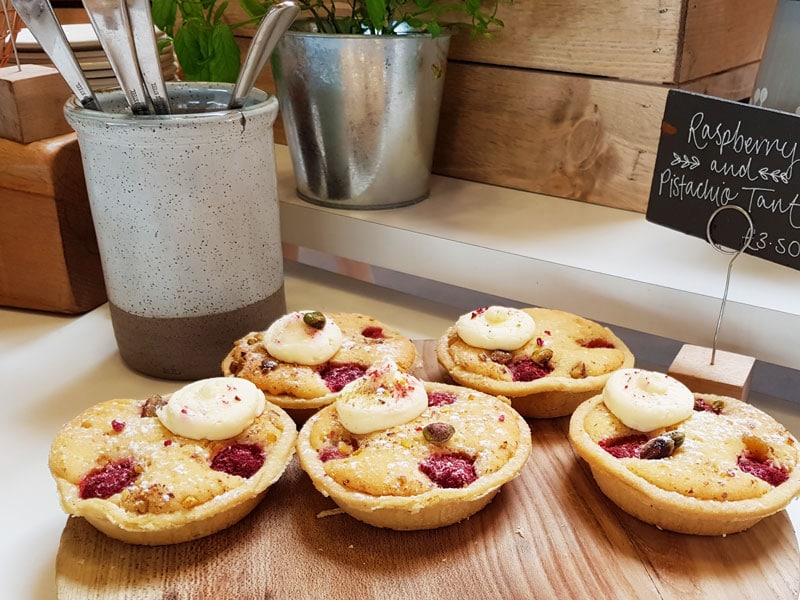 How good do these look??! Gloucester services is its own business with its own food produce, with plenty of local foods kicking about as well. Its farm shop is huge and packed with all sorts; from freshly baked pies and cakes to locally produced cheeses, pickles and sauces. It was a great way to start our foodie trip.
South Sands Hotel, Salcombe
After a long, long drive we finally arrived at our home for next 3 nights: South Sands Hotel. The full prize for the competition was a 3 night stay in a sea view room including breakfast each morning and a 3 course evening meal in the hotels waterfront restaurant each night. and we could not have been more impressed...

The room and its views were absolutely stunning and we particularly loved the fact that we had two Juliet balconies - one in the bedroom and one in the bathroom. And that freestanding bath!!
The hotel itself is tucked away all on its own on South Sands Bay, making for a lovely and tranquil, get away from it all type-holiday. The beach, although small, offers water sports and despite the fact that there is only one hotel on this bit of coast, the waters edge was always buzzing with activity. The town of Salcombe itself is a 20 minute walk away and the walk is quite lovely: meandering through country lanes, and along coastal roads, as well as being able to cut through pretty gardens filled with brightly coloured flowers and unusual plants. (But if you don't fancy the walk there is also a boat taxi).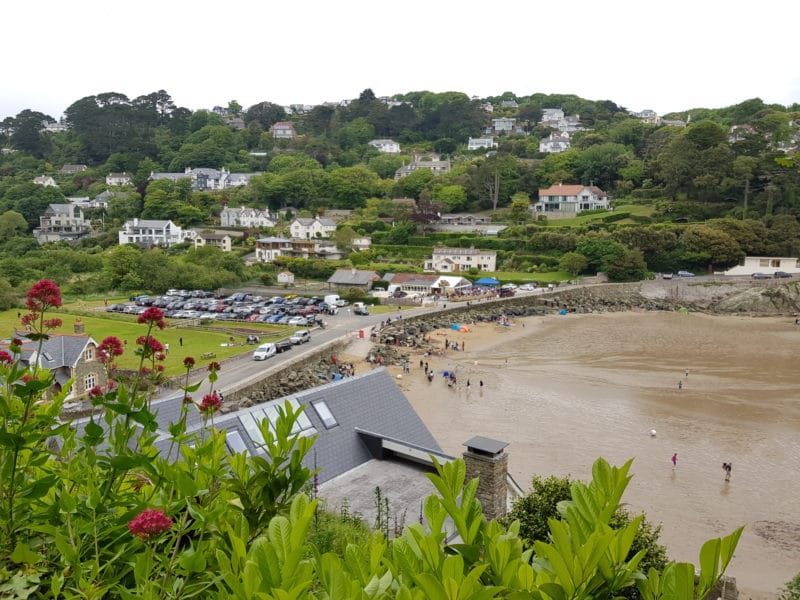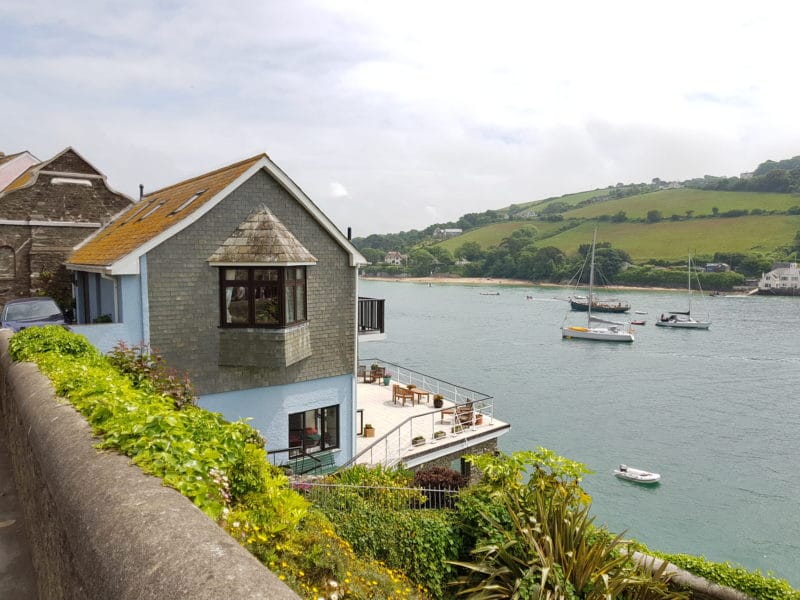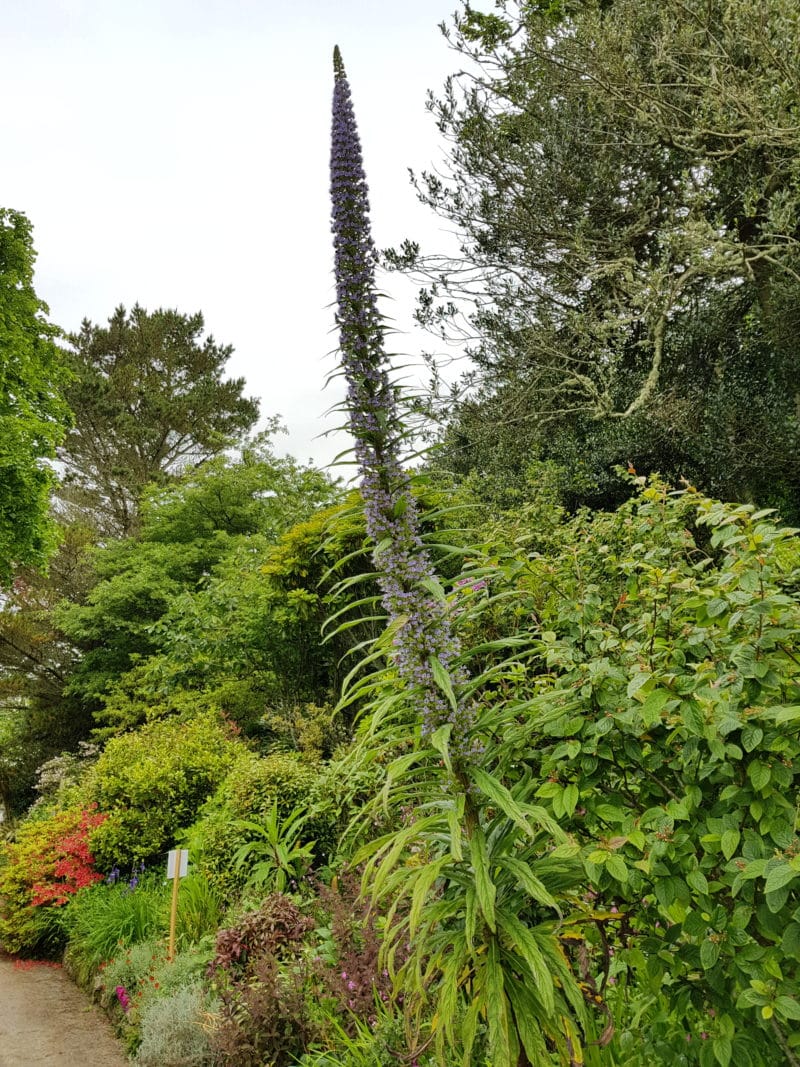 The Food
So lets get to the important stuff - what we ate. To demonstrate what we ate and how much I enjoyed it, here are several of my food-faces caught on camera by Ben, whilst I devoured everything in sight 🙂  . . .

Wonderful stuff - happy in my natural habitat you see 🙂
South Sands Hotel Restaurant
The food here is stunning and we were blown away every night by the taste, style, diversity and pure passion for food.

Allister Bishop is head chef at the South Sands Hotel Restaurant and truely does an amazing job - but don't let me tell you, let him tell you himself: http://www.southsands.com/restaurant-and-bar/restaurant/
We loved every bite.
Dartington food fair
Our stay at South Sands also happened to coincide with the Dartington food fair, an annual event which showcases local suppliers and foods. If you ever happen to be in the area when this event takes place, I would highly recommend you stop by. Its free to enter and gives you a real taste for Devon's  food and drink community. I wasted no time in tucking into a delightful Persian saffron chicken wrap

Whilst Ben opted for smoked meat sliders from The Pig Apple. These tiny burgers were so tasty and so full of flavour that I nearly went and got 2 more for myself. A definite thumbs up to the Pig Apple for doing such a fantastic job.


South Devon Chilli Farm
Next stop was South Devon Chilli Farm a chilli growing farm with cafe, shop and chilli plant nursery. This place was just a 10 minute drive from where we were staying and so we thought we'd call in. From chilli hot chocolate to the chilli plants themselves, this place covers everything you could ever want to know about spicy things. After trying out their chilli hot chocolate in the cafe I immediately purchased a jar of the stuff to take home - this wasn't something that I just wanted to have the one time - I needed this chilli hot chocolate in my life. And who knows it may end up creeping into a recipe or two 🙂

The nursery and plant show tunnels were incredibly interesting and we were amazed by the sheer variety and diversity of all the chilli plants. Well worth a visit.

Lands End
We decided, as we were in Devon, that it would be good to visit Lands End. We had never been and South Sands was probably the closest we had ever been to it, so it seemed appropriate. However, what we didn't appreciate was that we were actually still quite a drive away  (111 miles, 2 hours 40 minutes by car). There and back in a day was not fun. Its nice to say that we now have been, but we probably wouldn't make a special effort to go again.

The Searoom, St Ives
Despite the long journey to Lands End, we managed to redeem the trip slightly with a stop in St Ives

Whilst here we had lunch in a lovely little cafe: The Searoom. This gem of a place is tucked away right around the far side of the harbour. It took effort to walk by all the other restaurants and cafes after such a long drive and having worked up quite an appetite. But it was well worth it for this bowlful of deliciousness . . .

Amok Cambodian fish curry!! - I basically licked the bowl clean, it was heavenly. Ben went for the haddock, leek and gruyere tart, which was also extremely tasty.

In the evening this fabulous cafe turns into a quaint little restaurant and the dinner menu looked just as good too. So to sum up -  I wouldn't necessarily make this trip to see the Lands End sign but I would definitely, 100% go back for this cafe and this amazing fish curry.
The Winking Prawn
The last place I want to mention is this great little, beach cafe/BBQ/restaurant. The winking Prawn is in one of the bays in between the South Sands Hotel and Salcombe. We found oursleves here on our last day, after passing several times and seeing how busy it looked. The queues for food were out of the door every day without fail and after managing to finally order some for ourselves we could see why. This place does amazing seafood and I can highly recommend their king prawns cooked in garlic butter. Served with a glass of wine and a bit of sunshine, this was a great meal to finish off our stay with.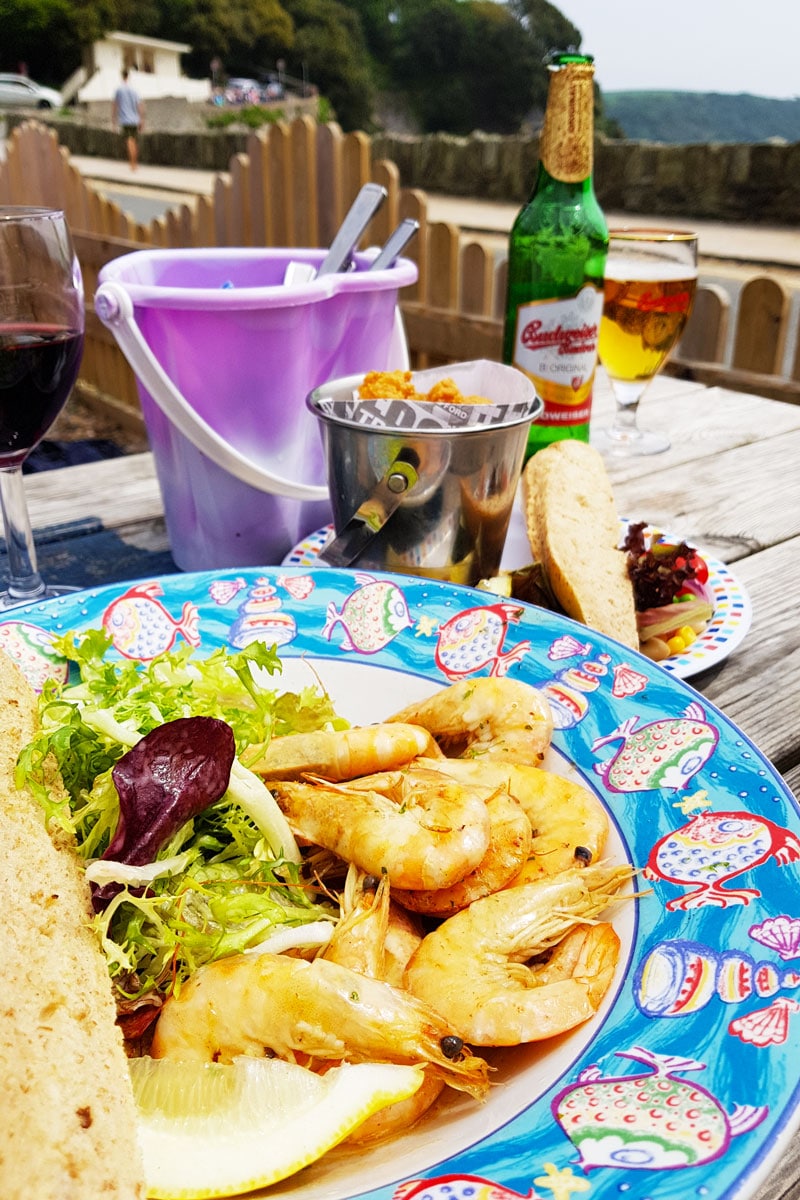 New cheese discovery
I just love coming across new foods and so was particularly delighted when I tried this amazing truffle cheese at the South Sands Hotel Restaurant. I love truffle and so a brie style cheese flavoured with truffle went down very well. The kitchen very kindly lent me a unopened pack so I could take this photo and then look it up later.

Safe to say that this cheese is now in my fridge and I intend to make a lovely, truffley risotto this weekend!!
A few days in North Wales
After our fantastic trip in Devon we decided to finish off the rest of the week in North Wales. Ben parents have a caravan here and so we like to have a few nights away as often as we can. Sticking with our foodie theme we decided to be inspired by all the wonderful, local and seasonal foods we'd eaten and create something of our own. And so an afternoon of foraging for wild garlic took place. This is something that I have never done before. Mainly because I had no idea that wild garlic was so accessible and so abundant.
Just a short stroll away from our North Wales caravan was this amazing scene:

A sea of wild garlic leaves - ready and waiting.

You really can't beat foraging for your own tea.

This wonderful brie and wild garlic risotto was a definite hit and I can't wait to try it with my new truffler brie 🙂

My top picks for foodie stops and where to eat in Salcombe and St Ives:
Gloucester Services: http://www.gloucesterservices.com/
South sands Hotel, Salcombe: http://www.southsands.com/
South Sands Restaurant, Salcombe: http://www.southsands.com/restaurant-and-bar/restaurant/
Dartington Food Fair: https://www.dartington.org/visit/the-shops-at-dartington/dartington-food-fair/
The Pig Apple: http://www.the-pig-apple.com/
South Devon Chilli Farm: https://www.southdevonchillifarm.co.uk/
The Searoom, St Ives: http://www.thesearoomstives.co.uk/
The Winking Prawn, Salcombe: http://winkingprawngroup.co.uk/
Other reviews
Thatchers sparkling apple wine

East Lancashire Railway Red Rose Diner

Cook yourself happy cookbook
PIN FOR LATER