Risotto is definitely one of my most favourite foods. I'm not sure if its all the carby goodness on offer, or just that its such a simple food to make and even easier to eat.
This summer we were fortunate enough to have a little holiday in Italy. It was here that my love of risotto in general transformed into a love of risotto loaded with porcini mushrooms.
Porcini! even the word is great and better still this recipe uses dried porcini which can be kept as a store cupboard ingredient along with the risotto rice and whipped out whenever you feel a need for muchroom risotto! What more could one want after a long day at work?
I also love this recipe as its a one-pot and requires nothing more on your hob than a large, wide-based pan or wok with a lid. The key to this recipe is slow addition of the stock - just one ladle at a time allowing the rice to gradually soak in the stock and its flavours.
Preparing the porcini mushroom: The dried porcini mushrooms can cause issues for this recipe if the grit isn't fully removed after soaking. The grit on dried mushrooms is the only downside to these little porcini's. However, if you soak well in boiling water for a good 20 minutes, then drain and rinse thoroughly, most of the grit should be removed. Trust me, the final result is well worth it.
Other risotto recipes you might like to try: Haddock and rosemary risotto, Amarone risotto, leftover turkey risotto.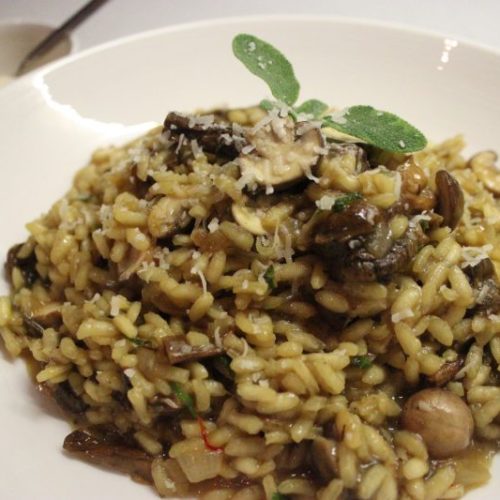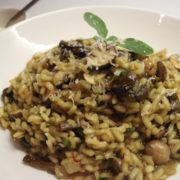 Mushroom risotto with dried porcini mushrooms
Creamy Italian risotto with mushrooms and dried porcini mushrooms
Ingredients
2

tablespoon

olive oil

1

large onion finely chopped

1

garlic clove crushed

200

g

risotto rice

150

ml

white wine

Knob of butter

500

ml

vegetable stock

40

g

dried porcini mushrooms

soaked in boiling water for 20 minutes

2

ladles of stock from soaked mushrooms

10

baby chestnut mushrooms halved

500

ml

vegetable stock

1

teaspoon

dried marjoram

Pinch

of saffron

Juice from half a lemon

30

g

parmesan grated

Handful fresh sage

Jug of boiled water
Instructions
Heat the olive oil in a large frying pan or wok. Add the onion and garlic and gently cook through until clear.

Add the rice and mix well so grains become coated with oil then immediately add the wine and simmer. Once the rice has soaked up the wine add the butter, one ladle of the vegetable stock, marjoram and saffron. Stir well and simmer.

Whilst the first ladle of stock is reducing, drain the porcini mushrooms. Save the porcini soaking liquid and leave to settle so any grit sinks to the bottom. Thoroughly rinse the porcini mushrooms in order to remove any remaining grit. Add the porcini and fresh chestnut mushrooms to the rice along with another ladle of veg stock and one ladle of porcini stock. Stir well. (Take care to not disturb any grit from the bottom of the porcini stock.)

Once the second addition of stock has reduced add the remaining veg stock and a second ladle of porcini stock, stir well, reduce to a simmer and cover.

Check the risotto every couple of minutes to ensure the rice isn't sticking to the bottom. Once the liquid has reduced for a third time the rice should now be changing to a soft creamy texture. To help this along, add 2 tablespoon parmesan and mix well. Taste the risotto to check flavour and texture. If the rice appears under cooked or if the stock has reduced too much, use the extra boiled water to cook the rice for a bit longer. If the rice is cooked to your liking, season with pepper, lemon juice and add more parmesan if desired. Finally stir in chopped sage and served with a wedge of lemon and additional grated parmesan.