These 5 easy recipes for pancakes are the perfect inspiration for pancake day. This easy guide to making pancakes will show you how to make 5 different types of delicious pancakes. Plus, keep reading to find the answers to the usual questions asked about making pancakes and get my best tips and tricks for the perfect pancake.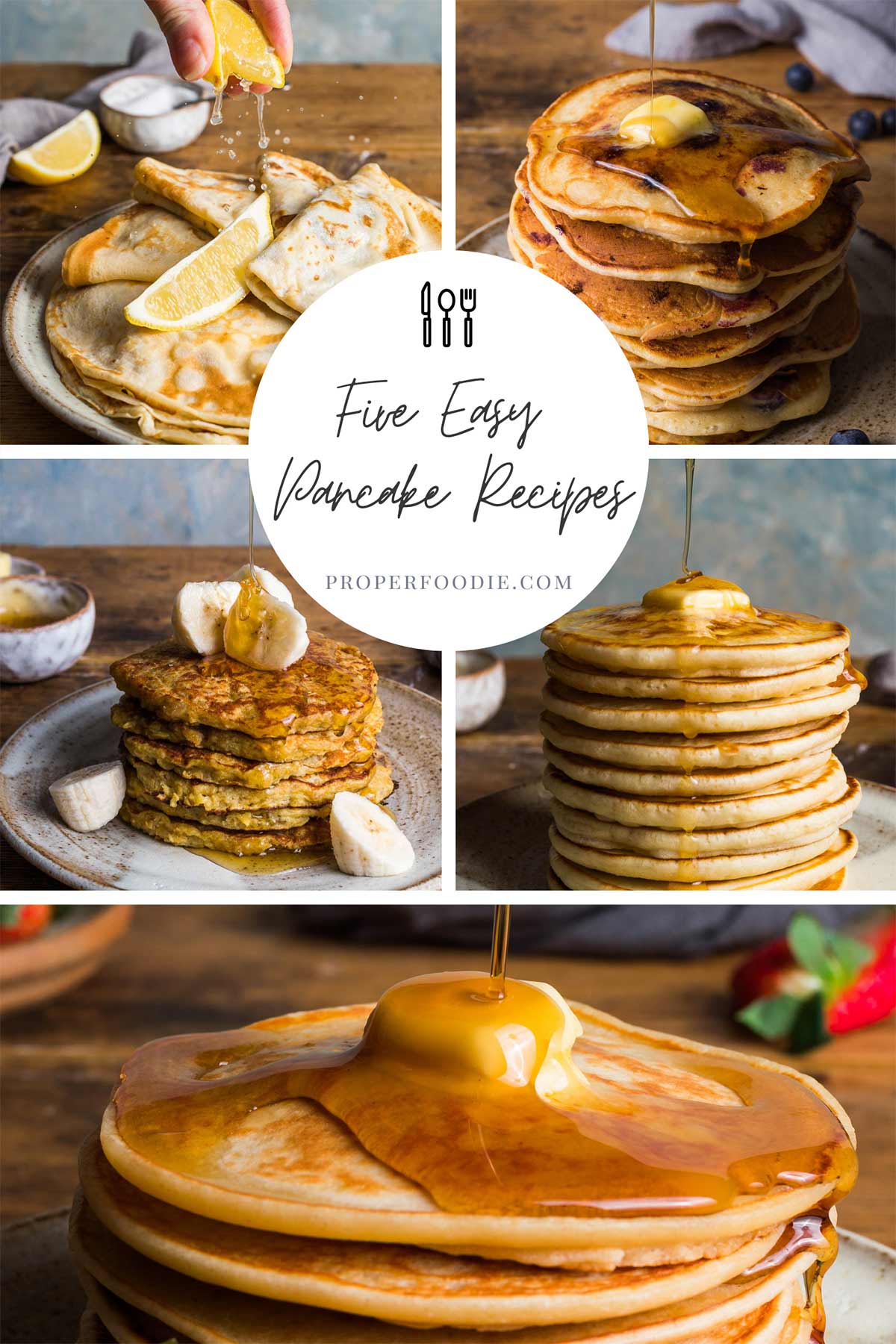 Jump to:
English Pancakes Recipe
This traditional English pancakes recipe is a great option for pancake day and is made simply with eggs, flour and milk (no baking powder required). The batter can be made in just 5 minutes and the recipe for this ensures a super smooth batter every time. Follow the link below for the full recipe and enjoy perfectly thin and light, English style pancakes on Pancake Tuesday.
English Pancakes Recipe
Traditional English pancakes with lemon and sugar.
Make this recipe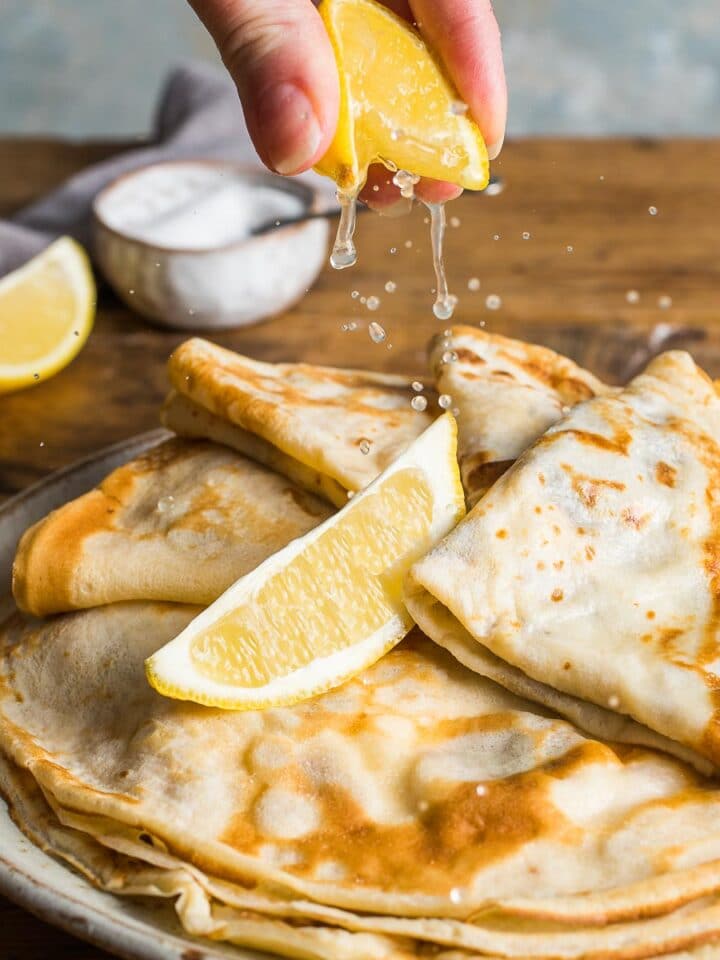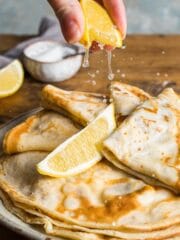 American Pancakes Recipe
Thick, soft and spongy American pancakes that can be made at home using basic store cupboard ingredients. It takes just 15 minute to mix together the pancake batter and 10 minutes to cook off a full batch in the frying pan. Unlike the British pancake, American style pancakes are small and stackable and have a thick spongy texture that is perfect for soaking up lashing of syrup. Make your own stack for a special breakfast, for pancake day or even for a dessert.
American Pancakes
Easy to make, light and fluffy American Pancakes.
Make this recipe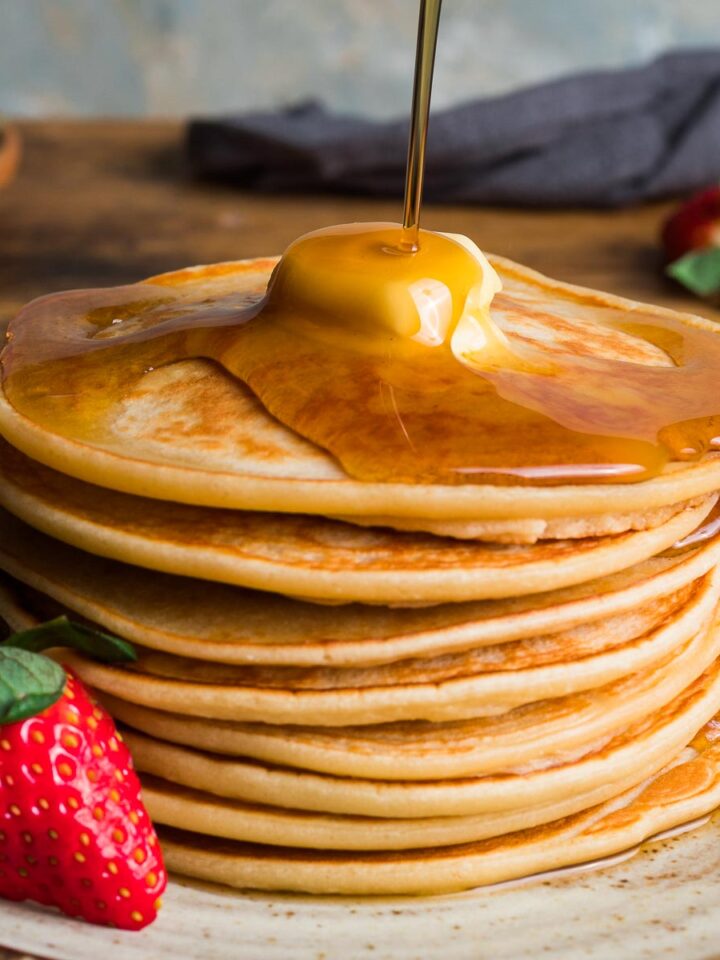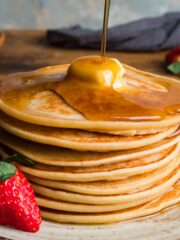 Blueberry Pancakes Recipe
Easy blueberry pancakes recipe filled with warm, juicy blueberries and topped with melted butter and thick golden syrup. Make a stack of these light and fluffy Blueberry Pancakes in just 25 minutes.
American Blueberry Pancakes
Make your own deliciously light and fluffy Blueberry Pancakes with this easy step by step recipe.
Make this recipe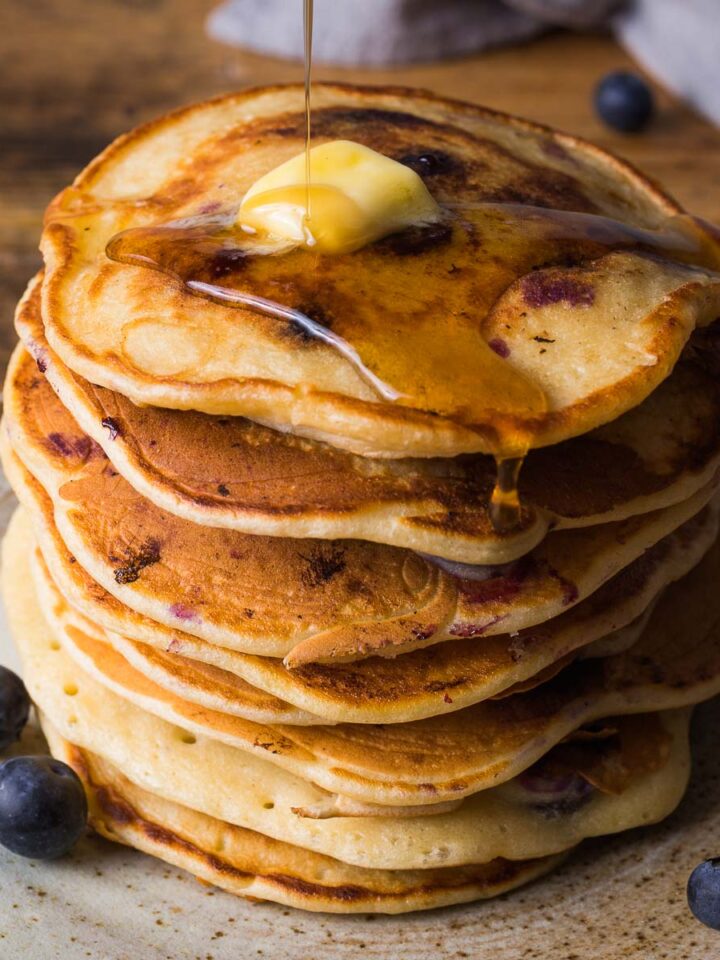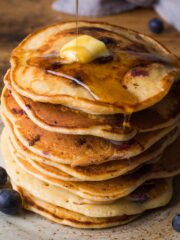 Scotch Pancakes Recipe (Drop Scones)
These soft and sweet scotch pancakes are perfect for breakfast, hot and dripping with butter. Make up a batch at the start of the week and then pop a couple in the toaster to warm for your breakfast each day. This recipe is really easy and requires just 5 minutes to whisk together the batter.
Scotch Pancakes Recipe (Drop Scones)
Fluffy and light scotch pancakes recipe made with self raising flour, sugar, milk and 1 egg.
Make this recipe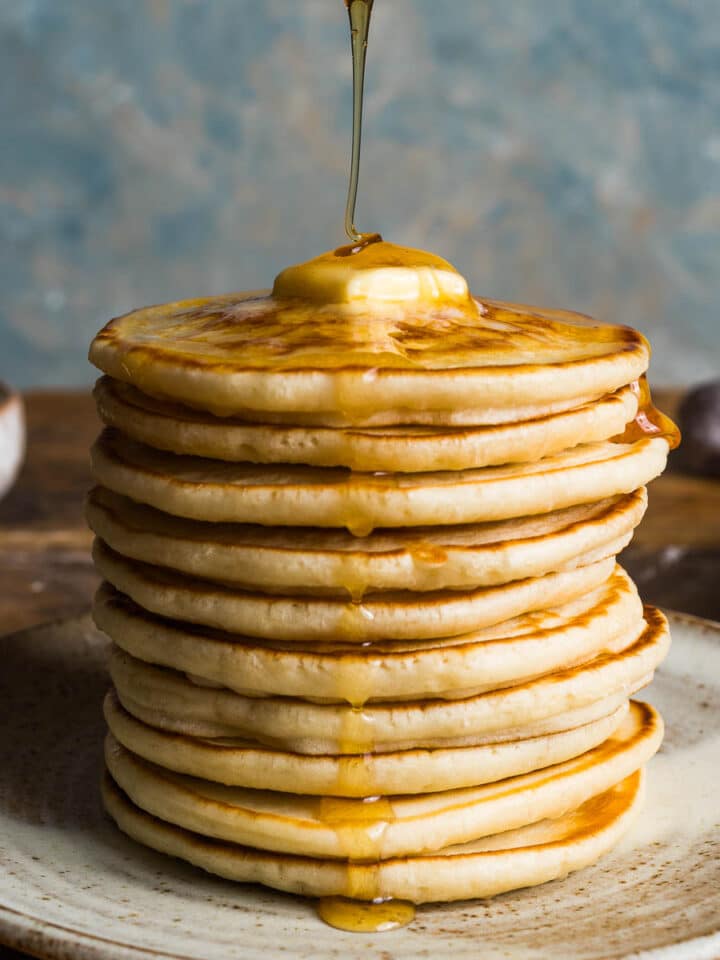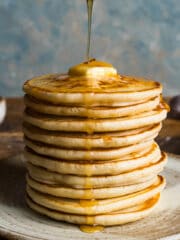 Healthy Banana Pancakes Recipe
This healthy pancakes recipe is made with bananas, oats and eggs and is great alternative for pancake day if you need flourless pancakes, milk-free pancakes or just a generally stodge-free pancake. These pancakes are soft, naturally sweetened, healthy and nutritious! Serve up with extra banana to ensure you are getting in 1 of your 5 day and add a drizzle of honey to make them all the more tempting.
Healthy Pancakes Recipe (with Banana and Oats)
Make this nutritious pancake batter in just 5 minutes and enjoy warm and healthy banana pancakes straight from the pan.
Make this recipe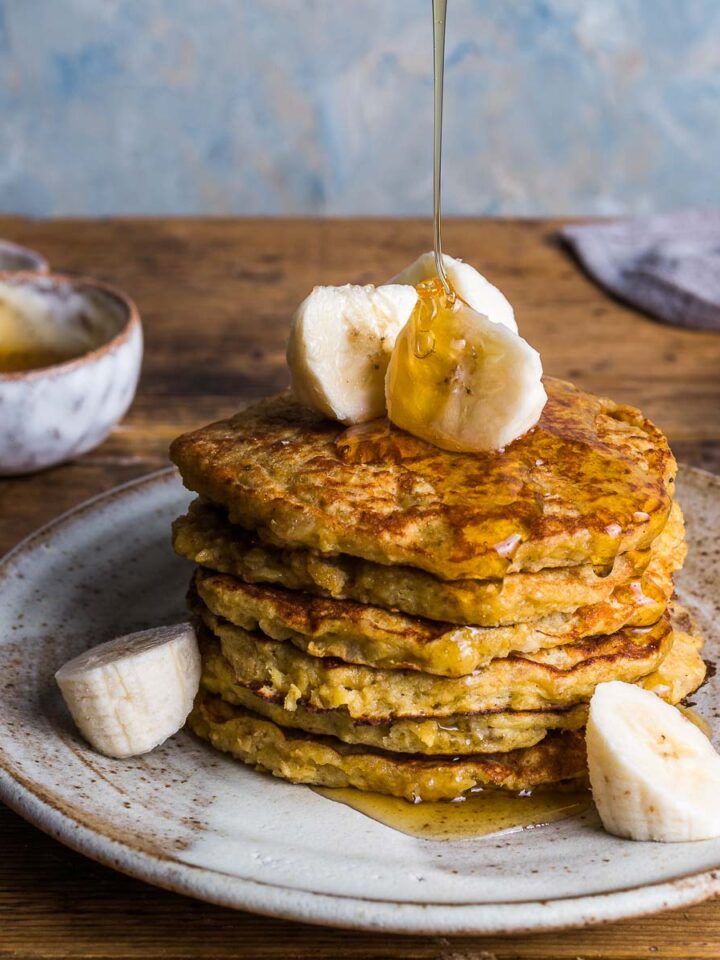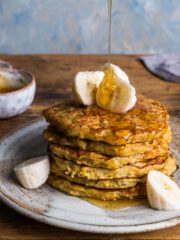 Recipe for Pancakes - Frequently asked questions
How thick or thin should pancake batter be?
For the English pancakes recipe the batter should be thin and similar to the consistency of single cream.

The batter for American pancakes, blueberry pancakes and scotch pancakes is much thicker than crepe or English pancake batter. It should hold together to form a thicker pancake and not run over the surface of the pan.
Why shouldn't you over mix pancake batter?
Over mixing pancake batter can cause too much gluten to form, which leads to chewy pancakes. Mix the batter until everything is just about combined. 

Some of the recipes above suggest best ways to combine the ingredients so as to avoid lumpy batter. However, if you do get lumps in your batter, don't keep mixing. Instead leave it to rest in the fridge for 15-30 minutes. This will allow most of the lumps to dissolve.
How do you know when pancake batter is ready?
The pancake batter will be ready once all the ingredients have been combined and if necessary it has had time to rest and dissolve any lumps.
How to make fluffy American pancakes?
Fluffy American pancakes are made by adding a rising agent such as baking powder. An acidic liquid such as yogurt or buttermilk helps to activate baking powder so ensuring a good rise. Extra fluffy pancakes can be made by folding whipped egg whites into the pancake batter.
When is the pan is hot enough to start making pancakes?
Once the pan has been on the heat for a couple of minutes, spread oil or melted butter over the surface. You can then test if the pan is ready by adding a small amount of batter. Flip after 30 seconds and the batter should have started to go golden brown. This is a good indication that the pan is ready. 
Recipes for Pancakes - Tips and tricks
How to stop pancakes sticking to the pan
If your pancakes are sticking to the pan then you need to add more oil or butter and spread it evenly around the whole surface. I usually melt a bit of butter and then use kitchen towel to spread it around and remove any excess.
When to flip pancakes
For English pancakes its time to flip when you can shake the pan and the pancake loosens and starts to slide over the surface of the pan.
The indication that its time to flip American pancakes is when bubbles begin to appear on the surface of the batter. However, if your pan isn't hot enough the bubbles may not form and the pancake won't cook properly.
Be aware that the healthy banana pancakes brown a lot quicker than standard pancakes. To help with this make sure the pan is well buttered or oiled before adding the batter and keep the heat low-medium. Also, use a spatula to carefully check the underside of the pancake regularly before flipping.
Handle banana pancakes with care when flipping over as they can be quite delicate.
Keeping pancakes warm
For all of these recipes for pancakes, you can make a full batch of pancakes and wrap in foil as you go to keep them warm. If they do need reheating, place the foil wrapped pancakes in a hot oven for 5 minutes. Alternatively pop the pan back on the heat and warm each pancake on both sides for 10 seconds or so.
Best toppings for pancakes
The traditional topping for English pancakes is sugar and lemon - nice and simple. However, you could also top with strawberries, mango, banana, nutella, honey, syrup, chocolate sauce, cream, yogurt, chocolate chips, nuts and seeds.
The most simple topping for American style pancakes is butter and maple syrup. The butter can be left out if preferred but I do like the nutty and slightly salty flavour that the butter adds. Maple syrup could also be replaced with golden syrup or honey.
For extra flavour and texture in American pancakes mix fruit, spices, chocolate chips or spread into the pancake batter.
Scotch pancakes are best served hot with a good helping of butter spread on the top
Serve up healthy banana pancakes with extra fruit and a drizzle of honey
Equipment you'll need for making pancakes
Sieve
Large mixing bowl
Whisk
9 inch pancake pan or frying pan
Ladle
Spatula
Difference between English pancakes and crepes?
In the UK, English pancakes are traditionally eaten on Shrove Tuesday at the start of lent (and hardly any other time). The french version of pancakes (crepes) are very similar to British pancakes except they are larger, thinner and eaten as a dessert at any time. A special tool is used for spreading the batter on a hot plate, which makes crepes very thin.
Difference between American Pancakes and English Pancakes?
Unlike English pancakes, American pancakes use a leavening agent (baking powder), which release gases and allow the pancakes to rise. Therefore, American pancakes are smaller and thicker than English pancakes.
Happy pancake flipping!!