👩🏻‍🍳 Why make this recipe
With a simple method that requires only 10 minutes of prep time, this is a great dessert for when you have mouths to feed and time to save! Theres no need for any mixers and theres certainly no concerns over adding eggs too quickly or mixtures splitting. Just mix together the ingredients, pour into a lined loaf tin and bake. Super simple.
The ingredients in this recipe are also super healthy and include honey instead of refined sugar, oil instead of butter, and a mix of ground almonds and organic wholegrain spelt flour instead of plain white flour. This healthy banana bread also has an extra egg white and a teaspoon of organic apple Cider Vinegar. The end product: a wholesome, flavourful, nutritious and no mess banana bread treat.
🔪 Step by step instructions
Start by pre-heating the oven to 165 degrees C. Then lightly grease a loaf tin and line with strip of greaseproof paper (should be as wide as the length of the tin) (Paper just needs to cover the base and the 2 long inner sides). Peel the bananas and place in a large mixing bowl. Use a fork to mash the bananas to a rough pulp (no need for the banana to be pureed as a few lumpy pieces adds to the texture and flavour).
Next add in all the other wet ingredients: 6tbsp honey, 2 eggs and one egg white, 1 teaspoon vanilla extract, 1 teaspoon apple cider vinegar (or lemon juice), and 3 tablespoon of olive oil. Whisk together until fully combined.
Next add all the dry ingredients, apart from the flour, to the wet mixture: 50g ground almonds, 1 teaspoon cinnamon, ½ teaspoon nutmeg, 1 teaspoon bicarbonate of soda. Use a rubber spatula or wooden spoon to gently stir together.
Lastly add the wholegrain spelt flour (or other variety of wholegrain flour) to the bowl and fold in gently using the spatula.
Carefully pour the banana bread mixture into the lined loaf tin and sprinkle over the flaked almonds and chopped walnuts. Alternative fold the nuts into the mixture before transferring to the tin. Place the loaf tin in the centre of the pre-heated oven. Bake for 50 minutes until golden brown and a inserted skewer comes out clean.
Remove from the oven and allow to stand for a minute or two before removing from the tin and placing on a cooling rack. When completely cool, remove the greaseproof paper, slice and serve.
💭 Expert tips
For gluten free banana bread replace the wholegrain flour with gluten free flour and check the labels of all other ingredients for any traces of gluten.
Use the nuts as a topping or stir into the cake mixture before pouring into the tin. Or if you prefer leave out altogether.
❓ Frequently asked questions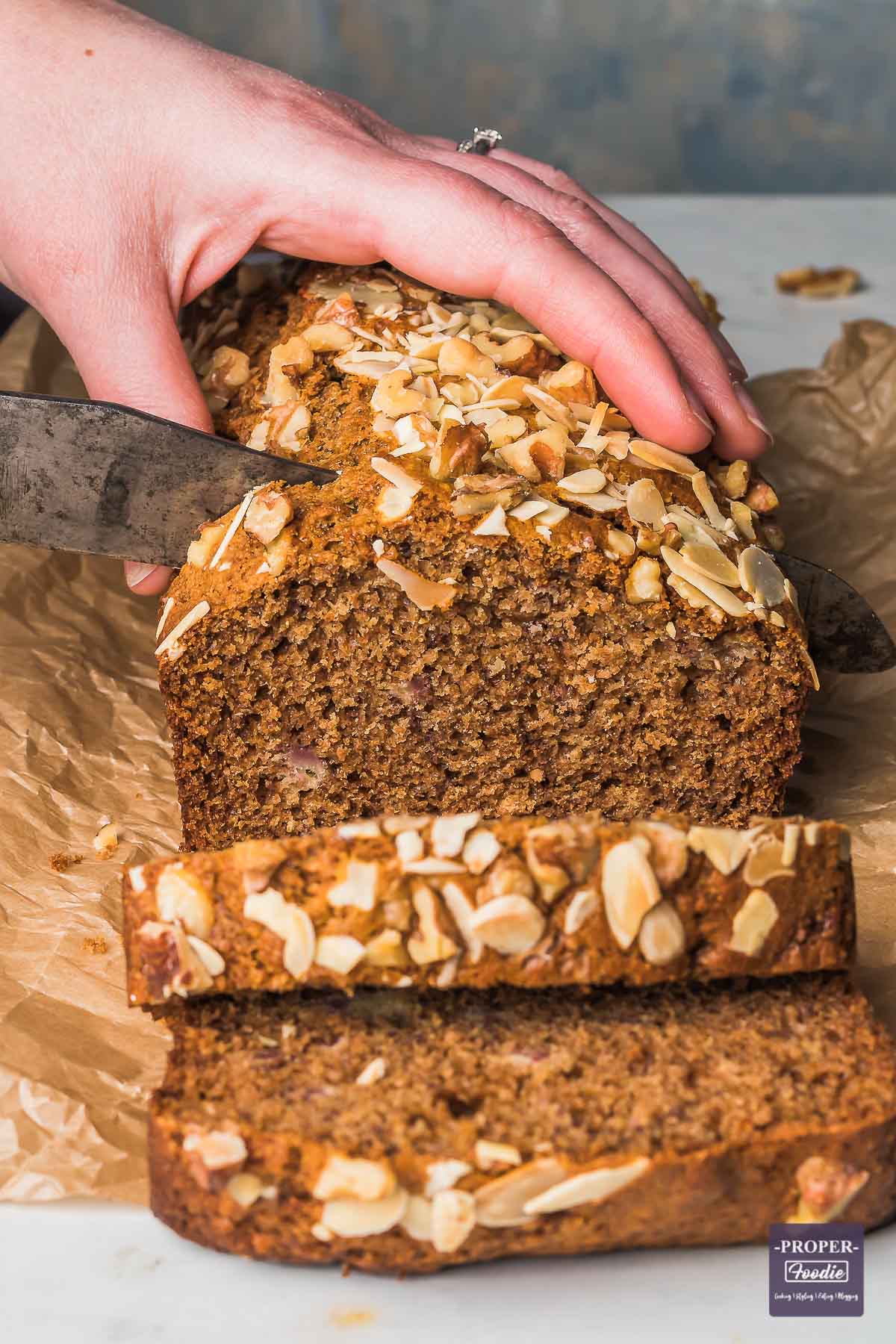 📖 Recipe
This post was first published in July 2019. Updated in May 2021 with improved step by step instructions and expert tips.
Please note that this post contains affiliate links to products I am recommending (apple cider vinegar and wholegrain spelt flour), which means if you click this link and then go on to purchase the product, I will receive a small percentage – this will not affect the amount you pay. I will only ever link to and promote products that I have tried and tested myself.