Soft & delicate fig jam recipe with nutty, crunchy seeds & a squeeze of tangy lemon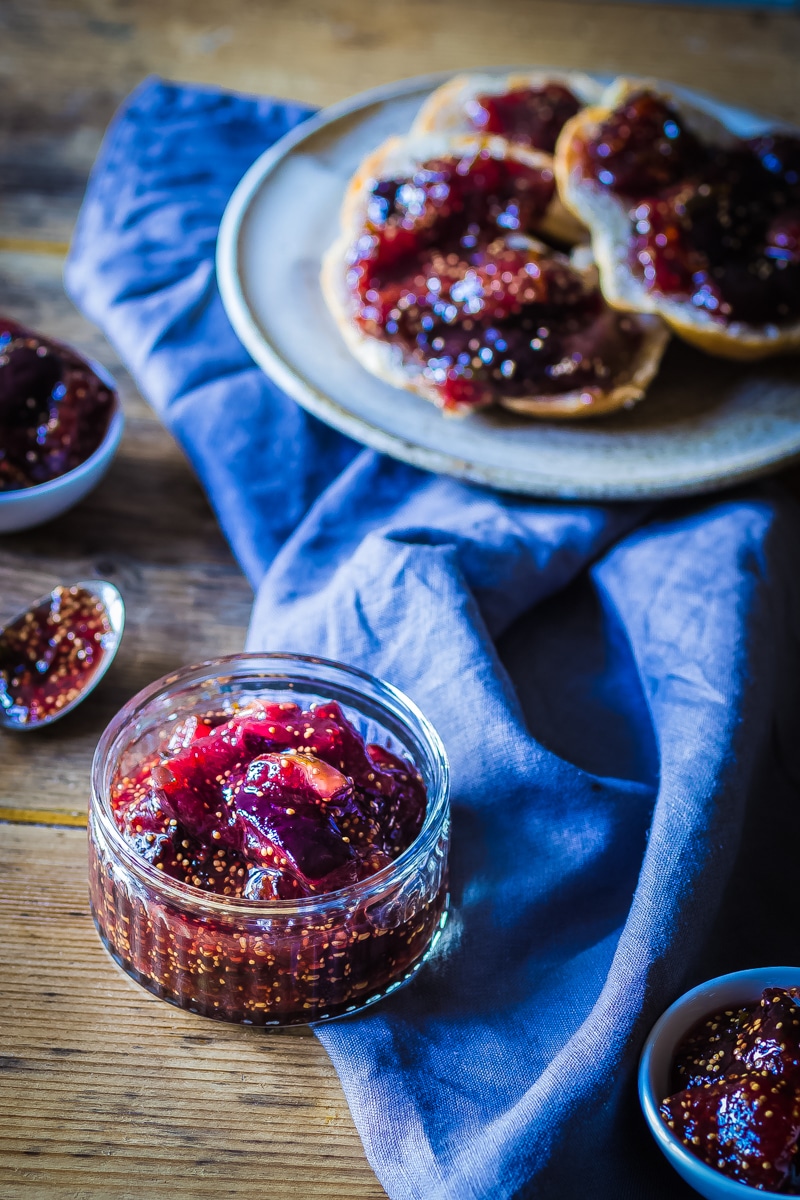 Tis the season for figs!! And to make the most of this lovely fruit I've made myself a few jars of sticky fig jam preserve. A simple fig jam recipe or easy fig and balsamic chutney recipe are favourites of mine. You can't beat the amazing taste, texture and crunch of seeds that you only get from figs - its almost like popping candy, only a whole lot better for you.
Figs
September and November are amazing months for all kinds of fruits and berries. Apples, blackberries, apricots, plums, pears - just so many. But my favourite, making it to first place just ahead of stewed apples, is the lovely little fig. With its thin skin, soft texture, nutty flavour and a million crunchy seeds; the fresh fig really is a special treat.

Seeds in figs
- The fig fruit is actually a false fruit or accessory fruit, which basically means that the flowers or seeds grow inside it rather than the fruit forming from the flower.
Fruit, flower, or false fruit it all makes for good jam.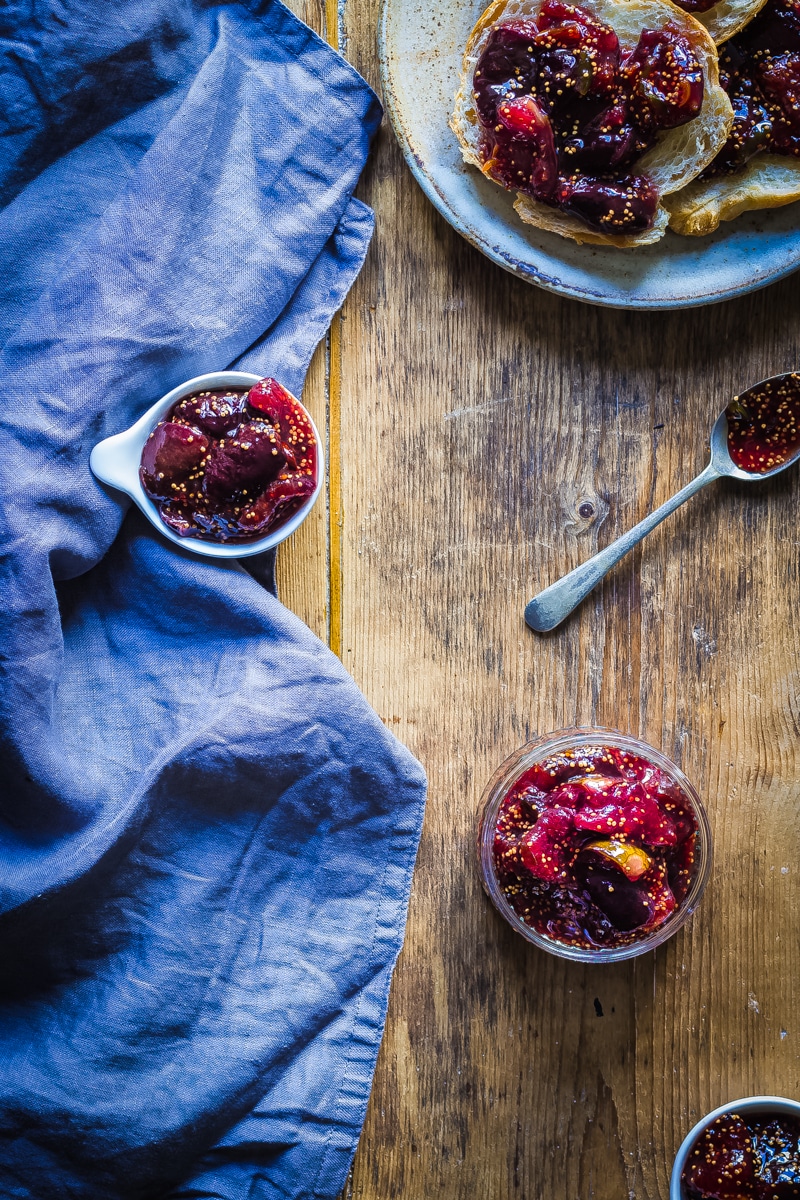 How to make fig jam
This is a simple fig jam recipe is made with just 3 ingredients, in one pan, and simmered for no more than 30 minutes. As fresh figs have a borderline acid pH, its advised to add acid to the jam - usually lemon juice. The acid helps to preserve the fruit correctly.
Fig jam with no pectin
Many jam recipes suggest the addition of pectin to allow the jam to gel quicker and be jelly-like. Pectin reduces cooking time in jams where the fruit contains less natural pectin and so normally take a while to gel. Figs contain enough natural pectin for jam making and so no extra pectin is required in a fig jam recipe.
Once the figs have been simmering for 20-30 minutes the natural pectin will bind with the sugar and become jelly-like. In order to test if the jam is ready, spoon a little onto a cold plate. As the jam cools push slightly with your finger  - the jam should wrinkle showing that it has a jelly consistency.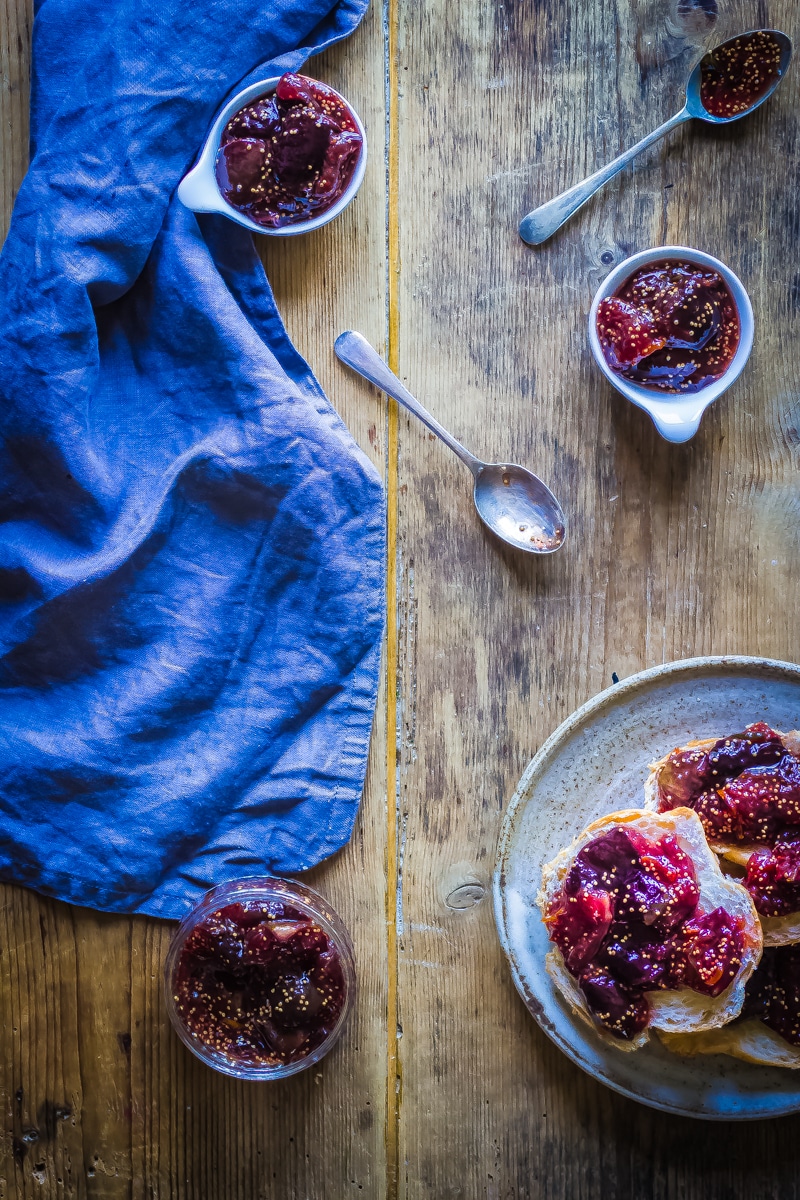 Fig jam uses
I love fig jam on warm croissants, theres something so great about having really chunky pieces of jam on all that buttery croissant goodness. Fig jam is also fabulous in desserts or as toppings for desserts, I particularly like to add jam to my galette recipe. The galette recipe also includes instruction on how to make an amazing rhubarb jam recipe! For something a little different in the morning, try fig jam as a breakfast topping for yogurt or porridge.
Storing jams
The addition of lemon juice, as mentioned above, will help to preserve the fruit correctly. However, bacteria can still be present in the storage jars before the jam goes in. In order to prevent anything nasty getting into my jars I sterilise the jar and lid and ensure that my jam goes into the jar whilst still hot.
To sterilise my jars I usually wash them thoroughly and then place them on a baking tray in the oven for 5-10 minutes at 150 degrees C (alternatively put through the dishwasher on a hot wash).
I use a clean metal funnel to transfer the hot jam into the jars and then screw the lids on tightly. I use marigold gloves to enable handling hot jars and jam. Make sure your jam is still hot when you place it in the jars and screw on the lid. As the jam cools, a tighter seal will form between the jar and lid.
You can check if a tight seal has been formed by pressing down on the centre of the lid once cooled. - If sealed with a vacuum the lid shouldn't depress further. This seal check and the sterilising of the jars in the oven should be enough to ensure the jam keeps well.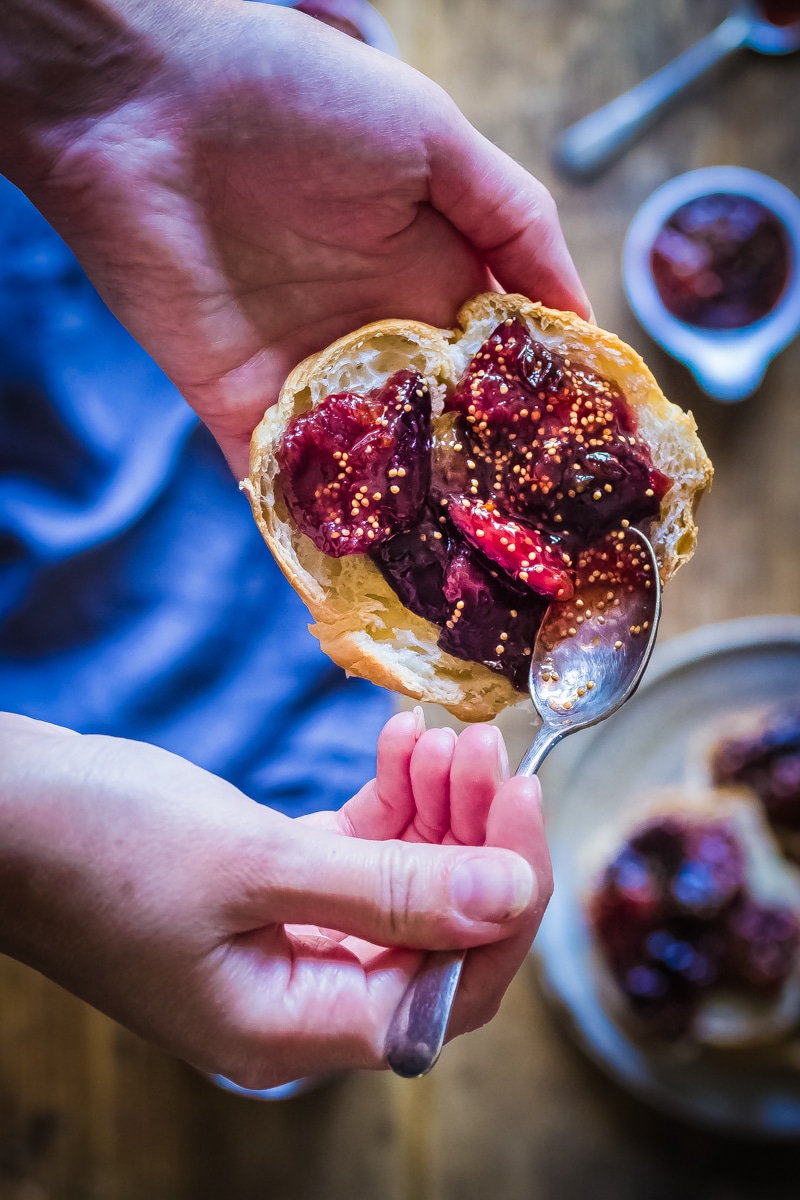 Equipment for making jam and chutney
Please note that the below products are affiliate links, which means if you do click these links and then go on to purchase the products, I will receive a small percentage – this will not affect the amount you pay. If you do click and buy – Thank you for helping in the continuation of this blog, it really means a lot!! I will only ever link to and promote products that I have tried and tested myself.
I used the following products to make my jars of jam: Nutley's 110ml Hexagonal Glass Jam Chutney Preserve Jar (Pack of 12),  50 Buff Strung Tags 70mm x 35mm, KitchenCraft Home Made Stainless Steel Adjustable Jam Funnel
What else can I preserve?
For more ideas on preserving fruit have a look at my chutney recipes, which are both fantastic at Christmas and as Christmas gifts: Fig, apple and balsamic Chutney and Spiced pear and cider chutney. If you're after a substitute for fig jam try this recipe with strawberries instead of figs.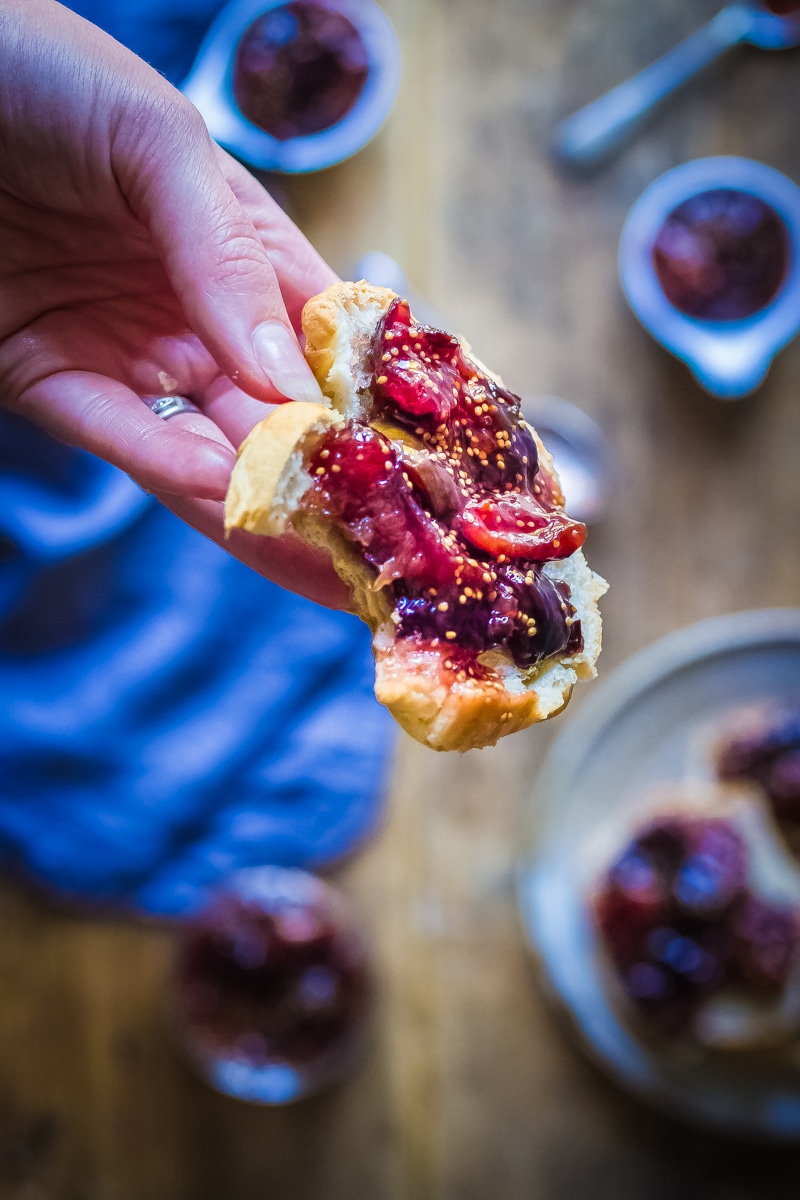 📖 Recipe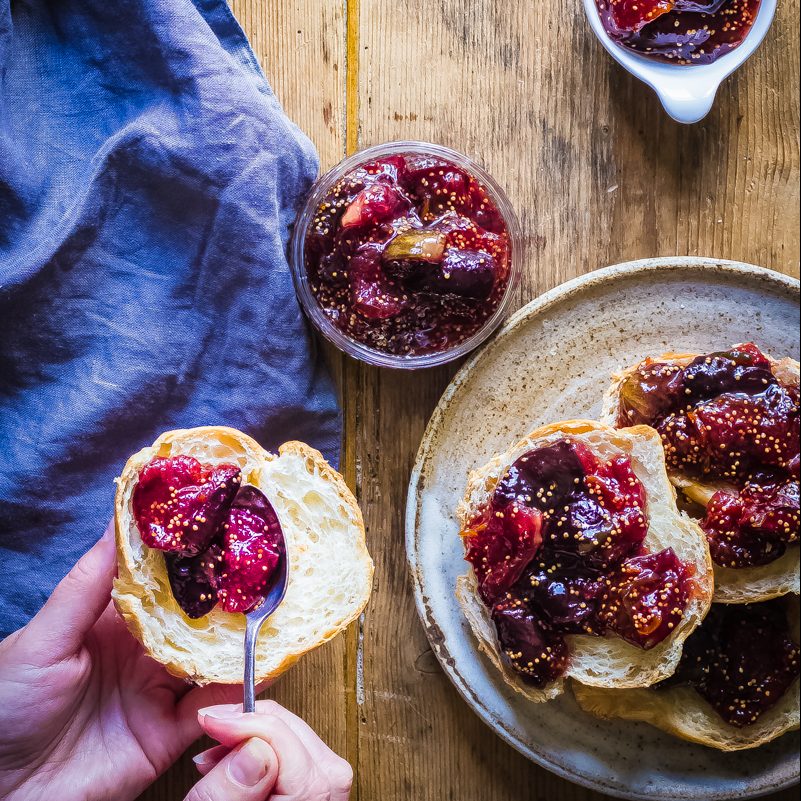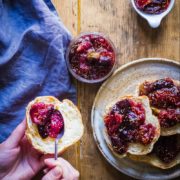 Fig Jam
Soft & delicate fig jam preserve with nutty, crunchy seeds & a squeeze of tangy lemon
Ingredients
500

g

figs

(10-12 figs)

175

g

Granulated Sugar

Juice of 1 lemon

100

ml

water
Instructions
First place a small plate in the fridge to chill.

Then prepare the figs by chopping off the stems and slicing into quarters.

Place a large pan on a medium heat. Add the figs, sugar and water to the pan and bring to the boil. Turn the heat down and simmer for 20 minutes. Stir regularly.

Squeeze in the lemon juice and mix well. Simmer for a further 5 minutes.

Test to see if the jam is ready by spooning a small amount onto the chilled plate from the fridge. As the jam cools on the plate, push it slightly with your finger. If ready the jam should wrinkle, indicating that it will become jelly-like as it cools. If not, simmer for a further 2 minutes and test again, - repeat until ready.

If using immediately, transfer to a bowl, cool and then chill in the fridge before serving.
To tranfer and store jam in jars
Sterilise your jars and lids by washing thoroughly, then place on a baking tray and put into the oven at 150 degrees C for 5-10minutes.

Remove the jars from the oven. Whilst the jars and jam are still hot transfer the jam into the jars using a clean metal funnel (see links above for the equipment that I use). Use marigold gloves to handle the hot jars and hot jam.

Make sure the edges of the jar are clean before tightly screwing on the lids - again use marigold gloves as the jars will still be hot. Allow to cool.

As the jam cools a tight vacuum seal will form. This can be tested by pressing in the centre of the lid once fully cool. If properly sealed the lid should not depress when pressed.

If the lid does depress the jars will need to be further processed by placing in a water bath: Place the jars into a high sided pan and fill the pan with hot water up to half way up on the jars (water bath). Process the jars by putting the pan over a medium heat and boiling the water for 5 minutes.

Once a vacuum seal has been formed (pressing lid test) the jars can be stored in the cupboard for up to 6 months. Once opened, keep in the fridge and consume within 6 weeks

If ever in doubt about the seal, always store in the fridge and consume within 6 weeks.
Nutrition
Serving:
50
g
|
Calories:
56.7
kcal
|
Carbohydrates:
14.5
g
|
Protein:
0.4
g
|
Fat:
0.1
g
|
Sugar:
14.5
g
PIN FOR LATER