Feed the family for just £5.12 with this frozen salmon traybake. A simple and affordable oily fish meal, made on one tray, with minimal preparation, but maximum taste. An easy and healthy way to fit in those all important omega-3 fatty acids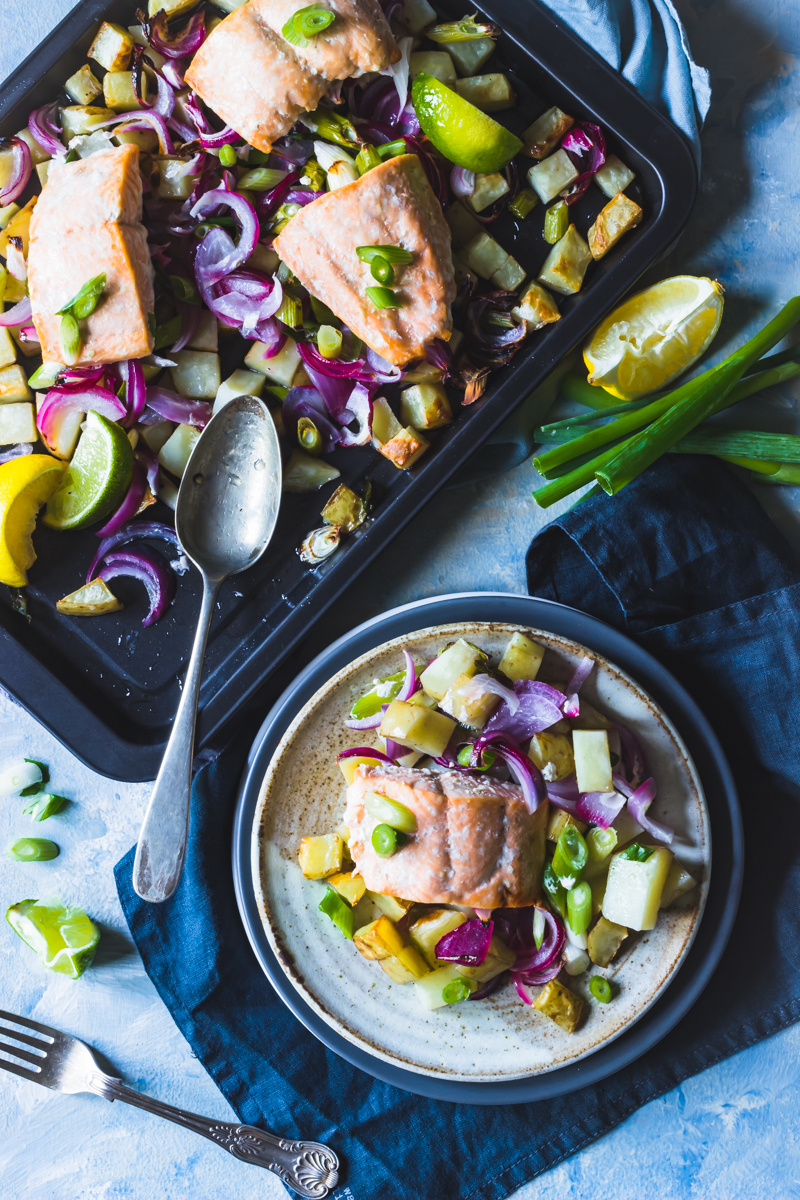 The best salmon recipe on a budget
Keeping up with eating the right amounts of fish and getting in that all important portion of oily fish each week, can be hard going. Particularly when oily fish favourites such as salmon and trout can be quite pricey. Four fresh fillets of salmon usually come in at around £8 or £9 and so feeding a family of 4 for a fiver is already well out of reach after the purchase of just one ingredient.
So how to get around this? . . .Frozen Salmon!! Its less than half the price but doesn't mean theres any compromise on taste, quality or sustainability.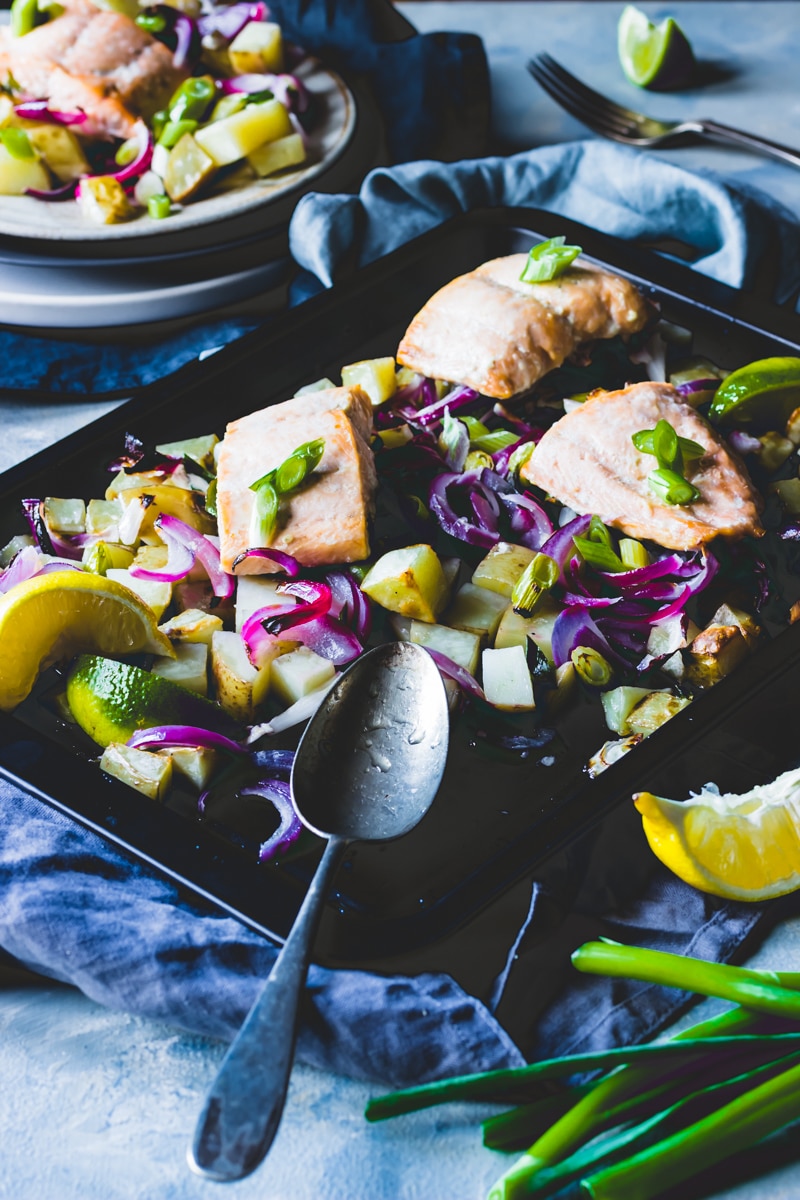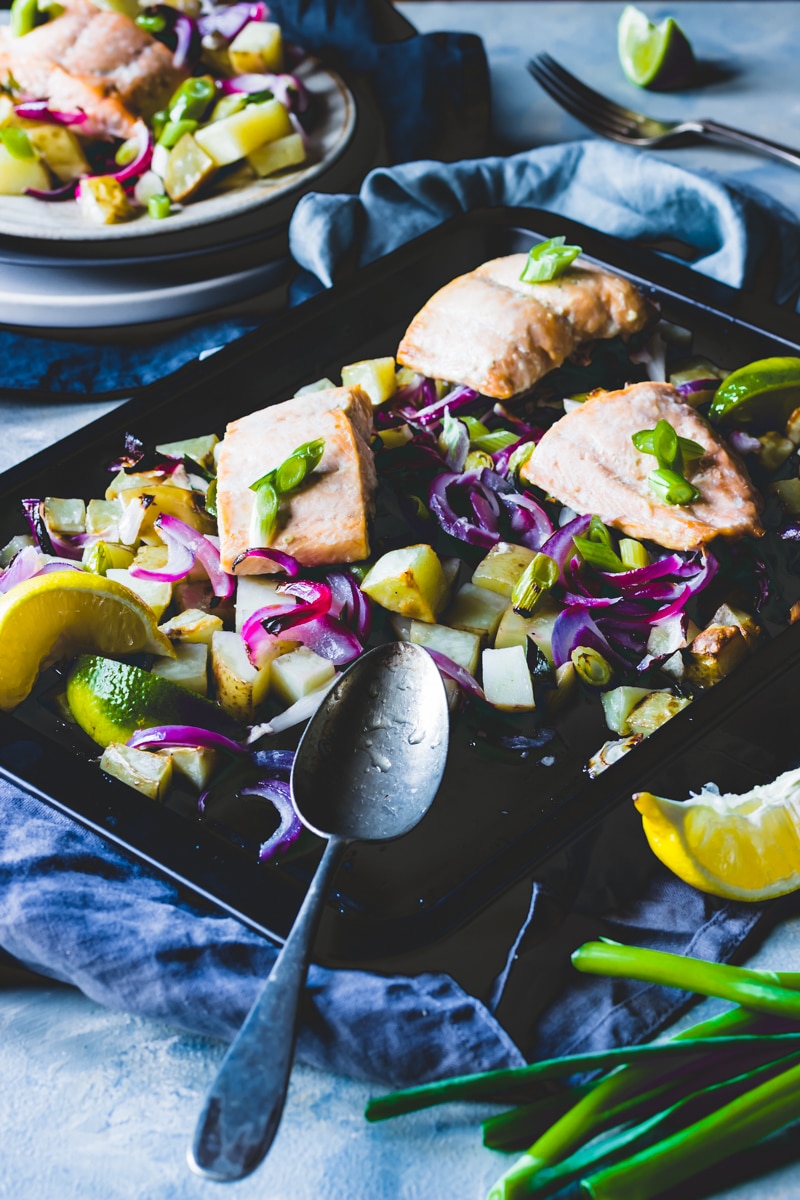 Is frozen salmon still good for you?
Frozen salmon is flash frozen, meaning that the goodness and quality is locked in immediately after being caught. Salmon is highly valued in our diet due to its high content of omega-3 and protein. Both of which will be just as present and available in frozen salmon. Most frozen fish will keep well in the freezer for four months and will cook up with the same taste and texture as fresh fillets. When purchasing salmon or any kind of fish, fresh or frozen, try to go for fish that is approved by the Marine Stewardship Council (MSC). The blue MSC label will be displayed on the packets of fish that are certified as sustainable. Choosing fish with the blue label means you will be helping to protect oceans, and livelihoods and also help ensure that future generations can enjoy wild seafood.
For this recipe I purchased four Frozen Wild Alaskan salmon fillets (MSC approved) (£3.70), which are caught in the wild and consume a natural diet.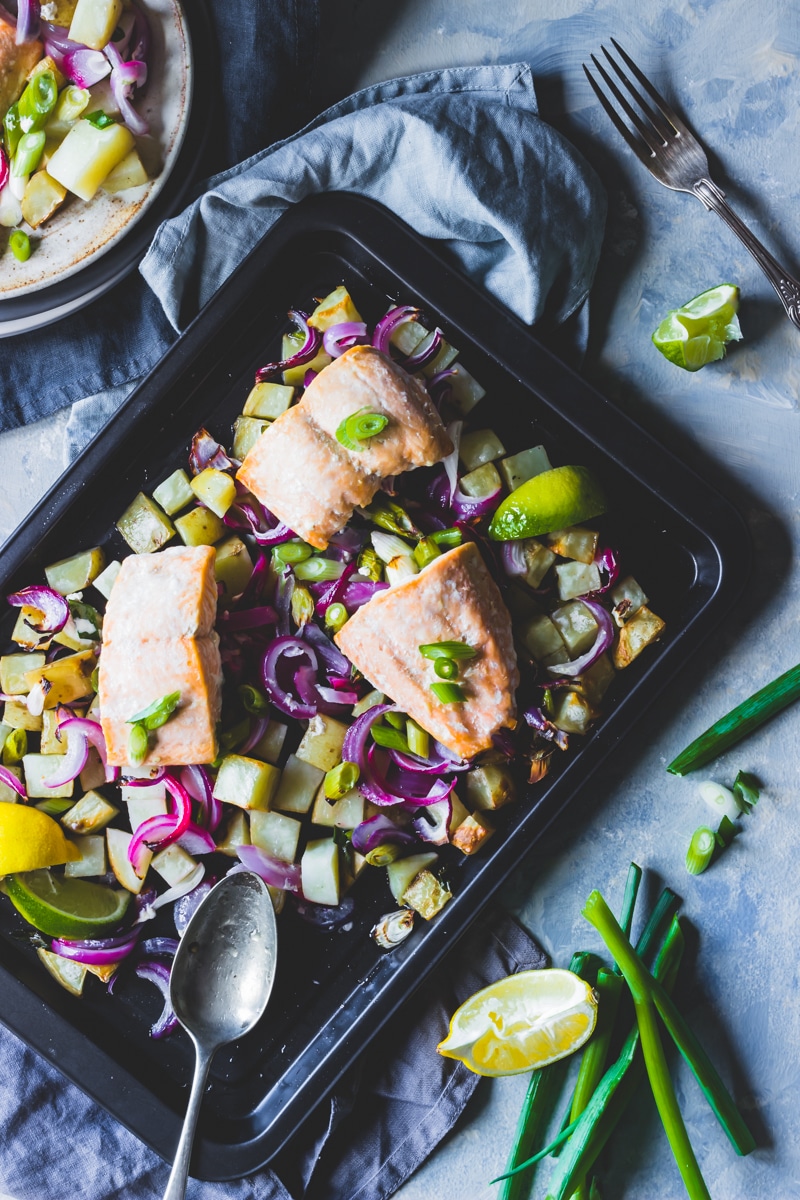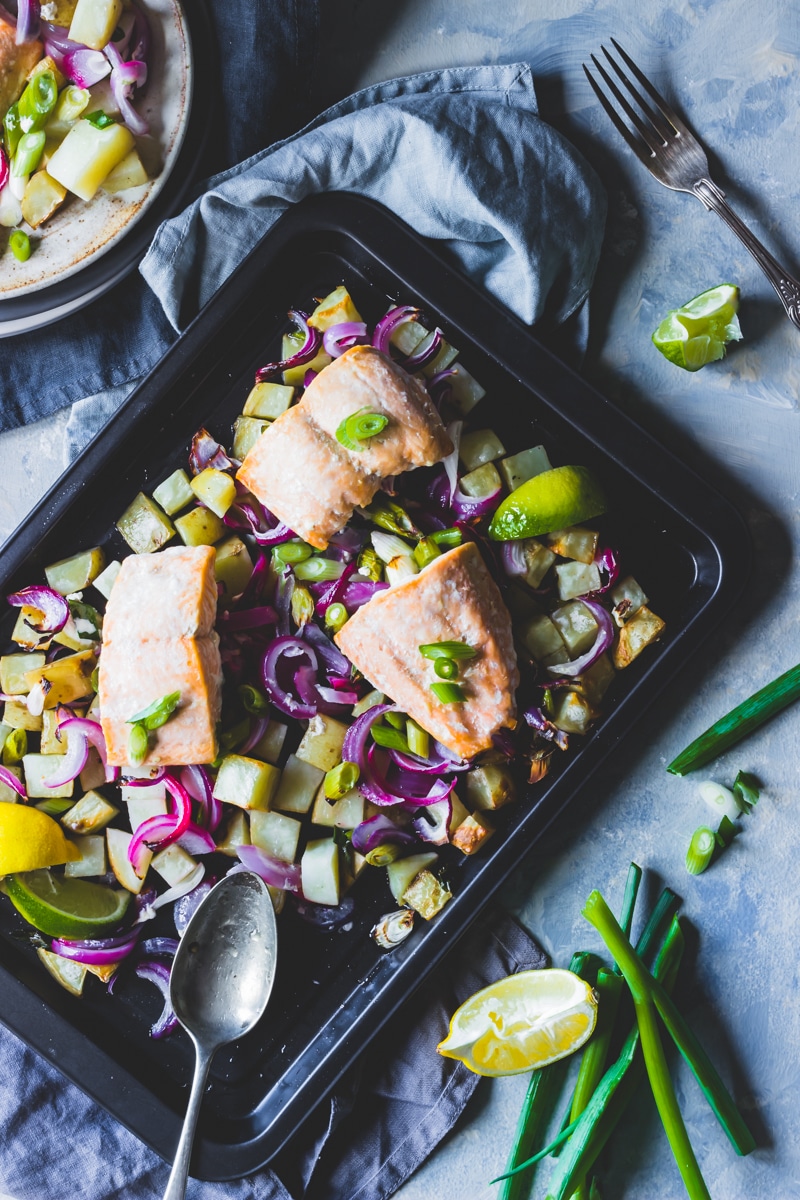 Is it safe to cook salmon from frozen?
Its perfectly safe to cook salmon from frozen, as long as the fish is cooked all the way through - just as with fresh salmon. To ensure the frozen salmon is cooked but not over done, I set my oven to a high temperature (200 degrees fan) and drizzle the frozen fillets with oil.
How long does it take to cook frozen salmon?
Frozen salmon or any kind of frozen fish requires a few extra minutes to cook on top of the time required for fresh fish. In this recipe the salmon is cooked through in around 25 minutes. However, you can check it after 20 minutes - the salmon is usually done when it flakes easily with a fork.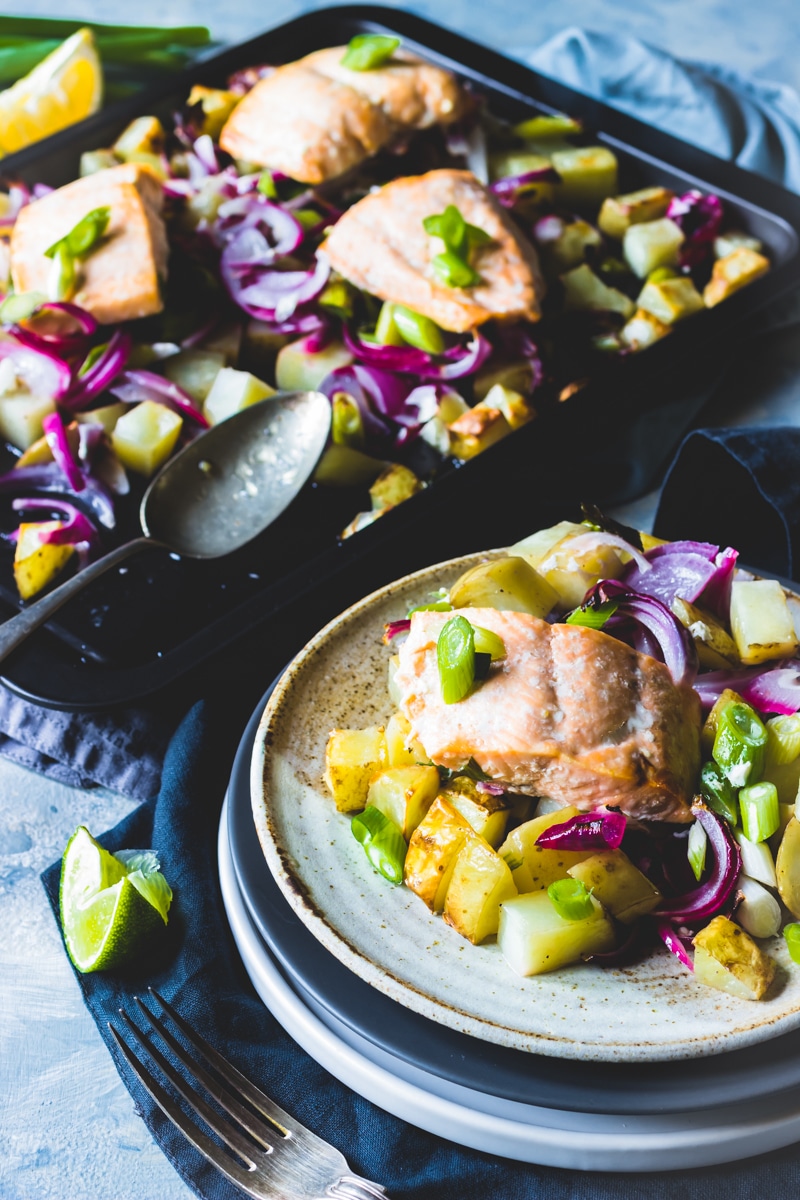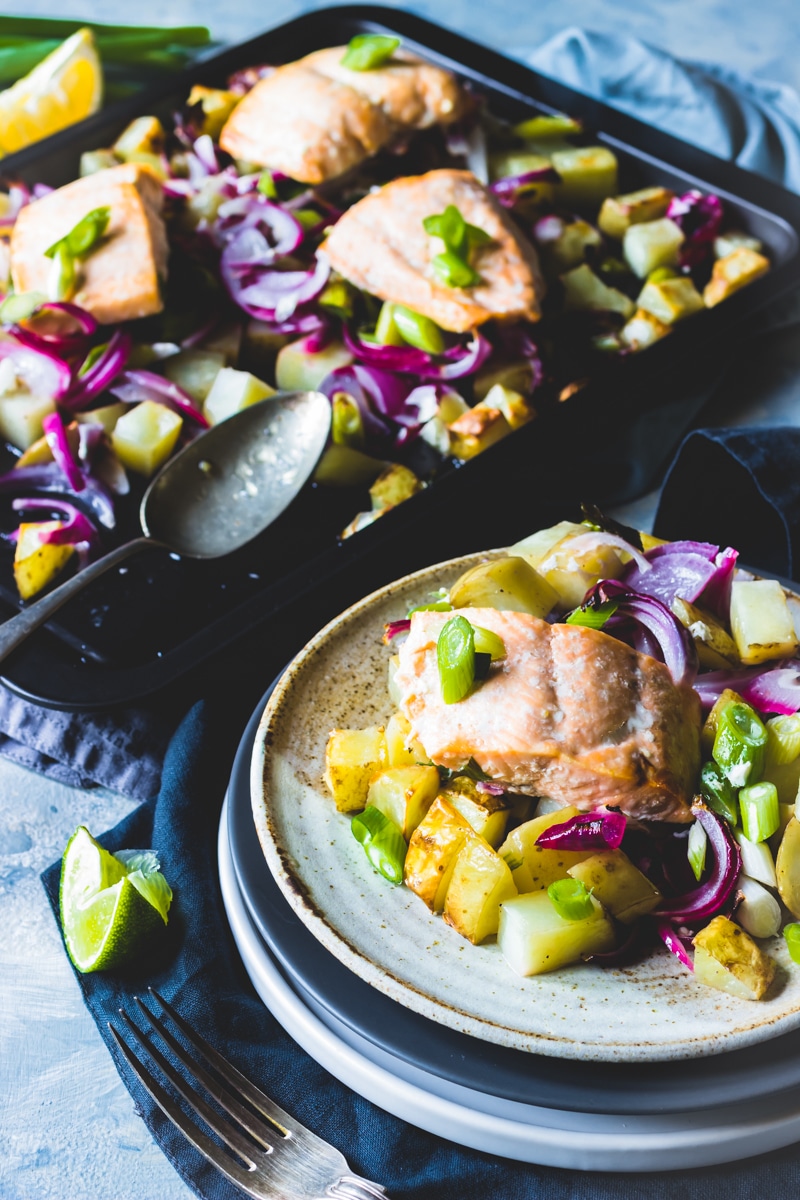 What is a good vegetable to go with salmon?
I love all kind of veggies with my salmon but I tend to find that ingredients like onion, spring onion and leeks provide an excellent base for the mild, delicate flavour of salmon. In this recipe its really easy to prepare and bake the onions alongside the fish and this is also the case if baking fresh salmon in a bag or foil. Baked potatoes make for an easy traybake when it comes to salmon but I do also love to serve my salmon with rice, or in a kedgeree, as fishcakes, in salmon pasta, salmon and prawn linguine or even in a fish pie. Theres so many options when it comes to fish and salmon - I do hope you find a few of these recipes helpful (and tasty!). 

📖 Recipe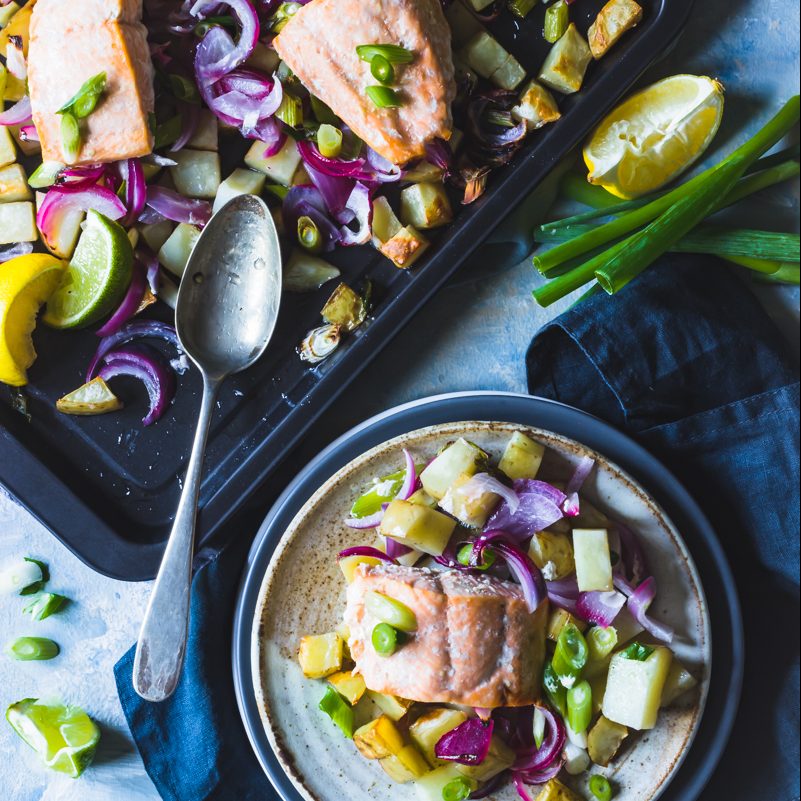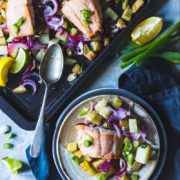 Feed 4 for a fiver: Frozen Salmon and Potato Traybake
Feed the family for just £5.12 with this frozen salmon traybake. A simple and affordable oily fish meal, made on one tray, with minimal preparation, but maximum taste. An easy and healthy way to fit in those all important omega-3 fatty acids.
Ingredients
650

g

Large potatoes

½

tablespoon

olive oil

330

g

Pack of 4 Frozen Wild Alaskan Salmon Fillets

250

g

onions

65

g

spring onions

½

Juice of a lemon
Instructions
Pre heat the oven to 200 degrees C (Fan)

Chop the potatoes into 1cm cubed (skins on). Spread the cubed potatoes on a baking tray then drizzle with olive oil and season with salt and black pepper. Agitate and toss gently to fully coat all potatoes in the oil. Place the potatoes into the pre heated oven and bake for 20 minutes.

Whilst the potatoes are in the oven prepare the onions by slicing the red onion and chopping the spring onions, on the diagonal, into cm pieces.

After 20 minutes remove the potatoes from the oven, use a spatula to flip and mix to potatoes. Next scatter the chopped red onions and spring onions over the top of the potatoes. Then remove all the packaging from the frozen salmon and nestle each fillet onto the tray in-between the half cooked potatoes and onions.

Return the role tray, uncovered, to the oven and bake for a further 25 minutes.

After 25 minutes remove from the oven, squeeze over the lemon juice and serve.
Video
Nutrition
Serving:
335
g
|
Calories:
309
kcal
|
Carbohydrates:
37.9
g
|
Protein:
22.3
g
|
Fat:
8.6
g
|
Saturated Fat:
1.8
g
|
Sodium:
40
mg
|
Sugar:
6.3
g