Finally I've got around to posting my slow cooker Ragu recipe. I love a rich, tomatoey, Italian style Ragu, served with tagliatelle, fresh basil and a good helping of parmesan - you just can't beat it!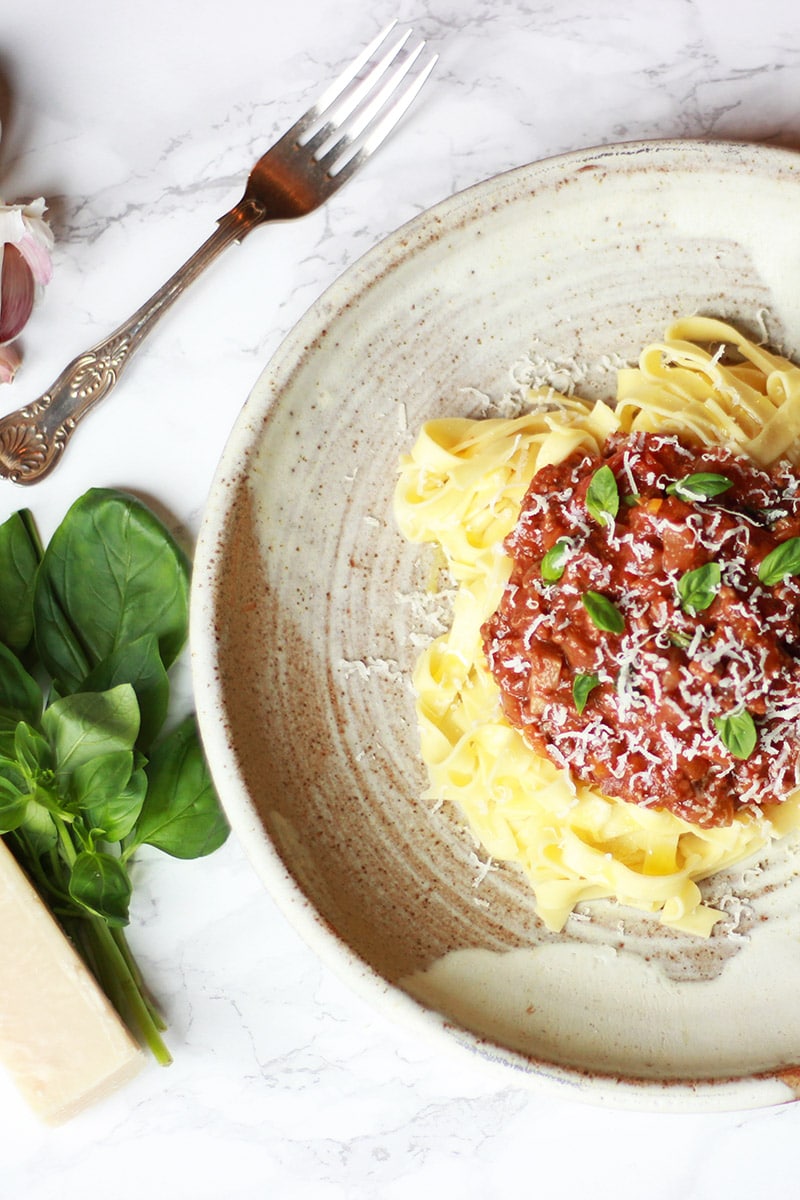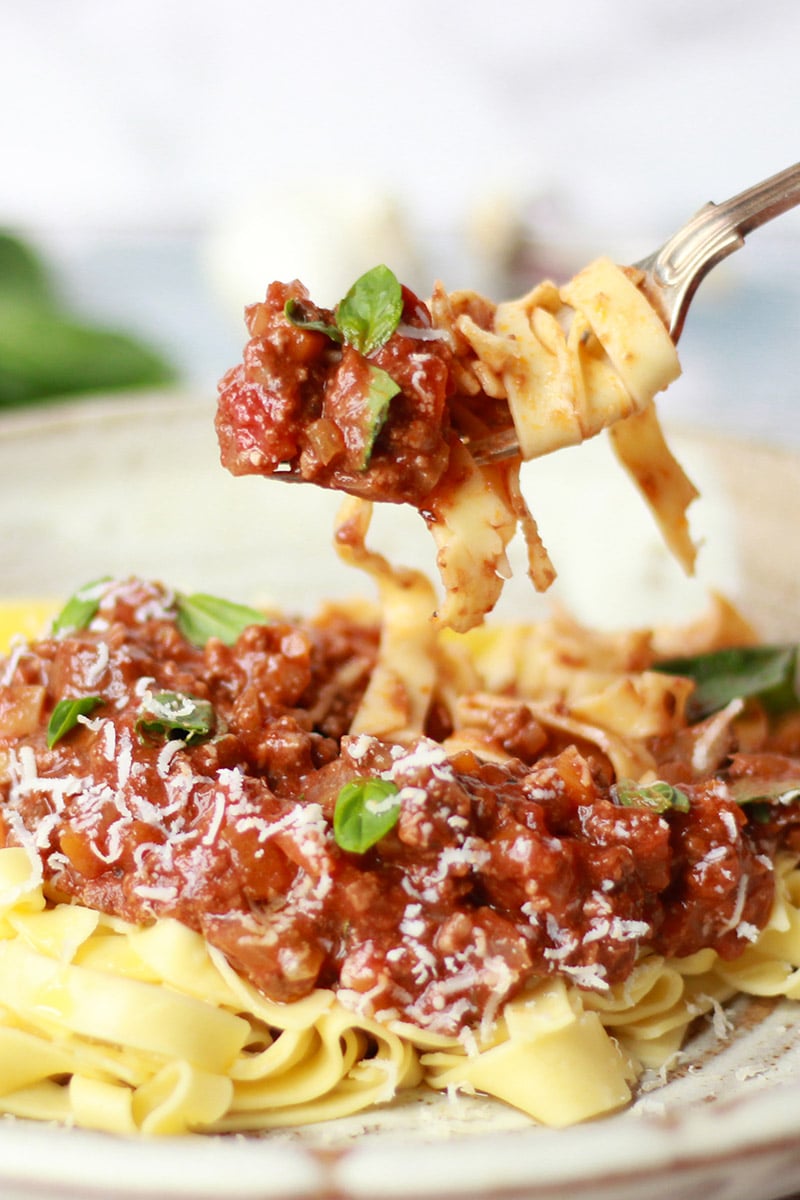 As a child, spag bol was always my most favourite meal. Any time I was asked what I wanted to eat, be that at home or out in a restaurant, the answer would undoubtedly be spaghetti bolognaise. Although there was no beating my mothers bolognaise.
Over the years, my own version of spag bol has of course been hugely influence by my mums recipe. However, with many trips to Italy now under my belt and a few cookery classes taken along the way. My approach to a bolognaise has definitely changed and I now incorporate alot more of the traditional Italian methods.
(If you're interested in making your own pasta from scratch have a look at my pasta guide and video.)
Bolognaise or Ragu, that is the question!
So the first thing to mention about this recipe is that its not strictly a Bolognaise. It is actually a Ragu. Although, the British take on a Bolognaise is always the same and is generally mince meat in a tomato sauce. But any Italian will tell you that if the sauce contains tomatoes then the dish is most definitely a Ragu. The traditional Italian Bolognaise contains no tomatoes but is made with stock instead. So thats that.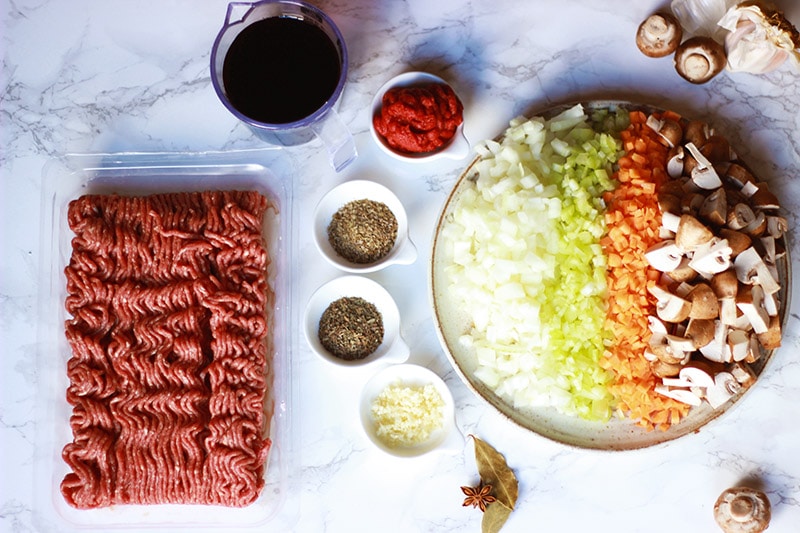 The Ragu recipe
I like to have plenty going on in my slow cooker Ragu, so as well as a couple of good quality tinned tomatoes, I like to add celery, carrots and mushrooms. When Ben and I visit Bologna in Northern Italy, we attended a cookery day at CIBO cookery school, where I learnt how to make a proper Italian Bolognaise and Ragu. Both recipes included finely chopping the carrots, celery and onion. All had to be chopped into tiny cubes, which were roughly the same size in order to promote even cooking.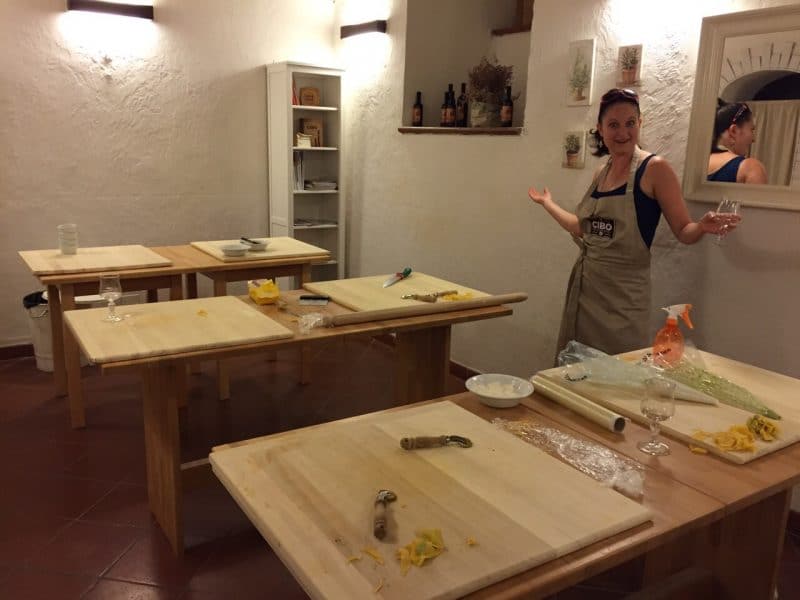 So now, my Ragu is one big mix of what my mum always made and the traditional Italian recipe.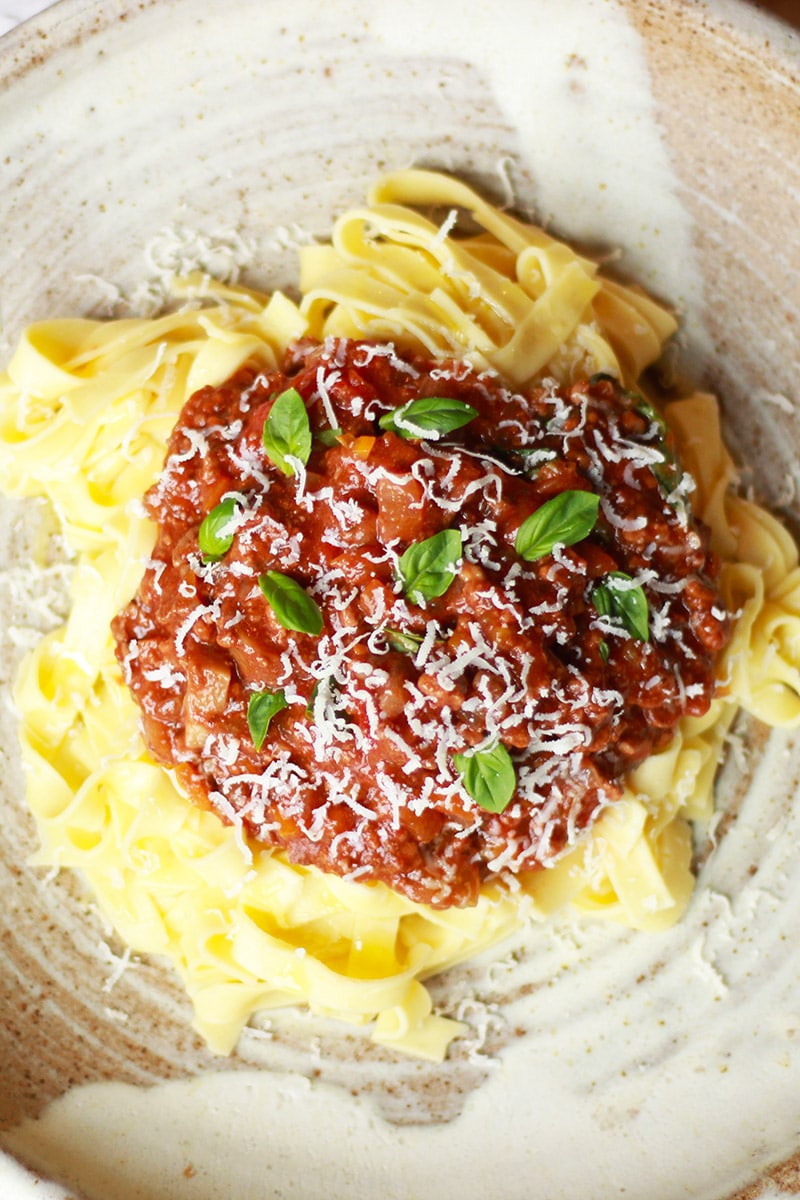 And  I really rather like it.
Ragu in the slow cooker
This last week I've been using my slow cooker every day. This was part of my 6 week reboot challenge, which you can read more about here. Last week was week 2 of the reboot and my challenge for the week was to try out the slow cooker and use it every day for our evening meals. You can read about how I got on here. The up shot of this was that I made a lot of amazing food and so I'm really excited to share all of these new recipes. The slow cooker Ragu was the first recipe that got made at the start of the week and it was a massive hit.
So the below recipe is for a slow cooker, but if you don't have a slow cooker it should work out just as good if you pop it in a low oven in an casserole dish. If youre after a ragu with a twist have a look at my salami and pork ragu.
Of course this recipe is best served with homemade fresh tagliatelle. But for convenience, shop bought pasta does the job just fine.
Nutritional information for this recipe>>
**Estimated nutritional information per serving and per 100g of Ragu without pasta or toppings. If you want to find out more about how the information is calculated and the sources used, please refer to my Nutrition Information Guide.
📖 Recipe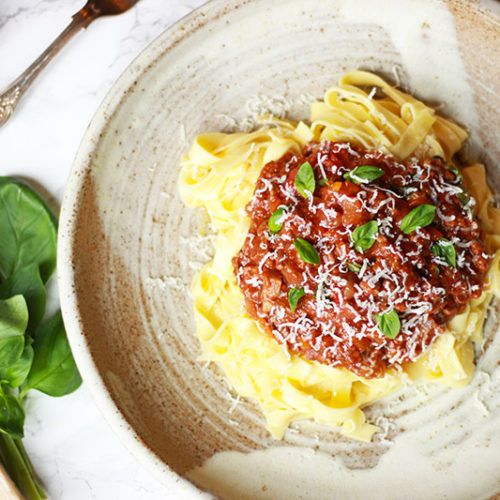 Italian Style Slow Cooker Ragu
A lusciously, rich, tomatoey Ragu, prepared over several hours in the slow cooker. Served with a mound of tagliatelle, fresh basil and parmesan
Ingredients
750

g

lean mince beef

Salt and pepper to season

2

medium onions

250g finely chopped

2

garlic cloves finely chopped

1

teaspoon

dried marjoram

1

teaspoon

dried basil

250

ml

of full bodied Italian red wine

3

tablespoon

tomato puree

2

bay leaves

1

star anise

3

celery sticks

150g finely chopped

3

small carrots

130g finely chopped

175

g

chestnut mushrooms quartered

2

tins of good quality plum tomatoes

San Marzano tomatoes, if available
Extras:
Fresh basil

Parmesan

Tagliatelle or preferred pasta
Instructions
If using a sear and stew slow cooker, use the dish from the slow cook to prepare the first part of this recipe. If your slow cooker doesn't have the option to be used on the hob or if you aren't using a slow cooker, then use a large pan or wok.

Place your large pan or slower cooker dish on a medium heat on the hob. Season the mince with salt and pepper then gently brown off in the pre-heated pan. Add the onion, garlic, marjoram and basil to the meat, mix well and cook for a further minute.

Take the pan off the heat and add the wine, tomato puree, bay leaves, and star anise, then mix well. Finally, add the vegetables and tinned tomatoes and mix again. If you can, roughly chop the plum tomatoes in half or into 3 using your mixing spoon. This releases the juices into the sauce and also creates more manageable chunks of tomato.

If using a sear and stew slow cooker, you can now place the dish and its contents back into the slow cooker and pop on the lid. Set to medium and leave to cook for 4-6 hours. If you want a longer cooking time, set the slow cooker to low and cook for 8-10 hours.

Alternatively, transfer your Ragu to your slow cooker or to an oven proof casserole dish with lid. If using a casserole dish; pre-heat your oven to 150 degrees and cook for 3-4 hours. Check and stir after 2 hours - alter oven temp if you feel necessary, before returning to the oven to cook for the remaining time.

After the required cooking time is up, check your Ragu and taste. Season if required. If the consistency appears to thin, turn your slow cooker to high and cook for a further 20-30 minutes with the lid off.

Serve with tagliatelle and top with fresh basil leaves and grated parmesan. Enjoy!
Nutrition
Serving:
430
g
|
Calories:
257
kcal
|
Fat:
5.8
g