Minted Lamb pies! Slow cooked minted lamb encased in crumbly pastry and topped with creamy mashed potato. This is the ultimate lamb pie!
Handheld Pies
Handheld pies have always seemed like the ultimate baking challenge to me and one that I have avoided for quite some time. We have a lot of incredible handheld pies in bakeries and the like up and down the country and I think I've always thought: why compete with great food. Maybe it was just laziness or maybe it was just a little too much uncertainty, but whatever it was its meant that these incredible handheld lamb pies have been locked away in my head for far longer than they should have been.
Minted Lamb Pies
There is so much going on here that I'm not sure what to tell you about first: the fall-apart chucks of lamb, slow cooked with onions, mint and garlic; the heavenly, horseradish mash sitting perfectly on the top and baked until golden; or the rich mint and rosemary gravy poured lovingly over the top to give that perfect finish. Its all fabulous and its all so tasty that this is another one of those meals that I ate on the floor after having photographed it from every angle possible.
The Best Pies Ever
So these pies weren't just knocked up in an afternoon, there was 2 lengthy stages involving the careful craft of what I am now calling one of my best ever meals. This is not an over exaggeration; I'm so over the moon with these pies that I definitely feel a pie night coming on, just so that I can go pie crazy and then stuff my face with all this deliciousness.
Lamb pie filling
The first part of making these pies was to create the filling. I wanted this to be a rich and gooey filling with shredded lamb, mint, gravy and garlic. I wanted the filling to be the show stopper and to have a strong flavour that would keep pulling you back for more. Lamb was the obvious choice as its spring and lamb is everywhere, plus it makes a nice change from the usual steak and ale or meat and potato.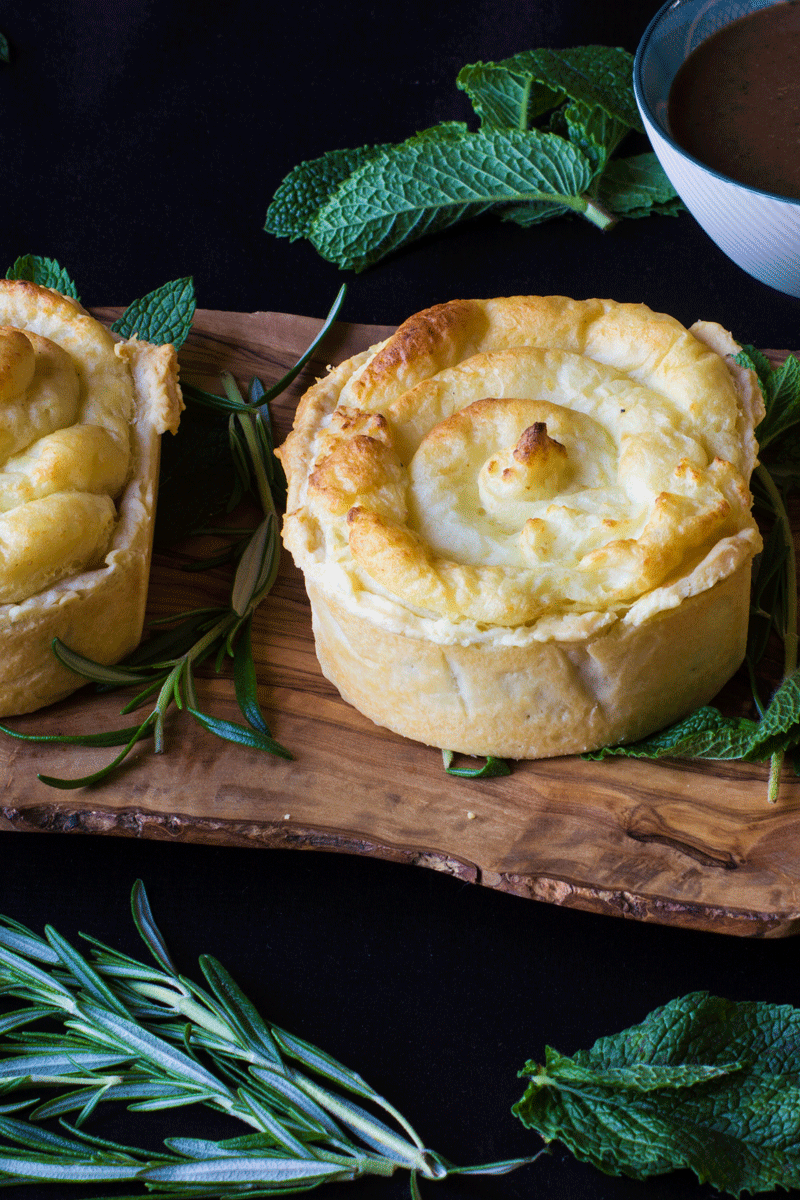 I decided I would use my slow cooker to cook the lamb filling, mainly so the flavours would have chance to infuse but also to ensure the lamb would come out nice and tender. However, cooking in the oven will work just as well. I used diced leg of lamb, which I was recommended by my local butcher at Lymefield farm shop, as its a leaner cut and so doesn't need as much cooking time in order to reach that 'fall apart' stage. So this meant I didn't need to worry too much about the order of the ingredients or exactly what to include. I started the filling off with chopped onions, garlic and lamb and then added beef stock, gravy powder, flour, red wine, ketchup (yes ketchup), worcestershire sauce and dried mint. Then everything went into the slow cooker on a low heat for 6 hours. The results after 6 hours were amazing.
How to make handheld pies
As I had put so much effort into my filling I decided to take the easy option with the pastry and went for shop bought, pre-rolled. In my humble opinion shop bought stuff is just as good as homemade and makes life so much easier. For the pie moulds I used my game pie mould set, which is basically a tray of 6 mini pie moulds. I removed some of the pieces to create 3 larger (10cm/4inch diameter), round pie moulds.
In all fairness these pies just about fit the criteria of handheld, although they are a little on the larger side. This recipe makes three 10cm diameter pies. If you're super hungry then one if these pies will fill you up quite nicely. But if you're after something a little smaller I'd recommend one pie between two, maybe served with a few greens.
Hopefully this will be the start of plenty more pies with all manner of filling. For other great pie ideas check out my steak and ale pie and fish pie with cheese sauce!!
Click to download the Nutritional info for this recipe>>
**Estimated nutritional information per serving and per 100g of potato cake and quinoa salad. If you want to find out more about how the information is calculated and the sources used, please refer to my Nutrition Information Guide.
Minted lamb Pies with Mash Potato Topping
Minted Lamb handheld pies with horseradish mash topping and rich minty gravy.
Ingredients
For the filling and gravy
½

tbsp

Olive oil

2

small onions roughly chopped

210g

4

tsp

gravy powder

dash of cold water to mix the gravy powder into a paste

2

garlic cloves finely chopped

600

g

diced lamb

I used diced leg of lamb

3

tbsp

plain flour

30

ml

red wine

400

ml

Good quality beef stock

2

tbsp

ketchup

Splash of Worcestershire sauce

1

tsp

Dried mint
For the potato topping
500

g

Potatoes peeled and roughly chopped

Splash of milk

knob of butter

2

tsp

horseradish sauce

Seasoning
For the pies
butter or marg for greasing pie moulds

320

g

shortcrust pastry

3

sprigs fresh rosemary

10

fresh mint leaves finely chopped
Equipment
Pie moulds

see above for the moulds that I used

Large piping bag
Instructions
The filling
In a large pan gently heat the oil and add the chopped onions and garlic. Sweat down gently until transparent. Whilst the onion is cooking prepare the gravy powder and meat:First mix the gravy powder with a splash of water to form a paste then place to one side.Next lay out the diced lamb on a plate and sprinkle over the flour to coat well.

Once the onion and garlic has sweated down add the flour coated lamb and gently brown off. Some of the flour may stick to the bottom of pan - but leave this for the moment. Next add the wine, which should bubble as it hits the pan and help release any brown flour - scrape with your spoon to ensure it has all been loosened off.

Gradually add the stock and stir frequently. The gradual addition of the stock should allow for a thick sauce to form as it combines with the flour.

Once all the stock has been added pour in the gravy paste and stir continuously over a gentle heat for 5 minutes. Finally add the ketchup, Worcestershire sauce and dried mint. Mix well and then remove from the heat.

Transfer the entire contents to your slow cooker (or ovenproof dish if cooking in the oven), set to low and cook for 6 hours. If you are using the oven; cook in an ovenproof dish with lid for 4 hours at 150 degrees C.

Once the cooking time is up the meat should fall apart easily. if not return to the oven or slow cooker for another 30 minutes.

Once cooked leave the filling to cool. At this point the filling can be covered and chilled in the fridge overnight or frozen for up to 3 months.
For the mash topping
Boil the chopped potatoes in a large pan of water for 30 minutes or until soft. Drain and mash up with the milk, butter, horseradish and seasoning. Taste and add more horseradish or seasoning if desired.

Allow the mash to cool and then transfer to a piping bag and set to one side ready to top your pies later.
For the pies
Pre heat your oven to 180 degrees C

Grease your pie moulds with butter or margarine. Lay out the pastry and cut out circular shapes twice the size of each mould. This should allow for enough pastry to line the bottom and sides of the moulds. Carefully place the pastry into your moulds and gently push into the bottom and sides. Ensure the pastry is pushed right into the edges to create an even shape once baked.

Returned to your filling. If you have chilled or just defrosted the filling you may find that the sauce is a lot more solid than just after cooking. You may need to add a little water to loosen it up. Next break up and shred the chunks of meat - I used my finger to do this. Once fully shredded sieve the whole mixture in order to separate the gravy from the meat. If its too thick to sieve add more water until the right consistency is achieved. Place the sieved off gravy into a small pan and set to one side

The meat left in the sieve will be coated in the gravy but not swimming in it - so providing the prefect filling for a small pie.

Gently spoon the shredded lamb into each of the pastry lined moulds. Fill to just below the rim of the mould. Then take your piping bag of mash and cut the end off to create a wide opening (1.5cm). Pipe the mash onto the top of the filling going round in a circle and starting from the outer edge.

Place the pies in the centre of the pre heated and bake for 40 minutes.Check after 30 minutes to make sure the mash isn't burning. After the 40 minutes is up the mash should be golden brown and the filling should be just bubbling around the edges.

Remove from the oven and allow to cool for 5 minutes. Whilst cooling, return to your pan of drained off gravy - add 2 sprigs of rosemary and finely chopped mint leaves. Mix well and then heat gently for 5 minutes. Plate up the pies and serve with the hot gravy.
Nutrition
Calories:
1128
kcal
|
Fat:
57.4
g
PIN FOR LATER