👩🏻‍🍳 Why make this recipe
This easy meal is great for a Saturday night in with a bottle of red and a good film. I love to have this dish with a good helping of rosemary potatoes and an avocado salad on the side. Its a lot of food, but sometimes a massive feast on a weekend is just what I need. If I'm going to eat big this is the way I like to do it - plenty of protein and lots of interesting flavours.
No need to peel the potatoes, just roughly chop, season and pop in the oven. The herby chimichurri dressing takes just 5 minutes to make. Throw all the ingredients into a blender or grab a knife and get chopping! It also keeps really well in the fridge, so its no problem to make ahead of time. The juicy steak is cooked simply in a pan and just 10 minutes before you're ready to eat.
This is also a great dish if you're cooking for a few people. Just pile everything on to a board to create a steak sharing platter and let people help themselves!
🔪 Step by step instructions
Preheat the oven to 200°C (400°F) and make sure steaks are out of the fridge and coming up to room temperature

. Prepare the potatoes by slicing into 2cm cubes (skins can be left on). Place cubed potatoes in a bowl

and add 1 tablespoon oil and 1 teaspoon dried rosemary. Toss together and mix well then transfer onto a baking tray. Bake in the oven for 30-35 minutes until golden brown. Check and turn half way through cooking.
While the rosemary potatoes are cooking, prepare the chimichurri dressing. Finely chop the fresh parsley, fresh coriander, basil leaves, red chilli and garlic. Place all the chopped ingredients on the same chopping board.
Use the knife blade to start to bring together all the chopped ingredients. Continue to chop whilst mixing the herbs until everything is well minced together.
Transfer the chopped herbs, chilli and garlic to a small bowl and add 4 tablespoon olive oil and 2 tablespoon red wine vinegar.
Mix the oil and vinegar into the herbs. Add more oil to loosen the sauce further if necessary. Cover and chill in the fridge until ready to serve.

Start to prepare the rump steaks when there is 15 minutes left on the timer for the rosemary potatoes. Place a large griddle pan or frying pan on a high heat. Prep the steak by drizzling both sides with olive oil and seasoning well. Then use your fingers to rub the oil and seasoning into the meat.

Once the pan is hot place the rump steaks in the pan, they should sizzle immediately. Leave to cook on the first side for 3-4 minutes.

Turn over and cook for 2 minutes on the other side (rare – medium), adjust the time according to your preferences). Once cooked transfer to a chopping board and cover with foil. Allow to rest for 5 minutes.

Slice the cooked steak and serve alongside the rosemary potatoes and chimichurri dressing.
💭 Expert tips
Remove steaks from the fridge at least an hour before you cook them so that they are at room temperature.
Use fresh herbs for the chimichurri sauce to make sure the dressing is full of flavour and colour
To save time whiz up the chimichurri ingredients in a small food processor or blender rather than chopping. However, chopping is the best way to really experience all the fantastic aromas!
❓ Frequently asked questions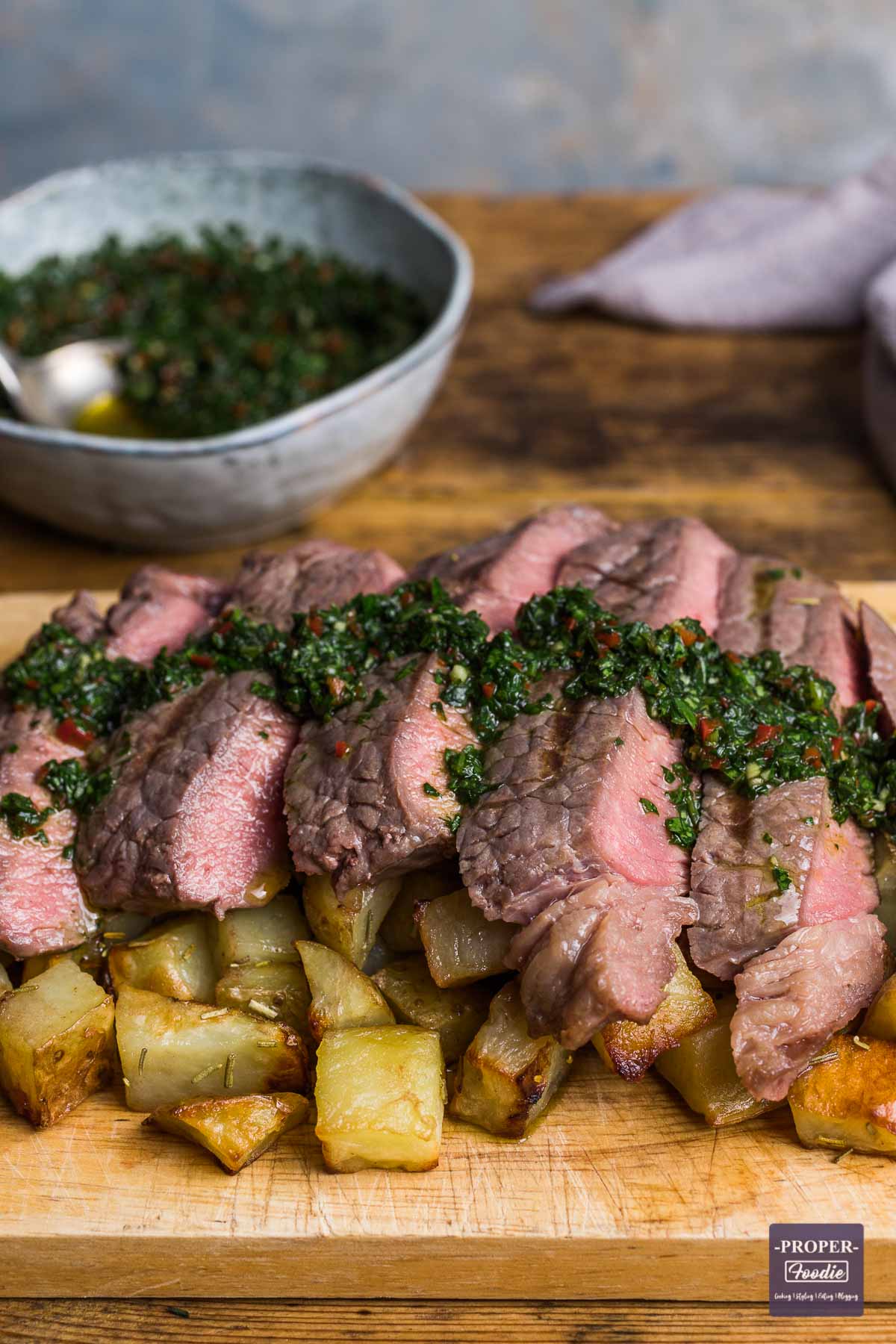 This post was first published in August 2016. Updated in February 2021 with an improved recipe, new images, step-by-step photos and recipe tips.
If you would like to access the original recipe you can do so here: Original Steak and Chimichurri recipe 2016