How to prepare the perfect Sunday roast - with a full beef joint cooked to your liking, served with veggies and leeks in cheese sauce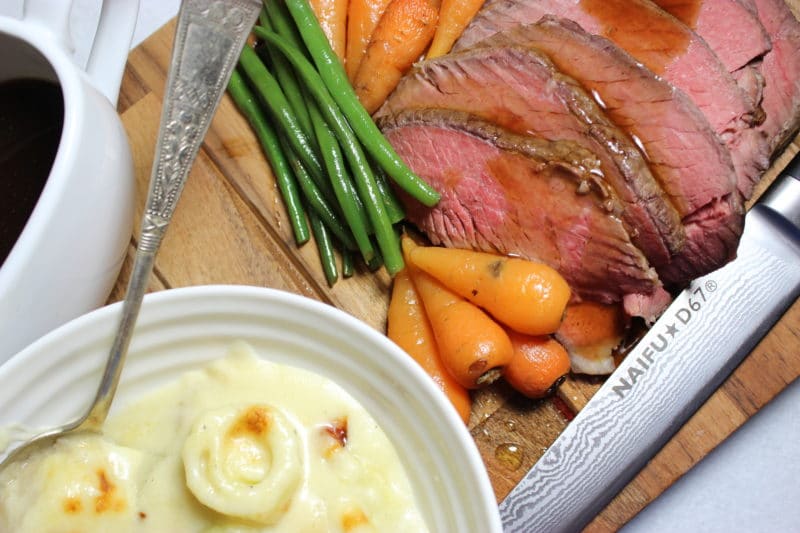 Sunday roast dinner
I'm pretty sure that there's nothing better in the world than sitting down to a Sunday beef roast, well almost nothing, I guess it depends on what dessert is; and if Saturday was a big night out or not; and if lots of wine was consumed; and if by about 4pm on Sunday the biggest meal ever is needed. But anyway - its definitely up there with a cheese & wine on a Friday night, or sipping juice from a coconut on a deserted hot beach on a Monday morning. - its just good and homely, and a proper pick-me-up.
Even if its not Sunday this meal is still the meal of comfort, home and relaxing. Am I convincing you yet? Do you feel the need to rush out and buy meat, potatoes and 3 veggies asap? No? Even if I throw in leeks in a super creamy cheese sauce with a crispy top?
Look .....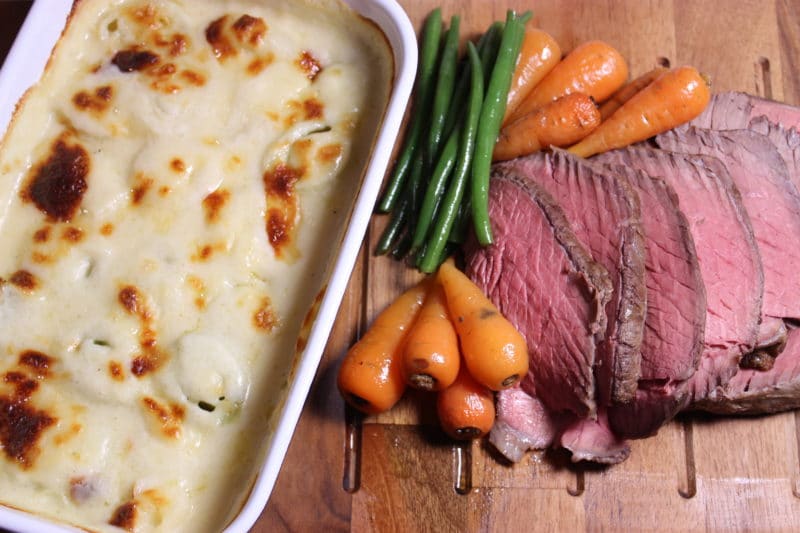 I just can't say no to this!
Soooo as the Sunday roast dinner is  the weekend staple in most households in the Great British Isles, its definitely necessary that I put a beef roast dinner recipe up on the blog. And here's the thing - it really is so easy to  make. No complicated ingredients or recipes and nothing that will mean you have to slave away for hours in the kitchen. A 500g topside of beef can be cooked and served in 40 minutes, so no need to get up at the crack of dawn to switch on the oven.
However, if beef isn't your thing why not try roast chicken instead?
Sunday is a day of rest after a busy week
Last weekend was very busy for me and so a Sunday roast was definitely on the agenda - as mentioned in my last post I had decide to host a little gourmet/birthday drinks night. But in terms of food: a little, turned into a lot and oh my gosh I was pretty stressed. There was lots of running around and multiple trips to the supermarket and I basically spent every night, last week in my kitchen, preparing and cooking everything from soup and chilli con carne to filo-pastry cups and panna cottas. My freezer was rammed, my fridge was bursting and my crisps/treats drawer was overflowing (yes I have a crisps/treats drawer). To say I went over the top is an understatement. But you know - it was a big birthday and I'd just finished a cooking course and its not likely I'll have to do it again any time soon - so I really went for it. It was hard work and cooking for 20 people is definitely like (or probably like) climbing a mountain. But it seemed to go down well and I think everyone enjoyed it.
So, yes, after all the weekend fun was done and tidied away, it was time for beef, perfectly cooked and served with a dollop of leeks in cheese sauce.
Every Sunday should look like this. I hope the recipe below is helpful - let me know, I'd love to hear from you:-) For a greater starter before digging into this perfectly cooked beef why not serve up a delicious leek and potato soup?
Cheese sauce should be in every meal
If your cooking up a storm for a Christmas Day roast then also check out my sprouts in blue cheese sauce here! or for another great way to use cheese sauce is a meal have a look at my cauliflower cheese and fish pie with cheese sauce. Making some party snack? why not have a go at a cheese sauce dip?
📖 Recipe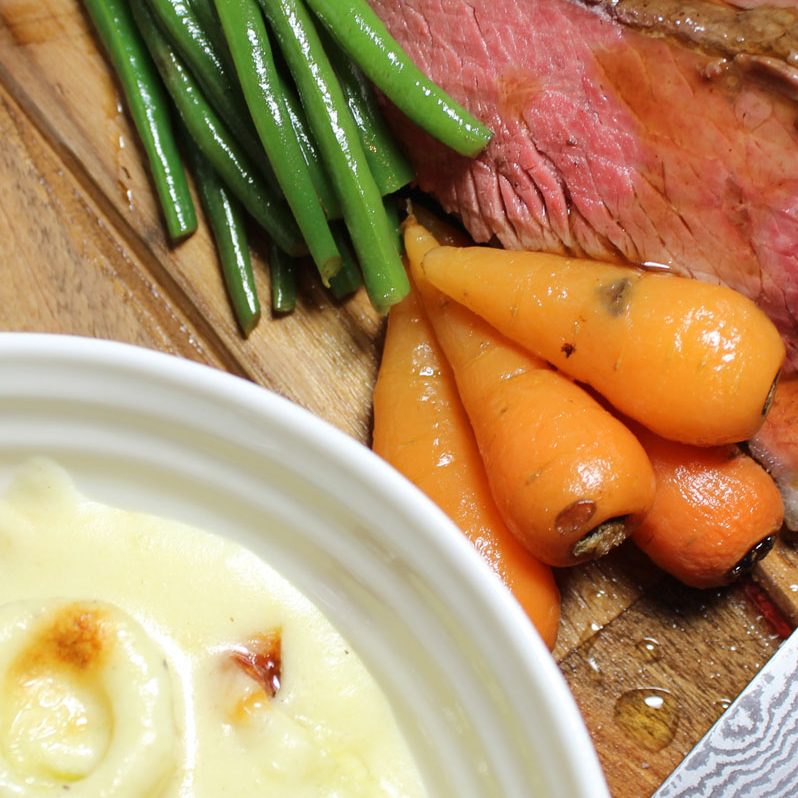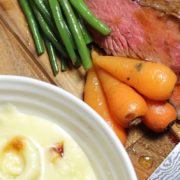 Beef Roast dinner with leeks in cheese sauce
How to prepare the perfect Sunday roast - with a full beef joint cooked to your liking, served with veggies and leeks in cheese sauce
Ingredients
500

g

Topside of beef

200

g

Baby carrots

1

onion quartered

200

g

green beans
For the leeks in cheese sauce:
2

medium leeks

30

g

plain flour

30

g

butter

500

ml

semi skimmed milk

100

g

mature cheddar cheese grated

salt and pepper to season
For the gravy:
Juices from the cooked beef

½

pint

beef stock

2

teaspoon

of gravy powder
Instructions
Sealing the beef:
Remove the beef from the fridge 30 minutes before cooking in order to bring it up to room temperature.

Put a large frying or griddle pan on high heat. Whilst the pan is heating up place the beef on a large plate or board and drizzle with olive oil. Use your fingers to ensure the meat is fully coated with the oil and then season with salt and pepper. One the pan is smoking hot place in the beef and seal on all sides using tongues to turn every minute or so. Sealing the meat should take 3-4 minutes.
Cooking the beef:
Pre heat the oven to 180 degree C (Fan).

Chop the onion into large chunks and wash the baby carrots. Place the onion and carrots in the base of a roasting tin and balance the beef on top. Cover with foil and place in the oven.

For two people I used a 500g topside of beef, cooking time for this varies depending on how well done you like your beef.

•For pink (medium-rare) a piece of meat this size will need around 20 minutes in the oven at 180 degrees C.

•For medium: 25 minutes, 180 degrees C

•for well done: 30 minutes, 180 degrees C

Remember this is for a 500g piece of beef and time in the oven will increase with weight. (1.5kg topside cooked to medium will need 1hr 15 minutes.
Resting the beef:
How ever you like your beef, the most important stage is resting. Resting the beef after its been in the oven will keep it tender and moist. Its a good idea to try and rest the meat for at least half an hour. For this particular piece of meat, once out of the oven; I removed it from the roasting tin, wrapped in foil and left to rest for 20 minutes.
Veggies:
Discard the onion from the roasting tin, pour the juices into a small saucepan ready for the gravy and transfer the baby carrots to a small container and set to one side. For the green beans; first prepare a bowl of cold water and leave at the side of the hob.Bring a pan of water to the boil then simmer and add the beans. Simmer the beans for 3-4 minutes or until just cooked but still a little crunchy (try one!). Once cooked remove the beans from the water and plunge immediately into the bowl of cold water in order to stop the cooking process. Set to one side along with the carrots.
Leeks in cheese sauce:
Slice the leeks into 2cm round pieces and line up to cover the base of a baking dish. For the cheese sauce; melt the butter in a small sauce pan over a medium heat, then add the flour and mix together well the form a roux (a smooth white paste which will be used as a thickening agent for the sauce). Take the pan off the heat and gradually add the milk. Stir well in between each addition of milk. return the pan to the heat and gently bring to the boil. Ensure you stir continuously whilst the sauce is heating in order to prevent lumps. Once the sauce begins to boil this will allow the flour to release its starch and you will notice the sauce becomes thick and smooth. At this point add the grated cheese and cook at a simmer for an additional 5 mins in order to melt the cheese and cook out the flour (removes the starchy taste). Remember to keep stirring. Pour the sauce over the leeks and place in the oven to cook for 20 minutes at 180 degrees C. Foil can be placed over the leeks to prevent the top from burning. Once fully cooked (knife will easily push through the leeks) the foil can be removed and the leeks can be finished off under the grill for a crispy top.  
Gravy:
heat up the stock and add this to the beef juices continue to heat on a low setting. Put the 2 tsps of gravy powder into a small ramekin or cup, add a small amount of water and stir to form a paste. Pour the paste into the stock and stir well. Continue to stir and heat until the gravy boils and thickens, then turn down the heat and leave to simmer until ready to serve. 
Serving up:
Slice up the beef and present on plates or a help yourself style board. In a small frying pan heat up 2 tablespoon oil and 2 tablespoon water- add the pre prepared carrots and beans to the pan and toss in the warm water and oil mixture for 1-2 minutes. this will allow the veggies to be warmed up and will give hem a nice shiny finish. serve veggies along side the meat. Crisp up the leeks under the grill adding more grated cheese or parmesan to the top if desired and serve.

Serve the gravy in a gravy boat or drizzle over the beef and veggies.