The perfect Bircher muesli made slightly quicker than the original version and served with chilled, stewed apples and apple crisps

Bircher Muesli
This pretty little bircher dish is my new favourite breakfast, dessert, snack or even late night treat, all rolled into one. - It really does go down very well at any time of day and I'm happy to eat it whenever I can. I promise  - its that good. Its like an apple pie but loads better for you. - Whats not to love!!
What is Bircher muesli?
So what is bircher and why is it suddenly everywhere? Firstly - its more than likely that Bircher is so popular because its just so blimin' good. However, this is not a new recipe, its actually a dish thats been around for over 100 years.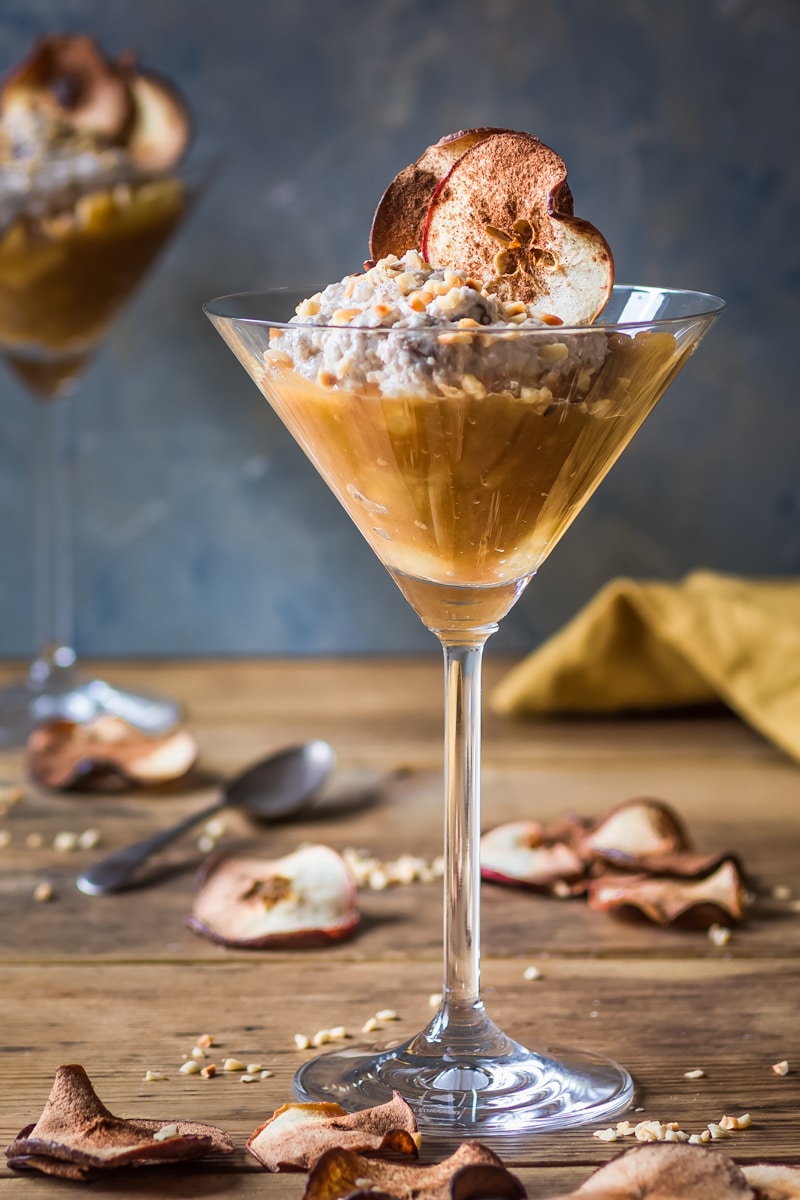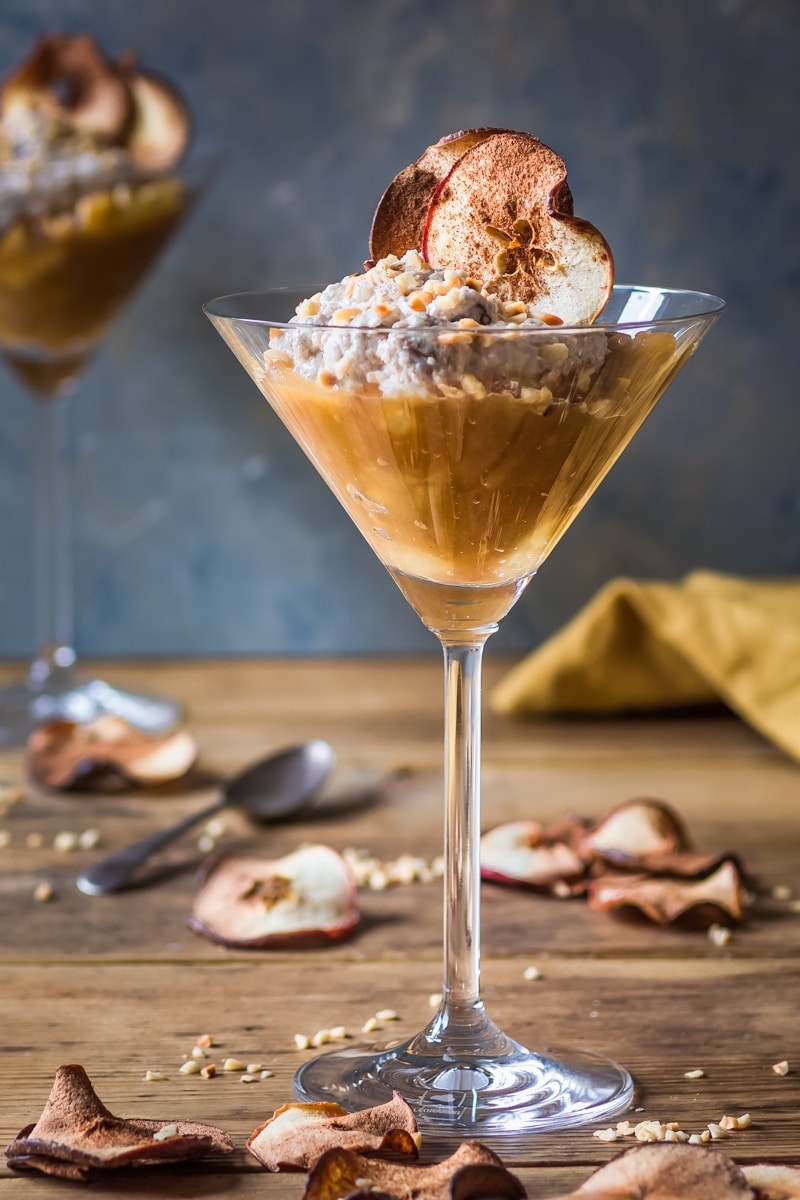 The original Bircher Muesli
Muesli first came about in 1900 when Swiss Physician Maximilian Bircher-Brenner introduced the dish to his hospital patients as part of a healthy fruit and veg based diet. Bircher-Brenners recipe was based on a similar dish he had come across whilst in the Swiss-Alps. First, oats were soaked in water and lemon juice overnight  and then mixed with either cream or honey before adding in grated apple, nuts and yogurt.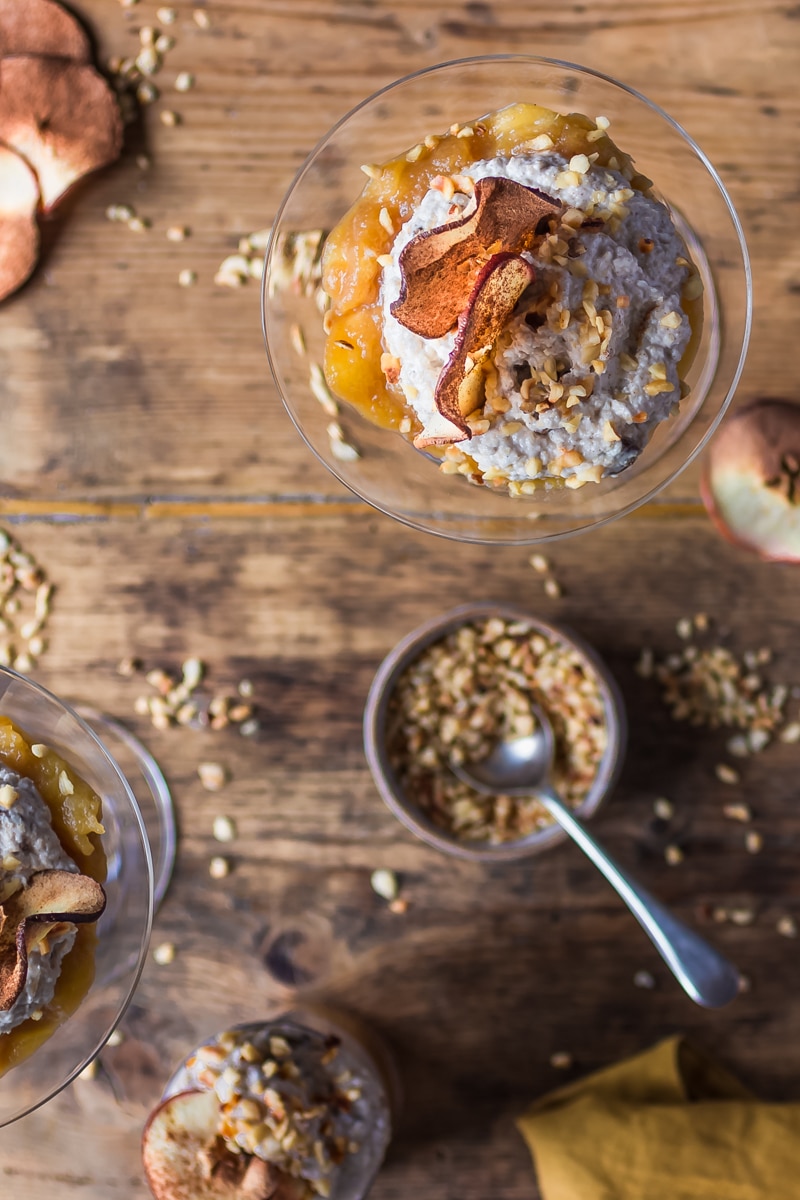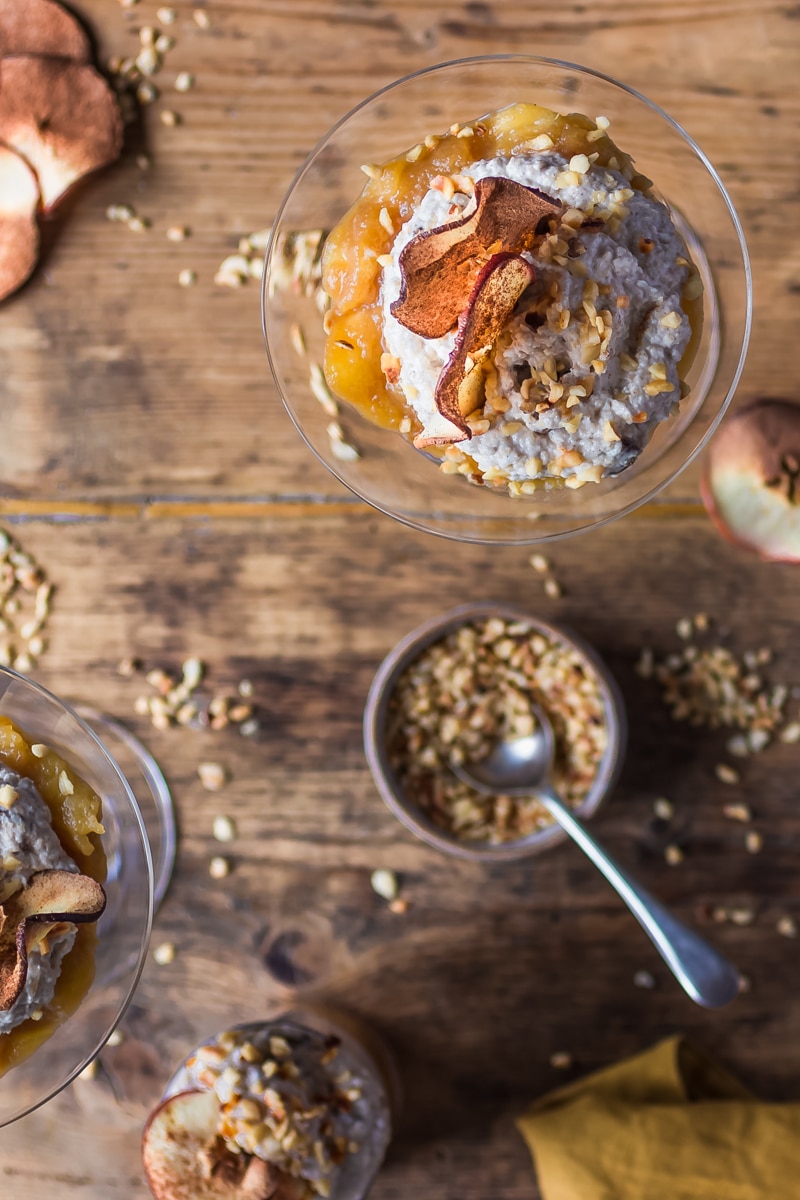 My quick cinnamon Bircher Muesli
Although similar, my version of this dish includes perfectly stewed apples rather than grated apples and serves the oat mix and apples separately. Why??!! . . . - because this dish is all about celebrating apples - in particular the apples that sprouted out of our first little apple tree up on our allotment / kitchen garden.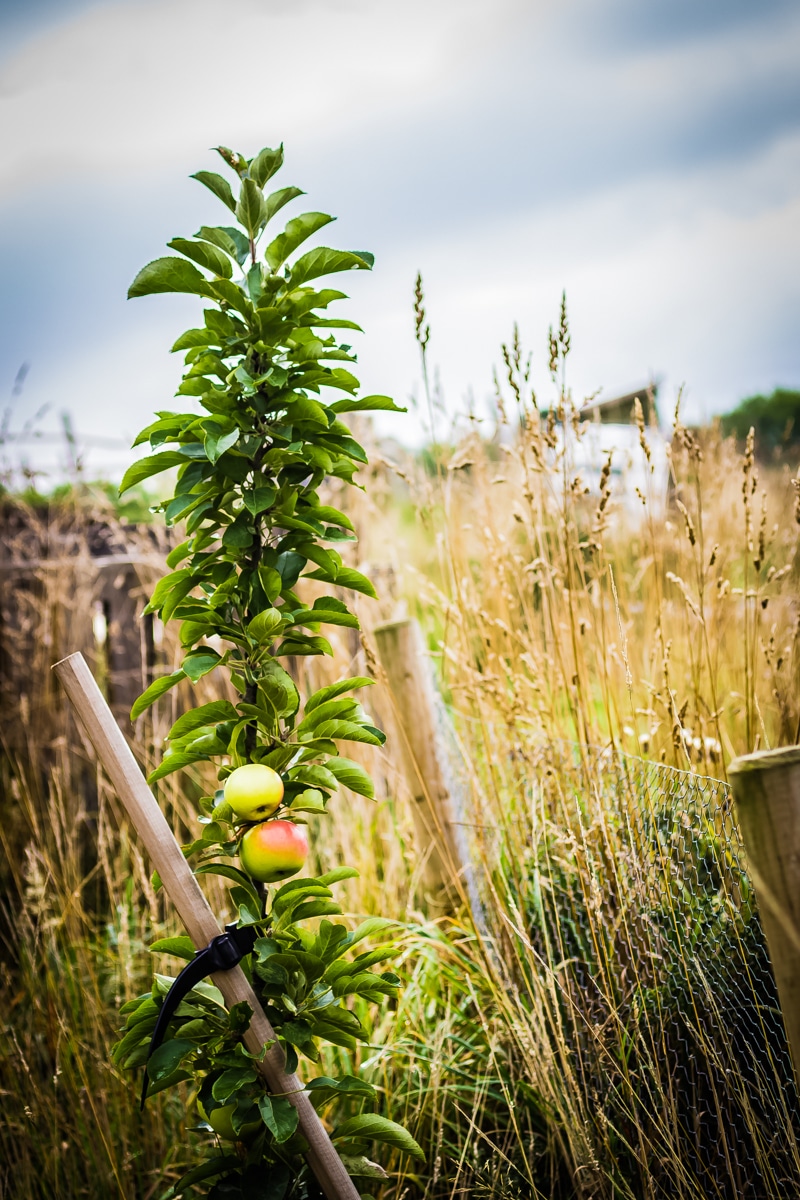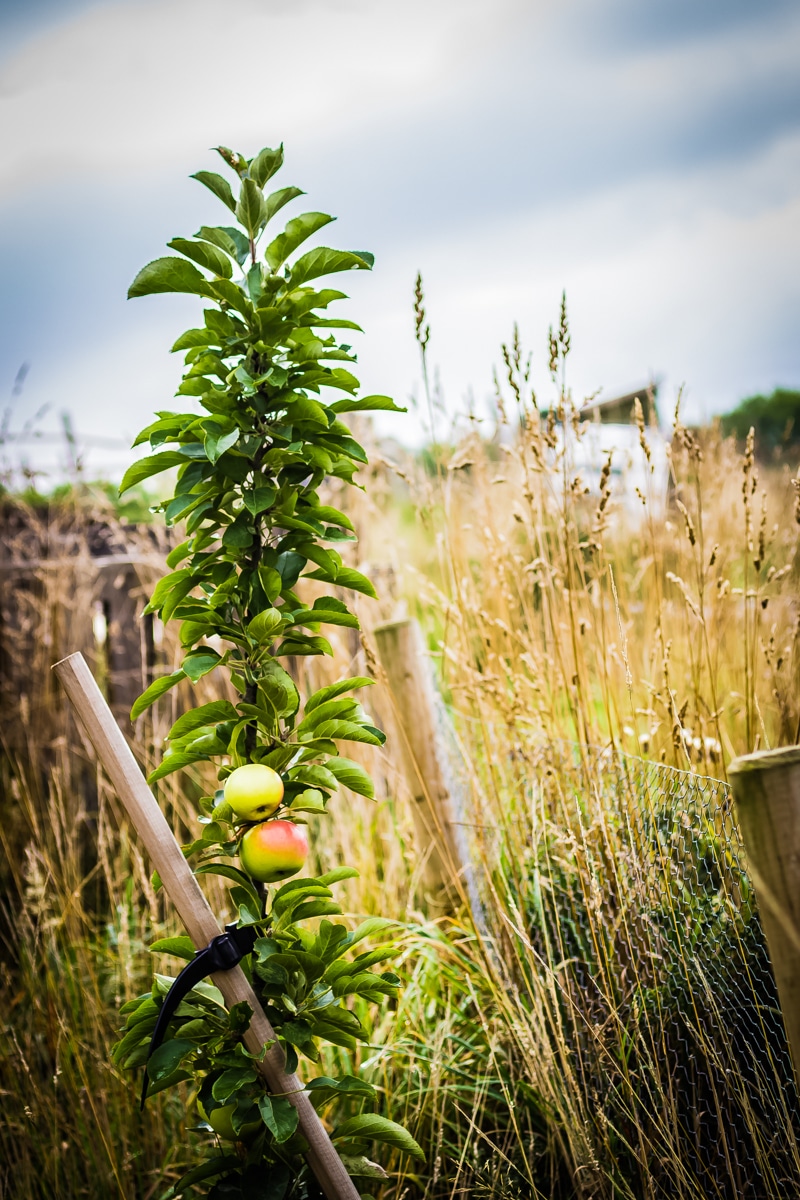 Little apple tree
After last years lack of fruit on our apple tree we were over the moon to discover 3 perfectly, perfect, crunchy apples this September. So I just had to make something extra special and this lovely apple bircher recipe also happens to tie in perfectly with Apple day on the 21st October.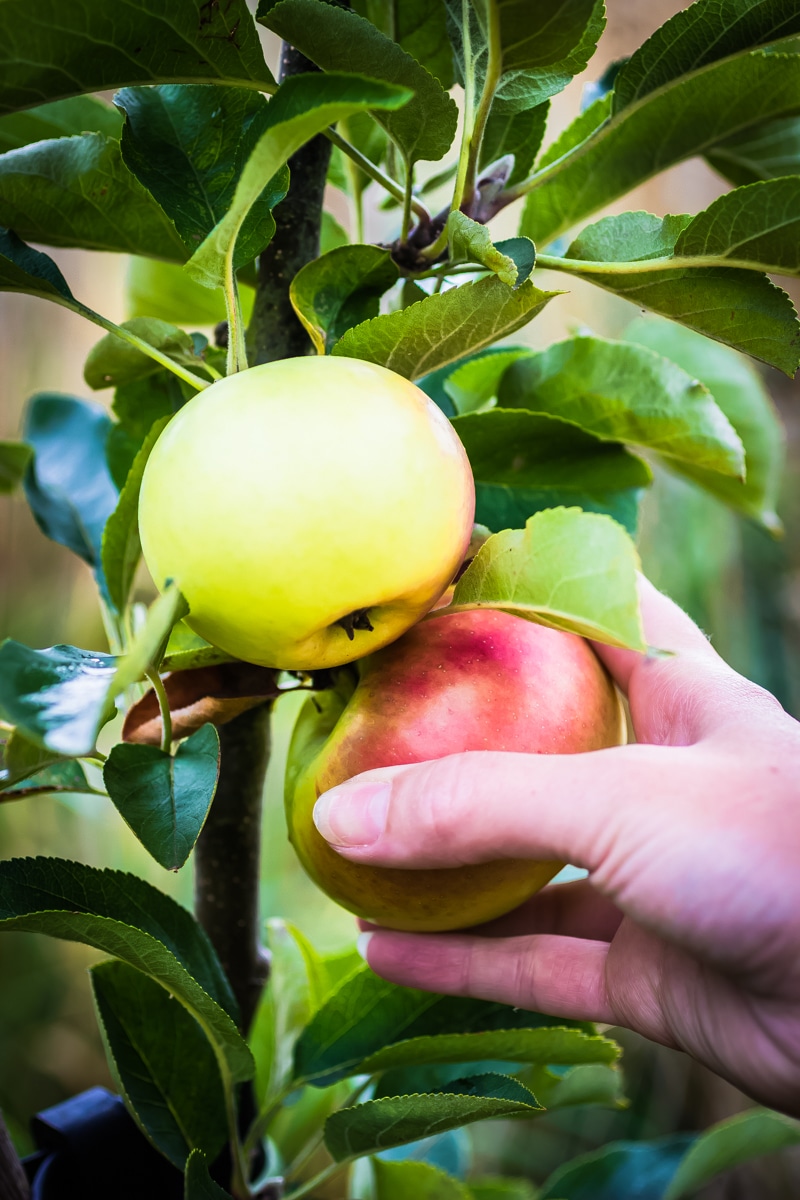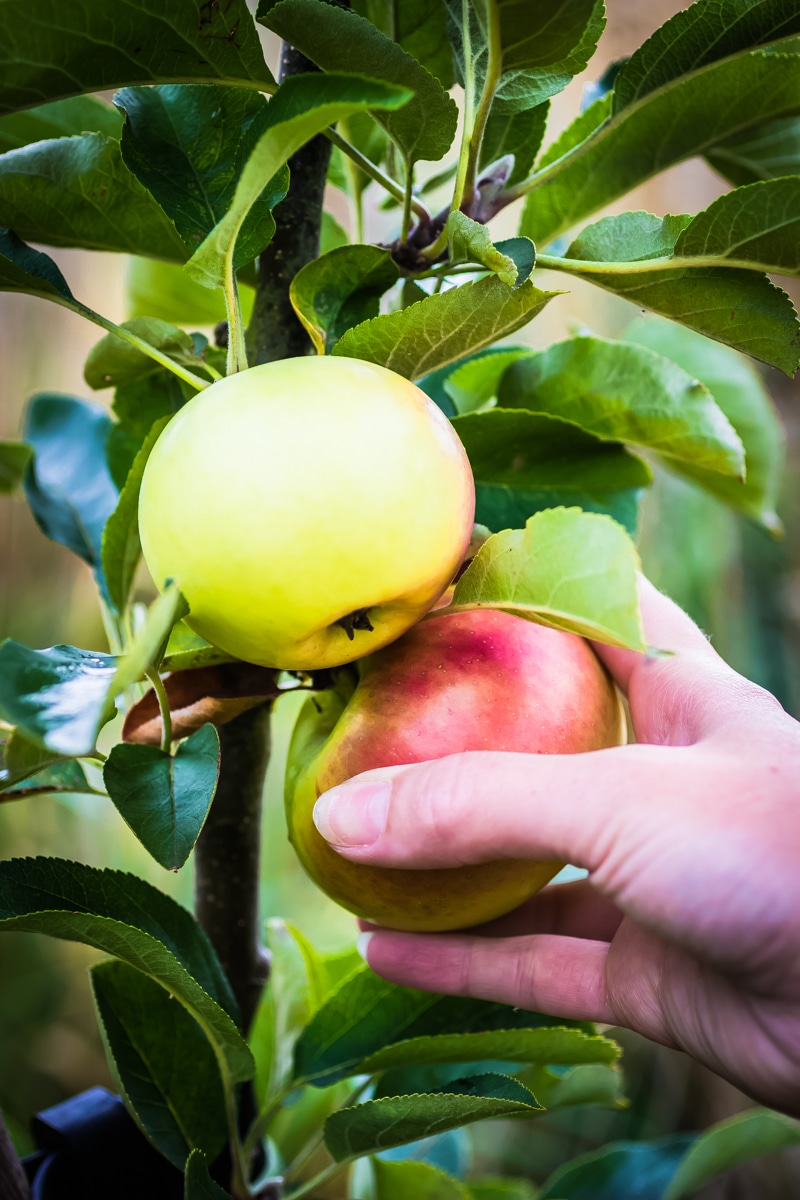 Overnight oats
So admittedly my version does skip out the overnight soaking part. This was in attempt to come up with a quick and simple version of this fabulous recipe. And I will say, rather smugly, that this worked out pretty well. - Using porridge oats, apple juice and mixing in the yogurt straight away means that my Bircher requires just a quick 10 minute chill in the fridge. That said, overnight oats are super popular at the moment -  and I am just a tiny bit in love with my blueberry cheesecake overnight oats, which you can find in my free recipe ebook. So allowing the oats, in this Bircher recipe, some time to soak will do it the world of good. So feel free to chill overnight if you have the time.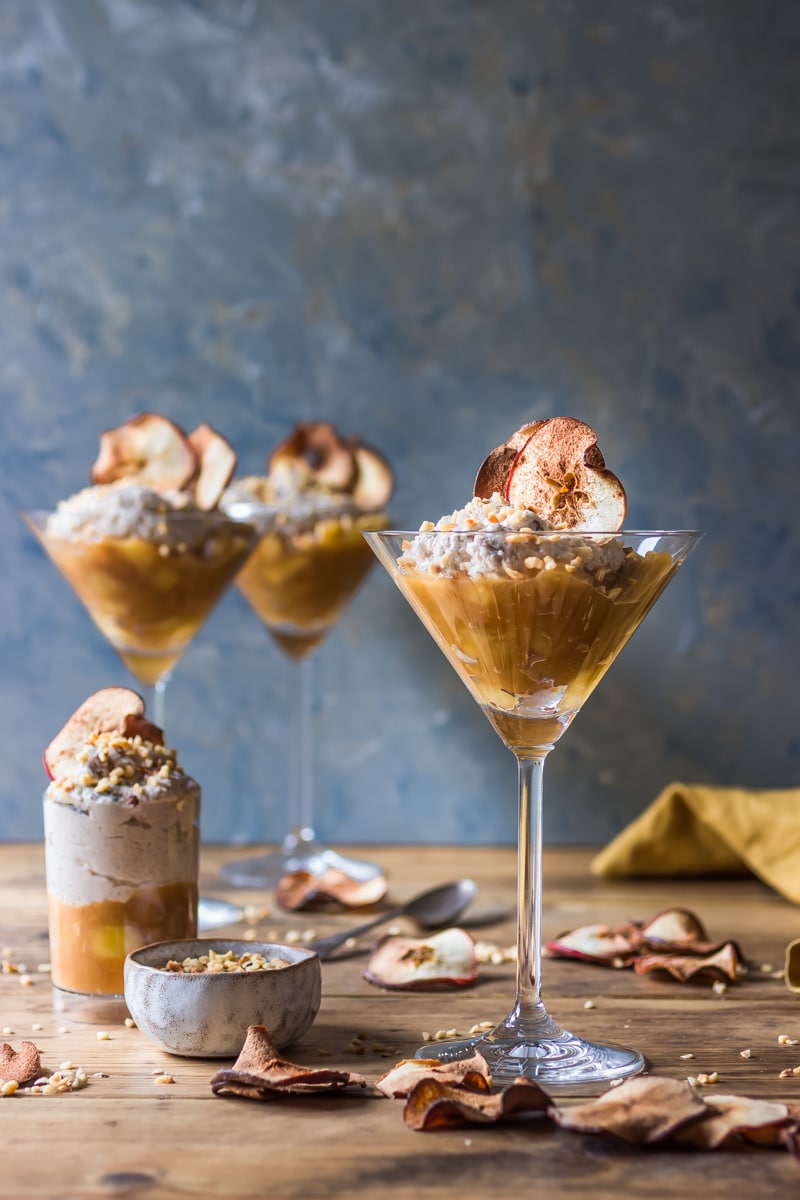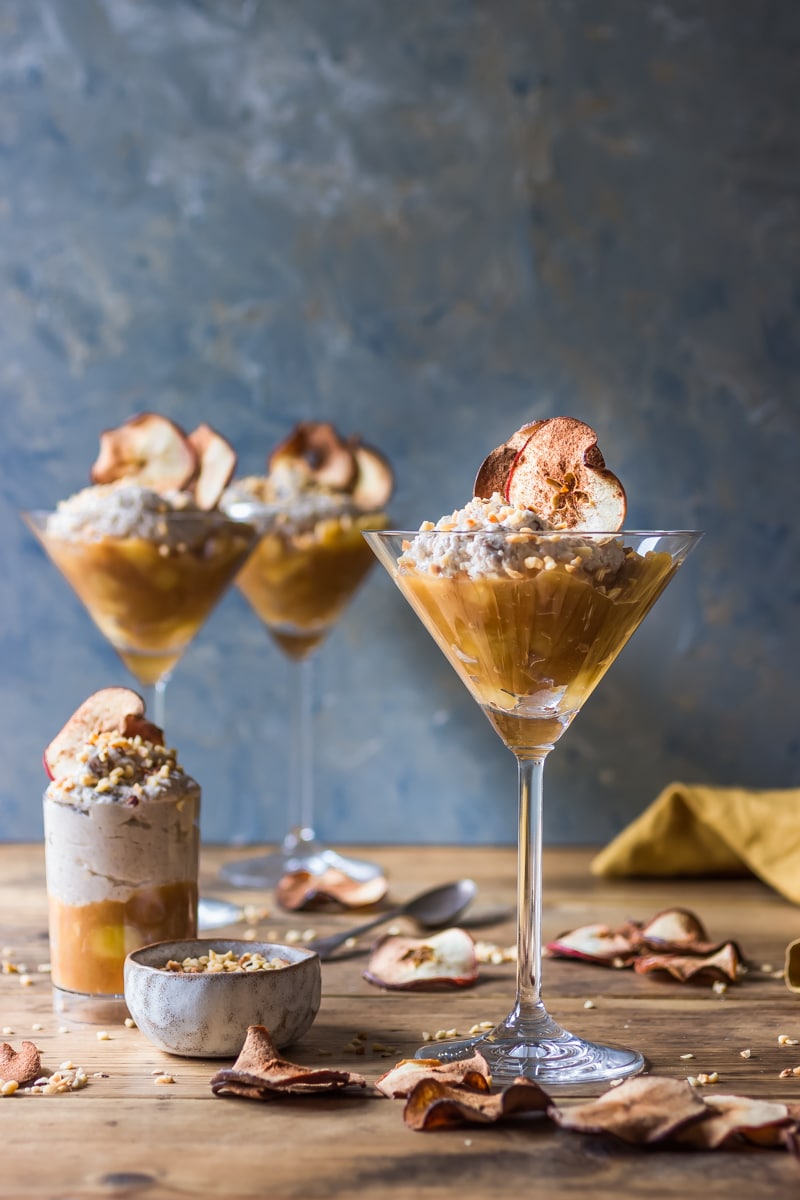 Stewed apples
So yes the stewed apple thing is my super, unique twist on this traditional, old school dish. I love apple pie and who doesn't love homemade apple sauce? So in order to still fully enjoy my stewed apples, but not feel like a complete pig after stuffing my face with a huge apple pie - and no doubt gallons of custard. - I topped the apples with my Bircher Muesli and apple crisps for the perfect healthy alternative. A sprinkle of nuts to finish it off and there you have my perfect breakfast and dessert and healthy 3pm treat.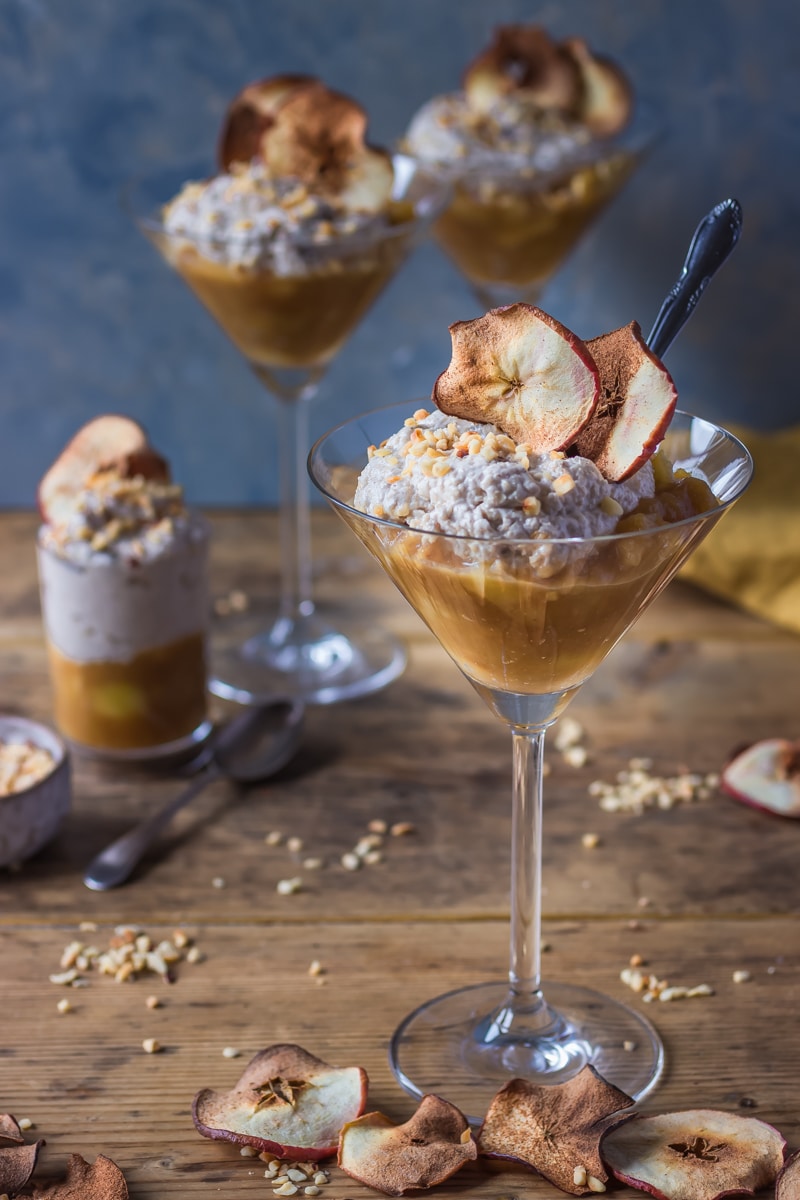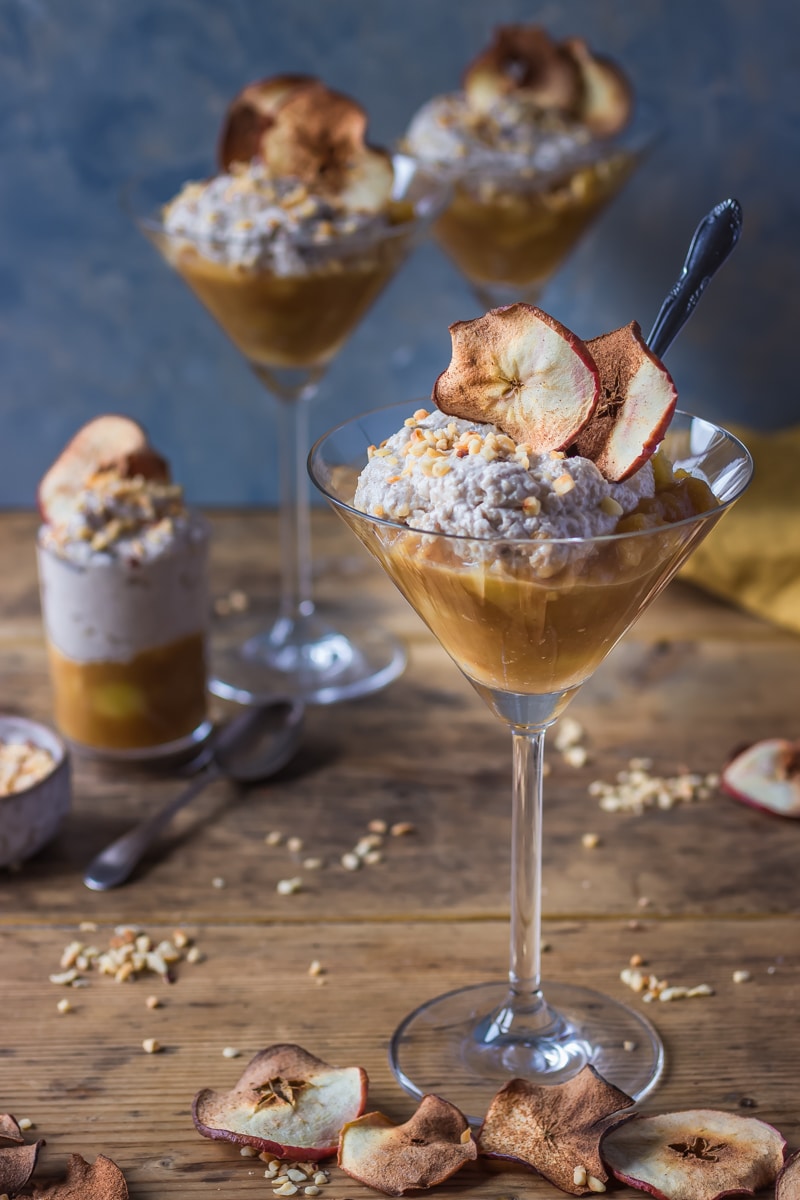 The best apple Bircher muesli
For further details on making the best original and traditional Bircher Muesli and to find out exactly what does and doesn't work, have a read of Felicity Cloakes article. Felicity has tried and tested several popular versions to come up with her perfect Bircher recipe.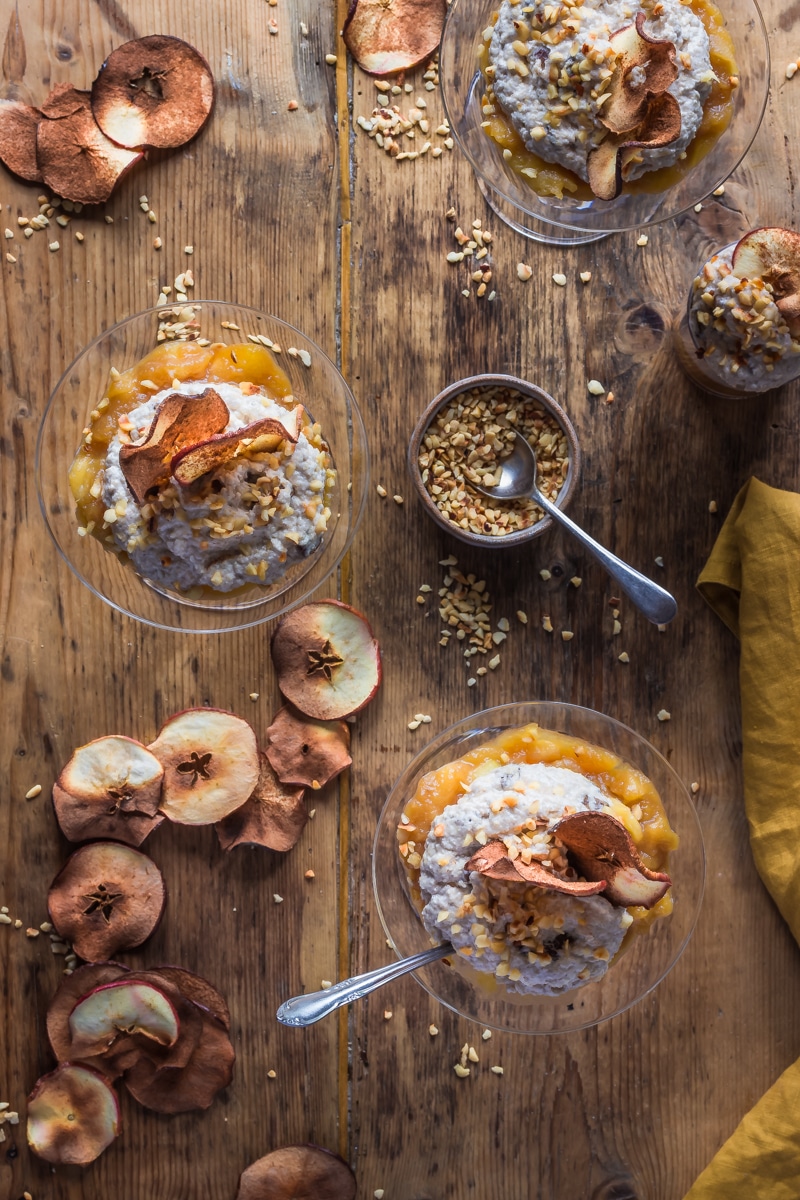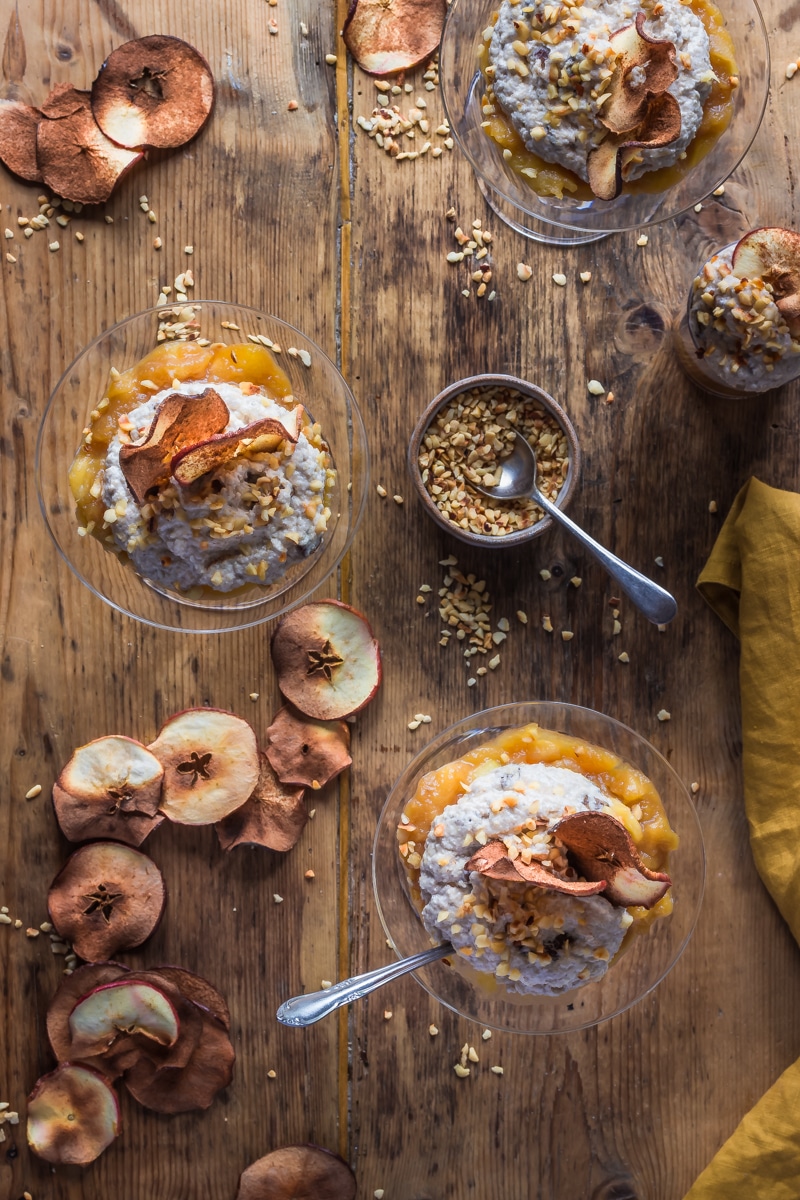 📖 Recipe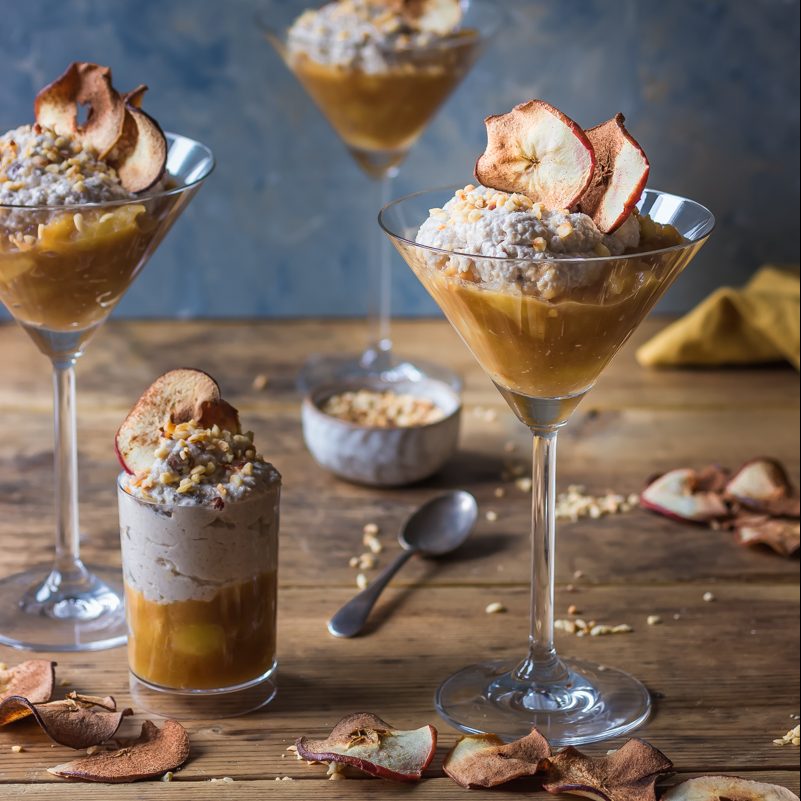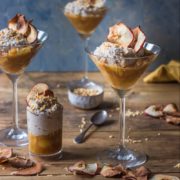 Bircher Muesli with chilled stewed apples and apple crisps
The perfect Bircher muesli made slightly quicker than the original version and served with chilled stewed apples and apple crisps
Ingredients
For the Cinnamon Apple Crisps:
2

small red apples

½

teaspoon

ground cinnamon
For the Stewed Apples
600

g

baking apples

(2 large apples)

10

g

butter

100

g

golden granulated or caster sugar
For the Cinnamon Bircher
75

g

porridge oats

225

g

natural yogurt

25

ml

Apple juice

40

g

Sultanas

½

teaspoon

ground cinnamon
Equipment:
Baking tray and greaseproof paper

Large pan

Mixing bowl

Piping bag

optional

Serving glasses/jars/pots
Instructions
To make the cinnamon apple crisps:
Pre heat the oven to 160 degrees fan and prepare a baking tray lined with greaseproof paper.

Thinly slice the 2 red apples and remove all pips - the thinner they are the more crisp they will be after baking. Slice straight through removing any stalk or pips as you go. I slice mine at a 90 degree angle to the core, to allow for a star shape in the centre of the crisps where the pips were.

Place the sliced apple on the lined baking tray. Try not to overlap the slices as they will stick together during baking. Sprinkle over ½ teaspoon ground cinnamon then bake in the oven for 30 minutes or until crisp. Check them regularly as they will burn quicker than you think. Also as check and remove the smaller thinner ones as necessary as they will bake and crisp up quicker.

When crisp, remove from the oven and set to one side to cool. Do not refrigerate as they will go soggy.
To make the stewed apples:
Whilst the crisps are baking, start preparing the baking apples. Peel and core then slice into chunks (around 1 cm cubed in size). Place a large pan on a medium heat and add the butter. As the butter starts to melt add the chopped apple and golden sugar. Stir well until the sugar dissolves. Pop on a lid and allow to simmer for 5 minutes of so - check and stir regularly. As soon as the sugar starts to caramelise (turns darker brown) and the apples become soft, remove from the heat. Transfer to a bowl and set to one side to fully cool. Place in the fridge to chill until ready to serve.
To make the bircher:
While the crisps and stewed apples are cooling, prepare the bircher. Place the oats, yogurt, apple juice, sultanas and cinnamon into a mixing bowl and stir together until well combined. Add a little more yogurt or apple juice if the mix appears to dry or stiff. Chill in the fridge for at least 10 minutes or until ready to serve or overnight if you have time. (I usually transfer the bircher to a piping bag and secure with a peg before chilling. Piping the bircher on when serving is so much easier and neater)
Putting the dessert together.
Once the stewed apples are fully chilled the dessert can be put together. This only takes 5 minutes and so for the freshest of finishes I tend to build these desserts just before I serve them. Line up your serving glasses/pots. Spoon the stewed apples into the bottom of each glass - fill them to about half way. Next pipe or spoon the bircher onto the top of the stewed apples. Top each glass with a couple of apple crisps and sprinkle over the chopped hazelnuts. Serve with extra apple crisps on the side.
Video
Nutrition
Serving:
260
g
|
Calories:
322
kcal
|
Carbohydrates:
63.2
g
|
Protein:
6.3
g
|
Fat:
6.7
g
|
Saturated Fat:
2.8
g
|
Sodium:
80
mg
|
Sugar:
50
g
PIN FOR LATER


I am linking this recipe to #cookblogshare hosted by peachickbakery, hijackedbytwins, recipesmadeeasy, everydayhealthyrecipes and Easypeasyfoodie. I am also linking to #cookonceeattwice by searchingforspice.