Its gingerbread time!
The Christmas cake is made, the chutney and cranberries have been jarred, the tree is up and the festive tunes are on. So now, on the 17th of December, the only thing left to do is to make up some crumbly, gingery and very festive biscuits. These biscuits contain one of my favourite, go-to-dessert ingredients: cardamom! Checkout my Homemade ice cream and my Dairy free panna cotta posts for more cardamom inspiration.
Cardamom pairs up so well with ginger that I feel this gingerbread should be renamed ginger and cardamom bread. The cardamom spice is so versatile in both sweet and savoury dishes, but in this particular case it really gives the humble gingerbread that extra sparkle, which is just what we need at Christmas.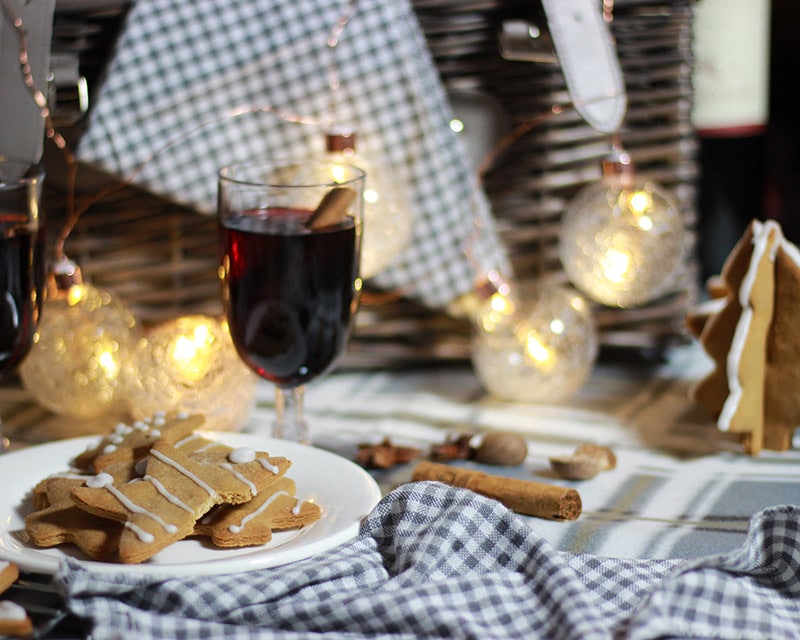 To create the perfect gingerbread
that is not too hard but not so soft that it loses its shape during cooking, I included a mixture of ingredients that had enough consistency to hold the biscuits together and also created a wonderful spicy and warming flavour. A mixture of treacle and syrup ensured enough stickyness, but not too much bitterness, and a light brown muscavado sugar added extra sweetness without being too overpowering. Finally baking for just under 10 minutes provided a lovely light brown finish and a bite that was slightly crunchy on the outer edges but lovely and soft in the middle. This is my perfect gingerbread!!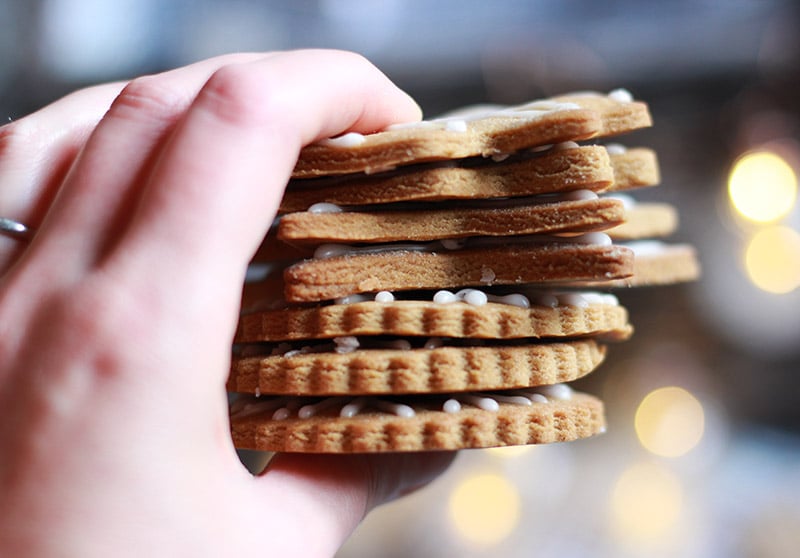 This year I've gone one step further with my gingerbread and have created a full on gingerbread picnic with mulled wine. Now, I know its winter and its cold out, but who says a picnic has to be outside! This gingerbread and mulled wine picnic is intended for living room floors only, and let me tell you; an indoor picnic just before Christmas is so uplifting on a dark wintry night and is definitely something that could become a bit of a tradition for us.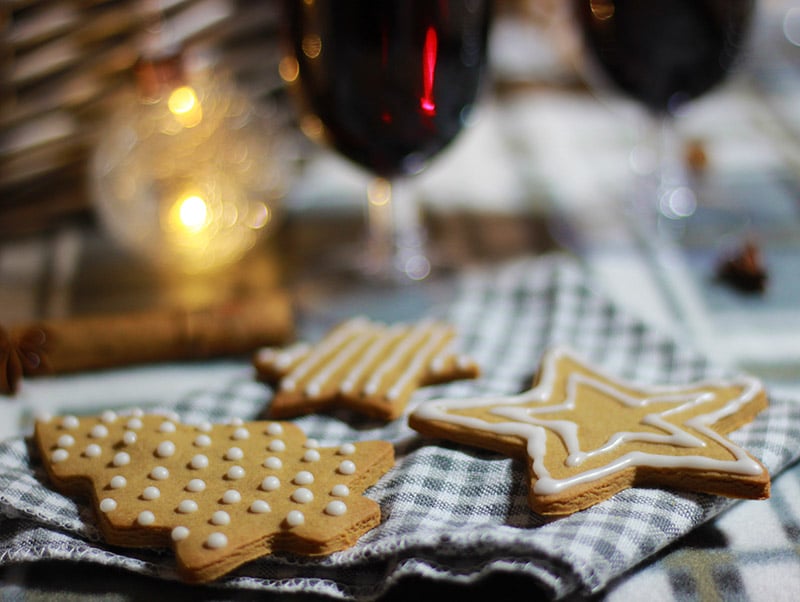 If you have children, then I imagine a gingerbread picnic would go down amazingly well on Christmas Eve - with mulled wine swapped for warmed Ribena or hot chocolate of course. I would like to say that the whole gingerbread picnic thing was entirely my own idea. However, I cannot take full credit for the whole thing, as it was the lovely people at Domu who included me in their Bloggers Secret Santa, which lead to the arrival of a wonderful picnic basket. And I also must thank the wonderful blogger who chose to send me the VonShef picnic basket! Thank you my Secret Santa blogging friend!
So - I received this lovely picnic basket package on Thursday
and not only has it livened up my gingerbread-eating-days but its also going to be perfect for using up on our newly acquired allotment in the summer. To say I was chuffed to bits with this gift is an understatement.
The picnic basket itself is made of wicker with a grey checked lining and poly-synthetic, leather straps and handles. The traditional style of the basket immediately won me over and as far as I can tell, it appears to be quite sturdy and well put together. Domu also has a couple of other picnic baskets including one with two lids and one that is a backpack. So lots of choice and all quite reasonably priced.
This basket is a 2 person basket and includes: 2 ceramic plates; 2 plastic wine glasses; a bottle opener with corkscrew; 2 sets of knives, forks and spoons; mini salt and pepper shakers; 2 cotton napkins; and a large picnic blanket with waterproof material on the underside. Once the blanket is removed theres plenty of space left over for packing sandwiches and theres even room for a bottle of wine.  If your interested in this picnic basket you can check out the full details here.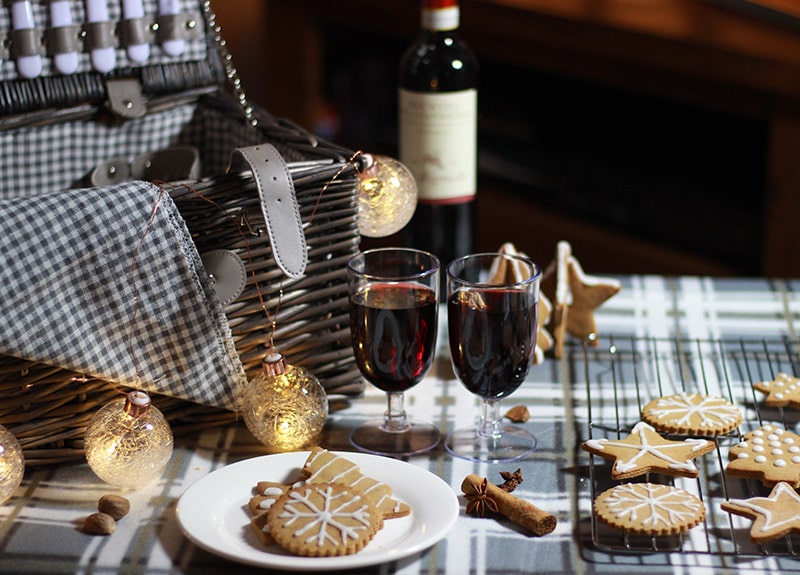 The gingerbread biscuits are super easy to make.
Just heat up butter, sugar, treacle and syrup in a small pan then once fully melted pour into the dry ingredients. This forms the gingerbread pastry which can be rolled and then shapes cut out. To make it easier I always have water and flour to hand. Water for if the pastry becomes to dry and crumbly and flour should it be too sticky. I also roll the pastry with a sheet of cling film under the pastry and a sheet over the top of it. Not only does this stop the rolling pin sticking to the pastry but it also makes it a lot easier to pick up the cut out shapes, by just peeling them off the cling film.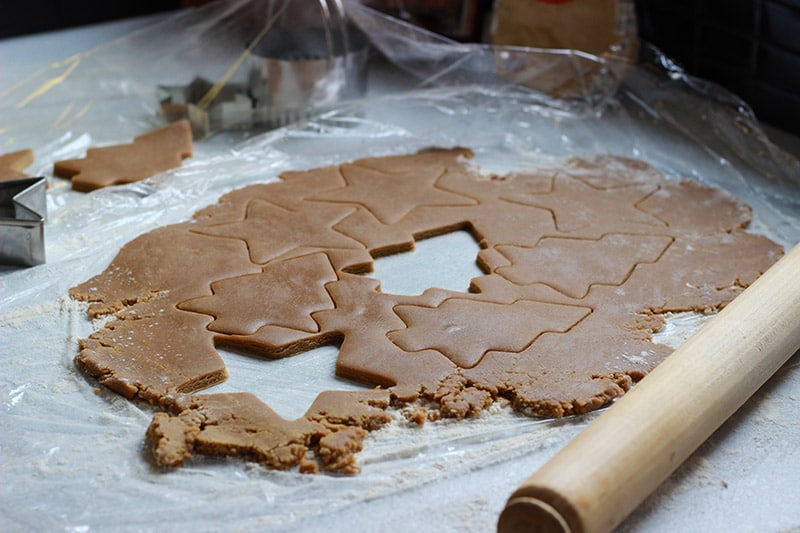 To add an extra special touch to my ginger bread biscuits this year, I also cut rectangular shapes at the top or bottom of a few of them in order to create 3D biscuits that will stand up on their own.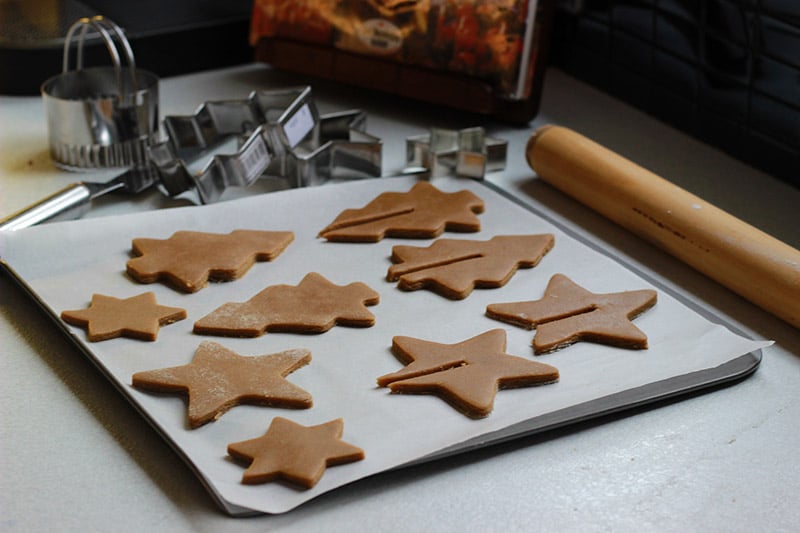 Super impressive and particular nice to do if your sharing your picnic with kids.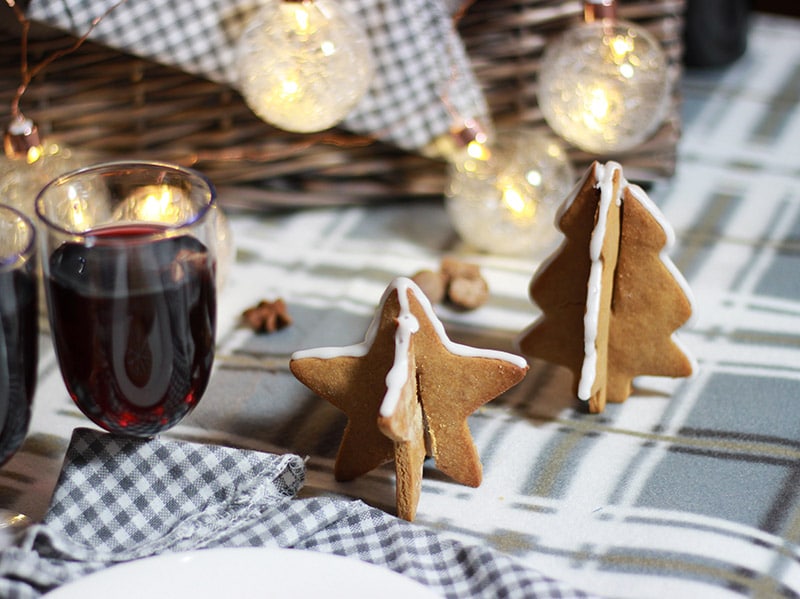 I've included a downloadable template at the end of this post, which is a guide for cutting out the rectangles in order to create 3D gingerbread. The main tips for this is to remember that the width of the cut out rectangle needs to be slightly bigger than the thickness of the biscuits (allowing room for a slight rise during baking). I cut my rectangles with a width of just under a cm to ensure there was enough room.
If you can't quite manage a gingerbread picnic, then these biscuits are great to keep in a tin over Christmas and whip out when friends call. They also make lovely homemade Christmas gifts. So if your struggling with last minute presents, then a batch of these could be your answer.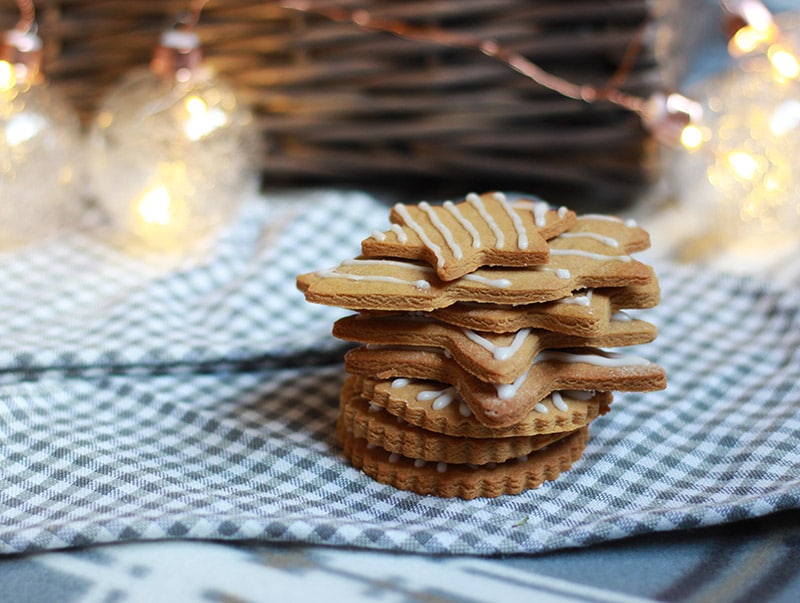 Hope you get chance to make a batch 🙂 Happy Christmas!!
Download your free 3D templates here
📖 Recipe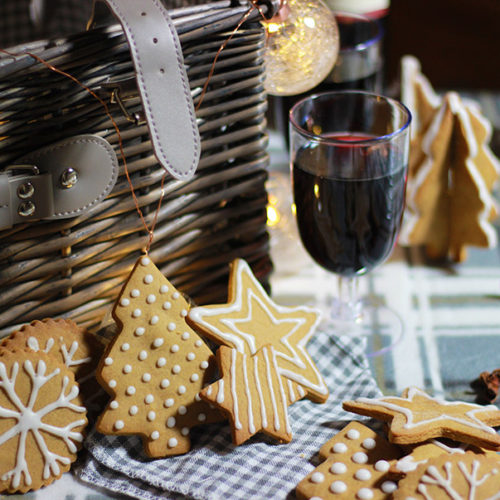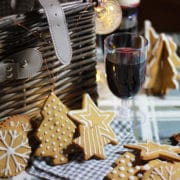 Gingerbread and mulled wine picnic
Gingerbread biscuits with a secret ingredient, served as a indoor picnic with mulled wine
Ingredients
100

g

butter cubed

100

g

light brown muscavado sugar

2

tablespoon

golden syrup

1

tablespoon

black treacle

300

g

plain flour sieved

2

teaspoon

ground ginger

3

cardamom pods

2-3

tablespoon

water
Instructions
In a saucepan melt the butter, sugar, syrup and treacle. Once fully melted set to one side in order to cool slightly.

Sieve the flour into a large mixing bowl and add the ginger.

Crush the cardamom pods with the side of a large knife and remove the seeds. Use a pestle and mortar to grind up the seeds, or chop as finely as you can with a knife.

Add the ground cardamom seeds to the flour and ginger, then mix well.

Make a well in the flour mix and pour in the melted butter mix. Stir well and bring together to form a pastry. The pastry should be slightly sticky, if it appears too dry add 2 or 3 tablespoons of water and knead well.

wrap the pastry in cling film and chill in the fridge for at least 30 minutes. This will make it easier to roll out the pastry.

Pre-heat the oven to 180 degrees C and line 2 baking trays with grease proof paper.

After chilling, lay a piece of cling film on the work surface and put the pastry in the middle. Cover the pastry with another sheet of cling film and use a rolling pin to roll out. The cling film will stop the pastry sticking to the work top and to your rolling pin. It will also make it easier to transfer the cut out shapes to your baking sheet by simply peeling off the cling film.

Roll out the pastry to around the thickness of a £1 coin, then use pastry cutters to cut out shapes. Bring together the left over pastry, re roll and cut out more shapes.

Download my templates at the end of this post if you you wish to make the 3D biscuits.

Transfer the biscuits to the lined baking trays and place in the oven for 8-10 minutes.

Cool biscuits on a wire rack and decorate.
Nutrition
Serving:
1
g
|
Calories:
129
kcal
|
Fat:
4.8
g
**Estimated nutritional information per serving of chutney and per 100g of Chutney. If you want to find out more about how the information is calculated and the sources used, please refer to my Nutrition Information Guide.
With great thanks to Domu for the opportunity to use their products. This is not a paid post and all thoughts and opinions expressed are my own.